September 1, 1944
Carpentras, France
No. 48

Dear Folksies,
           Well, "Cohn's Commandos" are back again with the 59th and I must say we were pleasantly surprised to find that they could get going far more rapidly than ever before, and were able to put out the work mighty well and without too much confusion.  When we arrived they had been working all night and so we went to work, so that some could get some sleep. There was a continual stream through surgery, so that only three or four teams were usually working, while the others grabbed much-needed sleep.
            It seemed as if we would never catch up, but by noon yesterday everything was O.K.  Mattie then proceeded to institute a new system whereby three teams are on call for 12-hour periods from 12 to 12, each team having their own anesthetist assigned. Paul and I started out as anesthetists, but now we have rather varied and not particularly important duties. We are auxiliary anesthetists, help in receiving if necessary, but primarily see and write up all surgical cases that do not go to surgery, and handle the ward on which those cases go.  Chuck Schwartz is also with us, with much the same duties – sort of auxiliary everything and yet nothing. We are also sort of trouble shooters – take care of emergencies on the wards when the men in charge of that particular ward are operating or otherwise occupied. At present am working on Mattie's shift of 12 noon to 12 midnight, while Paul is on Wally Greene's shift from midnight to noon.
          The anesthetists consist of Jim Hamilton, 3 nurses, and Schmitty and Hal the dentists. Ham works on the shift Paul is on, so if intra-tracheals have to be given on my shift I'll have to do them – at least pass the laryngoscope and tube.
         When Roy, Paul, Chuck and I arrived after hunting the countryside, after we got the orders to return, we found the gang functioning, though the living quarters tents were not set up yet – however they got that up that evening. Found out that they had started to set up at 9 A.M. and were ready to work in surgery at 4 P.M. of the day they started. They could have taken patients earlier if needed to. Darn good for this outfit, I say. The next move should be even better and faster, i.e. when and if.
            Of course, some things were messed up, by Collie as usual.  If you can offer an explanation for his planning and sending all our mattresses and supposedly only 22 cots in the 1st echelon, and the majority of the cots in the 3rd echelon, I wish you would tell me!!  The rest of us, who knew of his plan some weeks ago but could do nothing about it for "The King Can Do No Wrong," knew how it would turn out.  The cots haven't arrived yet, so officers, nurses and men, and even the Colonel are on the ground, so that the patients, even the Germans, can have their cots.  Oh, well!  We wouldn't mind giving up our cots if it hadn't been for the stupidity of our wonderful Exec. Here we have umpty-umph mattresses, still in crates (for it is stupid to try and use them unless we plan on being in a spot for a considerable time and hold patients quite a while) and a shortage of cots.  The grass is too moist to put the mattresses down without cots, for they would get moldy in no time.  Someday, we hope, they'll learn!
                                                                                        Loads of love,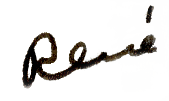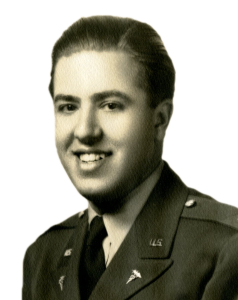 .
Watch for more of this letter
September 2, 1944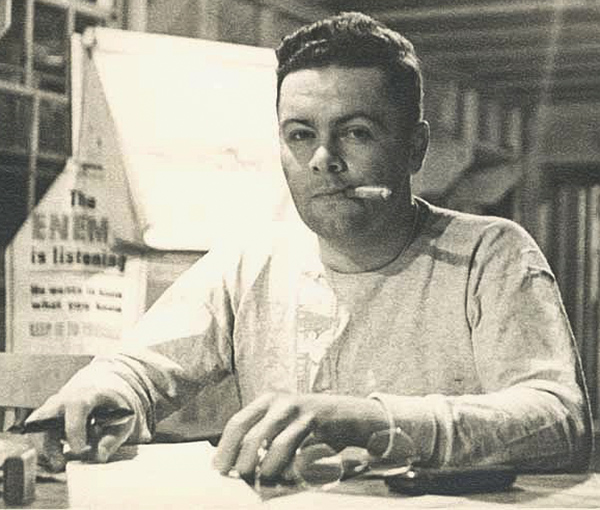 Cohn's Commandos – comprised of Roy Cohn, MD, (pictured above) René, Chuck Schwartz and Paul Stratte –  landed on French soil 10 days ahead of the rest of the 59th, but have now been reunited with the rest of the unit, near Carpentras.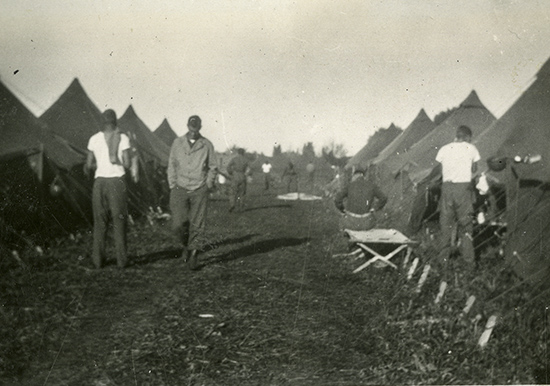 René tells his parents that when they arrived "some things were messed up, as usual." For example, he tells them that "the cots haven't arrived yet, so officers, nurses and men, and even the Colonel are on the ground, so that the patients, even the Germans can have their cots."
Pictured above is Sewell Brown, MD, in the officers' tent area.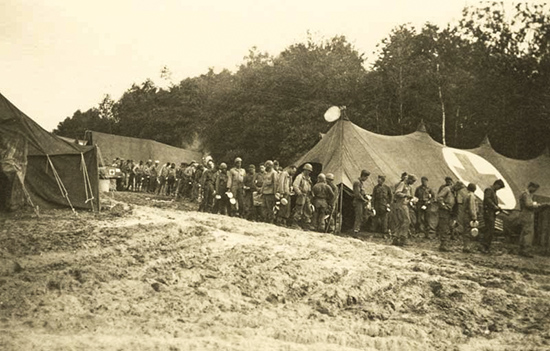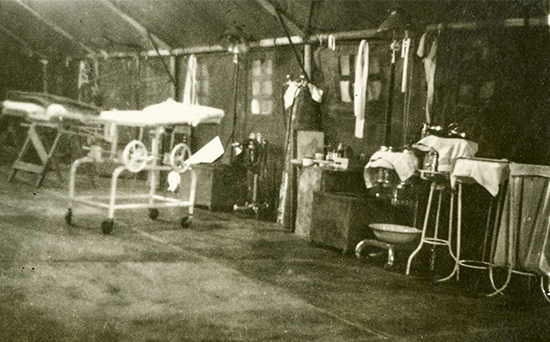 Inside the surgery tent, where René is working as an auxiliary anesthetist.

September 2, 1944
Carpentras, France
No. 48 (continued)

Dear Folksies,
          Heard today over the radio that Nice was taken. [Nice was liberated on August 28, 1944.] It is good news alright, along with all the other news of fast moving Allied troops. From the looks of things now, it's going to be tough trying to get a leave to visit anyplace for some time, so don't expect news of Jeanne, Lilice, etc. until you get it. If there is a way of finding out anything I will.
            Our place here has appeared to be a fairgrounds more than anything else — with all the tents up and the innumerable civilians wandering through the area day and night, peeking in the surgery windows, watching everything that goes on, and coming around with donations of food for our mess.  Yes, donations of wonderful big tomatoes and cantaloupes.  Some have even come with eggs, for which they want a piece of chocolate or a little coffee.  Meats, coffee, cigarettes, chocolate, butter and milk, etc. of course, are the items they have been terribly short of, but at least in the country sections they have had apparently plenty of vegetables.
            The country round-about is really beautiful, very fertile and green.  Have had a little sprinkling but not much to bother about. On the way here it was funny the way every time we stopped, the people would come around and offer us cantaloupes, and once, while we were whipping down the highway, a little gal threw a cantaloupe at us — probably if it had landed in our midst it would have knocked someone out.  But as it happened it even missed the trailer we were towing and bounced on the other side of the road.
            News items: New Chaplain by the name of Magee. New officers, both on the Medical Service, Capts. Long and Malone.
            Living again with Bryner, Welles and Jones. Bryner has been ill, but is O.K. now.
                                                                                        Loads of love,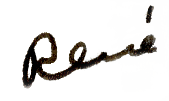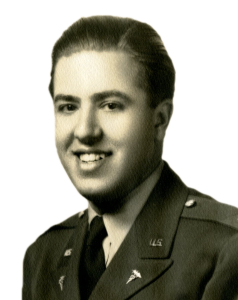 .
Watch for more of this letter
September 3, 1944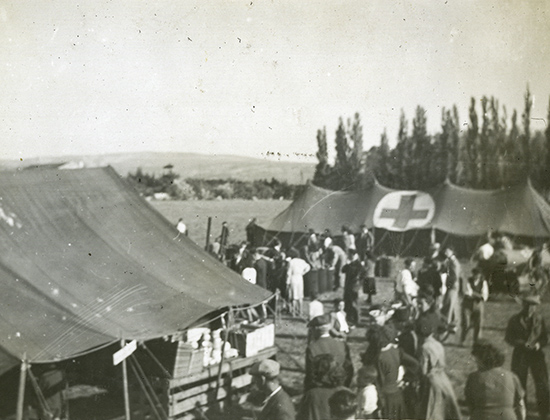 René's caption for this photo was "The crowd around our mess tents interested in watching the 'monkeys at the zoo' (us) eat!!"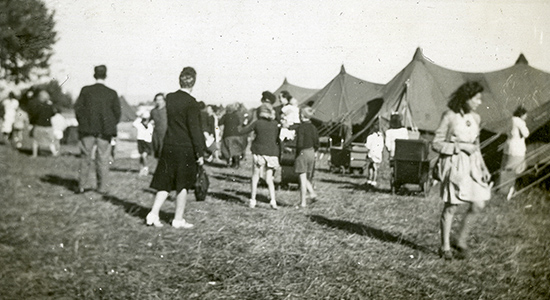 René's tells his parents that "our place here has appeared to be a fairgrounds more than anything else – with all the tents up and the innumerable civilians wandering through the area day and night."

September 3, 1944
Carpentras, France
No. 48 (continued)

Dear Folksies,
            Glad you are receiving the "Stars and Stripes" O.K. There are a lot of good things in them and many of them are worth saving. Am wondering how you like Maudlin's cartoons – believe it is hard for those at home to realize true humor of much of his stuff, but it really hits the spot over here, because so many of us have seen just the things he depicts.
            That one he had about Anzio: "Here they was and there we was!" shows just the way things were there – the distance separating was only a "Spit and a Holler" as some have said. Over here 'tis another story entirely.
                                                                                        Loads of love,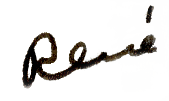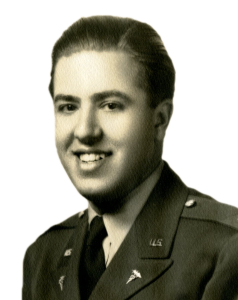 .
Watch for the rest of this letter
September 4, 1944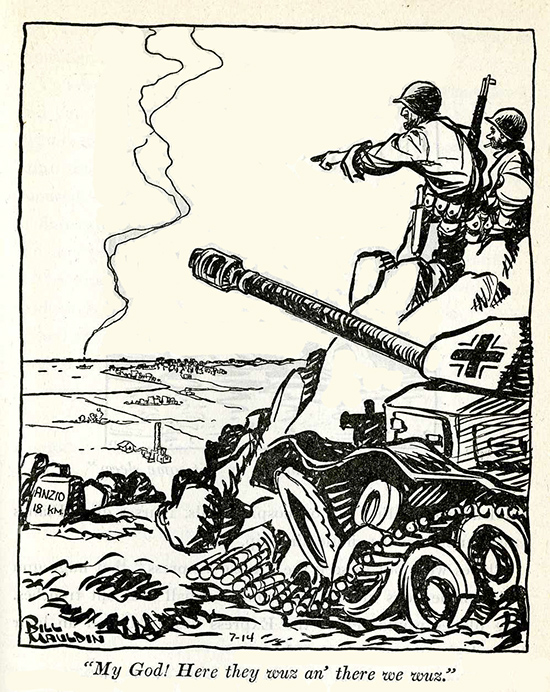 René's mentions this cartoon by Bill Maudlin that ran in "Stars and Stripes."

September 4, 1944
Carpentras, France
Conclusion of No. 48

Dear Folksies,
           Three little French kids just came in with a basket of grapes and wanted permission to go through the wards and give the grapes to the wounded.  Give, mind you!
            It has been interesting to note the difference between the German prisoners we are seeing now and those that we had in Africa and in Italy. It is surprising how poorly clothed most of them seem to be. Many tell us that they hadn't seen their officers for days before they themselves were captured — in fact, they didn't even know where the battle front was in many cases.  They realize now that they are beaten, that they have been told lies for a long, long, time — lies about the strength of the Allies, lies about New York being bombed, ad infinitum.  A German doctor even told us that he hoped we would get into Germany quickly and keep the Russians out of there.  They are certainly mortally afraid of the Russians, and with good reason!
            I asked some where all the German Air Force is and some said they have wondered also, while one said that they are keeping them all on the ground except for occasional planes, for every time they go up they are shot down, so there is no percentage in that.  Their planes, they say, are much too slow for competing with ours, so they've given up trying. The end is near alright, but people tend to get too optimistic, I think.  For, though it is near, one still has to use a telescope to see that end.
            I understand now that both G.C. and Lues are to be treated by Penicillin. What a drug! At times we have had a hard time getting ahold of a stock, but for the most part we have a-plenty.
                                                                                        Loads of love,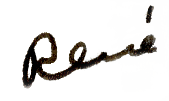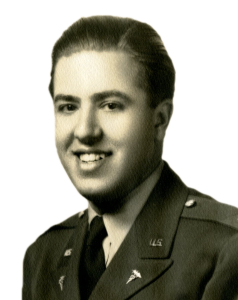 .
Watch for my next letter
September 5, 1944

René's tells his parents that, "three little French kids just came in with a basket of grapes and wanted permission to go through the wards and give the grapes to the wounded.  Give, mind you!" Perhaps this was one of the three.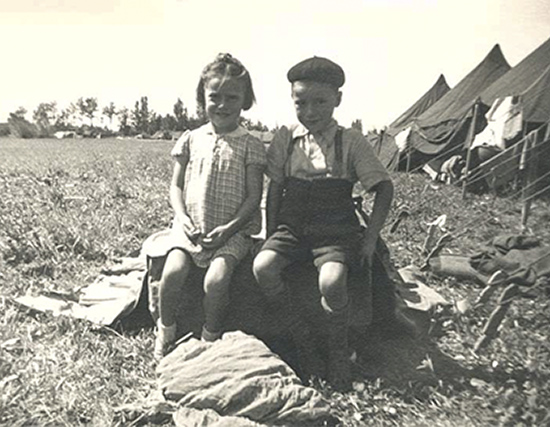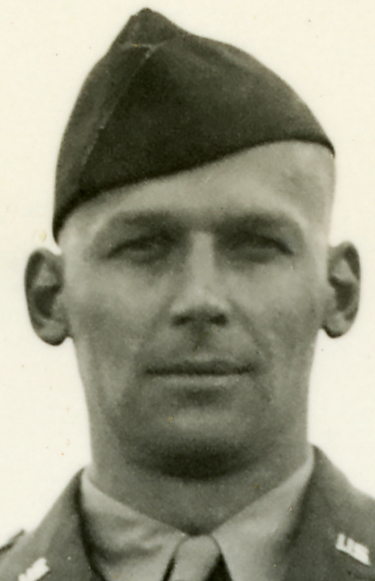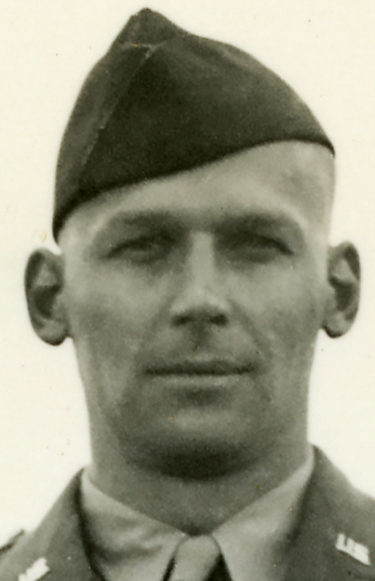 Dr. Philip Westdahl writes in his journal about his encounter with the two little French children pictured above and their mother.
"I … had the pleasure of meeting two cute French children, André and Lil, aged 7 and 5 who invited me to their farm for dinner. Their mother was a very pleasant, hardworking woman who had been running their farm for the past four years. Her husband had been a French soldier and was captured in 1940. She heard from him about every 2-3 months. I saw one of these letters from a German prison camp. It only permits a few sentences of correspondence and must be answered in a space provided on the back. In spite of her hardships, she was quite cheerful and happy, and her children had been raised beautifully. She hoped it wouldn't be long now till her husband would be freed from his German captors."

September 5, 1944
Carpentras, France
No. 49

Dear Folksies,
            Have used Fadley's bicycle a bit in the last few days and cycled into the nearby town. It beats walking all to heck and since the roads are very good and smooth one can cover ground rapidly.
          These small French towns are really rather interesting and I had fun just wandering around on the bike and sticking my head into odd corners. This afternoon a group of officers and nurses were taken to another town some distance away and we spent our time walking around, looking in stores and visiting a couple of historical points of interest. It was a nice looking clean place with department stores that could compete with many of ours, both in appearance and to a great extent in merchandise. Clothing seems to be about the most consistently expensive items, but I was surprised that other things were for the most part not really high in price. The nurses particularly made numerous small purchases.
          I bought some perfume for Gram (don't tell her till it arrives!) but knowing that the rest of you don't go in for that like she does, I refrained from getting any for you. However, if you do want some, let me know and give me some idea as to type, etc.
                                                                                        Loads of love,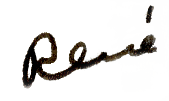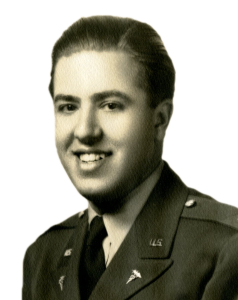 .
Watch for more of this letter
September 6, 1944

René tells his parents that he has been visiting small French towns nearby on a bicycle he borrowed from Ken Fadley. But this afternoon he went with a group of doctors and nurses to another town "some distance away." Perhaps it was a town along the Riveria, like the one where Nurse Liz Liss is pictured in the photos below (courtesy of her daughter, Stephanie Moses).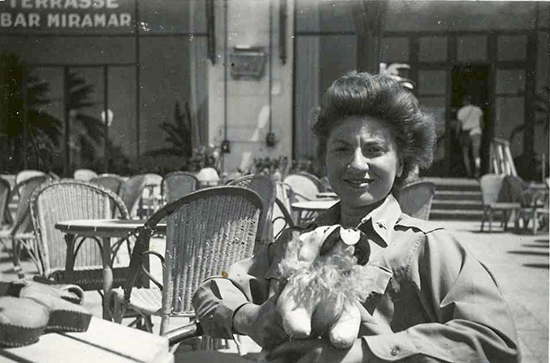 Nurse Liz Liss at the Hotel Mirimar (above) and at Wallis Simpson's Villa "on the Riviera" (below).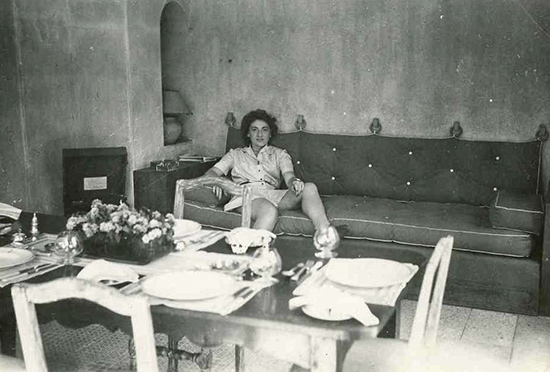 September 6, 1944
Carpentras, France
No. 49 (continued)

Dear Folksies,
           Sunday was really funny here.  I thought it was like a carnival even before that, but Sunday was really the payoff.  It seemed as if there were hundreds and hundreds of people out here just milling around all day long — in their Sunday-best.  There was only one case taken to Surgery that day, but what an audience that one case had.  Our new surgery tent has windows in the sides (really fancy) and there were innumerable heads poked close to those windows and also to the doors at either end.  Our mess, too, was crowded outside with French visitors.  They just stood at the doors and gawked at us as we were served and as we ate.  Those who came in a bit late had to wade through a solid block of French people to get within the tent.  We felt like nothing more than a bunch of monkeys! Yes, it was just as if we were animals or freaks in a cage, put there for people to stare at.  It was really so funny that most of us with cameras went out and got pictures of the mob milling around.
            If they had been Italians, I guarantee that they would have been run out of the area in no time.  But these people were so innocently interested, without disturbing anything and asking for nothing.  In fact, most of them brought some fruit or tomatoes in, so there was really nothing we could or would want to do but let them roam around.  Thank goodness, of course, that that mob isn't out here every day or no one would be able to work, let alone shower or dress.
            I have been greatly reminded of the old French merry-go-round song lately, one of the few that we used to know well by heart, but today was the first time I heard anyone of the French people humming it.
                                                                                        Loads of love,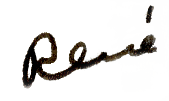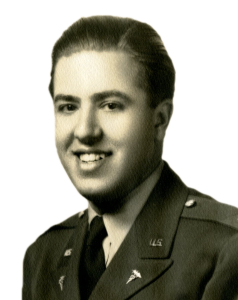 .
Watch for the conclusion of this letter
September 7, 1944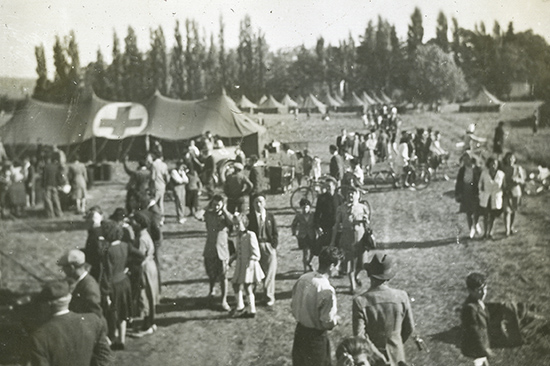 René's caption for this photograph reads: "The 59th was like a circus or a carnival for the people of the nearby town of Carpentras. They did not come empty-handed, however, but had melons, grapes, potatoes, tomatoes, etc. for the patients."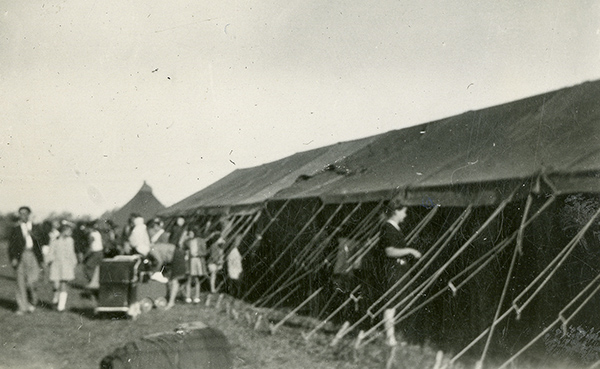 René's caption for this photo reads: "Inquisitive to the point of looking thru Surgery window while Wally Green does appendectomy."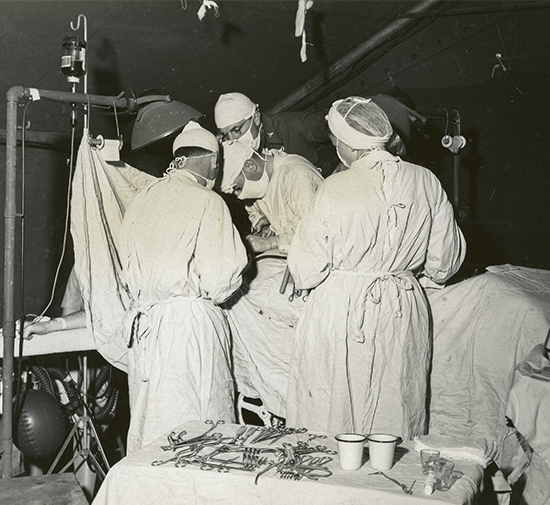 Is this what the inquisitive French people saw when they looked into the Surgery Tent?

September 7, 1944
Carpentras, France
No. 49 (conclusion)

Dear Folksies,
        Have again made use of Polly's movie picture projector the last couple of nights, showing the pictures out in the open. However, it has been a bit chilly and somewhat on the damp side, but nevertheless the open is still the best place to do the projector.
            The men have been having a great time here because the French gals have it all over the Italian ones, and they've been having nightly dances at a nearby swimming-hole and all has been mighty gay.  It's nice for the men that we are really the only outfit anywhere near this particular town.  Of course, even if other outfits were around, just as in Sicily, the 59th generally manages to take over anyway.  The men have found a very great difference not only in looks but in actions between the French and Italian gals.  There is nowhere near the promiscuity that there was in Italy.
            Mom, you stump me by asking what I want for Christmas. Golly, I really don't know what to ask for other than assortments of Blum's stuff. Perhaps by Christmas things will be over over here — who knows?  But, be that as it may, I hope I'll be able to spend Xmas with the family (the family over here).  So, if you can, keep that in mind when you send things.
            Nope, Mom, I need no more gloves – have three pair in good shape; more than enough shirts (in fact, living out of a musette bag and what we had on for 3 wks.) made me realize how much over-loaded we really are in our personal luggage – we don't need 1/3 the stuff we have, 'cause it really isn't hard to wash stuff in one's helmet if one doesn't let the dirty stuff pile up, but does it almost daily.
            Ah, I know, I could stand two pair of heavy, long wool socks (wool or the closest thing to it). The socks we get are a mixture of wool and cotton and, to fill up my boots, which are a trifle large, I frequently wear two pair. I did have a couple of heavy wool ones in Africa, but they got lost somewhere along the line.
            Things over here certainly have been moving fast — Time and Newsweek have had some good paragraphs on our friend Georgie Patton who, despite his temper, is one of the top two or three battle generals in this war.  Having spent a few weeks with the gang at whose place all G.P.'s unfavorable publicity began, I heard all the highlights.  All of those whom we have known, some very well, who have been on Patton's staff, always knew he was O.K.  They said that he would perhaps lose men rapidly, but in the long run his casualties would be far less than if he had gone cautiously and taken longer to accomplish his objective.  My bets are on him to beat the Russians, to beat everybody to Hitler — maybe he'll even take Hitler himself with those pearl-handled guns of his — we shall see!!
                                                                                        Loads of love,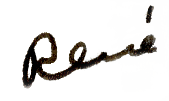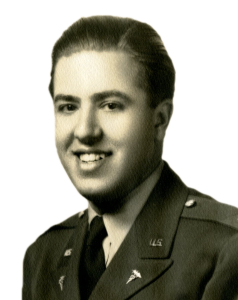 .
Watch for my next letter
September 10, 1944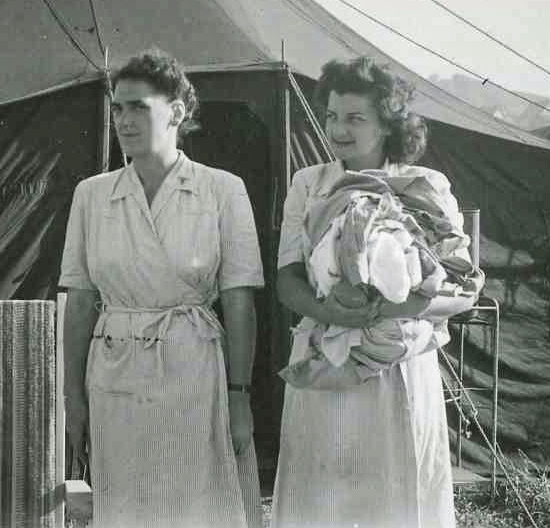 Thanks to Polly's projector, the unit is able to watch movies again.  Shown above is Nurse Polly (Paulette DelPeche) on the right holding laundry, with Nurse McIntyre.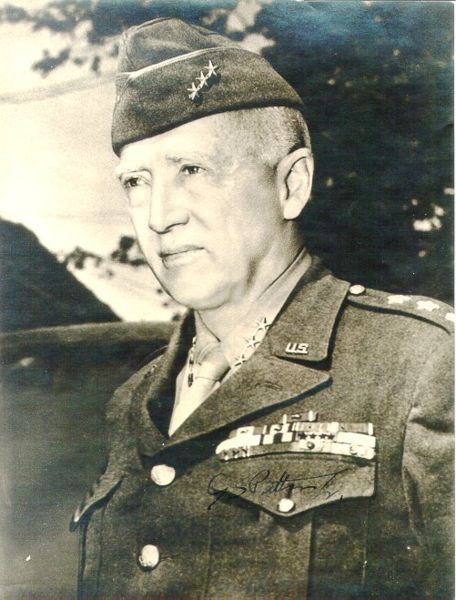 René makes a few comments to his parents about General George Patton, who he refers to as "Georgie," closing with, "Maybe he'll even take Hitler himself with those pearl-handled guns of his." However, according to a quote attributed to General Patton responding to an inquiry about his revolvers, "Son, only a pimp in a Louisiana whore-house carries pearl-handled revolvers. These are ivory."