August 1, 1944
Battapaglia, Italy
No. 38

Dear Folksies,

       I sent my two watches home to you yesterday. How these two got broke I know not, but they had both been busted in Sicily and fixed there, but they went haywire soon after without dropping or anything else.
       Perhaps you will think me extravagant, but I really need a watch badly, so luckily Don Vallar was able to get the unit's ration of watches today – that is one watch for every 60 men in the outfit, and so he let me buy one of them – only $24 – a good one, "Robot" by name, and 'tis waterproof.
       About sending the other watches back, well, just hang onto them for a bit, but I think that probably after a bit you might send one of them back so I can have a spare.
        Saw an excellent movie last night:  "Song of Bernadette". Jones, Polly and I just returned in time to see it, having been on quite a long business jeep ride. I was helping Jonesie with some supply stuff and Polly was getting Red Cross things straightened out.
        Gee, Dad, your hike sounds swell and it also seems to show that you are still darn good, especially on the downhills. Your descriptions of the surrounding country up there where you have been hiking certainly brings back memories of the years we have spent in that neck of the woods. Save some of that energy for hiking up there with me when this thing is all over over here.
                                                                                        Loads of love,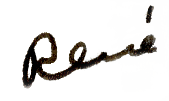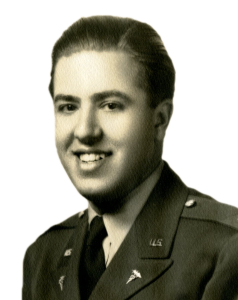 .
Watch for my next letter
August 11, 1944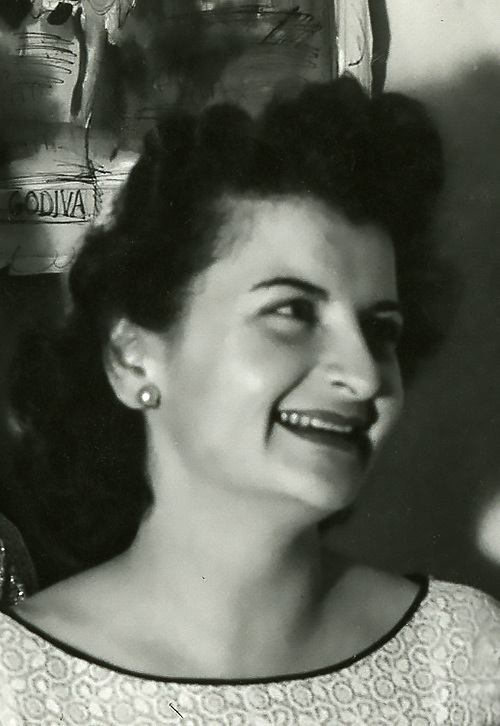 René went to the movies with Polly (Paulette Delpeche pictured above) and Bob Jones. They saw "Song of Bernadette," which he said was "an excellent movie."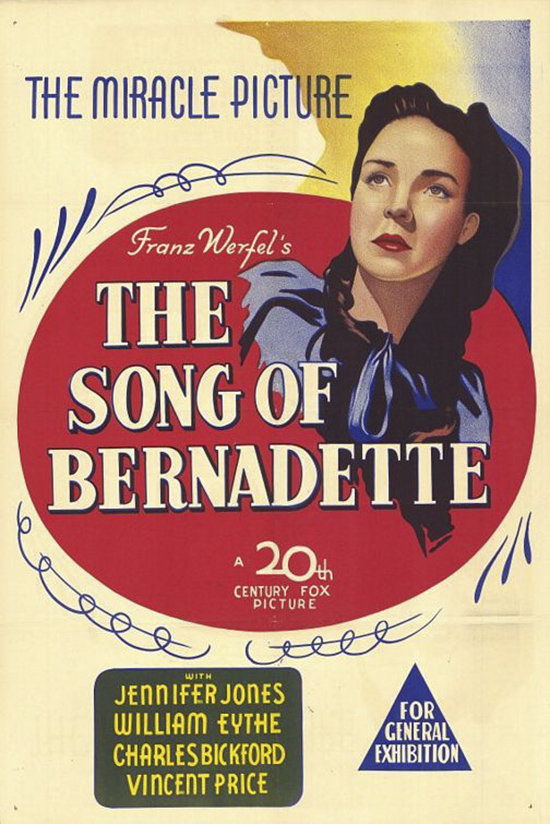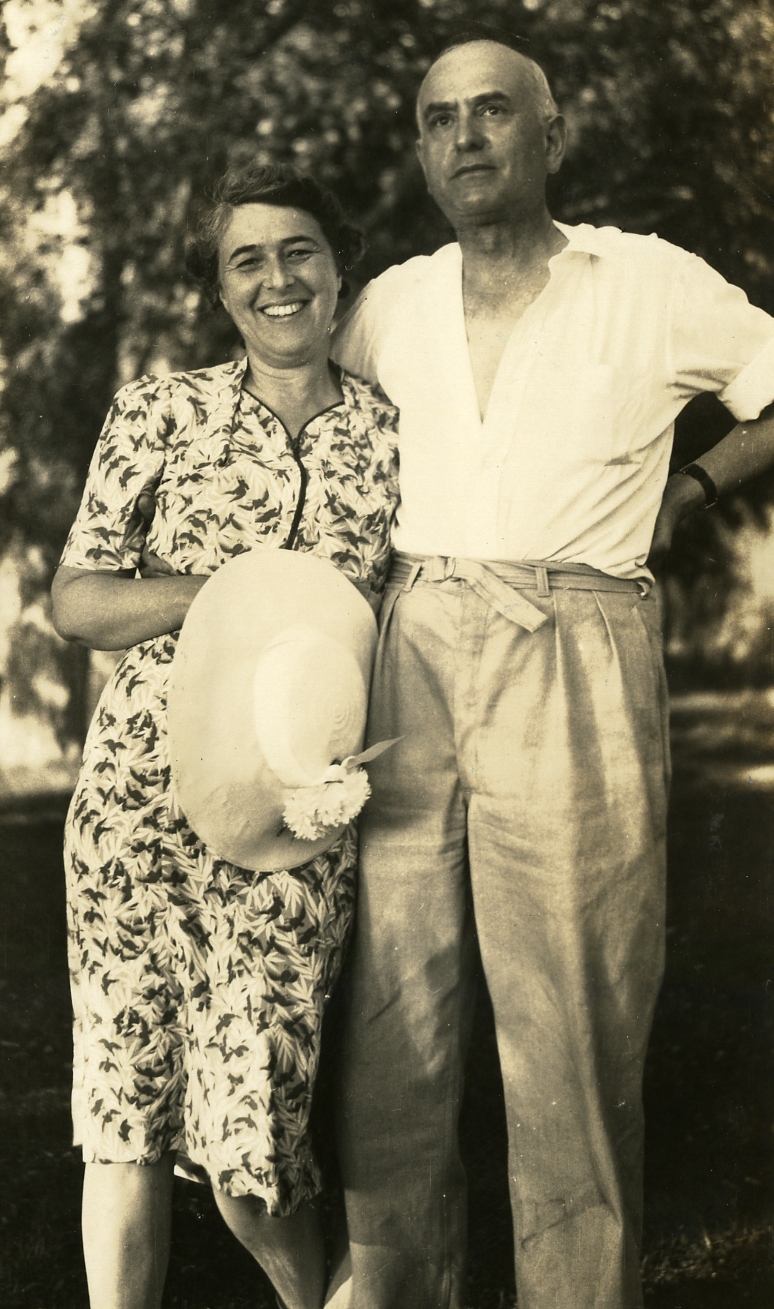 René comments about his father's description of a hike he went on – probably at Lake Tahoe. Pictured above are René's parents: Alma and René Sr.

Click here to add your own text
Unbeknownst to René, on July 31, 1944, Jean-Guy Bernard (the husband of René's second cousin  Yvette Baumann Bernard) was "deported" from Drancy Prison in northeastern France aboard Convoy No. 77. Destination: Auschwitz, Poland.
Passionate for aviation, Jean-Guy had enlisted as an aviation fighter in 1939. He is one of the few aviators to have bombed Berlin in 1940. After the armistice, he returned to the polytechnic school in Lyon. After working as an engineer during the winter of 1941-42, Jean-Guy joined Combat, one of the resistance movements in France. Over the next couple of years, he assumed successive leadership roles in various resistance groups. On October 8, 1943, he married Yvette, who was the head of the social service of Combat. On January 28, 1944, they were arrested in their Paris apartment by the Gestapo.
To read Yvette's account of the arrest, click HERE.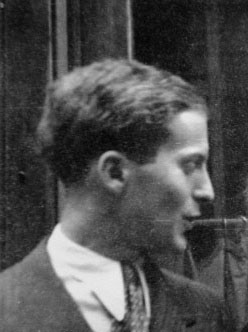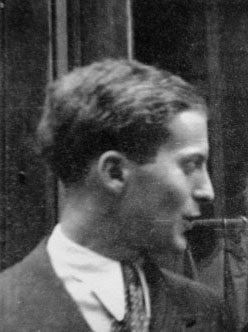 According to Sylviane Toporkoff, Yvette's daughter, "Upon his arrival at Auschwitz on August, 3, Jean-Guy was shot in the legs.  And because injured individuals were not allowed into the camp, he was sent directly into the gas chamber. He was 26 years old.
Around this time, someone told Yvette, who had been at Auschwitz since April 29, that a certain 'Bernard' had gone straight into the gas chamber. His description, red hair, etc. corresponded to Jean-Guy, but as she did not have the first name for sure, she clung to the idea that it was not him … but in fact she was certain of it."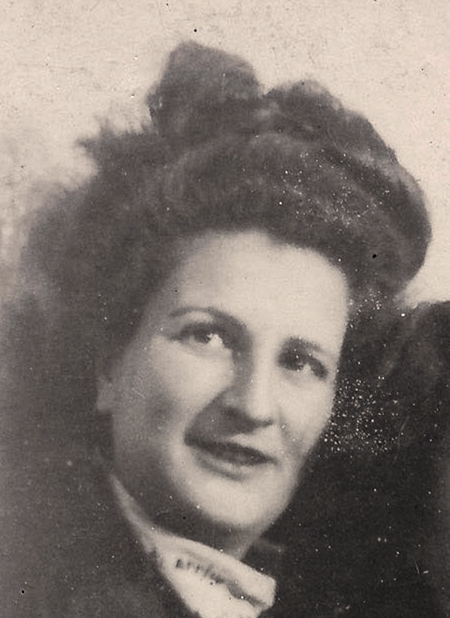 Many years later, Yvette wrote the following poem (English translation):
"How"
My love
More than the fact that you are dead
What is unbearable to me is how you died.
All of you, that you are dead is already quite frightful
But the way that you died is intolerable.
To read more about René's French relatives, click here.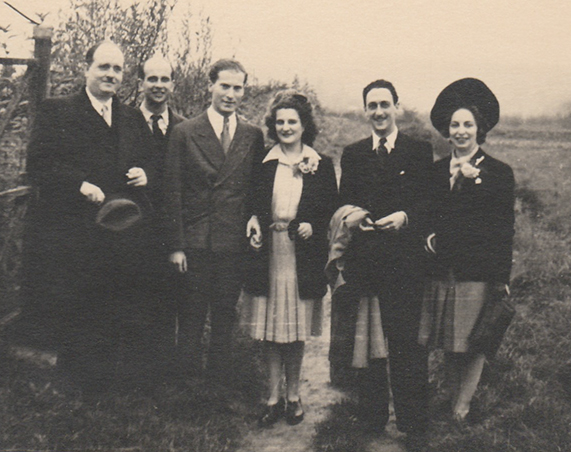 Yvette Baumann Bernard and Jean-Guy Bernard – (above) in October 1943 on their wedding day and (below) in December 1943. Yvette and Jean-Guy were both high-ranking members of the French resistance. They were arrested by the Gestapo on January 28, 1944.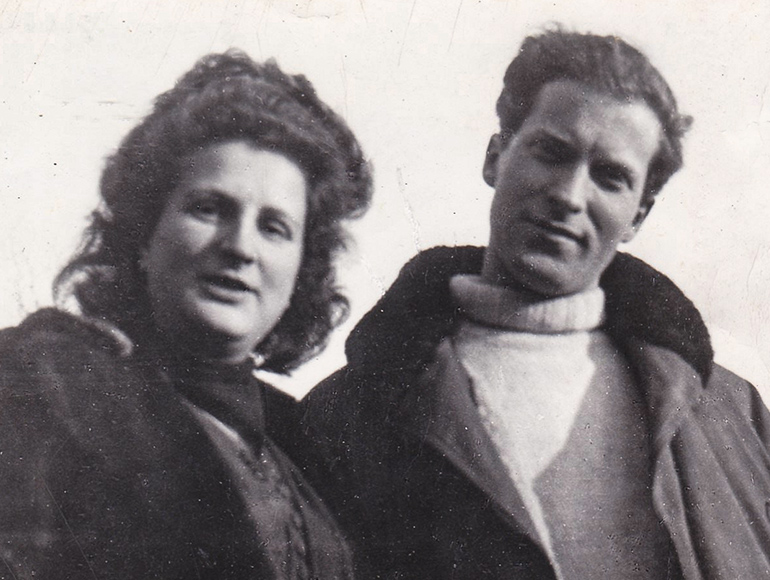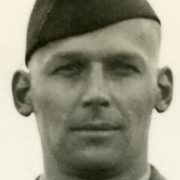 No letter from René on August 7, 1944, so here's an excerpt from the journal of Dr. Philip Westdahl. He writes about his brother, as well as what René and some of the other doctors are up to.

---
---



        It was early in August when I learned that my brother Dick had been wounded in Normandy on June 13th. From all I could surmise it was not a severe wound, and I must confess I was grateful and relieved to feel that he had escaped so fortunately and was out of danger for the moment, at least. Knowing Dick and the generally admirable pride of infantry non-coms, however, I am sure he was anxious to rejoin his outfit and be back there pitching.

        On August 7, Roy Cohn, Chuck Schwartz, Paul Stratte and Rene Bine left us on detached service as a surgical team to be attached to a hospital going in ahead of us on the coming invasion. They were fortunate enough to have their names picked out of a helmet from amongst a list of eager and enthusiastic volunteers. I was one of the less fortunate aspirants.

 

.

Watch for René's next letter on
August 11, 1944

During the 38 days that the 59th Evac Hospital was set up in Italy (Anzio and Battipaglia), they performed 265 surgeries, for an average of 6.97 cases per day. On July 16, they performed 19 cases, the greatest number of surgeries in a 24-hour period while in Italy.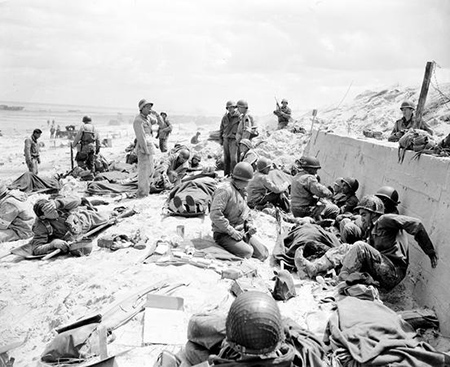 American soldiers lie on stretchers and sit propped against a sea wall awaiting transportation back to England for treatment after being wounded in the Normandy invasion, in northern France, June 1944. One of the thousands of American soldiers wounded in Normandy in June was Dick Westdahl, Philip's older brother.

August 11, 1944
Somewehere on the Mediterranean Sea
No. 39

Dear Folksies,

          Shortly after I wrote my last letter I was kept sort of busy assisting Jones and Fadley in Supply, and then even went to the city [Rome] with Bergie (Medical Supply Sgt.) on business for two days. We took a few of the other boys with us, but they spent their time wandering around seeing the sights, while Bergie, Sharp (the driver) and I worked. We traveled around quite a bit over some of the darnedest roads, trying to get some equipment to a few of our boys who were on detached service with another outfit.
          Also visited the gang that used to be our next-door neighbors in Sicily. The officers seemed quite satisfied, but their men were rather discontented as they were taking care of nothing but German patients. It's hard on the men and nurses who have to be around those patients when they are unable to converse with them – something that relieves the idle monotony of hours on the wards when there are American soldiers in them.
          That night the men had rented a couple of rooms and rather than try to get rooms at the usually crowded officers' hotel and be away from our vehicle, I stayed with the men and we really had a good time. We were served dinner right in our rooms and 'twas pretty good. The other fellows with us are Clive Schmidt, Spudowski, George Heath and Bert Cross. That night we saw an excellent movie, "Lady, Let's Dance!" I don't know who was in it, but she was an excellent dancer and ice skater. That's the type of picture it was – sort of an ice follies thing. When we lined up to go into the theater, we were very doubtful that we would get in, for the line was a block and a half long on our side and the same length of line made up by the British soldiers coming from the other direction. However, when the line started moving it just kept going and we soon found ourselves in a very spacious theater. It was the nicest theater we'd been in to date, and despite the mob there, empty spaces were still visible.
          The next A.M., Bergie and I took off early and attended to business and then later in the day picked up the rest of the guys and headed home. When we got back, Ken greeted us with the information that I was leaving the next A.M. Had expected it for several days, but things had been so drawn out that when the info. came to leave at last it was sort of a surprise. However, we were all set in no time.
          You see, a couple of weeks before we had (those of us who wanted to) drawn straws to see who would be part of a surgical team. There had to be one major and three captains, so Mattie told all the majors that if they didn't really feel very anxious to go that they better not be in on the draw at all, for he felt that if Roy wasn't able to go, he would never forgive anybody. The other lucky ones turned out to be Chuck Schwartz, Paul Stratte and myself.
          After the names had gone in, the Old Man tried to get my name taken off and Pete Joseph substituted. For some reason or other he decided that I was his most indispensable medical officer. It was a compliment all right and I knew what he meant, for I've worked in more different sections of the hospital than anyone else and could, if necessary, run Supply without much difficulty. As it turned out the orders had already been cut at higher headquarters and it was impossible for him to change them. Now I'm glad that he wasn't able change them.
          The four of us, with our three enlisted men – Clint Green, Chuck Davis and Bill Kioski are looking forward to a good time. Plenty active, no doubt.
          After sitting out in the dust for a very short, though too long, time, we moved to another dusty spot amid the grape vines. For some screwy reason, no provision had been made for rations for us for the next few meals. But leave it to us, Chuck and Paul went foraging and came back with a whole case of "K" rations, a can of coffee and 5 lbs. of sugar. As a result we didn't starve, but I must say we were very happy to see the A.R.C. (American Red Cross) gals on the deck with their lemonade and donuts awaiting us.
                                                                                        Loads of love,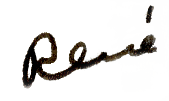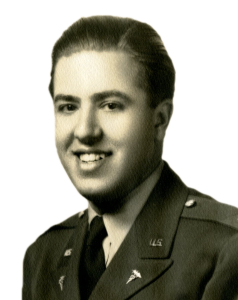 .
Watch for the rest of this letter
August 12, 1944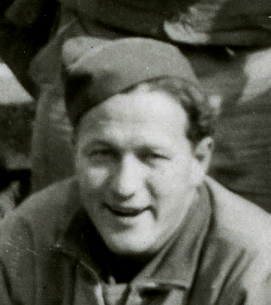 René tells his parents about a couple of adventures he had with Medical Supply Sgt. Bergstrom – known as "Bergie"

René labeled this photograph, "Leaving to join the 93rd Evac at Naples, preparatory to Southern France invasion."
Left to right: Roy Cohn, René, Bill Kioski, Paul Stratte, Chuck Schwartz, Chuck Davis
Click here to add your own text
August 12, 1944
Somewhere on the Mediterranean Sea
No. 39 (conclusion)

Dear Folksies,

          It's hotterin 'ell and "bloody" sticky.  As I write, the sweat is pouring off me and the paper is rapidly beginning to curl.  Don't let anybody ever tell you that a Mediterranean cruise is a pleasant thing, at least at this time of the year.  How people could cruise around at this time of year in peace time is beyond me — particularly in mixed company, for it is still damn far from comfortable, even au naturel.
          We've been roasting like this on the water for a couple of days, having sat, sweat and swat for a couple of days before that in a sunny, grape-vined area, which was covered with a foot of dust.  Even the salt-water showers aboard ship were a godsend.
          Our accommodations are really pretty good – far better than on our trip from the U.S., though I must admit that the food on that trip more than made up for the uncomfortable quarters that we lived in. Here there are only four of us in a room — a small room with two double-deckers.  And if the weather were not so bloomin' hot, it would really be okay.
          The food that we have is good, but what the enlisted men get is definitely not good.  The British are very different from the Americans in that respect.  Their officers get excellent food and their men very poor stuff, poorly prepared; while in our Army and Navy the only difference is in the preparation and a few little extra niceties that the officers get. We've had some excellent roast-beef, lamb chops and pork. Another thing we get, naturally, is afternoon tea. The heck of it is that it merely serves to heat you up all the more and gives you more liquid to have pouring down your brow and back.
          Leave it to Roy – à la R.B. Sr. — the first night aboard he gets the Captain of the ship down into our stateroom for cocktails before supper.  He had also gotten acquainted with the radio officer, who was a very nice and mighty interesting fellow. So, with them, a British officer and a French Captain, we have had quite the little gathering in our cabin.
          This afternoon I had a good bridge game – seemed to hold all the cards for once, with some of the strangest distributions I've ever had.
          We had sort of a funny deal — we were told to turn in all of our money (all of it) and then we find that we can buy lemonade and carbonated-ade on the ship. But with no money, we've been in sort of a pickle.  'Tis well, however, that we we did make the acquaintance of some of the Britishers, as their money is good on ship, and we've managed to do fairly well.
          'Tis the end of the page, just about the end of what I had to say. 'Tis still hot, though 10 P.M., so shall disrobe and climb into my bunk.
                                                                                        Loads of love,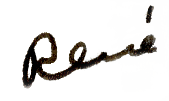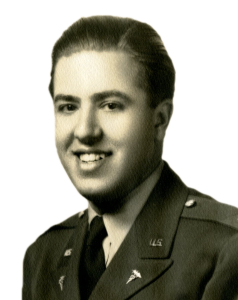 .
Watch for my next letter
August 13, 1944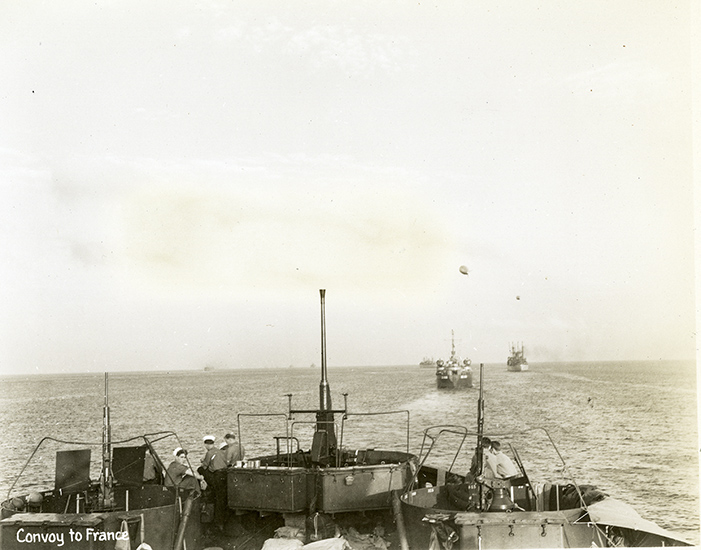 René is one of four doctors from the 59th Evac Hospital who are on a ship heading for the south coast of France. Along with the doctors are three enlisted men: Clint Green, Chuck Davis and Kioski.

Click here to add your own text
August 13, 1944
"Somewhere"
No. 40

Dear Folksies,
            I head this letter as "somewhere" because that is actually just about what describes our situation — we know not where we are, though we have been officially told tonight that we can write saying that we are "Somewhere In Southern France."  Of course, by the time this letter makes the return trip, we will have been in Southern France for a while and will have been well established there, we hope, by the time you get this letter.
            As I've told you, its just Roy, Chuck, Paul and myself representing our gang. Where and when they will join us, we know not. We all certainly hope this will be the last big show on this part of the globe. We, the officers, have continued to eat well, plenty of meat (roast-beef, lamb and pork), a good deal of the so-called "compote" beaucoup soup and tea. We've gotten pretty used to having the sweat pour off of us and by pouring salt on any and everything we eat, besides taking an occasional salt tablet, we think we have been able to maintain our chloride balance.
            It's been rather hard sleeping at night, and some have slept on deck, while we were at a standstill at harbor. But being underway, well, everyone will have to do their sweating at night below decks.
            Thanks, Gram, again, for the field glasses, as in the Sicilian business, they have been in great demand these days. We've been able to pick out friends at considerable distance.
            Had an interesting talk last night with a French Captain George Blanchard, who is acting as liaison officer. He tells me that Jean-Pierre Aumont (our Hollywood representative of the family) is acting in a similar capacity on this deal on one of the American outfits. Perhaps I'll get to meet him! The captain is originally from Bordeaux, but studied some in Paris, and while there, he had heard Jacqueline play in concert several times.
          It will certainly be wonderful if I can locate cousin Jeanne and David after a while. But I imagine that will be a terrific job for some time to come. But I shall certainly hope and will investigate when the opportunity arises.
          The British aboard the ship have certainly been swell to us. We've made particular friends (that is, our group) with the radio officer and a young naval lieutenant from South Africa. The latter, in particular, has been most generous, has loaned us his personal books to read, has joined in and also supplied the makings for evening snacks, and, in general, been quite a guy. He's only about 24 and loves to tell us of how much more like the U.S. South Africa is than it is like England.
          We've all had quite a laugh over the little booklets the Army puts out before any of these invasions – booklets describing the country we are approaching – for, according to every one we have had to date, the country can be compared very closely to California, with only slight variations on the theme. For instance, this time, they say that Southern France is like California in land and climate, except they don't have good irrigation.
                                                                                        Loads of love,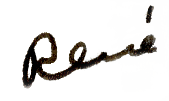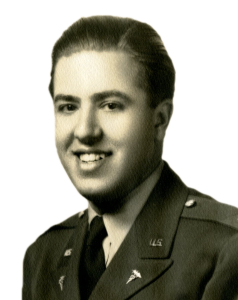 .
Watch for my next letter
August 15, 1944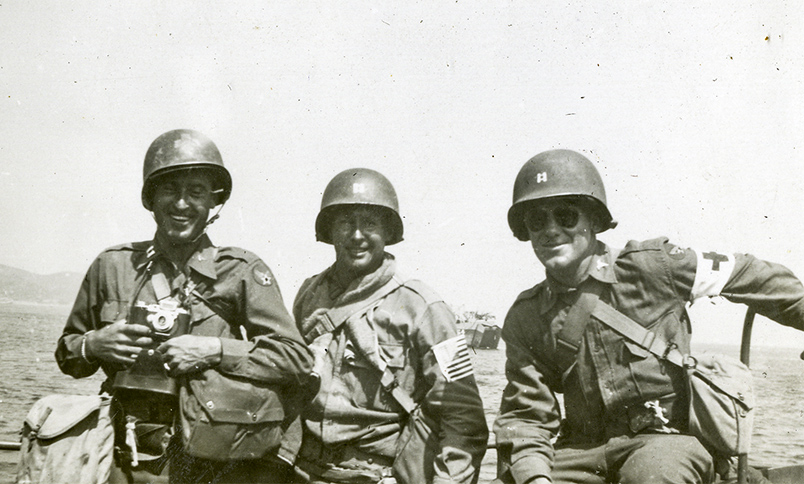 Bill Simpson, Chuck Schwartz and Bill Bradley on the LST with René, who undoubtedly took this photograph.

René hears news of Jean-Pierre Aumont, who he describes as "our Hollywood representative of the family." His real name is Jean-Pierre Philippe Salomons.

Click here to add your own text
August 15, 1944
Near St. Tropez, France
No. 41

Dear Folksies,
          Our landing here turned out to be, instead of a grim and determined ordeal, a tiring but swell experience.  In fact, on looking back it was really lots of fun.  (Perhaps that's a bad viewpoint to take for, one could, and probably will, use such experiences for dramatic and hair-raising cocktail material when one finally gets home.)
            We awoke a couple of hours before dawn on the big day and what we could see in the fog was an amazing sight — all kinds of ships — every description from tremendous to tiny.  It wasn't long before the big boys let loose — what a racket!!
            The whole operation was a masterpiece of organization. Things went off in much better fashion than any previous invasion.
            We were on land ourselves in no time — just a few hours after the first men.  How close seems appalling when one thinks back about it. We got off our big ship and onto a smaller one, musette bag, gas mask, medical kit, and sleeping bag (with 2 extra clothes) on our backs!!  We were landed about 50 feet off shore and waded up to our necks from the boat to the sandy shores.
             Roy and I then went back for the two bloomin' anesthesia machines (50 lbs each) — luckily they were in crates and we were able to float them in.  Roy and I think we deserve some sort of extra medal for packing those darn things all the way like that. The gang we're attached to should have arranged for bringing them.
            After we were on solid ground (having plunked into holes in the sand in the water on the way in) we were a funny looking bunch, pants sagging below the knees where they had beaucoup water ballooning them out as they went into our boots. Our boots are waterproof alright, but that doesn't do any good when water goes above the belt and then down that way into the boots.        
           We hiked a ways in our salty, soggy stuff and then stopped while someone tried to locate where we were supposed to go to meet the main body of the hospital gang (only the "attached group" was with us). 
          While waiting we disrobed and tried to dry our stuff out in some Frenchman's backyard. While so doing, standing in our undies (along with a very nice Hdq. Lt. Colonel we had met on the ship) along came a couple of generals and it made quite a picture — our saluting them while almost au-naturel along the side of the road.  'Twas was really funny!
          After we were finally given a faint idea as to where to go, we started off with our big loads to go about a mile and a half. Roy and I and our 3 boys got there first, despite the fact that we went two extra miles forward in our search.
            We continued tramping up and down the road, as the M.P.s didn't seem to know exactly where the area was, and actually we had gone by it before a sign was put on the road to show the turn off to the area. We finally back-tracked and found the rest of our "attached gang" just coming up the road. They had gotten a direct ride, whereas we walked a good bit of the way — getting an occasional short ride.
              So, for a day we camped on the side of a hill very recently vacated by the Germans.  We got some nice wicker furniture from one of their command posts, found some Frenchmen with some good "vin rouge," and made ourselves fairly comfortable. In fact, imagine playing bridge on a French hillside, while drinking wine, on the evening of D-Day!  That's what we did all right.
                                                                                        Loads of love,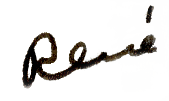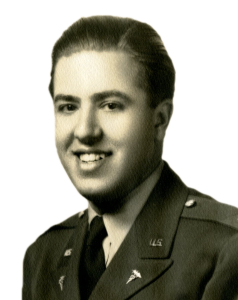 .
Watch for the conclusion of this letter
August 18, 1944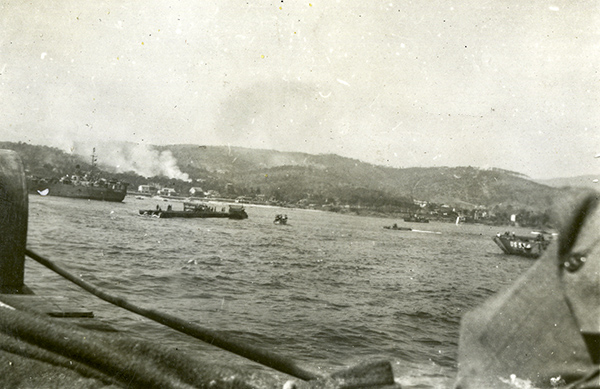 Operation Dragoon — D-Day August 15, 1944: St. Maxime from the LCI on which René is sailing.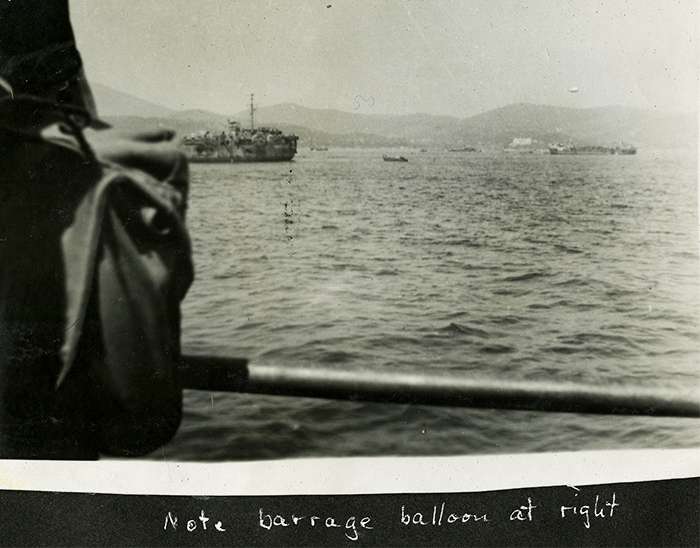 René notes the barrage balloon in the upper right of the frame. A barrage balloon is a large  "kite" balloon used to defend the ships below by raising cables that pose a collision risk to attacking aircraft, thus making their approach more difficult and reducing the likelihood that they will hit their target.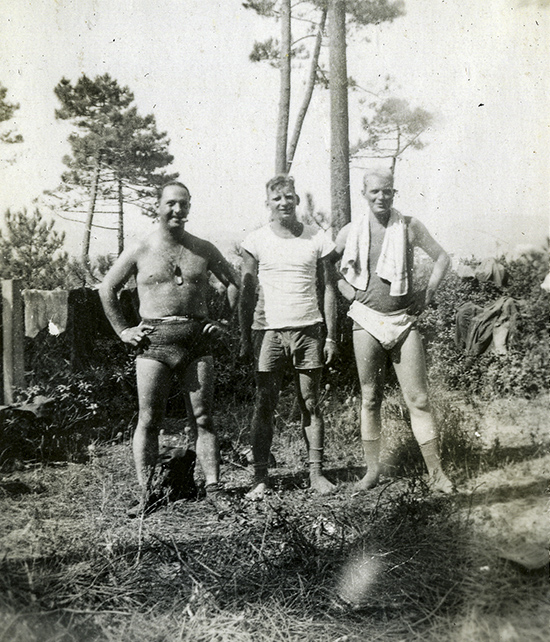 (Left to right) Enlisted men Clint Green, Bill Kioski and Chuck Davis drying off after their wet landing. As René described it: "We were landed about 50 feet off shore and waded up to our necks from the boat to the sandy shores."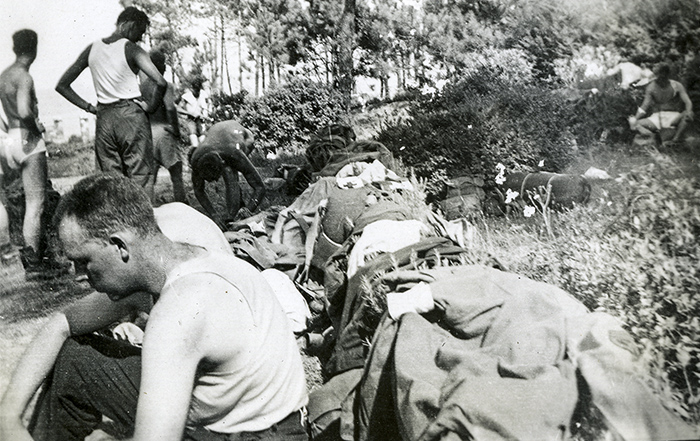 Click here to add your own text