August 27, 1944
Southern France
No. 47

Dear Folksies,
            We're still loafing and enjoying the countryside at the moment, and keeping out of the range of the 59th, which is somewhere around.  We've seen some of our boxes, but no men.  And, as we know they are not as yet working, we're going to let them find us when and if they can, and if they really miss us.
            Yesterday Chuck and I hiked the hillside — through pines and low brush much as one finds around Tahoe and Feather River. We made our own trails part of the way and came out a bit scratched up by the brambles.  Today we started out with Roy to hike to a town about 3 to 4 miles from here, but we got a ride, so Roy went on with the truck to visit a friend where the truck was headed, while Chuck and I stayed in this nearby town and had lunch there and stayed several hours.
          The people here again were very friendly — we were invited into several homes, shown the town, given wine to take back to camp, taken through the small hospital, and engaged in conversation all day long.  The pharmacist spoke excellent English, but with all others we spoke French and got along fine.  'Twas a nice town — a Sunday afternoon in the town square — and we had a good time.
        Chuck was looking for a place to get some perfume to send to his wife, and that is how we happened to run into the druggist.  He had some "Eau De Cologne" and gave us each a small bottle of it, refusing to take any money — not even cigarettes, because he said he was so glad the Americans were here.  We felt awful taking anything like that, but he was insulted when we told him we didn't want to take anything without paying for it.  So finally we did take it.  He later chased us down and gave us wine to take back to camp with us — some excellent white wine, and again he wouldn't take anything for it.
          While we were sitting in the square this morning, the local Sunday school was dismissed and as all the little girls came by us they stopped to say hello and to shake hands with us. What a difference from Italy – I repeat!!
          Interesting too, the fact that many of the people in these towns are refugees from the Southern Coastal towns, awaiting return to their homes when their towns have been liberated.
                                                                                        Loads of love,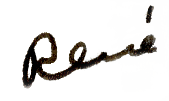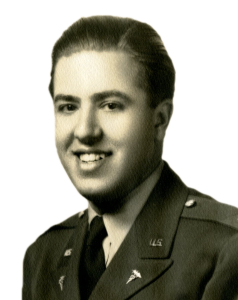 .