One morning during our stay in Sessa, we became aware of a continuous and gradually increasing drone approaching overhead from the direction of Naples and heading in a northwesterly direction. Here was one of the tremendous formations of Fortresses and Liberators of which we had so often heard and read of, on its way to a target which we later learned was Toulon.

         Wave after wave of them flew over during a half hour period, a terrifically impressive sight. It was difficult to make an accurate count because some of the squadrons were far to the east or west, but there were in the neighborhood of 900 in all. A few formations of P-38 Lightnings accompanied them.

         During the next hour, an occasional lone bomber returned – presumably due to engine or other difficulty. It wasn't till four hours later that the great mass of them began to return, some in formations such as came over earlier, but many in smaller groups. We couldn't help but wonder how many "of our bombers failed to return."

.

Watch for René's next letter on
June 5, 1944

Dr. Westdahl describes seeing "tremendous formations of Fortresses and Liberators" flying overhead while they were bivouaced at Sessa.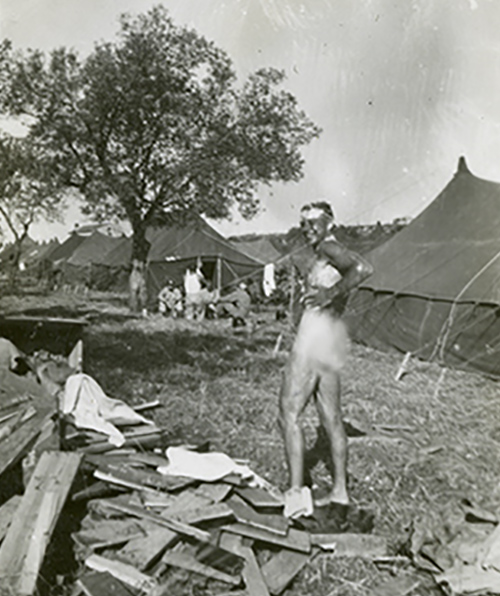 And on the ground…Roy Cohn bathing in a field during the 59th's stay at Sessa.

June 5, 1944
No. 27

Dear Folksies,
            Today is your birthday, Dad, and my thoughts are with you. Wish I could be there to celebrate with all the rest. I didn't realize until today, when I got ahold of my carbons, that it had been a full two weeks since my #26. Despite the fact that there is nothing to say, I would have written at least a "hello" had I realized that the days had passed so rapidly and yet so slowly.
            The All-Star baseball game was pretty good. Wy did not play, but Lefty did and did alright for himself – tho' the other team won.
            The officers had a baseball game vs. the mess dept. and by golly we beat them, much to our surprise. Continued playing baseball and volleyball frequently. Some of the gang have gone swimming in the last few days, but I have been doing some work and have done some hiking with Chappie. One morning we hiked 12 miles.
            Some of the officers have taken up whittling for lack of anything else to do, and some have come up with some of the most amazing things. Ed Blasdel managed to whittle out quite a lengthy chain with several links, with a small wooden bell that runs up and down in sort of a wooden cage, linked onto the end of the chain.
            George Sterba is now a Major. So, he wasn't good enough to stay in this outfit, so the two stupes at the top said way back at Pickett!!! Were they burnt up when they heard about it!
            Dad, do you remember Gene Kloss? He went into the army about the same time as Burt Adams did and was at Ord when we were, then in the same outfit as Burt was. He paid us a visit the other day wearing Lt. Col. leaves. He's only recently overseas – in charge of a medical battalion. And he was an intern under Ralph Cressman and was of the same vintage as Schwartz, Klein, Halter, etc. Just another piece of evidence that all the rank seems to be passed out in the States.
            All sitting and griping while Oral B. and his stooge managed to get everything royally messed up. One of these days they'll do something right and all of us will fall over in a dead faint from sheer surprise.
             I understand that today Rome has fallen.  Imagine the papers at home are really selling the newsprint like fire today.
                                                                                         Loads of love,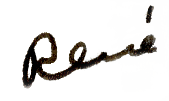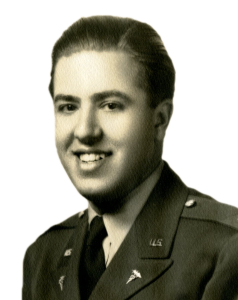 .
Watch for my next letter
June 11, 1944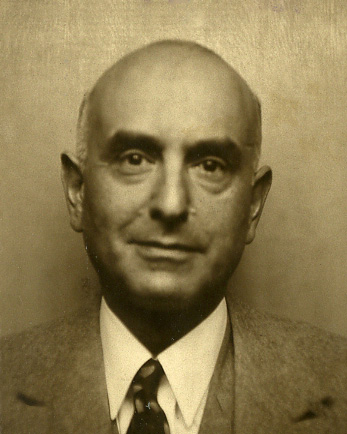 Today is René Sr.'s 62nd birthday and also the day that Rome fell into Allied hands.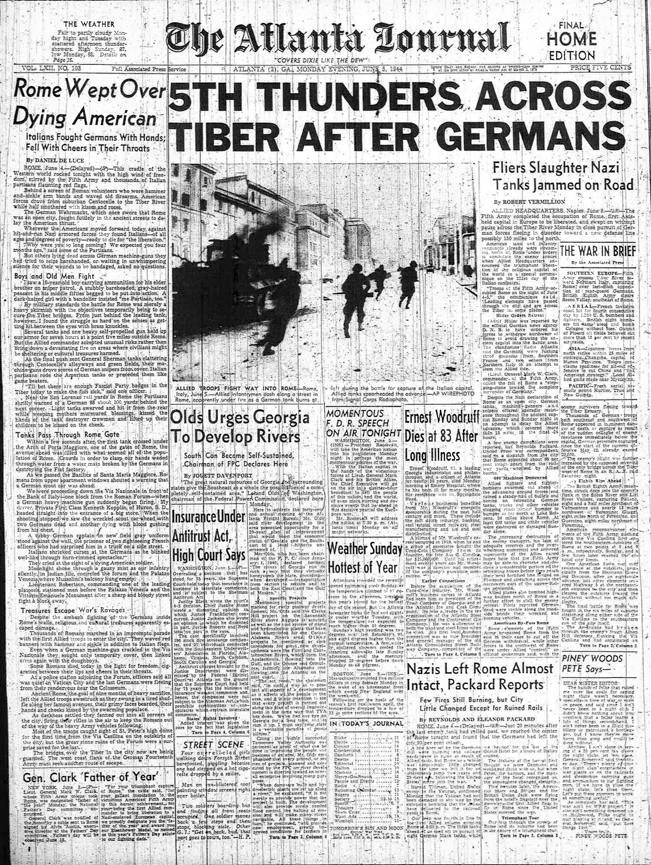 René tells his parents that there is so little to do that some of the officers have taken up whittling and that Ed Blasdel has been making some amazing things.

Click here to add your own text



       On June 6, we headed for Anzio by truck convoy. Traveling along Route #7, the famous Appian Way, we passed through Formia, Fondi, Terracina, Littoria and finally came into the now famous beach head at Nettuna. All of these cities were in complete ruins. It almost made us sick to the stomach to see the terribly wasteful destruction that is part of war. Without seeing it first hand one can never fully appreciate the full significance of the destructive aspect of war.

       There was very little destroyed war equipment along the route, undoubtedly due to the rapid, but orderly, retreat by the Germans. Here and there a destroyed tank, truck or gun could be seen.

       Everywhere the engineers were busily repairing railroads and bridges and the signal corps was attempting to restore the power lines.

       Finally we reached the beach head and I must say I have never seen a more impressive sight. Only now can I fully appreciate what these men have been through. Here is a narrow stretch of flat land surrounded by hills from which the German artillery could see every move of the troops on the beach. This was the target of the famous "Anzio Express," a 175 mm, self-propelled cannon that was responsible for so much of the pounding of the beach head. We saw this gun in the ordinance yard when we came in – it had been captured intact on May 29. 

       The most remarkable sight was to see the way that everyone and everything was "dug in." Even the hospitals were all partially below ground with gunnysack barricades over the roofs of the surgical tents. The hospital personnel all slept in dug-outs within their pyramidal tents, also covered by sacks of sand.

       Even trucks and ambulances were driven in to dug-outs at night or when not in use. We were told of numerous instances in which shells had landed within the hospital area and personnel, including officers and nurses and patients, were killed. The 95th Evac. was pulled off the beach head because of a direct hit. It was after this that the hospitals were dug-in and with this protection no further deaths occurred, except by an occasional direct hit.

       All hospitals, ambulance and clearing companies were centered in one area about a mile square. These included the 3rd Division Medical and many Evac Hospitals, including the 15th, with Bert Halter, whom we saw during our first week at Nettuno. Another was the 38th Evac, which we replaced.

       Bert looks fine and give us a most interesting account of what they had been through. They had done a tremendous amount of work and taken a terrific pounding. The general feeling of the medical officers was one of not wanting any further front-line work, and here we were dying to get into it. The situation was no help to our already lowered morale to think that we came in after it was all over and were once again to be left sitting behind.

       We had a short and uneventful air-raid on the night of our arrival.

.

Watch for René's next letter on
June 11, 1944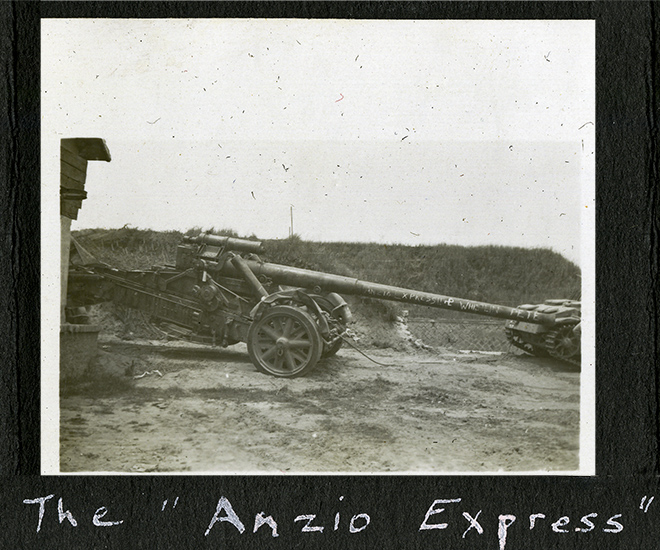 Dr. Westdahl describes seeing "the famous 'Anzio Express,' – a 175mm, self-propelled cannon that was responsible for so much of the pounding of the beach head [by the Germans]."

Dr. Westdahl said that the "most remarkable sight was to see the way that everyone and everything was 'dug in.'" René took this picture when they were getting ready to leave Anzio…after the tents had been taken down…to show how things had been dug in.




       On June 8, we started receiving patients by the carload figuratively, the majority of which were battle casualties being evacuated from forward hospitals. Most of these poor boys were exhausted by their repeated ambulance rides and transferal from cot to litter to ambulance to litter to cot. Unfortunately, this is a necessary evil in order to keep the forward hospitals empty enough to receive new casualties. Ours is their last top till they reach the base hospitals in Naples.

         Most of our patients leave the following day by air or L.S.T. The latter is a 12-hour boat ride. This will continue until air fields and water ports can be secured up ahead, from which evacuation direct to Naples will be available. In due time, the base hospitals will be moved to Rome.

         The patients coming through include our own boys, primarily, but also British, French and French colonials, and German prisoners. The latter are mostly youngsters from 17 to 20 years.

         Actual battle casualties consisted of every possible known battle injury. Shell fragment wounds outnumbered the gunshot wounds almost 2 to 1. A moderate number of arm and leg amputations were encountered, a good many of these caused by mine explosions. Several civilians, men and women and children, had met this fate.

         We also had a sudden influx of fresh casualties from air raids and mine injuries in the immediate vicinity, which kept surgery busy from early morning to darkness.

.

Watch for René's next letter on
June 11, 1944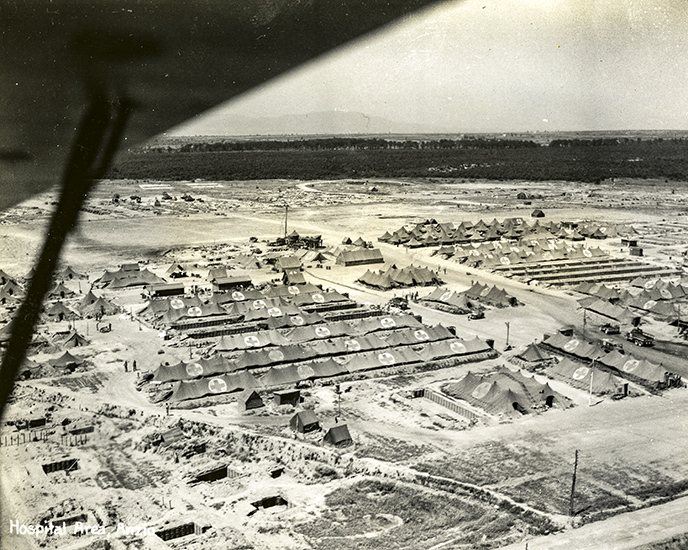 Anzio hospital from the air.

June 11, 1944
No. 28

Dear Folksies,
           No mail in over two weeks now, so none to answer.  That, of course, is all screwed up again and if we get all our mail up to date within the next month it will be a miracle.  What with two moves in as many weeks, the mail is having difficulty finding us.
           Where are we?  Oh, yes, somewhere in Italy!  After sitting around a few weeks in Sicily doing nothing, another outfit took over.  Then, our so-called "advance party" consisting of the Col., Collie, Gerbode, and most of the nurses, took off in a liberty ship. As soon as they landed, the nurses were farmed out to different hospitals in the area, Gerbode went to pick out an area for us to move into, and the other two brain-storms proceeded to put some 600 miles on the odometer of the command car in the three days prior to our arrival.  They toured around, seeing Pompeii, Vesuvius, Italian ruins, museums, etc. and even failed to report in to the official offices to let them know that we had or were arriving.  A fine advance party!
           We had a nice trip over ourselves, but those boats are really dirty.  When we landed we were immediately put on trucks and shipped out to bivouac with a small clearing outfit near the area where we were to set up.  This time it was a little different than when we landed in Africa, as we were smart enough to pack our own sleeping bags along with us and not have them in the hold of the ship.  We sat out in that area for three more days before the Col. even deigned to come out there and see us or find out what was going on out there.  Bishop and Jones got hell from various offices for the Old Man not having reported in and then the Old Man even gave them the devil because they hadn't done the thousand and one things he wanted done the first day that they arrived.  In fact, they had even had to hitch-hike some 40 miles to town to get to where the offices and the docks were to get our stuff unloaded; and they had no sooner arrived than they caught hell from the Old Man.  What an outfit!
           We had the engineers set up our supposed new area, put in roads, etc., and before we had started to move in at all, the orders were changed and we moved up to where we are now. Down where we sat for almost a week, we ran into our old pals and enemies who were the first hospital to get into the section of Africa that we landed in a year and a half ago. Having not much to do there, Chappie and I did some hiking on a couple of the days and then I supervised the unloading of part of our equipment that came up by train before the orders changed. Had a chance to practice French as we had some French truck drivers working for us. At the clearing company where we were staying they had practically all French patients, Goumes, etc. and they were for the most part brought in by French female ambulance drivers.
           We moved by truck in four groups finally, after the same "advance party" came up here to mess things up a day ahead again. I was among those in the first big group to come and we were most heartily greeted by Bert Halter, who looked swell, though thinner and a bit tired out. They had been on the go for some 10 days and had had more than enough to suit them.
                                                                                         Loads of love,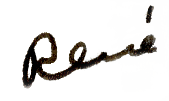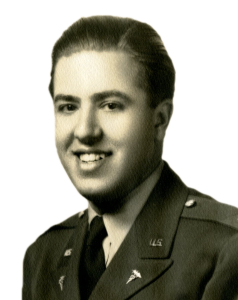 .
Watch for the rest of this letter on
June 12, 1944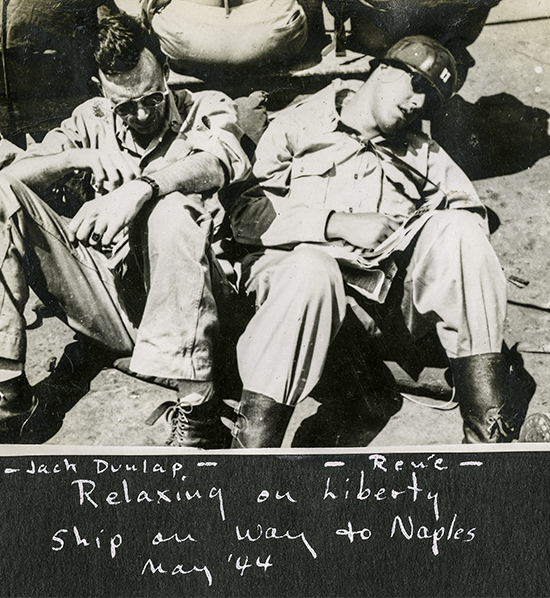 René said that he had a "nice trip" over from Sicily to Italy, "but those boats are really dirty." Here he is asleep on the deck of the Liberty Ship alongside Jack Dunlap.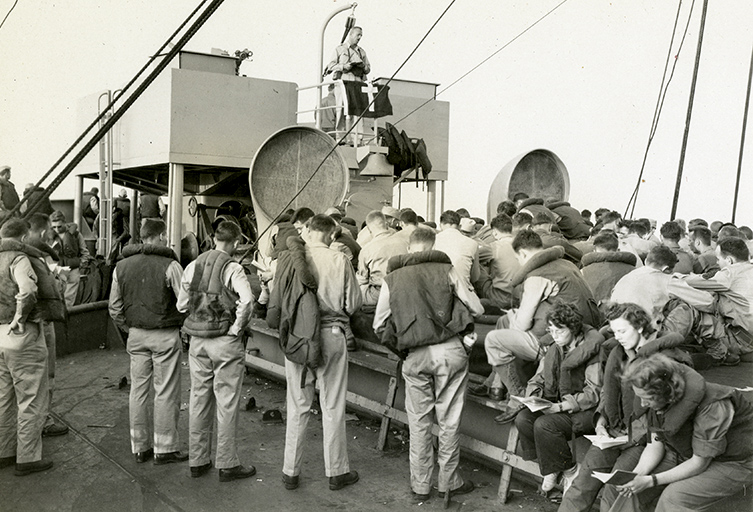 Onboard a Liberty Ship from Palermo to Naples.

Click here to add your own text
June 12, 1944
End of No. 28

Dear Folksies,
           The next day we heard the Invasion [D-Day Invasion of Normandy] had started and were sort of griped to be sitting here and being attached to another bloomin' Base Section again. We are supposedly a part of another Army in another section, but so far that army hasn't shown any signs of doing anything.  We had a big pool on the date of the invasion and I missed it by only a few hours, having bet on your birthday Dad.  If the weather hadn't been bum and delayed the invasion 24 hours, I would have won the $167 we had in the pool.  Hope everything goes all right up there in France!  It would sure be nice, though damn near impossible, if things went as well there as they have been going here in the last week.
          That day we ran into numerous friends in our vicinity, including Leon Michels. He looked fine, well-fed and healthy. Two days after Rome had been taken, Leon and I took off starting out just to see a nearby town.  But we got a ride from a fellow who was going up near Rome, so naturally we couldn't refuse the invite and had quite a ride, but succeeded in visiting there for just a few hours.  A few of the other guys managed to pull the same trick the next day.  We didn't see the Vatican, but managed to cover quite a little ground, seeing the Coliseum, the King's palace where Mussolini has held forth and fifth.  We bumped into some other medics whom Leon knew, and found that they had walked into a German Hospital while the Germans' food was still on the tables in their officers' mess.
          We had a good meal in one of the best restaurants in town. That place is certainly in marked contrast to anyplace that we have so far been. The city is clean, not damaged at all, people are clean, clothes washed and they are clothed, even the kids; no beggars or street urchins.  It was all rather amazing to see.  I wish we had more time to stay there.  There were two parades going on while we were there, one by some Scottish Highlanders band and one by an Italian Army band.  Quite the stuff, eh? Bumped into some friends we had known at Ft. Ord, Lewis and other points.
          We have been mainly acting as a transfer station, more than anything else, but have had a few first-hand things to do. I was working with Roy and Russ Klein on the critically ill surgical ward, but tomorrow am shifted to a medical ward. I'm plenty mad, but they do not have enough business to warrant another officer there now. That's why I've taken time now to write – to hell with the ward!
          We had two good U.S.O. shows here in the last few days — before we really got going.  They were the first shows in this area despite the many months that outfits were here.  Of course, they may not have wanted them here because that would mean large gatherings, which would be dangerous, and anyway they really didn't have the time for them.  I saw Marlene Dietrich, who was no good, but the Master of Ceremonies, Danny Thomas from Chicago, was very good.
          The other show was far better, it was excellent in fact — put on by a New Zealand U.S.O. outfit — a rather large group, very good band, fancy drapes on the stage, good sets, and the prize finale: an opera take-off with fancy costumes, swords, the usual non-understandable rigmarole, and the usual final death scene. They all died!  Means of self poisoning: Atabrine!
          I had quite a talk with Bert Halter. He may possibly be going home on the rotation deal. His mother is dying. She had cancer of the uterus removed a year ago, but just recently developed a cancer, primary, of the sigmoid. The hell of it is that Bert might get home alright, but then it might be too late and then he would regret having gone back. He is still up in the air and so are the papers on his rotation.
                                                                                         Loads of love,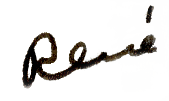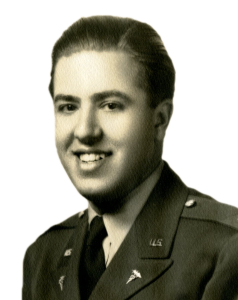 .
Watch for my next letter
June 13, 1944

René got a ride up to Rome and while there, he visited the Coliseum.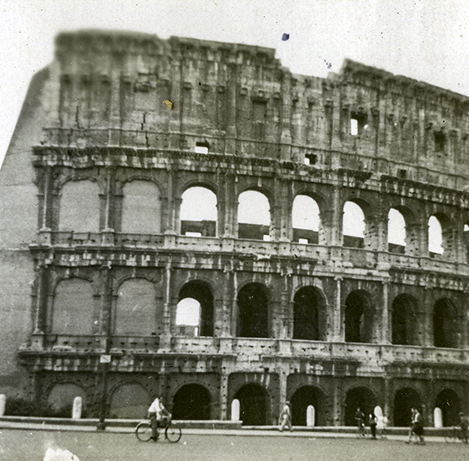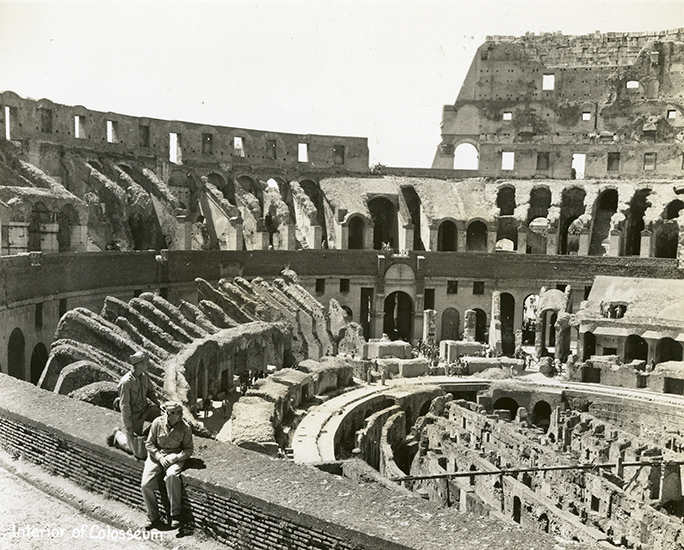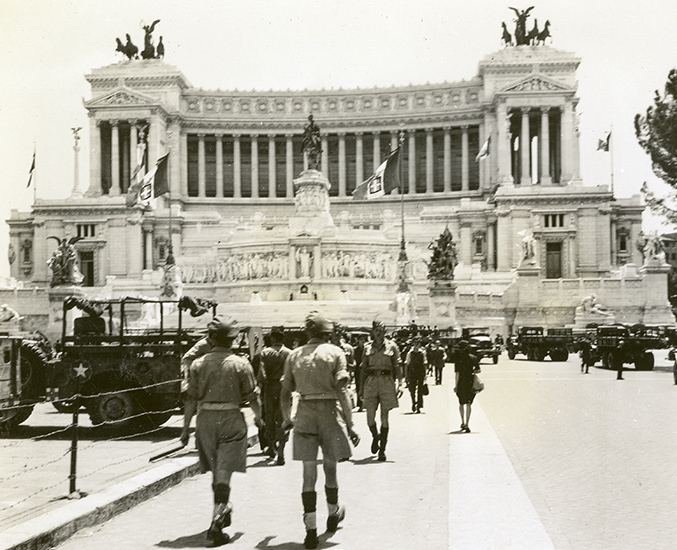 He also saw the palace of King Victor Emmanuel.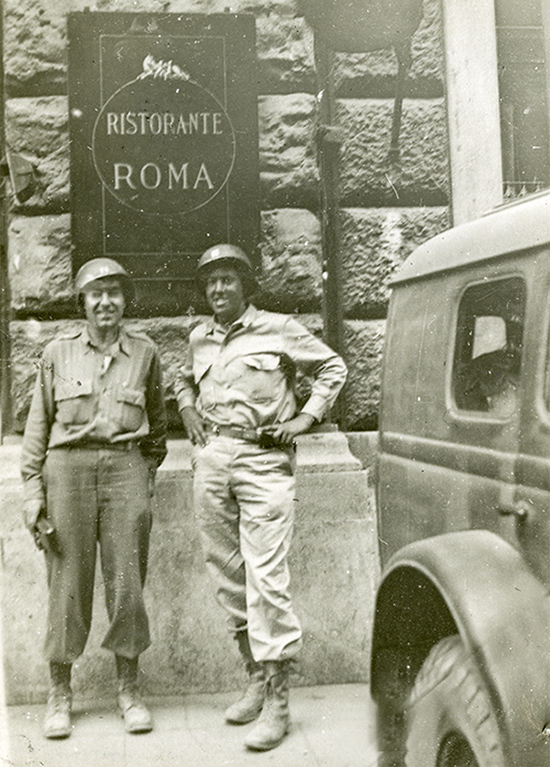 René (pictured above on the right) had "a good meal in one of the best restaurants in town."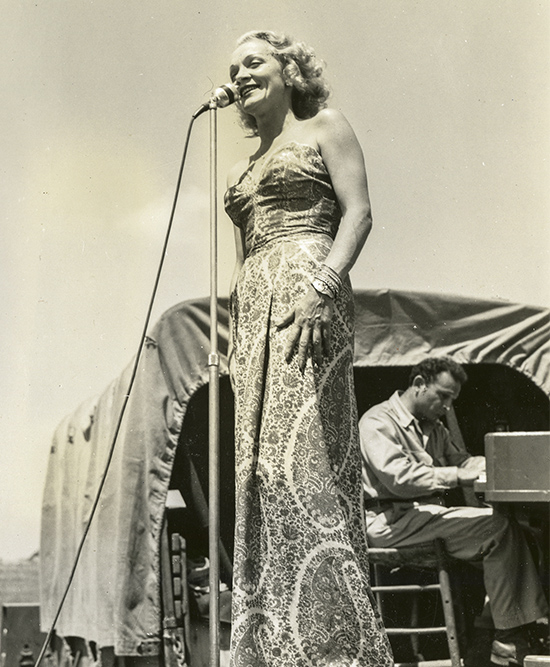 Back in Anzio, René saw Marlene Dietrich in a U.S.O. show. (above)
And, not to be outdone, the 59ths own Sargeant Sateja did his Carmen Miranda act (below)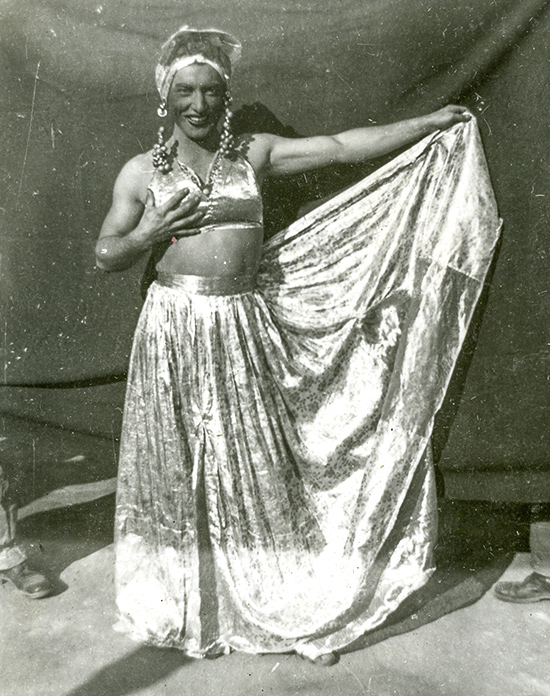 Click here to add your own text
June 13, 1944
No. 29
Anzio, Italy
Dear Folksies,
            We are all very surprised at the rapidity with which the War Dept. notified Bill Drew's family about his death. As you know, no casualties can be mentioned in letters for 90 days, unless word has definitely been received from the U.S. that the person's family has been notified. Now that you already know about Bill, it's O.K. to mention it.
            His fall was from a couple of floors up in our living quarters – 'twas in Sicily – and occurred early in the A.M., just before calisthenics. The stairs came down, not circular, but at right angles all the way down and if one tripped one could, with momentum, go over the railing at one of the turns. No one saw it happen, but some of us heard the crash, and thought it was someone in the basement Supply dropping a box. Bill landed right next to one of the Supply boys who was still asleep. He was gone in no time at all, having an extensive basal skull fracture, besides a fracture of the tibia and fibula. He was gone in only a matter of minutes.
            The funeral was at a civilian Catholic church and was quite an elaborate ceremony – full of Latin, of course, and not more than two or three words in English. Our new Chaplain presided with the aid of two other Chaplains and a Sicilian priest. The whole unit was there. Pall bearers: Kuzell, Bryner, Brown, Welles, Treadwell and Joseph. Honorary Pall-bearers: Gerbode, Westdahl, Cohn, Escamilla, Schwartz, and R.B.Jr. Only the 12 pall-bearers, Reilly & Kiernan who assisted the Chaplain, and Cressman and Greene who were ushers, went to the cemetery.
            At the moment we are in sun-tans and all of us have been surprised that we have been able to wear them this long. Last year, you will remember, we were in them for about a total of 2 weeks, despite the terrific Sicilian heat that we ended up in. But, of course, that was because we were directly under friend George Patton. Being temporarily Base Station stooges, we are being allowed to remain in sun-tans tho' the "Army" troops are in wools. Sooo, thanks for the green shirt. Sort of sorry that you spent the extra money for it, but it will get worn anyway, if not much in the next few months, some months thereafter unless this bloomin' mess is over considerably earlier than I anticipate. Thanks, too, for the trunks – despite our beach location more or less, we're not doing any swimming now.
           It's pretty warm here. I'm living with Klein and Armanini in tents, yes!
                                                                                         Loads of love,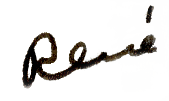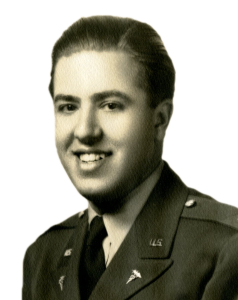 .
Watch for my next letter
June 15, 1944

René shares some of the details of the shocking death of Dr. Bill Drew (shown above) while they were still in Sicily.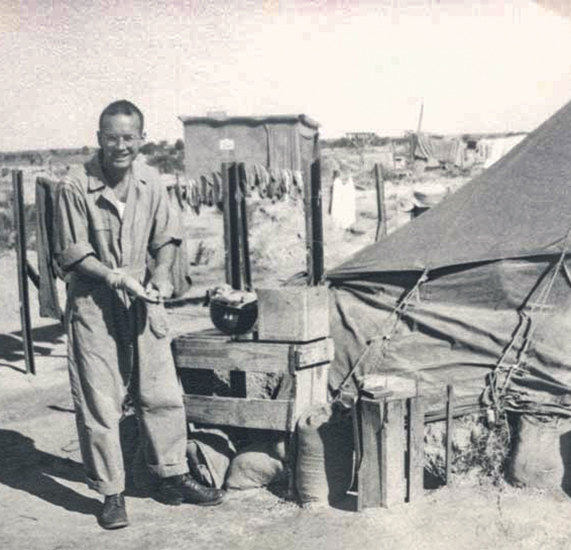 René tells his parents that he is sharing a tent with Russ Klein (above) and George Armanini.

Click here to add your own text