June 5, 1944
No. 27

Dear Folksies,
            Today is your birthday, Dad, and my thoughts are with you. Wish I could be there to celebrate with all the rest. I didn't realize until today, when I got ahold of my carbons, that it had been a full two weeks since my #26. Despite the fact that there is nothing to say, I would have written at least a "hello" had I realized that the days had passed so rapidly and yet so slowly.
            The All-Star baseball game was pretty good. Wy did not play, but Lefty did and did alright for himself – tho' the other team won.
            The officers had a baseball game vs. the mess dept. and by golly we beat them, much to our surprise. Continued playing baseball and volleyball frequently. Some of the gang have gone swimming in the last few days, but I have been doing some work and have done some hiking with Chappie. One morning we hiked 12 miles.
            Some of the officers have taken up whittling for lack of anything else to do, and some have come up with some of the most amazing things. Ed Blasdel managed to whittle out quite a lengthy chain with several links, with a small wooden bell that runs up and down in sort of a wooden cage, linked onto the end of the chain.
            George Sterba is now a Major. So, he wasn't good enough to stay in this outfit, so the two stupes at the top said way back at Pickett!!! Were they burnt up when they heard about it!
            Dad, do you remember Gene Kloss? He went into the army about the same time as Burt Adams did and was at Ord when we were, then in the same outfit as Burt was. He paid us a visit the other day wearing Lt. Col. leaves. He's only recently overseas – in charge of a medical battalion. And he was an intern under Ralph Cressman and was of the same vintage as Schwartz, Klein, Halter, etc. Just another piece of evidence that all the rank seems to be passed out in the States.
            All sitting and griping while Oral B. and his stooge managed to get everything royally messed up. One of these days they'll do something right and all of us will fall over in a dead faint from sheer surprise.
             I understand that today Rome has fallen.  Imagine the papers at home are really selling the newsprint like fire today.
                                                                                         Loads of love,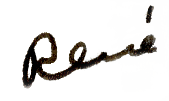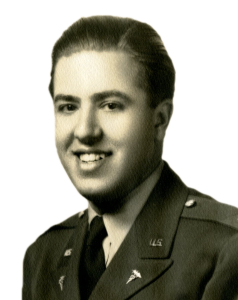 .