June 13, 1944
No. 29
Anzio, Italy
Dear Folksies,
            We are all very surprised at the rapidity with which the War Dept. notified Bill Drew's family about his death. As you know, no casualties can be mentioned in letters for 90 days, unless word has definitely been received from the U.S. that the person's family has been notified. Now that you already know about Bill, it's O.K. to mention it.
            His fall was from a couple of floors up in our living quarters – 'twas in Sicily – and occurred early in the A.M., just before calisthenics. The stairs came down, not circular, but at right angles all the way down and if one tripped one could, with momentum, go over the railing at one of the turns. No one saw it happen, but some of us heard the crash, and thought it was someone in the basement Supply dropping a box. Bill landed right next to one of the Supply boys who was still asleep. He was gone in no time at all, having an extensive basal skull fracture, besides a fracture of the tibia and fibula. He was gone in only a matter of minutes.
            The funeral was at a civilian Catholic church and was quite an elaborate ceremony – full of Latin, of course, and not more than two or three words in English. Our new Chaplain presided with the aid of two other Chaplains and a Sicilian priest. The whole unit was there. Pall bearers: Kuzell, Bryner, Brown, Welles, Treadwell and Joseph. Honorary Pall-bearers: Gerbode, Westdahl, Cohn, Escamilla, Schwartz, and R.B.Jr. Only the 12 pall-bearers, Reilly & Kiernan who assisted the Chaplain, and Cressman and Greene who were ushers, went to the cemetery.
            At the moment we are in sun-tans and all of us have been surprised that we have been able to wear them this long. Last year, you will remember, we were in them for about a total of 2 weeks, despite the terrific Sicilian heat that we ended up in. But, of course, that was because we were directly under friend George Patton. Being temporarily Base Station stooges, we are being allowed to remain in sun-tans tho' the "Army" troops are in wools. Sooo, thanks for the green shirt. Sort of sorry that you spent the extra money for it, but it will get worn anyway, if not much in the next few months, some months thereafter unless this bloomin' mess is over considerably earlier than I anticipate. Thanks, too, for the trunks – despite our beach location more or less, we're not doing any swimming now.
           It's pretty warm here. I'm living with Klein and Armanini in tents, yes!
                                                                                         Loads of love,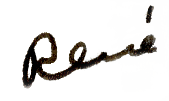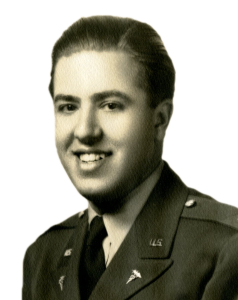 .