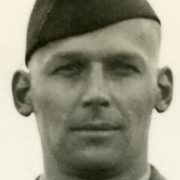 Here's an excerpt from the journal of Dr. Philip Westdahl …

---
---



During this period, the usual rumors of the war's end and the capture or death of Hitler were rife. The United Nations Conference was proceeding in San Francisco and Himler was supposed to have offered unconditional surrender to the U.S. and Britain, but not Russia. President Truman denied this.

Hitler was said to be dying as a result of a cerebral hemorrhage. One bit of news of worldwide interest was the announcement of the capture and hanging of Mussolini by Italian patriots. The first of the dictators had met his fate.

In the meantime, the war goes on – though German organized resistance was only sporadic.

.

Watch for René's next letter on
May 4, 1945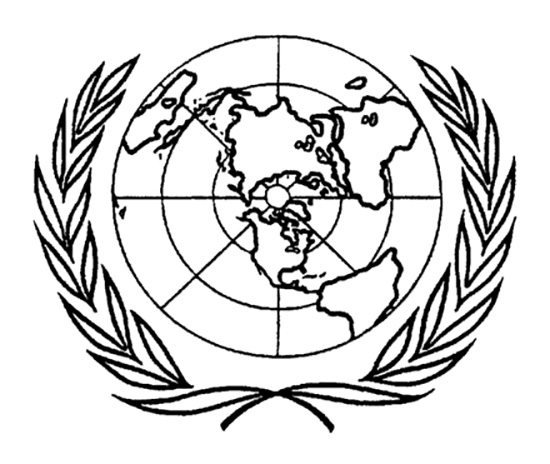 The idea for a United Nations organization began as part of the vision of Franklin D. Roosevelt, in which the United States, the Soviet Union, the United Kingdom and China would lead the post-World War II international order. The first United Nations Conference on International Organization (UNCIO), commonly known as the San Francisco Conference, began on April 25, 1945. Fifty allied nations participated in the convention, which resulted in the creation of the United Nations Charter. The conference was held at various San Francisco locations, primarily the War Memorial Opera House, while the Charter was signed at the Herbst Theatre on April 26. The nearby "UN Plaza" commemorates the conference.

May 4, 1945
Heidenheim, Germany
No. 33

Dear Folksies,        
       The past few days have certainly been filled with startling changes in the world.  The news has been amazing at almost every turn.  First comes Musso's demise [April 29] and then the announcement of Hitler's [April 30], followed rapidly by the capitulation in Italy [May 1] — the latter perhaps being the most surprising because of its speed.  Of course, the 7th's [the 7th Army's] rapid advance we do not consider as particularly surprising, particularly since our old stand-bys have been in the thick of it.
       It's an astounding thing, however, how an Army can keep up with itself on such rapid advances — only an American Army, I believe could do such a thing.  When one sees these usually rather stable outfits pick up and move umpty-umph miles after being set up for only a day or two, it's really a strange and wonderful thing.  I refer, particularly, to outfits such as ordnance, etc.  that have a good deal of equipment, a lot of shop equipment, etc.  Despite the hard work that it makes for everyone, nevertheless it is most gratifying to everyone to be able to pick up and move on forward — everyone knows that it just means that he is getting closer and closer to home.
       The weather the last few days has been miserable.  I never would have believed that we could have such awful weather in the month of May!  Why, strange as it may seem, I have driven thru snow-storms every day for the past four days.  They don't last long, but they are disturbing and darned cold to say the least.  And, when the snow lets up, the rain comes and continues on and on,  then suddenly the sun is out for five or ten minutes and everyone gets his hopes up, only to have them dashed to the ground again when the sun goes behind some dark clouds again and stays there!  Nuts!!
       Since there has been no business, I have been having fun touring around in search of things for the hospital and the Col. these last few days.  Sort of up to the old tricks that George and I had to pull something over two years ago. Have become acquainted with many a member of the Military Gov't and several Burgemeisters [Chief Magistrates of a town]. Have had as sort of an unofficial committee to assist me, Davy (the Col's driver – the Col. having driven himself the last few days on a trip with Mattie and Wally – more about that in a few minutes), Clint Green (who was with us on the Invasion), Spainhower (also a nite surgery fellow), and today Sgt. Jones. What a team we make!
       Came back two days ago with a swell little six-cylinder, convertible, two-door, sedan Mercedes Benz for the Col.  He is now authorized to have a civilian vehicle and so we got this for him. Boy, it really rides nicely — nice leather upholstery, good springs, and five speeds ahead.  It's a pleasure to drive.  It's painted a cream and black at the moment, but in a couple of days it will, of course, be G.I.
                         Loads of love,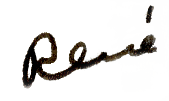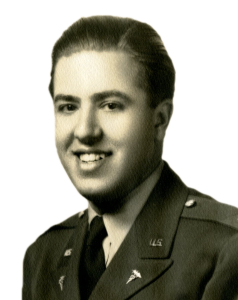 .
Watch for more of this letter
May 5, 1945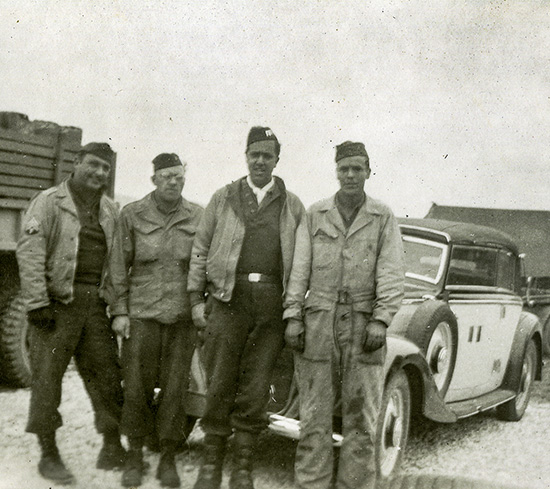 René's caption for these photos reads: "The Scavengers with Mercedes Benz found in Dilingen." Above (from left to right) Clint Green, Merrin Spainhower, René and John Davidson (Davy). Below (from left to right) Clint, René and John. "The Scavengers" found and came back with this Mercedes for Colonel Bolibaugh, who is now authorized to have a civilian vehicle.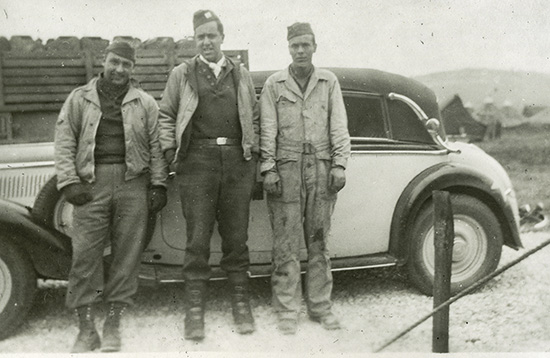 Here are some observations Dr. Phil Westdahl noted in his journal…

"On the evening of May 2nd, the 'Stars and Stripes' published the news of Hitler's death and simultaneously the B.B.C. announced the unconditional surrender of the German Armies in Italy. Surely the end is in sight. What a day this must be for those 5th and 8th Army boys who have been fighting in muddy, dirty Italy for the past 18 months. How justly they deserve the credit of being the first Allied front to achieve unconditional surrender.
 In the meantime, Munich has fallen and most of the German troops in southern Germany have either surrendered or been pushed into Austria. The Russians have virtually completed the occupation of Berlin. The 'Stars and Stripes' mentioned the possibility of surrender in Norway and Denmark."
May 5, 1945
Heidenheim, Germany
No. 33 (continued)

Dear Folksies,        
            The trip that the Colonel, Mattie, and Wally took was apparently a most enjoyable one for all, particularly for Mattie.  They visited Jena and Weimar.  Mattie, you see, had gone to school there not so many years ago.  He said he was dismayed when he saw the city and figured that all his old friends at the Clinic were most likely killed, buried under all the rubble that used to be the city of Jena.  However, much to his surprise, when he got to the district where the Clinic had been, he found that only one of its buildings had been demolished, and that one had been immediately adjacent to the Zeiss works.  Our boys apparently have really perfected their pin-point bombing.  We've seen other evidence of it also.
            Anyway, when Mattie went into the building it was dark, and he heard a voice yell down some stairs, "Who is there?"  He recognized the voice as being that of the Professor's nurse and merely answered back, "Ja, who is there?"  With that came the exclamation (of course all this was in German) "Ach, Herr Mathewson, at last.  So long we have awaited his return!"
            It is difficult to give you, this way, second hand, what Mattie had to tell us on his return, concerning the things he was told, his reaction to these people whom he had known very well a few years ago, etc. One of the things that stands out, however, is that they kept telling him that he had told them so – i.e. that things turned out as he had told them they would when he was there, etc. Mattie says he doesn't remember being quite as vehement as they seemed to think he had been, but he does remember the arguments he had with them at the time re: Hitler and the new regime. As a matter of fact, they hadn't been arguments, for the Professor had agreed with him then and, in fact, later, was going to commit suicide — but because he would be leaving his wife and children to fend for themselves, tho't better of it and continued in his same position.
            One interesting thing, too, was that, despite the fact that we had heard how advanced the Germans were in the surgical field and care of the wounded, they never did have the blood banks as advertised. They never, in fact, gave a patient more than 500 cc of blood, no matter what the condition. They didn't have plasma, but had some other sort of blood substitute, which apparently wasn't very good, and, of course, they didn't have any penicillin. Another thing, they gave a lot of direct, instead of indirect, transfusions and never used the universal donor system – giving only blood type for type.
            Our three travelers also visited the concentration camp at Weimar [probably Buchenwald, which was liberated on April 11, 1945], tho' the place was cleaned up by then. (Ferris had told us about it too, having seen it before it had been cleaned up much and, as a result of it, having lost several good meals).  They were told many a harrowing and astonishing thing by the attendant that took them thru — strangely enough, a Jewish fellow who had been there sort of as a trusty for four years.  Of course, one never quite knows how much to believe, but even if 'tis only 50% true, it is horrible.
            FLASH  —  Bill Reiss, who stopped in for lunch today, and who is now staying the night, just came in our tent with the news that the War is over!!
            Oh, oh, just checked and found that it is only the capitulation of Denmark, Holland and Northwestern Germany to Montgomery that was announced!  The actual end over here, however, is going to seem like an anti-climax at best.  It's only a matter of days now, anyway, but virtually it has been finished for a few days now.  What next???
                        Loads of love,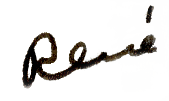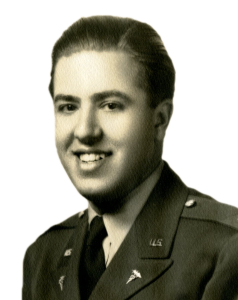 .
Watch for the conclusion of this letter
May 6, 1945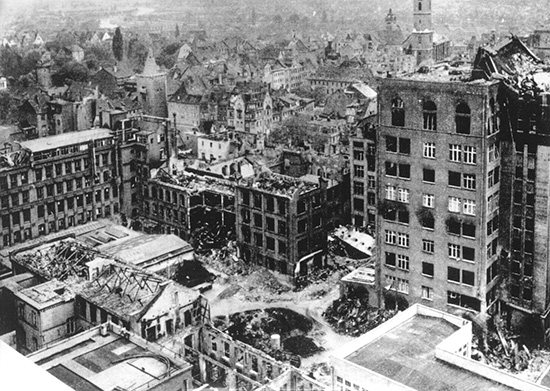 In Jena, Mattie (Carleton Mathewson) went into the Clinic in Jena where he had gone to medical school "not so many years" before. Only one of the Clinic's buildings had been demolished – the one immediately adjacent to the Zeiss factory – shown in the photo above.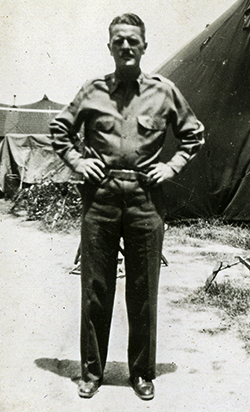 Mattie (Carleton Mathewson) visited the medical clinic in Jena, where he did his medical training in the 1930s, and, miraculously, one of his professors and the professor's nurse were there!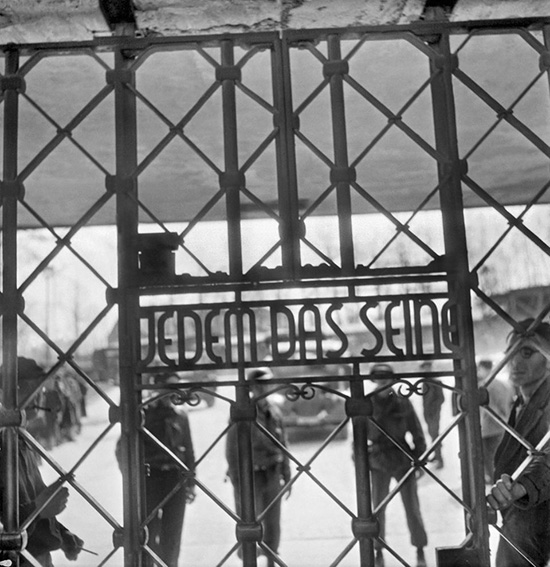 René tells his parents that in addition to visiting Weimar and Jena, Colonel Bolibaugh, Mattie (Carleton Mathewson) and Wally (Greene) visited the concentration camp at Weimar – almost surely Buchenwald — a few weeks after its liberation by General Patton's 7th Army.  This photo above shows former prisoners and U.S. army soldiers standing behind the main gate of Buchenwald on which it is written 'Jedem das seine' (to each his just deserts).


Here are some observations Dr. Phil Westdahl noted in his journal…

"By the 5th of May, all [German] troops in Northern Germany and Denmark had surrendered, leaving only troops in Western Czechoslovakia and eastern Austria holding out against American and Russian forces. Admiral Dornetz, appointed by Hitler to succeed him, had ordered all German U-boats to return to their bases. The world was told to stand by for the announcement of the cessation of all hostilities in Europe."
May 6, 1945
Heidenheim, Germany
No. 33 (conclusion)

Dear Folksies,        
             One wonders just where all this is going to end — I don't see where there can ever be anything but a vicious circle.  This war was partly a result of the feeling in Germany that they had been given a raw deal in the last war.  The Russians who are coming into Germany are inflicting violence on the Germans with the idea that the Germans did the same and worse to them and their families and their women a couple of years ago when Germany invaded Russia.  All those of all nationalities are going to naturally feel that they want to get back at those that had been their captors and who had so mistreated them.  And now the Germans, who are being beaten down, are going to hate their conquerors, particularly the Russians who are not so foolishly kind-hearted as the Americans — and there again are the seeds for World War III.  Where does it get you? They all want the Americans to be the ones that "Occupy" – why? Because they know that the Americans are gullible and can be buffaloed into almost anything.
            Marie-Louise, gee, you're wonderful getting all those shoes. I'm sure Claudine will appreciate them greatly.
                        Loads of love,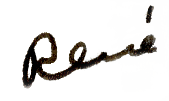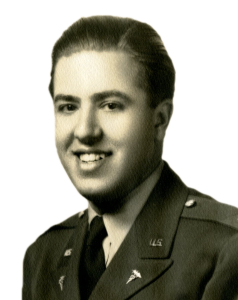 .
Watch for my next letter
May 6, 1945

René thanks his sister Marie-Louise (above) for sending shoes for Claudine (shown below) with her daughter Dominique.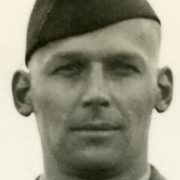 Here are some reflections from Dr. Philip Westdahl about awaiting the formal end to the War in Europe.

---
---



The BBC told of the plans being made in London to celebrate the great announcement — the ringing of bells, the blaring of sirens and the gleam of searchlights. Such celebrations would be taking place in our own country and in France and Russia and many other parts of the world.


Here in Germany it would be a far different occasion. The civilians would go about their daily routine, those in the country tilling their soil, those in the cities patiently clearing the rubble in an attempt to reconstruct their homes and their lives. The war was over for them when the front had passed on beyond them, when they no longer had to live in constant fear of bombing and shelling. And yet, in another sense, the war would not be over for them for years to come.

For those American and Allied soldiers who were still fighting, it would be a great moment. No more living in water-filled foxholes, not knowing from one minute to the next if the next shell might have their name on it. But I'm sure that their initial elation and relief would soon give way to that impatient longing to be home again.

The war was over for those of us in the 59th Hospital. We had seen our last casualties of this European war. [As he wrote this, Dr. Westdahl didn't anticipate that the unit's next location would be Dachau.] But as we waited in that marshy field in Heidenheim for the news that would bring joy to millions, there was an understandable apathy in our hearts, which I am sure was shared by millions of other men overseas. The day after cessation of fighting would be just another day overseas, and so would every day until that long-awaited news arrived telling us that we were to go home. That would be our day to celebrate! That would be the end of the European war for us. All of us realized our responsibility in the Japanese war and in the occupation of Germany, but we felt we had done our share, at least for the present. After 30 months overseas, we felt deserving of a chance to see our families and friends.


.

Watch for René's next letter on
May 8, 1945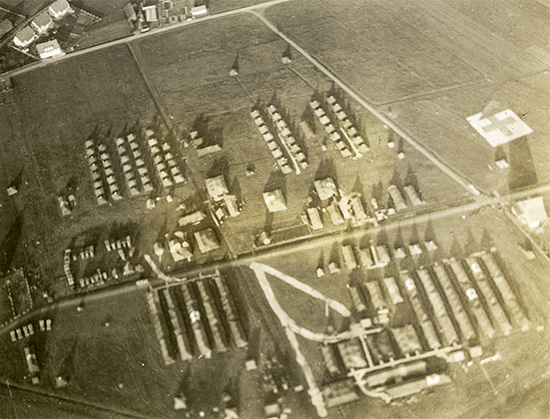 Philip Westdahl reflects on "waiting in that marshy field in Heidenheim" for news of the end of the War in Europe. The photo above is an aerial image of the 59th Evac. Unit's tents in Heidenheim.

May 8, 1945
Heidenheim, Germany
No. 34
V-E Day

Dear Folksies,        
            So today is the day which we have all been waiting for so long, and actually now that it has come it sort of is nothing more than an anti-climax and everyone is just sweating out the next few months — the question of whether we stay, whether we go home to stay, whether we go home and go to C.B.I. (China, Burma, India Theater), or whether we go direct to C.B.I. Those questions are the ones upper most in the minds of all the G.I.s over here now. The war is over here, thank God, but what next?  Then, too, the fact that the war has actually been over in this sector for all intents and purposes for a few days makes Churchill's announcement today (incidentally we all heard his but none seem to have been tuned in for Truman's) merely a part of the ceremony, and the signal for the rejoicing that had apparently already begun in New York and other similar spots. Now we sit and wonder what next?
            The French cooks who are still with us knew what to do — they hoisted a French flag over their quarters in celebration of V-E day!
            The last few days I've continued to be on the road most of the time, but today took a day of rest – and, in fact, today was the second warm day we had had in a couple of weeks of chilliness. In fact, it was almost too hot today!  This country is really pretty and interesting to ride through.  But, perhaps one should reserve judgment on the two big rivers until one sees them near their outlet, for both the Rhine and the Danube have been disappointments to me as far as size is concerned. The American has the Danube beat at least where I've seen the latter. And, what's more, I'll be darned if the Danube is "blue". It's green!!
           One of the interesting things I've seen was on one of the super-highways where a lot of wrecked German fighter-planes can be noted along its edge in the trees.  Then, as one goes on a little further, the dividing section of grass stops and becomes merely a green-painted section down the middle, and one realizes that that strip had been used for a landing field for these planes.  I don't see how such a spot could be noted from the air. These Krauts were mighty smart at the game of war, there's no getting around it.  I've seen a lot of their tentage and other items of late and even in those items they had it over us in many ways.  I believe that our actual tent material is probably better than theirs, but their tents are more convenient, their tent pins are less breakable, and they have a lot of little fancy things that are time-savers and equipment-savers.  But, then, they were building for war a long time before we were, and for these items we merely fell back on the old 1918 models, and only invented new things when we were forced to by military necessity, particularly in planes, etc.
            Another thing you've got to hand to the Krauts — they've done things systematically; their towns are well built; the settlements around the factories (i.e. the factory workers' homes) are well-planned, clean, and there are small parks for each group — you know the type of thing we've been very late in doing.  As someone was saying today, from the time we landed overseas we sort of started at the bottom of the ladder and worked up — the Arabs were just a bit worse than the Sicilians, Italy was an improvement, France a great improvement, but the Germans have it all over the French towns and cities for cleanliness, etc.  Their towns do not stay full of rubble in the street for long.  Even those towns that have only recently been damaged are cleared well — the streets are swept clean of rubble, and, in lots of places if one did not look closely thru the windowless openings of the buildings that seem to be still standing, one would not realize that these buildings were only shells and that there was nothing but a pile of rocks inside. I would be interested in seeing Holland or Denmark for just that reason – they are supposed to be the cleanest, and most fastidious of all…
                        Loads of love,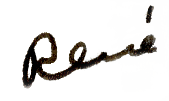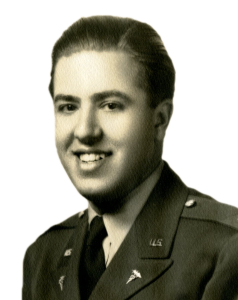 .
Watch for the rest of this letter
May 9, 1945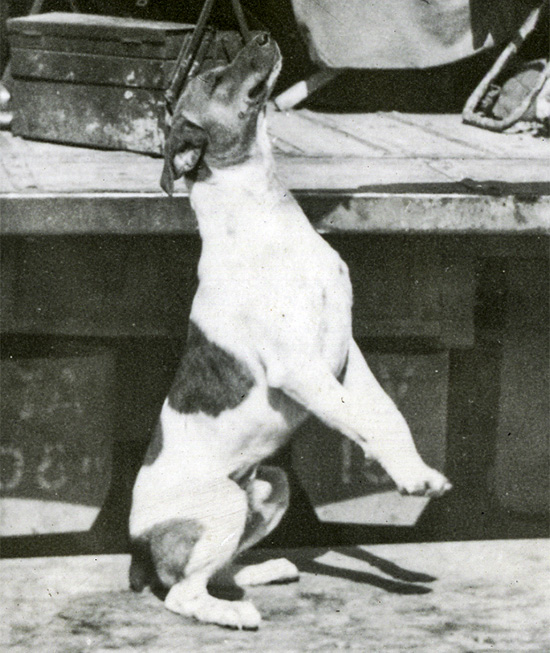 Stubby, one of the 59th Evac. Unit's resident dogs — maybe jumping for joy at the news of V-E Day!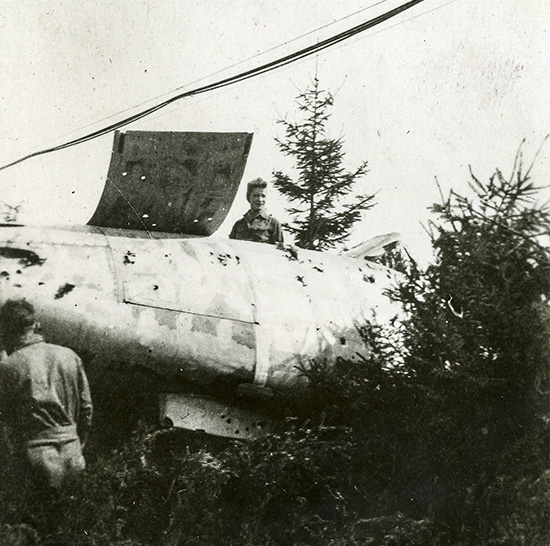 René comments, "One of the interesting things I've seen was on one of the super-highways where a lot of wrecked German fighter-planes can be noted along its edge in the trees. Then as one goes on a little further, the dividing section of grass stops and becomes merely a green-painted section down the middle, and one realizes that that strip had been used for a landing field for these planes. I don't see how such a spot could be noted from the air."
Above, Louise Moon poses in one of those wrecked German fighter-planes in the trees along the autobahn. Below (left to right), Louise, along with George Armanini, Chris Coletti and Louis Huff, pose in front.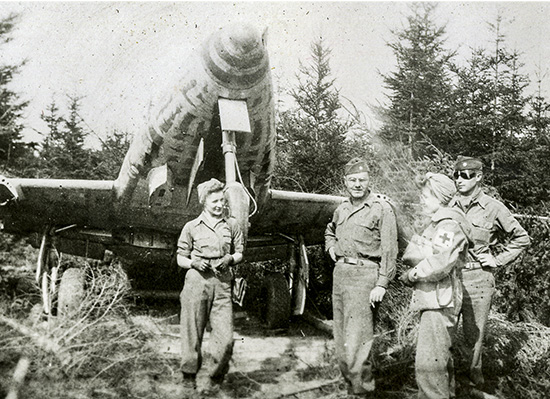 May 9, 1945
Heidenheim, Germany
No. 34 (conclusion)

Dear Folksies,        
       Frank and Roy were in Munich a few days ago and reported that we ain't seen nothing yet when it comes to wrecked cities.  It's hard to believe that any city could be more wrecked than some of the large ones we've already seen, but they say Munich is.  Frank studied there some years ago and he said that the place was such a wreck that he had a devil of a time finding any landmarks to guide him around the city.
            Roy's Lt. Colonelcy finally came thru!
            The Col. finally has his dachshund pup!  All have been scouting for one for him for weeks now, and on various occasions traffic has been stopped because a dachshund was seen that might have led to pups.  In fact, Russell and I chased for almost an hour one day following leads that threatened to unearth some dachshund pups for us, but to no avail.  Now, however, the Old Man is satisfied.  He has his car and he has his pup.  Gerbode has the brother of the Col's pup — both three months old. Names: Heide and Borche.  They're a little longer than this typewriter, are awful silly looking, and when they run around in the mud they invariably trip over themselves and go rolling over.
            I suggested that one of these days we get the 59th Menagerie together and get a group picture, but that did not appeal to the Old Man, for he considered his pup as way above the other riff-raff we have.
            Quite a bit of fishing going on around here in the nearby stream — Chuck Schwartz came back with 18 fish for one day's angling and they got enough to serve fish for two days in our mess.  The fish are some sort of trout.
            Fadley is going to Paris to, primarily, have a leukoplakic area in his mouth investigated – a spot he has had for a few years that busted down and looks a bit suspicious of low-grade basal-cell business. Probably not, but biopsy indicated. So, while he is going it looks as if I'll be having some, if not all, of his jobs. Already I've been handed his PX Officership…
            Oh yes, almost forgot the most interesting experience I had yesterday.  Had a group of men with me and we came to a one-way bridge, a pontoon bridge — for some reason, the truck ahead of us got stuck in the mud and had to be shoved, so that when it was time for the traffic going our way to cross, we had to shove this other fellow.  We shoved him just to the top of the incline before he would have descended onto the bridge, when suddenly the moorings on our side gave way and the bridge proceeded to break up and go floating down the river.  We thanked that guy for having gotten stuck ahead of us, for both his truck and ours would very likely have had a nice little bath had we not had to shove him.
                        Loads of love,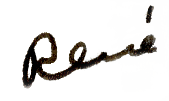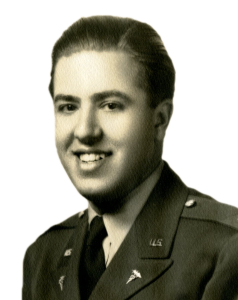 .
Watch for my next letter
May 16, 1945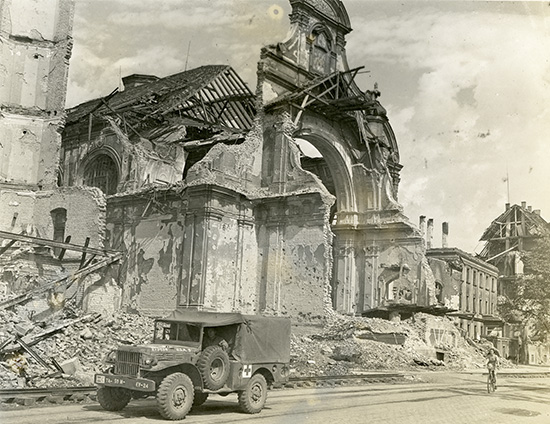 The photos above and below show the kind of destruction Frank Gerbode and Roy Cohn witnessed when they were in Munich a few days before René wrote this letter.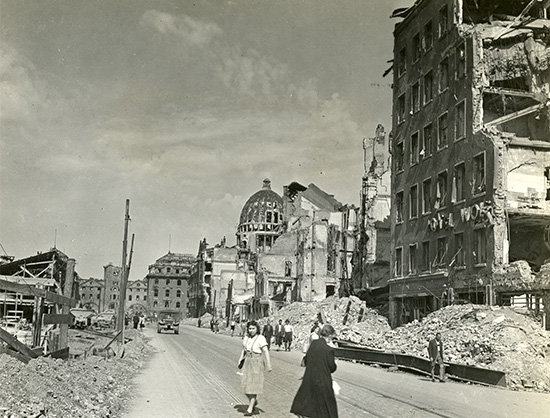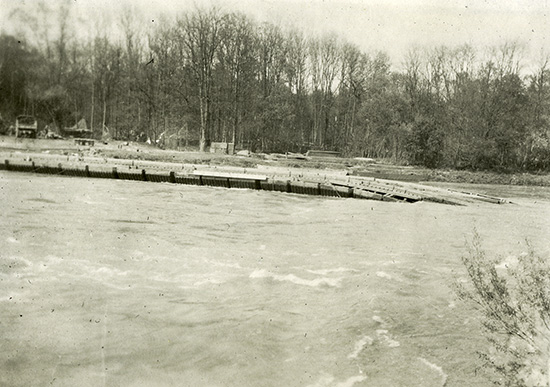 René's caption for the photos above and below reads, "Just as we were about to set the front wheels of our truck – loaded with German tents and 12 men – on this side of the pontoon bridge, the moorings gave way – and as you see, the bridge went for a sail by itself down the Danube…" For a complete description of the "Pontoon Incident" on the Danube, near Ulm, read the last paragraph of his letter.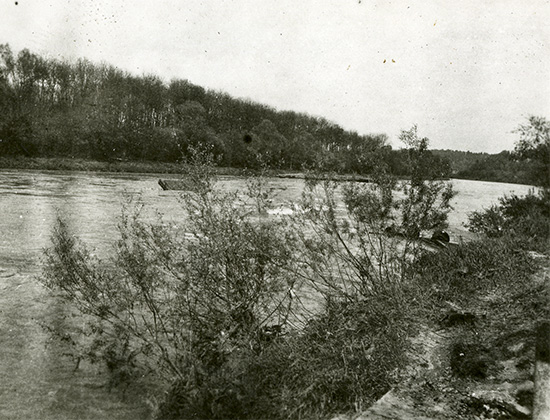 The bombed bridge the pontoon bridge was replacing across the Danube, near Ulm.