May 18, 1945
Heidenheim, Germany
No. 35 (conclusion)

Dear Folksies,

         You probably wonder why Bish and the Colonel are both away.  Well, they've really got a job on their hands!  They're not the only ones away — their staff at the moment includes Cohn, Sewell Brown, Nelson Bell, Kuzell, Malone and Schwartz.  They are the bosses and coordinators of a tremendous camp, the hospital work for which is being done by two of the other evacs — two of the relatively new ones.  Roy, Sewell and Bell are the chiefs in their respective departments — consultants primarily, but I don't know what the positions are that the others occupy.  The Old Man is the big cheese and of course Bish is the Exec.
            What kind of deal is that, you wonder, well, it's in a spot that everyone has heard about and from what the Col. and the others who have been there say, everything that one has heard about the spot is absolutely true!  It is Dachau.
         Their biggest problem is the typhus and the delousing of everyone and everything.  When they first went down there the death rate daily was tremendous and now it has been cut down greatly, but is still mighty high.  They've really got a job on their hands.  I haven't been down there as yet, but probably shall go down one of these days. They say that it was truly horrible the first few days — and I shall be glad not to have seen it as it was.
         Of course, ever since V-E day, there has been great speculation as to what is going to happen to all of us – how many points everyone has, etc. etc. The only thing one can actually do is to sit and wait and not be too optimistic. Knowing the Army, almost anything can happen. You've probably heard all about this business of 85 points being needed to go home and for discharge. Well, as far as that goes just about all the old enlisted men – those that were at Ord with us anyway, qualify with ease, as do all the original officers – those that have kids, of course, have it cinched. But, the big question remains as to whether this applies first of all to medical outfits, or whether it applies to officers, particularly medical officers. It is all a question that will probably be answered within the next few weeks or so. Until then, we merely sit and talk about it.
         Since the end of hostilities over here, we are now allowed to give you locations so, here 'tis — find it on your map: Heidenheim, just slightly above the Danube. Other spots you've wondered about are: St. Tropez, Plan de la Tour, Barjols, Carpentras, Rioz, Epinal, Mutzig, Epinal, St. Avold, Grundstadt, Crailsheim…. 
            Of course, I've been in darn near every town in pretty good radii of these other spots including — in Germany, spots such as Wurzburg, Karhlsruhe, Aalen, Augsburg, Worms, Ludwigshafen, Darmstadt, etc.
         Gerbode may be the next one home – going on same deal as Escamilla went. The Col. offered it to Armanini, but because the latter was afraid that, going that way he might get shipped out again, whereas he probably wouldn't if the point system was used and then he got home. It may not go thru as far as Frank is concerned, but he is already shipping things home in anticipation.
            As you probably already know, Lois is home.  I only found out when I went up to General Wilson's Headquarters and was going to go in and see him, but found that he had gone home for a couple of weeks.  Consequently, saw the Chief Nurse and asked about Lois, having a good idea what the answer would be, and it was.  Lois had gone home as aide to Wilson and the provision was made that if V-E day came during the time home then she would stay home. Soooo.
                        Loads of love,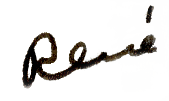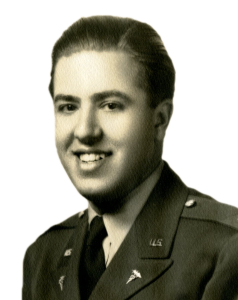 .