May 5, 1943
No. 24

Dear Folksies,
            Since last writing my mouth has cleared up rapidly and now I have only one little tiny patch up around the same left upper molar that has been giving me trouble from time to tome. I am feeling swell now, no longer have any gastritis and really O.K. The only thing that bothers is that Lois says she does not like this enforced platonic friendship that Chappie has instituted because of my teeth. 'Tis bad.
            Has been kind of on the warm side recently and we officially went into sun-tans on May Day, despite the fact that that day was darned cold and foggy. Yesterday we went into town and, besides getting our ration of candy at the PX, and we did a little shopping. Lois picked out a hassock cover for the "future." Will be sending it home to you folks for storage, please.
            It was funny how we got it. The little French-Arab boy who was salesman for an old Arab man told me the price was $20, then he came down to $18.00 and finally, when we said we would take it, he said, "Well, I give it to you and tell the old man it was only $12 I can get for it, and then you give me a little something for myself." So that was how it was – gave him $2.
            Tonight the nurses are giving a party in honor of their first anniversary in the unit. It is supposed to be at a fancy villa and ought to be pretty good. Had a dinner party the other night at the place that reminds of the Cliff House. Had quite a gang, eating and dancing – George Davis, Liz, Chappie, Martha Morris, Hal Williams, Fran Trembley, Gil Bishop, Helen Nelson, Libby Gates, Roy Cohn, and Lois and me.
            Have told you in the past about the 59th jinx – all the girl babies being born – well poor Oscar Carlson didn't get out of the unit fast enough. We just heard that his wife joined the ranks of the others and delivered a gal also. And so it goes.
Flash — just heard that I am to trade places with Eddie Welles for a while now, and am to run the Receiving Office. 'Tis quite a headache, but Eddie has done a swell job of it. But naturally, he's kind of tired of it.
 Loads of love,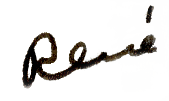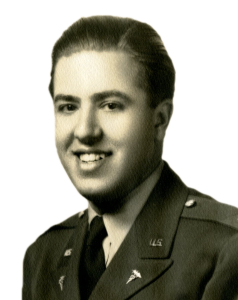 .
Watch for my next letter on
May 7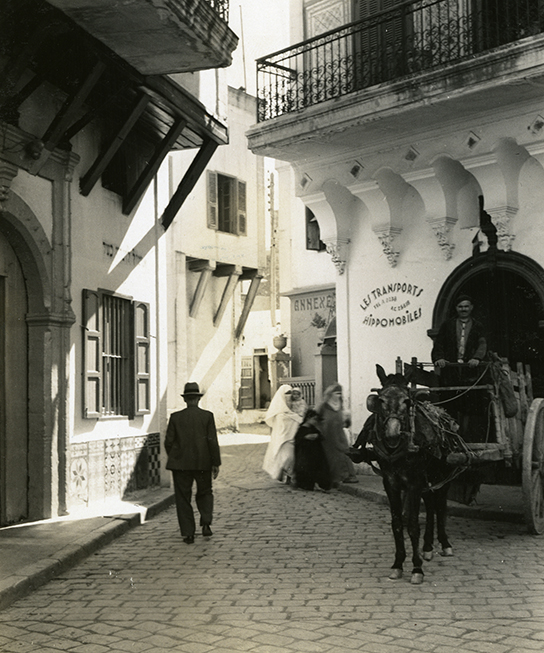 Casablanca Medina – Is this where Lois and René bought the hassock cover they sent home for the "future"?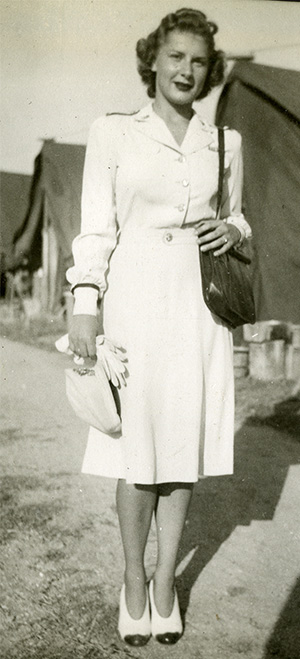 Lois in her summer uniform.

Nurses Martha Morris (above) and Liz Liss (below) were part of the gang that went to a dinner party at a place that reminded René of the Cliff House in San Francisco.

May 7, 1943
No. 25 & 26

Dear Folksies,
            Not having much to do at the moment and just sitting in the Receiving Tent awaiting the slow flow of patients, and there being a typer handy, I figured that this is a good time to get a little note off to you. My mouth is again all O.K. and there is no longer the enforced platonic friendship. Chappie packed my gums with copper sulfate for several days and the bloomin' infection cleared up nicely.
            The party the nurses gave the other night was really quite a shindig. It was given in a "Villa" in which some officers are at present living, but which used to belong to some architect, I understand, and it seems he really laid out the place nicely. Of course, with labor cheap and marble handy, he was able to make a beautiful place. The floors were of tile or marble with a nice divided stairway with a balcony over the reception hall, a good-sized dining room and living room with an elevated platform for an orchestra. There were porches all over the place and in back there was a sun-deck with a swimming pool. The pool had copper-sulfated water and had a beautiful blue tint to it. There was a frog pond in the garden and also a covered wall — covered by vines. Yes, 'twas a perfect place for a party. Had a good orchestra and some good champagne and sandwiches.
               There was quite a gang there, and for once the officers and nurses of our outfit got together decently. In the past, there has been considerable friction between the two groups, because of a few of the less polite and tactful officers — but there were about 15 of our officers at this party and it was lots of fun. Besides the other officers who had been invited by the nurses, there were two Arab princes, or rather, one was a Prince and the other was what is called a "Pasha" — I believe he was some relative of the Sultan. Anyway, they were there in their robes and had a good time dancing with some of the French-speaking nurses. Fran just reminded me about the walls in this "Villa" — they were all of marble done over with beautiful tapestries, and the curtains over the doors were of the same design. They were very much like the curtains in our front living room, only they were a lighter color – more of a cream color.
            Golly things are dull around here this A.M. – business is very poor. But, of course, things can pick up remarkably at times.
            Yesterday, Lois got some sun-tan shirts and a pair of pants, so she is going to have a sun-tan uniform. She is having the pants made into a skirt and it should work out pretty well.
            Dad, you asked about our x-ray machine. It is quite a good one, in fact, we have one big machine, a fluoroscopic machine and a portable machine which, recently, has come in very handy as we have had several patients in traction who obviously couldn't be moved. The fluoroscope is not, however, ideal for G.I. Series, tho' Bob Treadwell and Cy Johnson have picked up a few ulcers on it. Some of that stuff, however, is sent elsewhere where a better machine is located – a larger unit of a more permanent type.
 Loads of love,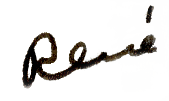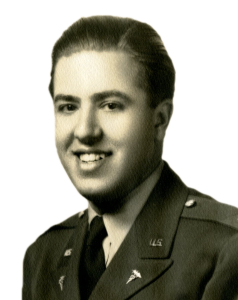 .
Watch for my next letter on
May 8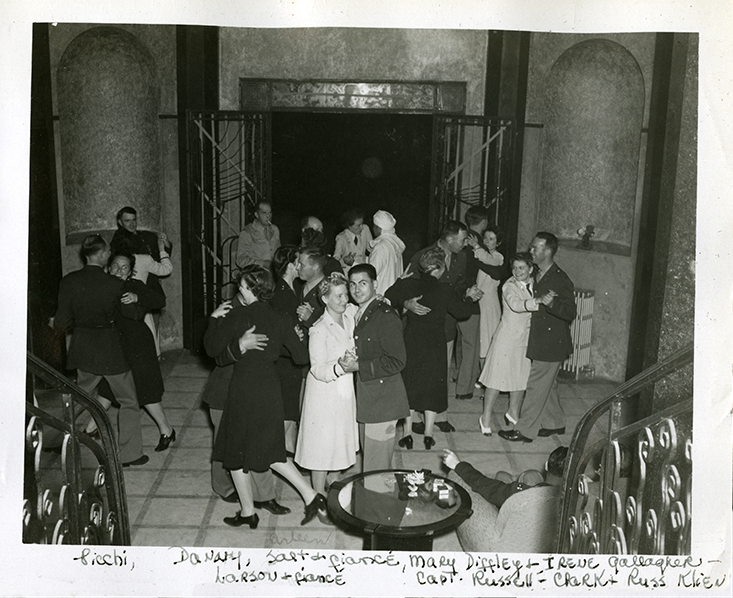 Nurses' Anniversary Dance, celebrating one year in the Army. Look closely at the photo above and you'll see Nurse Chris Colletti dancing with the "Pasha" in the back of the room.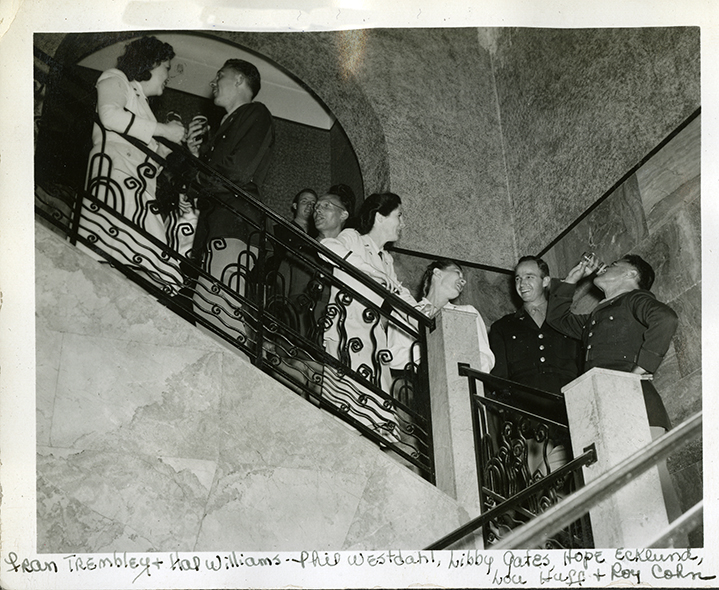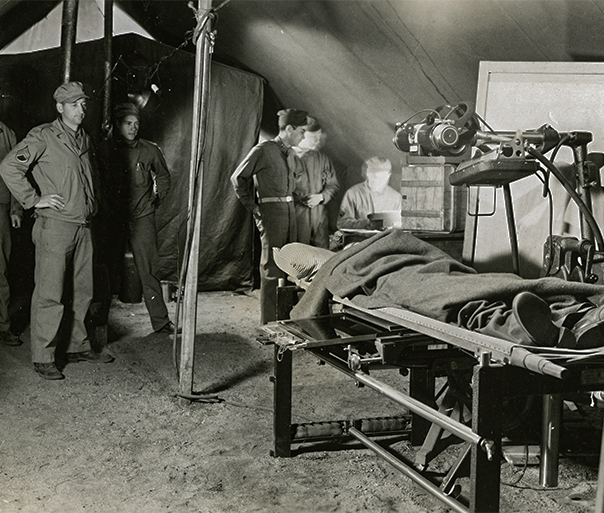 René's father asked about the unit's X-ray machine.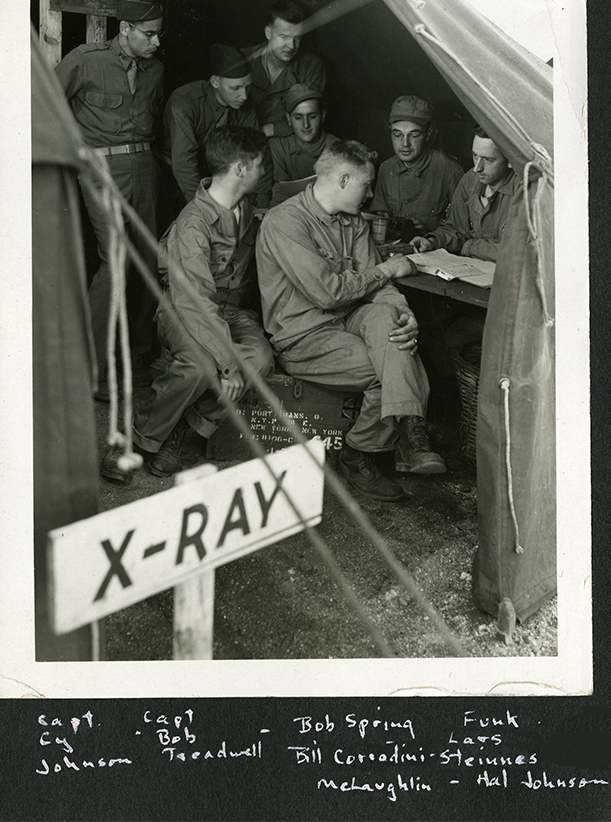 May 8, 1943
No. 27

Dear Folksies,
Having written #25 and #26 yesterday, I am writing this and enclosing some pictures. They include: an Arab mother and child; Lois and Sgt. Heath in ward, "working"; Gert Brazil, me and "Bonnie Blue Eyes," our prize jeep; and Arabian drummer "boys".
 Loads of love,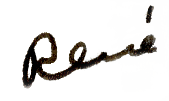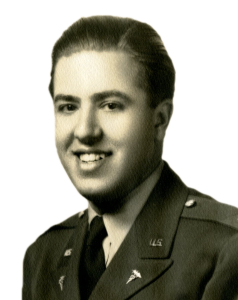 .
Watch for my next letter on
May 9

Some of the photographs René mailed home to his parents…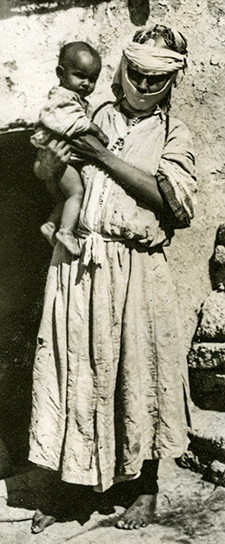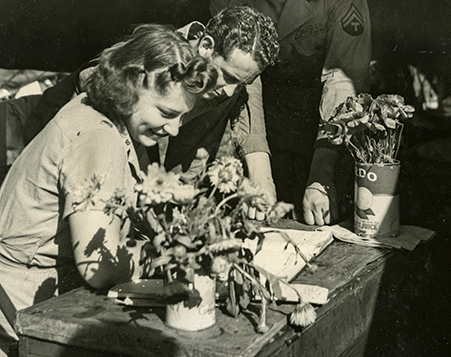 Lois and Sgt. Heath in the ward tent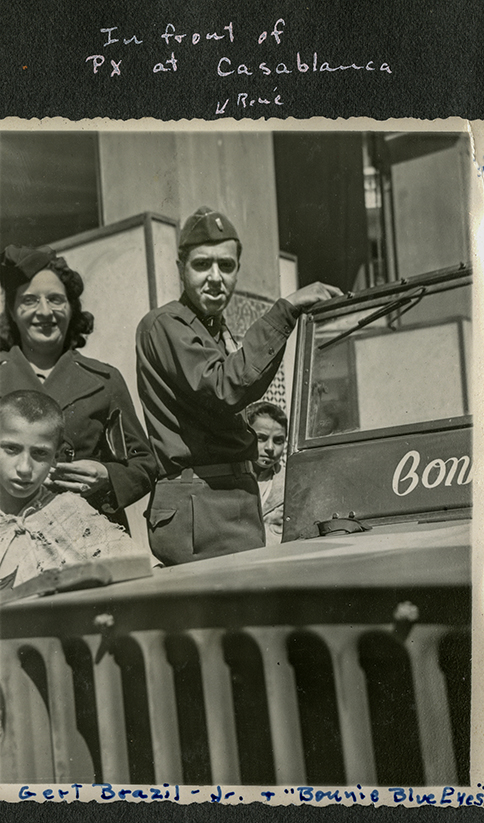 Gert Brazil, René and "Bonnie Blue Eyes" – "our prize jeep"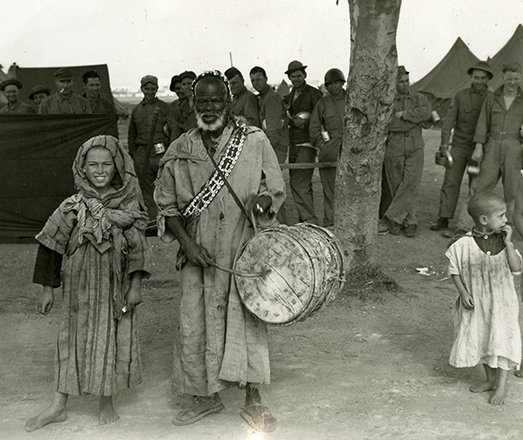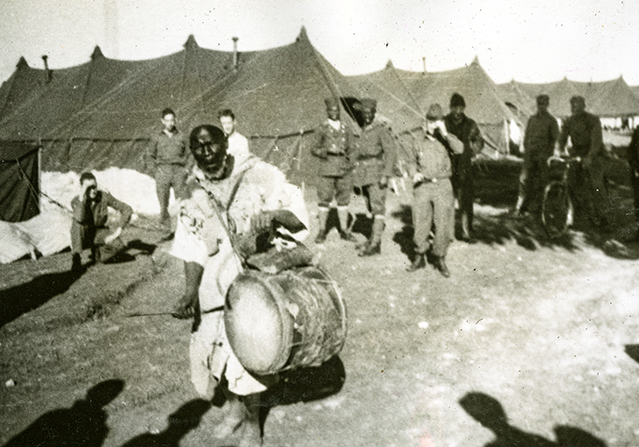 May 9, 1943
No. 28

Dear Folksies,
            Yesterday A.M. we got the news of the fall of Tunis and Bizerte and as it was apparently "Joan of Arc Day," there was plenty of rejoicing in town. Some of the boys said that they went into town and ordered beer at a place they have frequently gone to, but the owner of the place wouldn't let them have any beer — instead gave them champagne on the house. That apparently that was going on all over town yesterday.
            Last night, after a session reading the letters, we played a little bridge and then went off to the movies. We saw "Cairo" with Jeanette MacDonald and Robert Young. It was really pretty funny tho' absolutely crazy and actually "corny." Because of the numerous Arabs shown in the picture, it was quite a hit with the crowd – because plenty of the scenes were true to life around here, i.e. the long flowing robes hiding a multitude of sins, etc.
            We are going to be able to go swimming beginning this week. There is a place not so many miles from here where the bathing in the ocean is safe according to the Army, and there is going to be a regular trip of a truck to and from this place about 4 times a week. I believe we will be going up there on Tuesday as that is Lois' day off. It ought to be lots of fun.
            I'm sorry to hear that you, Dad, have continued to have days that have not been up to par, but more than glad that you have decided to take a real decent vacation this year – it's certainly about time you did again. I imagine you will be Tahoe-ing it again, yes? I wonder what that place will be like now. I wonder if any of the old guard will be there. I sort of imagine that if you do go there you will really have a restful time, and may even have the golf course pretty much to yourselves, with the possible exception of Leon Roos and a few others. 
 Loads of love,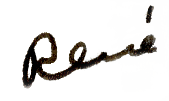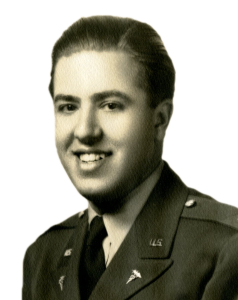 .
Watch for my next letter on
May 10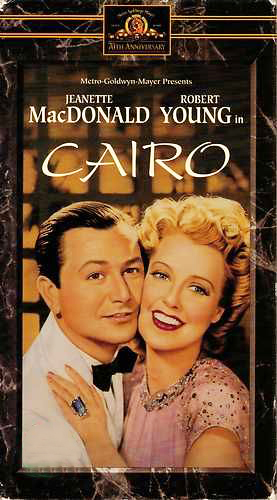 René writes about seeing the movie "Cairo" starring Jeanette MacDonald and Robert Young. He says, "It was quite a hit with the crowd – because plenty of the scenes were true to life around here, i.e. the long flowing robes hiding a multitude of sins, etc." Perhaps like the "flowing robes" worn by the local people in the photos below?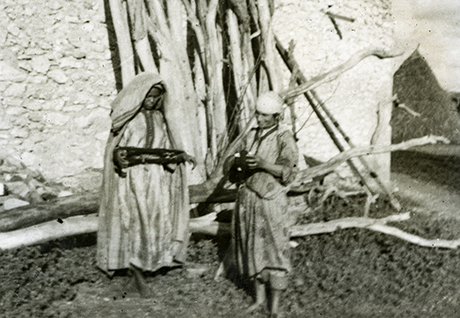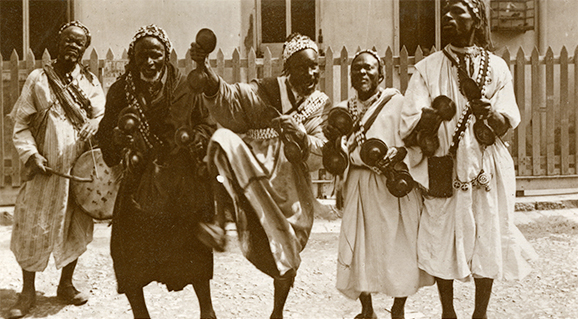 May 10, 1943
No. 29

Dear Folksies,
           Yes, Mom, Lois gets her share of razzing, both on and off her ward. It goes on continually in one form or another, but as you have guessed, it doesn't bother us – in fact, we get a big kick out of it – especially when it comes from the patients and a few of the funnier enlisted men. Sounds as if you are not only kept mighty busy with the Red Cross, but are also on the go to lectures, etc.
            Yesterday there was quite a celebration here. There was a parade downtown and after Lois got off work we went down to see what we could see. There was supposed to be a place reserved for officers, but we never did get up to it because there was such a mob that when we tried to push our way through it, we kept imagining Arab hands reaching into our pockets.
            Also, in that mob, there was plenty of opportunity for those little Typhus carriers to be changing their place of residence, so we decided to stay in the area not quite so well populated.
            Some of the boys, Bert Halter and Bill Newsom especially, were a little more brave, though Bert almost did turn back when we did. But they managed to get up to the decent spot and were able to get some good pictures of the parade and some of the speakers. Oh yes, they also heard the speeches, which we did not.
            In all the side streets there were trucks parked and it was quite a sight, for all over these Army trucks there were Arabs, French men and women and kids, and soldiers (French, American, and some British, also Senegalese). We finally found one side street where there was space for another truck to squeeze in and when we happened to see a stray truck and driver, we asked the driver if he didn't want to squeeze his truck into that spot. He agreed to do so and we finally ended up on the very top of said truck – squeezed in by the mob that piled on in a hurry, but thank goodness, most of that mob consisted of soldiers and a few Frenchmen. We had, thus, a pretty good view of the parade. The part we enjoyed the most was the sight of the native troops on horseback. I hope that our x-ray boy got some good pictures of these, as they ought to provide most interesting in later years. The Senegalese band that we hear around our area frequently was also in the parade, but though they are darn good, it was swell to hear one of the U.S. bands.
           After the parade we went to one of the eating places in town and had a very good dinner. Finally came home with the truck that brought the officers and nurses to the movies at 8:30 P.M.
 Loads of love,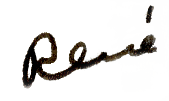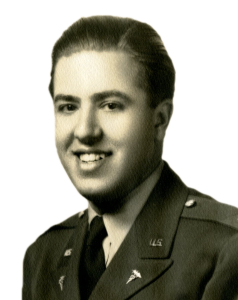 .
Watch for my next letter on
May 14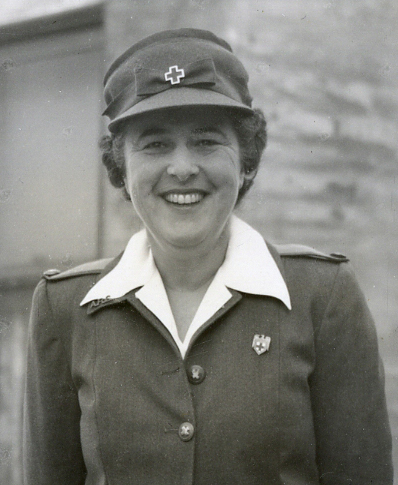 Alma, René's mother, has been "kept mighty busy" with her work with the Red Cross – pictured here in her uniform.

Photographs from the Parade celebrating the African Victory – on May 9 in downtown Casablanca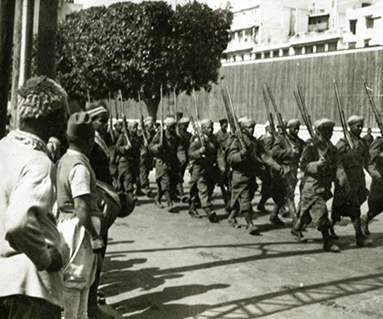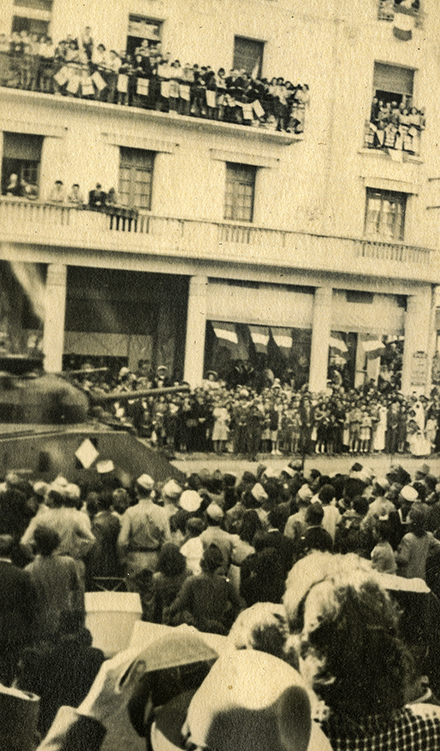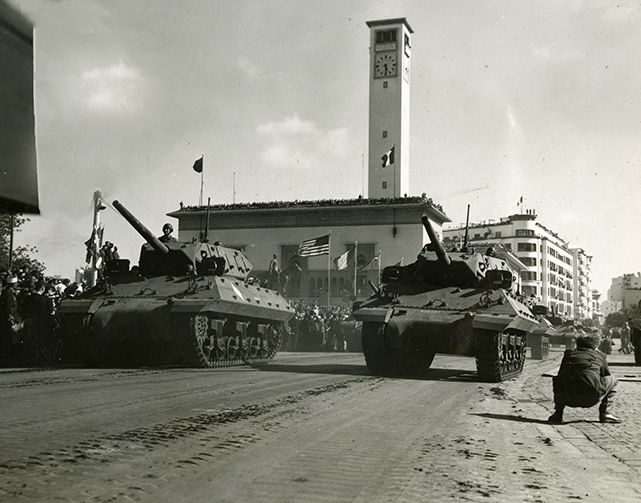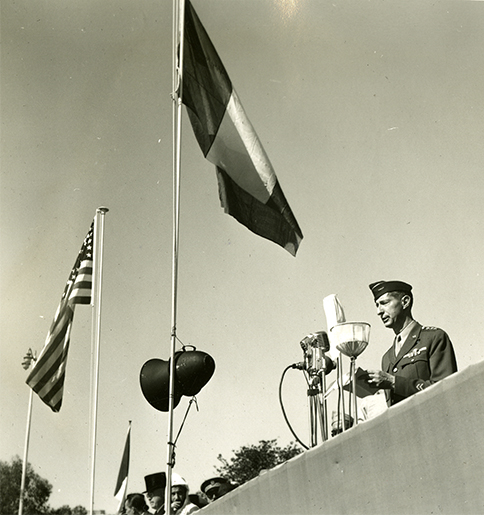 General Mark Clark addressing the crowd at the parade

May 14, 1943
No. 30

Dear Folksies,
            It has been pretty darn hot, and as Dad's old saying goes: "the heat was not in the houses, but intense and in-tents." With the sides of the tents rolled up and sitting on the side of the tent away from the sun, it isn't so awful, but 'tis hard to always stay on that side of the tent. One must, on occasion go out into the open, and if one stands still in the sun at all, one is soon burnt to a good crisp. Unfortunately, at present I cannot disrobe like some of the gang have been doing – sitting in their trunks in the sun in the vicinity of their tents. I have to stay more or less dressed because patients come into Receiving at almost any time, and they don't come in enough bunches to make it worthwhile to remove my shirt and then put it back on a few minutes later.
            As I told you, swimming was to start this week – well it did. A gang of us went up by truck and Lois was the only nurse. There were dressing rooms and hot and cold showers just off the beach, and tho' the beach was a little oily, it was really nice.
            We thought sure that the water was going to be icy, but amazingly enough it was just perfect – a little cool when first entering it, but perfect once one was in it. There were plenty of good breakers that could be ridden in to shore, no undertow, and one could walk out around 60 to 70 yards without going over one's head. 'Twas lots of fun. We were up there for about 2-1/2 hours. I believe from now on the time is going to be lengthened some, however. The trucks are going up there 4 times a week now, so the men get a good chance, even though they work 4 to 5 afternoons a week. We will probably only be going once a week, as Lois only gets one day off per week, though sometimes she gets an extra afternoon off.
            Yesterday when the gang went swimming, Chuck Schwartz rode in on a nice breaker and smacked into someone who didn't have sense enough to get out of his way, and when Chuck straightened out he thought he was going to pass out – having hit his head against the leg of the guy – as his whole left arm was temporarily paralyzed. He still has some paresthesia over the left median nerve distribution, and may have a slight compression fracture of the 5th cervical vertebrae – not too serious, however – probably just a contusion of the brachial plexus (pinching, probably).
            Last night we had an open-air movie and the moon was very kind and did not shine too brightly, so we could see the movie well. It was "Star Spangled Rhythm" with all the stars – Hope, Colonna, Crosby, etc. It was very good and worth seeing if you haven't already.
            Tonight there is going to be another party and Sgt. Sateja is going to put on another of his acts — now he has changed his name from Carmen Miranda to something more local and he intends to do his strip act and also sit on Major Collie's lap and give him the works — as Collie has never seen the act before and isn't prepared for anything. Will tell more about the party in my next letter.
 Loads of love,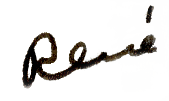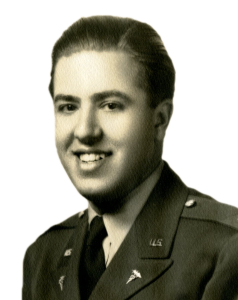 .
Watch for my next letter on
May 17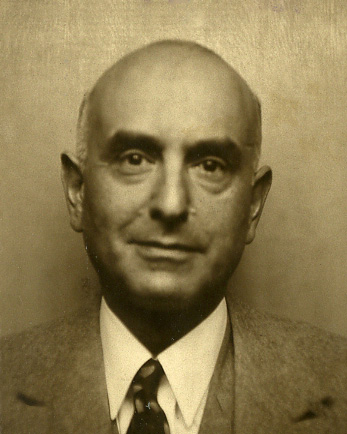 René writes, "It has been pretty darn hot, and as Dad's old saying goes: 'the heat was not in the houses, but intense and in-tents.'" René Sr. is pictured above.

René is jealous of the guys who can disrobe and sit in the sun in their trunks. He has to stay "more or less dressed because patients come into Receiving at almost any time."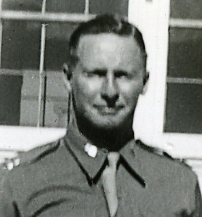 Yesterday at the beach, Chuck Schwartz was riding in on a "nice breaker and smacked into someone who didn't have enough sense to get out of his way."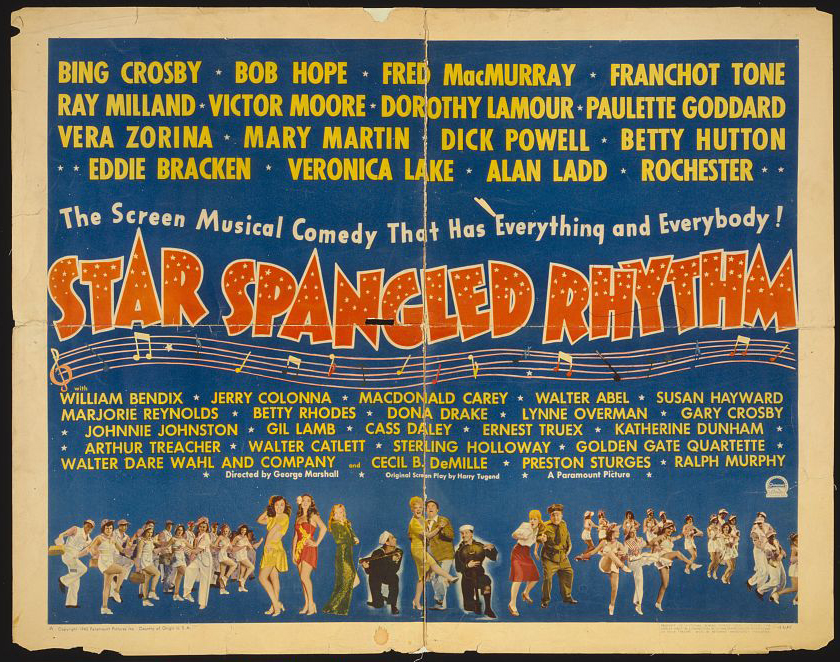 Last night, the gang saw an open-air movie: "Star Spangled Rhythm," which René says his parents should see if they haven't already.

May 17, 1943
No. 31

Dear Folksies,
            The party the other night was given at another school — this one occupied by some nurses from another outfit. They had a nice large room and we had a good eight-piece band. Sgt. Sateja put on his act which as usual went over big. That was the 37th show he has put on here since February. When Martha Raye was here he won quite a nice prize — a complete make-up kit. He has become exceedingly popular around here and is well-known now for several miles around. Unfortunately at the party the other night Major Collie didn't show up, so Sateja couldn't "give him the works." Mattie had never seen the act before and was just in hysterics during the whole thing.
            Some of the officers and nurses of the other outfit were invited to the party and it turned out that one of the nurses was a gal from French Hospital in S.F. who knew Bob Treadwell and myself from our unit. She had been a student nurse, affiliating at the County when I was on Psych there as a intern. I just vaguely remembered her, and Bob, who had taken her out, so she said, had trouble remembering her.
            At the party, Bob Escamilla took over with the bass viola for the first time since Camp Pickett and really pounded on that thing.
            Day before yesterday, Lois had the afternoon off, so we went swimming again. It was so hot that for once I was sort of glad that I had some old calluses on my feet, for the sand was just scorching. This time there was really a big mob out there — our men filled two 1-1/2 ton trucks and the officers and nurses filled two 3/4 ton trucks. Quite a gang!
            Last night we went to the movies and saw "Random Harvest" with Ronald Coleman and Greer Garson. 'Tis truly a wonderful picture – don't miss it !!! There had been such a mob there the night before that we all went down early and managed to be the first ones in the theater, getting the first-row-balcony seats.
            Golly, what won't pop up next. I see in the bulletin today that they have opened up a golf course near where we go swimming. Of course, there are a limited number of golf clubs available, but the course is open! As I think I have told you before, there are several tennis courts available here and also rackets. So, you see, the poor guys here who "work so hard," really have a bad time of it. I think that we shall just stick to the swimming, however. As Lois only gets one day off and a very occasional afternoon off, the swimming is far the better activity to indulge in — i.e. swimming and sunning on the beach.
 Loads of love,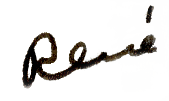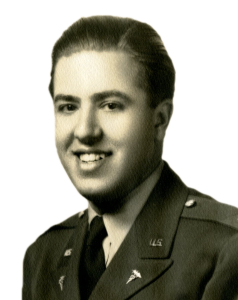 .
Watch for my next letter on
May 20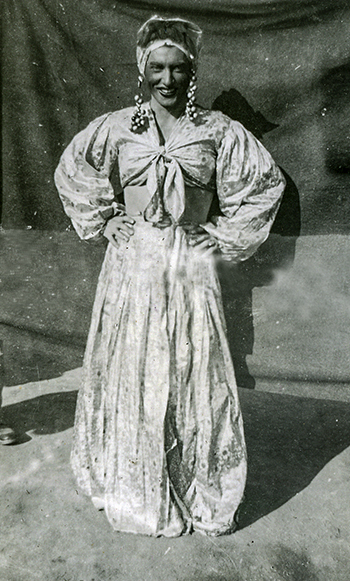 When Sgt. Chuck Sateja performed his act at the party the other night, it was the 37th show he had put on since February.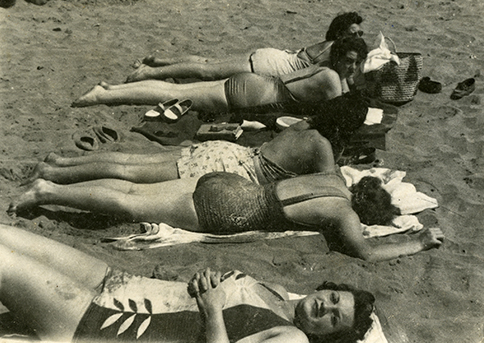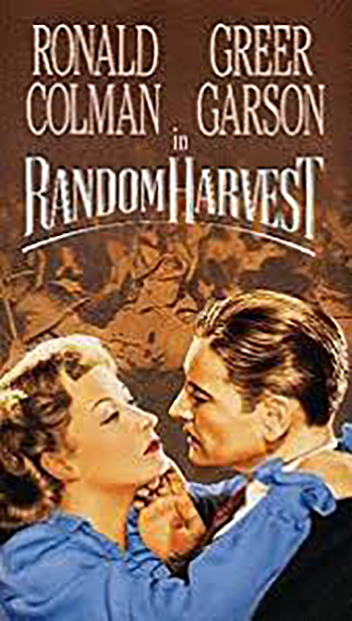 René tells his parents that "Random Harvest" is "truly a wonderful picture – don't miss it!!!"