May 25, 1943
No. 34a

Dearest Bobsy,
            Today we had a fine time at the beach – it was a beautiful sunny day with just the right amount of breeze and the beach wasn't too crowded. In fact, about the only people there were 59ers. Only a few of the officers went this time, as there apparently was something else doing downtown that the bunch went to. Only Halter, Blasdel, Chappie, Escamilla and Hal Williams went and Frenchy and Lois were the only nurses.
            We spread our blankets on the beach and proceeded to relax and let our skins soak in the ultra-violet. After becoming adequately roasted we then ran for the water. Golly, the water was really almost too warm today. There wasn't even that first little shock that one usually has on getting into any water. Maybe the dirt that was swirling around in the water had some heating effect on it. The waves today were the best they have been and one could be carried for quite a little ways if one caught them just right. There was more of a pull today, however, and we started at one end of the beach and when we were ready to get out we found we had been pulled clear to the other end of the beach – anyway we weren't pulled out!
            Tonight both of us are sort of tired, and Lois is glowing, but not with emotion or anything like that – but good old sunburn. Her face, as she sits beside me, banging away on my little typer, is lit up like a fire-house, and the shine from her little mid-riff, if it were exposed for any but me, would light up this whole Rec tent. She has gotten fancy and did not like her old red bathing suit, so she ripped up her red and white striped dress and made herself a combination sun-suit and bathing suit, and it being a two-piecer, her midriff was exposed today for the first time. Yep, it almost looks like a ripe tomato. Which reminds me, that is, speaking of food, we had some real-honest-to-goodness-fresh-hearts-of-lettuce yesterday. They say it was from Salinas. I wonder?
            I happened to look in my little date book, and realizing that your thesis is finis, I can just picture you in cap and gown once again, walking in that swell open-air amphitheater, walking down the tree-covered paths, to take your seat among all the rest. I feel guilty that I'm not there – I think you are going to have to go on and get a PhD or some other degree so that I can be there at least once. When I think what a really bum time you had of it at your last graduation with Marie-Louise and I both away, with France going boom and all, I hope that this time your cap-and-gown ceremony will mean more to you and leave happier memories with you. Sure, physically we are a long distance from you this time as well, but in thoughts we are right beside you as you walk down those aisles. Two years has made quite a difference, don't forget! France has made a wonderful step back up the ladder; Africa belongs in toto, to the Allies, Jacqueline is safe in England, all of us are well, etc., etc. so have a good time, for we'll be downing some of that French sparkling champagne, all for you, on your graduation day.
                                                                                                                           All our love,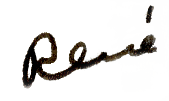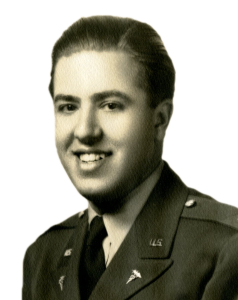 .