August 6, 1945
Wabern, Germany
Still in Tents!
No. 44
Dear Folksies,

       Beautiful day today—looks as if 'tis going to be mighty hot, as a matter of fact. Just hope that business keeps slow enough so that I can pound this typer for a while.
       We anticipate having Roy and Fadley up here for a visit one of these days. In the meantime, we have had a few trucks going back and forth bringing up some of the equipment that Roy can give us – stuff that isn't on the books, like some of the things we picked up at Palermo, etc.
       We have no new Col. as yet. Supposed to get one from another Evac, but as yet he hasn't shown up. At present, Maj. Mello is acting as Company C.O. He is the guy from Oakland who interned at St. Mary's, about whom I told you already.
       Still looking for buildings. Army has ordered us into buildings, but they haven't been any help in finding any for us and, to date, despite the fact that Ralph, Schmitty or Huff have been out every day searching, they still have been unable to come up with anything adequate for a hospital in this particular area. We have a particular area here, while three other hospitals have surrounding areas. They are all in good buildings, one of which, in fact, is big enough for a couple of hospitals. So it goes.
       Charlie Stone, as I told you, went to Paris for his American Boards in Medicine. He passed. He is Chief of Medicine here now.
       Russ Klein was here for a day, but he is still very much in demand at Lynn Rudee's outfit, as he is the only one doing surgery – or rather, was for quite a while. They are at Erbach, near Heidelberg.

       Polly Schoder is leaving us. She got orders to be in Paris between the 13th and 15th to start on her way home. We are going to miss her like the devil and I know she, too, is going to miss us. In fact, she received the news that she could go home with mixed emotions. She was happy to go home, but was crying about leaving us. She said she will put up a tent in her back yard in L.A. for any and all of us to visit her when and if we get home. We gave her plenty of talking material for when she gets home – things she can say to maybe get us home. She will be able to say them as a civilian, whereas anyone still in the Army would not be able to do so.
                        Loads of love,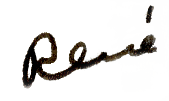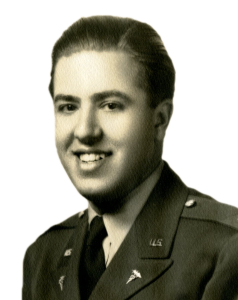 .
Watch for more of this letter
August 7, 1945

René tells his parents that Russ Klein (above) came to visit for a day. He is stationed with a unit at Erbach, near Heidelberg. Below is a dam across the Neckar River near Erbach.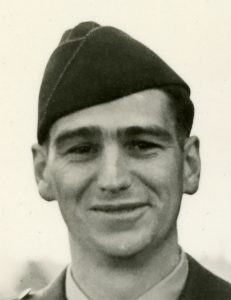 René reports that both Ralph Cressman (above) and Lou Huff (below) are among the doctors that "have been out every day searching" for a location where the unit could move into buildings.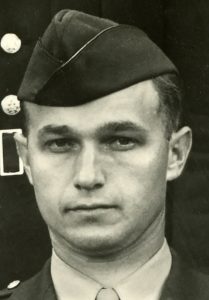 August 7, 1945
Wabern, Germany
No. 44 (continued)

Dear Folksies,

         After completing the first part of this letter yesterday, I got mighty busy and was kept busy all afternoon. Last nite just after supper, Maj. Mackee asked me if I wanted to do an appendix, so I did, but finally made him take the darn thing out, for it was busted and was stuck deep down. He had a heck of a time getting it out then, too.
            The story that Schmitty came back with last nite has it that another 1,000 Medical Officers are going home this month on the "Green Plan" – the same deal that Wally, Frank, etc. went home on last month. If 'tis true then we will very likely have to close up, for we should, by rights, lose Huff, Cressman, Westdahl, Welles, and Schwartz and probably Johnson, unless they have x-ray men as more or less separate and essential here. Je ne sais pas! Anyway, these men are anxiously awaiting orders, which, of course, may or may not come.
         Had a circus in Kassel last week — the "Williams-Althoff" Circus.  Mr. Williams is an Englishman who was caught with his circus over in Germany when war broke out.  His wife was German (he has been married over twenty years) and so he signed over everything to his wife and brother-in-law, consequently the circus did not suffer too much from the war, despite the fact that he himself spent two years in a concentration camp.  Now his circus is traveling around Germany giving shows primarily for G.I.s.  Some of his troupe and animals are still not with him, because they are in Russian territory.  You see, it was split up into several parts so that they wouldn't have any great damage to the circus if something happened in one section, and, too, it was less of a drain on the populace to feed and house the small groups.
         Sateja, of course, was right in his element and during the last week only a minimum of work has been gotten out of him. He has been up at the circus more time than he has been here. Sure enough, he found some performers who knew and had played with his mother and dad at one time or another.
         Last Monday night we took the bus loaded with people up to see the circus and everyone enjoyed it so much and tho't it so worthwhile that the bus had to make the trip there every nite until about 100% of the outfit had seen the performance. One nite when Clint Green was at Mannheim getting some medical supplies and Hangar didn't get back by supper, as he was out getting a generator, a gang wanted to go, but they didn't want to go in anything but the bus. So, since no one other than Clint, Hanger and myself had driven the bus, I had to be relieved of my O.D. that nite and took the gang up, thus seeing the performance for a second time.
            There were beaucoup horses in the show, and they were really beautiful and mighty well-trained.  Besides the trained-horse acts and the fancy riders (female, male and youngsters) they had acrobatic acts, trapeze acts, a swell juggler, tumblers, etc.
                        Loads of love,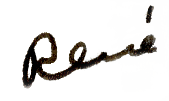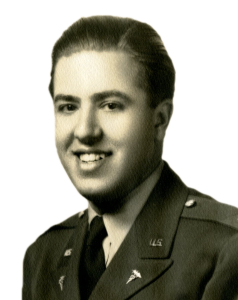 .
Watch for my next letter
August 12, 1945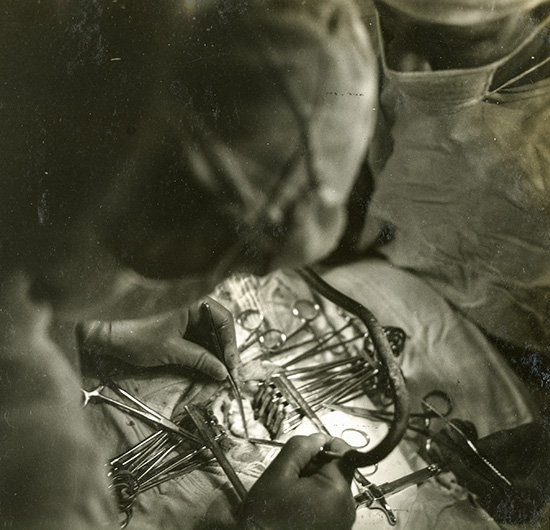 René tells his parents about a surgery he did with Major Mackee. Below is the "Surgery Gang" in Wabern. From left to right: Carl Tills, Hal Everton, Bob Folkins, Silvano Orsi, and Karl Drier.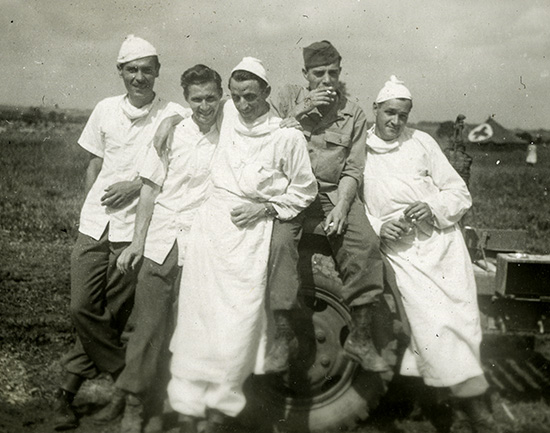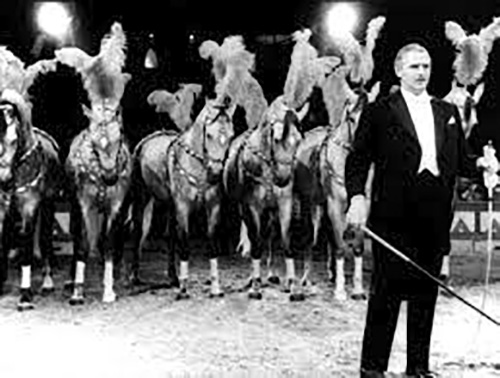 The "Williams-Althoff" Circus was in Kassel last week, and René tells his parents that Chuck Sateja, (below) who comes from a circus family "was right in his element." Over the years, Sateja used his talents and costumes to entertain the 59th from time to time.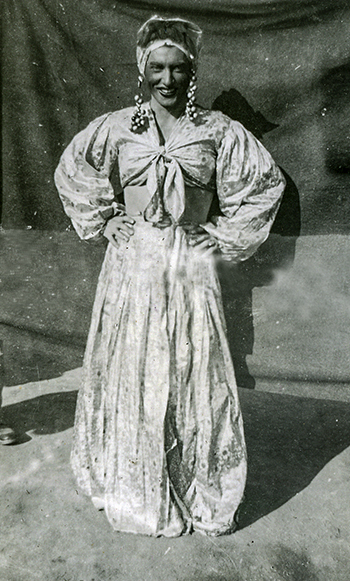 August 12, 1945
The Mud-Flats of Wabern, Germany
No. 45

Dear Folksies,

            About the only thing new in the last few days is what all of you know even better — the closeness of the end of the war. Certainly none of us tho't that things would take such a turn and that we would be able to make the Japs fold up in such a hurry.  The success of that "Atomic Bomb" was startling to all and certainly turned the trick.  What effect the Russian entry into the War had, I know not. I sort of wonder if it might not have been better to have tried out that bomb before finally inducing the Russians to declare war.  How much did the Russian entry shorten the war?  Will it prove to have been worthwhile?  Are we going to have trouble with Russia wanting Manchuria, etc., etc. ad infinitum??? Dealing with the Russians throughout the War has always been a touchy thing.  There was an awful lot of political jockeying before that shuttle-bombing was okayed by the Russians and the American planes were allowed to land at Russian fields, and then only a couple of such trips were made.
            It is next to impossible to get into any area that the Russians have of Germany now.  We're fairly close to them and we know.  The Russians at Dachau were difficult to deal with. All those things make me wonder whether or not Truman's inducing Stalin to enter the Jap War might prove to be a mistake.  Time alone, no doubt, will tell.
            What effect the end of the Jap War will have on us, no one really knows, but there are certainly beaucoup speculations all to the effect that this should shorten our stay over here considerably for, instead of shipping units home with low points because they are scheduled for C.B.I. via the U.S., they will leave them over here and send us and other hi-pointers home. We'd certainly all like to get home by Xmas—if we do, then we'll be satisfied alright!!! Who knows? Of course, I'm talking as if the War were already over, which, according to latest broadcasts, is not strictly true – but it certainly cannot be more than a matter of hours or a couple of days at best…
            Strangely enough, after receiving your letters, Dad, telling of having seen Bing Crosby in "Going My Way" and then of seeing "A Tree Grows in Brooklyn" – what happens, but we get those two pictures here one after the other. Enjoyed them both immensely, and in fact, could see Bing's again for the sound-track of the film we got was pretty well worn.
            Yesterday Charlie Stone and Polly Schoder left for home. Polly got her orders to be in Paree before the 15th. Charlie got his orders just nite before last and so the two of them were taken by Held to Paris in jeep. Charlie is a hi-pointer with 103 points and his mother is very ill, so he was able to fineegle an emergency deal. Now Joe Long is acting Chief of Medicine here. We've gotten 4 new officers formerly with the 2nd Convalescent Hosp. — an old unit—the oldest Convalescent Hospital over here. They've acted as a V.D. outfit a good part of the time, too. These officers are all medical officers and are real hi-pointers, of about 120 points, I believe. (Have 2 kids.)
            No new C.O. here as yet. Wonder if we are going to get one, now…other than from some Engineering outfit. Don't know what they're like but they certainly cannot help but be an improvement on the last two we had.
            Nuts!  It's pouring out and has been since midnight last night.  In fact, it is now pouring inside as well as out!  This bloomin' Receiving tent is leaking — leaking streams, not just drops — in six places.  I just had to move a couple of minutes ago because the typewriter and letters on it were getting soaked.
          As you may already know, Lois got the annulment on July 10th and was married on July 12th in Texas to the air-corps guy she met in Corsica, name of "Mike" something — I don't know the last name.  She is supposedly stationed at Miami Beach, I believe…
                        Loads of love,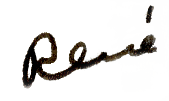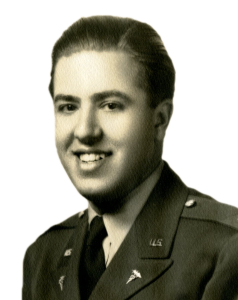 .
Watch for my next letter
August 15, 1945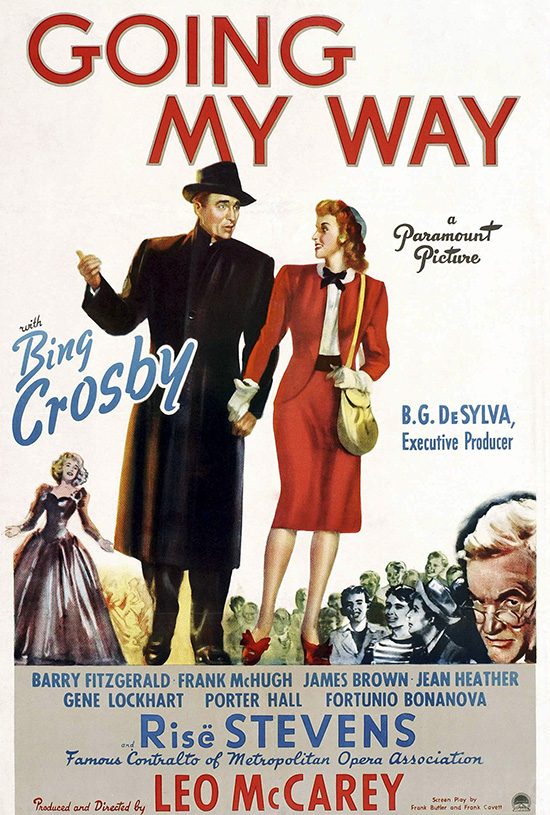 René tells his parents that shortly after receiving letters from his father telling of having seen "Going My Way" and "A Tree Grows in Brooklyn," he was able to see both of "those two pictures one after the other."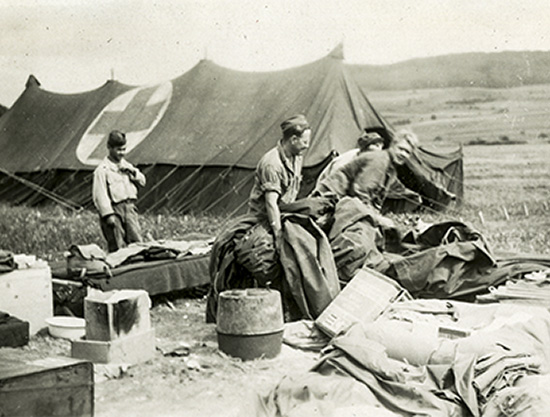 René types that the "bloomin' Receiving tent" where he is typing is leaking — "leaking streams, not just drops — in six places."  The nurses' tent also was leaking so badly that it had to be replaced.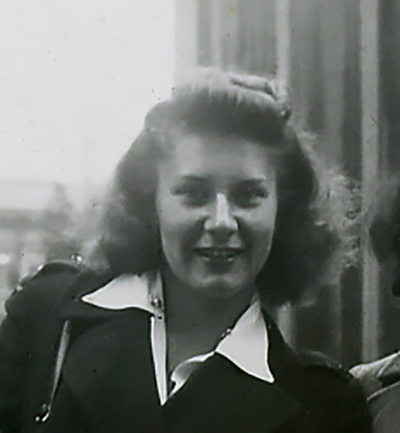 And René also reports news of Lois (above).  Below is a drawing she made of the ring René gave her before they were married in the fall of 1942.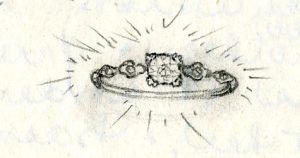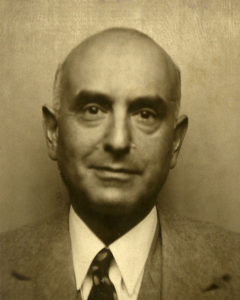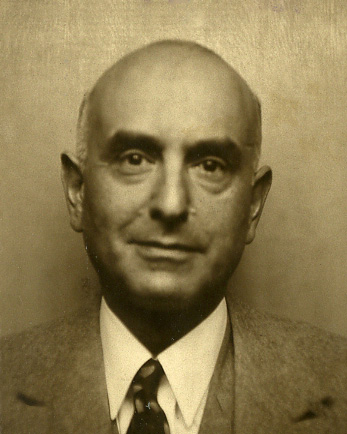 Today we have a portion of the letter that René Bine, Sr. sent to his son on August 14, 1945 – VJ Day, the end of the war in Japan and, therefore, the end of World War II.

---
---



Anthony's date with Cleopatra was some event, but at this moment,     6 P.M., it would appear that

                        AUGUST Fourteenth 1945

will be remembered as long, if not longer.

We have heard so many false rumors these last few days, that it was only when I saw the torn telephone books going past my windows, to the tune of sirens, mobs milling around Union Square, a large group of WAVES marching in formation up Powell from Geary, with a lone sailor on their right acting as captain, another WAVE being almost torn to shreds by a bunch of sailors celebrating, traffic practically stopped, Post St. entrance door of Garage down, closed, that I suspected that the deafening din meant that the President had probably spoken.

It was hectic getting my car out of the garage, as the whole mass was trying to get out. Geary was the only exit. Powell, Stockton doors also closed. I was not sure the fumes would not put us out of business, hors de combat. At Geary & Powell a lady asked for a lift. Her goil is in the Navy; grad from Stanford in 1938, then R.N. from same. Had a dozen eggs & many packages – trying for hours to go home to Pacific & Fillmore. This lady said she had seen windows busted on Market Street. Grace Cathedral chimes as well as other churches may be sending forth their calls to prayer, but certainly the downtown noises drown them out except right near their origin.

At the same time, 3 young girls asked for lift. These were going to a guest house Lake & 5th Ave. Well, I took the gray haired lady to her door, but even though just a few minutes before she had been so anxious to get home with her bundles, eggs, etc., now she wanted to go right back down town again!! She asked me what I was going to do, whereupon the 3 girls accused her of trying to date me & wondered how my wife would like this.

This eve, mother tells me that Gram went to the Fairmont. She of course, has to be in the thick of the celebration, but I have a hunch the dowager will not stage as wild a demonstration as will be seen at the Mark, the St. Francis, etc. I imagine that in Moscow, the biggest of all the parties will be seen. Maybe even, Jr., your gang will be figuring out just when you will get into your bus and all start for Paris.

Right now, having finished dinner, Dave is in the living room with the two sisters [Alma and Sara]. I shall have to quit now, as it is hard to concentrate.

           Love,

                 Dad

.

Watch for René's letter about V.J. Day on
August 15, 1945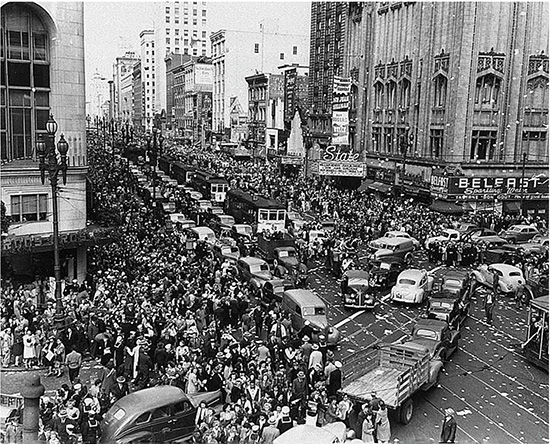 San Francisco's Market Street on August 14, 1945 – V.J. Day

August 15, 1945
Wabern, Germany
No. 46
V-J Day
Dear Folksies,

       So it's over!!  With all the delay the last few days, with the messages going back and forth, the actual end is, as it was on V-E Day, really an anti-climax.  The last two days everyone had been listening for reports hourly, but when we went to bed last night we did not anticipate being awakened by the news this A.M.  Someone had their radio on full blast in our area at 7A.M. and it awoke us all — so I automatically reached out of bed and turned on our radio and listened to the rest of the broadcast.
       Very few, I'm sure, anticipated that the end would come so soon in the Pacific. And I didn't like the sound of Hirohito's message. Sure, by surrendering they are saving innumerable lives and avoiding unestimable damage, but, by gosh, they're not doing it out of the goodness of their hearts and to save humanity and the universe (as he says) but primarily to save their own skins. Of course, even if it was to save one life or but one wound, the immediate end would be worthwhile. But I sort of wonder if, without teaching a real lesson we're not letting ourselves in for much greater destruction and loss of life some years from now. Just wonder…
       Of course, if that Peace Conference accomplished all they set out to do and all their plans for the future are adhered to and work out as intended, then perhaps everything will be o.k. Time alone, I guess, will tell……
       As for our situation, we're sort of tempted to stay right here in the mud and wait for the time when we will be flooded out of this spot.  Then, as they won't have any spot to put us as a hospital, they will just pack us up and save confusion by sending us directly home.  What do you think of that idea?
       I developed a flock of pictures two nites ago when I was O.D. and shall probably send them home all in one box with all the negatives that I have collected in all the time over here.  May be sending a few other things also. Shall send my binoculars, as they are stuck from the salt they got on the South France Invasion. I've got another pair, a good German pair I got while at Dachau. May even send my sun-tan clothes home for we haven't used them over here even this summer, and I certainly expect, now, to get home before summer of next year.
       Already sent my carbons of letters I've written to you (may someday clip out portions to make a consecutive story, who knows?)
       Latest news here is that Lou Huff is now Chief of Surgery. Yes, we're finally getting the reins in our own hands! McKee got transferred yesterday to another Evac. And there was much rejoicing on our parts. Lou is already making good changes in Surgery.
                           Loads of love,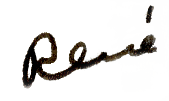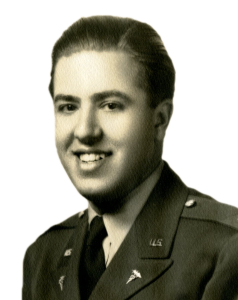 .
Watch for my next letter
August 18, 1945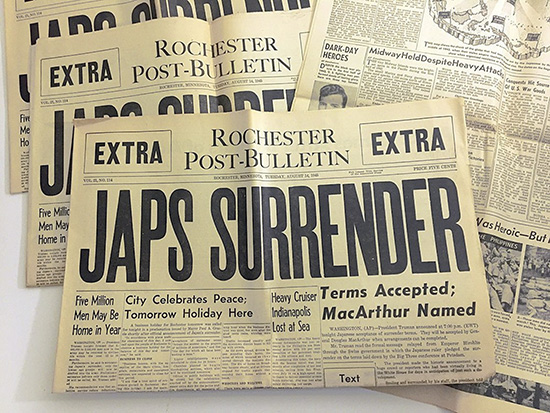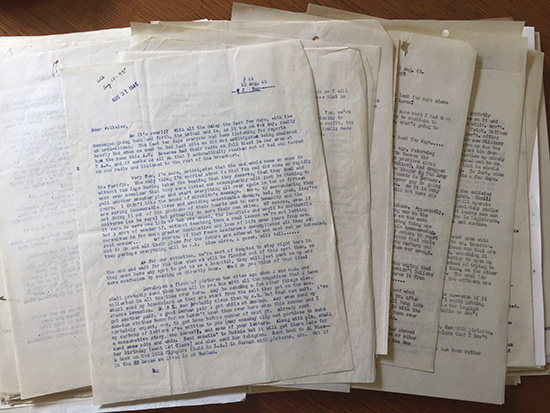 In this letter, René writes, "Already sent my carbons of letters I've written to you (may someday clip out portions to make a consecutive story, who knows?) The carbon copy of this letter (uncharacteristically in blue) and a number of other are shown above.
Editor's note: René did read through his 250+ letters at some point over the subsequent 43 years of his life, as evidenced by portions that are underlined, but he never got the chance to put them together in a consecutive story. That is what I have been doing for him these past 3-1/2 years.

August 18, 1945
Wabern, Germany
No. 47
Dear Folksies,

           Nothing more than a thousand new things in the last few days, but what all those things are, or what they mean, you-tella-me!
            Am at last off Receiving once again — back on the same ward I had when we first came up here, but, is it going to mean much?  Are we going to continue to operate?  If we are, how are we going to do it?  If we aren't, what's going to happen to us?
            Here are certain things that have occurred in the last few days…
            Cressman was called down to the 7th Army Hdq. two days ago, returning with the info that he was being put on T.D. [temporary duty] with the 7th Army Hdq. to become the "Consulting Surgeon of the 7th Army". Sooo, this A.M. Ralph left to go to Heidelberg – poor guy is going to have to live in style either at or across from the Hotel Europa. As it is only T.D., Ralph is still part of our unit and will not have his chance for going home jeopardized when and if that chance comes.
             Letter from Sewell Brown a few days ago that was priceless. Apparently, as you probably know already, a goodly number of the 30th Gen'l gang was on the same orders as our group of Frank, Wally, etc. In fact, Sewell was on the same plane as Ed Lindner, Brodie, and some of the others. Then, the amazing thing was that on Aug. 8th, Sewell became a civilian! His descriptions of his home-coming, his "2nd Honeymoon" in Santa Barbara, and then his being startled by orders to Ft. MacArthur for "Separation" – the whole letter kept us in stitches that whole evening.
            Came also, a letter from Mattie from their ranch in Eureka, saying that he had heard vaguely what had happened to all of us, but couldn't or wouldn't believe it until he heard direct from some of us. Nuts!! By now he either knows it from some other source in S.F. or—well it doesn't matter anymore anyway.
           These guys here (Maj. Mello acting C.O. still, as no Col. has showed up; and Capt. Hoffman, acting exec) got a bit skitterish for some reason or other a couple of days ago, and tho't we ought to have more on paper, as far as the bus is concerned – so that if anything happened it would be covered as a strictly Military Vehicle. We had just the original paper Maj. Gish gave us on it and they didn't think that was enough. Sooo, we decided to go into the Milit. Gov't. here in Fritzlar and see if they would give us more authorization. Ralph, Hoffman and I went in to town yesterday and when we walked into the office, I almost flopped when I saw who was standing on the steps – the new Military Gov't Officer for this whole area – none other than the guy who gave us the bus in the first place, Major Gish! He was glad to see me too and we expect him down for a meal in a couple of nites or so. He fixed the whole bus situation up nicely by registering it in his Milit. Gov't motor pool and having it loaned out to us until such time as we leave or don't want it. What a coincidence that he should have been moved up to this area, after being way down near Salzburg. In fact, when we left him there, he told us he tho't he was heading home within a few days. Unfortunately for him, however, he was really fooled.
                           Loads of love,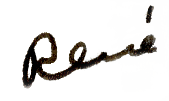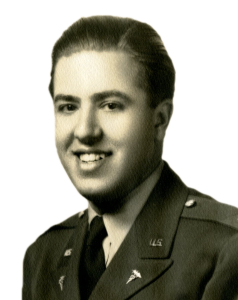 .
Watch for more of this letter
August 19, 1945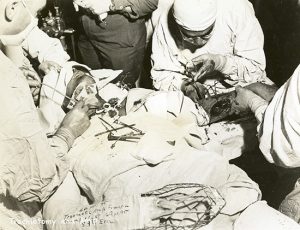 With complex surgeries like the one above a thing of the past, René ponders, "Are we going to continue to operate? If we are, how are we going to do it? If we aren't, what's going to happen to us?"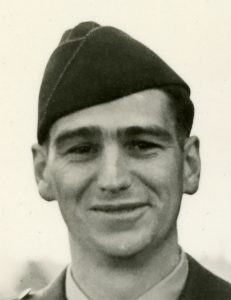 Ralph Cressman is now on temporary duty as "Consulting Surgeon for the 7th Army" in Heidelberg.

August 19, 1945
Wabern, Germany
No. 47 (continued)

Dear Folksies,

           Two days ago, came the startling news that all the enlisted men with 99 points or over would leave for home on the 23rd of August. Wow!!!  How many of our men does that affect?  Only 105 of them!  Can we still operate with the remaining men?  Hell, no!  Why?  Well, taking those men absolutely strips the headquarters, evacuation, dental and laboratory sections.  It leaves one man in surgery and he is only the cast man.  It leaves two in x-ray, two in Registrars, one in utilities, none in supply, and takes all of the ward sgts. and section chiefs…that's all!
            So you see what kind of a spot we're in.  Schmitty went down with Ralph today and is going to bring back the news of what happens to us, tomorrow.  Certainly we should close.  Even if they have replacements for those men who are leaving, it is stupid for us to try and work them into these jobs — something it took a good deal of time to do with the men we have. 'Tis far better to open up some Class II outfit (one formerly scheduled for the C.B.I.) instead of trying to keep us going as a unit. Perhaps we'll all be out on Temporary Duty, and then, on the other hand, we might be able to get passes to Paris, Switzerland, etc.  The next few days should tell.  There doesn't seem to be any indication that the officers are going to be leaving for some time.
            However, don't send anything in the way of packages to me – even if it isn't for many a month before we start a homeward trek, it isn't worth getting anything over here that would have to be sent back and make the luggage heavier. As for food, we have plenty, I'm sure, to last us a while, so don't bother getting any for consumption by me.
            Things are still muddy hereabouts, but the weather has been rather hot the last few days. In fact, 'tis mighty sultry right now.
                           Loads of love,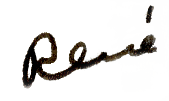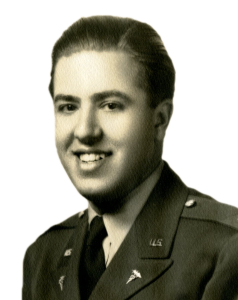 .
Watch for my next letter
August 24, 1945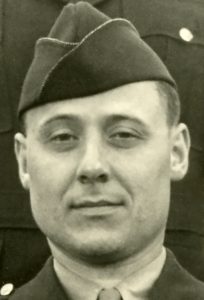 René tells his parents that Schmitty (Len Schmitz) went down to Heidelberg" and is going to bring back the news of what happens to us, tomorrow."

Meanwhile, life goes on for everyone in Wabern, including the nurses…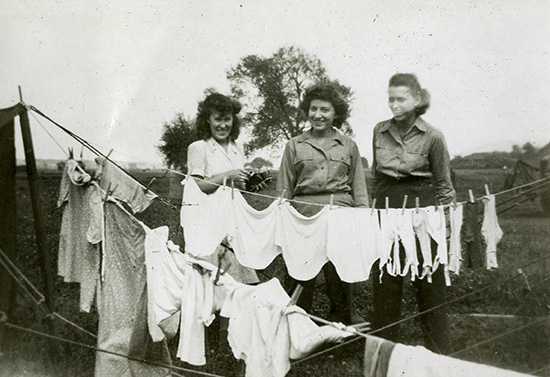 Above, right to left: Molly, Liz Liss and Sue Boehm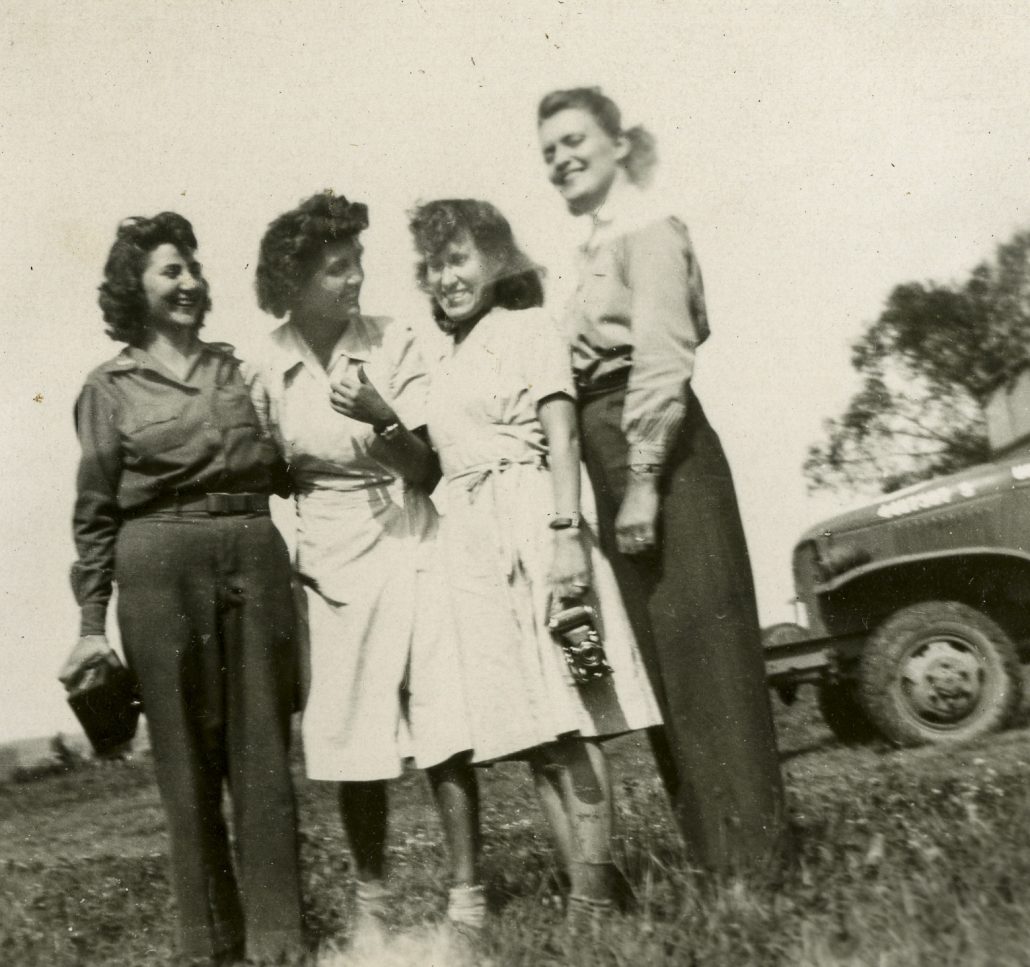 Ann Schleismann, "Brenda" Vencko, Molly and Sue Boehm