August 15, 1945
Wabern, Germany
No. 46
V-J Day
Dear Folksies,

       So it's over!!  With all the delay the last few days, with the messages going back and forth, the actual end is, as it was on V-E Day, really an anti-climax.  The last two days everyone had been listening for reports hourly, but when we went to bed last night we did not anticipate being awakened by the news this A.M.  Someone had their radio on full blast in our area at 7A.M. and it awoke us all — so I automatically reached out of bed and turned on our radio and listened to the rest of the broadcast.
       Very few, I'm sure, anticipated that the end would come so soon in the Pacific. And I didn't like the sound of Hirohito's message. Sure, by surrendering they are saving innumerable lives and avoiding unestimable damage, but, by gosh, they're not doing it out of the goodness of their hearts and to save humanity and the universe (as he says) but primarily to save their own skins. Of course, even if it was to save one life or but one wound, the immediate end would be worthwhile. But I sort of wonder if, without teaching a real lesson we're not letting ourselves in for much greater destruction and loss of life some years from now. Just wonder…
       Of course, if that Peace Conference accomplished all they set out to do and all their plans for the future are adhered to and work out as intended, then perhaps everything will be o.k. Time alone, I guess, will tell……
       As for our situation, we're sort of tempted to stay right here in the mud and wait for the time when we will be flooded out of this spot.  Then, as they won't have any spot to put us as a hospital, they will just pack us up and save confusion by sending us directly home.  What do you think of that idea?
       I developed a flock of pictures two nites ago when I was O.D. and shall probably send them home all in one box with all the negatives that I have collected in all the time over here.  May be sending a few other things also. Shall send my binoculars, as they are stuck from the salt they got on the South France Invasion. I've got another pair, a good German pair I got while at Dachau. May even send my sun-tan clothes home for we haven't used them over here even this summer, and I certainly expect, now, to get home before summer of next year.
       Already sent my carbons of letters I've written to you (may someday clip out portions to make a consecutive story, who knows?)
       Latest news here is that Lou Huff is now Chief of Surgery. Yes, we're finally getting the reins in our own hands! McKee got transferred yesterday to another Evac. And there was much rejoicing on our parts. Lou is already making good changes in Surgery.
                           Loads of love,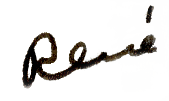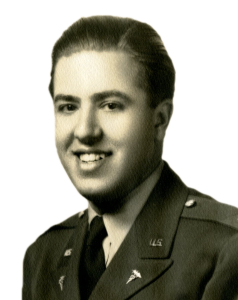 .