January 2, 1945
Back in Epinal, France
No. 1

Dear Folksies,
        Yep, 'tis now 1945 over here! All have pretty well recuperated from a rather wild ushering in of the New Year about which I shall tell you in a few minutes. We hope that despite the fact that the news from the Western Front in the past days has not been too good, you all had a happy start for 1945. And I hope, gol darn it, that by then you had received at least some of the several letters of mine that should have gotten to you weeks ago.
        In my #75 I was telling you about things that were stewing in this pot that is the 59th. Well, at the moment, Wally is acting Chief of Surgery Services. He has to make out all the monthly reports that Mattie usually has to fuss with, and of course, at this time of year he has to put in a yearly report of activities of the Surgical Service, what kind and how many operations we did at various spots, what we have learned, etc. etc.
        As a consequence, Wally is deep amongst the facts and figures so that Frank is temporarily working with Russell and myself as a team, but when Wally gets done with the reports he is going to return to the team and Frank will act as "Triager" for the coming month. The Triage job is the separating of the cases supposedly into three categories prior to operation – those needing immediate surgery, those moderately severe cases and the minor cases that can wait a little while. Actually, we have found out that if our "Shock" ward is close enough to Surgery then the fellow who runs "Shock" can usually run both the shock end of it and the triage end of it without an extra person there. When questions arise, he can always pull out one of the members of the team to examine a patient or decide a weighty question, etc. Therefore, Wally may decide to eliminate the Triage job and form another team.
        A strange thing, this business of Mattie's being under the weather. When he was over in Germany 15 years ago, he got the same thing and was pretty darn sick for a while – since then he hasn't been bothered at all and then just as we get close to Germany again – in fact close to the same region where he first got his trouble – he starts all over again. He's been pretty uncomfortable with a prostatitis, cystitis, and epididymitis to boot. Unfortunately, we have had to let someone else care for him now, so it is hard to tell how long he will be laid up. We only hope that it will not be long.
        At present, again living with Marv and Serge. We have wonderful BEDS with regular mattresses. What a feeling and what wonderful sleeping! Using a new bunch's beds at least temporarily until they take them out from under us. Almost all of us are in one building – one floor. The majors, in fact, just Wally, Bob, Roy & Frank, are in another bldg., but all the rest, including the nurses are in this bldg.. Yes, there is a separation – a door that Miss D. had nailed up today – sort of the Walls of Jericho! Have steam heat once again and 'tis not too effective at the moment, tho' yesterday it seemed to be mighty good. The boys across the hall from us are considerably warmer than we are on this side, because we have the wind coming towards our windows while they are more protected.
        Yesterday, walked downtown to the PX and Red Cross Club, expecting to go to the movie house that used to be in town, but 'twasn't being used as such any more. Had cakes at the Red Cross and walked about town some more, visiting the local church, etc. We had quite a group exercising with us – there were about 12 of us.
        A new outfit, just over, and going under strict military regulations, are running into trouble with our men to some extent.  Nurses in their gang are saluted even in their own area, and when one nurse walked by one of our boys who was working fixing up latrines outside, and he naturally did not salute her, she stopped and asked if he didn't salute officers.  He looked around at first, thinking that there was some male officer around who he should have saluted, a general or some such, but then when he realized that she meant herself, he said, "Oh, no!  I'm just a P.O.W." (i.e. Prisoner of War).  The nurse was so flabbergasted she just turned around not knowing what to believe. Everyone in our outfit has gotten a big kick out of this, as the kid who said it is one of the dumbest guys in the gang, a big tall, blond kid from out in the country somewhere in the west who never got through grammar school.
        I find that in my last letter I did not mention having opened the rest of the Xmas presents – Tanks, Mom, Dad & Bobsy for the Blum's Shoe box! We're all getting fat!!
        Card from Lilice again after she saw Jeanne. Apparently, Gilles, Claudine's husband, has been called to work with the Minister of War at Paris. Address of Lilice and Gilles, etc. at moment: 27 rue de L'Assomption, Paris (16)
                         Loads of love,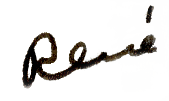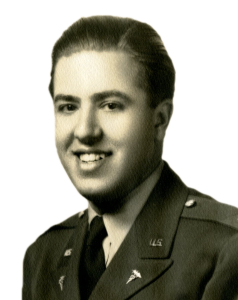 .
Watch for more of this letter
January 3, 1945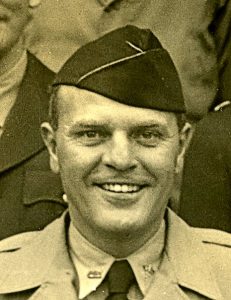 René tells his parents that Mattie has been under the weather and is sick enough that they have had to let another unit take care of him for now.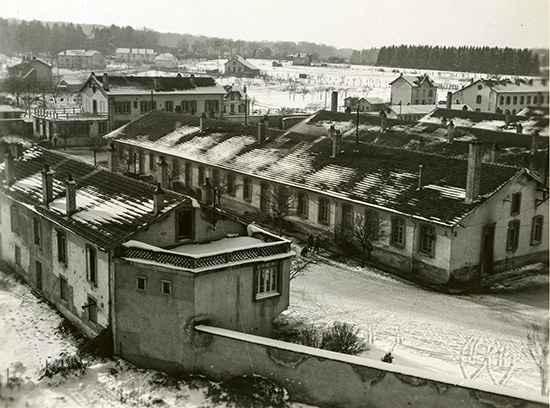 René tells his parents that almost everyone is living in one building, which even has some steam heat!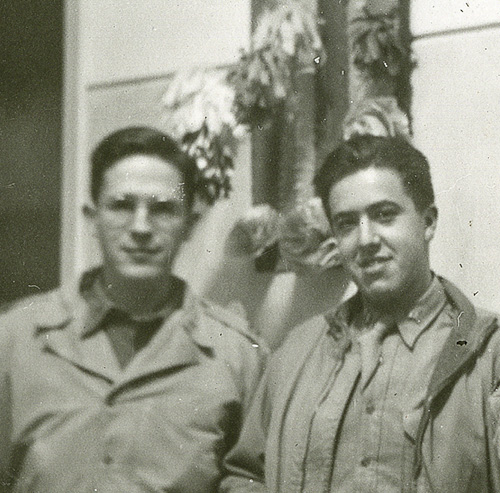 René is rooming with Marv Hodgson (shown above with René) and Serge Bryner (below).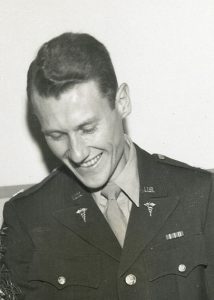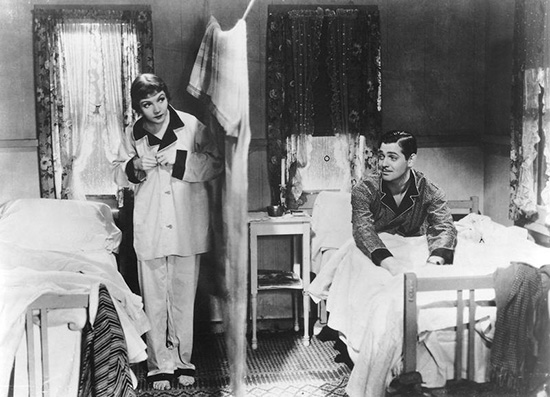 René's reference to the Walls of Jericho comes from a scene in the 1934 film, "It Happened One Night," with Claudette Colbert and Clark Gable.

January 3, 1945
Epinal, France
No. 1 (continued)

Dear Folksies,       
          Our party on New Years Eve was quite a party.  Originally, a few days before, we had anticipated not being able to have the party, but suddenly it was O.K. and things got under way in nothing flat.  We were going to have the electric victrola, but somehow that didn't work on the current for some reason, but we got one of our boys who plays an accordion to come over.  Unfortunately, the accordion didn't make enough noise so that it could be heard more than one or two feet away.  And it didn't help that everyone who came up to request a song not only offered him drinks, but, while both his hands were busy with the accordion, they poured the drinks down his gullet.  So, poor DuPree wasn't doing so well as far as getting out music after a very short time. 
          One of the other boys, Sgt. Cross, had come along with DuPree and acted thereafter as his manager and went around writing down requests.  In fact, when the Col. came up somewhere in the middle of the evening and asked DuPree to play a waltz, DuPree said to him that he would have to go "Thru Channels." So, through Cross he went — Cross made him put his request in writing, and the Col. did it without saying a word!!! It was really funny!!
            At first we had had DuPree sitting along the side of the dance floor, but then we put him on a stool on top of a table in the center of the floor — that increased the distance that he could be heard — yes, one could then hear him all of 2-1/2 feet from his accordion.  I must admit, however, that there was so much noise going on all over the room that it was one of the principle reasons for his inaudibility.
            The evening had started out with the fellows, most of us, instead of trying to contact one or another of the nurses – whom we hadn't seen anyway for 24 hrs. – just going to the door and yelling for anyone who might be ready to go down to the party. The gals all dressed in their formals – formals they had made or had made for the anniversary party last May. Carroll, Walt Byers and I went over together and when we left the nurses quarters we found we each had 3 gals apiece to help slide down the icy stairs and roads.
            A number of the gals had started having their own pre-party-party before going down and so were feeling pretty good to start with. They had no sooner gotten there than songs began to be sung, everyone gathering round in a circle and shoving a few of the prospective song-birds out into the center. Some of the gals were really funny, and Kiernan, of course with Stratte, added their little repertoire to the festivities. All kinds of songs were sung, everything from "Daisy, Daisy, give me your answer do…" to some British songs that have been picked up by us in the past two years.
            When people found that the music wasn't going to work, that didn't deter them a bit, so that all of us were dancing around, any step that one wanted, without benefit of music.  Poor Miss Diffley came in after things had gotten going pretty well and saw everyone dancing, but could hear no music so she thought, "Well, the music must have just stopped and people are just taking a few extra steps."  But, when she saw couples that had been seated, get up and go onto the dance floor and start right in — and still she could hear no music, she thought she must have gone deaf.  It was quite a sight.
            The amount that people had as liquid refreshments didn't really seem to matter — everyone just felt like letting their hair down and everyone was a bosom friend of everyone else.  The visitors from this new gang that were there at the start — we had invited all of them — apparently were scandalized, for they left early.  Rumors the next day had it that they figured that the Officers and nurses of our outfit were all shell-shocked and the men were chronic alcoholics!  They must have figured — my gosh, is that the way we'll be after two years overseas??  So, if you hear rumors about the "poor 59th," you'll know how they must have originated.  Another thing these new people have told us is that they've heard the 59th is the smoothest functioning hospital overseas!  That, too, of course, is a laugh!
                         Loads of love,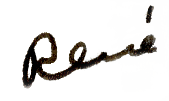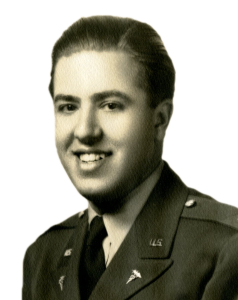 .
Watch for the conclusion of this letter
January 4, 1945

DuPree, the soldier who played the accordion at the New Years Eve dance was no Lawrence Welk, but he did take requests.

Cy Kiernan (above) and Paul Stratte (below) "added their little repertoire to the festivities" on New Year's Eve.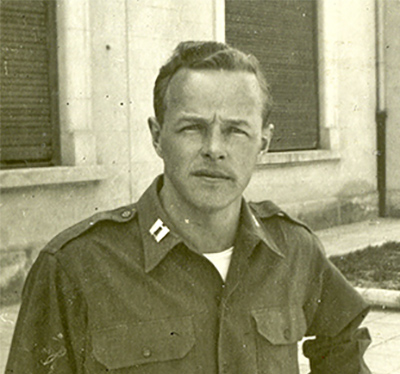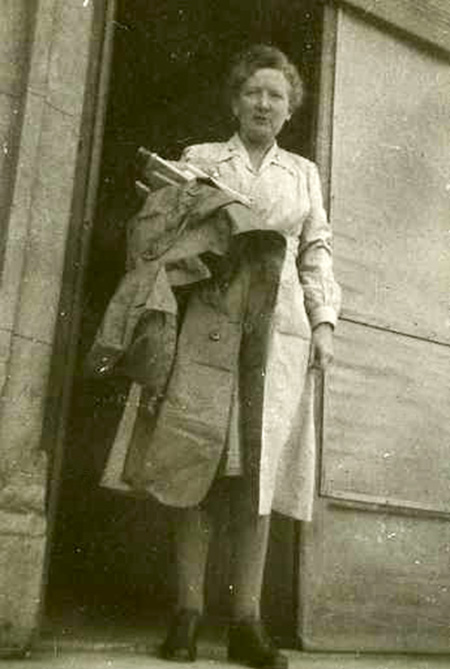 René tells his parents about "poor Miss Diffley" at the party. Chief Nurse Mary Diffley is pictured above.

January 4, 1945
Epinal, France
No. 1 (conclusion)

Dear Folksies,       
         Had a nice cold ride in an open jeep a couple of days ago. Carroll and I went with Klemperer and Byers in their jeep while the other officers went, warm, in the closed babies that have heaters. Nevertheless, we enjoyed our ride greatly. We felt sorry for the poor boys in their cold fox-holes and understood full well how "Trench Foot" can occur in a mighty short time. The bloomin' jeep had no side curtains on it at all, but we were well wrapped up with sweaters, field-jackets and trench-coats, besides our heavy underwear and socks. I made good use of the woolen gloves you folks sent me last year and also the woolen head-hood Mom made for me 3 years ago.
           We stopped to thaw out at our friends' place—the boys from Sacramento–and they gave us lunch. The roads were mighty icy, it having snowed a good deal during the night before – and, of course, the little towns nestled against the mountains were picturesquely covered with snow. As the road was icy, Walt drove pretty slowly and we had no trouble at all.
           However, we came upon one spot where a French Army truck had skidded off the side of the road and gone head-on into a tree, which had saved him from going down a steep slope directly in the valley beneath. That accident had apparently occurred a short while before we came along, but just before we got to that spot two more French trucks, each going in the opposite direction, decided to have a little argument with each other right in the middle of the road. They didn't do too much damage to each other, at least each vehicle was able to move under its own power. However, the Frenchies were doing nothing about getting the vehicles out of the middle of the road – they were just standing around talking things over.
           You see, when we arrived there were more vehicles on both sides of the wrecks, part of a French bunch and coming the other way there was other vehicles. Carroll and I got out of the jeep and went to the center of things to investigate. We started throwing our French around and soon got the truck drivers to get their vehicles off to the sides of the road, and we were directing traffic until Walt approached our position with the jeep. As he was having trouble keeping traction with the jeep and trailer on the hill, he didn't slow down when he came up to us, but just yelled for us to quit the policemen job an jump into the jeep on the run. So, off we were again…
                         Loads of love,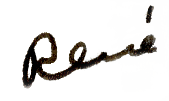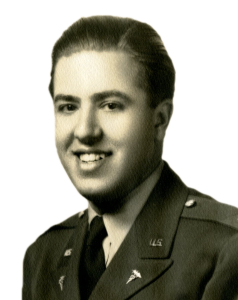 .
Watch for my next letter
January 5, 1945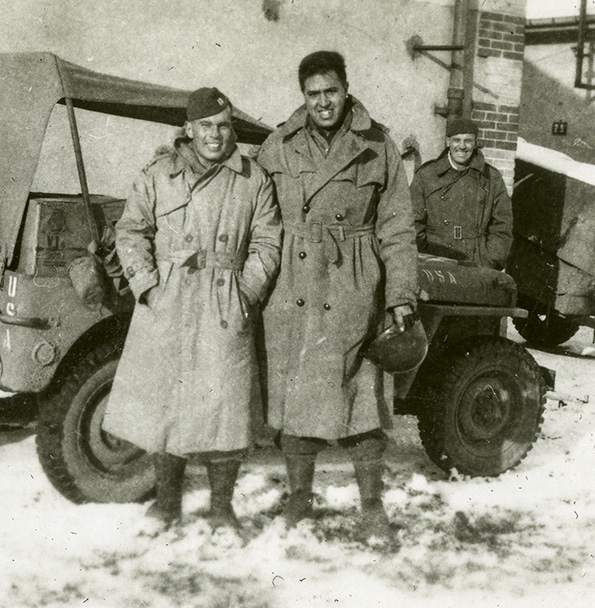 René (middle) took "cold ride in an open jeep" with Wolf Klemperer (at left), Walt Byers (at right) and Carroll Russell (in the middle, below).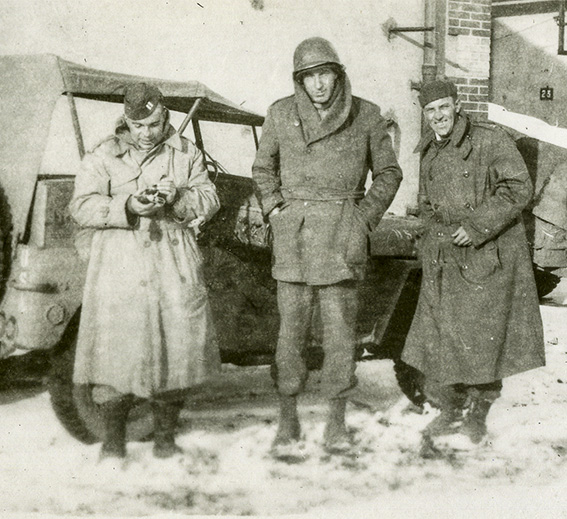 (Left to right) Wolf Klemperer, Carroll Russell and Walt Byers.
January 5, 1945
Epinal, France
No. 2

Dear Folksies,       
            We are really under a mighty cold white blanket now, with several inches of that white stuff all over the ground and buildings.  Our boys were out freezing their hands off this morning putting chains on all their trucks, for it looks as if they won't have occasion to take them off again for at least a few months.  Slush, slush, slush!! From our quarters to our mess or to the main portion of the hospital, we have about the equivalent of 2-1/2 S.F. city blocks to walk, and it is amazing how cold one's face and ears can get in that short a time, and if one is foolish enuf to forget to take his gloves with him then he has to spend about 10 minutes trying to thaw them out before picking up a tray at the mess.
            Sure, it's all very pretty, but I'd prefer Yosemite's snow when the sun shines at the same time. Our quarters are up on a rise above the men's quarters, the motor pool and the main portion of the hospital, and the road leading down has a nice gradual incline that would be just perfect for beginning skiers or for re-learning.  If we can dig up some skis we will very likely move the vehicles out of the way and go sailing down our little hill on the way to meals, etc. 
            Gert Brazil and Bertha Moore were the first to get the "Snow-Man Craze."  They were out bright and early this morning starting to put a Snow-man up in front of our quarters.  By noon they had only reached the chest and I can hear them out there now putting on the arms and head.  Perhaps by supper-time they will have it completed.
            As for skis, we now have one set in the whole outfit – Bette Holmes Richardson got a pair when on her honeymoon up by the front lines. However, Fred Jarvis, who is in the same outfit as Leon Michels, told us a few days ago that the unit he is with is set up in what used to be a ski-lodge and that there are something like 100 pair of skis and ski-boots in the basement of the place. We are seriously contemplating paying them a visit!
            It looks as if Mattie is going to get well in a hurry now that he has heard that there is a good possibility of getting some skiing in, as he is quite a ski enthusiast. There were a bunch of us down in his room last night and as Bette is specializing him, she got us on the subject of skiing and from then on that was the only subject for about 2-1/2 hours.
            Yes, Mattie is back with us – in his own room, but as a patient, of course. It's all a funny business, somewhat unexplainable to say the least. It is sort of as if he were loaned out for a couple of days – at least that's how it worked out, tho' it wasn't planned that way at the start. Nevertheless, we are mighty glad that he is back under our care and thus can't get too far away.
            Remember the story about the two guys who took a room with a bath at the Chancellor Hotel, ordered fishing-tackles, fish from Bernstein's and then proceeded to catch the fish in the bathtub and then have them cooked?  Well, they have nothing on the "shell-shocked 59th"!  Someone walked into our Headquarters office two days ago and there sat Jack Fry, our Master Sgt., leaning slightly over his desk with a concentrated look on his face, his forearm and wrist flexing slowly every few seconds, with his hand closed over nothing but air.  He was asked, "Why Sgt. what are you doing?" To which his reply was, "Shhhh, quiet!  I'm fishing."
            Another package arrived today – Thanks oodles for the artichokes, caviar, olive-spread and the two T-shirts. All arrived in good shape.
                         Loads of love,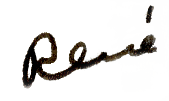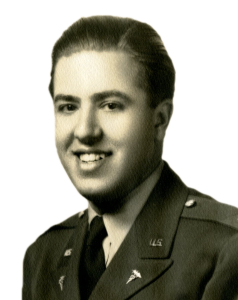 .
Watch for my next letter
January 8, 1945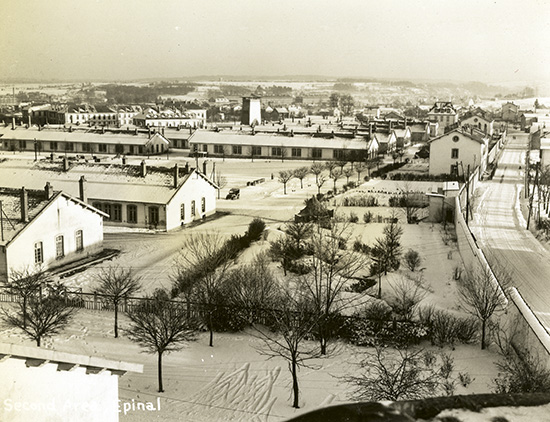 René tells his parents that they "are really under a mighty cold white blanket now, with several inches of that white stuff all over the ground and buildings."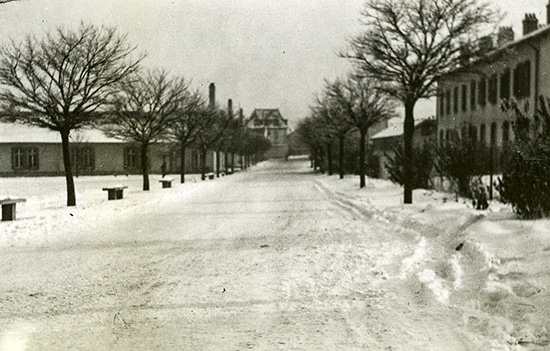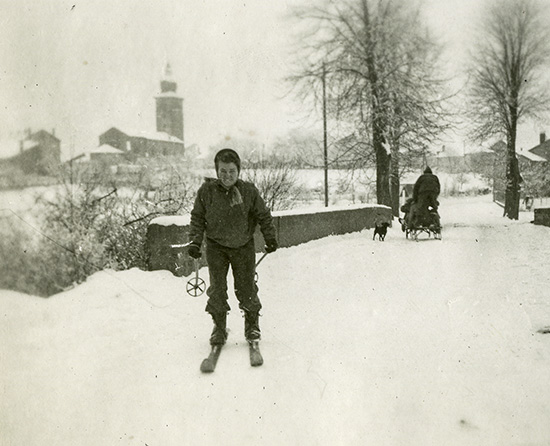 Bette Holmes Richardson putting the skis she got on her honeymoon to good use!

January 8, 1945
Epinal, France
No. 3

Dear Folksies,       
            And still the snow falls!  We're really under a blanket now!  In fact, I guess that most of France is pretty white right now. It's hard to realize that actually when one considers latitudes, the whole of France is pretty far above any of the places in California, and consequently this type of weather should be expected. But that doesn't mean that we have to like it! The poor boys up at the front must really have an awful time in this stuff.
            So far have not ventured to find the ski-lodge and the skis, but our ingenious Bret Smart, with the aid of Chuck Schwartz, has built a sled that will seat four to six people and it seems to work mighty well.  It is made of some discarded iron pipes, welded together to form the framework of the sled and they have used some iron pieces that were intended for walking-irons on casts (which Evacs, when functioning as such, never use) as runners for the sled.  The front steering section is fitted to the main body by a large bolt, and they can really maneuver pretty well.  In fact, they took the sled on a trial run a couple of days ago, pulling it behind a 3/4 ton truck and they went for about six or seven miles with great success, no mishaps.  Our little incline to one side of our quarters they are now altering with a "sled-run" along side the main section of road, and they have been pouring water on it to make it more icy.  When they get it completed they will just about be able to run a taxi-service from our quarters to the mess-dept. 
            The gals who were working on the snow-man decided to turn it into a "snow-lady" — and we don't mean that it's no lady either.  'Tis mighty fancy, complete with arms gracefully in the air and a fancy (permanent) hair-do.  It has now been standing out in front of the quarters for three days and it looks as if it will last for a long time.
            The last couple of days have had a few little things to do, but not enough to keep us from sitting around our quarters tearing our hair. Would like to walk but 'tis not too pleasant in this weather. We're kind of holding the sack at the moment.
            In fact, we've even been reduced to playing cards of late – do you know the game of "Tripoli"? In case you don't, it is a combination of poker, Michigan and Hearts. Have had a couple of sessions in Carroll's room with Carroll, Walt Byers, Edna Haertig, Gert Brazil and Ann Dunn. Such gatherings are also good ways for all of us to dig into our food supplies and reduce the contents of our barracks bags very enjoyably. Everyone contributes and we end up with some of the darndest concoctions of foods.
            Tanks for packages received in the last couple of days!! Yours, Mom & Dad, with the film, deviled ham, and the long wool socks. Have your long tan ones on now, Dad, and my tootsies are very comfortable. Sal's pkg. full of tea and caviar also arrived – thank her for me – what a supply of food we have now.
            Time out – Ann Dunn Bryner over in our room at the moment and we are just delving into my soup supply – Ann has just picked for tonight's menu, the pea soup. And while on the subject of Ann – gave her those long woolen socks you sent – for which she thanks you muchly.
            Latest news on the re-arrangement and promotion front: Gerbode apparently to get his Lt. Col. and the title of "Chief of Professional Services". Rumor has it that Roy may leave to be Chief of Surgery in a new General Hospital. He will be a big loss if 'tis true. Gill Bishop acting Exec., for which all rather glad, for he will do a better job of that than Frank would do. 'Tis quite a break for Gil.
            Today received a package from Jean-Pierre – a small toilet-article kit, oil-cloth type that he carries in his line, and is just the size that will not only hold my stuff, but will fit in my musette bag.
            Ann also chose olives for tonight's repast – i.e. chopped olives on little pieces of toast she toasted on the electric heater of Serge's while the soup is cooking on my gas stove. Just about time for the repast, so shall quit for now.
                         Loads of love,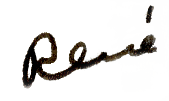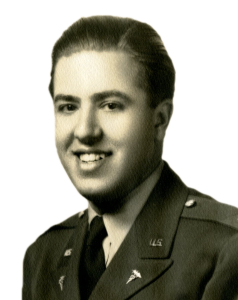 .
Watch for my next letter
January 13, 1945

René's caption for this photo was, "Snow-girl made by the gals."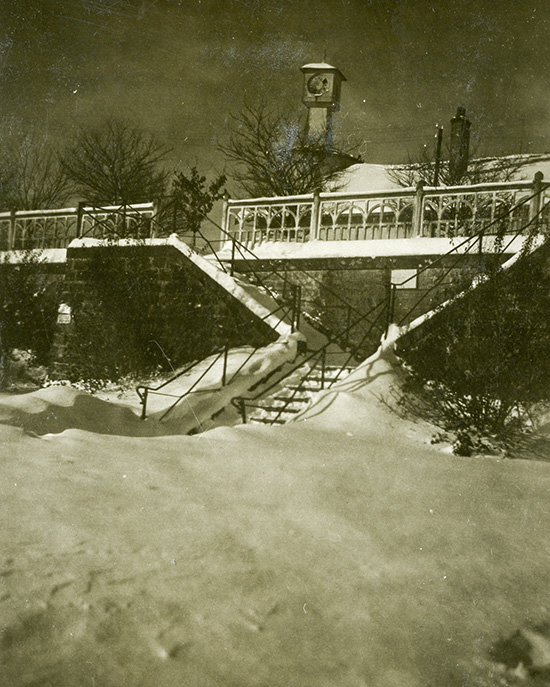 Snow blanketing the stairs to the officers' quarters.

January 13, 1945
Epinal, France
No. 4

Dear Folksies,       
            Sorry, did not mean to let these days slip by without writing to you, but in a minute you shall see where my good intentions yesterday went. We're still sitting on our – you know what's, and some have even done so rather dramatically in the snow. Nevertheless there are, you will find, quite a few things about which I can ramble on to fill a few of these pages today.
            To begin where I left off with my last epistle — we had quite a repast, shared by several here in the quarters. The funny thing was, however, that that nite absolutely everyone had gotten the same idea and the quarters had 5 different soup-kitchens going at once.
            At the moment we have a few people out on detached service. A team, consisting of Roy, Ed Blasdel, Helen Baker, Chris Colletti and two of the men are loaned out to one of the other Evacs – one that boarded with us just two months ago and which has had difficulties keeping up anywhere near the other older Evacs professionally because of lack of experience and training. That is what is so darn screwy about the Army system. They make up units and dish out beaucoup high ranks over in the U.S. and then send those units over here and then they find that they have to call for help – not just to help them get set up and running smoothly and all that, but help actually professionally. For instance, one large General Hospital was sent over with a guy as Chief of Surgery who had had one year of internship only and had been out in practice in some small town for about two years.
            Our friends in one of the other Evacs tell us how, when all three of our hospitals were supposedly working full blast – there wandered into their surgery a Lt. Col. M.C. who just wandered from room to room and was watching what was going on. Someone went up to him and introduced himself and the Lt. Col. introduced himself as the Chief of Surgery of an Evac hospital. Our friends were rather surprised and asked him if his unit wasn't busy over there, for they had heard that they were supposedly just as busy as the rest of us. Well, you probably won't believe that this reply could come from anyone, but it did come from this Chief of Surgery: "Oh, yes, my God, that place is a mad-house – I just had to get out of there!!"
            Reports about Roy are that he is doing five times the amount of work that anyone else there is doing – which, of course, is not unusual – and that that outfit not only has Roy's team but 4 or 5 others attached to them. What a deal!
            One thing these new outfits have done to the old ones is make evident the tight bond of friendship and mutual admiration that has been set up between all the old outfits — the Roosevelt gang, the University of Illinois gang, the Stanford gang. etc.  Let anyone say anything about the old-timers and just see what happens!
            One thing that we do differently from the other hospitals (and for which we have gotten considerable praise and compliments, particularly of late from the Station and General hospitals — the credit for which goes to Eddie Welles and myself)  — yes, 'tis the typewritten charts.  We are apparently the only ones, with the exception of some of the surgical teams at Field Hospitals, that routinely type operative notes and histories on cases that come to surgery.  If we had enough typers to go around, one for each ward, we probably would have no charts written long-hand at all in the hospital.
            Johnny Malone and Schmitty are both on detached service at the moment also. Johnny has gone to learn some more anesthesia and Schmitty to learn some Maxillo-facial work.
            Yesterday, Carroll and I went into Fadley's offices to get our PX rations of beer, candy, toothpaste, etc., and somehow, having gone in at 12:15, we didn't leave there until 5 P.M., just in time for supper.  Fadley had a couple of extra cases of beer and he had offered us "one on the house" when we first came in.  But then a big mob started flocking in and he couldn't handle the business all himself, so Russell found himself dishing out the candies and I found myself taking in the cash.  By the time that rush was over, Fadley insisted on our having another beer in payment for our services.  Well, that went on all afternoon.  Fad was dishing out beer to anyone who came in and would stay a few minutes shooting the bull for a bit.  What a way to spend an afternoon.  So, that's where my good intentions about writing yesterday went.
                         Loads of love,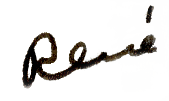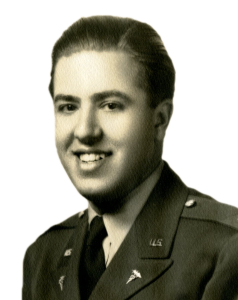 .
Watch for more of this letter
January 14, 1945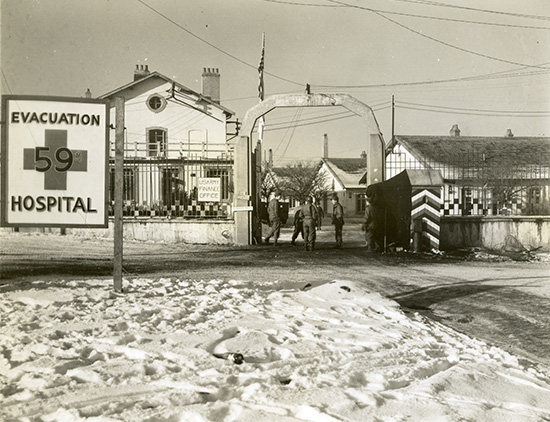 Quite a few of the members of the 59th Evac. Hospital are on "detached service," helping other units in the area. Those on detached service include Ed Blasdel, Chris Colletti, and Len Schmitz – pictured below.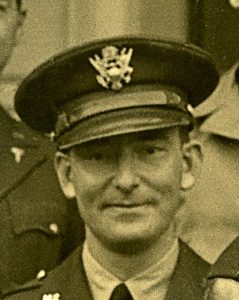 Ed Blasdel is on detached service.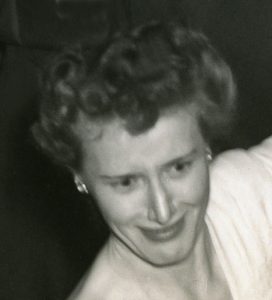 Chris Colletti is on detached service.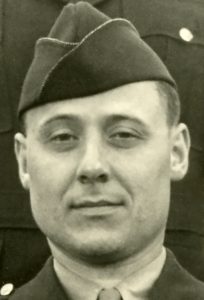 Len Schmitz (Schmitty) is on detached service.

January 14, 1945
Epinal, France
No. 4 (continued)

Dear Folksies,       
          Change in assignments slightly at the moment – Eddie Welles has come off the surgical team and gone on anesthesia and Paul has taken his place. After Eddie has had a little while in that job, then Newsom or Pete will come off their team and I will go on one.
          Have gotten a few new nurses – not fresh-from-the-U.S. kind, but a couple who had been in a station hospital for quite a while and another who has some exciting and almost unbelievable stories to tell about things that happened a couple of weeks ago. The latter's husband is a Lt. Col. in a higher headquarters not far from us, and that was the reason for her transfer. She came with the story that Army Hdq. told her that she could be put in any of the outfits here and she would stand a chance of being as close to her husband in one as she would be in any of them. However, she was told by them also that if she wanted to be in a real good outfit – the best in this particular Army – she would go to the 59th. It all sounds as if she made that up to get in the good graces here 'cause we do not believe it, but we like it, of course.
            It's interesting, and several of us were talking about it yesterday, how the attitude of the men of the outfit has changed in the two years that we have been overseas.  In Africa and the early part of Sicily, there were many who wanted to get out and get in anything, infantry, etc.  They wanted to get out of the Medical Corps — it was too tame.  Then, after the boys who went with Shuster into the Rangers had their tough time, the ardor of most of the men for the front-line infantry stuff was definitely dampened.  Now they are even less anxious to be transferred out.  Too, originally the pride in our outfit was almost nil. But, after the boys saw other outfits and particularly of late when new gangs have arrived — well, it isn't safe for anyone to speak ill of the 59th, i.e. anyone outside of our own people.  There have been a few hospital cases, of late, as a result of such things, something that wouldn't have happened a little over a year ago.
            Excellent movie last nite. If you haven't already seen it, it is a "must"! Greer Garson in "Mrs. Parkington." Really good.
            I heard of an odd and horrible accident recently wherein a jeep was going along slowly on the icy roads, turned a corner to see a French tank coming the opposite way and using up most of the road.  The jeep pulled as far to the side of the road as it could and came to almost a halt.  But apparently the tank did not see the jeep at all and kept rolling right over it before the occupants could do anything about it (the jeep being enclosed).  The left tread of the tank rolled over the right side of the jeep and thus was raised just enough so that the driver of the jeep sustained only a couple of scratches, as he was between the treads of the tank.  But the passenger was crushed pretty quickly before the tank realized its error.  It's bad enough to skid on icy roads, but to have something like that come relentlessly on towards one, particularly if it isn't an enemy tank, must be horrible.
                         Loads of love,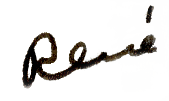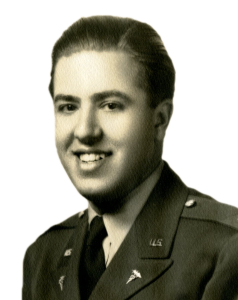 .
Watch for the conclusion of this letter
January 15, 1945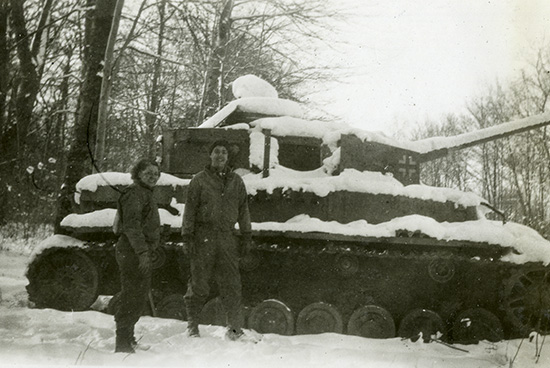 René poses above with Josephine Burnett (maybe one of the new nurses) in front of a German tank. He tells his parents a story about an "odd and horrible accident" involving a French tank and an American jeep.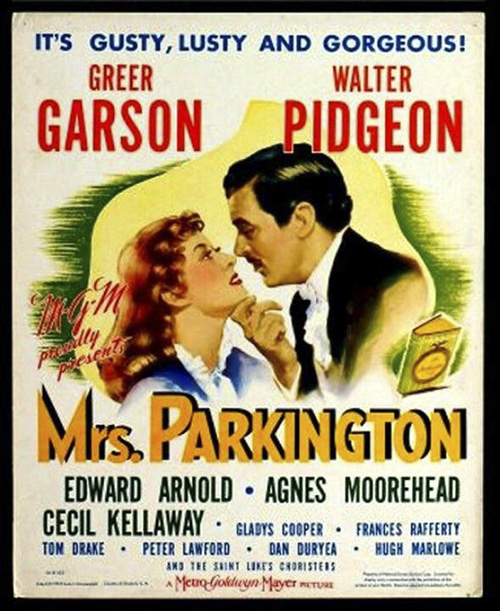 René says that the movie, "Mrs. Parkington" is a must-see.