January 30, 1945
Epinal, France
No. 9 (continued)

Dear Folksies,

           Monday A.M. I got up and had breakfast at the hotel (regular G.I. mess) and then phoned Jeanne, making arrangements to meet her at 12:30 P.M. at her place.  It was fairly nice outdoors, cold but not too bad, so I started walking in search of a few things that I wanted to get and that I had promised to try to get for Bret and a couple of others.  Bumped into Ann Cameron, she used to be in the 59th, but is now in Lynn's outfit. Went with her and Vince Knotek to a couple of the PXs. Picked up candy rations (for the folks) and then went to the PX where they have things that men on leave from the combat areas alone are allowed to buy. Then I walked around the Opera and Place de la Concorde section until it was time for meeting Jeanne.
            Went out to Jeanne's and found Lilice there. She, too, looks fine. Perhaps not as well as Jeanne looks, but nevertheless very well. Also gray haired, in fact I should say they are almost white haired. Was rather surprised at how short both Jeanne and Lilice are (particularly Lilice). She is, of course, heartbroken about Yvette, but from what Jeanne and Jean-Pierre have said, I anticipated that she would avoid the subject. That was incorrect.
            The two little ladies took me out to lunch.  The prices at the restaurant to which they took me were absurd, obviously black-market stuff. 
            At the restaurant we met Raoul Aaron and his wife. He's the one who used to be a banker, I understand. Apparently they are mighty well-off. They stayed in Paris the whole time it seems. How they escaped trouble, I know not.
           After lunch, they took me to see the Hotel Dominion for old-time sake. Incidentally, those two are definitely the daughters of Jules Neuberger!! They walk all over at a great rate!! They even climb four or five flights of stairs without turning a hair.
           Jeanne left me to go back to David, and Lilice and I walked all over the rest of the afternoon — Arc de Triomphe, Champs Elysees, the Bois du Boulogne and past the Trocadero.
          Lilice then took me to 72 Avenue Henri Martin. When the maid asked who it was calling, Lilice said it was Dr. Rene Bine. Poor Alice Dreyfus was rather confused when she got that message and came out to see me. She was thrilled, however, as you can imagine, and, of course, wanted to know everything about everybody. Alice, for her age, certainly does not look badly and is apparently in pretty good health. Her husband Edouard is blind, has a fractured pelvis (I believe), and is rather discouraged and wanting to die. He's 88 or 89 and apparently has some severe pain most of the time.
           While I was there, Maude Bechman, their daughter, arrived. Her husband died some time ago, but her two daughters, age 21 and 22 are in the French Army – ambulance drivers who, more than likely, have in past months delivered patients to the 59th! Both had gone to Africa originally a long time ago, one going from there to England and coming over after the Normandy business with one French group. The other was in Rabat in Morocco until coming over through Southern France.
           Alice and Edouard apparently had no trouble during the occupation and their apartment stayed intact. They even have just about all their furniture left. It is remarkable that some were over looked, while some were looked over and taken.
                         Loads of love,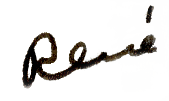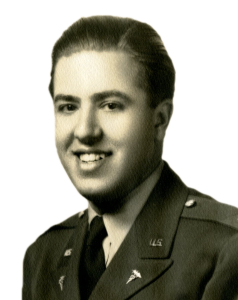 .