November 1, 1942

Dear Folksies,
       Yesterday P.M. I went in with a couple of the officers only to find that Lois had gone into Petersburg to do some shopping with Fran, as she did not expect that I would be able to get in before evening, if at all. I had to come back to camp before dinner, so didn't get a chance to see her.
       Last night it really poured here, but we remained nice and warm and dry in our tent. This morning it cleared up and now, though windy, is nice and sunny out.
       While Paul was gone this A.M. two of the officers decided on a little tour of reconnaissance in a jeep. One of the men and myself went with them and we went all over the neighboring fields in the darn jeep. We did fine as long as we kept off the roads, but just as soon as we started to go on one of the roads we hit trouble – the jeep got stuck really good, bogged down in mud so that the transmission was partly covered with it. We dug and dug and jacked the darn thing up and cut down trees so that we could try to hoist the jeep up a bit. And finally, after about an hour, we managed to get the darn thing backed out of the mud and slush. Some fun!!
                    Loads of love,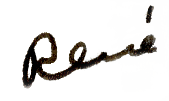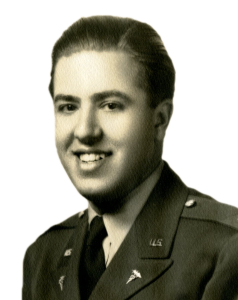 .
Watch for my next letter
November 3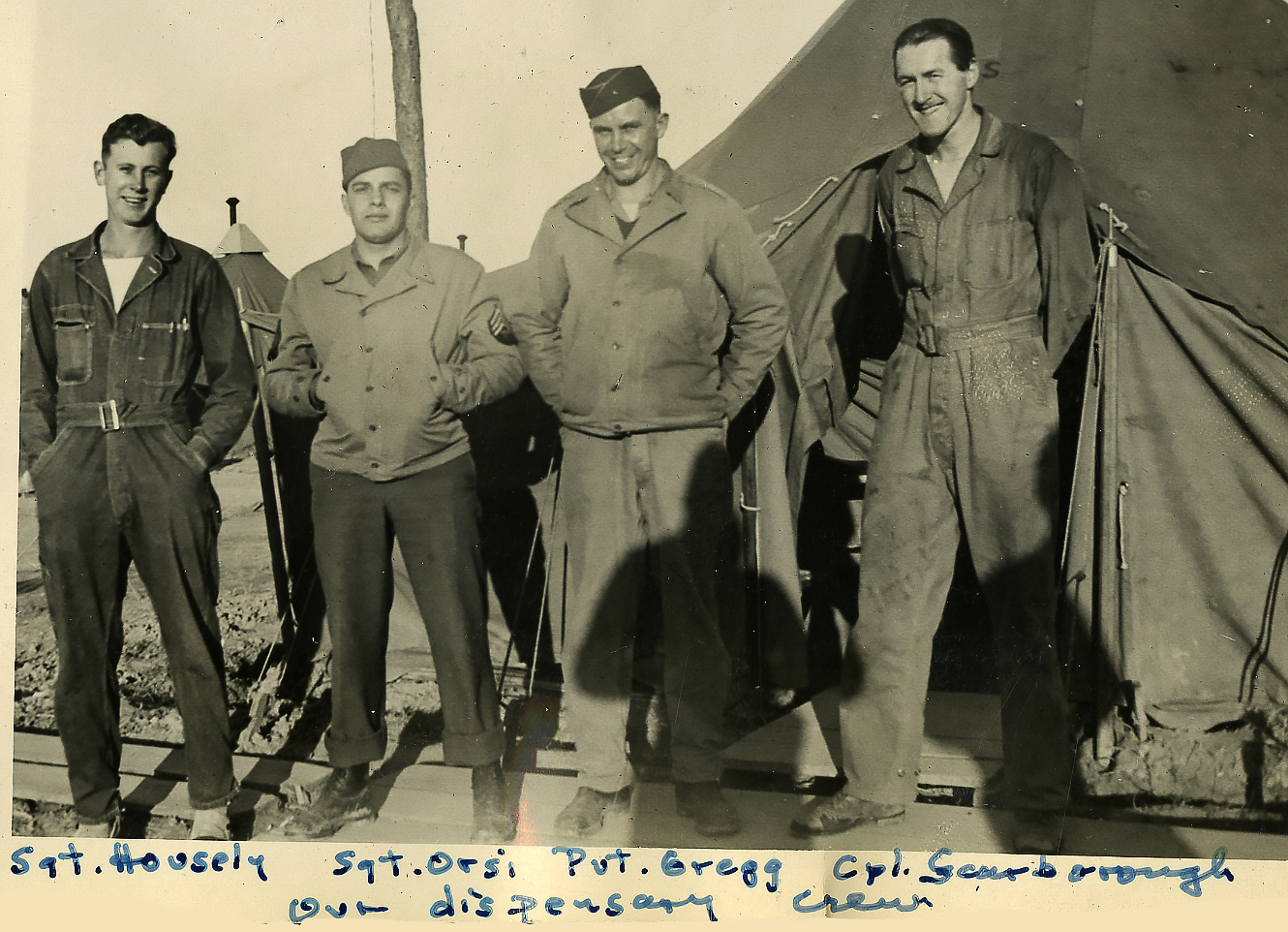 The Dispensary Crew: Sgt. Housely, Sgt. Orsi, Pvt. Gregg and Cpl. Scarborough

Another Army jeep stuck in the mud.

November 3, 1942

Dear Folksies,
       Paul and I are still out in our tents and are rather enjoying ourselves. The only bad feature being that we have no showers and the transportation into Pickett is a little complicated. If it weren't that I don't get to see Lois more than every other day at best, I wouldn't mind being out here at all.
       On Sunday, the other Lts. came around and asked Paul and I if we didn't want to go rowing on the lake. Of course we did, so off we went. It's a small lake, somewhat smaller than the lake above Chambers at Tahoe. The boats they have are really small scows, square on both ends, and leaky as the deuce. We paddled around in them for quite a while, managing to get ourselves almost as wet as the bottom of the boats. We also did a little exploring around the area, got an old water mill running — the water coming from the lake, and in general puttered around.
       After dinner Sunday, Ed Williams, one of the other Lts., and I went in to Pickett. We intended to take showers and he wanted me to try to get a date for with one of our nurses. After I talked to Lois and got a date for him, Bam and Fran showed up and we got the idea that we would take some of the gals back to the lake with us, pick up the other Lt. who was around, and with Paul, we would have quite a boating party. The gals thought it would be a swell idea so they changed to slacks and off we went in our command car. When we got back here and told Paul and Srouffe (the other Lieutenants) that we had some of the gals for them, they wouldn't believe us at first — but they ventured from their tents and found we weren't kidding.
       We all went over to the old, deserted roadhouse, brought Srouffe's radio, went rowing, ran the water-mill for the gals, and danced for a while. It was kind of cool in the roadhouse, but we all had quite a good time. Took the gals back in at about 11 P.M. and then picked up our two enlisted men that Ed and I had taken in with us earlier in the evening.

            Yesterday. After running the usual sick-call and making our sanitary inspection, Paul, three of our men, and myself went over to the lake and went rowing – each in a separate boat for about an hour. Then we hiked for a while around the surrounding forests, finding more buildings that we hadn't explored before. In the afternoon, we played football and baseball for a while, and, in general, got quite a little exercise. Last night Paul went in for just a shower, and this afternoon or this evening I am going in for a couple of hours.
       Today we repeated our stunt of yesterday, rowing and hiking after our inspection was finished. It is a bit cooler today, with quite a little breeze keeping the flaps of our tents flapping. Last night was warmer than the night before, but it again poured for a few hours early this A.M.
                    Loads of love,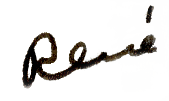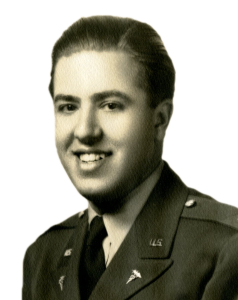 .
Watch for my next letter
November 5

René rowing past the "Night Club"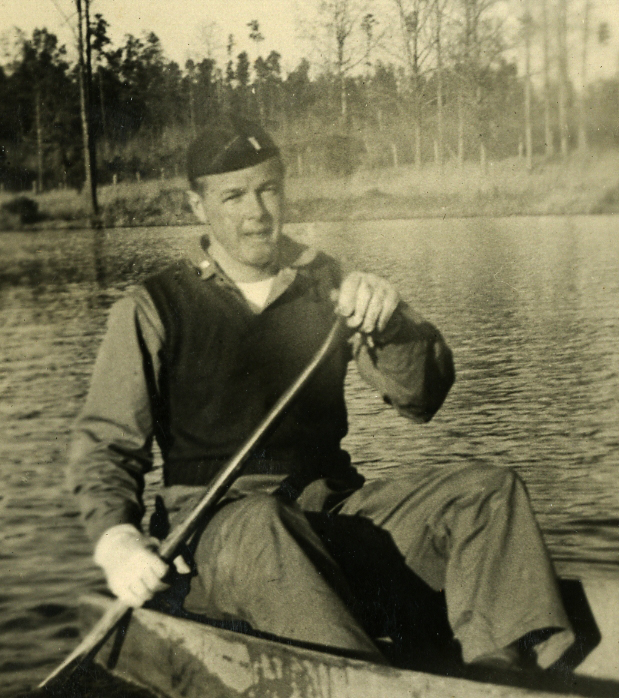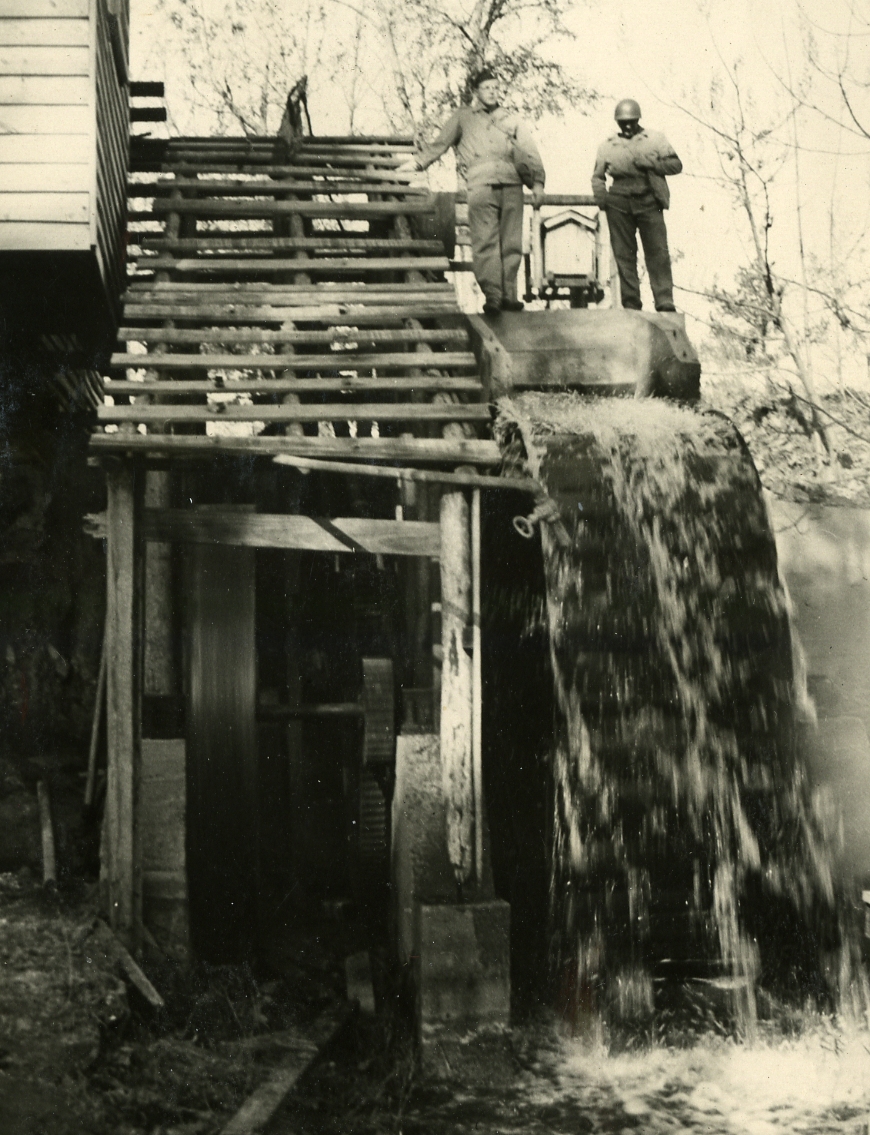 November 5, 1942

Dear Folksies,
       After writing on Tuesday, I loafed around the camp most of the afternoon and then when the Capt. and some of the Lts. went in for a meeting with their Col. at around 7 P.M., I went in with them and spent about 3 hours with Lois, after scrubbing some of the Twin Lakes dust off of me in the shower. At the meeting, the Col. had told them that from the next day until the 10th, they were to be on the alert for an attack at any time of the day or night, so that yesterday there was feverish activity going on around here preparing for the attack of the "enemy."
       We ran sick call as usual yesterday and then took our stroll to the lake. While we were there one of our boys whom we had left back at the dispensary came scooting out in the ambulance we had sent for to take men into the hospital clinics. We came back to find a man with a pretty badly swollen knee, so we piled him in with the rest into the ambulance and went off to Pickett. I went in with them to get the mail, get some more supplies and also to see Lois. By the time we rounded up the patients afterwards to come back, it was after lunch time. I had eaten at the 59th mess for a change. Came back and then Paul went in to have his tooth fixed some more.
       Last night we were in bed and reading at about 8 P.M. when the Capt. and some Lt. Col. came boom in here telling us that our light shown too brightly and we should put it out or shade it better. The "war" was going on in earnest and our boys had captured a couple of Lts. And a couple of men from the other outfits that were attacking us. This A.M. Paul told me that there had been some real blasts near us, but neither Sgt. Housely or I would believe him, until his story was corroborated by another Lt. – and neither one of us had awakened. There had been some tear gas exploded nearby also, but we hadn't noted that either. We sure are on the alert ourselves in this "war"!!!
       This morn was pretty darn cool when we awakened, but there wasn't the wind that there was yesterday. We had a heck of a time getting Sgt. Housely up to start the stove before we got up, but he finally made it and crawled back into bed again until the air was warm enough to venture forth.
       After sick call this A.M. and our inspection tour, we were picked up by one of the Engineer Lts. who was going on a reconnaissance tour in the jeep. Housely, Paul and I piled in and the fellow took off on the darndest road you ever saw. The jeep did wonderfully and got over all the bad spots and when the Lt. said that we had gone over the whole "obstacle course for jeeps". We told him that that had been tame and he ought to do it again to prove that it wasn't a freak performance. So, what does he do, but turn around and go over the last couple of puddles and then turn the original way again. This time, however, he deviated from his original path just a little and it proved somewhat too boggy and we bogged good and proper. This time we had no shovel or ax, the ground was wetter than our experience of Sunday, and we couldn't get the darn thing out of the mud – even when we tried to lift the rear end up.
       It was stuck for good, so off we hiked, finally, back to the camp, which luckily was only about 25 minutes away. The Lt. just now came in and told me that he had taken a 1-1/2 ton truck out with a winch to pull the jeep out and he managed to stick the truck two times and the jeep twice more before finally getting both vehicles out of the muddy area.
       After lunch Paul went in with a load that was going in in the ambulance for the afternoon clinics. We had flipped a coin this A.M. and the winner was to get to go back on the last trip with the ambulance and stay in this evening and come back tomorrow A.M. — as the 59th is having a party tonight. I was lucky on the flip and so will be going in later this afternoon.
                    Loads of love,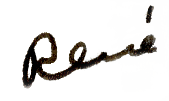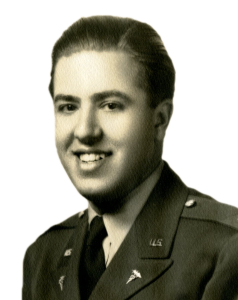 .
Watch for my next letter
November 6

Private Gregg at the Dispensary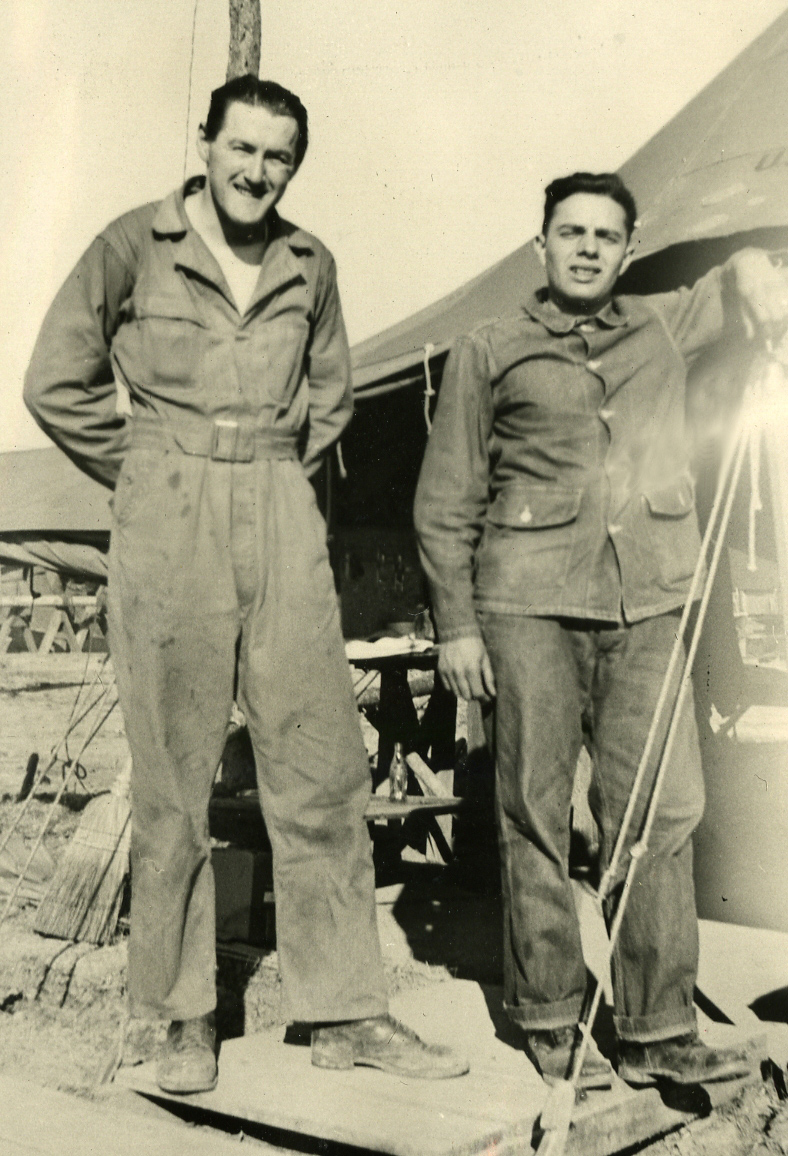 Corporal Scarborough and Sgt. Orsi at the Dispensary

November 6, 1942

Dear Folksies,
       After writing to you yesterday afternoon, I slept for a little while and then the ambulance returned out here with a load of patients we had sent into the clinics at the hospital, and I went back with it into Pickett.
       I got into the 59th headquarters and found considerable mail awaiting me there. Had had dinner with the gang first and then sat on Lois' back doorstep and we read all the mail together.
       After reading the letters I took a muchly needed shower (not because of the letters) and then at 8:30 P.M. the 59th party began. There was food and drink, the same orchestra that we had last time, and also a couple of acts put on by enlisted men of our outfit. One was an imitation of a woman getting into the bathtub, which was very good. The other act was an acrobatic one by one of the office force fellows, who used to be with the Ringling Bros. Circus, until just about the time he was drafted. He is from a long line of Circus Acrobats.
       The party, which lasted until after 1 A.M., was quite a success and all had quite a good time.
       I came back out here this A.M. with the ambulance at shortly after 8 A.M., helped Paul finish up with sick call stuff and then, while Paul went into Pickett in the ambulance, I took two of our boys on the inspection tour and then for a nice row on the lake.
       It was awfully overcast and actually foggy this A.M., though pretty nice and warm, and the lake was still and smooth as glass. But that didn't prevent our boats from filling up with water at surprisingly fast rates. We only had one small can between us for bailing purposes and when throwing it from one to the other we accidentally dropped it in the H2O and it sank with great rapidity. So, we decided that we better row for shore in a hurry and called it quits for the A.M.
       This afternoon we just sat around and read, chopped down a couple of small trees to use for our stoves for tonight and in general loafed. As I brought back the new issue of the Saturday Evening Post with me this A.M., you can well imagine that I managed to pretty well finish it this afternoon.
       Tonight the camp is practically deserted – all but the medics and the mess men, and a few guards having gone to another "attack area."
       Two promotions in the 59th – The Padre is now a Captain and Len Schmitz is also a Captain (dentist). These were promotions that were supposed to have been given months ago as the positions call for Capts. However, Chappie should be a Major, if Len is a Capt., but I don't know if that is going to occur.
                    Loads of love,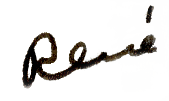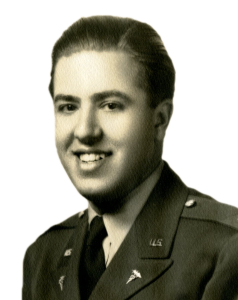 .
Watch for my next letter
November 11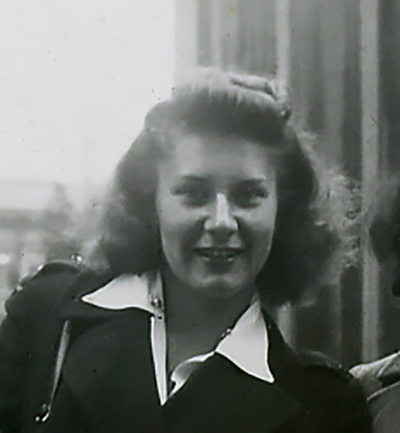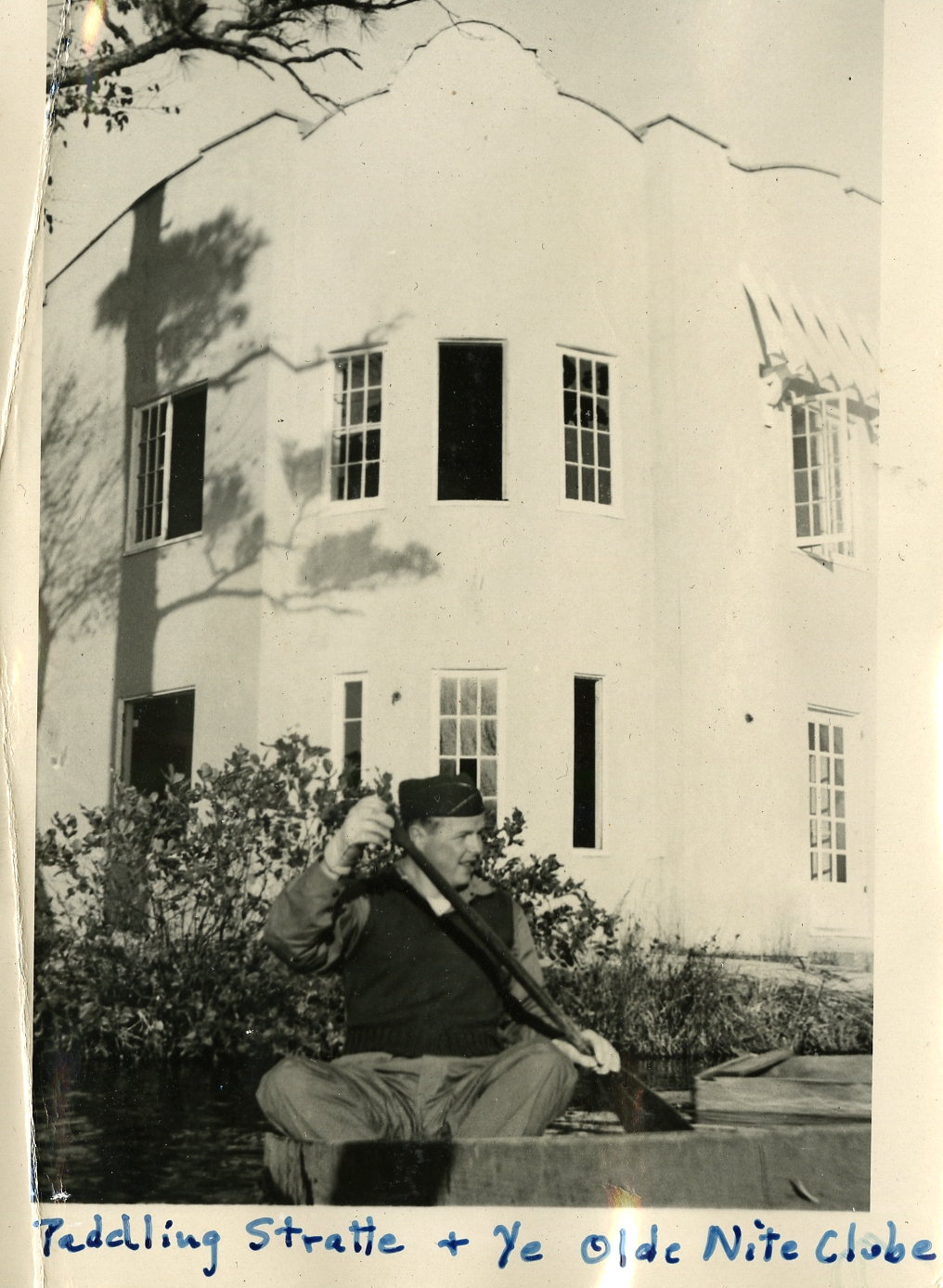 November 11, 1942

Dear Folksies,
       Sunday afternoon, after having written to you, I went into Pickett and stayed overnite there. Lois and I went to a movie, "Now Traveler" with Bette Davis and Claude Rains. It was very good – rather on the psychological side, about an unwanted child, but very interesting and worth seeing.
       Sunday morning I came out here early with the ambulance so that Paul could go back in and get there in time for church. Had sick call here, which was awfully light – the men are rarely sick when there aren't any special duties and no marching or drilling, etc. during the day.
       Late that afternoon Willie (Lt. Ed Williams) decided he had to go into Pickett with some mail. As there was nothing doing here we left Lt. Srouffe in charge of the Camp and the Dispensary and set off in a jeep. After mailing some letters in Pickett, we decided to go over and see if Paul had by chance cooked up a little party for our special night club on the lake. Yes, he had, so we completed a few arrangements, i.e. speaking to Lois and Bam for dates for Willie and Srouffe to be gotten, and then Willie and I headed back.
       Coming back we checked on the telephone line and followed it along the small bumpy roads that it took. What a ride we had – over bumps, through puddles, etc. We came to one bump that looked as if it was benign and Willie thought it was O.K. – looking out of the side of his eye as he watched the telephone line that was on his side of the road at that point – we hit the bump and the front of the darn jeep rose in the air like a bucking bronco and we went about 3 feet off the seat, but landed back in the same seats we started out in. 'Twas really funny – reminded me of riding in old Betsy at Feather River.
       That night, after dinner, Srouffe and I went in in a command car and picked up Paul, George Sterba, Bam, Lois, Fran Trembley, Gert Brazil, and Ann Dunn. We all came out here, went boating on our private lake, with no more illumination than the few flashlites we had. It was a clear night, but no moon, and it was most impressive being out in the middle of the lake looking up at the stars and every minute feeling the boat fill with more and more water. We had a scarcity of bailing implements and by the time we got back to shore most of us were wet in odd spots.
       In our little "nite club" we had Srouffe's radio, so we danced for a while after the boating. We also got our water mill working to show the gals who were new to our "club."
       The party was also sort of a farewell to George Sterba, as he is leaving our unit. He, as you know, has been our Supply Officer ever since we left Ft. Lewis and is a swell fellow – he spent some evenings in N.Y with us, He and the Col. have agreed to disagree on many points and as the story goes, the other day the Col. said something about his inefficiency (he is far from inefficient as many will testify – in fact he has done more work around here than any of the other office boys). Sterba had some weeks ago put in an application for a transfer back to Field Artillery where he originally had been before being shifted to Quartermaster Dept. a few weeks before joining us. Anyway, because of the Col. and the other members of the Big 3, he had wanted to be out of the mess.
       Well, the Col. has vetoed all attempts of Sterba and others to transfer out of the unit, but after the altercation a few days ago he apparently decided to approve the transfer. The Officers' Club of the 59th gave George a swell pen and pencil set at lunch the other day and the ovation he got from everybody (except the Col., who sat there with just a supercilious grin on his face) was really something, and touched George considerably. We now have a fellow by the name of Davis, in George's place.
       Well, to get back to Sunday night. We all stuck around the lake until about midnight and then drove back to Pickett and finally back here. Oh yes, we ran low on gas, so Sterba (being transpiration officer besides supply officer) gave Srouffe some gas from one of our jeeps – transferring it to the command car so we could get back out here. While the exchange of gas was going on, Paul went snooping in the 59th kitchen and found some freshly baked pie. So, we all went in and had a quarter of a pie apiece – nice apple pie, fresh and warm, before coming back here.
       Last night there was some excitement around here. The Post Exchange that has been set up in the old house behind our dispensary, was robbed. They had about 200 dollars in a strong box about 2 ft. square, on the top story of the building, and when the generator for the lights when haywire for about 10 min. the whole box was apparently lifted. Whoever took the money must have know where it was, so it is highly suspicious that it may have been an inside job.
       After the robbery was discovered, all the guards were put on extra alert duty, the guards doubled, and we heard nothing but challenges around here all nite. However, they did not find the culprit, the money, or the cash box.
       We finally got to sleep despite the noise from the guards and the wind blowing through our tent like a gale, every so often. In fact, at one point we thought the tent was going to take off and go sailing into the air, but when we awoke the tent was still over our heads.
       Whereas it had been warm last night despite the wind, this morning Housely and I hardly wanted to stick anything more than our little fingers out, as it was freezing cold. We finally jumped out and dashed over to the dispensary tent after throwing our clothes on, hoping that they had their fire going. We had run out of kindling and couldn't get ours going. Luckily they had theirs going and we warmed up in a hurry – got the dispensary in action and saw all our patients.
       We apparently are "hot" again, we have a new number and it looks as if the 59th is on the move again pretty soon. Oh yes, the men are having very good experience turning in clothes and the like. I've lost count how many times they have had summer uniforms, but now they have turned them all back again, as of Monday. You figure it out!!!!
                    Loads of love,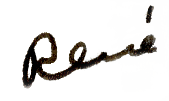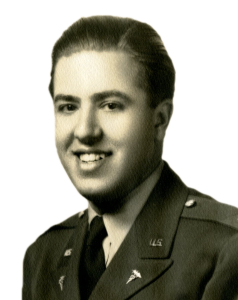 .
Watch for my next letter
November 13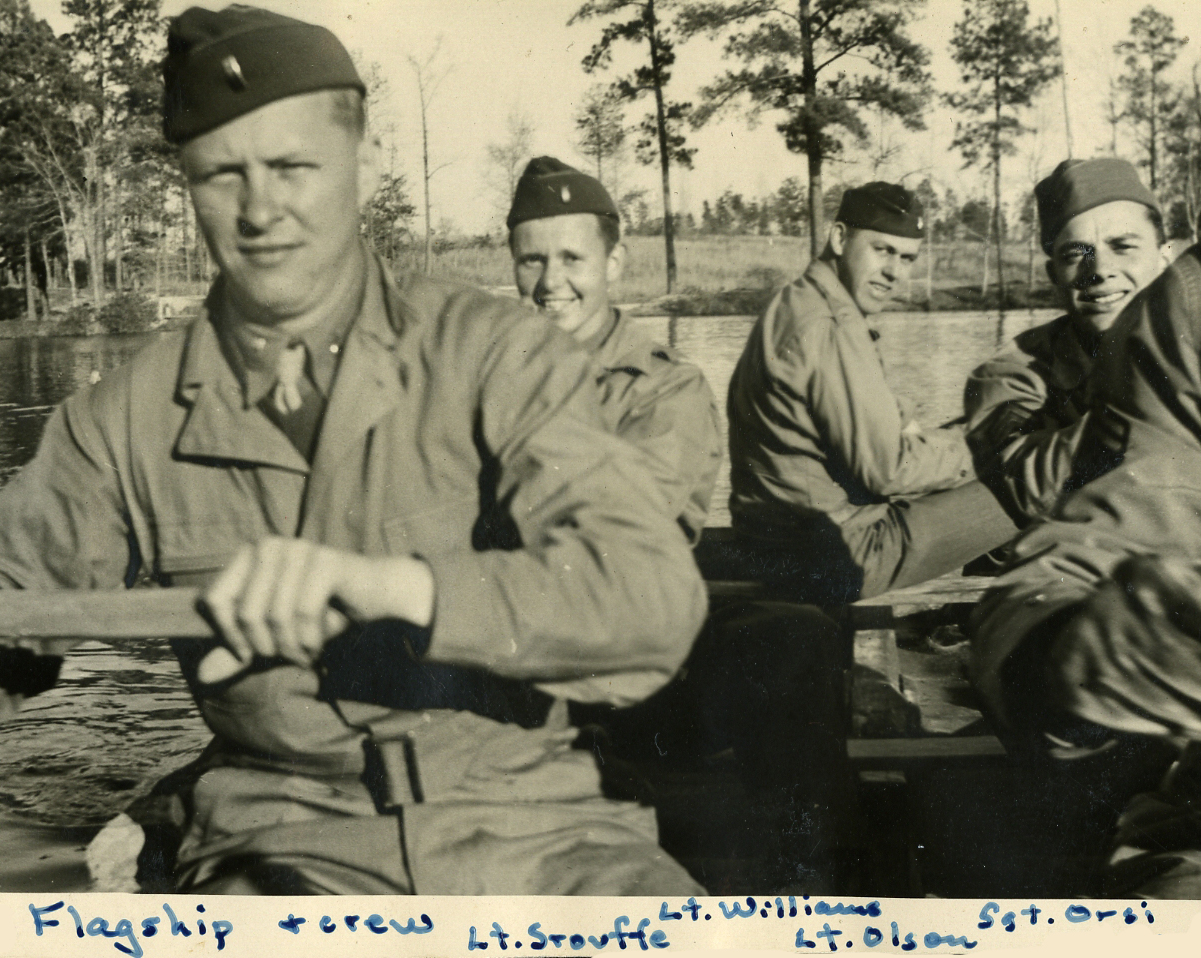 Flagship & Crew: Lt. Srouffe, Lt. Williams, Lt. Olson,and Sgt. Orsi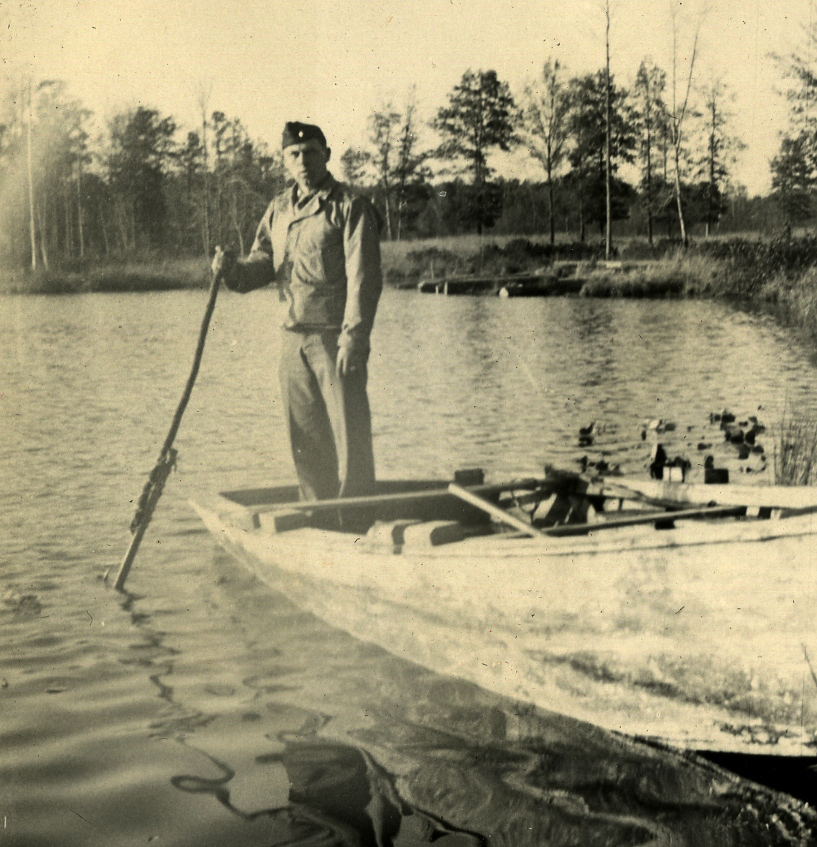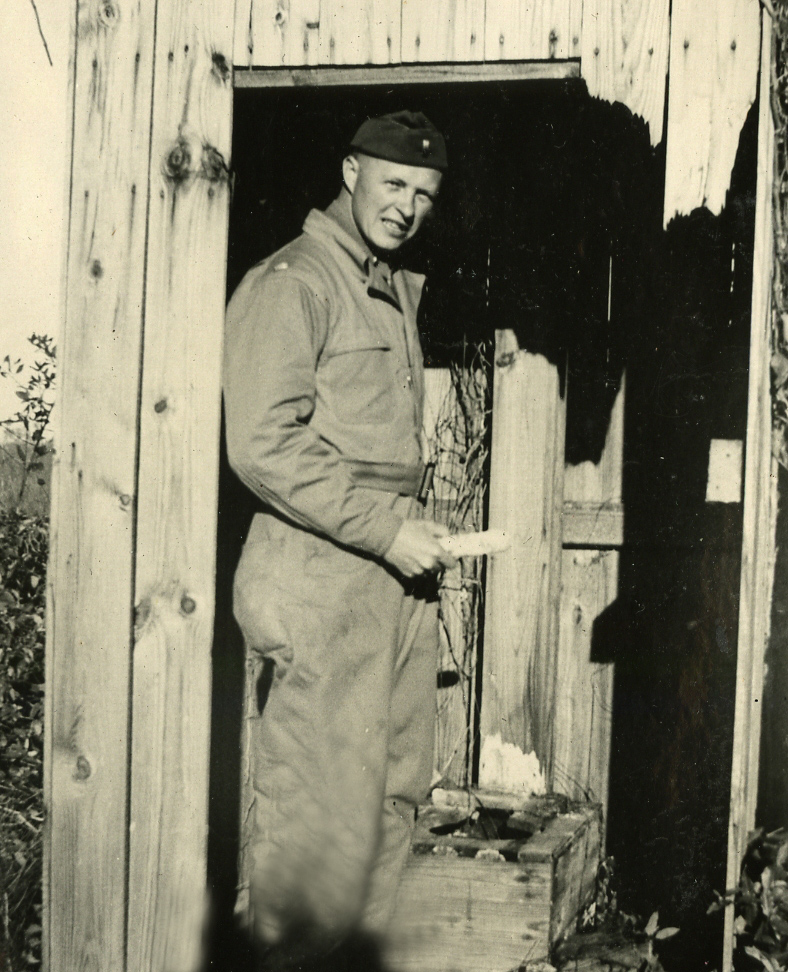 Lt. Srouffe posing in front of an outhouse they encountered out at Twin Lakes — complete with corncobs.

November 13, 1942

Dear Folksies,
       Yesterday morning we were awakened by the clatter in the kitchen area at about 4:45 A.M., as they were going to serve the men early so that they could get them started hiking back early, and also could get the mess equipment packed on the trucks and back to camp. We finally managed to get Housely out of bed to light the fire at about 6:30 A.M., as we had to run a sick call before the men started hiking back. It was the coldest morning that we have had – frost all over the place. Paul and I wonder what time we would have actually gotten up if we hadn't had Housely around. As it was, the latter had his bed pretty close to the stove and jumped out, threw some wood on the fire, threw a match in after it, and jumped back to bed in a second. Soon it was warmed sufficiently to venture out and get dressed. And after grabbing a bit of breakfast we packed up all our stuff. We only had a couple of patients, so there wasn't much to do.
      So, here we are back in civilization again. However, as I think I said once before, if I'd been able to be with Lois more often, and if we had had showers out there, I wouldn't have minded staying in the field longer. Back here in the barracks they have veered to the other extreme, so that now the bloomin' place is kept too hot and one is constantly facing different temperatures going in and out of the buildings, to the mess hall, to the hospital, etc. Out in the field, we were cool most of the time during the day and we didn't have to be changing our clothes, sweaters, jackets, etc. every few minutes.
       I'm now back working some in the orthopedic clinic, but also am running the dispensary for our own bunch – about 8 or 9 patients each day. The job has been passed around among some of the bunch, and it is my turn now.
       Yesterday, on our return we were issued some new equipment — this time we got swell polaroid goggles that protect against wind and glare — rubber around the edges so that they fit very closely. Also got sand filters to wear when the necessity arises. Besides that, we got mosquito netting both for our beds and to wear over hats and helmets. You figure it out!!! I hear, however, that summer uniforms are being carried by our Supply for the men. All equipment is 99% packed and labeled for N.Y.P.O.E. When it or we go is a ?????
                    Loads of love,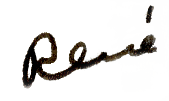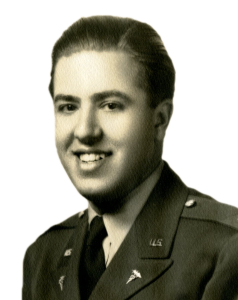 .
Watch for my next letter
November 17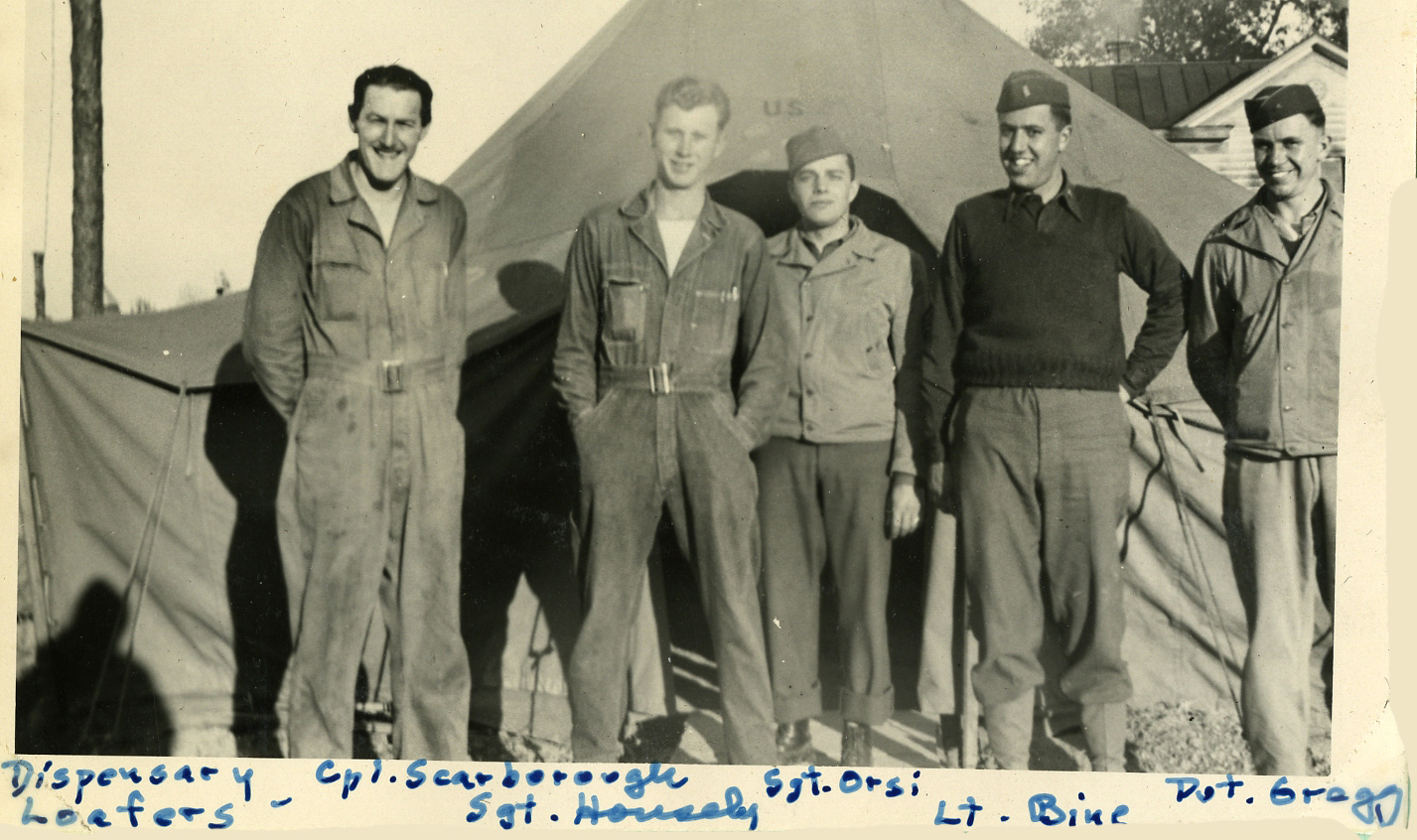 November 17, 1942

Dear Folksies,
       Things have been in sort of a turmoil. To begin with, "His Highness" apparently received some orders around November 4th that were either in some code, or anyway so worded that neither he nor his two stooges were able to interpret. So, thinking they were not very important, they shelved the orders until Col. A. came around and gave him holy h____ for not having the equipment almost all ready to move. Then it was that he discovered that what he had shelved was the specific instructions to have the equipment ready to move by the 15th. Well, with the aid of Gerbode, Sewell Brown and George Sterba, they got everything ready somehow.
     Yesterday, then, when stuff was already in a freight car, His Highness discovered that all boxes should have certain numbers placed on the envelopes containing the list of things that are in the cases, and the same numbers should be on the lists in these envelopes. Apparently, in one set of orders, they had read only the first few paragraphs, and finally after four days, got around to reading the rest of them. As a consequence, the boys had to work all night, taking the stuff out of the freight cars and then marking them and putting them back in again. C'est la guerre!!! Or is it le senilité?
       This morning, at 8 A.M. an announcement was made that after 5 P.M. today, we would all be restricted to our own area, as we were moving in a hurry. Then, at noon today, it was found that, from new information, there is no need of such restrictions, as we may be here another week. Here we go again, "hurry up to wait."
       They have now issued us a lot of gas protective equipment. We have some impregnated clothing, some protective ointment, some preparation for protection for our shoes, some mosquito netting, both for our heads and for our whole sleeping bags. Besides that, as I think I wrote, we have some Polaroid glasses and also some cellophane-like material that we throw over our whole body if caught in a gas raid. We have two of the latter and apparently they are only used once, and are carried right along in our gas mask cases.
       The news from Africa and from the Solomons certainly sounds pretty encouraging. From info. gathered from part of the same outfit that is still here, it is rather definite that Lois' Uncle Tom and his outfit are among those that landed at Casablanca. Perhaps we will be meeting him.
                   Loads of love,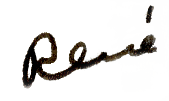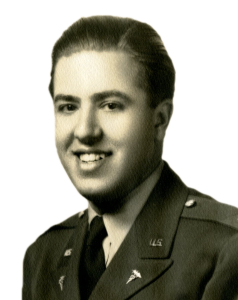 .
Watch for my next letter
November 20

"His Highness" – Colonel Bolibaugh