September 1, 1942
Camp Kilmer, New Jersey

Dear Folksies,
They really pulled a dirty deal yesterday. Actually the "alert" was over at 6 A.M., but Post Headquarters somehow failed to notify the 59th and it wasn't until we began to see a few civilians on the Post that we got suspicious and finally Carroll Russell phoned the Headquarters and at 10:45 A.M. got confirmation that the "alert" was over.
We didn't have a great deal of time so we decided to take a short trip. Bob, Bam, Drew, Welles, Blasdel, Lois and I went down to the Princeton campus. It was only a 35 minute trip by bus toward Trenton. It was a nice little ride and Princeton was well worth seeing.
It is one of the typical Eastern colleges –- a lot of stone buildings with ivy climbing up the sides. The lawns were beautiful and most welcome after the reddish-brown dirt of the camp. It has a fairly good sized campus which, however, does not in the least compare in size to U.C. or The Farm.
The chapel is a very nice one – large with beautiful stained-glass windows. They also have a very interesting book shop that we browsed around and which we hated to leave.
Last night one of the nurses was operated on and a nice juicy hot appendix was found. The Station Hospital surgeon did the job and Bert assisted, while two of our own nurses were scrubbed on the case. They did it under spinal and she seems to be doing very well today.
This morning I helped Bert give some more immunizations and then we played volleyball for a couple of hours. After finishing this I shall celebrate and get a haircut. Then, tonight we are going into N.Y.
                    Loads of love,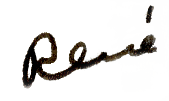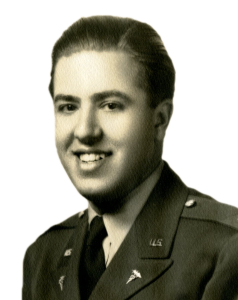 .
Watch for my next letter
September 3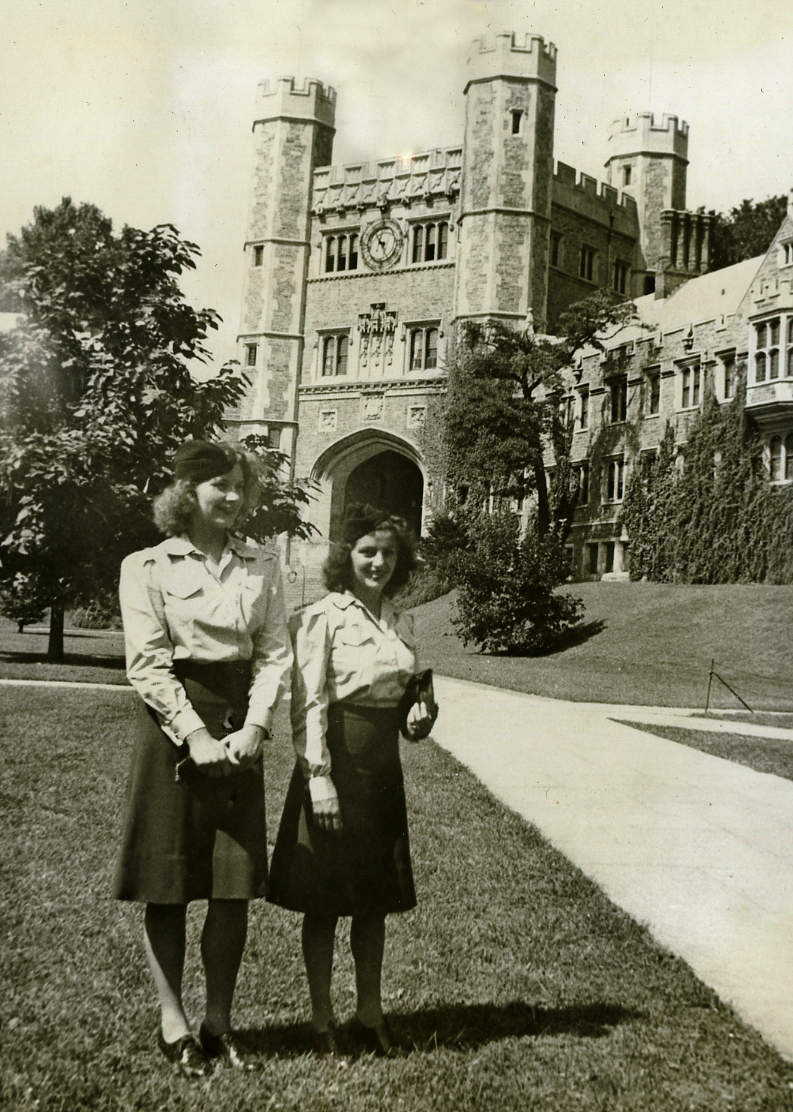 Lois and Bam at Princeton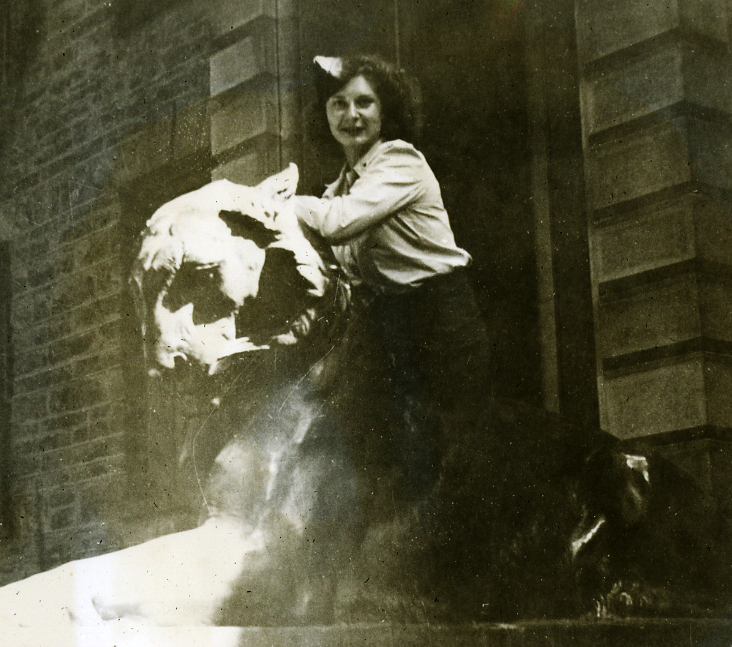 Click here to add your own text
September 3, 1942

Camp Kilmer, NJ

Dear Folksies,
        Tuesday P.M. we went to N.Y. as usual. It was a nice cool evening. We weren't able to get tickets for the Olson and Johnson show, but succeeded in getting some for "Claudia."
        Lois and I were alone so we went to the Brass Rail for dinner. Had some soft-shelled crab which were very good and also had the season's first oysters, thinking of you, Dad. They don't get the small oysters here, however, but the ones we had, on the half shell, were very nice.
        We got a kick out of "Claudia." We thought one of the funniest things was Claudia's mania for listening in on the party-line.
        After the play we went to the Hotel New Yorker where we had arranged to meet Bill Newsom and his gal, who had arrived from Omaha the day before. The floor show consisted of some fancy ice-skating on a moveable ice floor that came out from under the bandstand. The whole floor was only about as large as your upstairs room, but those ice-skaters could really move around.
        When the dancing ceased at 2 A.M., Lois and I went back to Helen's.
        Last night was uncomfortably hot in the barracks so we stayed outdoors, sitting on the steps for quite a while. Later it did cool down so that we were able to sleep, but we really miss the fog in California!!
        Today is another scorcher. There is just the slightest breeze so that outdoors if one is not too active and if one stays in the shade it is O.K. But as we are on the top floor of our barracks we are kept in an almost constant sweat, whether clothes are worn or not.
        Nothing else of note – except, oh, yes – the screwy new order that we will no longer wear our bars on the shoulders of our shirts or field jackets, but will wear them on the collars in place of the U.S. and also on the field caps. It is supposed to be because they get in the way of the gas mask strap and also musette bag straps. From a practical standpoint it is a good idea, but I think it looks goofy.
                   Loads of love,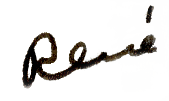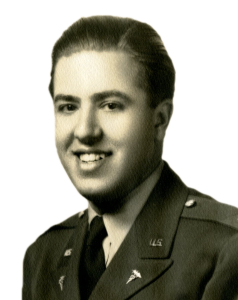 .
Watch for my next letter
September 5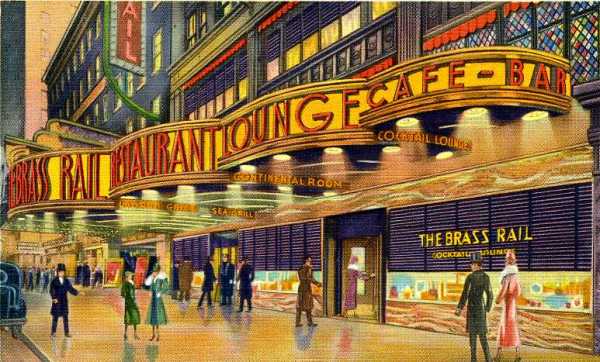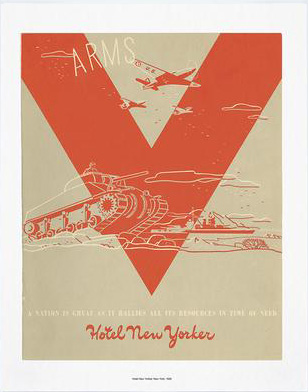 Patriotic Menu – Hotel New Yorker
September 5, 1942
Camp Kilmer, New Jersey

Dear Folksies,
       Thursday evening we went into N.Y. as usual, but couldn't get tickets for the Olson and Johnson show, i.e. the half price tickets. May have to get the regular tickets if we want to see it.
       We had arranged to meet an old friend of Lois' at the Commodore. The friend was a girl who was also the daughter of a Major and who traveled around from Post to Post at just about the same times as did the McFarlands. This girl, Barbara Cole, joined us and sat with us while we ate, as she had already eaten. She works at Floyd Bennet Field as a secretary now, but is also a pilot herself. After dinner the three of us went to see the play "Uncle Harry."
       After the play, Barbara left us, and Lois and I walked over to the Waldorf-Astoria where we again met Bill Newsom and his gal. Stayed there and danced despite the fact that it was pretty warm tho' the place is air-conditioned. Before the dim-out regulations that "Starlight Room" at the Waldorf could have the ceiling rolled back so that it would be truly a "Starlight Room." Now, however, they have twinkling stars indoors.
       Today the alert that was on yesterday when we returned, is off again.
                    Loads of love,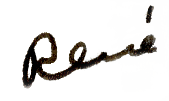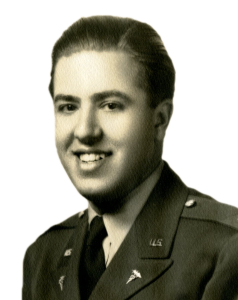 .
Watch for my next letter
September 7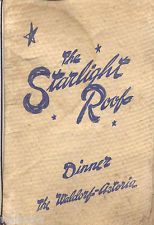 Starlight Room, Waldorf Astoria Hotel
September 7, 1942

Camp Kilmer, New Jersey

Dear Folksies,
Saturday night we went in to N.Y. and met Horace and Therese downtown and they took us to dinner at the "Claremont" which is an old eating place on about 120th St. on Riverside Drive. It is right by Grant's Tomb Monument and is an outdoor eating place. They had a good orchestra and a good dinner and we enjoyed both very much. Ate slowly and danced some, enjoying the perfect weather that we were lucky enough to have.
After dinner we went to see the movie "Holiday Inn" with Fred Astaire and Bing Crosby. 'Twas very good and you all would enjoy it. After the show, attempted to get a good old California milk shake, but they just don't have them things in N.Y. The Walgreen's Drugstores come closest, but they aren't too close.
Slept at Helen's as usual and then got up at about 7:45 A.M. and after breakfast, Nadia, Lois and I went by train to Long Beach, which is about 50 min. from New York. There is a very nice beach there and we had a swell time for 3 hours swimming and lying on the sand. Despite the fact that it was Sunday and a beautiful day, the beach wasn't crowded. Of course, we probably left when most of the crowd was just beginning to arrive. We had to leave by the 1:40 P.M. train to get back to N.Y. so that we could catch our usual train to Camp.
We got back to camp and found another "alert" on, but 'tis off again this A.M.
                    Loads of love,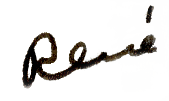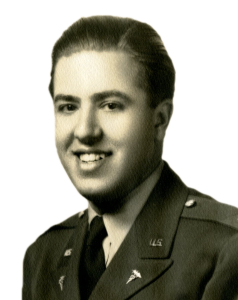 .
Watch for my next letter
September 9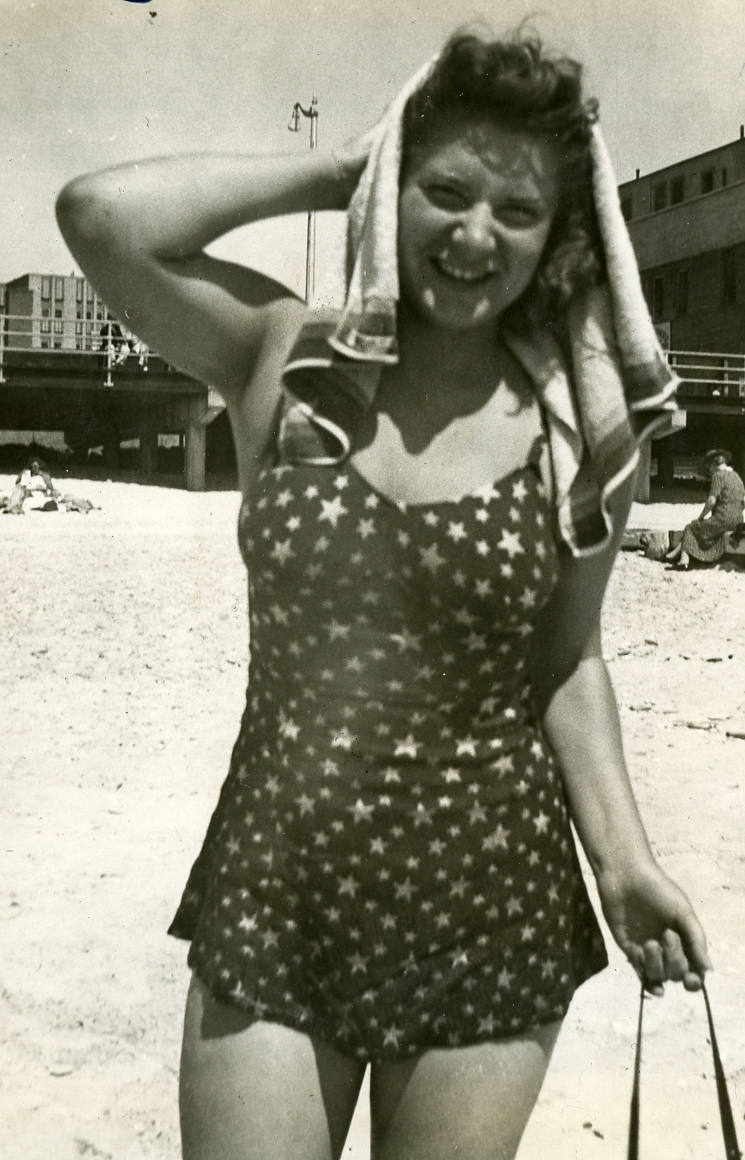 September 9, 1942

Camp Kilmer, New Jersey

Dear Folksies,
      Night before last there were 6 of us who went to N.Y. together – Bob and Bam, Ed Cane and one of the other nurses. We had a wonderful dinner and relatively cheap, at a place called "Barney's". Had crab cocktail, a wonderful tenderloin steak, and ice cream for $2.00. What steaks that place has!! It may seem like treason, but this place has Solari's beat a mile.
      Yesterday Lois and I did very little, visited a lot of shops along 5th Avenue, and saw a lot of things in one little art store that intrigued us so much that we were in there for almost an hour. Later in the afternoon, we went to Ciro's on 5th Avenue where we picked up a Zircon ring we had picked out there a few days before, but which had to be changed in size. I think I'll ask Gram if that means that it is "serious."
      We came back as usual and found that things had happened here in our absence. We have had a continuance of the appendicitis epidemic. As I think I told you, one of our nurses, Miss Thornton, was the first to have hers yanked out a little over a week ago. Then 2 days later, one of our corporals developed the same thing. Well, on Monday night, early, Frank Lusignan became ill. The Col. was away and Mattie had slightly overstayed his time in N.Y. so that instead of returning at 5 P.M., he was finally found in N.Y. and he got back about 9 P.M. At 1 A.M. yesterday, therefore, Mattie and Bert yanked out Frank's appendix. They did it under spinal and apparently it was quite a comedy, for Frank kept saying "no that isn't my appendix there, you've got ahold of the wrong thing – do you really think you know what you're doing after 5 whole months?? Etc. etc."
      There were numerous adhesions around the appendix and they did have quite a little time getting it out, but it wasn't a very bad appendix and Frank is doing fine now. Hope now that we don't move before he is able to move with us.
      We had another minor casualty in the person of Roy Cohn, who has hydrarthrosis of the knee. He is walking around, however, so it can't be too bad.
      Right now it is raining cats and dogs and we are on another alert. The place is a bloomin' mud hole and with nothing to do but sit around and read, write or play cards, the place is rather gloomy.
                    Loads of love,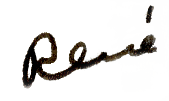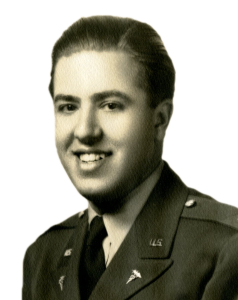 .
Watch for my next letter
September 11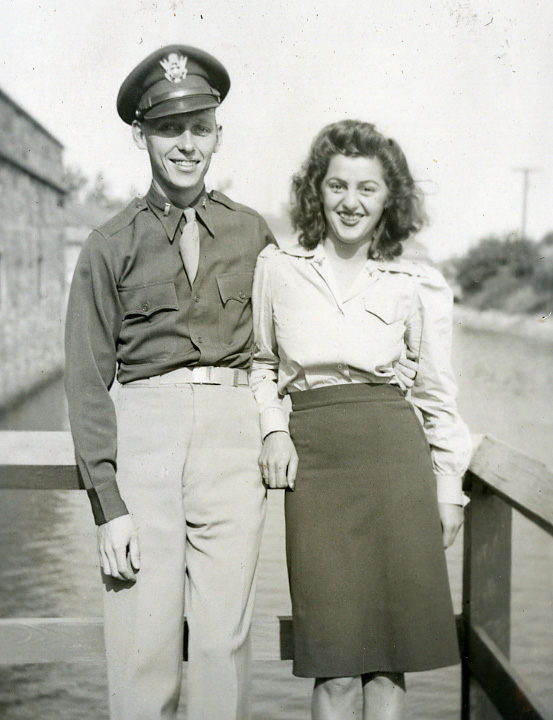 Bob and Bam
(Bob Treadwell and Charlotte Bambino)
September 11, 1942

Camp Kilmer, New Jersey

Dear Folksies,
     On Wednesday, after writing to you, somewhat to my surprise I found that the alert was being lifted at 5 P.M. that afternoon. When I was able to phone from the Camp, about 5:30 P.M. I was able to reach Alain at work. I asked him whether he was doing anything that evening and he returned with, "Why, have you got another flood up there?" Well, as a matter of fact, it had been raining plenty and there were many mud holes here, but I did not propose that Alain come here, but rather that we should go to Trenton to have dinner with him. To this plan he was most agreeable and named a place in Trenton that we should meet.
       We had a very good dinner, the 3 of us, and stayed around until midnight as there was a floorshow and dancing at this place also. The floorshow was a small one but rather funny – part of it being kind of old-time-ish in that 3 of the old waiters got up and sang supposedly in harmony. The best part of the show was a Negro tap dancer who tapped very well in the first part of his act and then amazed us by tapping with roller skates on, doing all kinds of fancy things, and doing them all on a platform that was approximately 6 ft. by 4 ft. in dimensions.
       I don't know if Alain has written any more details to you, but I picked up a few more things from him. Alain didn't have to pay a cent for his trip across the Atlantic. He left, incidentally, from Marseille, and not from anywhere in Portugal as I had thought. From there he went to Algiers and then to Martinique, where he remained, along with a whole boatload of people, for about 3 weeks. Then the boat they got took them direct to New York. The reason he had nothing to pay, he says, was that the French Government had to pay for his passage as he was being repatriated. I don't quite get it.
       Got up early yesterday A.M. and went to Philadelphia. It was only an hour and a half trip by train and we arrived there about 9A.M. It got pretty warm and sticky after a while but we managed to walk around quite a bit and see numerous places. We visited Independence Hall where the Liberty Bell is, saw Congress Hall, Betsy Ross's home, passed William Penn's home at a distance, visited the University of Pennsylvania and went through its museum and ended up going through the Benjamin Franklin Museum.
       Arrived back at Camp and found that no new appendices had been yanked out, that Miss Thornton was beginning to get up and that Frank Lusignan was doing fine. The latest rumor is that we are now going to be shipped back to California via New Orleans so that we will be able to help pick the cotton crop in the Southern States before returning to pick the fruit crop in Calif. How's that for a good one!!
       But, seriously, our code number has been taken away from us and we haven't gotten a new one as yet. Just what that means I do not know, but code numbers refer to groups of task forces and now that we ain't got one, either we are being changed to another group or we just ain't going to leave the country as yet. Who knows?? 'Tis all a funny situation, but there is also a story I just heard around the office here, and that is that we are receiving our equipment, not all the nice stuff we worked on at Ord, but some other material – probably all in bustable crates – from Toldeo. You figure it out! I've given up!
                   Loads of love,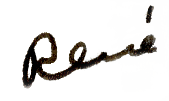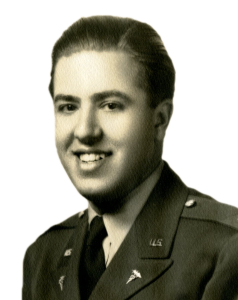 .
Watch for my next letter
September 12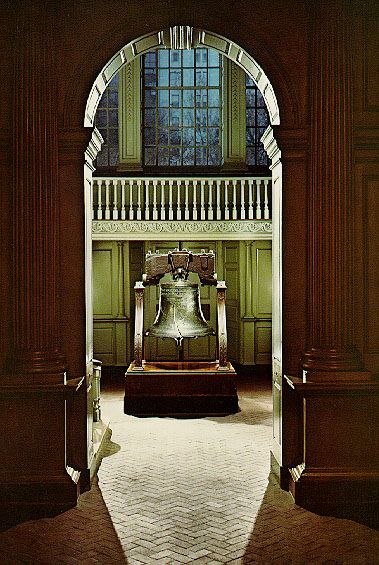 Liberty Bell, Philadelphia, PA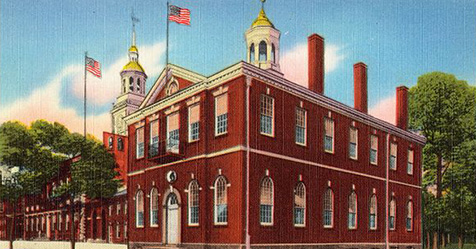 Congress Hall, Philadelphia, PA
September 12, 1942

Camp Kilmer, New Jersey

Dear Folksies,
      Yesterday, just as I was showering in preparation for another journey to N.Y., the news came that, though the Post "alert" was to start at 6A.M. the next day, the 59th was "alerted immediately" and no one can leave at all. Apparently, in other words, we are supposed to be moving, but whether it is going to be to some other place in the U.S., or whether it is going to be elsewhere, we know not, only rumors!
Last night, after the "alert" was announced, it was decided that a big party should be had. We got together and had a party in the building that the Padre uses as a church on Sundays. We had a couple of radios and most of the gang showed up so that the party turned out to be pretty good. The Col. was his usual fatherly (?) self to all the gals.
This A.M. Mattie came around and personally awaked all that were still asleep at 7:45 and got everyone out for calisthenics at 8 A.M. He was kind of sore because some were a few minute late even after having been awakened by him, so he really gave some tough exercises. He doubled-timed us twice around the large block here, which Bret Smart just measured with a pedometer – so we went 7/8 mile. It really wasn't too bad, but some of the boys with hangovers thought it was awful. For a change, Lois and I had left the party earliest and consequently I had had a good sleep, for which I was glad.
After exercises some of us played volleyball against the enlisted men and we licked all three teams that they could organize against us. Followed this by playing some bridge. This P.M. the barracks look almost like a morgue with everyone stretched out sound asleep on their bunks.
Despite the fact that we are going to move pretty quick, apparently Frank Lusignan is going to be able to go right along with us, at least that is the latest dope from the front. Today is his 5th post-op day and he will be getting up probably tomorrow, as he is doing fine.
Golly, somebody just tuned in a football game on the radio. Had almost forgotten that there was such a thing any more as a really truly football game.
                    Loads of love,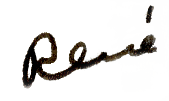 P.S. Had hoped to wish you all a Happy New Year by phone tonite, but as I may not be able to do so now – you know I've been thinking of you and wishing it for you.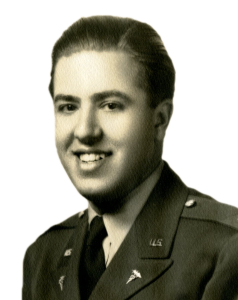 .
Watch for my next letter
September 14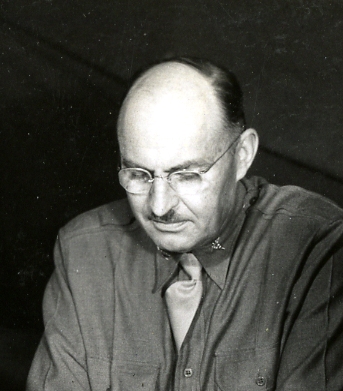 Colonel Oral B. Bolibaugh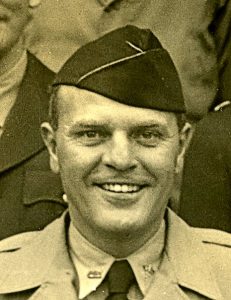 Mattie – Carleton Mathewson