September 9, 1942

Camp Kilmer, New Jersey

Dear Folksies,
      Night before last there were 6 of us who went to N.Y. together – Bob and Bam, Ed Cane and one of the other nurses. We had a wonderful dinner and relatively cheap, at a place called "Barney's". Had crab cocktail, a wonderful tenderloin steak, and ice cream for $2.00. What steaks that place has!! It may seem like treason, but this place has Solari's beat a mile.
      Yesterday Lois and I did very little, visited a lot of shops along 5th Avenue, and saw a lot of things in one little art store that intrigued us so much that we were in there for almost an hour. Later in the afternoon, we went to Ciro's on 5th Avenue where we picked up a Zircon ring we had picked out there a few days before, but which had to be changed in size. I think I'll ask Gram if that means that it is "serious."
      We came back as usual and found that things had happened here in our absence. We have had a continuance of the appendicitis epidemic. As I think I told you, one of our nurses, Miss Thornton, was the first to have hers yanked out a little over a week ago. Then 2 days later, one of our corporals developed the same thing. Well, on Monday night, early, Frank Lusignan became ill. The Col. was away and Mattie had slightly overstayed his time in N.Y. so that instead of returning at 5 P.M., he was finally found in N.Y. and he got back about 9 P.M. At 1 A.M. yesterday, therefore, Mattie and Bert yanked out Frank's appendix. They did it under spinal and apparently it was quite a comedy, for Frank kept saying "no that isn't my appendix there, you've got ahold of the wrong thing – do you really think you know what you're doing after 5 whole months?? Etc. etc."
      There were numerous adhesions around the appendix and they did have quite a little time getting it out, but it wasn't a very bad appendix and Frank is doing fine now. Hope now that we don't move before he is able to move with us.
      We had another minor casualty in the person of Roy Cohn, who has hydrarthrosis of the knee. He is walking around, however, so it can't be too bad.
      Right now it is raining cats and dogs and we are on another alert. The place is a bloomin' mud hole and with nothing to do but sit around and read, write or play cards, the place is rather gloomy.
                    Loads of love,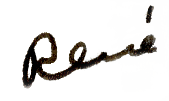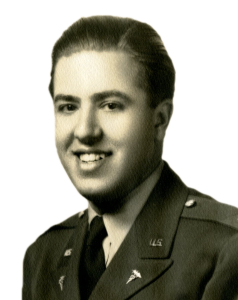 .