October 1, 1944
Rioz, France
No. 55

Dear Folksies,
            Yesterday took a ride with Jones and Eddie Welles, going to a fairly large town, but unfortunately Jones had a lot of business that took up our time, and then we spent a good bit of time going to a factory where they make pipes. Eddie and Jones picked up several nice ones and I got one for Dave. By going to the factory we saved more than 50% on each pipe.

            Have been surprised really at the amount of things that one finds in the stores of these towns. I had expected that their stock would be completely depleted, but apparently the Germans did not take as much of that type of stuff as we tho't. We passed through some really beautiful spots yesterday, one in particular where the road comes upon a river suddenly and one can see where it takes a "U " turn. There was a small dam and a stone bridge over it just at about that point and the whole site was worthy of being painted by the best artists.
            Got our stoves in our tents now – Bryner installed ours yesterday and Eddie and I chopped all the wood and hauled the coal to our tent. It was nice to go to bed with the tent warm for a change last night. Personally, with stoves in the tents I'd just as leave stay in tents all the time. I like it, but others apparently do not feel quite the same as I do.
            I got a letter from Alain the other day. In case he hasn't written you, here's a bit of news that he wrote to me: 1) He heard from Jacqueline who had had to get out of London because of the bombing dangers. 2) He also heard, through the Red Cross, from Monique, dated January of this year, and he gave me her Paris address.
                                                                                        Loads of love,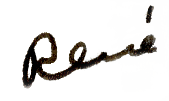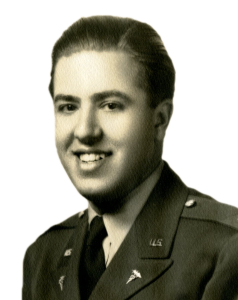 .
Watch for my next letter
October 9, 1944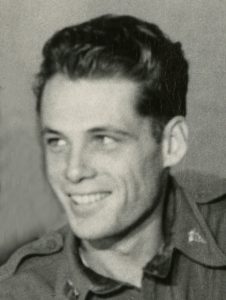 René tells his parents that he took a ride with Jones and Eddie Welles (shown above) to a pipe factory.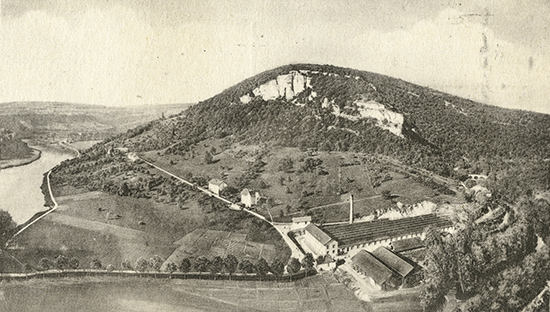 The pipe factory they visited was in Baume-les-Dames (pictured above) near Besancon (below).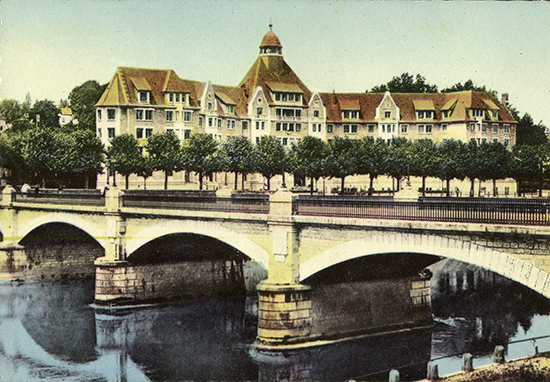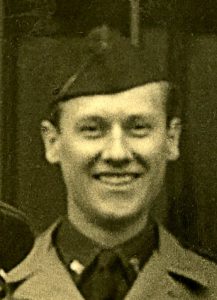 In other news, René tells his parents that Serge Bryner installed a stove in their tent.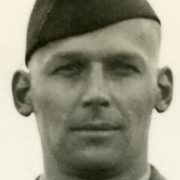 No letter from René on October 4. Here's an excerpt from the journal of Dr. Philip Westdahl, about the end of their time in Rioz.

---
---



     Much to our surprise [after a lull] we had a second spurt of activity at Rioz before actually closing. This was due to an unusual number of casualties jamming the Evacs which had gone up ahead of us. As a result, most of the Germans, as well as less serious American casualties, were sent on down to us. Most of these patients came from the Epinal and Remiremont regions where the Germans had put up a pretty stiff fight. Both of these cities are on the Moselle River, one of the German defense lines. The spurt only lasted two days, however, and we finally hit our real lull before the news reached us that we would be moving up to Epinal. Once again our tent life has become quite natural, and as for myself, I prefer it to living in buildings, which we are soon to do in Epinal.

    We always learn a great deal by talking to the boys who come back from the front, particularly the officers who are more familiar with the general tactical situation. Most of the infantry officers feel that Old Man Winter has really settled in and unless we have some very favorable weather during October, the campaign will reach a stalemate for the winter. According to them, the roads are even sloppier and muddier than those here in Rioz, so that our motorized equipment is even bogging down.

     Furthermore, the terrain is very favorable to the defense, being mountainous and heavily wooded, so that armored vehicles and artillery have a difficult time. Many of the casualties had head, neck and chest wounds from "tree burst" injuries. These are wounds resulting when a shell hits a tree and explodes — scattering its fragments at a high level.

.

Watch for René's next letter on
October 9, 1944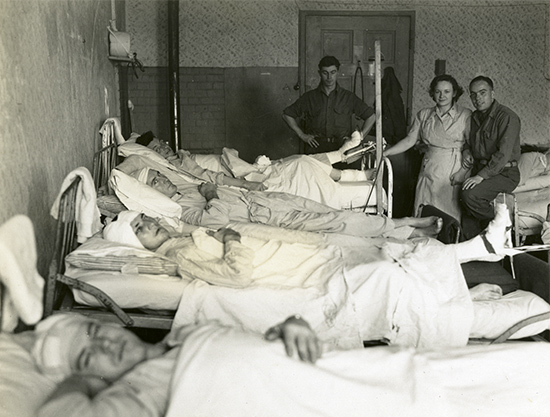 Phil writes that "many of the casualties had head, neck and chest woulds from 'tree burst' injuries."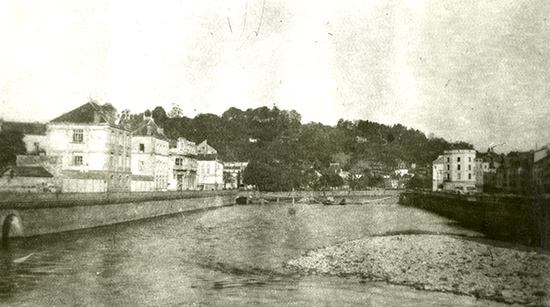 The Moselle River at Epinal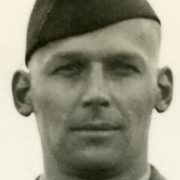 No letter from René on October 5. Here's an excerpt from the journal of Dr. Philip Westdahl, about their trip from Rioz to Epinal.

---
---



     We bade farewell to Rioz and headed north by truck convoy to Epinal, which at that time was about 5 miles behind the lines. Our route north took us through Vesoul, a small and rather ancient French city; Luxeuil, which was quite a picturesque city, typically European with rather narrow streets and flat front buildings fronting directly on the sidewalk and most characteristic, with high angled roofs liberally bedecked with chimneys.

    The response of the French people in these larger cities was not nearly as warming as that of our rural friends in the south. Either they were by this time accustomed to seeing Americans or actually were not as friendly and appreciative as the southerners.

    Plombiers is a very picturesque resort town spread out on the mountainside of a fairly wooded country and a winding road. It is apparently famous for its baths.

    The actual countryside along this route is rather mountainous – low rolling hill type heavily wooded in some areas. There was relatively little evidence of battle other than occasional wrecked German guns and vehicles. One airport had been thoroughly beaten up, quite similar to that in Catania and the port just outside of Rome.

    All of the buildings and hangars were twisted masses of steel and brick. However, the landing strip was in use again by our own, as well as French and British planes, mostly fighters.

.

Watch for René's next letter on
October 9, 1944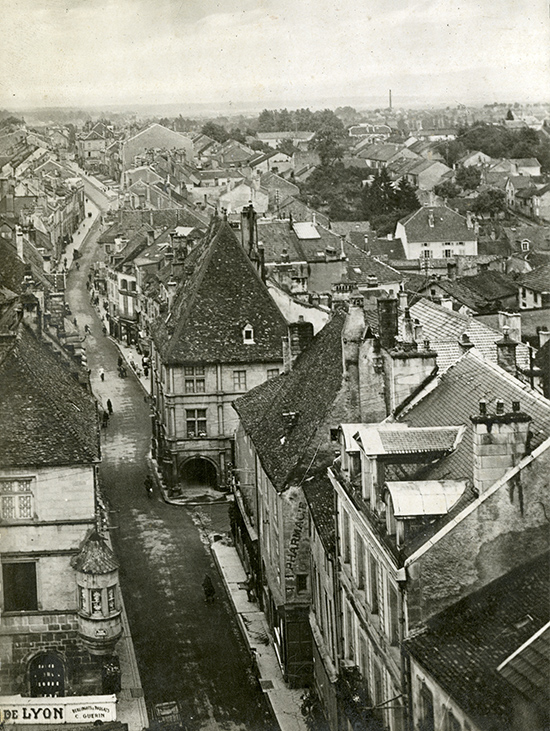 Luxeuil – one of the small cities their convoy passed through on the way to Epinal.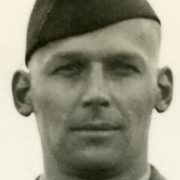 No letter from René on October 7. Here's an excerpt from the journal of Dr. Philip Westdahl, about their arrival and early days at Epinal.

---
---



     We arrived in Epinal itself in the evening, after a 3-hour trip. Epinal is a textile industrial city, through which flows the now battle-famous Moselle River. The "Krauts" had done a very thorough job, as usual, of demolishing every one of its 5 or 6 bridges across the river. The Moselle itself is not more than 15 to 20 yards wide in this vicinity, but quite pretty, with well-landscaped parks along the riverside and the usual picturesque homes with steep slanting roofs, beaucoup alcoves and chimneys. There was considerable destruction of the buildings in the vicinity of the bombed and demolished bridges, and already the occupants and shop owners were busily cleaning away the debris and reconstructing.

      Our own hospital area was quite intact, only occasional broken windows giving evidence of damage. There were several large buildings, the largest one resembling somewhat the S.F. county hospital plan, with several wings connected by covered passage-ways. It had been an old French military hospital and for the past 3 years was occupied by the Germans. The signs in the hallways and on doors were a curious mixture of German and French. Many of the German "pin-up" pictures still remained in place, and in a room which the Nazi officers apparently used as their club, a large German eagle sitting on a swastika was painted on the wall. A very imposing bar with beer spigots also adorned a corner of the room, together with an elevated platform – apparently used by the orchestra. These Nazis lived well.

      This was an ideal set-up for a military hospital. We were close to the front so that patients reached us within a few hours after being wounded. All departments – receiving, x-ray, shock, surgery, mess and wards – were under one roof, so to speak, so that patients were easily moved about in a heated building. There was adequate room in surgery to accommodate 4 teams at one time. The receiving and shock wards were quite large and roomy, and able to accommodate a large backlog of patients should that situation arise, and it did on many occasions.

      Our own quarters, too, were very comfortable, in a large building, which had formerly been the Laguna Honda Home of Epinal. The rooms were small, but light and with steam heat! And to say the least, we were out of the mud!

     For the first time in our overseas career, we were close enough to the lines to hear the continuous thundering of the artillery barrages. At night, the flashes from the big guns would throw a sudden glow on the horizon. Frequently, the big 240mm Howitzers would rattle the window panes.


.

Watch for René's next letter on
October 9, 1944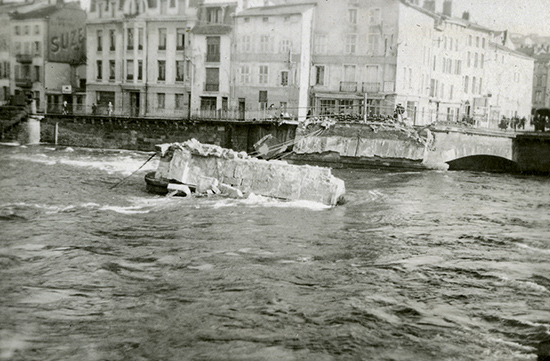 Phil writes about the bombed and destroyed bridges over the Moselle River in Epinal.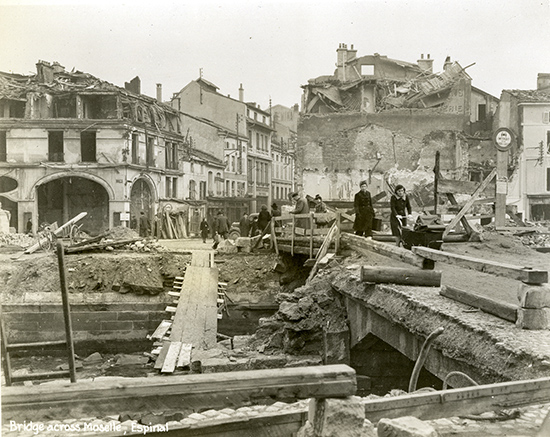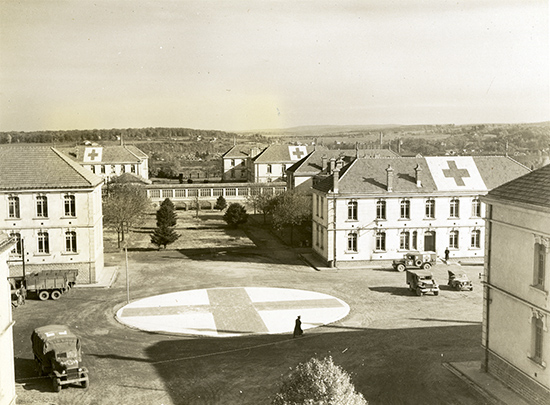 The hospital the 59th used in Epinal.

October 9, 1944
Epinal, France
No. 56

Dear Folksies,
       Just a shortie to say: "am fine, am busy as h…, and have no time to write".
       Pete got sick with ?? what about a week ago and just now walked in the door. The night I got here Paul was assisting Gerbode in place of Pete, but that very nite he came down with the usual "runs" and so I went to work as Gerbode's assistant. Paul is also well as of tonite so do not know what the new regime will be. I may continue helping Frank, as we have enlisted the aid of others as anesthetists. Malone is now giving them instead of Chappie and we are supposedly getting someone from another outfit that is as yet not working, to give anesthetics also. Well, we all asked for it and we really have gotten it. I'm working the noon to midnight shift—sleep till about 8am and then work in the ward till time to go to work at noon. Of course, the difficulties come when we get a long case shortly before midnight and it goes on for a while. But, I've enjoyed it a lot despite the fact that when we hit the hay, we really hit it!
       When we got done with our last spot it was really a mess!  We had to have a bull-dozer to pull out every one of the trucks that came in to take our stuff out.  It was a chewed up mess and the fact that it continued to rain while loading really made things pleasant!!!  I was left in charge of the "rear" this time, and the Col. and Collie leaving Vallar and me the day after the rest had gone.
       Have a better deal than Sicily now and I take back a good bit of what I said about buildings. Steam heat, running water (mostly cold, but O.K.) and big, regular cooking stoves (coal burning) for the messes, tremendous pots as in the St. Francis Hotel or others of similar caliber. Set-up much like San Francisco Hospital.  Only thing that is a bit small is the Surgery, where two of the rooms are a bit cramped with two tables in them — you see, we use two tables per team so each team has its own room.
       Eddie Welles being in the 1st Echelon did a nice job of picking out a good room for the four of us — Serge Bryner, Vallar, Welles, and me. Have one room for sleeping and one for sitting, writing, reading, etc.  It is ideal, particularly since we all go to sleep at different times and we can close the door to the sleeping room and sleep perfectly well without being disturbed when someone else gets up and dresses to go to work.  Eddie is on the opposite shift from me and we meet each other just coming and going. It's a second-floor, steam-heated room with a bathroom (with bath) and toilet between our suite and the room that Chappie and Schmitz have.  Really mighty classy, eh what?
       Bob Jones has left – his transfer came through and so did Morduant. Jack Dunlap got his 1st Lts.
       Oh, yes, spoke to Base Censor friend today and find my letter to French folks was illegal, but can write postals, so shall do so pronto, if not sooner.
                                                                                        Loads of love,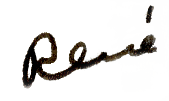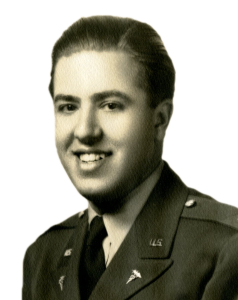 .
Watch for my next letter
October 10, 1944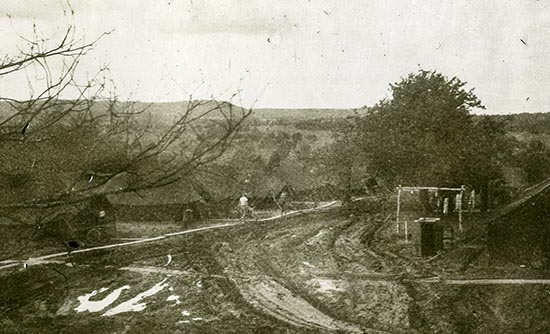 René tells that when they got done with their "last spot" (Rioz) "it was a real mess!"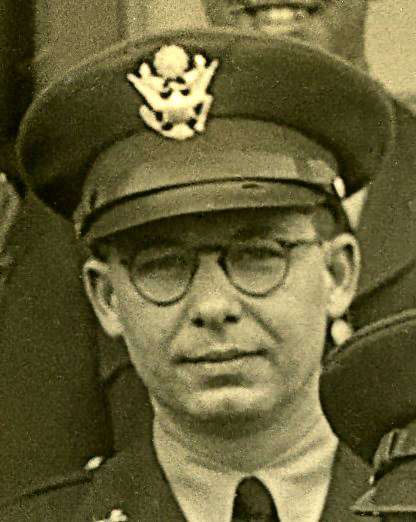 Pete Joseph has been ill for a week and Paul Stratte just got "the runs," so René worked as Frank Gerbode's (above) assistant in surgery.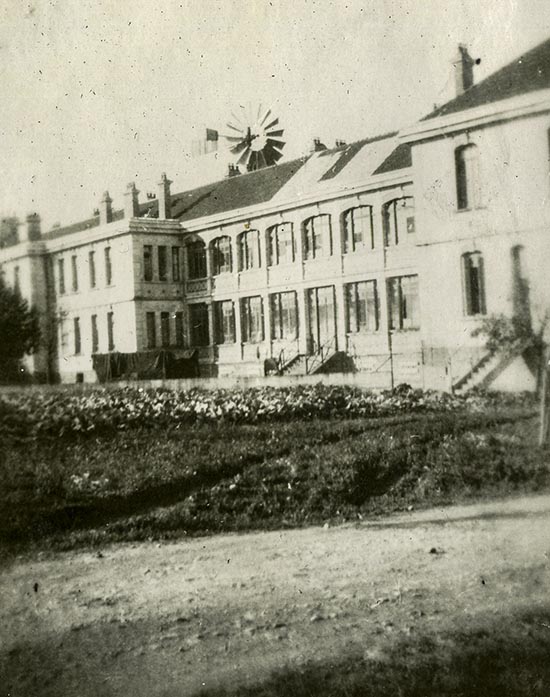 Now that they are in Epinal, they are back in buildings…like in Sicily.

October 10, 1944
Epinal, France
No. 57
Dear Folksies,
            A bit more of a breathing spell than I anticipated when I pounded out my last letter to you. Sooo, here I am in Receiving at the moment with good night's sleep behind me and nothing in particular to do this afternoon unless things get good and busy again. Pete Joseph has returned, and so he is again Frank's assistant so don't know just what the score will be for Paul and myself now.
            Dad, I'm in agreement with you that watching proves instructive, but do not agree that giving the anesthesia is more fun that being 1st assistant in surgery. I've realized the fallacy of that statement even more in these last few days working with Gerbode. More fun than second assistant, yes, I guess so, but over here the enlisted men or nurses are the 2nd assistants.
           Also, when I compared you to Roy, I did not mean in getting the Captain of the ship [we were on from Italy to France] down for drinks, just in getting him to be a friend of our group – nothing but the best for us! The supply of drinks had come from a considerable amount that the 93rd had gotten just before we left and all had been given a bottle to roll in bed-rolls if desired. I had given my "ration" to the men and so had Roy, but Paul & Chuck still had theirs on the ship.
            Golly, hope that Yehudi makes a complete enough tour to get into our neck of the woods. Maybe I can drop him a note through the U.S.O. – that might induce him to visit us. Shall try it.
            Thanks in advance for the Blum's candy. But, hope they realize that ordinary packing will NEVER do! Poor "Snuffy" frequently has a bad time when he finds scattered pieces of candy or other items at the bottom of his mail sack. You see, the mail for our outfit, as with others, comes in its own sack, already sorted in its own bag, from way back – how far back, I know not) and poorly packed boxes are the bane of the Postal Department's existence.
            And yes, as you say, whether Hitler is actually alive or dead doesn't particularly matter, for they'll go on fighting with the SS troops pounding them in the backs. And anyway it looks as if the fight is the German people's now – particularly their youth – I don't believe they're going to give up until they are completely over-run. Maybe I'm wrong – I hope so – and yet maybe it would be best for future peace to have them fight until they are finished completely.
                                                                                        Loads of love,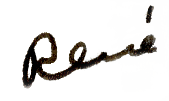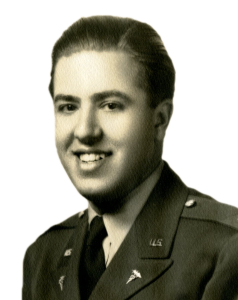 .
Watch for my next letter
October 13, 1944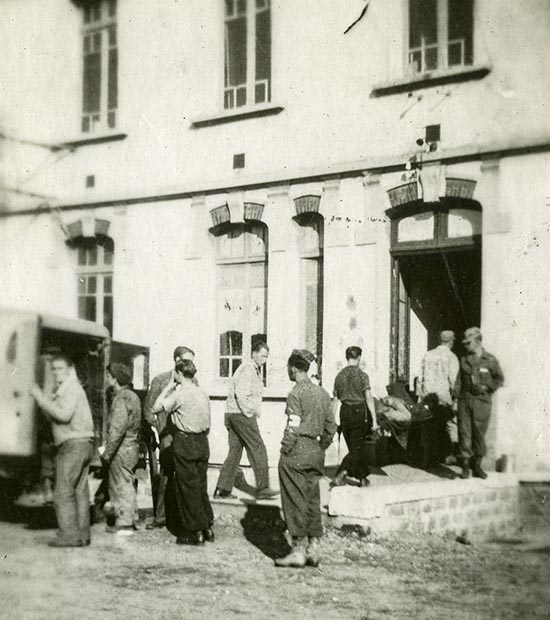 René is now working in the Receiving Department. The photo above shows a patient being brought in to Receiving on a stretcher.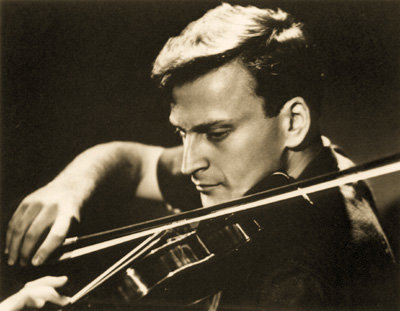 René tells his parents that his childhood friend, world-famous violinist, Yehudi Menuhin, is touring with the U.S.O. in Europe.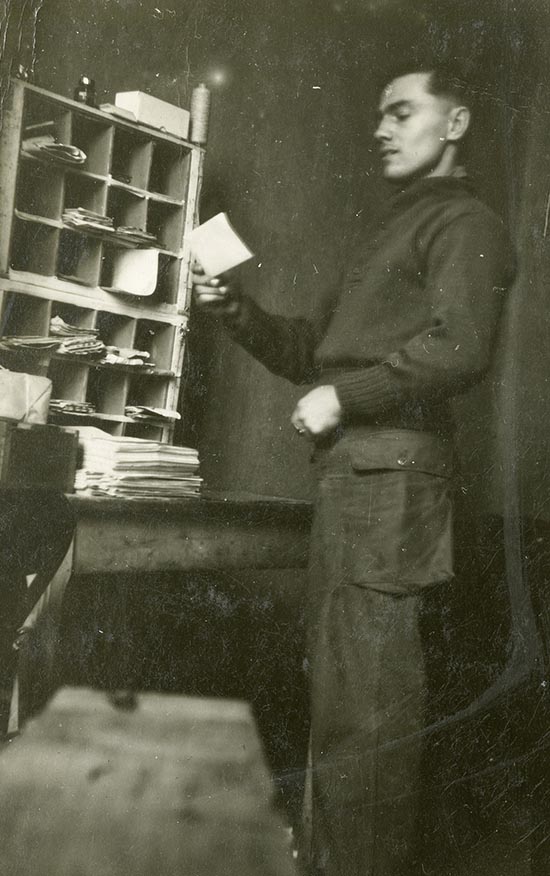 René tells his parents that, while he loves getting Blum's candy from home, he wishes that it was packaged more securely, because "'Snuffy' Thraves has a bad time when he finds scattered pieces of candy…at the bottom of his mail sack."

October 13, 1944
Epinal, France
No. 58
Dear Folksies,
            At the moment I am in surgery, but as there are no cases for our team of Greene, Russell & me, I'm taking this opportunity to write.
            News items: Cy Kiernan got his Captaincy. Bessie Lawrence and Irene Gallagher, who used to be in our outfit and who were in the jeep-wreck in Sicily, showed up here yesterday with their new gang. They both look fine and having been sitting and waiting for some time, they are anxious to work again.
            With the increase of both dental and medical work, Schmitz is back working in the Dental Clinic and Paul is anesthetizing for the team Schmitty was working with, and Malone has a medical ward, so I am anesthetizing for Wally and Carroll.
            I told you what a scream it was to work with Russell and Armanini — well it's even funnier with Greene and Russell, for Greene is by far the nicest of the Majors to work with, and he is 99% as funny as Russell.  Even when things get tense, as they did last night with a boy who had his femoral vein split, they would make remarks at each other that were comical despite the tenseness in their voices.  It's a picnic from the word "go" with them.  It's a continuous round-robin of razzing between the three of us.
            Our surgery set-up, while a bit small, is good. We have a rather good-sized hallway between the rooms – that is, they all open onto this central-hallway, which is at right angles to the hallway that leads from another hallway on which is located the wards, receiving, etc. Have two rooms a trifle larger than your bedroom, Mom & Dad, and those rooms hold two tables plus the large instrument tables, anesthetizing equipment, etc. Then there are two smaller operating rooms about the size of our breakfast-room, in which two tables can be used, but it is far more comfortable with only one table. We have a scrub-room, a small cast room, and then sterile-supply rooms. This typer, and a small desk on which we write up the charts, is located in the hallway just off of the operating rooms.
            Most of our wards are rather small – one disadvantage, and yet it is sort of an advantage in some ways – one can put the more serious cases in these rooms. It is a bit harder to take care of patients scattered around that way, however.
                                                                                        Loads of love,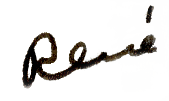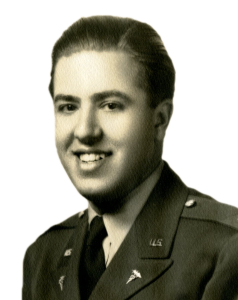 .
Watch for my next letter
October 14, 1944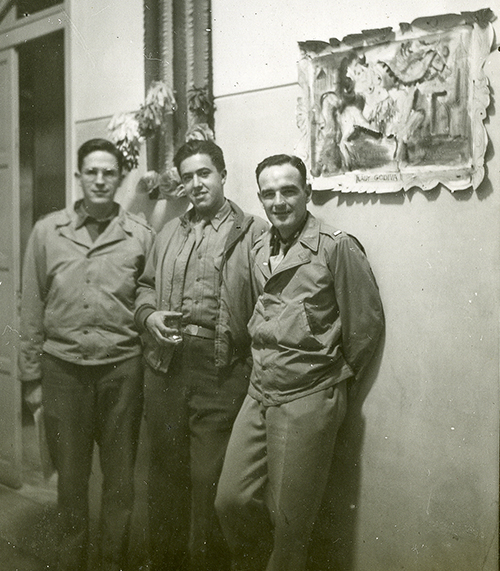 René tells his parents that Cy Kiernan (shown above, far right, with Marv Hodgson and René) got his Captaincy.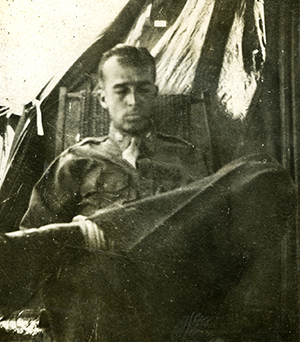 René says that Wally Green, who he operates with, along with Carroll Russell, is "by far the nicest of the Majors to work with."