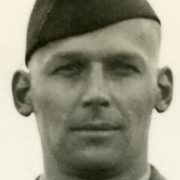 No letter from René on October 5, 1944. Here's an excerpt from the journal of Dr. Philip Westdahl, about their trip from Rioz to Epinal.
     We bade farewell to Rioz and headed north by truck convoy to Epinal, which at that time was about 5 miles behind the lines. Our route north took us through Vesoul, a small and rather ancient French city; Luxeuil, which was quite a picturesque city, typically European with rather narrow streets and flat front buildings fronting directly on the sidewalk and most characteristic, with high angled roofs liberally bedecked with chimneys.
    The response of the French people in these larger cities was not nearly as warming as that of our rural friends in the south. Either they were by this time accustomed to seeing Americans or actually were not as friendly and appreciative as the southerners.
    Plombiers is a very picturesque resort town spread out on the mountainside of a fairly wooded country and a winding road. It is apparently famous for its baths.
    The actual countryside along this route is rather mountainous – low rolling hill type heavily wooded in some areas. There was relatively little evidence of battle other than occasional wrecked German guns and vehicles. One airport had been thoroughly beaten up, quite similar to that in Catania and the port just outside of Rome.
    All of the buildings and hangars were twisted masses of steel and brick. However, the landing strip was in use again by our own, as well as French and British planes, mostly fighters.
.