February 1, 1945
Epinal, France
No. 9 (continued)

Dear Folksies,

          Tuesday A.M., I had planned to go on one of the American Red Cross tours around the town with some of the enlisted men, but as luck would have it, the bus we were supposed to go in was completely frozen that A.M. and so the trip was off.  It was plenty cold that day and alternately snowed and rained, mostly rained. The streets and sidewalks were mighty slick and many a person found himself in a prone and undignified position that day. Anyway, I went sight-seeing by myself, going partly by subway but mostly walking. I had plenty of clothes on and it was O.K. outdoors, so when down in the subways with that much clothing on I felt too hot.
            I wandered around mostly in the area between the Opera and Notre Dame.  I went through Notre Dame, but unfortunately there is very little light there — the electricity being off in the daytime there as in other sections.  I saw the Treasure Room there, however. A number of the stained glass windows have been taken out, of course, but there are still a large number remaining.  I walked all over the little island on which Notre Dame stands. Then walked to La Place de la Bastille, back up through les Halles Centrales and the Bourse de Commerce.  Passed the Louvre, but there was no admittance there at this time — very little left in there anyway they say.  What wasn't taken has been hidden.  Saw Les Tuileries, which was under a good foot of snow, la Place Vendome, etc.
            Finally back at the hotel for a late lunch and then met there by Jeanne. We walked up to the front of Maison Blanc where we were soon met by Lilice and then by Monique! That sister of yours, Alain, is everything you ever said about her. She is wonderful! The picture she had sent me about a month ago did not do her justice at all. She's extremely pretty, looks fine tho' she is, apparently by nature, thin. She and Lilice, after we said good-bye to Jeanne, took me around town a bit more – to the Pantheon, thru the Sorbonne area, and then way out to Monique's apartment, which is way on one edge of town – the opposite edge from where Lilice and Jeanne live.
            Monique has apparently managed well. She was unmolested at any time – having the name Perotin, she was not liable to have a nasty investigation as much as those with more Jewish names. She's a plenty smart gal. Her apartment is spotless – she has a bedroom, bathroom, kitchen, and small dining-room-living-room. Everything seems to look new. As far as food is concerned, she has apparently not fared as badly as some of the others, for she seems to know all the tricks of buying, just when and where to buy things, etc. Of course, she had the advantage in that she remained in Paris the whole time and was able to get all that information and all the tricks over a long period of time, whereas most of the others were moving around a good deal, and did not have time to learn a great deal about any one community.
            Monique has not heard from Robert for some months now – apparently, too, the prison camp he was in was moved after the Russians started to advance nearby – he was near Vienna I believe she said – and since then she does not have any idea where he might be. Last she heard from him, however, he was O.K.
            Monique, for the benefit of those who have not seen her or her pix in past years, is rather short, thin, dark and vivacious. She had her dark black hair in screwy curls in front and, of course, had a typical nutty Paris hat somewhere stuck on the back of her head. She and Lilice talked so fast, as a matter of fact, that I had a helluva time trying to figure out what they were saying.
            When we reached the yard of the apt. house Monique lives in, the prize monkey came running towards us and jumped upon me with his arms around my neck. He had been warned of my impending arrival at noon that day, and apparently didn't get any work done at school that afternoon at all. He's 8 years old and goes all over by himself. He has to go to school by subway and apparently everyone in the neighborhood knows him very well. Monique says that frequently when she is introduced to someone they reply, "Oh, yes, you're Bernard's mother."
           He's just that kind of a kid. Most friendly, full of pep, and smart as the dickens. He's a good-looking kid too. He's small and wiry and never sitting still for a minute. He keeps dancing around, tagging, whirling around the tables or chairs, etc., etc. He was most disappointed that I didn't have any gun with me to show him. But his eyes darn near popped when he opened a box I bro't there and he saw all the chocolate and the gum. I think that if his mother had let him, he would have eaten all ten of the chocolate bars at once. He did put two pieces of gum in his mouth and started pulling it out in long strings. Looks like he's going to have plenty of fun with it.
            Had fun showing Bernard, on his geography map, just where you, Alain, are in N.Y., and where S.F. was. His map didn't have S.F. on it, but it does now. Had tea and cake there and 'twas mighty good. Both your other sisters, Alain, are fine, according to Monique, but I did not get a chance to see them.
                         Loads of love,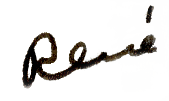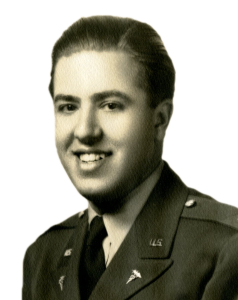 .
Watch for the conclusion of this letter
February 2, 1945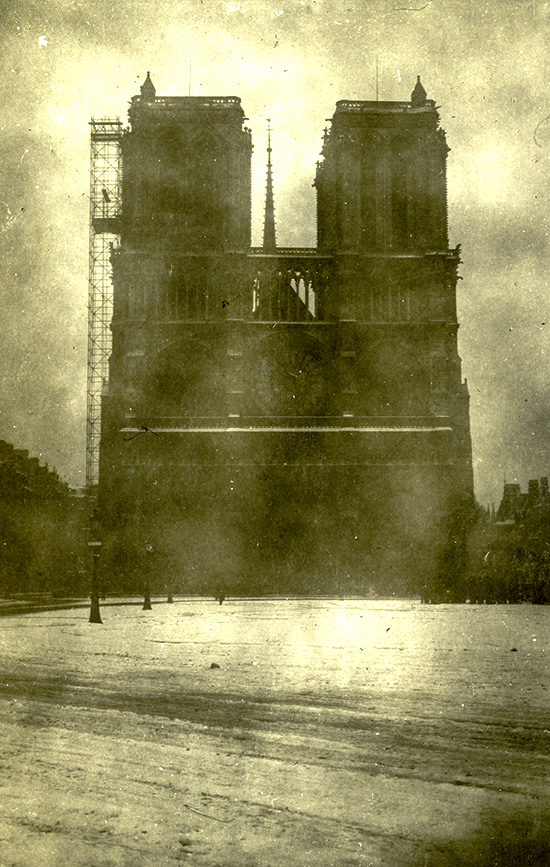 On Tuesday morning, René went sight seeing by himself, including visiting Notre Dame (above and below).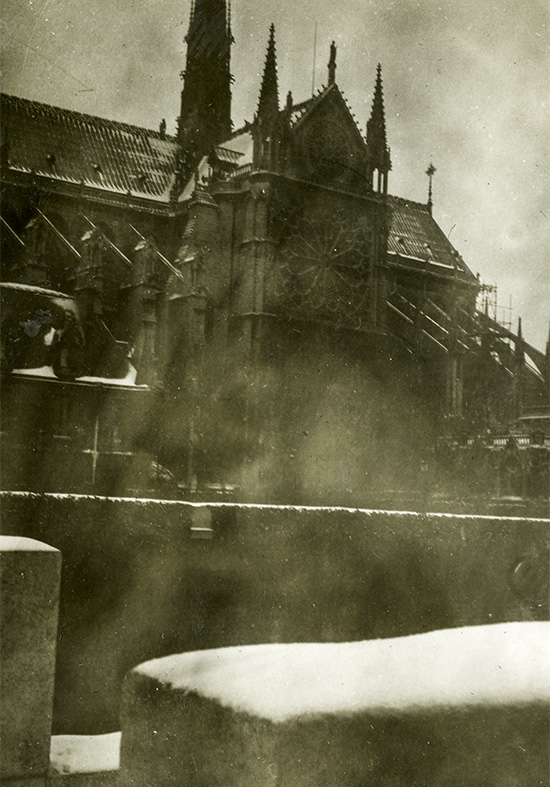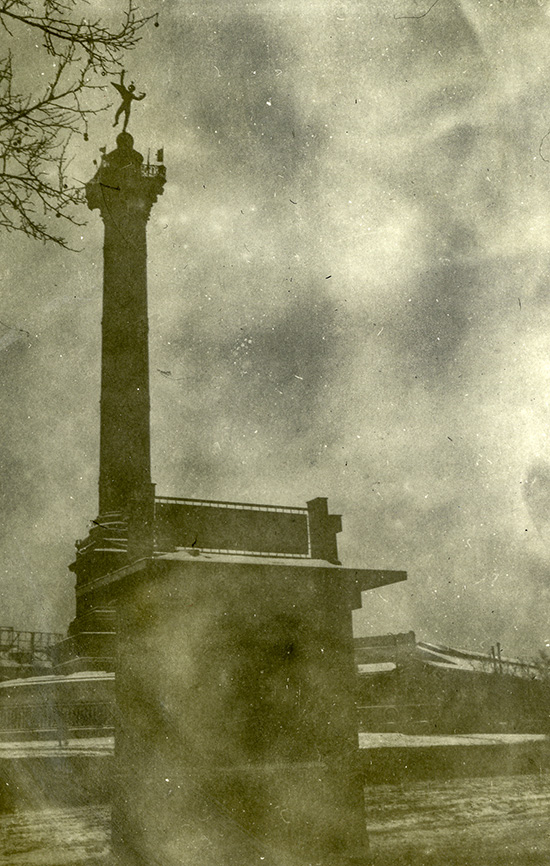 He also walked through Place de la Bastille (above) the Tuileries (below), which "was under a good foot of snow."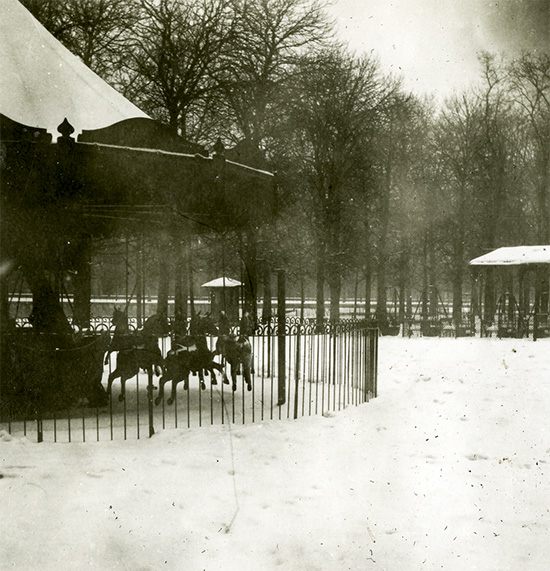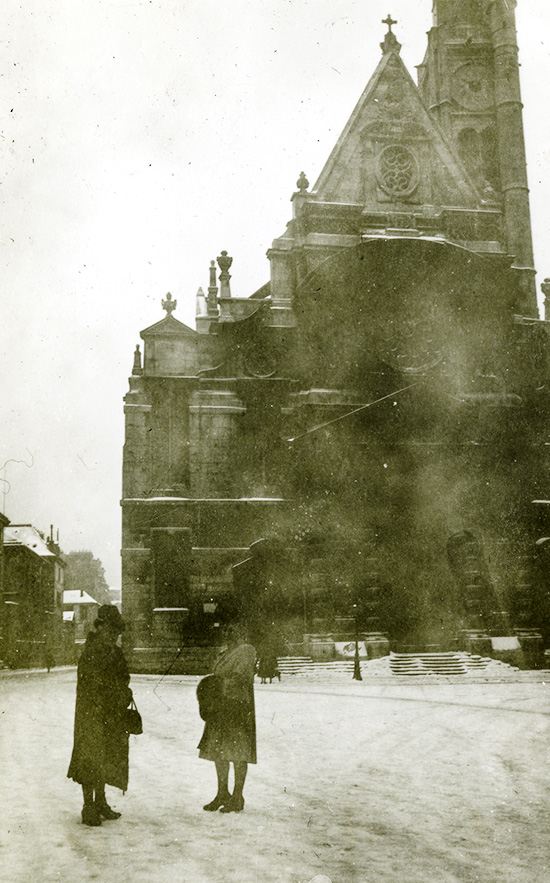 Later he met up with Lilice (left) and Monique Dreyfus Perotin (right) —  the sister of Alain Dreyfus.

February 2, 1945
Epinal, France
No. 9 (conclusion)

Dear Folksies,

         Left Monique's just in time to get back to my hotel to meet one of my boys, Harry Sharp, who had gotten tickets for the two of us to go to see the Folies Bergere.  He had gone the first night we were in Paris, but had been way in the back of the room, and he wanted to go again and sit closer up.  Everyone, including the gals, had recommended it. Sooo!!! It was pretty good, but not as good as the one we had in the World's Fair. It had some beautiful sets; some gals that were beautiful from a distance (we saw some of them later in the subway on the way home and, oh, my, yipes!) — and I repeat, from a distance; some wonderful color schemes, and a couple of good funny acts.
            The next morning we were up and off soon after breakfast.  We had a considerably warmer ride coming back than going up there for two reasons.  The weather was definitely warmer and also we had fixed some paper over the radiator of the car so that the engine heated up more and consequently we in front were kept warmer.  However, it rained practically the whole way home and we took longer getting home than going.
                I undoubtedly was given a good deal more information about family and people concerning whom you would be interested to hear, but I'm afraid that I did not absorb it all. If I think of more, I shall dish it out to you, otherwise, I think Jeanne or Lilice will manage to give it all to you in one of their letters. Needless to say, the trip was more than worthwhile, but 'tis definitely not the time of year to see Paris.
            Oh yes, another thing – it looks as if there will be a mass immigration to the U.S. after this is over. Lilice says she wants to spend her last years on the 2100 block of Post Street, and George, Claudine and Gilles are all for it. No vote was taken from Dominique.
              Well, if you've waded through all this and absorbed it all you're pretty good.  If only you could get half the enjoyment, vicariously this way, that I got being with all the family those all too few hours…..
             Gil just told Eddie Welles and myself that we were going out tomorrow A.M. on detached service as assistants on surgical teams to join and help the gang from Illinois University.  Ralph and Carroll are already up there and Serge Bryner and Bill Kuzell are helping out on the Medical Service there.  When we go that will leave an even 14 doctors back here — all the others are out helping at various spots.
                         Loads of love,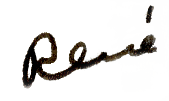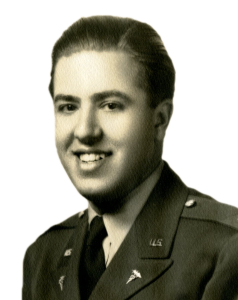 .
Watch for my next letter
February 5, 1945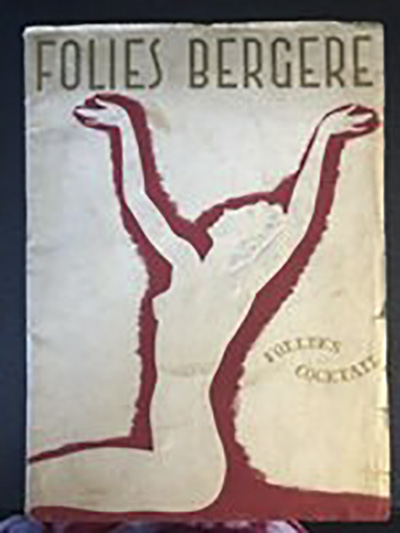 After an evening out at the Folies Bergere with Harry Sharp, René bids a fond farewell to Paris and heads back to Epinal and the 59th.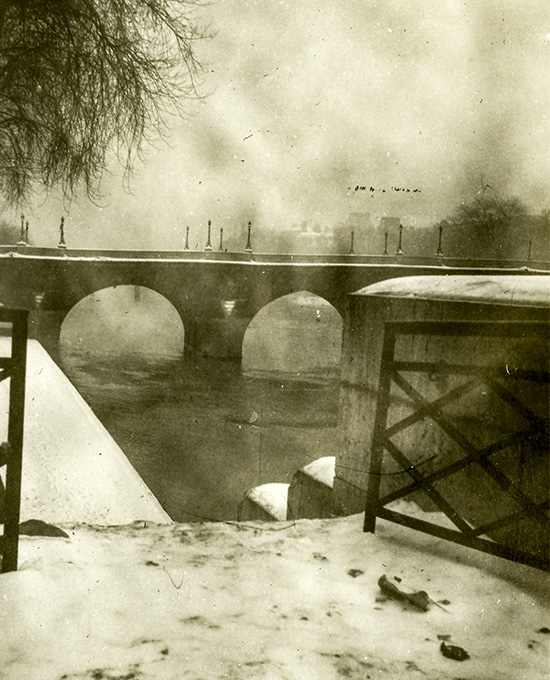 February 5, 1945
Bacarrat, France
No. 10

Dear Folksies,

            Eddie and I came over here two days ago to join the boys of the Illinois University gang, the 27th Evac., who needed some help.  They are a gang the same size as ours, but are carrying an extra load now and also have some of their men ill.  Ralph and Carroll are here functioning as a team with Chris Colletti, as their scrub nurse and Annie Dunn as their anesthetist. Ten of our nurses are likewise here with about twenty of our ward men.
             Kuzell and Bryner are running some of their medical wards.  All six of us are living in a room together and tho' a little crowded it is pretty good. We do miss those nice comfortable beds we had this last month tho'. Eddie and I are both assigned to different of their surgical teams; Eddie being on the orthopedic team, and I am on the general surgery team.
            They run their teams differently than we do.  It's too early to judge their efficiency, but it seems to me that they waste a lot of time in surgery between cases.  (Our cases are prep'd in Shock, while they do no prepping until the patient gets to surgery, and then the surgeon has to wait until that is done.) Another thing is that no one has introduced the typing method of writing up charts in surgery to them – i.e. until Welles and I hit the place. We wonder when they are going to catch on and get a typer assigned to their surgery, for at the moment, Eddie, Ralph, Carroll and I are using my trusty baby up there.
            We have more equipment on the wards than they do on theirs, though their supply is certainly the same as ours.
            Of course, there are a good number of things they do better than we do, but those things seem to be the things that relate to personal services, pleasures, etc. — seeming to think a bit more of their own people rather than the patients as our gang does.  Some of their patients don't see an officer for a few days, whereas I doubt if there has ever been a day that any of our patients didn't see an officer at least once (and very often twice) per day.  Nevertheless, this outfit does seem to be a pretty good outfit and they turn out a good deal of work, and good work too. 
            Most of our snow has disappeared in the last days and we are back to the rain and slush days.  Despite the fact that this gang is in buildings, too, they do not have the modern conveniences functioning as well as we have had them in the past — even in spots where they were none too good to start with.  I guess they just don't have anyone like our Sgt. Kuhl the fix-all of the 59th. 
            Nelson Bell came up today and delivered some mail to us and also brought the news of a new Major in the outfit – George Armanini! He sure deserves it — he's a damn good surgeon. Other promotions – Fadley to Captain at last. Edna Haertig and Chris Colletti got their 1st Lts. Celebrated Chris's last nite with some of the fruit cake you sent from Blum's which arrived two days ago. Tanks!
                         Loads of love,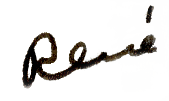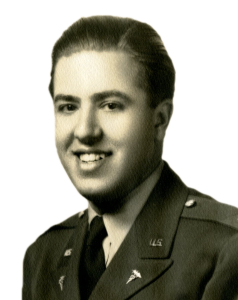 .
Watch for my next letter
February 8, 1945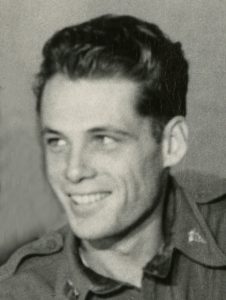 René and Eddie Welles (above) are on detached service as assistants on surgical teams to help the gang from Illinois University – the 27th Evac. Hospital.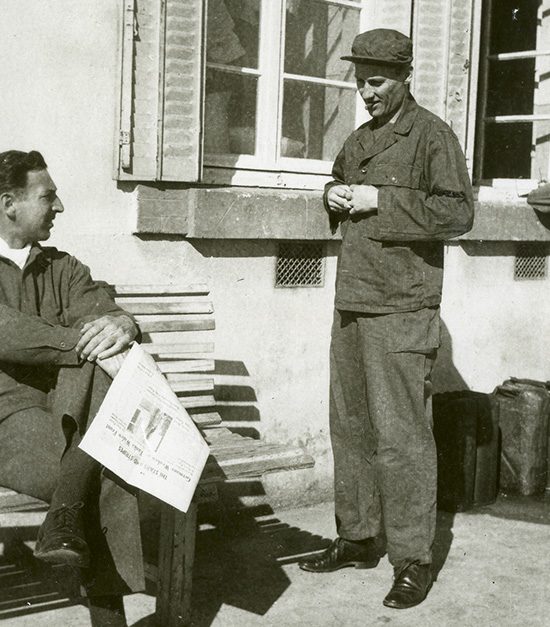 Carroll Russell (left) and Serge Bryner (right) were already at the 27th when René and Eddie arrived.

February 8, 1945
Bacarrat, France
No. 11

Dear Folksies,

            Have been kept busy working these last few days tho' I cannot say that I've actually been hard at work. Worked nights for two nights and now am on days again. Worked straight thru both nights, but the way they work here they sort of take things easy in surgery, no rush to get done and clear them up, so the next shift has it easy, as we do.
            I have to prep all the patients right up in surgery and that takes a good deal of time, and consequently gives the surgeons relaxation or loafing time in between cases. It seems darned inefficient to us, and everyone is anxious for the 59th to open up again for business, so that we can go back to work in them manner we have become accustomed to.
            Even on the medical wards things are radically different. They seem to try to get along on the wards with a minimum of equipment, even tho' they have plenty of equipment in their Supply. Kuzell and Bryner were given their own floor together, and they have our nurses and our men, and so they get along fine now – once they put up a squawk and got the extra equipment they wanted. For example, for a whole ward they had only one wash basin, just a few cups, etc. But now that situation is remedied and things are running smoothly. As I've said, the ward care we give our patients [at the 59th] is better than that which is given here.
            Another odd thing that they do is that they just admit a patient at any time of the day or night without having any orders written for the patient until the ward officer happens to get around to the ward to see him. Our receiving officer after 5 P.M. writes orders on all patients that are admitted direct to any ward, and as a consequence, the patient has medication started on him that night instead of the next A.M.
            Just what the score is on our staying shut we know not. Probably lack of adequate space up where we could do the most good. We do need quite a bit of room. Seems to me, tho' that it would be better for us to function even as two separate units if nothing else, rather than have us split and shipped all over the country as we are. But then, we do not rule!
            Carroll and Ralph continue working days as their own team, while Eddie and I continue on teams of this gang. All are congenial fellows and nice to work with. It has been interesting meeting others and seeing how they work – sort of go back and appreciate our gang more and more whenever we stray and see how other operate.
            Dad, did I tell you that I sent $240.00 to you on Feb 1 by wire. Ought to get there in time to pay your income taxes.
            Took time out for lunch. The meals here are something ferocious. They have some French gals serving the meals and they are served nicely alright, but 'twould be better to have the food better prepared and have self-service perhaps. Maybe we're just spoiled now, but even their own people say the food is terrible, but don't know what they can do about it. Evidently the chef at the 59th still puts out the good stuff, despite the lack of fancy rations at times. Looks as if we're really going to have to hang on to that guy till we hit S.F. again and then maybe install him at San Francisco Hospital or in our own restaurant. Back to our room after lunch today and I finished off the Blum's fruit cake – something of that sort was definitely needed after the lunch we had.
                         Loads of love,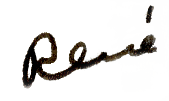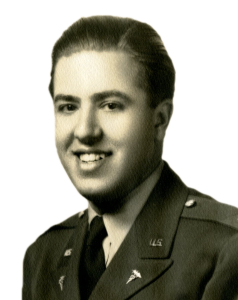 .
Watch for my next letter
February 11, 1945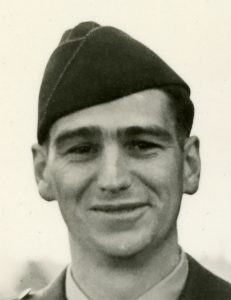 Ralph Cressman (above) is working on a surgical team with Carroll Russell.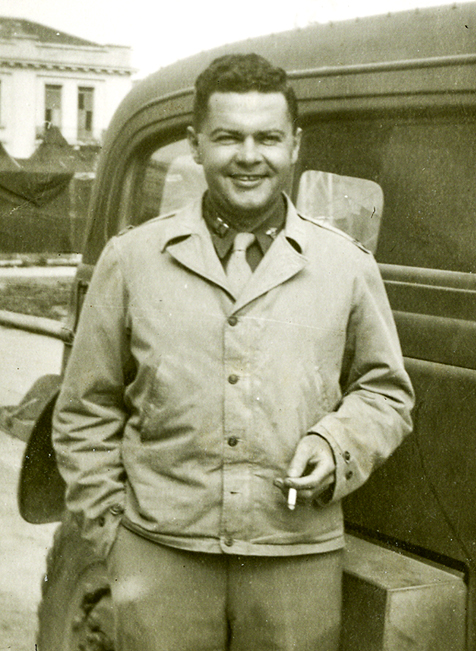 Bill Kuzell (above) is working with Serge Bryner running some of the medical wards.

February 11, 1945
Bacarrat, France
No. 12

Dear Folksies,

            We haven't been doing much of anything these last few days and in fact anticipate going back to our own gang in a couple of days.  Tho' there is little or nothing for us to do, they have been mighty nice to us and their C.O. told us that we could do what we wanted — if any wanted to go back it would be O.K. with him, but that we were all welcome to stay as long as we wished.  Putting it that way made it rather difficult for us to say that we'd rather go back to our own place.  If we could continue to be of some use here, we would rather stay here and do some work, certainly, but as far as sitting around and doing nothing…Well, the food our chef puts out is better than what they have here (even though they had some excellent steaks last night) so that makes it worth our while to return, if for nothing else.
            But, rather than insult them here, we all decided that we would wait a couple of more days and then tell them we think we should not sponge off of them any longer.
            Oh yes, Mom, do send that Blum's box along. However, why don't you sent it to Jeanne instead, that is, if you have found out what the deal is on sending them things.
                         Loads of love,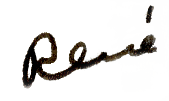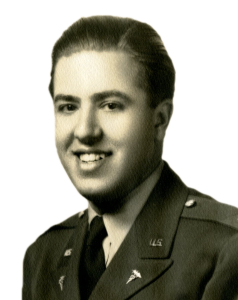 .
Watch for my next letter
February 16, 1945

René tells his mother to send "that Blums box along," but to send it to French cousin Jeanne Salomons in Paris, rather than to him.

February 16, 1945
Epinal, France
No. 13

Dear Folksies,

            Kind of let a couple of more days than I had intended slip by since last writing to you.  However, the last few days have been such beautiful ones that it would have been a shame to have stayed indoors just to write, and it was just windy enough to have blown the paper around a bit, making it too difficult to type outdoors.  As in San Francisco, the wonderful weather goes in streaks — and so it did, three days of it!
            Once again we are HOME and glad of it, even tho' all are still sitting around with little to do.  However, if the weather would keep up as it has been the last few days, no one would mind so much this lazy life.  It was actually hot!  Everyone started out to get outdoor exercise: walking, volleyball, and the boys even started up some early-pre-season-baseball practice.
            The last day we were with the 27th Evac, we had absolutely nothing to do, and as Jack came up to get us to sign our pay-vouchers, we got all the dope about the "in-activities" of the rest of the 59th gang. So, we decided we might as well take off and return, rather than sit around at the 27th thinking about the swell food the gang was having dished out to them down here.
            We spent our last evening with the 27th down at their Officers' Club and had sort of a gay time – got their Col. down with us and we got a kick out of his tales bragging about himself considerably. We had been previously warned to expect him to get us over in a corner to talk about his "friend Freddie Rankin" – i.e. General F. Rankin of Med. Dept. in Washington D.C. He told us how, when they were still in the U.S., whenever anything happened that he didn't particularly like or if he wanted something special, well, he didn't just go to his immediate superiors, but he merely picked up the phone and called Washington D.C. and got his pal Freddie on the phone and found out what the score was.
             Did I tell you that in a long article in one of the Chicago Tribune's papers a few weeks ago there was all the dope about the 27th, written by some female reporter who had spent a few days with them some time ago?  Besides listing all the Illinois members of the unit and telling of all the hard work they have done in the 10 months overseas, the article stated that in the autumn months, and up to Christmas, the 27th had done one third of the work done by the hospitals in this area.  What a laugh!  The people of the 27th realize how much exaggeration there was in that article and dislike, very much, that kind of publicity.  Everyone here laughs at them for the things said in the article and other hospitals have even posted it up on their bulletin-boards ridiculing them.
            However, the most recent crowning glory was the unit that topped them in that sort of stuff.  At least the publicity that the 27th got was unsolicited.  But in a recent broadcast, the C.O. of one of the other groups spoke, telling of the difficulties of functioning in an Evac. Hospital "in tents" in France today.  It was Col. Sauer, whom most of us know.  They, like us, have not been in tents since September.  Now the 27th really has the laugh on them.  See why we are most happy that we haven't had any such publicity ourselves? As far as any knowing what we have done and are doing, the only ones we care about are the two universities.
            It has really been interesting hearing what all the men, officers and nurses have had to say upon their return from duty with some of these other outfits.  They all felt much the same as we did — that one appreciates more and more our own outfit when one goes away like that.  Apparently none of the other outfits care for their patients as well as we do, particularly in the wards, and our system of work in the Shock ward has got them all beat.  Yes, as R.B. Sr. so frequently does, we "modestly admit now that we are good"….. 
                         Loads of love,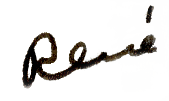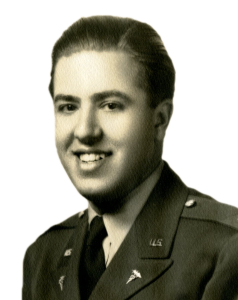 .
Watch for more of this letter
February 17, 1945

René tells his parents that the Colonel in charge of the 27th Evac. Hospital, in Bacarrat, France (where René had been stationed for about 10 days) was bragging about his "friend Freddie Rankin" — General F. Rrankin of the Medical Department in Washington, D.C. (pictured above).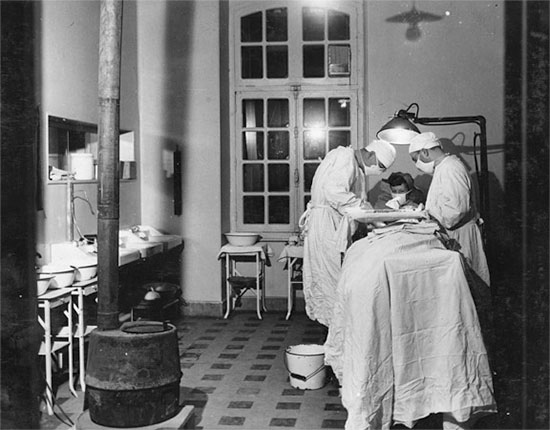 René also mentions that in publicity about another evac. hospital, it was reported that they were functioning in tents, but, in fact, they hadn't been in tents since the previous September. The photo above was taken during René's time in Bacarrat, France in the winter of 1945.

February 17, 1945
Epinal, France
No. 13 (conclusion)

Dear Folksies
        Took a hike a couple of days ago with Wally Greene, Hope Eckland, and Dotty Merrill.  Must have walked almost ten miles, walking along one of the canals, which are strange and interesting features of this part of the country. The width of the canals is about the same as a narrow San Francisco city street, perhaps about the same width as our alley.  The water in most parts of the canal is shallow, but there are innumerable locks so that the height of the water varies depending on which locks are open at the time.
        The barges that travel in these canals appear to be too big to fit in the various locks, but apparently they are made to fit almost without more than a few inches to spare.  The space between the two gates in any lock is only about 130 feet and the barges are just as long. In one small area there are about 10 locks, apparently more in this particular area than there are in most of the other areas that these barges travel to, according to the barge-captains we talked to.  The barges are able to carry some 300 tons (of coal, wheat, steel, etc.) and are hauled up and down the canals by means of tractors that run along the sides.  They think that after the war they may be able to install some sort of motor in the barge so that it will be able to go on its own power instead of having to be hauled.  At present they are able to travel some 40 miles per day, going all over the place. The men who run the barges live with their families right on the barge.
        Saw an odd but rather good show last nite – "Mr. Skeffington" with Claude Rains and Bette Davis. Good acting and make-up but somewhat odd plot.
        Got some new jackets a couple of days ago — the so-called "Battle-Jacket" or "Eisenhower Jacket," you know, the one he copied from the British type of jacket that Montgomery, etc.  first came out with.  They are pretty nice jackets made of wool, and can be used as regular field-jackets or as dress-jackets, preferably the latter.  Yes, we are all suckers for something like that when it comes out new — even at the price of $15.  One guy buys something like that and then all the rest follow like a bunch of sheep and buy up everything in sight.  More equipment to carry!!
        Also now getting issued our "overseas stripes" — I've got four of them so far, i.e. one for every six months completed overseas. Some of the sgts. with their sgt. stripes starting from top down and overseas-stripes from bottom-up, will have their arms nothing but a bunch of stripes.  More darn foolishness!!  Also got our stars for the campaign ribbons — some more hooey!  I now have three and am getting a fourth soon — i.e. one for Sicily, one for Italy (Rome area), one for Southern France — and the 4th supposedly coming for this area. Supposedly going to get a little arrow also for those of us who have been in on any D-day (only one, no matter how many D-days anyone has been in).  See why I've said that so many of these things mean so little.
        Ann Dunn, who lost one brother at Pearl Harbor, recently received word that another brother is missing somewhere on this Western Front. He was up there where things were too damn hot a couple of months ago.  Think she has one brother left, who is in S.F. – her family lives there, I know.
                         Loads of love,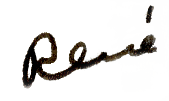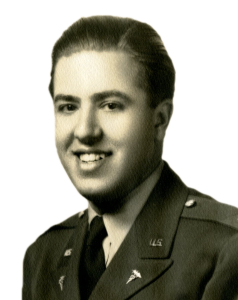 .
Watch for my next letter
February 18, 1945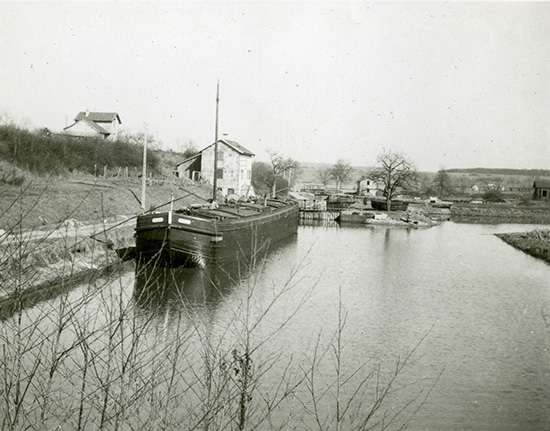 René tells his parents about a hike he took along one of the canals in the area, shown above. Also on the hike was Hope Eckland, shown below admiring the canal.