February 2, 1945
Epinal, France
No. 9 (conclusion)

Dear Folksies,

         Left Monique's just in time to get back to my hotel to meet one of my boys, Harry Sharp, who had gotten tickets for the two of us to go to see the Folies Bergere.  He had gone the first night we were in Paris, but had been way in the back of the room, and he wanted to go again and sit closer up.  Everyone, including the gals, had recommended it. Sooo!!! It was pretty good, but not as good as the one we had in the World's Fair. It had some beautiful sets; some gals that were beautiful from a distance (we saw some of them later in the subway on the way home and, oh, my, yipes!) — and I repeat, from a distance; some wonderful color schemes, and a couple of good funny acts.
            The next morning we were up and off soon after breakfast.  We had a considerably warmer ride coming back than going up there for two reasons.  The weather was definitely warmer and also we had fixed some paper over the radiator of the car so that the engine heated up more and consequently we in front were kept warmer.  However, it rained practically the whole way home and we took longer getting home than going.
                I undoubtedly was given a good deal more information about family and people concerning whom you would be interested to hear, but I'm afraid that I did not absorb it all. If I think of more, I shall dish it out to you, otherwise, I think Jeanne or Lilice will manage to give it all to you in one of their letters. Needless to say, the trip was more than worthwhile, but 'tis definitely not the time of year to see Paris.
            Oh yes, another thing – it looks as if there will be a mass immigration to the U.S. after this is over. Lilice says she wants to spend her last years on the 2100 block of Post Street, and George, Claudine and Gilles are all for it. No vote was taken from Dominique.
              Well, if you've waded through all this and absorbed it all you're pretty good.  If only you could get half the enjoyment, vicariously this way, that I got being with all the family those all too few hours…..
             Gil just told Eddie Welles and myself that we were going out tomorrow A.M. on detached service as assistants on surgical teams to join and help the gang from Illinois University.  Ralph and Carroll are already up there and Serge Bryner and Bill Kuzell are helping out on the Medical Service there.  When we go that will leave an even 14 doctors back here — all the others are out helping at various spots.
                         Loads of love,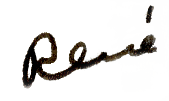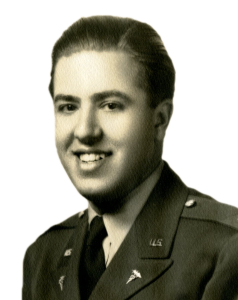 .