February 18, 1945
Epinal, France
No. 14

Dear Folksies        
            Weather not particularly conducive today to hiking or other outdoor activities tho' 'tis still rather warm. Our big "parade" ground has been the scene of considerable activity these last few days with the good weather bringing the boys out in droves. In one corner there has been baseball practice and in the other half there has been activity on a recent set up volley-ball court, and several footballs being kicked back and forth. Along one edge, too, there has been some horse-shoe pitching and, when the sun was at its hottest there were even a couple of outdoor card games going on. And then, too, to complete the sports parade, as our little wittist Bette H. Richardson today said, we even have our pool on the same grounds, in the same square – i.e. the motor pool!
            Ed Blasdel has spent a good deal of his time these last few days in setting up a photo enlarger – i.e. making the whole thing himself. He has done a swell job of it and we should be able to use it to make some enlargements in a few days. It's funny – Russ Klein has been working for a couple of months on an enlarger, but when Ed put his mind to making one of his own, it only took him a couple of days to put the whole thing together.
            Cy Johnson has left for a two-months' temporary duty elsewhere. He was rather happy about it for it will not only be a change, but he will get to see some good scenery and also will, he hopes, be able to learn a good deal about X-ray. In fact, the latter is the reason for his going – he is going to go to a Gen'l Hosp. to learn some more X-ray.
            Gee, the news from the South Pacific is certainly good. The present continued bombing of Tokyo is certainly good to hear about. It would be nice if they could drop a few down that volcano and really start things a-popping.
            Mattie is back with us once again! He looks well now, but has to take it easy as he still gets rather tired easily. Still taking daily sitz-baths. After several cystos and a little fulguration they really cured him up. You see, from his previous very rotten Rx when over in Germany years ago, he had scarring and bands that just caused a backing up of the infection and never allowed the abscesses to adequately drain this time, until they were instrumentally removed. They have now tried to light up his infection again by all sorts of manipulation, just to be sure that it is all completely gone, and apparently every little bug has been demolished, as no matter what they do, he continues to feel fine, have no urinary signs, no temp, etc.
            Latest shift in assignment or status within the group is more a shifting to legalize promotions. Gerbode is no longer Chief of Professional Services, but is Chief of Plastic & Maxillo-facial Surgery. Roy is now the Chief of Professional Services and to get his Lt. Colonelcy. All feel sorry for poor, quiet Wally, who is sort of left out in the cold on that deal. Wally is too quiet, kind, and hard-working, and most of us would rather work with him than any of the others.
          Kind of difficult typing here at the moment as Stubby is sitting on my lap. I'm in the Supply Office and when some of the gals came in to get their overseas-stripes, Stubby started growling and barking (as he doesn't like the gals) and finally came over here in the corner and was doing some more growling till I took him up on my lap … and now he doesn't want to leave there. What a dog! I took some pictures of him yesterday, along with his mother Suzy.
                         Loads of love,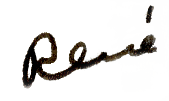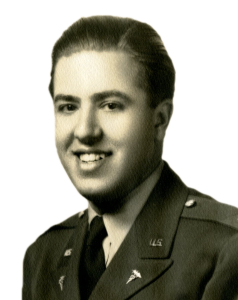 .