May 3, 1944
No. 20

Dear Folksies,
            Father Clark is leaving us to go to George Wood's outfit. He and George always got along together well. The Col. was not the least bit sorry to give him the transfer. In fact, when Clark's request came in, the Col. was put in a fine mood for a couple of days. Probably a lousy thing to say, but 'tis true. Tho' I must say that he had been better here than he had been in Africa. But, Daib, being a regular guy, put it all over Clark.
            Louise Moon is giving herself an engagement party Saturday night. Arlene Salt is getting married as soon as the permits come through in a few weeks.
            Had some excellent lobster at the bar – before dinner – twice in the last 10 days. They fixed up Dad's favorite mayonnaise mixture – yes, with mustard – and 'twas delish. Last night Jack and I had a bedtime snack made out of some canned tongue that he had and a bottle of beer. Also mighty good.
            Went to a baseball game on Monday and got a few good pictures – one of Mattie and the Col. in a real concentrated mood. I don't mean concentrated like all the food that is dehydrated – for they were not dehydrated, sweating profusely, both literally and figuratively, for, at the time, our team was in a tight spot. The game was an excellent one, despite the fact htat we lost in the last inning – having led the whole game.
            The team was composed of: Paul Braudigan (pitcher – Registrar's office); Al Maidens (relief pitcher); "Rusty" Holland (catcher); John Fedorchak (1st base); Berger (2nd base); Bill Newsom (3rd base – when at Stanford he had an offer to play big-time pro baseball); Lefty Watkins, Spainhower; and 3 others whose names I can't remember. Wy was supposed to play, but he had house-maid's knee for about a week and they slapped a cast on him to be sure he wouldn't play.
            Good movie the other nite: Olsen & Johnson in "Crazy House." They are very definitely nuts!
            Had "Jolly-Up" Friday nite. The few nurses that were brought really had a workout, for even Cy Johnson and Armanini were cutting up on the dance floor. Armanini was rather high and he even went out and did a rhumba with Len Schmitz, and everyone gave him the floor. It was a scream. Mattie was acting up also and the next A.M. he realized it, so that he swore he wasn't going to drink at the next party, which is this coming Friday nite. However, as we are starting calisthenics daily at 6:30A.M. on Saturday, with Mattie in charge, we have all conspired that we will each buy Mattie a drink during the evening. Saturday A.M. should be interesting.
                                                                                         Loads of love,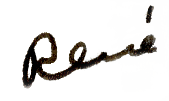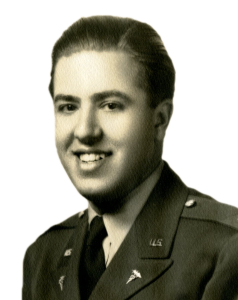 .
Watch for my next letter
May 5, 1944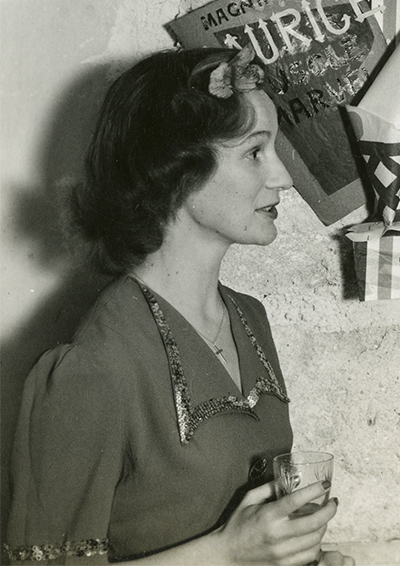 René tells his parents that Louise Moon is giving herself an engagement party.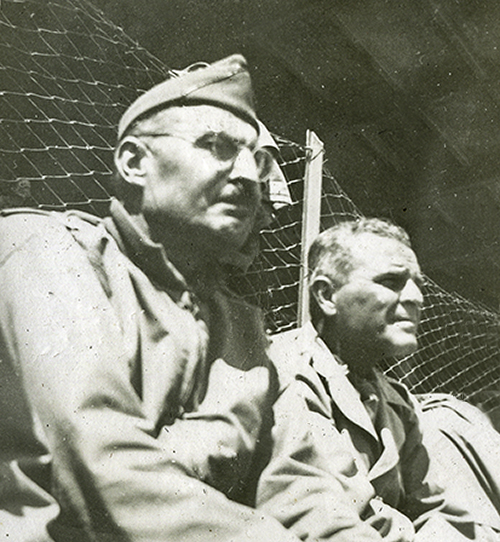 Colonel Bolibaugh and Mattie (Carleton Mathewson) at the baseball game René went to on Monday.
The pitcher that day was Paul Braudigan, but below is a photo of another game where Roy Cohn was the pitcher.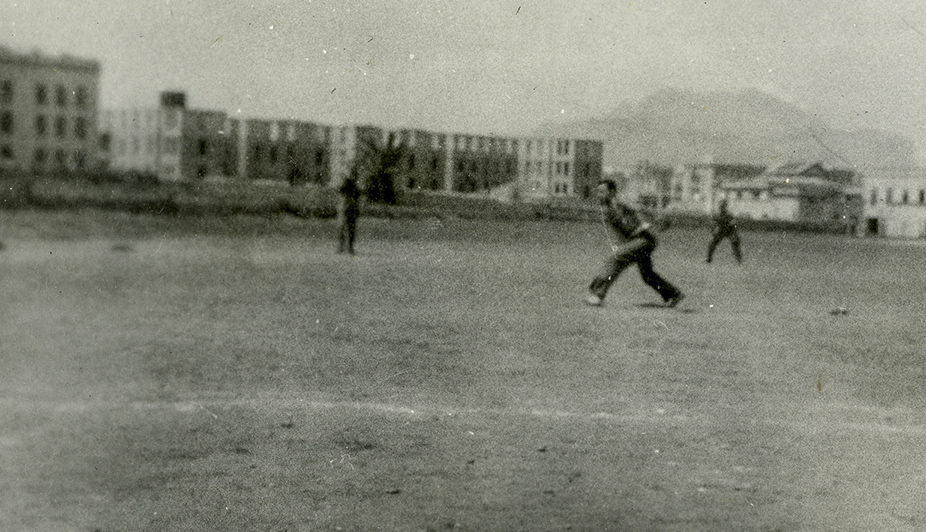 May 5, 1944
No. 21

Dear Folksies,
            I agree with your feelings regarding the Jap situation. One cannot help but have a certain reservation in one's mind when thinking of them as a whole group, for there are plenty of Japanese-Americans fighting just as hard as the rest of the Americans. There have been a large number over here and I had several as patients with so-called "Trench Foot," and they were a swell bunch.
            The business of killing is certainly different in the two theaters of war. Over here the attitude has been one more of contempt for the Axis more than anything else. Of course, during the African and Sicilian and early Italian campaigns, this contempt was strongest where the Italians were concerned; but, too, when prisoners were taken and the Nazis still thought that they were the "Master Race" and wouldn't believe that New York hadn't been bombed, that Bizerte had fallen, etc., there was a contempt for their gullibility besides. How the feeling has changed with the change in situation — the stalemate in Italy, I know not for we have seen no prisoners in a long time ourselves, and about the last casualties we got were from Volturno.
            Wednesday night I walked to the show and saw a stinker, "Best Foot Forward." The theaters are really pretty crowded these days — filled mostly by the 59th. If anyone should yell, "Is there a doctor in the house?" there would be a riot. Or if one should ask that all members of the 59th stand up, there would be darn few left sitting. Many of us walk to the theater, as it is still light until after 8 P.M. now. But then the walkers and the riders have a devil of a time squeezing into the one truck on the way back.
            Yesterday the boys had a rip-snorter of a baseball game. It was a top-notch game and, by golly, they won! It took 12 innings to come out on top, however. Al Maidens pitched the whole game and he pitched a beautiful game. He isn't the finished pitcher that Paul Breudigan is (the latter has played a lot of baseball), but he did nobly and, in fact, practically won the whole game by himself, stopping a lot of balls in his territory. He surprised everybody in being able to last the whole 12 innings. He was actually getting a big kick out of it. He told me afterwards that at the end of the second inning, he thought he was going to have to quit, for his arm was mighty sore, but as the innings progressed his arm warmed up and loosened up and by the 7th and 8th innings, he was really in top form. He said he could have gone some more innings after the 12th. I got slightly toasted at the game, for I left my shirt off the whole time.
            Last nite, went to the Nurses' Anniversary dance – most of them in just 2 years now. Bette Holms' boyfriend went back to Italy just a couple of days ago and so she asked me. It was a pretty good dance, but lacked something. It was given at the hotel downtown and I think that there was just too much room – everyone was spread around in three or four large rooms and there wasn't the life or the hilarity that usually is present at a 59th party. The band was good, a 14 piecer, and they had a very fine glee club singing, and also a very good singer – a sailor. And, you might have known it, the sailor turned out to be a Stanford boy, one of the old Stanford families, in fact – a footballer by the name of Ward Tatum.
            Tonight we are having another "Jolly-Up" and then tomorrow A.M. calisthenics!!
                                                                                         Loads of love,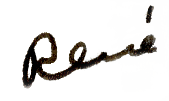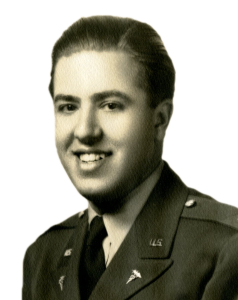 .
Watch for my next letter
May 8, 1944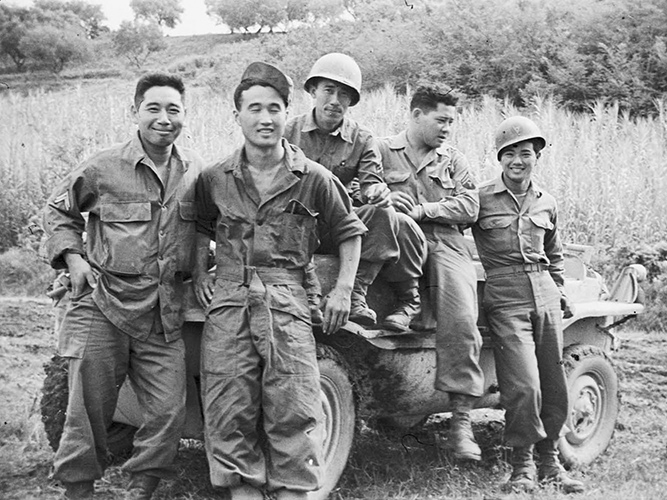 René comments that the Japanese-American soldiers fight just as hard as the rest of the Americans. He said he has had several as patients and "they were a swell bunch."
This photo (from the Dr. Susumu Ito Collection, Japanese American National Museum [94.306]) shows several Japanese-American soldiers in Italy in 1944.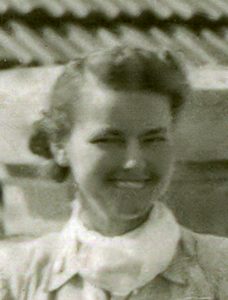 Bette Holmes invited René to the Nurses' Anniversary dance – since her boyfriend went back to Italy a couple of days before.



Dr. Philip Westdahl writes in his journal that on May 5, the 59th Evacuation Unit officially turned the hospital over to the 154th station group.

May 8, 1944
No. 22
Dear Folksies,
            Here I am again and it's hotter than Hades on a Sunday morn in May. My typer is cached away at the moment and the only free typer I could find was over here in Don's Detachment Headquarters Tent. He used to have an office in a building, but not now, and there are darn few places warmer than under a tent these days. We're trying to get the boys to wet the top of the tent down so that it will be at least a trifle cooler.
            Have really been active these last few days and I do mean ACTIVE. Friday nite the Officers' Club had a party and it was pretty good. Despite all attempts to ruin Mattie for the next morning's calisthenics, he remained in good condition throughout the night. Had a Negro band for the party and it was pretty good. They put out good music, but their expressions never changed. One guy, on the end, we finally decided must be the chaperone, for he just sat all evening. He had a tambourine next to him, but I never saw him touch it. Finally, Eddie Welles picked up the tambourine and pounded away on it himself.
            Saturday morning dawned bright and early and we were all ready to kill the bugler. He started blowing at ten of six and must have played fifteen times before it was time for us to get up at 6:20 A.M. The men get up at 6:00 but gosh, it didn't take all that blowing to get them up. We finally got out there and Mattie was pretty kind to us – not giving us anything very strenuous.
            After breakfast went with Wy out to a baseball game at the stadium. The ration dump is right out by the stadium, so we went with the ration truck and while the mess men were getting the rations we were watching the baseball game, and also getting a sun-tan in the bargain.
            After lunch we went up to the baseball field that the boys fixed up some time ago just a block behind the hospital. First game was between the officers and the enlisted men. We were nicely beaten (soft-ball of course – we would have all been killed undoubtedly if it had been a hard-ball game) but were doing much better and coming up from behind at the end of the game. Our team consisted of Stola pitching; Kiernan catching; Welles, first base; the Col., 2nd base; Stratte, short-stop; Armanini, third base; Johnson, roving center field; Russell, right field; Williams, left field; and me, center field. After that game the headquarters bunch from downtown showed up to play us and so we had our "double-header".
            Saturday night's show was a really excellent one. Don't miss it!!!! It didn't have a bloomin' thing about the war in it and was a most relaxing and hilarious show. What was it, oh yes, 'twas "True To Life" with Mary Martin, Franchot Tone and Dick Powell. Somewhat of a take-off on "One Man's Family". 'Twas really a scream and one of the very best that we have seen at any time.
                                                                                         Loads of love,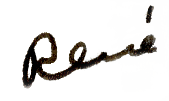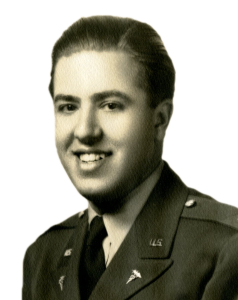 .
Watch for the rest of this letter
May 9, 1944

René sent a telegram today – to wish his mother a Happy Mother's Day on May 14.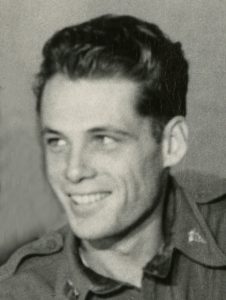 Eddie Welles jammed with the band at the Officers' Club – playing the tambourine.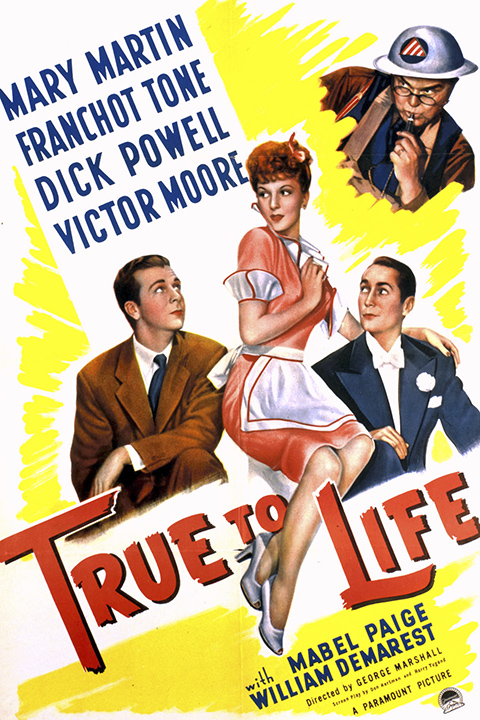 René tells his parents not to miss the movie he saw on Saturday night: "True to Life".

May 9, 1944
End of No. 22

Dear Folksies,
          Yesterday morning we all awakened alright, but it was torture to climb out of bed. Every one of us was stiff as the dickens. Particularly behind the knees and thighs. We finally managed to live through the calisthenics, however. Whether the knee-bending in calisthenics accounted for most of the stiffness, or whether it was the baseball game, we are not too sure. However, I think that it was a combination of both, for neither one alone could do so much damage in so little time.
          Yesterday afternoon a gang went swimming, leaving at 1 P.M. and returning at about 4:30 P.M. It takes about 20 minutes to get out to the beach. They really fixed it up nice this year. The Red Cross is not running it as I thought, but the local headquarters outfit has taken it over. They cleaned up the beach tremendously, have a separate section for soldiers (i.e. for military personnel) and it is patrolled by M.P.s so that fewer things are stolen this year than last. They even had a band out at the beach house. They have lockers, showers, etc. No refreshments there, as yet, but it would certainly be the spot for the Red Cross to do their refreshment-serving.
          We cooked on the beach for a while and then got brave enough to try the water. It was plenty cold at first, but once in for about 5 minutes you didn't mind it and it was really fine. There were a lot of rowboats and some sailboats around, and some went sailing while others jumped into some of the rowboats. Don and I got in one rowboat with some of the enlisted men and then they proceeded to sink it by rocking it back and forth until it was full of water. However, it was in shallow water and we managed to tip the water out of it again. The water is extremely clear.
          The weather has certainly taken us by surprise. We sort of anticipated that we would have a gradual build-up – after all, it has only been a few weeks now that it became "springy", but we have suddenly been thrown into the middle of summer in the last three days. If this gets any worse, we'll be ready to wilt.
          Last nite walked down and back to the show with Bret and Jack and Fadley, and even at 7:30 P.M. it was stifling hot. Show was pretty poor last nite – "Powers Girl".
          This A.M. it was only slightly easier to roll out of bed, but calisthenics were not too bad. After breakfast we went out and had two teams of officers playing baseball against each other for about an hour and a half. Quite a work out. This afternoon I'm going to loaf a bit after writing this.
                                                                                         Loads of love,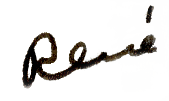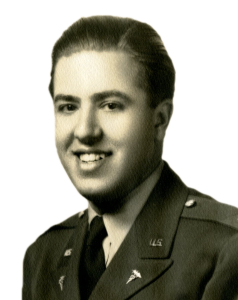 .
Watch for my next letter
May 11, 1944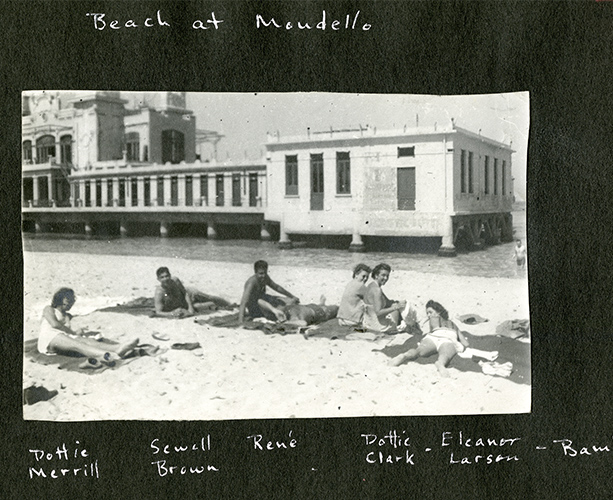 René and the "gang" at Mondello Beach — not far from Palermo.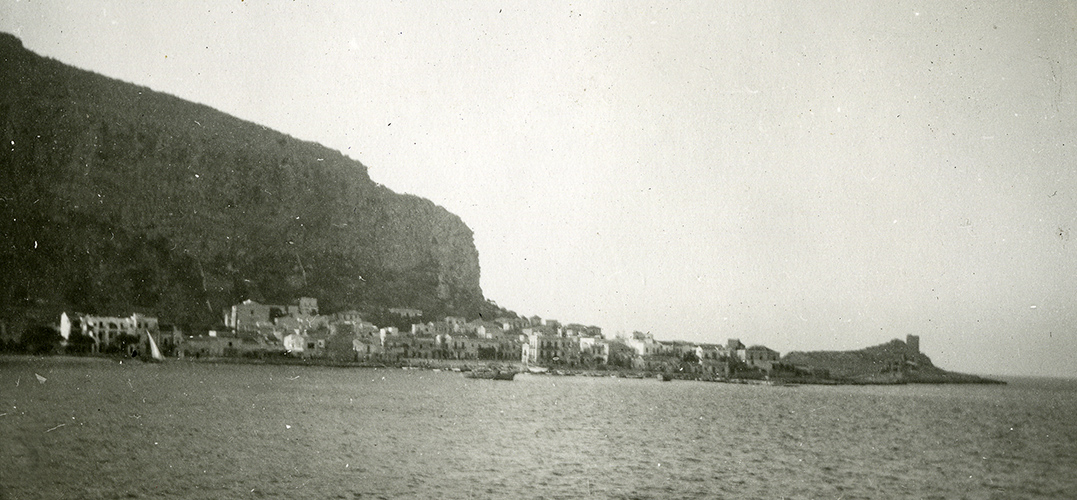 Some other views of Mondello Beach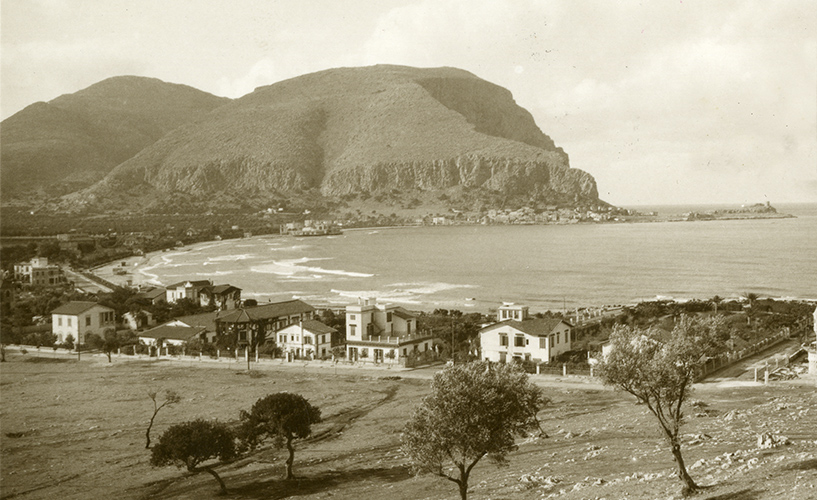 May 11, 1944
No. 23

Dear Folksies,
            Well, the so-called Sirroco wind has gone, thank goodness. We are now back on a Spring basis once again – late Spring, however. At least we are once again to sleep at nite, and, in fact, can find adequate use for one blanket. We continue to be rather physically active, and we all feel much better for it, not that our muscles are losing their aching and soreness.
            Monday evening had a good dinner with Fran & Hal and then we walked to the show, but soon walked out on it for it was one of the lousier "Blondie" shows and not only that, the theater was almost suffocating. Came home, walking, and Hal & I proceeded to quench our thirst and whet down our parched mouths by taking first two big glasses of orange juice. That not being enough, 2 big glasses of lemonade, and then resorting to water to fill the remaining space.
            Tuesday afternoon we went to the beach and had a fine time. There was such a mob there from the 59th that it took 4 trucks to cart all of us out there. A gang of us went out in the sailing boats, 20 in our boat and about 9 in another. We had quite a race and it was funny what a difference was made when someone shifted position in the front of the boat from one side to another or from front to back.
            While we were in the boat, some of the guys got the inspiration that they could go fishing out in the sea in one of these boats, so they made arrangements with the Sicilian who ran the boat, to take them fishing the next A.M. After the boating, we loafed on the beach, swam some, and became progressively tanner, or blacker in my case, so they say – I cannot see my back, but Mattie is pretty darn mahogany himself, and they say that I am some shades blacker.
            Yesterday morn, the fishermen, Sewell Brown, Mattie, Morduant, Schmitz, Cressman, Huff, Smart, Treadwell got up long before dawn cracked, at 2:30 A.M. to be exact, grabbed some breakfast, made some sandwiches for their late breakfast, took a few thermoses, and set off. The left in the boat shortly before 4 A.M. and went out some 12 miles off shore. They had to row part of the way because of lack of wind, but finally got out to the fishing grounds O.K. They didn't do so badly, catching three fair-sized fish and several small mackerel. The large ones were flat fish with big mouths, somewhat like suckers and they apparently gave no fight at all. In fact, they said that these fish swallowed the sardines they used for bait and you could pull the bait right out of their mouths, for they were not able to close their big mouths adequately.
            Apparently those that enjoyed the trip and those that did not enjoy it were evenly divided. Schmitty got rather sea-sick, as did Morduant and Treadwell, and Cressman and Huff didn't feel too well either. I can't see getting up at that hour and spending all that time and energy on that sport.
            Those of us who did not go fishing were led in calisthenics yesterday by Reilly. He didn't do too badly, getting at least one series of exercises done correctly. And, when he gave "To the rear march!" on the correct foot, many got crossed up just out of shear surprise that he should do it correctly.
                                                                                         Loads of love,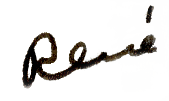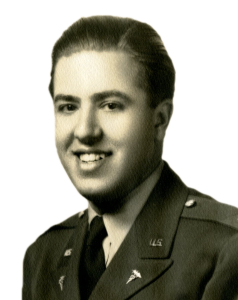 .
Watch for the rest of this letter
May 12. 1944

While eight of René's compatriots got up at 2:30AM to go fishing 12 miles off shore, he and the rest of the doctors in the unit slept in. A little later in the morning, they were led in calisthenics by Bill Reilly (below).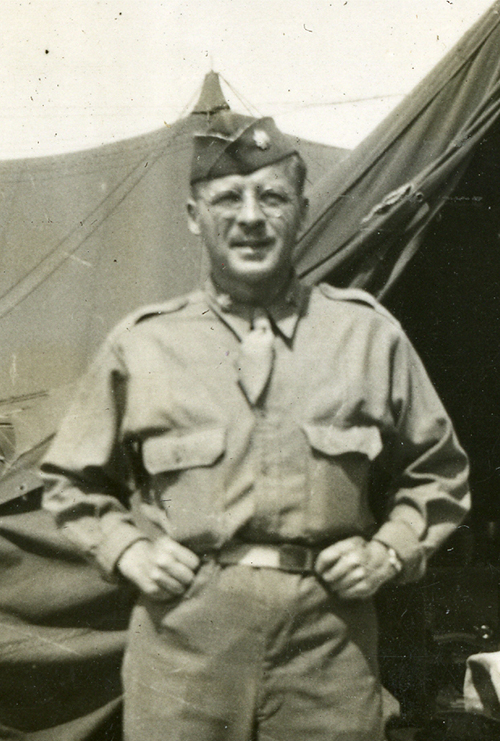 Click here to add your own text
May 12, 1944
Continuation of No. 23

Dear Folksies,
         Tuesday evening I went walking with Chappie before the show and we walked for a little over two hours, before wending our way back toward the theater. 'Twas a swell walk. Show only fair, but we stuck it out and then walked home after it.
            Had an Officers' Club election and Roy Cohn started off the nominations for President by nominating Roberto Escamilla. But he was soon crossed up—it backfired and Cohn himself was then nominated and, in the end, elected. The others were Russell as Vice President, Gerbode as Secretary and Kuzell as Treasurer.
             We had a good baseball game again in the A.M. – two teams of Officers against each other. We had quite a work-out—then to the showers. In the afternoon, again to the beach, baking and bathing. Last nite saw that good show, "Hello Frisco, Hello!" There was quite an S.F. turnout. The plot is similar to a whole flock of other pictures about the same subject, but it's in Technicolor and Alice Faye is very good, there are some good songs, and all in all 'tis entertaining.
            This afternoon we played volleyball for about an hour and a half. Had some of the gals playing with us and a couple of them were darn good. After a shower I walked to the PX with Sewell – they now give us two big Hershey bars per week and have had some Planters' Peanuts in also. Not bad!
            Tomorrow night we are planning a beach party for the evening, in conjunction with the nurses – sort of like old-time San Francisco Hospital Weenie Roasts at Stern Grove.
            Well, the afternoon baseball game will soon be starting so will sign off for now.
                                                                                         Loads of love,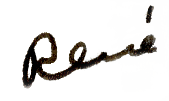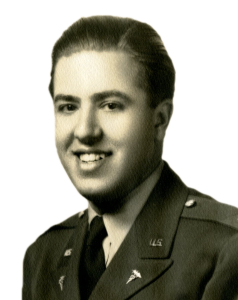 .
Watch for my next letter
May 15. 1944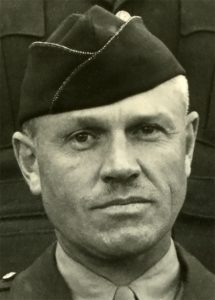 René took a long walk with Chappie (Elmer Chappell) and then went to a show.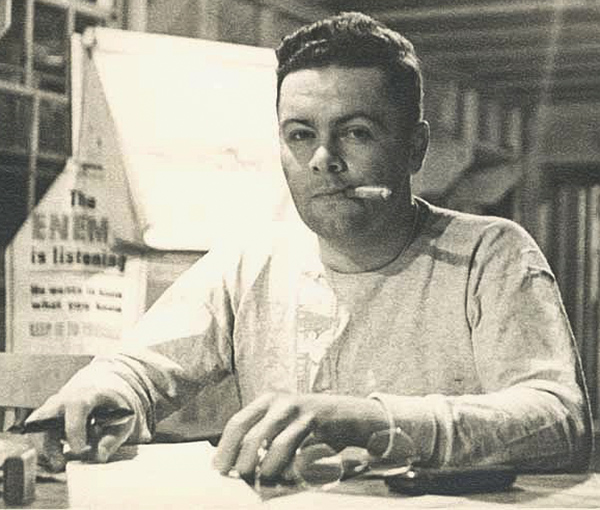 René tells his parents that Roy Cohn (pictured above) nominated Bob Escamilla as president of their Officers' Club, but Roy ended up getting elected instead.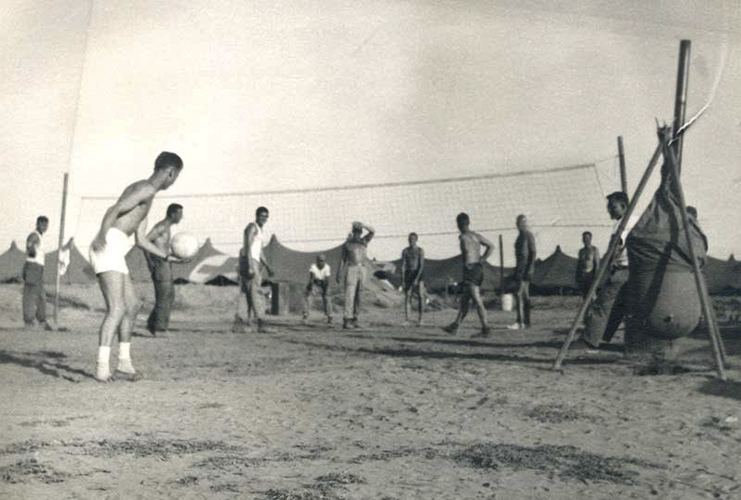 Click here to add your own text
May 15, 1944
No. 24

Dear Folksies,
            Had a nice letter from George Wood and also from George Davis.
            Thursday nite had good dinner with Fran & Hal and Serge & Ann. Had some good raviolis with good sauce and cheese, and also had some small mackerel that were very good. We sat around, loafed, listened to the radio and talked for most of the evening.
            Yesterday had a pretty good baseball game and stuck around in the afternoon working some. Left here at 5 P.M. for the picnic at the beach. It was kind of a cool day, so only a few went swimming. But actually it wasn't bad at all and I wished I had brought my suit out there with me, too. We did go boating, however, and the water was nice and calm. In fact, so calm, that at one point Russ Klein and the Col. had to row in their boat.
            Had hot-dogs, buns, an excellent salad with lobster (you would have liked it, Dad) and some good mocha ice-cream. Danced after supper to the tunes of the photograph, as no band had been available for the evening. The funniest sight was when Bette Holmes and Bill Reilly put on an excellent jitter-bug act. Reilly really did O.K. There was quite a good mob at the party and tho' some felt it wasn't successful because the punch ran out too early, the majority had a very good time.
                                                                                         Loads of love,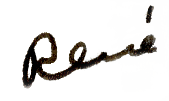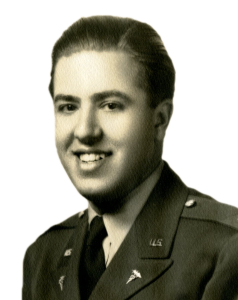 .
Watch for my next letter
May 16. 1944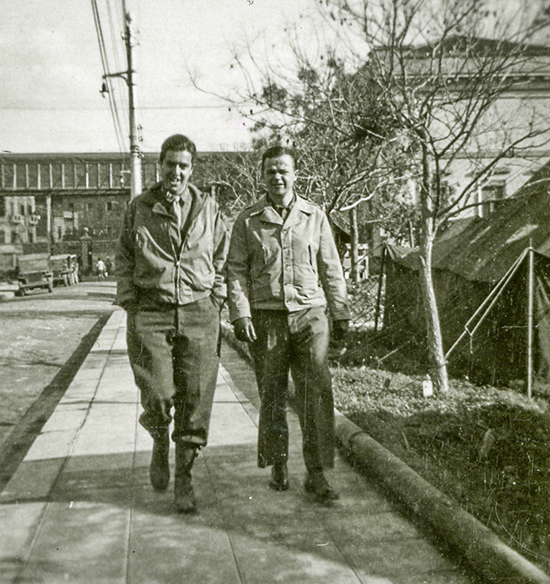 René got nice letters from two of his pals who left the 59th for other units: George Wood (shown above with René) and George Davis (below).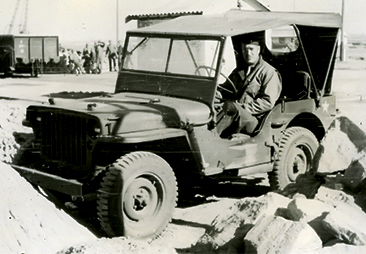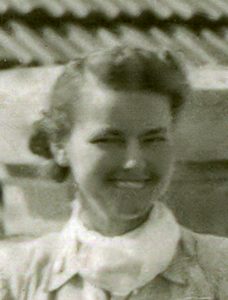 After a picnic dinner at the beach, "the funniest sight was when Bette Holmes and Bill Reilly put on an excellent jitter-bug act." Bette is shown above and Bill is shown below.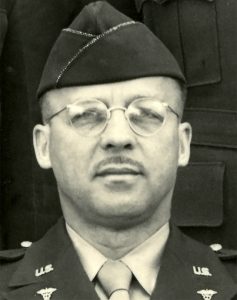 Click here to add your own text