May 8, 1944
No. 22
Dear Folksies,
            Here I am again and it's hotter than Hades on a Sunday morn in May. My typer is cached away at the moment and the only free typer I could find was over here in Don's Detachment Headquarters Tent. He used to have an office in a building, but not now, and there are darn few places warmer than under a tent these days. We're trying to get the boys to wet the top of the tent down so that it will be at least a trifle cooler.
            Have really been active these last few days and I do mean ACTIVE. Friday nite the Officers' Club had a party and it was pretty good. Despite all attempts to ruin Mattie for the next morning's calisthenics, he remained in good condition throughout the night. Had a Negro band for the party and it was pretty good. They put out good music, but their expressions never changed. One guy, on the end, we finally decided must be the chaperone, for he just sat all evening. He had a tambourine next to him, but I never saw him touch it. Finally, Eddie Welles picked up the tambourine and pounded away on it himself.
            Saturday morning dawned bright and early and we were all ready to kill the bugler. He started blowing at ten of six and must have played fifteen times before it was time for us to get up at 6:20 A.M. The men get up at 6:00 but gosh, it didn't take all that blowing to get them up. We finally got out there and Mattie was pretty kind to us – not giving us anything very strenuous.
            After breakfast went with Wy out to a baseball game at the stadium. The ration dump is right out by the stadium, so we went with the ration truck and while the mess men were getting the rations we were watching the baseball game, and also getting a sun-tan in the bargain.
            After lunch we went up to the baseball field that the boys fixed up some time ago just a block behind the hospital. First game was between the officers and the enlisted men. We were nicely beaten (soft-ball of course – we would have all been killed undoubtedly if it had been a hard-ball game) but were doing much better and coming up from behind at the end of the game. Our team consisted of Stola pitching; Kiernan catching; Welles, first base; the Col., 2nd base; Stratte, short-stop; Armanini, third base; Johnson, roving center field; Russell, right field; Williams, left field; and me, center field. After that game the headquarters bunch from downtown showed up to play us and so we had our "double-header".
            Saturday night's show was a really excellent one. Don't miss it!!!! It didn't have a bloomin' thing about the war in it and was a most relaxing and hilarious show. What was it, oh yes, 'twas "True To Life" with Mary Martin, Franchot Tone and Dick Powell. Somewhat of a take-off on "One Man's Family". 'Twas really a scream and one of the very best that we have seen at any time.
                                                                                         Loads of love,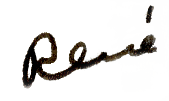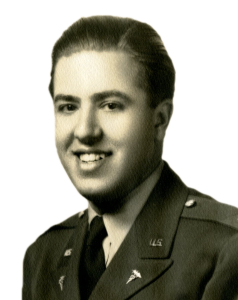 .