April 1, 1944

             During March several groups of officers took recreational trips around the island of Sicily. Chuck Schwartz and I took the trip together, which included five days. We started east along the northern coast passing through many of the former scenes of the Sicilian campaign.

            Hardly a railroad or vehicle bridge was left intact by the retreating Germans. Here and there along the coast a beached landing craft gave evidence of "end-run" invasion tactics. Strafed and burned railroad cars littered the stations and disabled tanks lined the streets, both our own and those of the enemy. It made me feel just a little weak in the stomach to realize that some of our boys who manned those tanks will never return to their native land. An American military cemetery near San Stefano also brought forth the same feeling, multiplied many fold.

            Most of the northern coast is quite beautiful. The shoreline in all but a few areas is rock and steep and the mountains rise abruptly a short distance back from the water's edge. It was quite a thrill to sight the toe of Italy across the Strait of Messina, most similar in appearance to looking over at Sausalito from San Francisco.

            We took a short side-trip over to Reggio in Italy, an act that precipitated a familiar question on the part of the British Captain in charge of the over-burdened transportation facilities, "Say, don't you American chaps know there's a war on?" I must confess I felt somewhat ashamed. Reggio was little different from Sicilian towns – a little cleaner perhaps, in the sections we saw. Oxen seem to have replaced the familiar little burro of Sicily.

            Messina is quite a beautiful town in the modern section, with wide spacious streets and fine looking buildings. However, the older sections are typically filthy and crowded. The waterfront area and railroad yards are practically leveled by bombs. As usual, the Fascist state buildings and the churches are by far the most pretentious.

         From Messina (the highlight of which was White Horse Scotch at 7 lire a drink at the British Officers Quarters) we drove south along the east coast to Taormina, a beautiful little resort town set high on the rocky sea shore with a beautiful view of Mt. Etna.

            Farther south we passed through Catania, now under British control, as is the entire east coast. It is interesting that our Italian "co-belligerants" in this area wear British uniforms. It was truly good for the soul to see that Uncle Sam is not the only Santa Claus in this crazy world, and quite surprising I might add.

            Just south of Catania in the low level fields there are innumerable relics of the now well-known battle for Catania – tanks, German "88" guns, abandoned enemy equipment of various types. From Catania we drove on to Syracuse. The country in this part of the island is much more favorable to agriculture than in the north. Orange, lemon, olive and almond orchards stretch for miles over low rolling foothills. Along the coast we could see numerous large convoys making their way to Italy.

            Syracuse was notable for its historic Greek Theater, Roman Coliseum and awe-inspiring ancient quarries known as Latomias. We were more impressed than our GI driver, who summed them up as "Just another pile of rocks."

            After leaving Syracuse we headed southwest through Ragusa, Comiso, and Gela and there again saw evidence of battle, and here again fertile fields and extensive vineyards. Asphalt and sulfur mines are also located in this vicinity, although not very active at this time.

            From Gela we started inland, passing through Enna, a cold, damp, crowded city perched on a hilltop above the fog.This inland section is the "breadbasket" of the island. It was a beautiful sight to behold the rolling fields of wheat and realize that the island will again become self-subsistant. In spite of the roominess of the country, the gregarious inhabitants live in their typically crowded, narrow, damp, unpaved filthy streets, usually on the hillside.

            From Enna we drove back to our starting point, Palermo.

.

Watch for René's next letter on
April 6

Philip Westdahl (above) went on a 5-day road-trip with Chuck Schwartz (below).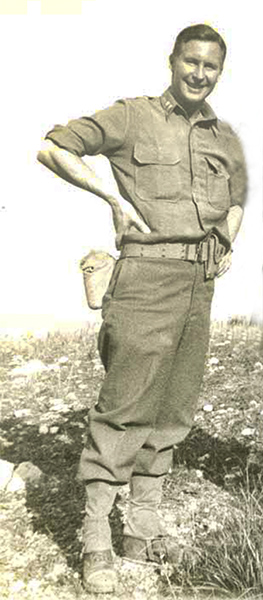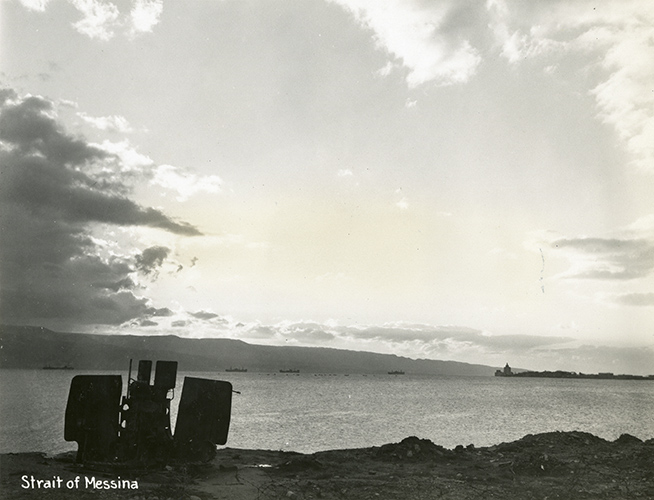 Phil particularly enjoyed looking across the Strait of Messina to the toe of Italy.

April 6, 1944
No. 15

Dear Folksies,          
            Well, here it is our Second Anniversary – just two years since the 59th was activated!! Day after tomorrow there is to be the big celebration. The recently appointed Majors are giving a cocktail party late this afternoon, however. The reason the big party is to be on Saturday is because Saturday is naturally a better day for such things and also 'tis a better day for those who intend to join us to do so if they can. That is, George Wood and Phil Johnson, who planned to fly here as to be in on the celebration.
            I got the package you sent, Mom, with all the deviled ham and pate, for which oodles and oodles of thanks. Thank Sal also for me, as I noted that some of the cans had her name on them. Looks like there is enough deviled ham to last through several minor feasts.
            Now to tell you some about the recent trip around the Island that I took with a second bunch of enlisted men. This time I had only 3 of the same bunch that I took the first time: crazy Eddie Accomando, the mess sgt; Sgt. Jones of Receiving; Sgt. Sparks of the Dispensary. The other fellows were S/Sgt John Fedorchak; T/S Howerston from Surgery; T/4 Glenn Farrell, T/4 Merrin Spainhower ("Spainy") both from surgery also; T/5 Al Coleman, T/5 Carl Santelle ("Red") from surgical wards; T/5 Ray Johnson from lab; T/5 Tom Voicheski who runs Isolation, Bill Arduino, Bill Murdock and Ross Willis; and "Dutch" as driver. It was a good bunch and all got alone fine together. In many respects it was a better bunch to be with than the first bunch, though on the other hand, you can't beat fellows like Querhammer, Maidens, Wy and Weisty that were with me on the first one.
            Left here after eating midnight mess and, of course, everybody but the driver tried to sleep. I was plenty tired and tried to curl up in the front seat of the truck, but the truck we had was smaller in front than most of them, and as a consequence it was rather crowded for sleeping purposes. I dozed a bit and that was about all.
            The boys in the back got car-sick strangely enough – probably because the top was over the whole truck and the weather was rather nice, so that it was warm in back. And then, too, the road was dusty and the dust kept getting sucked into the back of the truck, so that when we stopped for gas I was shocked to see that the boys had their faces completely covered with a dark brown dust. They really looked funny.
            We made pretty good time and got to the small town [Taormina] at which we were going to stay shortly after breakfast time (tho' we hadn't had breakfast, of course). The town now has a rest camp (a hotel) run by the air-corps. On the first trip, we had discovered this town, but had only stayed a few hours there. Ever since then, all the trips have gone there and stayed, as it is a good place for the men to spend their three days. Rank doesn't count there – it's a rest from everything – no saluting, uniform regulations are minimal, etc.
            Anyway, when we arrived, we found that the Air-corps hotel was full, so we moved into another hotel that the other trips have been using most of the time. It was a pretty nice place – really just apartments – clean, and with a nice view of the town, the mountains, and the water and even Italy. Walt Morduant and Stan Jobe were just leaving the place, as they had spent part of their 7-day leave up there. We went in and got settled and proceeded to have breakfast.
            We brought along our own rations and the people at the hotel fix them up for our meals and buy anything else that we want to eat. As a consequence, we managed to have 4 or 6 eggs apiece for each breakfast and had some pretty good meals. Among other things, we had some good fresh boiled vegetables (cauliflower, broccoli, etc.) and French fried potatoes. Also, one night we had some very good lobster. We had brought our own bread, butter, bacon, canned fruit, macaroni, fruit juices, coffee, tea and some C-ration. So, you see, we ate well – in fact, very, very well.
                                                                                         Loads of love,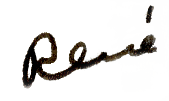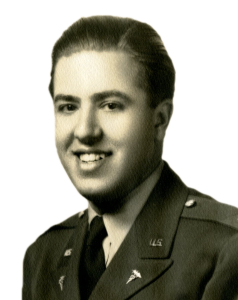 .
Watch for more of this letter
April 7, 1944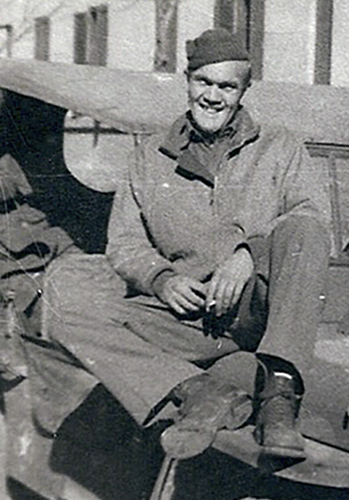 John "Dutch" Boven was the designated driver on this trip to the eastern shore of Sicily.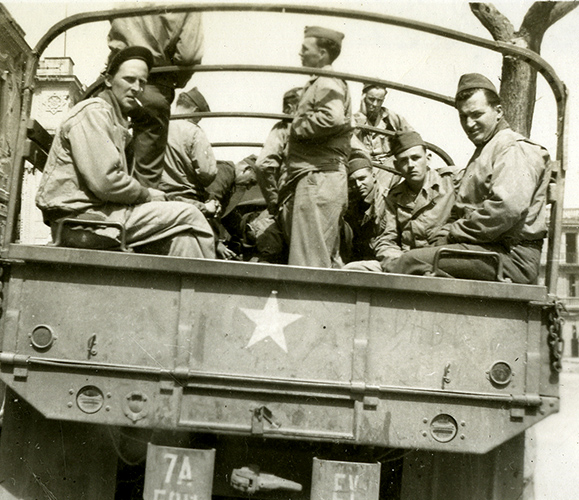 Left to right: Al Coleman (sitting) Ray Johnston (standing) Howerston (sitting at top of frame), Bill Murdock, Glenn Farrell, Eddie Accomando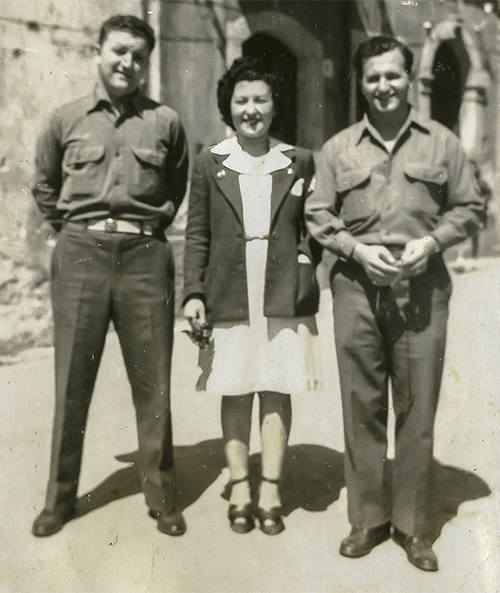 In Taormino: John Fedorchak (left) and Eddie Accomando (right) with Eddie's "gal-friend" in the middle.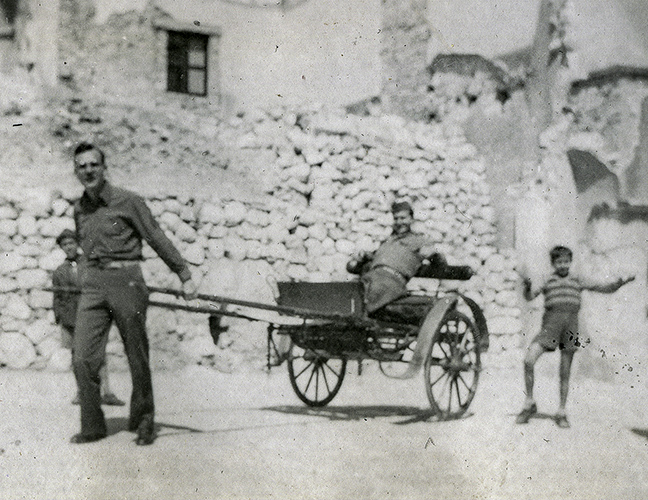 In Taormino: Bob Jones pulling Eddie Accomando.

April 7, 1944
Continuation of No. 15

Dear Folksies,          
          This seems to be turning into a continued story and I do not seem to be able to get it done in one sitting. This week, you see, has been one of more activity than most of the previous ones. To continue with the "rest-camp" trip: Tho' Taormina is rather small and there is only one main street, we managed to do quite a bit of walking, keeping going a good part of the afternoon.
             There are several so-called "tea-rooms" in which there are local gals more than willing, in fact anxious, to dance with the soldiers. There also are small "shooting-galleries" where they shoot darts at targets – and the boys made the rounds of all of these. That nite, while most of the fellows went back to the small places that were "tea-rooms" in the day times and "cabarets" at night, three of the boys and myself went down to the big hotel that the Air-Corps runs. There they were having a dance at which a bunch of the local girls, with their parents, were present.
            Spainhower and I arrived there first and then Arduino and Ray Johnstone came a bit later. Spainy and I were both a bit tired from lack of sleep the night before and walking almost all afternoon, that we just sat and watched everyone else dance, listened to the music and in general enjoyed ourselves without any exertion. Ray and Bill had a good time, dancing, however, and were exhausted at the end of the evening.
            The next day, after a good breakfast, a bunch of us decided to climb the mountain above the town. We figured on doing that and then if we were not too tired we would again go through the Greek Amphitheater. The mountain looked pretty high and we weren't too sure of getting up there and back in time for lunch, but the mountain and our own speed amazed even us. One of the boys who had made the climb on a previous trip told us that it took him 3 hours to get to the top. But, as we found out later, he and the group he had gone with had been led by a local guide, who, at the end of the climb had wanted $5.00 for taking them there. Well, we were our own guides, went almost straight up the mountain – there was a path – and arrived at the very tip in 20 minutes. It was a nice clear day and we had a perfect view for miles and miles around, including a view of Italy. After staying at the top for a while we scooted downhill and Spainy and I almost broke our necks a few times, for we both had our boots on and tho' I had rubber heels (Spainy didn't) the slippery rocks that made up the paths were almost too much for us, and we found ourselves with our feet attempting to go considerably faster than the rest of our bodies intended to do.
            That afternoon we took the truck and a bunch of us went down to the beach. There we hired some rowboats and visited the so called "Blue-Grottoes," which are caves that have a great deal of coral in them. The water in these caves is as beautiful a blue color as you could ever want to see, and as the water rises and falls in the cave, the coral on the sides of the rock becomes apparent. It makes a beautiful sight to see the coral suddenly become visible out of the water and then be covered again by the water as more rushes into the cave. I'd never before seen how coral was formed but there was certainly plenty there to be seen.
           That night I went with the multitude to one of the cabarets and we sat around listening to the music, watching the dancing, etc. Some of the boys had just enough sherry brandy to make them feel hilarious — not badly so, but just funnily so, and they were really cutting capers. Tom Voicheski was one of these. He started dancing with a little kid who was about seven years old, and it was truly a comical site. This kid could really dance well. She knew all the tunes and kept singing the whole time. Tom is rather tall, and his back was almost broken by the time he got done, leaning bent over as he was, dancing with the kid. However, every so often he would straighten up and swing the kid around so that others on the floor had to beware of swinging heels. And a couple of times he put the kid on one of the tables and danced with her thusly. With her on a table she was just about the right height for him. The whole thing reminded me of Dad's dancing with Jeanie at Tahoe, years ago.
              We had had trouble with the truck on the trip up — the transfer case slipping out of high transfer into neutral. We could have gotten back here O.K. without having the truck fixed, but when it slipped out a few times on the descent of the hill going to the beach, we decided that not only should we probably get the bloomin' thing fixed, but it was an excellent excuse for staying an extra day — four days instead of the allotted three. So, we did some phoning and found that we could get the truck fixed the next day at one of the cities that was about 35 miles away.
            Anyway, the next morning, Dutch Boven and I took off with the truck and took it to the city. They told us it would take a full day to be fixed, so we phoned in here and told Bishop that we would be a day late, and that was that. Boven and I then hitch-hiked back up where the gang was, getting a ride with a small British vehicle convoy. Unfortunately for us, the British decided to eat their lunch just about two miles short of our destination — i.e. two miles short of the bottom of the hill on which was perched our little town and hotel. Boven and I commenced to walk, thinking that another vehicle would come along and give us a lift the rest of the way, but by the time we came to a trail that led straight up the mountain to the town, there was no sign of a likely vehicle, so we decided to make the precipitous climb. Just then it started to rain, so that by the time we reached the town we were not sure whether we were more drenched from the outside-in or the inside-out. It was a moot question, and we were too tired to argue it. At any rate, the rest of the boys appreciated what Boven and I had gone through just so that they could have an extra day of gaiety.
             The next day, we made it back home — arriving a couple of hours after supper-time. Most of us took a prolonged hot shower and then stayed up for midnight-mess, and thence to bed. All of the boys were most profuse in their thanks to me for a good time.
                                                                                         Loads of love,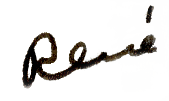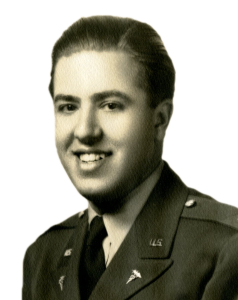 .
Watch for more of this letter
April 8, 1944

View of Mt. Etna from Taormina.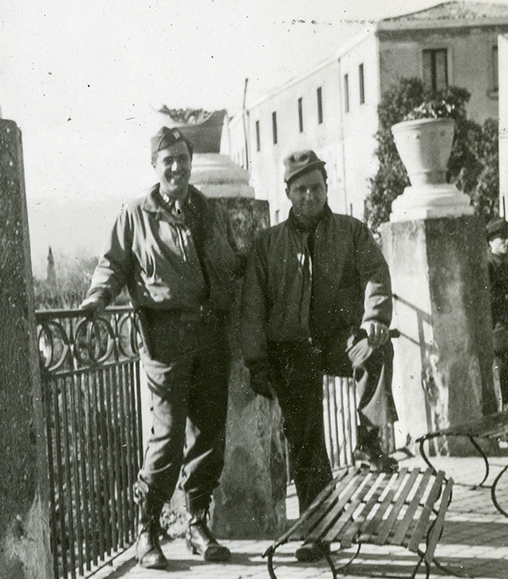 René and Eddie Accomando on the main street in Taormina.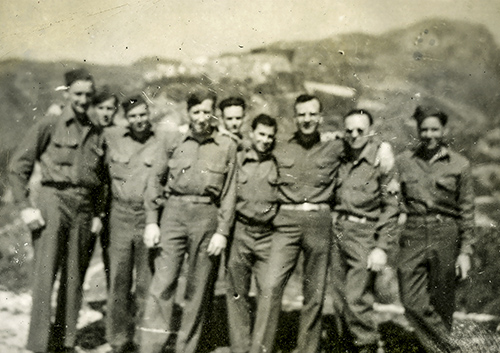 The gang that made it to the mountain peak above Taormina.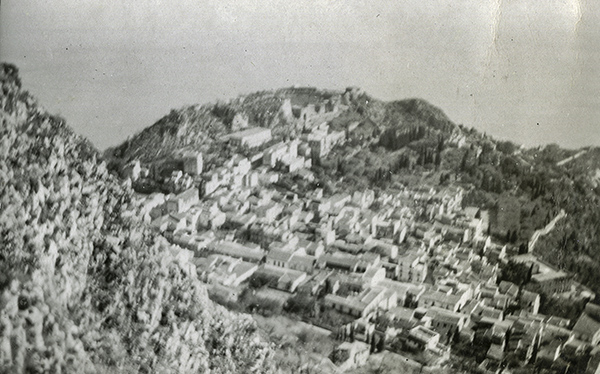 View of Taormina from the peak!

John "Dutch" Boven head and shoulders above the rest in a boat near the "Blue Grottoes" off the shore of Taormina.

April 8, 1944
Continuation of No. 15

Dear Folksies,  
            Surprise!! Last night I attended Passover Services. There were services in one of the local churches and then a Seder dinner conducted at the Red Cross. Went with Liz Liss and Martha Morris and two non-Jewish officers who just went because they were interested.
            The services at the church were disappointing as far as I was concerned. It was an orthodox service (despite the fact that Rabbi Stone is a real reformer). Well, maybe it wasn't really truly orthodox, but anyway it was something that I wasn't used to and was totally strange. The place was crowded, considerably more so than Rabbi Stone had expected in his wildest dreams: soldiers, sailors, a few marines, and quite a group of civilians.
            He had expected around 300 at the Seder dinner and got about 500, so he had his troubles when it came to that. As a matter of fact, our group was so nice as to let most of the rest of the mob get into the dining room before we got into line, that we soon found that there just wasn't any more room in the dining room for anybody. However, it so happened that one of the officers with us had, that morning, examined all the food-handlers that were to handle the food that night. So, by a little back-door work on his part, and a little speaking of German (the "chef" spoke no English and the officer no Italian, but both spoke German), we soon found ourselves in a room quite separated from the main dining room — and, at least, we were able to partake of some of the food.
             It seems that there was really just about enough food but not enough places for people to sit. Some of those who were at the tail end of the line, I am told, had to be satisfied, however, with hard-boiled eggs and a few trimmings. The important thing to most of us was that all the civilians, for the most part Jugoslav refugees, were among those that were in the main dining room and got plenty of food and were able to partake in Seder services for the first time in several years. One of the officers in our small group of 15 performed part of the usual ceremony, but as we didn't have the correct book, we all came to the conclusion that our services were not only just "reform," but actually "revolutionary." At least the spirit of Passover was there and everyone enjoyed his or herself.
            One reason why there was such a mob at the Passover was that some outfits even flew their men in from other parts of the island, and naturally Rabbi Stone had not accounted for that. Also, the Navy supplied quite a bunch.
                                                                                         Loads of love,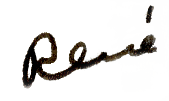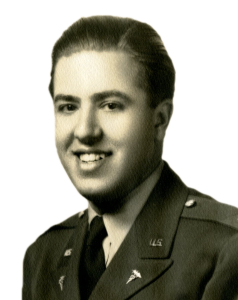 .
Watch for the end of this letter
April 9, 1944

René went to Passover Services with Liz Liss (above) and Martha Morris (below) and two non-Jewish officers "who just went because they were interested."

After the service they enjoyed the Seder dinner conducted at the Red Cross.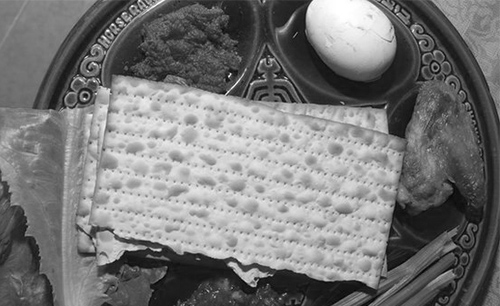 April 9, 1944
End of No. 15

Dear Folksies,  
            Last night we had a big party in celebration — or really in mourning — for our beginning our third year as a unit. The committee that arranged the party did an excellent job, but the credit has to go mostly to Wally Greene. It was his cleverness that put it over.
            Schmitty, Stratte and Joseph had arranged for the meal and they, too, did a fine job. Menu: vegetable soup; lobster (with white wine); risotto (rice al la Italiano; baby lamb; small potatoes; peas (with red wine); artichoke; vanilla ice-cream with chocolate sauce (from the Navy); a Napoleon cake; champagne; coffee. There is only one difficulty with a meal like that — and that is that we don't have the same thing every day. The party was at one of the local hotels downtown and they did a nice job of serving us, of cooking, etc.
           Wally started off saying, "Two years ago did you use such phrases as 'Sweat it out' or 'Blow it out'? Did you know the meaning of 'Nervous in the Service'? 'Did you know what it meant to "hurry up and wait'? Well, neither did 40 upright, young, and not too bright suckers, who after being had by chain-store haberdashers and sold a lot of uniforms and equipment, finally arrived in various stages of military dress and undress at Fort Lewis, Washington."
           He continued, "There were many things to be learned, not the least of which were which hand to use for saluting or buttoning one's trousers, which side to dress on, how to have a bowel movement by the numbers, while at the same time polishing brass with one hand and shaving with the other, or where to hide a blonde during Saturday morning inspections."
          "746 salutes and 1050 miles later found the Fighting 59th at Fort Ord, California. There after an intensive training period of hot dogs, beer and bathing beauties at the Del Monte Hotel, we became identified as an amphibious force – probably because we were all wet to start with."
          At one intermission Wally ribbed Frank Gerbode and Bob Escamilla by allowing them to unveil their portraits that they had had made for posterity – to be hung in U.C. and Stanford halls. The portraits, of course, strangely enough, resembled Hirohito and Hitler with faint resemblance to Frank and Bob. You see, these two felt that they should have something of the sort for posterity to remember their great selves, and as a consequence they had actually had portraits made of themselves for $30 each.
            There was a presentation of three medals. To Bret Smart for his constant bitching, "The Royal Order of the Bitch" – a fancy ribbon with the large head of a female bull-dog hanging from the ribbon. To Gus Stola, the "Order of the Purple Fart". To Jack Dunlap, for his outstanding inactivity, the "Order of the Dragging Ass"— ribbon with appropriate donkey hanging from it.
            Wally spoke a little about the last celebration, thanked the meal committee for the excellent meal at this celebration, and anticipated having our celebration in '45 in Vienna, in '46 in Burma, in '47 in Tokyo and in '48 anticipating going back through the Golden Gate to take the United States back from the Democrats.
            Escamilla banged away on the base-fiddle some of the time. Yes, we had a 4-piece orchestra playing on and off throughout the evening – a drummer, a clarinet, an accordion and a base fiddler. Bob, of course, played in his usual inimitable style.
            Wally reviewed the history of the 59th from the time it began in Ft. Lewis up to the present date, and at various points in the history he asked different men to make short dissertations on the particular subject to which he referred. Those that did not dissertate adequately to the satisfaction of all, had to suffer the consequences and draw a slip of paper out of a hat and then do just what that slip of paper told them to do.
            In memory of Ft. Lewis, Bill Reilly was asked to drill Klein & Cressman in the manual of arms and in some close-order drill. He was booed down and had to dance 2 minutes of the Conga by himself. His Conga turned out to be more of a jig – but he was anyway awarded the reward for his efforts – one slug of Cherry Brandy.
            Wally then spoke of the trek across the U.S. and of the difficulty we had in trying to allot at least one percent of our time to activity at camp, for 99% was taken up in the more important activities in New York City.
            Next, Sewell Brown had to drill Mattie in calisthenics. This was a farce – 'twas reminiscent of Pickett when Mattie would get us up at 6 A.M. – when it was still so black out that we couldn't even see Mattie when he was out in front of us trying to drill us. All remembered one particular morning when Sewell, who had been giving Mattie a bad time for many a morning, with side-wise-cracks and ridiculing, was told by Mattie to get out and give the calisthenics himself, which he did – and did a great job of imitating Mattie in every little detail. At the party, Sewell again, therefore, had a chance to drill Mattie, but of course, Mattie clowned throughout the whole thing.
            Then came the crowded trip from Pickett back to Kilmer and Russell was to dissertate on the difficulties of using the latrines on those trains.
            Then, on the trip by boat – Armanini was razzed for the name that he acquired on that trip: "Torpedo" Armanini. He was somewhat more fearful than the rest of us of seeing one of those "flying fish," and, of course, took a big ribbing on the trip.
            Carlson who was quite a bargainer with the Arabs before he left us to become a "truck driver", was asked to show or tell how he managed always to pay the most for the least whenever he bought things from the natives.
            Schmitty was asked then to tell about an incident that I had never heard of before – an incident that occurred on the motor convoy through Africa when the whole gang was moving. It seems that at one of the stops, Schmitty induced Armanini to visit the latrine with him as 'twas rather dark and the latrine was some little distance from where the boys had their sleeping bags, the trucks, etc. So, while sitting there, having no library to fall back on, Schmitty was talking about revolvers and pulled out a '38 and began to tell George what a really safe revolver that gun was, for, he said, when you load it you leave one chamber empty and then you have to pull the trigger twice before it will shoot. And as he said it, he proceeded to pull the trigger once – discharging a bullet and causing poor Armanini to almost leave his perch sans pants. It surprised Schmitty just as much as it did George – luckily he did have it pointed in the air. So that was the "safe '38".
            Last, but far from least, was the skit put on by Bill Drew and Phil Westdahl – as doctor and patient respectively – showing the trials and tribulations of getting a history on a V.D. patient. 'Tis really a job – you can imagine most of the things that might be said. In the skit, they ribbed Carlson for some of the patients he had sent in, and then, at the end, when the patient was showing his "discharge", Phil had a rubber ear syringe filled with cream that he squired in Drew's face – finale!!!
            All during the evening our end of the table was continually singing — going from one tune to the other – the band usually kept up with us rather than vice-versa. With Brown, Cressman, Blasdel, Drew, Westdahl and Stola, we all managed to be rather hoarse at the end of the festivities.
            In the end, we all sang along to "Where do we Go From Here!"
Where do we go from here, Boys,
Where do we go from here?
No matter where the fighting is
The 59th is near.
We're reconciled to circs and piles [circumcisions and hermorrhoids]
and working on the rear,
O Boy, O Joy, where do we go from here?
Where do we go from here, Boys,
Where do we go from here?
All around the universe, old Ration C is near.
For Spam and beans and powdered eggs we'll
Give a lusty cheer (Bronx cheer).
O Boy, O Joy, where do we go from here?
Where do we go from here, Boys,
Where do we go from here?
To Southern France, or Bucharest?
Consult your local seer–
Or would you rather step out on the San Francisco pier?
O Boy, O Joy, where do we go from here?
                                                                                         Loads of love,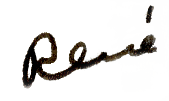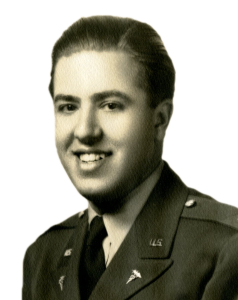 .
Watch for my next letter
April 14, 1944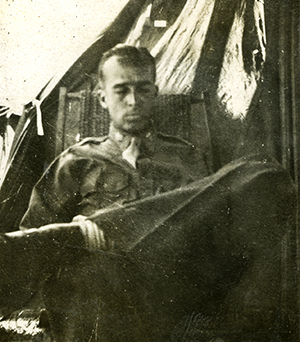 Wally Greene was the host of the party as René put it, "in celebration – or really in mourning – for our beginning our third year as a unit."

For a full transcript of the festivities, click HERE.

April 14, 1944
Un-numbered

Dear Folksies,
          Our Officers Club and Bar is still a popular hangout and Pete Joseph keeps the varied liquor supply always plentifully on hand. Besides the usual local drinks of cognac, vermouth, brandy, etc. we even go in for such funny things as Planter's Punch, Crème de Menthe frappe, Tom & Jerries and even the other afternoon some rather potent Mint Juleps. They always have eggs on hand also and with the little electric plate, we frequently fry ourselves a couple of eggs on toast before turning in to bed.
          Another thing we've had that I don't ever remember having seen, or at least not so plentifully, and that is "blood oranges". They are far better tasting than the regular oranges and their juice is a tomato-red color and, too, has a better taste than juice from ordinary oranges – and certainly a far better taste than canned orange juice.
           Our diet, too, has changed somewhat as the months go by. The quartermaster has begun to buy more and more of the local products, such as fresh vegetables, and our dinner table has been graced on several occasions with very good lettuces! Yes, we had some while we were in Africa – but really only once when the Navy came over with one hold full of nice Salinas lettuce. Not that this lettuce here isn't good, for it is, and is a most welcome change from all the G.I. canned stuff that we get day in and day out. Somehow the boys are not too imaginative in the preparation of those things and they get to be rather monotonous. Eggs range from 8 to 11 cents apiece and as a consequence we do not have them at meals, except on occasions when officers and nurses chip in to give us fried eggs for breakfast. Of course, at the Club we pay for each one we eat – but then there is something about having them for breakfast that is different, and the Club is not open in the A.M.
                                                                                         Loads of love,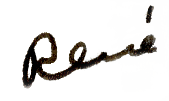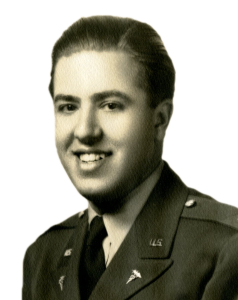 .
Watch for my next letter
April 18, 1944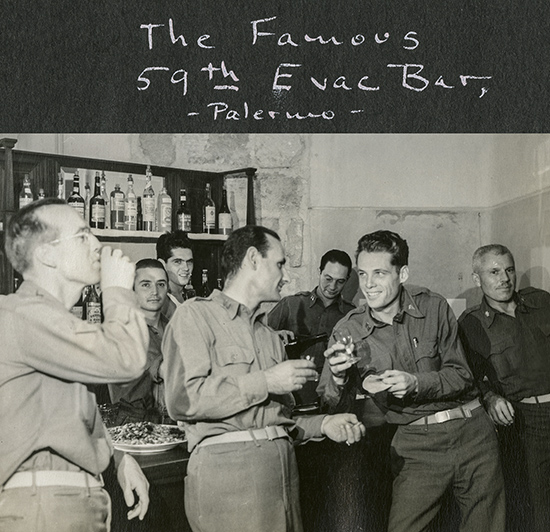 (Left to right) Russell Klein, Rudolpho and another bartender, Gus Stola, Pete Joseph, Eddie Welles and Elmer Chappell (Chappie).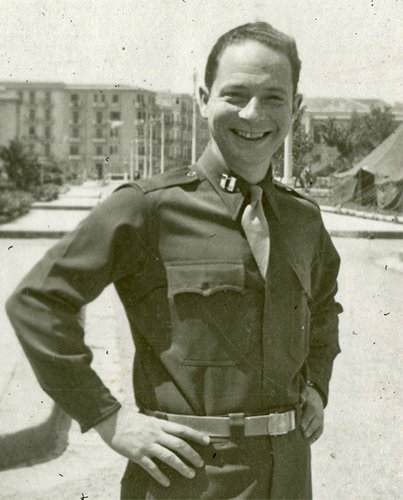 Pete Joseph keeps the varied liquor supply always plentifully on hand at the Officers Club and Bar.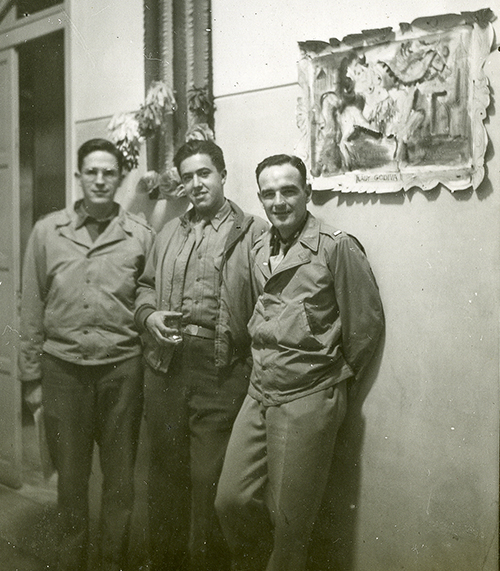 René (center) with Marv Hodgson (left)  and Cy Kiernan (right) at the Officers' Club
April 18, 1944
No. 16

Dear Folksies,
            Things are really beginning to be "Springy" around here now — the blossoms are coming out, the flowers are beginning to bloom "tra-la, tra-la," and some of the men have even taken up Victory Garden planting. One of the boys, the fellow who runs our showers, has set up a nice little garden plot in which he has planted radishes, onions, and I don't know what else. He planted the radishes one day and it wasn't more than a few days before he found them coming out of the earth at a great rate. Really Jack & the Beanstalk style.
              The sun-bathing is now going along in full tilt and officers, nurses and men are showing up with reddened faces and arms these mornings after having been exposed to the sun the afternoon before. We have a pretty nice set-up for sun-bathing right here on the top of the roofs. Patients go up on the roof of their respective buildings and the men also find their way on the same roofs. The nurses have a section just above their quarters and we, likewise, have a secluded section above ours. The walls around the roofs serve a double purpose, keeping the wind away from us and also acting sort of as The Walls of Jericho — separating the officers and nurses sections so that various stages of undress can be permitted on either side.
            A couple of the more foolhardy have gone to the beach and have come back with stories that they "did swim," but most of us have our doubts for, though the air was warm enough, the water still has that next-to-freezing appearance. But, I guess it really won't be more than a couple of weeks before all will be trotting to the beach in the afternoon and swimming in the Blue Tyrrhenian once again.
            Oh, yes, while I'm thinking of swimming. Will you send me a new pair of swimming trunks, preferably blue, but not really particular, size 38.
            Chuck Schwartz recently returned to us after a short period of detached service as medical officer for an outfit that was short one, and while away he learned the art of parachute jumping. Not out of necessity, but just because it was a thrill to him. He actually did make one jump from 900 ft., landing without a scratch. He was really all pepped up when he came back after that. He also had some rides in gliders and that was quite an experience too.
            Had some good English beer the other day. My ex-London-cabby friend, referred to as "Spooky" doesn't drink it, and since they get a ration, he offered his to Daib and myself. It really tasted mighty good.
            During this last week I was attending the Malaria School Lab course and it was really excellent. It was given by Capt. Connell, the ex-Dartmouth Parisitologist and he is most interesting. He also gave us some dope on intestinal parasites, amebae, etc. which was also very good.
                                                                                         Loads of love,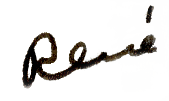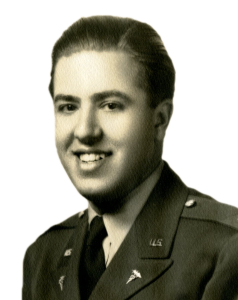 .
Watch for my next letter
April 22, 1944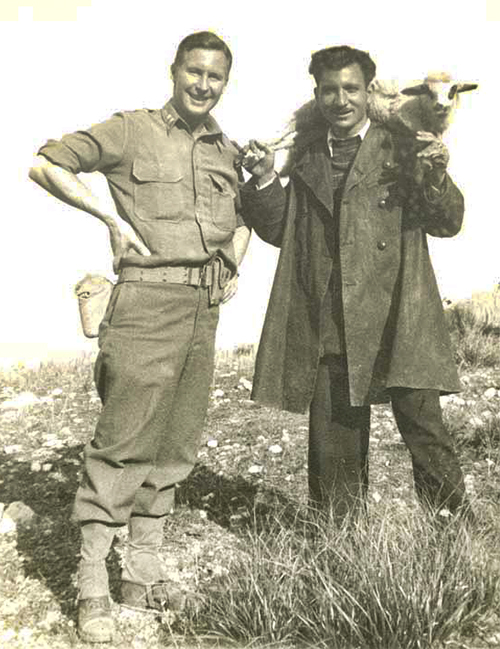 René tells his parents that Chuck Schwartz recently returned to the unit after a short period of detached service.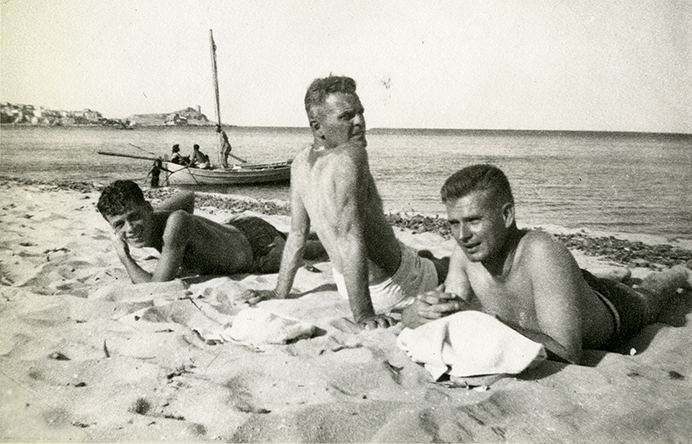 "The sun-bathing is now going along in full tilt," René tells his parents. Pictured left to right above are sunbathers Eddie Welles, Mattie (Carleton Mathewson) and Bret Smart