April 27, 1944
No. 19

Dear Folksies,
            It's really a wonderful feeling to be absolutely up-to-date with letter writing for the first time, I think, since being overseas. I don't owe a bloomin' person a thing right now – or at least I won't after I answer Henriette and Spiro's sweet letter that arrived yesterday.
            Pat Barry's friend Bill Vinney popped in most unexpectedly the other night. He's the guy we spent a good deal of time with in Africa when he was there – parties with Hal, Fran, Pat, Vinney, etc. I think I told you of the one when the six of us went to a place where they tried to charge us some $57 for supper for the 6 of us. They wanted $34 for the two bottles of champagne we had gotten. Well, we ended up paying them about $20 for the whole caboodle ('twas a steak dinner). Vinney was in my class at Stanford and is a swell guy. He has been home on rotation already and came back this way because he is such a fluent linguist, particularly French!
          Night before last saw another good movie – Claudette Colbert in "No Time For Love." And last night I saw another pretty good one, Bette Davis in "Old Acquaintances". Other than that, nothing new. Sitting around doing nothing most of the time. Walking to the PX for rations, walking around town for exercise, etc.
          Dad, It sounds like the Greenberg party was a repeat of the old Roman affairs. You poor boy, having to eat all that crab! What a meal! Which reminds me, we have had excellent chicken twice in the last week – one would almost think we are being fattened up for the kill.
           Did I ever tell you that it was Jack Dunlap's brother who won the Nobel Prize for engineering this last year! [George Wesley Dunlap won the Nobel Prize in 1942.] He's an ex-Stanford grad, a PhD in Electrical Engineering and won the Ryan Scholarship two years in a row down there.
         Nutting else to write. So, finis.
                                                                                         Loads of love,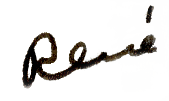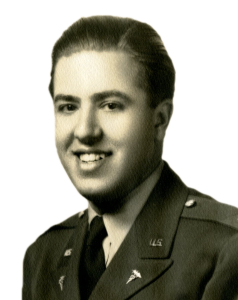 .