April 6, 1944
No. 15

Dear Folksies,          
            Well, here it is our Second Anniversary – just two years since the 59th was activated!! Day after tomorrow there is to be the big celebration. The recently appointed Majors are giving a cocktail party late this afternoon, however. The reason the big party is to be on Saturday is because Saturday is naturally a better day for such things and also 'tis a better day for those who intend to join us to do so if they can. That is, George Wood and Phil Johnson, who planned to fly here as to be in on the celebration.
            I got the package you sent, Mom, with all the deviled ham and pate, for which oodles and oodles of thanks. Thank Sal also for me, as I noted that some of the cans had her name on them. Looks like there is enough deviled ham to last through several minor feasts.
            Now to tell you some about the recent trip around the Island that I took with a second bunch of enlisted men. This time I had only 3 of the same bunch that I took the first time: crazy Eddie Accomando, the mess sgt; Sgt. Jones of Receiving; Sgt. Sparks of the Dispensary. The other fellows were S/Sgt John Fedorchak; T/S Howerston from Surgery; T/4 Glenn Farrell, T/4 Merrin Spainhower ("Spainy") both from surgery also; T/5 Al Coleman, T/5 Carl Santelle ("Red") from surgical wards; T/5 Ray Johnson from lab; T/5 Tom Voicheski who runs Isolation, Bill Arduino, Bill Murdock and Ross Willis; and "Dutch" as driver. It was a good bunch and all got alone fine together. In many respects it was a better bunch to be with than the first bunch, though on the other hand, you can't beat fellows like Querhammer, Maidens, Wy and Weisty that were with me on the first one.
            Left here after eating midnight mess and, of course, everybody but the driver tried to sleep. I was plenty tired and tried to curl up in the front seat of the truck, but the truck we had was smaller in front than most of them, and as a consequence it was rather crowded for sleeping purposes. I dozed a bit and that was about all.
            The boys in the back got car-sick strangely enough – probably because the top was over the whole truck and the weather was rather nice, so that it was warm in back. And then, too, the road was dusty and the dust kept getting sucked into the back of the truck, so that when we stopped for gas I was shocked to see that the boys had their faces completely covered with a dark brown dust. They really looked funny.
            We made pretty good time and got to the small town [Taormina] at which we were going to stay shortly after breakfast time (tho' we hadn't had breakfast, of course). The town now has a rest camp (a hotel) run by the air-corps. On the first trip, we had discovered this town, but had only stayed a few hours there. Ever since then, all the trips have gone there and stayed, as it is a good place for the men to spend their three days. Rank doesn't count there – it's a rest from everything – no saluting, uniform regulations are minimal, etc.
            Anyway, when we arrived, we found that the Air-corps hotel was full, so we moved into another hotel that the other trips have been using most of the time. It was a pretty nice place – really just apartments – clean, and with a nice view of the town, the mountains, and the water and even Italy. Walt Morduant and Stan Jobe were just leaving the place, as they had spent part of their 7-day leave up there. We went in and got settled and proceeded to have breakfast.
            We brought along our own rations and the people at the hotel fix them up for our meals and buy anything else that we want to eat. As a consequence, we managed to have 4 or 6 eggs apiece for each breakfast and had some pretty good meals. Among other things, we had some good fresh boiled vegetables (cauliflower, broccoli, etc.) and French fried potatoes. Also, one night we had some very good lobster. We had brought our own bread, butter, bacon, canned fruit, macaroni, fruit juices, coffee, tea and some C-ration. So, you see, we ate well – in fact, very, very well.
                                                                                         Loads of love,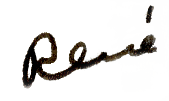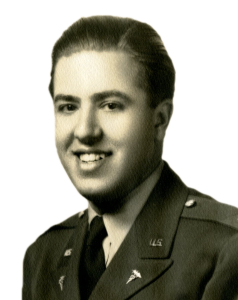 .