October 2, 1943
No 58 & 59
Palermo, Sicily
Dear Folksies,

            About 12 days ago, Gil Bishop came in to eight of us and said that the Colonel wanted us in his office at 6 P.M. for a meeting. We all wondered what it could be about. Gil told us what we already knew, that many officers and men were being pulled out of such outfits as ours to fill in vacancies in more forward positions. He told us that the Colonel had had a request to fill a couple of such vacancies from our gang and consequently we were all to get together and decide amongst ourselves, by drawing lots or any other means, who would go. Naturally, some of us got pretty much het up about it, and by the time we all met in the Colonel's office, there was considerable sweat pouring off of most, and it wasn't so terribly hot that day, either.
            After we were all seated the Colonel said, "Well you know that men are needed for Aid Stations, and I want to know who will volunteer to go." There wasn't a sound from any of us. Bill Newsom happened to be missing from the meeting as he was giving an anesthetic at the time, and when Eddie Welles finally came out with, "We're not all here, Colonel," everybody howled. Then the Colonel got a funny grin on his face and said, "Well that isn't really what I called you in here about. I wanted to congratulate you all on your promotions."
            We were all so dumbfounded at the trick that had been played on us that we couldn't utter a word for a full minute, while the Colonel and Collie and Bishop laughed at us. We all knew that the promotions were due to come through, but with the build-up for the meeting that Bishop gave us, all thought of the possibility that it might be the promotions was knocked out of our heads. The whole thing was Bish's idea and it certainly was the best practical joke that had been pulled in this outfit. We fixed him, however, for, as he is still a 1st Lt. we had him saluting us every time he saw us for days.
            The extra money I get amounts to a few cents short of the amount necessary to get a $50 bond every month, so that is what I have done. So, now I am getting a $50 bond monthly in my name with Mom as beneficiary – the bond to be held in Washington and the receipt to be sent to Mom – deducted from my pay.
Loads of love,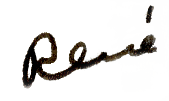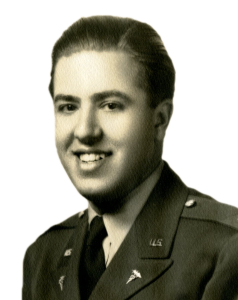 .
Watch for my next letter on
October 6, 1943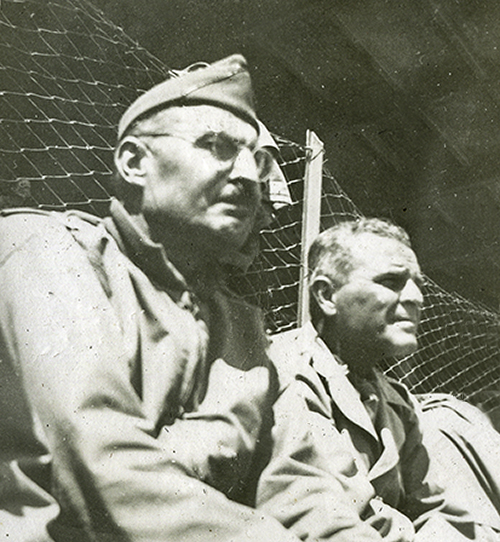 Colonel Oral B. Bolibaugh – shown here on the left, watching a baseball game in Palermo with Mattie (Carleton Mathewson).

October 6, 1943
No 60
Palermo, Sicily
Dear Folksies,

            Despite the fact that things are going on as usual, rather full blast, 'tis rather quiet at the moment so here are a few minutes to chat with you. Lois is again working nights and sleeping days. As a consequence, haven't done anything exciting in the last couple of weeks. The one day I had off and Lois was only going to sleep in the morning, ka-fooey, it had to go and pour. So, naturally all hope of going anywhere was given up. However, on Friday, if the weather permits, we will at least go around the town again. There has been a PX established there, but as yet neither one of us has had a chance to get done there.
            A funny thing happened the other day. Fran found some pictures of San Francisco in a magazine and decided she would post them up on the wall in the Dispensary. There was a picture of Market Street, one of Geary Street, one of the beach, and one of the Golden Gate Bridge taken from the Lands End Road. The latter made me homesick and I wondered if it was such a good thing for morale.
           However, that same day, we had two Flight Surgeons come in and when they saw the pictures they both said (and this at different times during that day), "Well, who's from San Francisco, here?" When we said that the negative of that question would be easier to answer, they were both very surprised. It turned out that they had both interned at Southern Pacific with Bill Newsom. It was funny enough when that happened with the first one in the morning, but when it again occurred later that afternoon when the second fellow showed up, we decided that we should put up a big sign outside our gates saying, "San Francisco Chamber of Commerce inside!" Think Mayor Rossi will authorize that?
            We really had quite a time the other day, for just as we were eating breakfast, it started to pour and to blow and as we looked out the windows what did we see but one small tent and three large ones go up and down with the wind. The poor patients who were in the tents, convalescent patients, got sort of drenched, but otherwise were none the worse for the falling of the tents. It was quite a sight and the whole storm was over in a relatively few minutes.
            We are beginning to wonder whether it is going to be so nice to be in these fine buildings when winter comes. There are radiators in the buildings, but whether or not they are going to be usable is another question. Time will tell.
            George Davis is trying to get transferred to the Military Government here and it looks as if he is going to be successful and someone will be assigned from some other outfit to take his job. Will be sorry to see him go after working with him for the last ten months. He's certainly been loads of fun and has done a lot for us – transportation, etc.
Loads of love,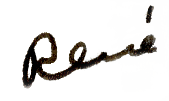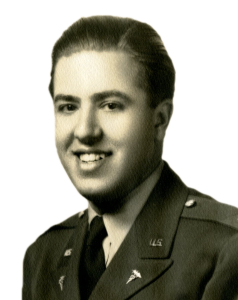 .
Watch for my next letter on
October 10, 1943

René tells his parents pictures that Fran Trembley posted up on the wall in the Dispensary – of the Golden Gate Bridge and San Francisco's Market Street  – made him homesick.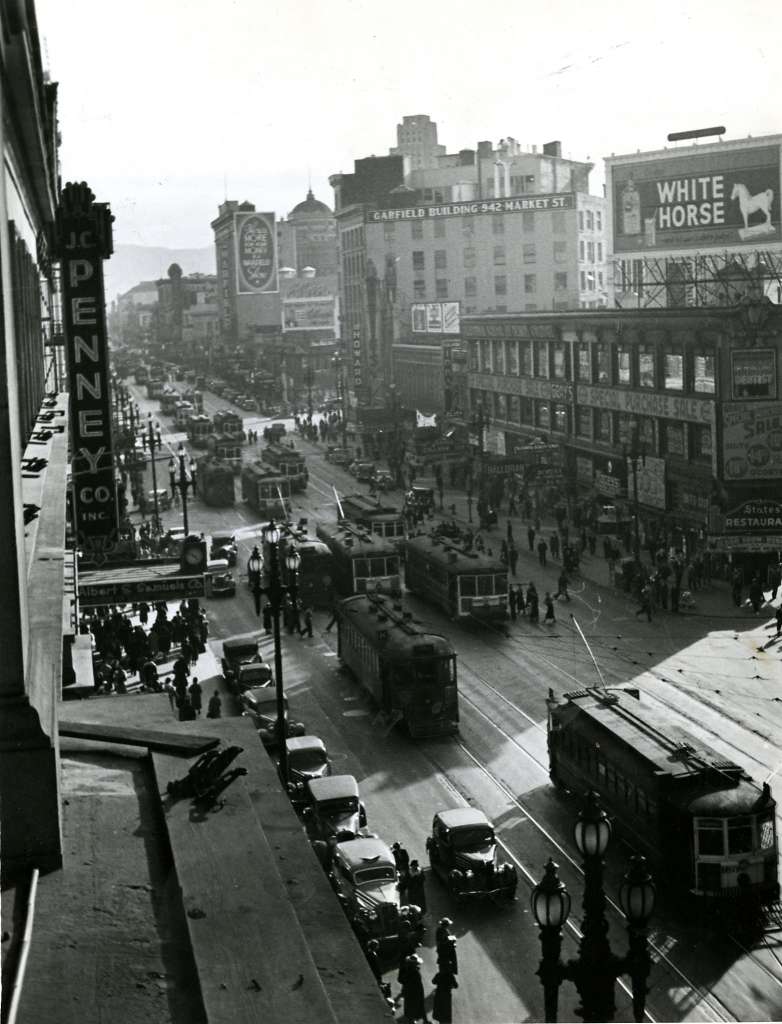 October 10, 1943
No 61
Palermo, Sicily
Dear Folksies,

          Last night Bob Treadwell, Fran and I were invited to dinner by some Yugoslav officers for whom we have done some things. Lois was working anyway, but not knowing how great were their facilities, we three went alone without Lois and Hal. It was a most interesting evening. They are well educated men, having been educated in both Paris and either Oxford or Cambridge. A British Captain was there for dinner also and he was likewise most interesting. One of the men spoke only Yugoslav and French, so I was able to give my French an airing and amazingly enough I think I did darn well!
          Strangely enough, also, one of the men was an ex-violinist who had heard both Mischa and Toscha at different times, but surprisingly enough, not Yehudi. They are all, including the British officer, coming out here Wednesday night to visit us.
          A couple of nights ago when we returned from a jaunt downtown, Lois walks into the dining room and almost falls over when she sees a friend of hers from St. Francis Hospital. This gal is with a General Hospital considerably back, but they, the lucky bums, get leaves varying from 8 to 14 days, and this gal got a plane ride to Sicily and dropped in on us. They had quite a time with "Old Home Night", but unfortunately with Lois working nights, she did not get too much of an opportunity to be with her.
          I wish I could write down all the funny things that happen around here from day to day, but somehow, when it comes to writing them down, my mind does not remember all the things we laughed at during the days. However, I had a prize today. Yesterday a horse wandered into our area and then proceeded to lie down and die before anybody noticed him. Then, the problem of getting rid of him came up, and, as usual we were given the run-around from all the various offices — somebody said to bury him here on our grounds (obviously nuts); somebody else said to call the food ration dump; then the Civil Affairs bunch said they would find out and then proceeded to do nothing as far as we can gather. We were all for taking him down to the headquarters building and dumping him on their steps, but I think that the boys got conservative finally, and took the poor horse out to some last-resting-place.
          Lois' goofy ward-boys had her going round and round last night. She made herself a cheese sandwich and then the boys came around and each in turn, while the others weren't in the room with her, told her that the piece of cheese had been lifted by one of them off the floor because the cock-roaches on it were getting too sick from eating it. She didn't know whether to believe them or not.
Loads of love,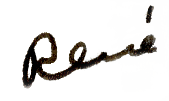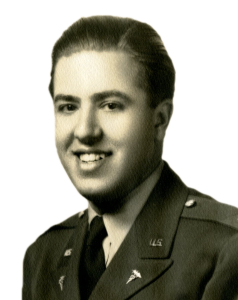 .
Watch for my next letter on
October 15, 1943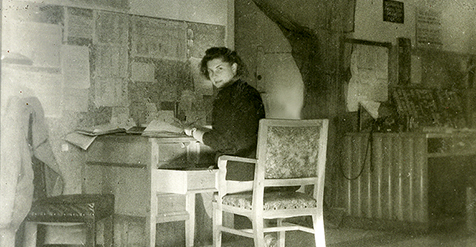 A nurse that Lois knew from St. Francis Hospital in San Francisco is visiting Sicily, but, René tells his parents that "unfortunately with Lois working nights, she did not get too much of an opportunity to be with her [friend]." The photo above shows Lois working the night shift.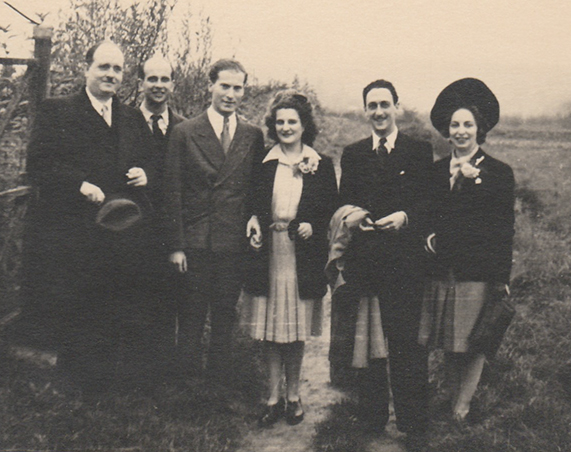 Unbeknownst to René or his parents, his beloved French cousin, Yvette Baumann married Jean-Guy Bernard on October 8. In this photo, taken on their wedding day, Jean-Guy and Yvette are the couple in the middle of the group of six, one of whom was the mayor of the town who performed the ceremony. Yvette and Jean-Guy were both important members of Combat – one of the Resistance groups working in France to defeat the Germans.

October 15, 1943
No 62
Palermo, Sicily
Dear Folksies,

            Yesterday we had quite a nice experience. We had little joy ride around the island — a plane ride that took us to such places as Sciacca, Agrigento, Castelvetrano, and a couple of other places. We were taken to lunch at Agrigento by the pilot who, it turned out, is a fellow from Westwood by the name of Engle. He was in U.C. at the same time as Lois, being a junior when she was a freshman. He was awfully nice to us and we had quite an enjoyable time on the whole trip. Left late in the morning and returned late in the afternoon.
            It was a transport plane and we even took one of the motor-pool drivers along with us. Unfortunately, it was pretty cloudy and even rained part of the time so we three camera fiends were sort of foiled. Agrigento is one of the towns that has numerous ancient ruins, but we only managed to see them from a distance due to lack of time.
            Mattie's birthday was yesterday and old Ehrbacher the Baker baked a swell cake for him. We only had large candles, so he stuck a big one in the center and Mattie successfully blew it out, and then told me that if his wish came true we would spend Christmas in Rome. Hope the wish does come true.
Loads of love,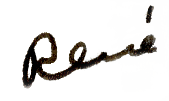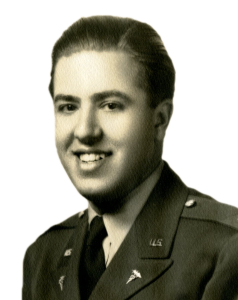 .
Watch for my next letter on
October 16, 1943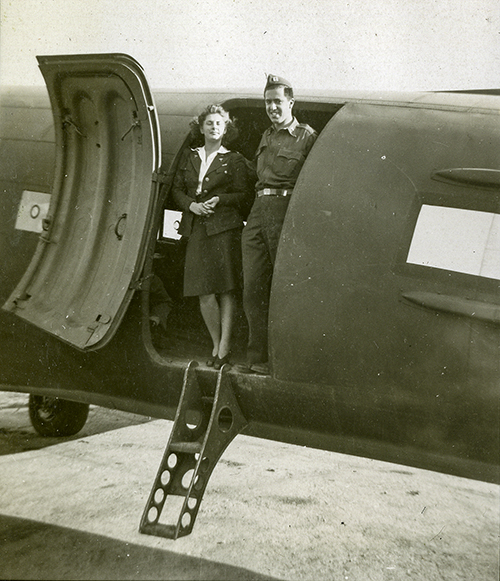 René and Lois had what René described as "little joy ride around the island – a plane ride that took us to such places as Sciacca, Agrigento, Castelevetrano…"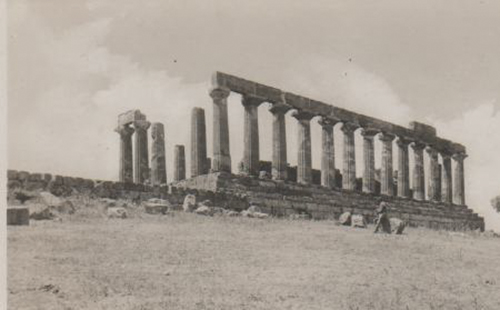 The pilot of the plane took Lois and René to lunch at Agrigento where they saw the famous Greek temple ruins from a distance.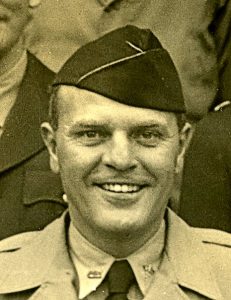 René and Lois got back in time to celebrate Mattie's birthday.

October 16, 1943
Palermo, Sicily
Dear Gram,
            We are still working steadily, running quite a big joint all the time, but at least we have all the conveniences we could really wish for. In fact, one day someone got the idea that it would be better if the patients on the second floor of one building didn't have to be carried by litter down stairs, outside, and then up stairs again to get into surgery. So, what happens but the Engineers come out and pretty soon we have a bridge running across from one building to another. 'Tis all enclosed and really mighty fancy. Wonder what the Sicilians all think about the changes we have initiated in what used to be their hospital.
            Some of our buildings were rather badly shaken by bombs and shell fire several months ago, so new leaks are constantly showing up when the downpours come along. As a consequence we have to move patients out of one ward into another every so often when their wards begin to get flooded. Now, however, I think we have practically all the leaks stopped so we are looking forward to a dry winter, at least dry inside.
            It really is a relief to have cool days now. We have had more than our fill of roasting hot weather in the last several months. It's really a pleasure to be able to wear an undershirt again, strange as it might seem. Probably, however, before the winter months are finished, we will be saying the same thing about the cold weather. But truly, cool weather is so much more conducive to work than is hot weather. You can always put on more clothes, but propriety prevents the reverse. Aren't people funny?
Loads of love,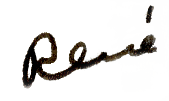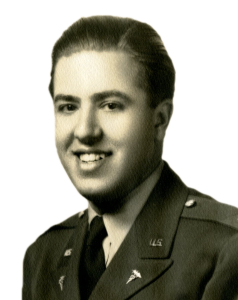 .
Watch for my next letter on
October 20, 1943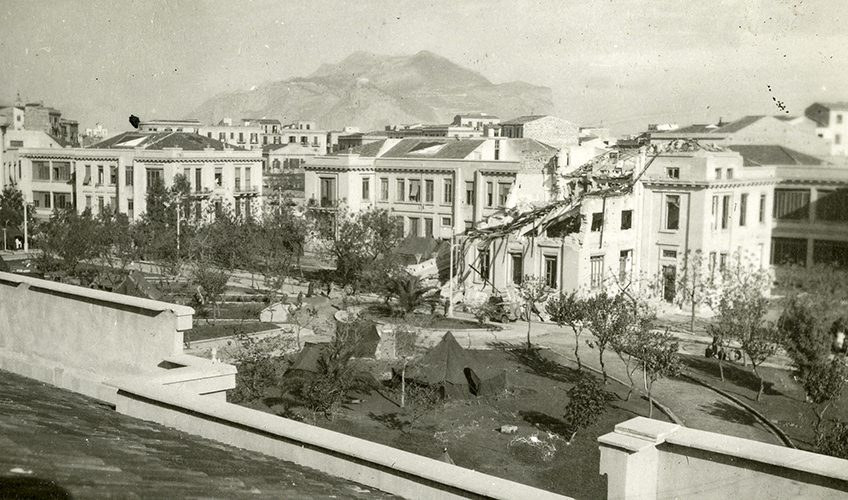 René tells his grandmother about how things are going at the hospital where he works.

October 20, 1943
No 63
Palermo, Sicily
Dear Folksies,

            We are now having ice-cream twice a week. It's made out of powdered milk and eggs, but it has been swell. They started us off with vanilla ice-cream with chocolate sauce and there was plenty for all. That is, all except Lois. She sneaked back in the kitchen after everyone had gone and had another huge, heaping, plate full, and then would have kept on going if the boys hadn't insisted that they had to save some for the Colonel, as he hadn't been in to dinner. Yep, by golly, she can out-eat me when it comes to ice cream — can you imagine that? Last night we had peach ice-cream, which also was good but not as good as the vanilla and chocolate sauce. The boys make up the stuff and then it is frozen for us downtown at the cold-storage plant.
            George finally managed to get the baker, Ehrbacher, satisfied! He finagled an oven and a dough mixer and Ehrbacher is really going to town with the buns, pastries, etc. He fixed up a swell batch of apple pies. He makes swell hot buns and then comes out with some fancy thing for his own little gang every so often. Of course, if we keep our ears open and know when something like that is cooking, we are always included in "his gang."
            The other night Lois and I went with Liz and her Major Cohn (no relation of Roy's) who is a medical officer for some engineers, to a concert. Yes, a real concert. It was sponsored by the Red Cross at the local theater and it was pretty good. There was a whole symphony orchestra with sopranos, tenors, etc. They sang things from Traviata and some operas, etc. There was quite a mob there.
Loads of love,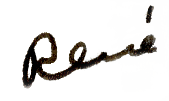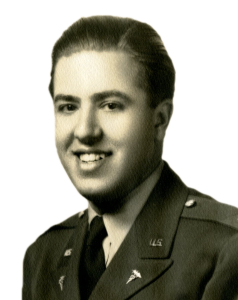 .
Watch for my next letter on
October 27, 1943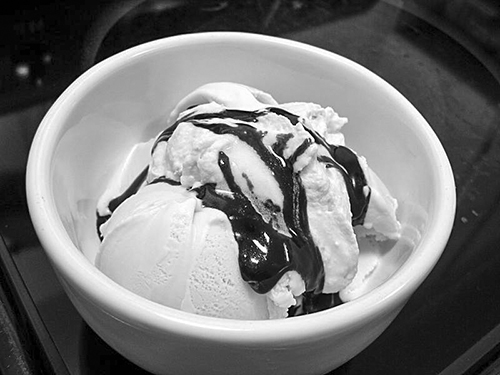 Big news from René: "We are now having ice-cream twice a week." Made with powdered milk and eggs, René's favorite seems to be vanilla with chocolate sauce.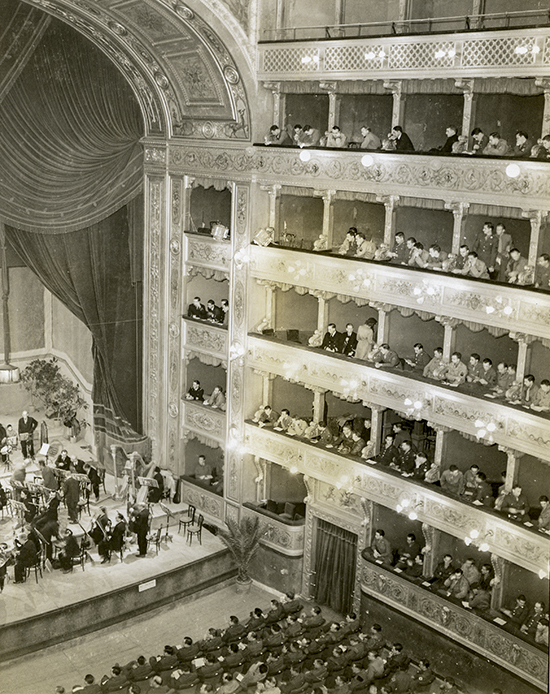 René and Lois went with another couple to a concert at the local theater. Might have been this one.

October 27, 1943
Continuation of No 63
Palermo, Sicily
Dear Folksies,

            Have a new innovation in the hospital now. Have instituted a broadcasting system so that now the place almost sounds like the San Francisco Hospital with its system of calling "Doctor so and so," but instead it is now "Captain so and so, or Major, etc." During the day they also use the broadcaster for entertainment for the patients. They play records and the radio and it blares forth through the loudspeakers all over the area. We don't really have enough loudspeakers and it doesn't work too well, but it is certainly lots better than not having the system at all.
            The boys had to get used to talking over the system, for it really sounded funny when they started in. Their words just ran together and sounded as if they had more than a hot-potato in their mouths. Now, however, they have improved and the main difficulties are differentiating such names as Bine and Klein, etc., but then we've always had that trouble.
            The other day we had another new food. 'Twas fresh fish! The Mess Dept. bought a big tuna somewhere and it was really good. The tuna weighed some 125 lbs and they made tuna steaks out of it. Strangely enough it tasted very much like roast beef, not rare, but medium-rare type. They plan on getting another one this week and this time they are going to roast it.
            We have two chaplains now, the second one joining us soon after we got here. He had been on the boat with us coming over here and everyone likes him and soon he was with us. He is living with Dunlap and myself and he is really a swell guy. He is a Protestant. He is such a contrast to Clark that it is amazing.
Loads of love,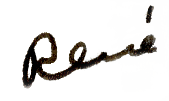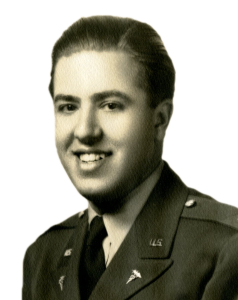 .
Watch for my next letter on
November 5, 1943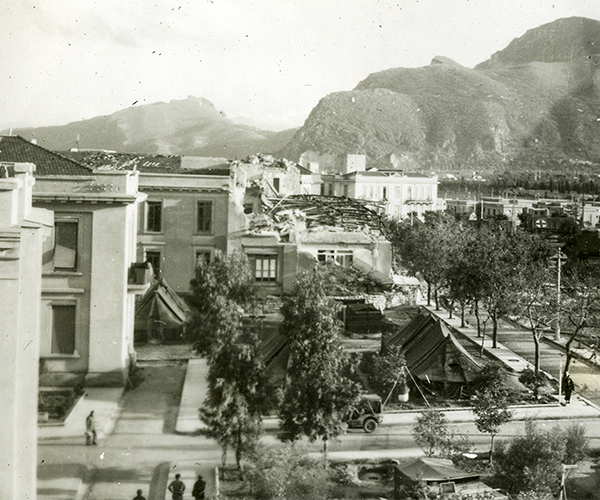 The hospital now has a broadcasting system for paging the doctors and for entertaining the patients with records and radio broadcasts.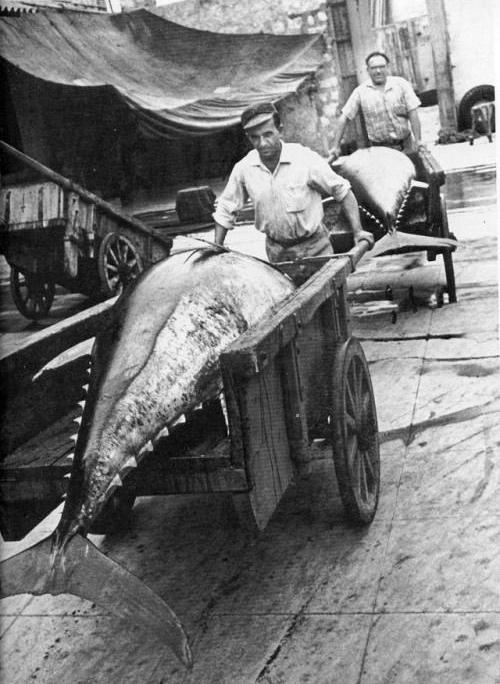 René reports that, "The Mess Dept. bought a big tuna somewhere and it was really good."