June 2, 1943
No. 39

Dear Folksies,
          Monday night we played some bridge with George Armanini and Bert Halter, and then with George and Bill Kuzell. Suffice it to say that our hands were fierce and we were most royally skunked. It wasn't the playing, tho' Bert pulled a nice one by bidding and making a grand-slam – i.e. he bid it but made George play it. Anyway, despite the glaring defeat, we had lots of fun.
          Yesterday was really a funny day. Lois had the whole day off, so we went downtown at 10A.M. As we got into the truck to go down, I asked her if she had her ration-card and wallet. "Sure," says she. Well, we get down to the PX and she opens her purse – and, yes, no wallet! Luckily we bumped into one of the truck drivers soon and told him to get Fran to get the wallet and send it down with the 1:30 P.M. regular driver.
          Sooo, we wandered around town and picked up a few things, which you can expect in the near future, and then went to lunch at one of the restaurants in town. There we bumped into Del and her boy-friend and had an enjoyable time, tho' not such a good lunch.
          After that the driver arrived with Lois' wallet, we got our rations at the PX and then sent the stuff out with the driver, so we wouldn't have to pack it around.
          Later, after buying a couple more things – Lois got a purse to match her new dress and uniform to come – again we bumped into one of our drivers and sent those things home. Then we went to try and get a ration-card so that Lois could buy some brown shoes – at a French store, as they have none in the PX – and went through the old rig-amarole that I used to go through when first here – trying to buy stuff for the hospital. A lot of red tape, but we finally got the O.K.
          Then, being pretty tired we went to the Officers' Club and relaxed. We were going to take the 6:30P.M. truck home, but we met Pat Barry and Bill Vinney (the latter a Stanford classmate of mine) and soon we found we had missed that truck. Then we were going to catch the 8:30 P.M. truck, but Fran and Hal Williams showed up so we missed that truck also. Finally around 9:15 P.M. we all decided that whereas we hadn't planned to eat, we might as well go get dinner. What a time to go eat!!! Anyway, we went out in Vinney's car and had a super dinner of lobster and steak, both of which were excellent. Finally home at midnight.
                                                                                                                                                  Loads of love,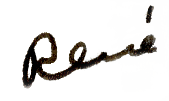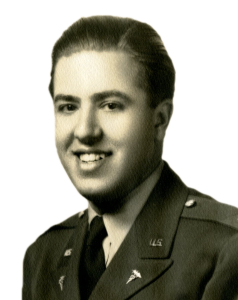 .
Watch for my next letter on
June 3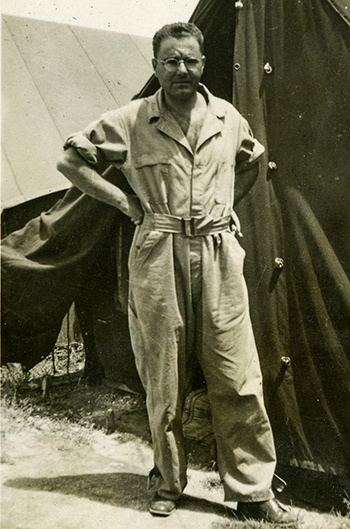 George Arminini, MD – one of the bridge players on Monday night.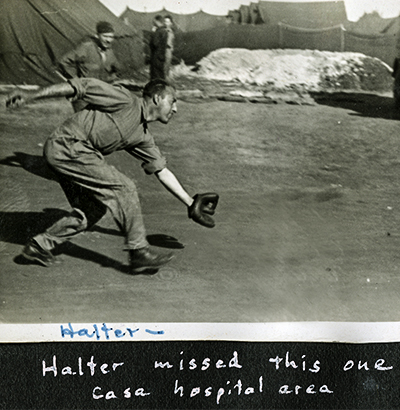 In addition to bridge, Bert Halter, MD, plays baseball.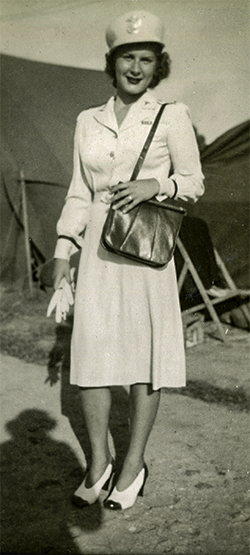 Lois bought a purse to match her new uniform.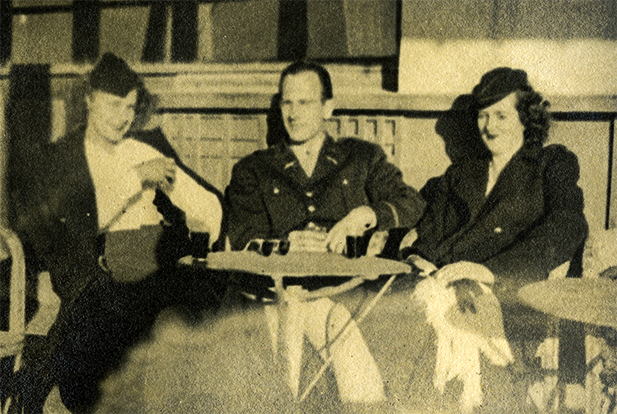 Lois with Bill Vinney, who was in the Class of 1937 with René at Stanford, and nurse Pat Barry.

June 3, 1943
No. 40

Dear Folksies,    
          Yesterday afternoon we just sat round and talked, as I had to stick around and Lois was off duty. For the last two days she has not been working in the ward, as she is one of the few with good printing, and consequently Miss Diffley has her making out new ward-books, drawing lines, printing, etc.
           Last night we had a show out in our area, "Yankee Doodle Dandy," and, as you had predicted, we enjoyed it immensely. Throughout the whole thing I was thinking of you, Dad, and realizing just how much you must have enjoyed the various parts in it — I could just visualize you there seeing it. Then there were a few parts where I was forcibly reminded of Uncle Dave and his imitations of George M. Cohan. As a matter of fact, in a few spots all I had to do was close my eyes and I thought that Dave was actually doing the singing that I heard. I never really realized how good Dave's imitation of Cohan was until last night. Golly, I could see that movie over a couple of times.
           Some of the boys are ill in the hospital at the moment, also some of the gals. Among them are Eddie Welles, Serge Bryner, Sid Shapiro, Phil Westdahl, Ag Alkire, etc. Most seem to have what the nurse you had in Mt. Zion Hosp. at several times, had (poor grammar here, sorry!) You know what I mean, I hope.
                                                                                                                                                  Loads of love,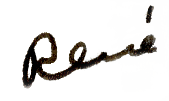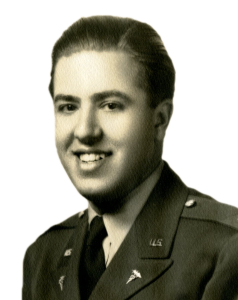 .
Watch for my next letter on
June 9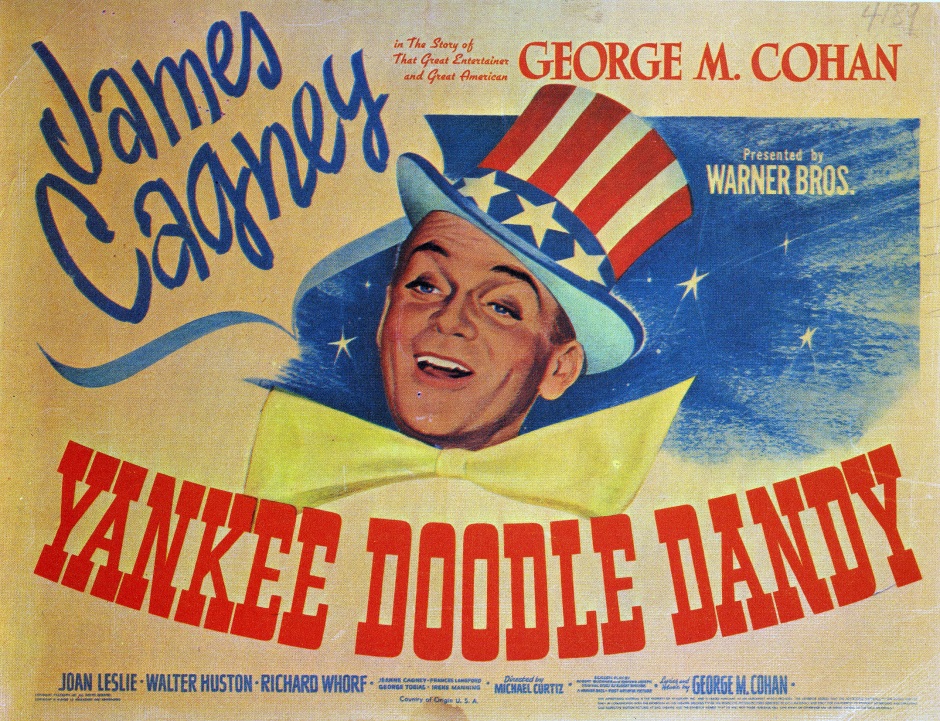 René enjoyed the movie "Yankee Doodle Dandy" with George M. Cohan. It reminded him of his Uncle Dave (below) who evidently did a really good imitation of Cohan.

Philip Westdahl, MD (above, in front of his tent) and Ag Alkire (below, standing behind Gert Brazil), as well as Eddie Welles, Serge Bryner and Sid Shapiro, are all ill in the hospital.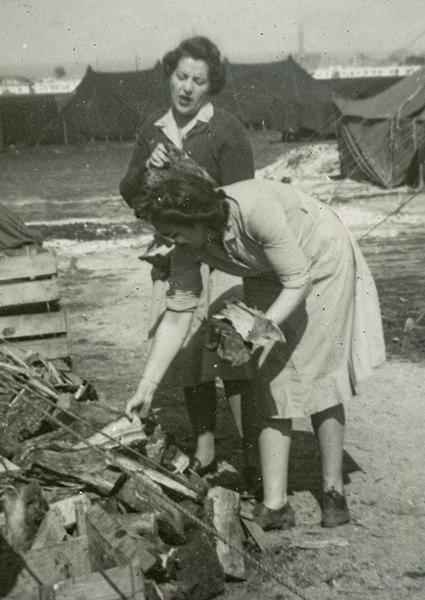 June 9, 1943
No. 41

Dear Folksies,    
            Last Saturday we went on another shopping spree and Lois couldn't resist a really beautiful hassock, so we decided to give it to each other for our birthdays. It is being sent to you, Mom, for safe-keeping (maroon and gold) along with a green one for your back room.

            In another package there are two silver plates, one to be kept safely by you and the other by the Berkeley contingent of the family. Something else in the same box for you, Mom, also for Gram and the Wildbergs. We had quite a spree as you see, but 'twas fun, and 'tis all for now. Hope the next souvenirs that we sent to you will be able to come from Paris or Berlin.
            On the 6th we went swimming again and the water was swell – clean for a change and exceptionally calm – no good waves to ride however.
            Then on the 7th, as I was writing to you, I was interrupted by George who wanted me to go golfing with him. So, we left here at 5 P.M. and were playing by 5:45 P.M, each with an Arab caddy. The club house is very nice and is run by an English pro, who also gives lessons. The course has fairways similar to the 4th and 5th holes at Feather River, i.e. rather rough. The greens are made of sand packed real hard and covered with oil. This makes the greens very fast.
            There is a scarcity of balls and as a consequence we were playing with pretty badly cut up balls, so when we did get good shots they didn't go very far anyway. They have six sets of clubs for rent at the course and they are pretty good clubs, but I'm used to my nice limber driver and brassie and my pet spoon, so my drives were not too hot, especially at the start. George and I tied all the way around, both getting 51s on this par 37 nine.
            Some of the holes are pretty long, but there are a couple of nice short ones – at least I got par on one of the short babies. We played 13 holes in all and it really felt kind of good to have clubs in my hands again, but it sure seems funny fighting the war in Africa with golf clubs.
            Yesterday we went swimming again and again the water was swell. As Lois is only working half-days now, as are all the nurses, we probably will be going swimming again today and almost all afternoons for a while.
                                                                                                                                                  Loads of love,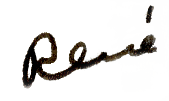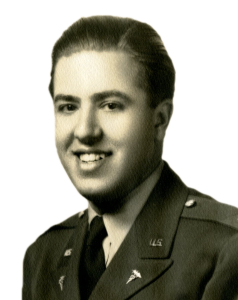 .
Watch for my next letter on
June 12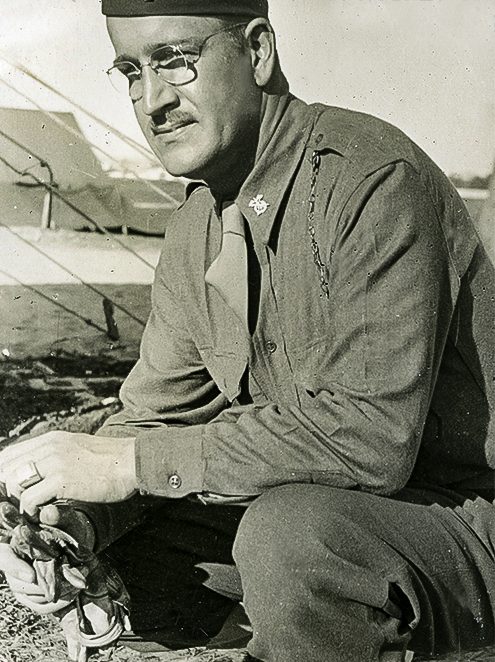 George Davis interrupted René's letter writing to go play 13 holes of golf.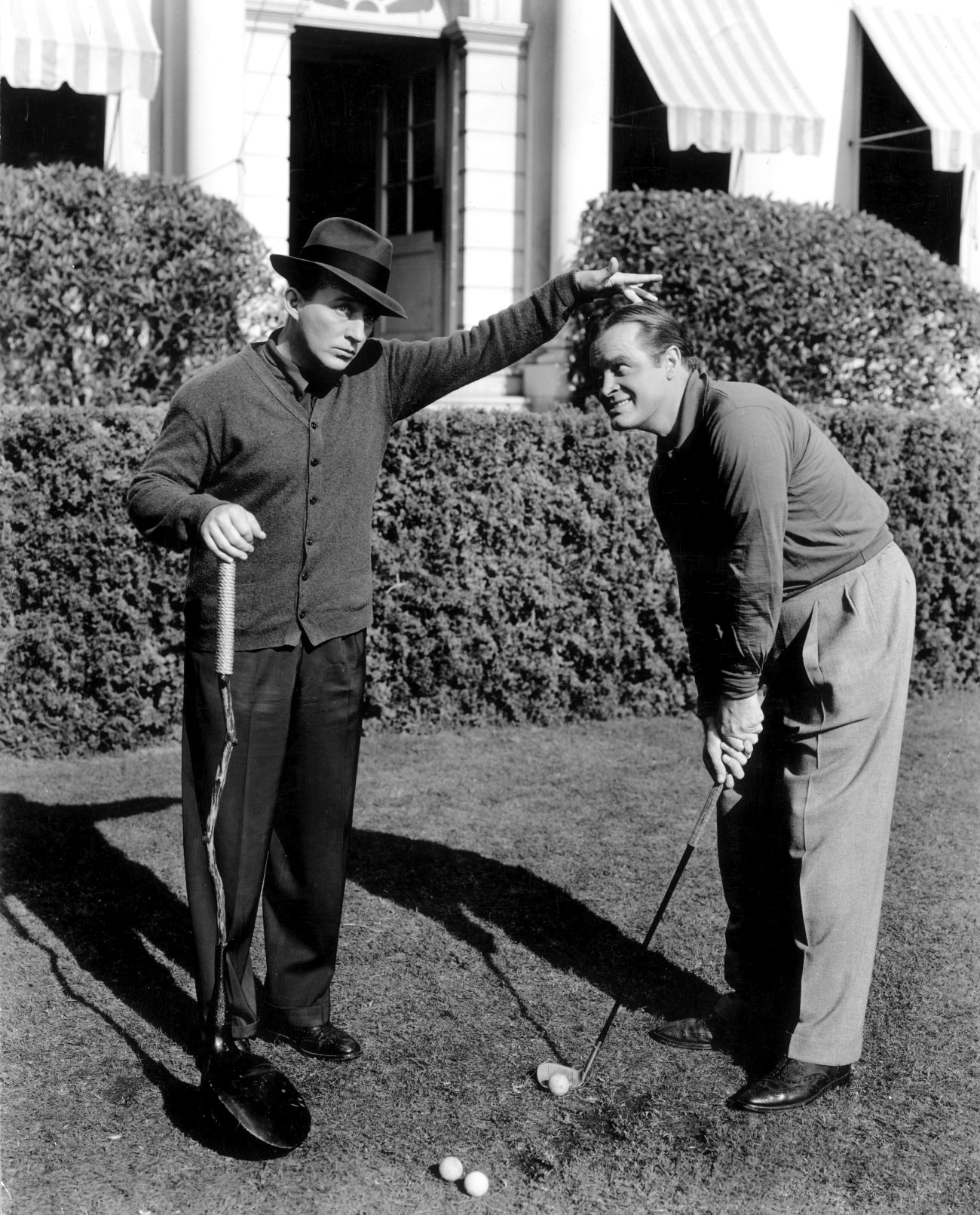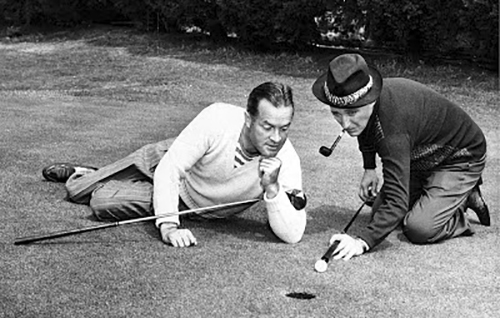 We don't have any photographs of George and René's golf game, but it sounds like they had as much fun as Bob Hope and Bing Crosby clowning around in these photos.

June 12, 1943
No. 42

Dear Folksies,    
            I've been able to pick up a fairly good pair of sun-glasses at our PX but they are small and do not cover one's eyes nearly as effectively as did our others. So, if you do find a good pair – wide ones – 'twill be appreciated.
            I hope you will have a swell time at Tahoe and a real good rest – all of you.
            Nothing much new in the last few days. Work at a minimum, except for in the department I was in when first here. Probably swimming today. Both fine.
                                                                                                                                                  Loads of love,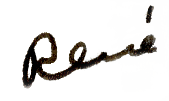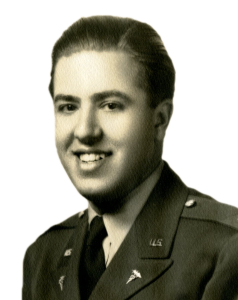 .
Watch for my next letter on
June 15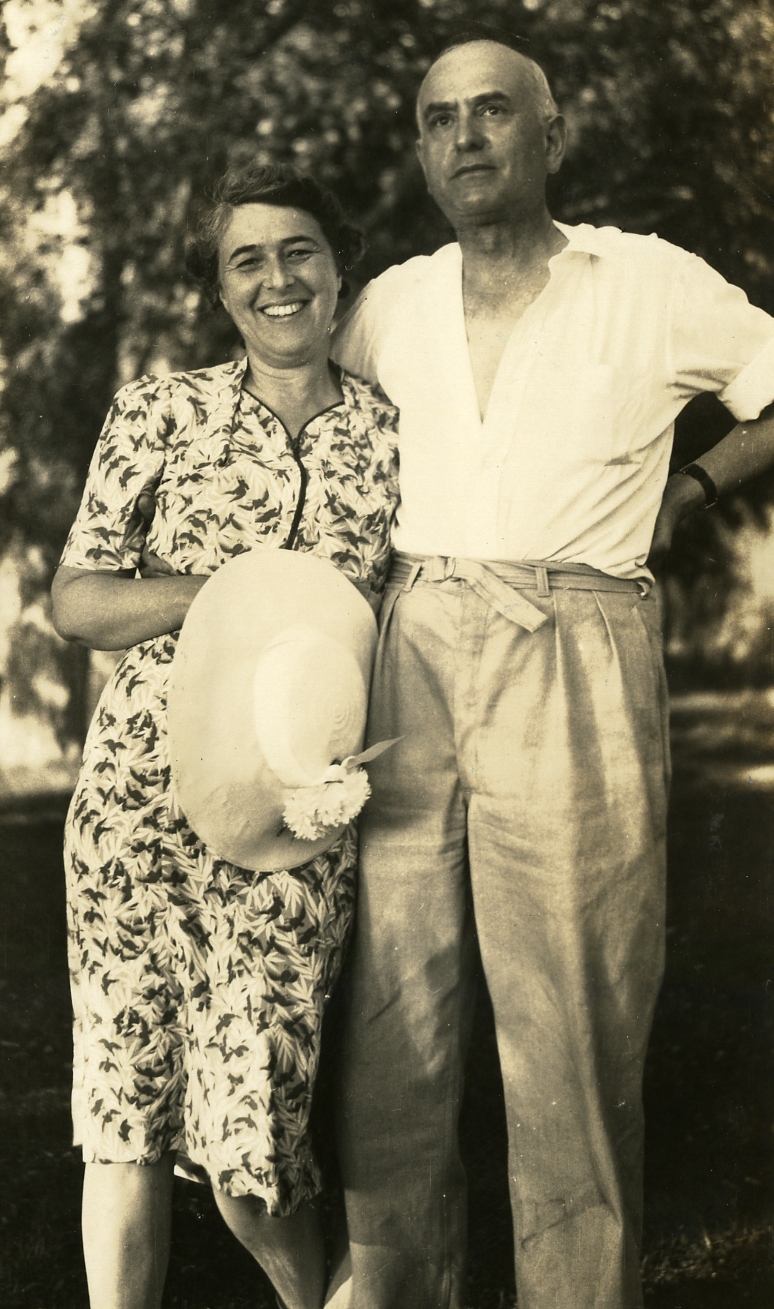 René wishes his parents a "swell time" at Lake Tahoe.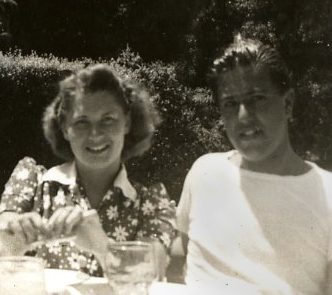 René reports that he and Lois are "both fine."

June 15, 1943
No. 43

Dear Folksies,    
         Right now, Lois and I are both in the Rec. Tent typing letters. She is, as usual, using my typer and I am using the Evac. Office typer. As you no doubt have noticed, I am having eee trouble. The 'e' on this typer persists in sticking and then if it does not stick it insists on huddling right up close to whatever letter follows. Bundling, after a fashion, eh? Well, of course, after being over here in Africa for six months, I guess it is sort of lonesome, so hope you will excuse it? Gee – I was going to say that from the looks of the last line perhaps I had fixed the mischievious 'e', but then, just to contradict me, on the 'e' of 'Gee', it stuck and had to be pried loose. Now, of course, I am afraid to say that I think it is going to be O.K. so you will just have to judge for yourself from here on.
            Dad, I'm not sure whether or not your daughter-in-law-to-be just insulted you or not. She said that the above paragraph sounded just like you!
            Oh, yes, I hasten to inform you that we both received cute little packages from you this evening, containing the precious film. We had both been out of film for some time and now it will come in most handy. At any of your opportunities, hope you keep the subject in mind and pick up film from time to time, so that you can have more to send us when this supply runs low. We hope to have a good collection to show you and our grand-children.
            Mom, your work at Children's Hospital sounds as if it might be a good education for you, tho' by now you ought to certainly know most of the diagnoses that you will bump into. Glad you are not undertaking to work in the wards, answering bells (lites) etc. 'Tis far better that you do not tempt fate by lowering your resistance and also unnecessarily exposing yourself to the little bugs that love to float around so freely.
            Mom, talking about bright sayings of children — Bert who is playing bridge next to us, just exclaimed, as the lights in the tent went out (changing over from one generator to the other): "Gosh, what a war this is, when the lights go out in the middle of a bridge game!"
            Saturday, the 12th, we went swimming in the afternoon and then when we were on the way home, Fran Trembley and Lois got the idea that we should eat at a new place which happens to be only two blocks from the beach where we swim. As it happens, George was up there playing golf with Liz Liss, so Rip Williams and I phoned him at the golf course to see if it was O.K. to have one of the drivers take the four of us up there to join George and Liz at dinner. It was, so after giving the gals ten minutes in which to dress, knowing they would take the 25 minutes that they did we hied ourselves off in the jeep back up the 16 miles.
            Lois celebrated by wearing her new beige dress and she really looked scrumptious despite the fact that she claimed we had not given her time to comb her hair. Anyway, when we got to the restaurant we found that they didn't want us to sit down as they were expecting some 17 people, for whom they had made reservations. However, we did sit with George and Liz and watched them eat their fish and steak and French-fries.
            They had been there for about half an hour longer than we had, so, of course, were served first and were given steaks. However, we were only given chicken. But from the looks of the small steaks, I was much happier with the chicken – for it was, without a doubt, the best chicken I had tasted since we arrived in Africa. It was wonderfully tender and reminded me very much of Solari's "Chicken Raphael Wiel."
            For dessert we had crepes-suzette after a fashion – anyway, very small thin pancakes with jam rolled up in them. Very tasty. Incidentally, the restaurant is run by the Army, but has a steward who is French and a couple of French waiters and this Arab bus-boy.
            Just as we finished the last morsel we thought we could stuff into our mouths the Sgt. who was in charge came over and engaged us in conversation, saying that next time we should come at about 7:30 P.M. and first come first served – for he was not going to reserve tables anymore. Why, we asked? Well, he told us that he had had 17 reservations and of that 17 only 7 showed up. He had refused to give us lobster because he had only had a few and had to save the lobsters for those who had reserved tables. As a consequence, he had several lobsters all cooked and ready to rot in the kitchen. Well – you can guess what comes next!!
            Yes, we told the Sgt. that we would be delighted to relieve him of the lobsters, but at the moment our gastric mucosa was somewhat overworked, but surely by the time we returned to camp the said mucosa would be in working order again and we could consume said lobsters with ease. For a nominal sum, he gladly parted with the lobsters and on our return to camp we heated some butter, melted it, and dipped the lobster into the butter. 'Twas delicious and surprisingly enough none of us had topsy-turvy stomachs the next day. We hope to repeat on the lobsters and possible steaks again in the near future.
                                                                                                                                                  Loads of love,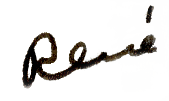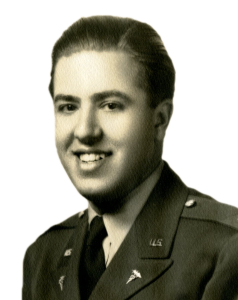 .
Watch for the rest of this letter
June 16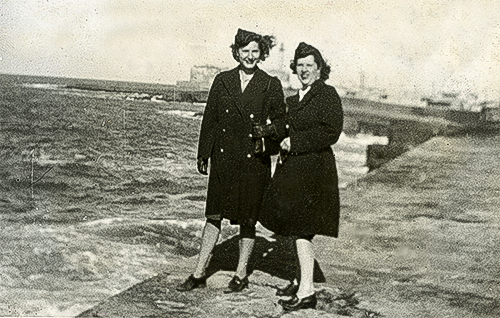 René writes that Lois and Fran Trembley "got the idea that we should eat at a new place which happens to be only two blocks from the beach where we swim."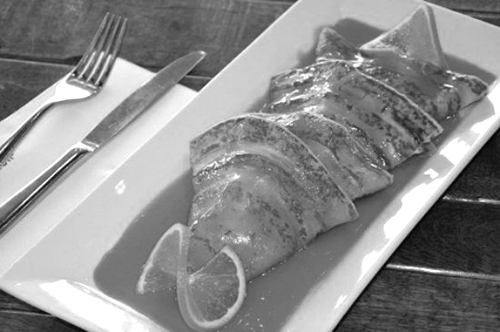 René, Lois, Fran, George Davis, Liz Liss and Rip Williams enjoyed Crêpes Suzette at the the new restaurant near the beach.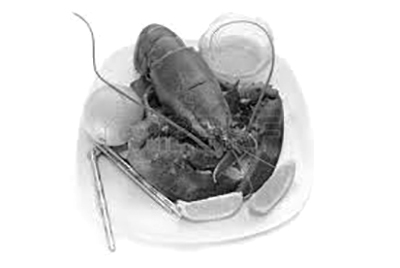 After finishing their meal at the restaurant, they bought several lobsters, which they enjoyed with melted butter back at the camp.

June 16, 1943
No. 43 (continued)

Dear Folksies,    
             Sunday we were kind of tired so we loafed in the A.M. and then went swimming in the afternoon. The water was swell, it was nice and hot, and we had a few coats of tan added to our already tanning bodies. Some of the waves were real difficult whoppers and when they bust over you, they really hit hard. The only difficulty was that there was such a big mob that it was hard not to hit one another when being carried by the waves.
            Sunday night loafed and yesterday spent most of the day doing odd things and reading a great deal. Oh, yes, yesterday the PX had some Val-packs so as foot-lockers will have to be left here when and if we move next, we deemed it advisable that Lois have a Val-pak. In fact, most of the nurses mobbed the store and got Val-packs themselves. They really are handy and worthwhile pieces of luggage. However, this time, we aren't going to load them as we did when leaving N.Y., for, at that time we found ourselves having a hard time dragging those bags along from the train to the Staten Island Ferry. We solemnly swore, that day, never to load them up like that again.
            This afternoon we again went swimming, and Lois went back to her childhood and made mud-castles at the edge of the water. The swimming wasn't so good today as it was kind of rough (not that that's bad), and the water was awfully sandy.
            Two days ago we received our African campaign ribbons. They are, as you no doubt have seen, mostly green and brown, red and white stripes and a single black and blue one. Fancy, eh?
            Good news today!! Paul Stratte should be back with us tomorrow or the next day. The Col. had been asked if he would like Paul back – if so, all he had to do was ask for him, so he did and now Paul is on his way back. We'll all be glad to see him and I know he will be overjoyed to be back. Cy Kiernan, I believe is going to leave us. He is one of the M.A.C.'s and has been working under Bob Escamilla. He is a nice fellow, but no fire-ball and when he put in for a transfer, the Col. apparently had not objection.
            Oral and Collie took a three day trip over the week-end, presumably on business and inspection tour. They took a lot of pictures and bought a lot of souvenirs. They visited such places as Marrakech, Meknes, Agadir and Safi. Incidentally, as you see, we are now allowed to mention some of the places we have been to. You'll remember my trip with George and Roy in January. 'Twas Safi we saw, but also at times I have had the opportunity to visit Rabat, Mazagan, Fedala, and other smaller towns. Wish we could get around and see more, but apparently only Oral can go to such places 'officially'.
                                                                                                                                                  Loads of love,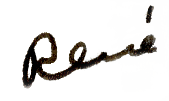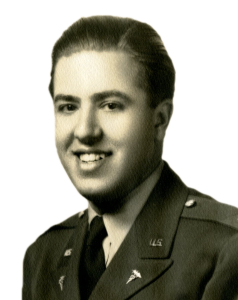 .
Watch for my next communication on
June 20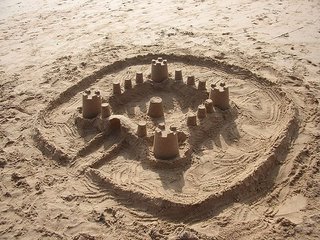 René reports that at the beach this afternoon, "Lois went back to her childhood and made mud-castles at the edge of the water." (Maybe one that looked like this.)

René was sorry that he didn't get the chance to visit Marrakech, as Colonel Bolibaugh and Major Collie got to, but he did include these photos of Marrakech in his album.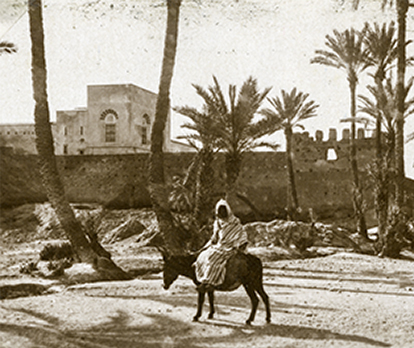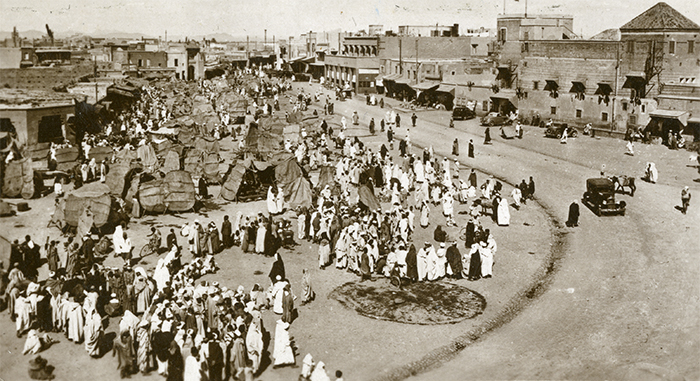 Main square in Marrakech — Jemaa el-Fnaa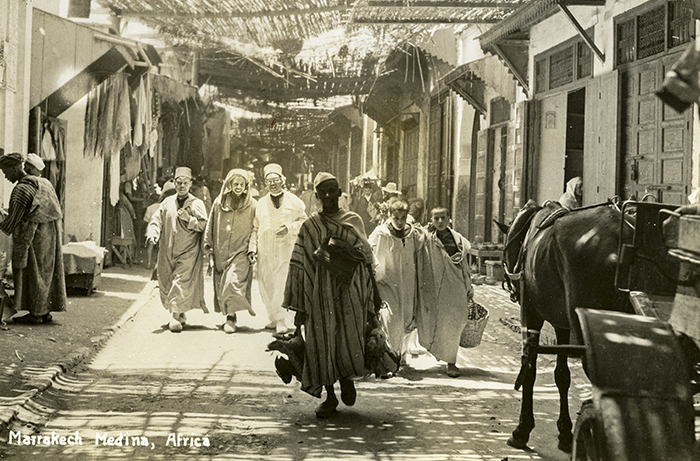 In the Medina in Marrakech

On June 20, 1943, René embarks on a secret mission with 10 other doctors and 33 enlisted men from the 59th Evac Unit. The group is dubbed "Cohn's Courageous Commandos" in honor of its charismatic leader,  Major Roy Cohn. The journal entry from Philip Westdahl (in today's sidebar) describes what the rest of the unit thought about their mission.


Along with René and Roy, were Ed Blasdel, Ralph Cressman, Bert Halter, James (Jim) Hamilton, Peter (Pete) Joseph, Russell (Russ) Klein, William (Bill) Newsom, Bret Smart, and Edward (Eddie) Welles.


Although René couldn't write to his parents about what he was doing, he did record his experiences for posterity.

Below is his journal entry for that first day…

---
---



         We left Casablanca at 7:15 A.M. on June 20th, after the 8th Evac. men finally arrived. We started out driving rather slowly, mainly because the trucks were new and also because all were new at convoy driving. Roy kept going up and down the line of the convoy, looking (and occasionally driving) like a wild-man.

         He had Major Le Bauer with him all morning, but by noon Roy had worn the poor Major out so that the latter went back to riding in the last truck from then on. Various of the boys alternated riding with Roy after that, Eddie and Ralph being his most frequent passengers. They really took quite a beating in that jeep for until the third day, Roy had the top down and then only did he give in and put the top up for the sun and wind were getting too much for him.

          That first day we kept moving pretty well and arrived at the bivouac area here at 7 P.M. having traveled 249 miles. We expected to see a nice bivouac area with a water installation and even, perhaps, some pyramidal tents. But we were sadly mistaken, for we were presented with a nice open field and water (which we weren't sure was good for drinking) was about 200 yards away. This town was Taza, which is built on the top of a small hill. It is really a nice clean town and has rather clean people there. Some of the boys went into town and got something to eat at a local restaurant that they said was pretty good.

          Some of us, however, heard that there was a place where we could get showers, so off we went in one of the trucks. And, lo and behold, we not only found showers, but a beautiful swimming pool. The pool was about the size of Del Monte's, wider, however, and apparently was frequently used for races as it was marked off in the manner of a racing pool. It had a couple of excellent diving boards and nice fresh clean water. We were amazed!!   We were! Naturally we couldn't miss this swell opportunity so in we went and, to us it was worth lots more than going in to town for a good meal.

          That night only a few of the men put up pup-tents, we just put up our netting and crawled into our sleeping bangs under that. We tied our netting to the truck and stretched it out so that it was very effective. Some of the officers and some of the fellows slept in the truck. Roy, Bert, Russ and Eddie occupied ours that first night. All slept pretty well as we were pretty tired.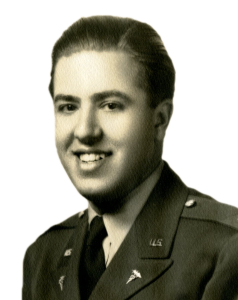 .

Watch for my next message on
June 21



On June 20, 1943, Dr. Phil Westdahl writes in his journal, "Big Day for the 59th. We get up at 5:30 A.M. and wait till 7:30 A.M. to send off 11 officers and 33 men on some sort of jaunt, mysterious to the rest of us. They are being sent ahead for some purpose, we know not where at this point. We expect to join them in a few weeks. In the group were: Maj. Roy Cohn, Captains Halter, Cressman, Klein, Smart and Blasdel; Lts. Welles, Newsom, Bine, Hamilton and Joseph. 'Cohn's Courageous Commandos' we call 'em."



Roy Cohn, MD – Leader of Cohn's Courageous Commandos