On June 20, 1943, René embarks on a secret mission with 10 other doctors and 33 enlisted men from the 59th Evac Unit. The group is dubbed "Cohn's Courageous Commandos" in honor of its charismatic leader,  Major Roy Cohn. The journal entry from Philip Westdahl (in today's sidebar) describes what the rest of the unit thought about their mission.

Along with René and Roy, were Ed Blasdel, Ralph Cressman, Bert Halter, James (Jim) Hamilton, Peter (Pete) Joseph, Russell (Russ) Klein, William (Bill) Newsom, Bret Smart, and Edward (Eddie) Welles.

Although René couldn't write to his parents about what he was doing, he did record his experiences for posterity.
Below is his journal entry for that first day…

         We left Casablanca at 7:15 A.M. on June 20th, after the 8th Evac. men finally arrived. We started out driving rather slowly, mainly because the trucks were new and also because all were new at convoy driving. Roy kept going up and down the line of the convoy, looking (and occasionally driving) like a wild-man.
         He had Major Le Bauer with him all morning, but by noon Roy had worn the poor Major out so that the latter went back to riding in the last truck from then on. Various of the boys alternated riding with Roy after that, Eddie and Ralph being his most frequent passengers. They really took quite a beating in that jeep for until the third day, Roy had the top down and then only did he give in and put the top up for the sun and wind were getting too much for him.
          That first day we kept moving pretty well and arrived at the bivouac area here at 7 P.M. having traveled 249 miles. We expected to see a nice bivouac area with a water installation and even, perhaps, some pyramidal tents. But we were sadly mistaken, for we were presented with a nice open field and water (which we weren't sure was good for drinking) was about 200 yards away. This town was Taza, which is built on the top of a small hill. It is really a nice clean town and has rather clean people there. Some of the boys went into town and got something to eat at a local restaurant that they said was pretty good.
          Some of us, however, heard that there was a place where we could get showers, so off we went in one of the trucks. And, lo and behold, we not only found showers, but a beautiful swimming pool. The pool was about the size of Del Monte's, wider, however, and apparently was frequently used for races as it was marked off in the manner of a racing pool. It had a couple of excellent diving boards and nice fresh clean water. We were amazed!!   We were! Naturally we couldn't miss this swell opportunity so in we went and, to us it was worth lots more than going in to town for a good meal.
          That night only a few of the men put up pup-tents, we just put up our netting and crawled into our sleeping bangs under that. We tied our netting to the truck and stretched it out so that it was very effective. Some of the officers and some of the fellows slept in the truck. Roy, Bert, Russ and Eddie occupied ours that first night. All slept pretty well as we were pretty tired.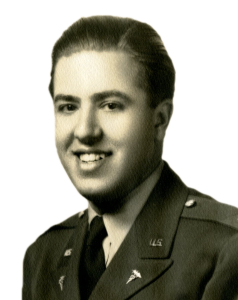 .