October 1, 1942
Dear Folksies,
Things have been slightly popping in the last twenty-four hours and many have been kept busy, though things now have slowed up again.
To begin with, yesterday A.M. Phil Westdahl and I worked on the ward for a while and then wandered over to Surgery to see them operate on a case of hemorrhoids that was from our ward. When that was finished we bumped into Mattie who told us about a case that was hanging around Surgery at the moment. It was a civilian employee of a construction company that was working on the Post. While sawing some lumber the man accidentally thought that his thumb was a piece of wood and soon he saw that the distal phalanx of his left thumb was lying in the saw-dust. He was brought to the hospital but because he was a civilian there was a lot of red tape as to how much therapy should be given. They were just going to dress the wound, stop the bleeding by pressure and send the man out to some other place – civilian doctor, etc.
However, as there was no other hospital within some 30 miles or so, there was one major who thought that perhaps more should be done here. Finally, after going thru channels and getting no satisfaction and no permission to do anything to the man, this major, with Mattie gently egging him on all the time, decided to hell with it all – he would debride the wound and close it up somehow. Mattie had kept saying that if the wound wasn't debrided, the man would get an osteo of the protruding portion of the bone.
But then, while the major was scrubbing up, Mattie hung around and soon the Major told Mattie – "Aw heck, you go ahead and do it." Mattie said he wouldn't want to do it if there was a possibility that he would get his nose in a gate. But then the major said that his own name would go on the surgery slip and Mattie should do it, with him assisting. Of course, Mattie was itching to do it. Anyway, Mattie did the job, fixing it nicely, and grafting a piece of skin over the wound – taking a graft from the thigh. Phil and I stuck around most of the time, but Phil had to go before Mattie was finished, and as a consequence I was alone with Mattie when he was done.
Just before Mattie had started on the finger he was told that one of our nurses had what seemed to be appendicitis and the major in charge of the surgical service asked if Mattie would look at her and take over and operate if he thought necessary, as the major knew the gal would rather have Mattie than a stranger.
The gal was Charlotte Johnson, otherwise known as "Johnie" who was a Stanford Nurse and Mattie went down to see Johnie and as I was still tagging along, I went with him. She had a nice typical story and good signs so Mattie scheduled the operation for right after lunch. As we walked into the dining room we met Phil Westdahl and Mattie said, "Will you and René scrub with me on Johnie's appendix?" Of course, tagging along with him I hoped he would say that, but didn't dare ask.
Anyhoo, the three of us did the job and as luck would have it, when there was quite a large audience from the Station Hosp. – it was a tough one. Mattie had a devil of a time finding the darn appendix, as she had had two previous attacks for which she was hospitalized at Stanford, and consequently she had numerous adhesions, one of which had pulled the appendix down into the pelvis and had put a crook in it. Mattie felt around for ages before he finally got a feel of the tip of the appendix, which was behind the caecum. Then he had a hard time getting the darn thing out as he couldn't get a hold of it at first adequately, but soon everything went O.K. and he got it out.
Today she is doing fine and her only worry is that we might go without her, but there is little possibility of our leaving before ten days, and anyway, Mattie promised her that he would carry her himself if we left sooner than the time that she would be able to walk. Incidentally, she is pretty light.
Last night there was a jeep accident and one boy got an extra-dural hemorrhage, which was operated on by Frankie Lusignan, Phil Westdahl and Bill Newsom. There were a couple of others injured at the same time and two more appendices that kept the station hospital men busy, those that were sober and even some, one in particular, who was not.
Today I did two small pinch-grafts on a couple of cases in our ward. Bill Newsom was with me, but I did them.
Today I got a letter from Alain who has quit his job and is going to go into something with a couple of friends of his – he has not as yet said what it is but is going to write details later.
                    Loads of love,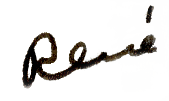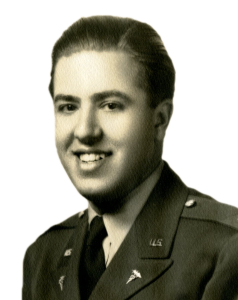 .
Watch for my next letter
October 5

Army Hospital Operating Room
Photograph courtesy of DeGolyer Library, Southern Methodist University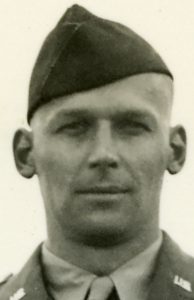 October 5, 1942

Dear Folksies,
Golly, I just realized that when I say "Folksies," above, I really only mean you, Dad, and Bobsy, to whom a carbon is going. It hardly seems possible that Mom, Marie-Louise and Amie will actually be on their way by the time you get this.
Friday night there was a dance given by the Station Hosp. Officers' Club, and they put on quite a party, having cold turkey, sandwiches, punch, cake, etc. We are supposedly giving them a party this coming Friday to repay them partly for the use of their club, which they have allowed us to patronize without charge. Really they have been most nice to us in that way.
Before going to the party Friday, I had to give Johnie an I.V. as she still has been having a lot of gas pains and wasn't able to take anything by mouth as yet. I had to wait for 1-1/2 hours while they re-autoclaved the I.V. set, because they only have one of that type in the hospital – that is, a Baxter set – I don't know other kinds they have, but apparently they have darn little. How they manage in emergencies I do not know. Then, when I finally got the set, they gave me a large needle – a #19 – which I flatly refused to use on Johnie, so waited another 15 minutes while they went and found a #22. Quite a place!!
Saturday, we left Blackstone (the little town nearby) on the 2:05 P.M. train for Norfolk. Well, this being the slow south, the train left at 4:15 P.M. and we got to Norfolk at 7:15 P.M. We walked down to the main hotel in town and found they had no rooms, but they told us to try a hotel about a block away. We did and by golly were lucky enough to get the last 2 rooms in the place – they put the sign "No rooms available" right after we signed in.
Yesterday we took a streetcar to the ferry – quite a ways – and took the ferry to Fort Monroe, where Lois had spent a year or more 9 years ago. It was very nice there, it being one of the oldest forts in the country. As we walked around past the homes of the officers, Lois recognized several names and finally got up courage to go in and ask for one of the Majors she remembered. The Major's wife remembered Lois and she took us in and then the two of them talked about a million people that they had both known, and exchanged the news about them all. I never heard so many names flung hither and thither in so short a time.
Then after a little, this lady insisted on driving us around the Fort and showing us the two officers' clubs. One is a beach club and is really nice. The other is built into the old moat and is also most impressive.
We had dinner at the little town of Phoebus, which is right next to the Fort. We had some good crab but some tough steaks.
We got the 9:30 P.M. train from Norfolk and arrived in Blackstone at 1 A.M., having had a good time – not because of Norfolk certainly, but because of Fort Monroe and the company. The four of us always manage to enjoy ourselves, no matter what the surroundings.
                    Loads of love,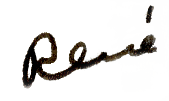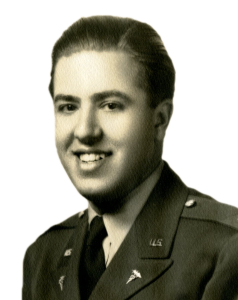 .
Watch for my next letter
October 7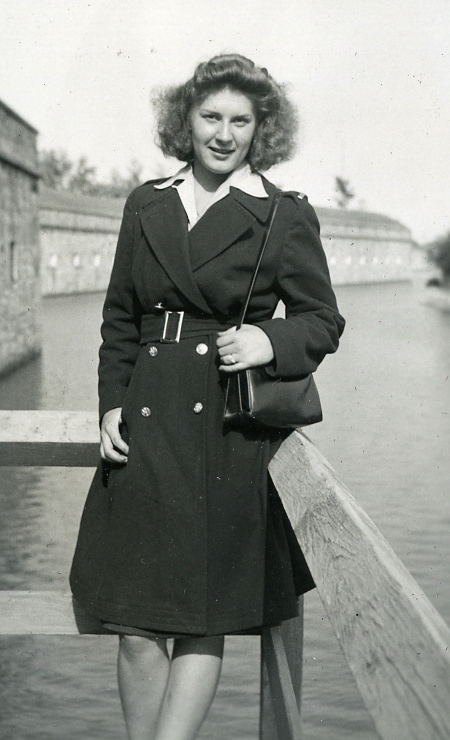 Lois at Fort Monroe with moat in the background.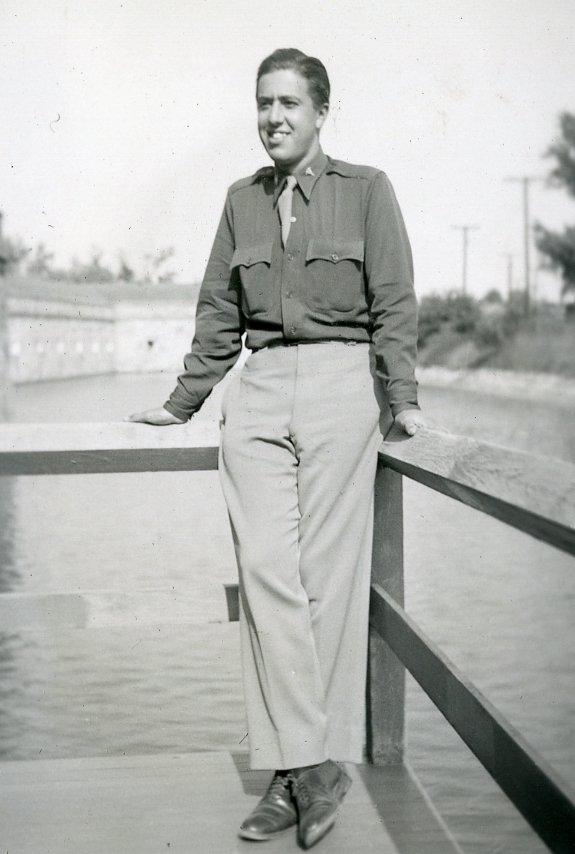 René at Fort Monroe with moat in the background.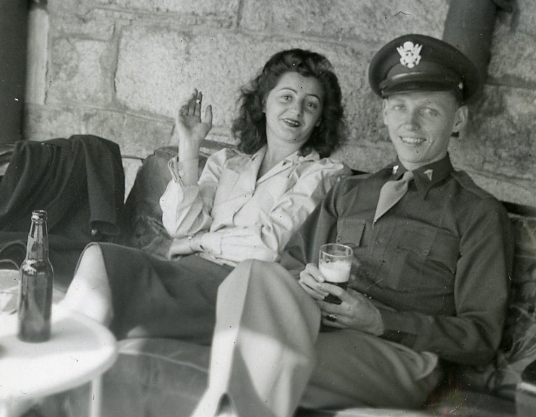 Bam and Bob at Fort Monroe Officers' Club

October 7, 1942

Dear Folksies,
      Yesterday A.M. worked on wards as usual and then in the afternoon we took a hike and went over the obstacle course. The hike was, in all only about 6 miles and though we have not had any such exercise really planned in the last 2 months, we have all done considerable walking around this camp – walking just to the hospital and back a couple of times a day being quite good exercise in itself and then those of us who have walked to the movies have had quite a little extra foot exercise – so the hike wasn't really much for anyone.
      We had a lot of fun at the obstacle course as it was quite a toughy. There was another one of those water holes that necessitates swinging on a rope to get over it. This proved the nemesis for a couple of our tall boys, namely Sewell Brown and Carroll Russell. Sewell dunked himself at least 9 times in trying to get over. He would manage just to barely get a foot-hold and then would swing back, thru the water, to the original side. Occasionally he would let go alright and land in the water on the far side, only to wade back to the original side to try again – he just wouldn't give up! Finally, he managed to get over in one piece, slightly drenched up to above his knees, but still happy. Russell did just about the same thing, having laughed at first when he was watching Sewell's antics. Unfortunately, no one had thought to bring a camera with them so that the act could not be preserved for posterity.
      Last night we spent playing bridge over at the officers' club after seeing a Lilly exhibit at which we were given a few samples, such as Merthiolate, Seconal, etc. Had a good evening of bridge with Bob & Bam, then home to bed early.
      This A.M. I was amazed to have Wally Greene ask me, while we were taking showers, whether I knew what I was doing today at the hospital. I said I didn't know I was doing anything special, so he then told me that he and I were doing a hemorrhoidectomy together. The fellows at the hospital have arranged now so that some of our men can do some of the operating, i.e. others besides Mattie.
      George Wood and Hamilton did the first hemorrhoidectomy on the schedule and then Wally and I got our fingers working. The fellow we worked on had three pretty good sized hemorrhoids. Wally did the first one and then had me do the other two. As you know, I've helped on a few before but never actually did one myself, so this was swell.
                    Loads of love,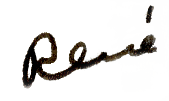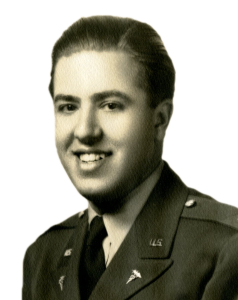 .
Watch for my next letter
October 9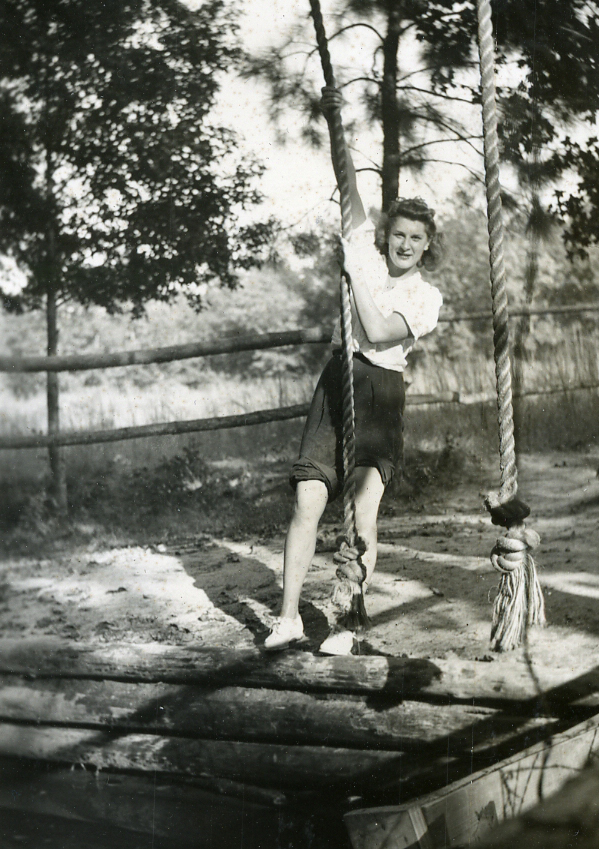 There aren't any pictures of the doctors swinging on the obstacle course rope today, but there is one of Lois giving it a try!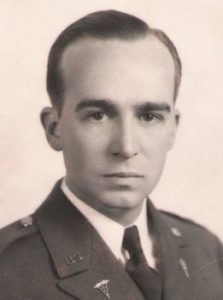 Working in surgery with Wally Greene, René did a hemorrhoidectomy by himself for the first time.

October 9, 1942

Dear Folksies,
     Things around here are all mixed up and no one knows where anything stands. At the present moment I am not at all sure that we are going to be able to go to Richmond to see Mom and Marie-Louise. It may be necessary for them to come out here. Our leaves will either be O.K.'d or turned down by Col. Arnold, who has the say around here. All other requests for leaves have been turned down by him, but they have all been for greater distances and for greater lengths of time, so I am still hoping with every atom.
     The reason that there is the big question is that apparently they have some screwy plans for us again – they just can't leave us set too long in any one place – but will we ever get anywhere?? It certainly looks as if the answer is NO! At the moment we have orders to sew some new insignia on our sleeves. We had to take some off before we got to N.Y. Now, the fact that we are putting some on seems to indicate that we are going to be in the U.S. a while longer. Maybe the story that we are going to Hollywood to produce training films might not be such a bad one after all — but, nuts!!!!!
     One rumor has us going to Georgia or to Florida from here, but naturally no one knows – even our Col. doesn't seem to know a damn thing. We have started to get some of our equipment in from Toledo, but it is coming in by drubs and drabs at the moment. Apparently the fact that the leaves have been turned down means that we will not be here much longer.
     One of the choicest rumors that we definitely do not like is the same one that we had before we were supposedly going to the desert in California – that is, that the nurses are not going with us. Just what would we do then I don't quite know. Am just going on the assumption that that is a nasty rumor until proven otherwise.
     Don't take these too seriously for probably by the time you get this we will know definitely about most of these things and it won't do any good for you to be thinking about them too much.
     The last two days have not been so eventful. Work has gone along in the hospital, though I have been assigned to two other wards now and work with Roy Cohn. The funny thing is that Lois and Fran Trembly are working on one of the wards we have. Yesterday I gave two spinal anesthetics while some of our men operated.
     Tonight the 59th is giving a party to the Station Hospital Officers in their own club.
                    Loads of love,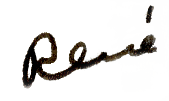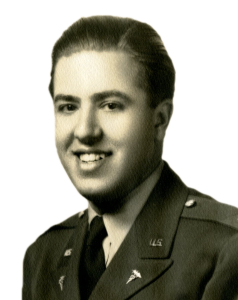 .
Watch for my next letter
October 10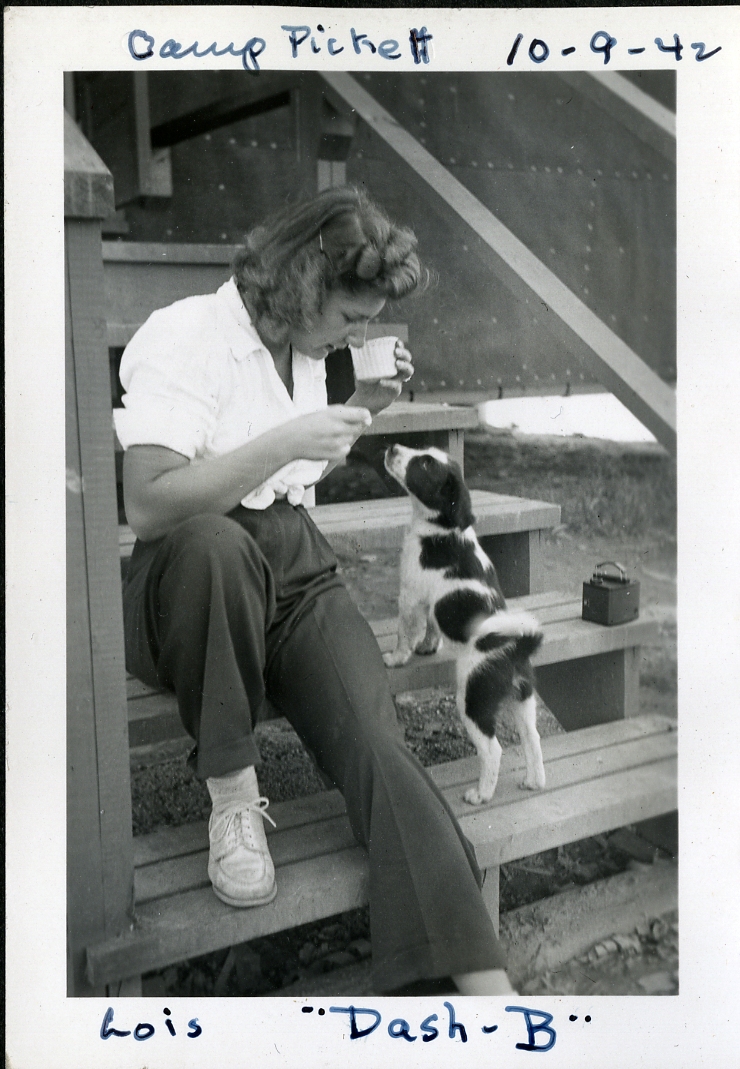 Not only did René get to work with Lois at the hospital today, he took some photos of her with the camp dog "Dash-B."

October 10, 1942

Dear Folksies,
       I just found out that we are given leave, but only for two days, so will be in Richmond tomorrow, Monday, and have to be back Tuesday. Barbara has made reservations for us at the hotel and Lois and I are going to her place tomorrow to wait for Mom, not knowing what train to meet, etc.
       I just wired Mom, however, that there are other connections she can make from Washington to Richmond, as apparently they did not know such things in San Francisco – so that even if the train is late, they can still be here by early afternoon. Or, if the train is four hours late, they can be in Richmond before dinner.
       Have been on needles and pins since yesterday and now feel much better, but awful anxious to see Mom, Marie-Louise and Alma.     
       Today I did another hemorrhoidectomy.
                    Loads of love,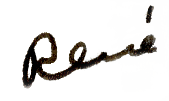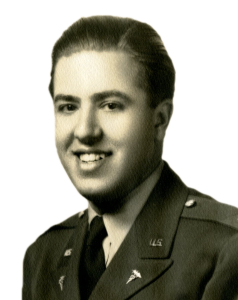 .
Watch for my next letter
October 14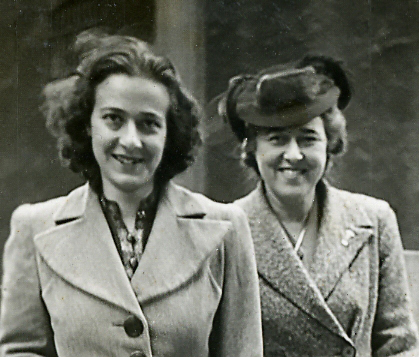 Marie-Louise (René's sister) and Alma (their mother)
The Two Mrs. Bines – Lois M. Bine (René's new bride) and Alma K. Bine (René's mother)

October 14, 1942

Dear Folksies,
       Yep, we were all kind of bad not writing at least a short chain letter to you while we were all together in Richmond. But, as you can imagine, the time that was not spent attending to Amie was taken up in a gab fest or in eating. Yes, they eat here, à la R.B.Sr. only more so, but more of that later.
       We were most fortunate to be granted the two day leave that we got. Even when we got the O.K. there still wasn't any indication that we might not be called back after one day, as no one really seemed to know what was going on.
       Saturday night we were invited to a 15th Infantry party by Lois' Uncle – Col. Monroe, and we went over thinking that it was just going to be a dance with drinks and a few sandwiches. Much to our surprise they had really almost a full dinner consisting of cold meats, cheese, and the most wonderful shrimps and shrimp sauce. The shrimps were cooked and flavored all by Col. Monroe himself and the sauce was made by Clara, his wife. It was really super. We stayed over there quite a while and met almost all the officers and wives of the 15th – quite a nice bunch.
       Sunday A.M. we got up at 5:15A.M. and got the bus into Blackstone. We were able to eat breakfast there and catch the 7:08 A.M. bus to Richmond. We have now come to the conclusion that the only way to travel around here is by bus – they run on time, by golly! We got to Richmond at about 9:15 A.M. and then went over to the John Marshall Hotel, dumped our suitcase, and proceeded to walk around the town a bit.
       Phoned Barbara around 11 A.M. and then told her we would meet the train that Mom might possibly have connected with in Washington, then would go back to the Hotel if we missed her there and would then meet the second train.
       Well, we went to the depot and were more than a bit confusssssseeed by the fact that the train stopped at both the Broad St. Station and the Main St. Station and we had no way of knowing which station they would get off at. We took a chance and waited at the Broad St. Station and when the train came in (at 12:45PM, instead of at 11:40AM) we decided just to wait till the second train, which was supposedly on time, would arrive at 1:40 P.M. We tried to have Mom paged at the Main St. Station but with out result, so concluded that they would be on the next train, which only stopped at the Broad St. Station. We waited and the next thing we knew, we were being paged. The message was to phone Barbara immediately, which we did and found that Mom had missed our paging at Main St. Station and was on her way to the Hotel. We promptly scooted to the Hotel.
       Mom was kind of pupped, but Marie-Louise and Amie were fine. The day in Chicago had been a little too much for Mom and she was still turning from the train. However, after she had a little more food in her, she felt considerably better so that night she was really O.K. again.
       After dinner Lois, Marie-Louise and I took a little walk while Mom attended to Amie and got herself into bed.
       Monday A.M. we slept kind of late and then I found a Medical Lab across the street, where I could get a syringe to give Marie-Louise her typhoid shot. I took M.L. over there and they boiled up a tuberculin luer for us and M.L. was O.K. She was all fidgety before the shot as she says she always is, but after was just relieved. I was a bit puzzled when Mom told me to give M.L. her shot and she said you hadn't given her any syringe with which to do it. How come?? How did you know I could get a hold of one?
       To get back to the above train of thought. After prettying up Amie, we took off for Barbara's for a 1 P.M. lunch. After we had gone a little ways in the taxi, Mom remembers that she forgot to bring the dietties, etc. that she had put in a special satchel (one of the 12) to bring with her. We had to turn around and go back and get it and finally arrived at Barbara's around 1:30 P.M. They live about 5 miles from the center of town in a beautiful residential district. The home is on 7 acres of land – beautifully green and despite the size of the place it is a most livable place. We had a lunch that they said was just left overs, but boy I wish the Army got such leftovers – we had chicken legs, tongue, hamburgers and buns, avocados, cottage cheese, cake and fruit jello.
       After lunch we sat around and talked and later Barbara took us for a ride around the neighborhood and to the Univ. of Richmond, which has a very beautiful campus. After that ride, we decided that we would have to revise our original opinion of Virginia, at least, if not the whole South. Yep, I think Virginia wouldn't be a bad place to live after all – the foliage is certainly pretty – of course it doesn't really compare with California, but of all the other states in the U.S. I've seen, I think Virginia may be second best.
       We stayed until 6:45 P.M. and then taxied back to the hotel. M.L. fed Amie and then we dined. After dinner we played bridge in the room. Mom and M.L. got into bed and Mom practically fell asleep playing a hand.
       Yesterday morning after breakfast we did a little shopping. Mom and I went and saw Mr. Thalhimer at the store and also saw the store, which is quite a place, incidentally.
       Lois and I took off about 12:30 P.M. for Camp. Arrived back here in the rain to find this place a true mud-hole. It is really funny. Today it is continuing to pour and getting slushier by the minute.
       Latest dope from the front when we arrived home was that our winter material had been taken from us. They took away our woolen caps, our over-shoes (goulashes) and our extra blanket. We also have gotten a lot of new equipment, including our own cars. Again, we are on the when and where rumors! Have given up thinking, however, and are just awaiting what will come, we hope, at last.
                    Loads of love,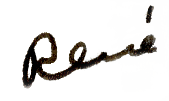 P.S. O.H. — O.H. — Marv Kahn starting in with symptoms and signs of appendicitis. It is now after dinner – a typical appendicitis dinner, as far as I'm concerned – beans – remember!!!!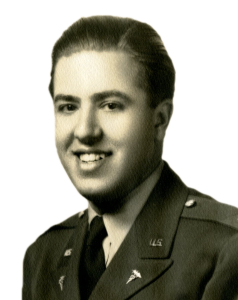 .
Watch for my next letter
October 15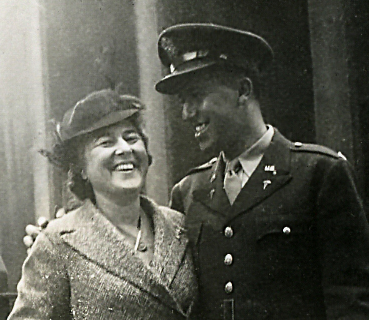 Alma and René in Richmond Virginia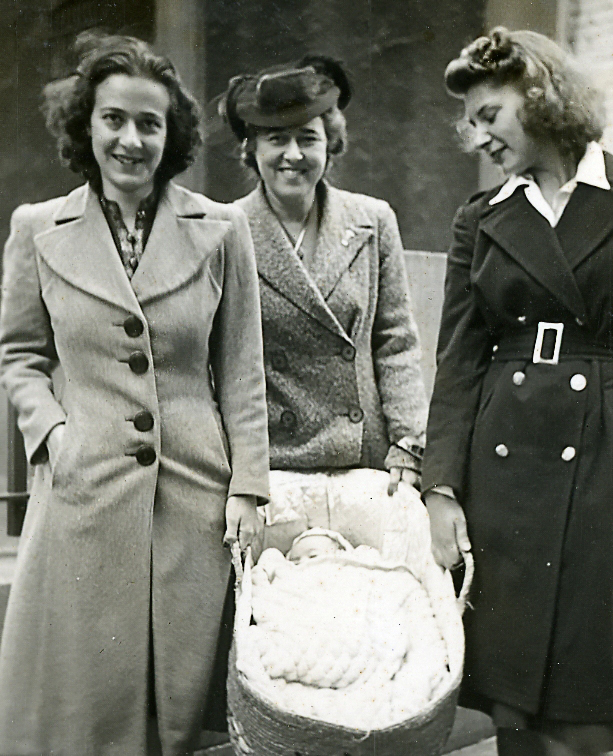 Rene´'s sister, Marie-Louise, Alma and Lois with Marie-Louise's new baby Alma (Amie).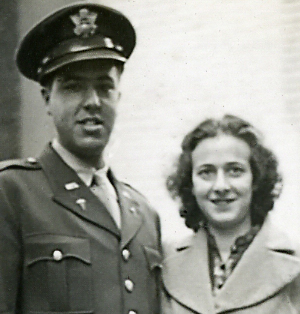 Rene´'s with his sister Marie-Louise