October 14, 1942

Dear Folksies,
       Yep, we were all kind of bad not writing at least a short chain letter to you while we were all together in Richmond. But, as you can imagine, the time that was not spent attending to Amie was taken up in a gab fest or in eating. Yes, they eat here, à la R.B.Sr. only more so, but more of that later.
       We were most fortunate to be granted the two day leave that we got. Even when we got the O.K. there still wasn't any indication that we might not be called back after one day, as no one really seemed to know what was going on.
       Saturday night we were invited to a 15th Infantry party by Lois' Uncle – Col. Monroe, and we went over thinking that it was just going to be a dance with drinks and a few sandwiches. Much to our surprise they had really almost a full dinner consisting of cold meats, cheese, and the most wonderful shrimps and shrimp sauce. The shrimps were cooked and flavored all by Col. Monroe himself and the sauce was made by Clara, his wife. It was really super. We stayed over there quite a while and met almost all the officers and wives of the 15th – quite a nice bunch.
       Sunday A.M. we got up at 5:15A.M. and got the bus into Blackstone. We were able to eat breakfast there and catch the 7:08 A.M. bus to Richmond. We have now come to the conclusion that the only way to travel around here is by bus – they run on time, by golly! We got to Richmond at about 9:15 A.M. and then went over to the John Marshall Hotel, dumped our suitcase, and proceeded to walk around the town a bit.
       Phoned Barbara around 11 A.M. and then told her we would meet the train that Mom might possibly have connected with in Washington, then would go back to the Hotel if we missed her there and would then meet the second train.
       Well, we went to the depot and were more than a bit confusssssseeed by the fact that the train stopped at both the Broad St. Station and the Main St. Station and we had no way of knowing which station they would get off at. We took a chance and waited at the Broad St. Station and when the train came in (at 12:45PM, instead of at 11:40AM) we decided just to wait till the second train, which was supposedly on time, would arrive at 1:40 P.M. We tried to have Mom paged at the Main St. Station but with out result, so concluded that they would be on the next train, which only stopped at the Broad St. Station. We waited and the next thing we knew, we were being paged. The message was to phone Barbara immediately, which we did and found that Mom had missed our paging at Main St. Station and was on her way to the Hotel. We promptly scooted to the Hotel.
       Mom was kind of pupped, but Marie-Louise and Amie were fine. The day in Chicago had been a little too much for Mom and she was still turning from the train. However, after she had a little more food in her, she felt considerably better so that night she was really O.K. again.
       After dinner Lois, Marie-Louise and I took a little walk while Mom attended to Amie and got herself into bed.
       Monday A.M. we slept kind of late and then I found a Medical Lab across the street, where I could get a syringe to give Marie-Louise her typhoid shot. I took M.L. over there and they boiled up a tuberculin luer for us and M.L. was O.K. She was all fidgety before the shot as she says she always is, but after was just relieved. I was a bit puzzled when Mom told me to give M.L. her shot and she said you hadn't given her any syringe with which to do it. How come?? How did you know I could get a hold of one?
       To get back to the above train of thought. After prettying up Amie, we took off for Barbara's for a 1 P.M. lunch. After we had gone a little ways in the taxi, Mom remembers that she forgot to bring the dietties, etc. that she had put in a special satchel (one of the 12) to bring with her. We had to turn around and go back and get it and finally arrived at Barbara's around 1:30 P.M. They live about 5 miles from the center of town in a beautiful residential district. The home is on 7 acres of land – beautifully green and despite the size of the place it is a most livable place. We had a lunch that they said was just left overs, but boy I wish the Army got such leftovers – we had chicken legs, tongue, hamburgers and buns, avocados, cottage cheese, cake and fruit jello.
       After lunch we sat around and talked and later Barbara took us for a ride around the neighborhood and to the Univ. of Richmond, which has a very beautiful campus. After that ride, we decided that we would have to revise our original opinion of Virginia, at least, if not the whole South. Yep, I think Virginia wouldn't be a bad place to live after all – the foliage is certainly pretty – of course it doesn't really compare with California, but of all the other states in the U.S. I've seen, I think Virginia may be second best.
       We stayed until 6:45 P.M. and then taxied back to the hotel. M.L. fed Amie and then we dined. After dinner we played bridge in the room. Mom and M.L. got into bed and Mom practically fell asleep playing a hand.
       Yesterday morning after breakfast we did a little shopping. Mom and I went and saw Mr. Thalhimer at the store and also saw the store, which is quite a place, incidentally.
       Lois and I took off about 12:30 P.M. for Camp. Arrived back here in the rain to find this place a true mud-hole. It is really funny. Today it is continuing to pour and getting slushier by the minute.
       Latest dope from the front when we arrived home was that our winter material had been taken from us. They took away our woolen caps, our over-shoes (goulashes) and our extra blanket. We also have gotten a lot of new equipment, including our own cars. Again, we are on the when and where rumors! Have given up thinking, however, and are just awaiting what will come, we hope, at last.
                    Loads of love,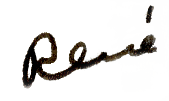 P.S. O.H. — O.H. — Marv Kahn starting in with symptoms and signs of appendicitis. It is now after dinner – a typical appendicitis dinner, as far as I'm concerned – beans – remember!!!!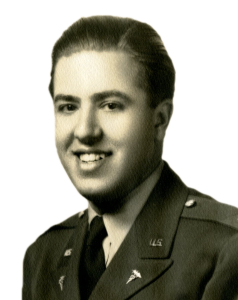 .