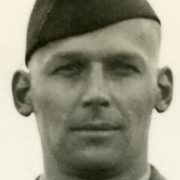 No letter from René on November 2. Here's an excerpt from the journal of Dr. Philip Westdahl, reflecting about their time in Epinal, France.

---
---



[During October] we have been going quite steadily. About every other day, following a drive, our receiving and shock wards pile up with a backlog of 80-90 patients, requiring a bout 24-36 hours of continuous operating. Just at the point where we begin to see the last few patients remaining in the preoperating ward, another onslaught would arrive.


Operating time naturally varies considerably with the type of injury. Some cases, such as shell fragment or bullet wounds in the soft tissue of extremities, may require only 10-15 minutes. Others, such as compound fractures, particularly of femurs where extensive debridement and cast is required, may run into 2 hours or more. Major chest, abdomen and brain cases may take all of three hours. All in all, the average two-man surgical team does about 15 cases in a 12-hour period. We have had 7 such teams, 4 working from noon till midnight or shortly thereafter, and 3 from midnight to noon. This affords an opportunity for the surgeons to see the patients on the wards, change dressings, etc. and catch up on a little sleep during their off-period. During our really busy spells 4 to 5 hours sleep is considered a luxury. Washing clothes, letter writing and reading lag considerably behind.


The fighting in the Epinal sector proved to be slow and rugged, due to a combination of bad weather, wooded and mountainous terrain, stiffened German resistance, and. last but not least, the exhaustion of the boys remaining from the three divisions who had made the landing in southern France.These boys were completely worn out when they came to us. To many of them a wound was a God-sent ticket to a good and well-deserved rest, and how they did appreciate the warmth and comfort of a warm hospital building and a simple army cot with adequate blankets.


The actual type of battle ranged from hand-to-hand or close, small arms and grenade fighting with the "Krauts" in the woods…to long range artillery duels that produced multiple shell fragment wounds. "Tree bursts" were again frequent and we had several brain cases with depressed skull fracture. Major vessel injuries were frequent also.


Too much cannot be said for the treatment our patients received in our shock ward, which was also pre-oper. ward. Coming in exhausted, in pain and in shock, they are given sedation, blood and plasma and penicillin, so that by the time they reach surgery every one of them is a good operative risk. Furthermore, the initial cleaning and shaving of the wound area has saved valuable time in the operating room.


.

Watch for René's next letter on
November 8, 1944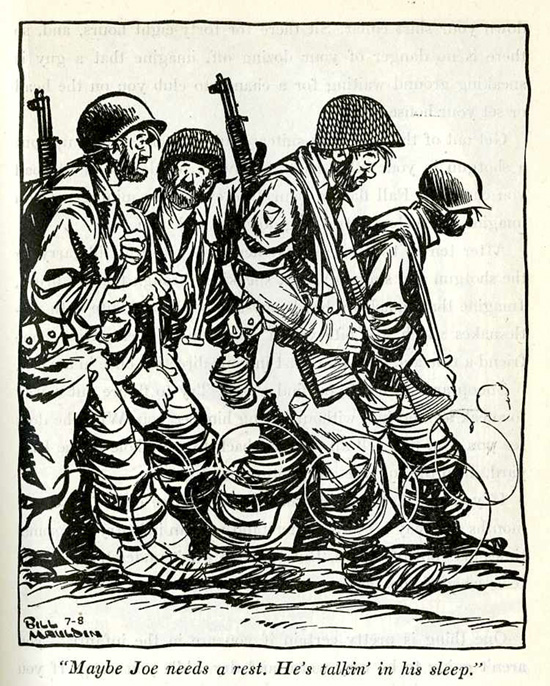 Phil Westdahl remarked that for some of the soldiers, "a wound was a God-sent ticket to a good and well-deserved rest."

November 8, 1944
Epinal, France
No. 64

Dear Folksies,
            Have been plenty busy, tho' in the last couple of nights we have managed to catch up on much needed sleep and am now feeling well rested. Someone got a brain-storm  and decided that since some of the other hospitals seem to prefer the 8 to 8 shift instead of the 12 to 12 shift, that perhaps we ought to try the 8 to 8 and see whether or not we like it better. There are disadvantages to the 8 to 8 as I see it, and voted against it. But since we were due for a change of shift and due to get off the midnight to noon shift, we are on the 8 A.M. to 8 P.M. shift and have had most of our surgery in the afternoon, thus allowing us to make ward rounds in the A.M. before the patients start flowing in.
            Most of the surgery business is from about 3 P.M. to the early morning hours and, as a consequence, the night shift of teams in this kind of a system does most of the work. It does seem to allow for a little more regularity of meals, however. Anyway, we shall see in the next couple of weeks just how the new deal does work out. At any rate, at the moment it is giving me a chance to write this letter to you sort of on "company-time" instead of on "sleeping time."
            Received the Blum's fruit-cake from Sal & Dave – Thanks a million. It is really scrumptious and Wally & Carroll & Serge all send thanks also. It certainly came along in good time. Received also, just yesterday, the Blum's fruit-cake from the Cerfs. This is the deluge, alright, but a most welcome deluge. Blum's say that the cake improves with age, but I'm afraid that Sal's is not going to have a chance to do any more improving. However, am going to hold Cerfie's off for a while from the wolves and give it a chance to improve (tho' I don't see how that stuff can get any better) and save it at least for Thanksgiving. Thanks to Cerfs, too.
          Also got one package from City of Paris without any card saying who my benefactor is – contains sardines, cocoa, deviled ham, apricot preserves, etc. Looks like it might be from Gram or you people? Tanks to whoever it was.
                                                                                       Loads of love,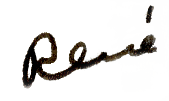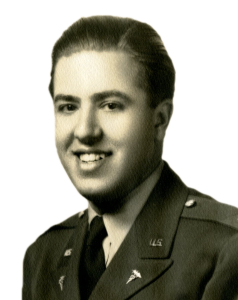 .
Watch for more of this letter
November 9, 1944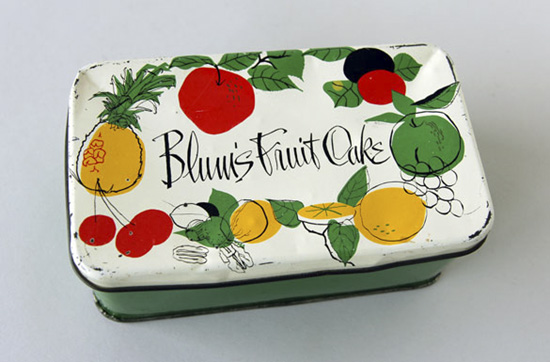 René thanks his aunt and uncle – Sal and Dave (pictured below with René back in 1942 when he was stationed at Fort Ord). – for the Blum's fruit-cake they sent. He also sends thanks from Wally Greene, Carroll Russell and Serge Bryner with whom he shared the cake.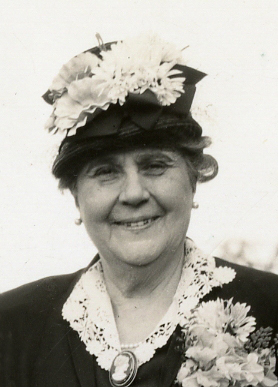 René also mentions a package from City of Paris without a card. He thinks that it may have been sent by Gram – his maternal grandmother.

November 9, 1944
Epinal, France
No. 64 (continued)

Dear Folksies,
          At the moment, the Old Man is wandering around sort of like a lost sheep, waiting for his time to go home — tho' he has not any definite time of departure, nor have we any inkling who the new C.O. will be. At any rate, I know the Old Man plans to be home for Xmas. He gave his radio to the surgery gang yesterday, so the day of departure must be close at hand.
         Ag Alkire married twice in the last week – had a civilian wedding and then an Army wedding two days later — to Major Tom Flynn of Headquarters.
         "Chef," I find out, is really a "chef" — he has been cooking for 18 years — 12 years as an apprentice and six years as the "Boss."  Speaks pretty good English.  When we first got here, some French General tried to lure him away from us to cook for him, but our little man said "no" and plans to stay with us.  Boy, we certainly hope he sticks for a long time, as he puts out some classy stuff when he gets the materials.  He has some of the fanciest pastry concoctions — in fact, you can well imagine how my poor mouth watered when I saw some…well, should I have you guess?…none other than chocolate eclairs of the petit-four type!  They had these at a reception the other day and it was hard for me to leave the "one for politeness" after I had managed to consume 7 or 8 of them.
            Yes, war is a queer business!  It seems mighty funny to us to have the same ambulance sometimes bring in some poor soldier with a wound inflicted upon him by the same German who lies beside him in more or less the same shape.  And then, after our men have spent money and days and lives trying to kill some of these Germans, we spend hours and considerable money, blood, etc. trying to patch up what our own guns did, but had not been able to finish enough.  It's all mixed up, alright.
                                                                                       Loads of love,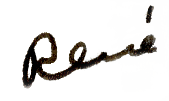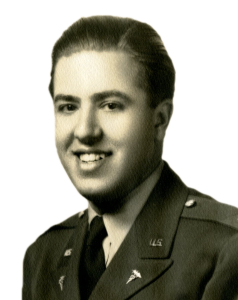 .
Watch for the conclusion of this letter
November 10, 1944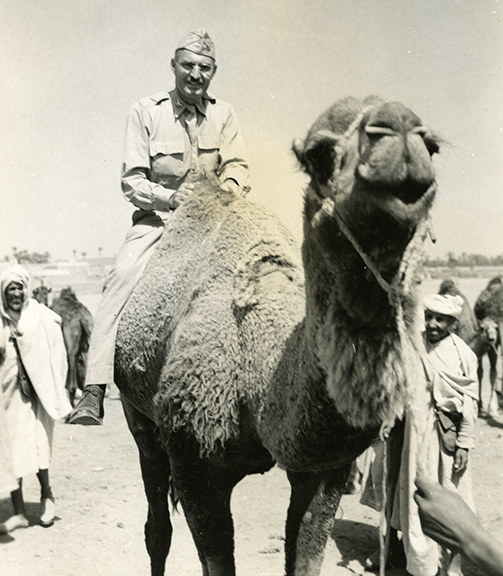 "The Old Man" – Colonel Oral Bolibaugh – is expected to go home some time soon. Pictured above on a camel, back in 1943, when the 59th was in Casablanca.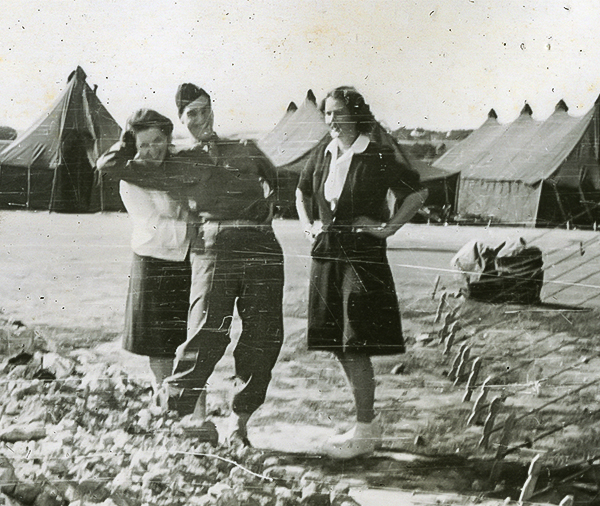 Nurse Ag Alkiere got married last week. Ag is pictured above (left) in Casablanca, clowning around with Ralph Cressman, while Pat Barry looks on.

November 10, 1944
Epinal, France
No. 64 (conclusion)

Dear Folksies,
            Busy today until just a little while ago. Mom, YOUR TYPING IS MARVELOUS!!!! Heck, you have many less mistakes than these letters of mine! Keep it up! I should think, however, that now you would be kicking yourself for not trying to type long ago!
            I kind of thought my descriptions of this country would give all of you time to recollect times spent over here in good times. Alain's letter on that subject I thought was really sort of a tribute – I quote: "Up to now I was under the impression that the letters from civilians to soldiers were good morale builders. Since you are in France, however, we came to the conclusion that your letters are at least as good for the morale as ours."
            I haven't heard from George Davis, so do not know if he got around near Lilice, etc. or whether he has been ill or what.
           I wish that I had a good week to get around with some sort of vehicle — I could undoubtedly locate most of our relatives with ease, now that I have all the information you sent me.  Time is the essential factor — time to get around, but it looks as if we are going to be kept busy steadily for a good long time, so I shall have to contact all our cousins by postal card or thru others until the opportunity of visiting them arises. Did finally get postals off to Jeanne, Lilice, Sadie, Jean-Pierre, Monique, Josette and can only hope that I get an early and detailed answer from some of them.
             Got good news from Alain, who wrote that as of the 21st of October he had seen Yehudi, who had spent a great deal of time with Jacqueline and Marcel and apparently knew that Jeanne and David are both in Nice and that they intend to stay there for the winter.
                                                                                       Loads of love,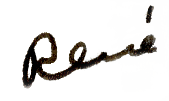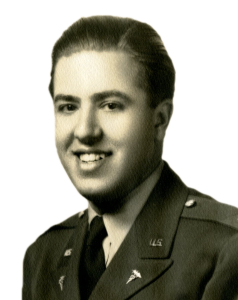 .
Watch for my next letter
November 15, 1944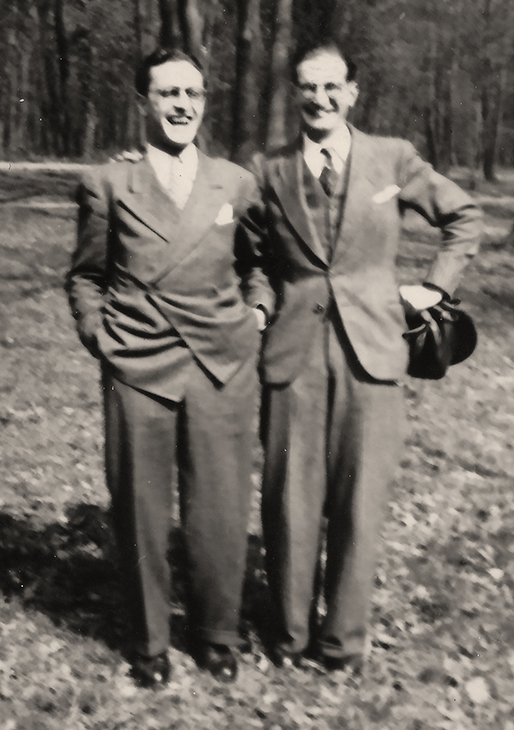 René mentions a letter he received from his French cousin, Alain Dreyfus (residing in the US in 1944). René has written post cards (letters are not allowed) to a number of the French relatives, including Jean-Pierre Baumann (who is somewhere in France).  Pictured above are Alain (left) and Jean-Pierre, in better times.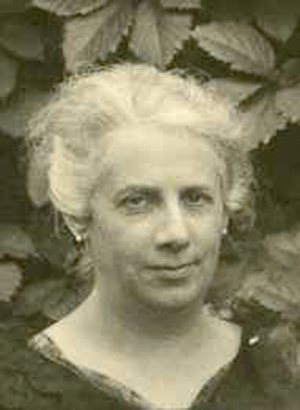 René also wrote a post card to Sadie Bine (his father's first cousin). Unbeknownst to René, Sadie (who had been born in San Francisco in 1870, and who moved to Paris after marrying a Frenchman in 1892) had died in Auschwitz 4 months earlier — just a month short of her 74th birthday.

November 15, 1944
Epinal, France
No. 65
Dear Folksies,
        Since my last letter, I have been kept on the go, as you might well imagine and we never seem able to know what day of the week it is. Only those that make it a practice to visit the Padre weekly are the ones who really make use of the old "Monday, Tuesday, Wednesday" stuff. We others stick strictly to the day of the month and let it go at that.
        Have had a number of interesting cases, but for some reason they seem to get to our table just at a time so that we will have to work overtime and miss both shower and movie. Two nites ago, the only nite we did get off in time to get into the show (the 1st reel was almost over at that), the show turned out to be a stinker.
        Had another splenectomy – a boy who was unconcernedy sleeping in a house in a town by the front when a shell burst beside the house and the concussion made the roof of the house fall – and it fell in upon him as he was lying on his right side. He was unconscious for an unknown length of time, got into us about 14 hours after the injury and was in pretty good shape, despite the large laceration in the spleen that we found on operation. He's doing pretty well.
        Had another fellow with everything from soup to nuts —  had a fragment in his bean with a depressed skull fracture, fragments in his shoulder, hand, thigh, knee joint, and lower leg with a fractured tibia. It's strange, however, how little damage, relatively, a lot of fragments or big fragments can do, whereas every so often the smallest "wouldn't hurt a mouse" type of fragment will do all the damage one could possibly imagine. It just depends on where that fragment decides to travel – into the belly, the head or through a large blood vessel.
        Ralph Cressman had a case the other nite where a small fragment had gone in and just nicked the femoral artery in the middle of the thigh, and when Ralph went in to clean up the tract he saw what he at first had thought was just a damaged piece of muscle, but when he cleaned it off a bit and saw the darn thing pulsating, he found that it was a true aneurysm about 1 cm. in diameter.
                                                                                       Loads of love,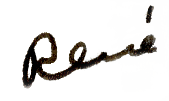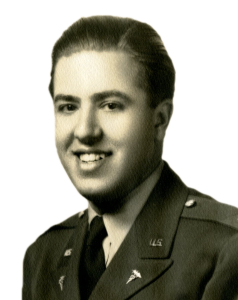 .
Watch for the conclusion of this letter
November 16, 1944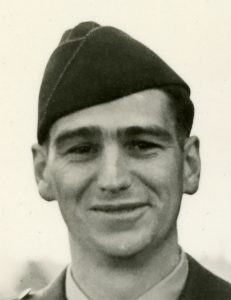 René mentions a surgical case done by Ralph Cressman.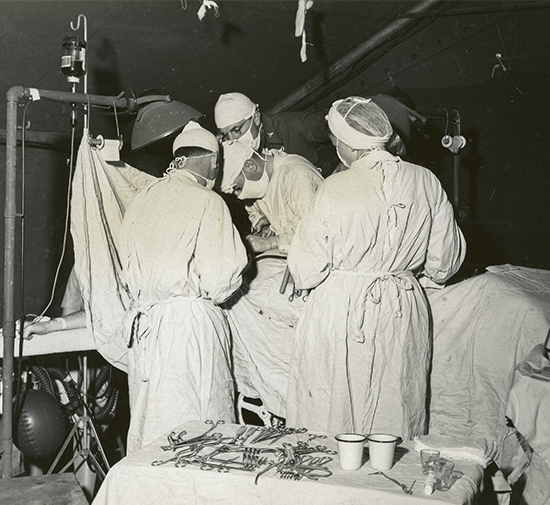 René tells his parents that the surgical team he is on has been working overtime quite a bit, which means they often misses showers and movies.

November 16, 1944
Epinal, France
No. 65 (conclusion)

Dear Folksies,
            Had a visit today from a Major Kay Barber. She is a good friend of George Davis and the head nurse of a hospital that is not too far away. She had seen George a couple of weeks ago and knew that if she was nearby here and didn't drop in to see me, George would never forgive her. Was sure glad to hear that Geo. Is O.K. and that tho' he was up to his neck in work he was going to get a bit of time one of these days to try to see Jeanne and also to get to see us here. He apparently has a whale of a job and is snowed under by work.
            Before I forget, I received your package with the things for the kids – also Bobsy's with the crayons and paints. Thanks a lot – I hope I get to see some of our cousins' kids to give them to them.
            The "59th Boarding House and School, Complete With Home Cooking, French Chef, etc." is at it again. We continue getting many visitors who have heard of our French Chef and also we have the gals giving pointers to newcomers while the latter work helping us all over the hospital gaining valuable information before they get their teeth into the business with their own gangs.
            One of our boarders is 2nd Lt. Ellerson– 8 years at Cottage Hospital in Santa Barbara, 10 years at Sacramento County and more recently at Ft. Mason in the Army – does anesthesia all the time. And yet she was most interested in watching us do the numerous intra-tracheals that we have been doing, as she never had found it necessary to do one and consequently had never done any.
            And speaking of intra-tracheals, it does seem funny that in S.F. whenever it became necessary to have an intra-tracheal anesthesia given there was always a big hullabolu and either Bill Neff or one of the other two or three anesthetists in S.F. had to be called in and then there was great ceremony etc. Here, Paul and I have done probably from 1 to 3 a day, and goodness knows how many Hamilton has done. In fact, we have the nurse anesthetists doing them now very well.
            Have had some rather funny incidents occur recently, sort of at the expense of the kids recently overseas – and I do mean recently. One that came into our ward with both tibias fractured and a bad os calcis fracture also, was asking Russell whether he was going to be sent home. Carroll said, "Sent home – why, what do you mean?' The kid, only 19, came back with, "Why, I understood that with injuries like mine they send you home." Carroll said, "Heck no, why, what will happen to you is that they'll probably make you a corporal or perhaps even a sgt. and send you right back to the front. Some guys even get to be staff sgts when they were wounded!" The kid took it all in and didn't know whether to actually believe Carroll or not. Of course, he'll be going home, but what Carroll said has actually been true – tho' with wounds just a trifle less severe than that kid had.
                                                                                       Loads of love,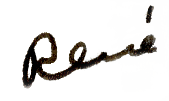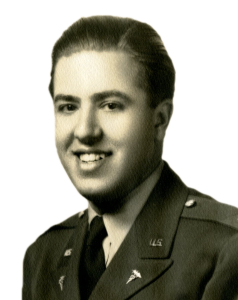 .
Watch for my next letter
November 19, 1944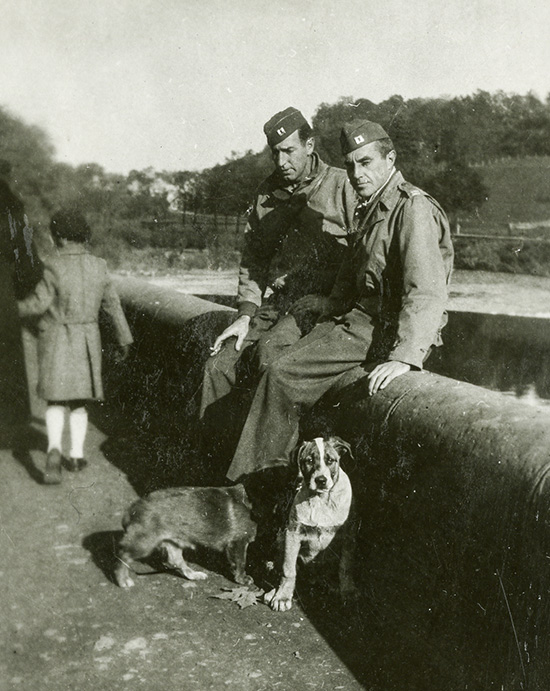 René tells a funny story about Carroll Russell – pictured at left above, with Nelson Bell along the Moselle River.

November 19, 1944
Epinal, France
No. 66

Dear Folksies,
            I have been going steadily today, except for a slight interlude, luckily, when George Davis showed up – much to my surprise and joy. George arrived with an MP Major friend of his and stayed around for a few hours, going over and getting Major Kay Barber and bringing her back to Fadley's office where we indulged in Cerfie's fruit cake and the wonderful canned chopped olives.
            Oh, yes, George got his Majority! He looks fine and tho' he still has some roaring in his ear and some infection due to a mild chronic cold – I gave him a free ENT exam – he is O.K. He had supper the night before with Lois and had also dropped in to see Bill Reilly for a second.
            As yet he hasn't had a chance to get away from his office to go as far as to visit Lilice, etc., but he thinks he will be able to before very long. His MP friend is going to try to look up Jean-Pierre too.
            George is riding around in a swell 7-passenger Chrysler sedan, about a 1939 model, and he has a French soldier as a driver for him – a fellow he has named "Big Stoop" because he looks exactly like the character of the same name in the "Terry and The Pirates" funny paper serial. Of course, the Frenchman cannot understand any English and George does not call him that to his face, but when I saw him I agreed that the characterization was perfect – about 6 ft. 7" tall, and when he sits in the car driving, despite the roominess in the front seat of those Chryslers, the poor guy has to look out between his knees to see through the windshield.
            George, after his French classes in Africa in the early part of this year, is at least able to talk some to the driver, but usually when he wants him to stop the car it is about ¼ of a mile past the place he wanted to stop at before he has figured out what the word for "stop" is.
            Have again changed shifts and we really took a beating this time on the change. We were supposed to work just to 4 P.M. yesterday, instead of 8 P.M. and then go back on at midnight to 8 A.M. and then off today until 8 A.M. But as usual, the "Greene Gang" or as Russell calls it, the "Gang-Greene" got stuck with a dilly just before we were supposed to go off. Yes, at 3 P.M. yesterday we get a guy with a sucking chest wound who also had a fragment go through his diaphragm, go in and out of the cardiac end of the stomach, almost cutting the whole stomach off, and then going to the spelenic flexture of the colon, in and out there and from there we know not – did not find the piece, but no more holes in his gut — so we were just finishing him at 8:30 P.M. Just barely got to sleep and then had to get up at midnight.
            I slept today, thank goodness and 'tis now 6:30 P.M. and will probably start at 7 P.M., as we have a case from the ward that has to be attended to before tackling the incoming stuff.
            Received just now – the package from Mom with jam and Hersheys and the stuff for kids. Tanks a lot. For now nothing more—
            Oh, oh, the "Gang-Greene" is upon me –—- here we go.
                                                                                       Loads of love,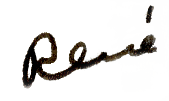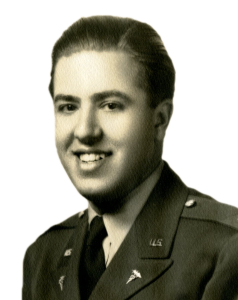 .
Watch for my next letter
November 23, 1944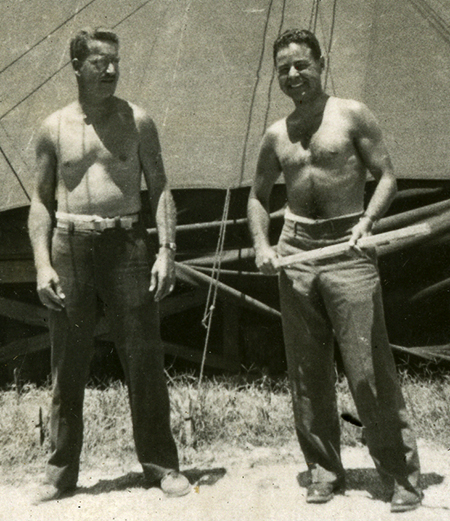 George Davis (pictured at left above with Roy Cohn, back in Casablanca), got his Majority and stopped by to pay René a visit.

René tells his parents that George Davis secretly calls the very tall French soldier who serves as his driver "Big Stoop" from the "Terry and the Pirates" cartoon.