Bizerte, Algeria

           I take a walk up to an Italian fort on top of the hill behind our bivouac area. From the hill I have a perfect view of the harbor and town of Bizerte and the lake in the background with the town of Ferryville barely visible. It is a beautiful scene and quite peaceful looking at the present time. The city of Bizerte itself is situated at the innermost portion of a crescent-shaped indentation of the Mediterranean shore. From this point a wide channel passes inland and connects with a huge lake. Hundreds of ships lie in the outer harbor, the inlet and on the bay. The hollow, windowless buildings of the city can be seen in the distance and in the immediate foreground are the peaceful looking rolling hills speckled with olive trees. For miles around there are ammunition dumps, tank and truck depots and air fields serving as grim reminders of war.

      The little Italian fort is an interesting spot. The many anti-air craft guns are still in place and an abundance of ammunition is lying around as though the fort must have been evacuated in some haste. Here and there dented and somewhat rusted helmets serve as reminders that all of the men did not leave under their own power. On the walls of the bomb-shelters are the traditional pin-up girls of Italy, the nude artistic efforts with the finer points duly accentuated – all of which show that soldiers are soldiers regardless of their allegiance, and no doubt there isn't one of them who wouldn't give anything for peace and the opportunity to be at home again with his loved ones.

.

Watch for René's next letter on
August 16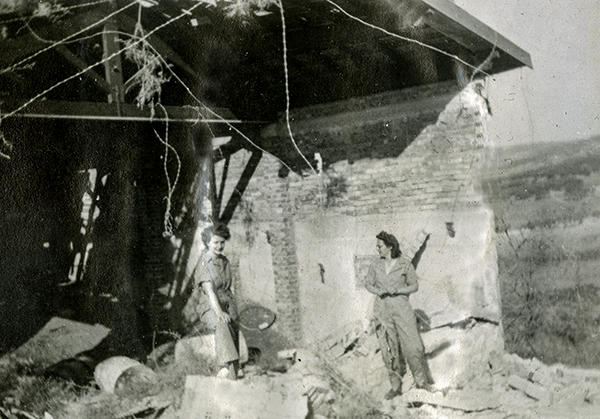 Nurses Marion Switzer and Gert Brazil explore the ruins of a building in Bizerte.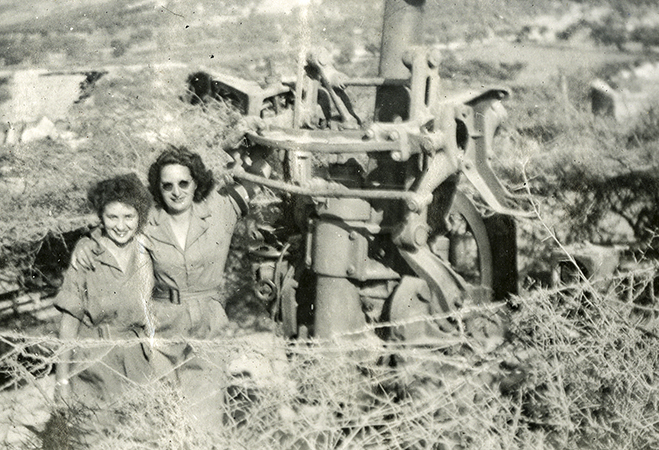 Marion and Gert at an abandoned anti-aircraft gun.




Bizerte, Algeria  

            We start our Mediterranean cruise, although not under the circumstances that most Mediterranean cruises are advertised. We are aboard an LST leaving the inner harbor of Bizerte about 1:15 pm. Along the channel we see numerous partly submerged ships and some barely visible beneath the surface lying on their side.

            From this view we can see to much better vantage the destruction of the docks, warehouses and buildings of Bizerte, many of which are completely flattened and others remain as walls enclosing a hollow, rubble-containing shell where once a house stood.

            Progress in cleaning the city has been slow and is still proceeding. As we pass out through the breakwater and look back on the waterfront lined with palm trees, the white sandy beach and the deep blue water it is easy to believe the Bizerte was at one time a veritable paradise.

            We lay at anchor just outside the breakwater and wait for the remainder of the convoy; finally we are away – 12 LSTs, 2 LSIs (landing craft infantry) and 4 small escort ships resembling corvettes.

            We sail almost due east and by nightfall we pass the island of Zembra and the tip of the Cape Bon peninsula. Along the shore just after leaving Bizerte we could see many scuttled ships left by the Germans after their unsuccessful attempt to evacuate from Africa.

            I'm sure I speak for everyone when I say that we are happy to be leaving Africa after 7 months of living in that fly-ridden dusty country.

.

Watch for René's next letter on
August 16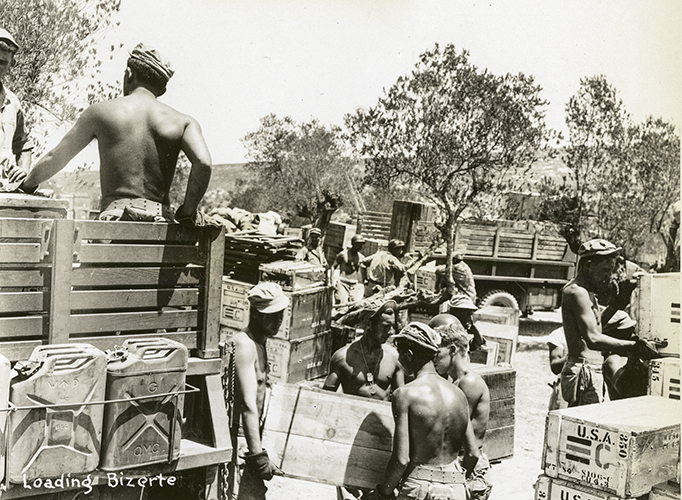 Preparing to leave Bizerte.




Palermo, Sicily  


           During the night of August 5 we turned north from Cape Bon and sailed to the northwest of Sicily. We then headed east again sighting the Island of Sicily about 1:30 PM. It is quite an impressive sight to sight land while at sea where nothing has been visible on the horizon. At first glance a vague cloud-like area looms upon the horizon and it is often difficult to be sure whether it is a distant gray cloud or actually land.

            We sailed along the northern coast all afternoon and at about 4 PM, after complete peace and unawareness of war, we were suddenly called to stations, donned our helmets and put on our life belts in order. We then suddenly changed course, the entire convoy circling north. A destroyer up ahead in our former path let go with depth charges. For almost an hour we zig-zagged and all aboard combed the smooth blue water for signs of a periscope or tell-tale wake of a torpedo. However, none were seen and we pointed our bow south to the beautiful harbor of Palermo, which had by this time come into view. I must confess I felt a little feeling of disappointment at the uneventfulness of what promised to be an exciting occasion.

            We entered the harbor about dusk, and a new moon shone brightly behind the ascending barrage balloons, which look like numerous floating whales.

            Due to the oncoming darkness it was difficult to get a complete view of the city itself. The coast at this point is indented to form an evenly curved crescent with a circumference of about 5 miles. The city is built along the shore of the crescent and the mountains rise abruptly in the background.

            By the time we reached the inner harbor it was pitch black and our ship was obliged to creep into the dock at a snail's pace. Here and there we were able to make out the masts and rigging of sunken ships standing out against the water-line in the reflection of the moonlight.

            The town itself remained pitch black and appeared for all the world like a deserted village. Before it had become so completely dark, we had been able to make out the typical four-walled, hollow structures so characteristic of bombed buildings. These skeletons lined the entire waterfront and it was not difficult to see that they had once been beautiful buildings.

            At times such as this, one cannot but help be grateful that our homes have thus far escaped such a fate and that our loved ones are safe from the terror, destruction and disappointment which these poor people have suffered.

            At about 1:30 A.M. we leave the ship and travel through town in total darkness. We can barely discern piles of rubble and bomb craters in the street. Most of the buildings in the first 4 to 5 blocks adjacent to the waterfront have suffered heavy destruction. We spend the night in a lemon orchard amidst swarms of ants, making sleep almost impossible.

            In the morning we find ourselves besieged by men and boys selling grapes, figs, watermelon, wine and haircuts.

.

Watch for René's next letter on
August 16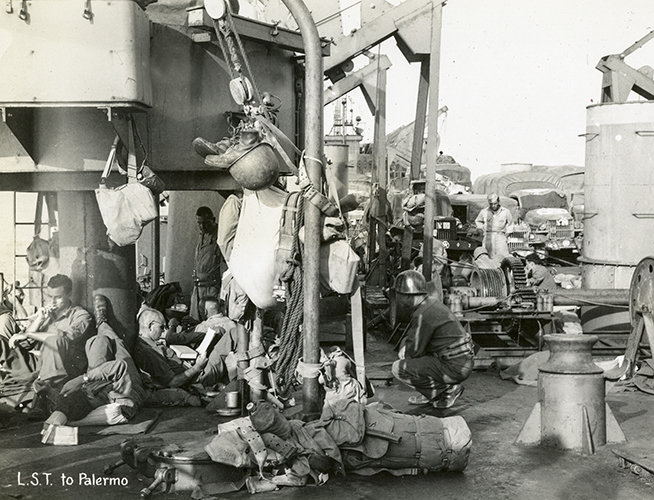 On the deck of an LST from Bizerte to Sicily




Palermo, Sicily


           We move into the partially destroyed buildings of the University of Palermo medical school. This is truly a beautiful set-up and as we wander through the various laboratories (anatomy, pathology, embryology), the amphitheaters for lectures and even the old professors' offices, it is as though we had returned to our medical school days. It is truly good to be back in this atmosphere, sleeping amongst the old pathological specimens. We almost feel as though we were men of science again rather than military robots.

            We learn that the Univ. of Palermo medical school is over a century old, and is the largest in Sicily. Many of the wonderful pathological specimens date back only 70 years, however, the present school is a beautifully equipped new building only three years old. The clinic and hospital buildings are also new and well equipped and all form a group near the medical school resembling a beautiful campus. Many of the buildings were bombed by our Fortresses in March 1943, but other than one or two direct hits, most of the damage amounted to shattered windows.

            We were naturally very curious and looked through all of the old professors' desk drawers. It seemed quite sacrilegious and we had a feeling of sorrow and regret as we looked over collections of apparently treasured notes, slides and specimens. This war has changed and destroyed many lives and it comes a little closer to home when we see how completely the dreams of this old medical professor must have been shattered.

            We really must admire the type of work that must have gone on in this medical center. Beautiful collections of slides and photographs of rare and interesting cases, beautiful hand painted anatomy charts, all these things are as fine if not finer than anything we have seen in our own schools at home. And the buildings are absolutely the last word in beautifully arranged and equipped modern laboratories; truly the envy of all of us who spent 4 years of our lives in the humble surroundings of Stanford medical school.

            The two largest buildings of the regular hospital have been taken over by the 91st Evac. Hosp. The clinic buildings, however, are still available and also modern and well arranged. We hope to be able to establish ourselves in these, using the school buildings for living quarters. We estimate the capacity of about 1000 beds. The orthopedic clinic has about 4 beautiful, tiled operating rooms and all in all we certainly have a potentially ideal spot. The final word, however, lies with Col. Bolibaugh, who has not as yet arrived in Palermo with our equipment and the remainder of our officers and men.

            One of the most amusing incidents upon our arrival here was to see some of the enlisted men giving each other baths on the marble dissecting tables in the anatomy room before we told them what they had been used for.

.

Watch for René's next letter on
August 16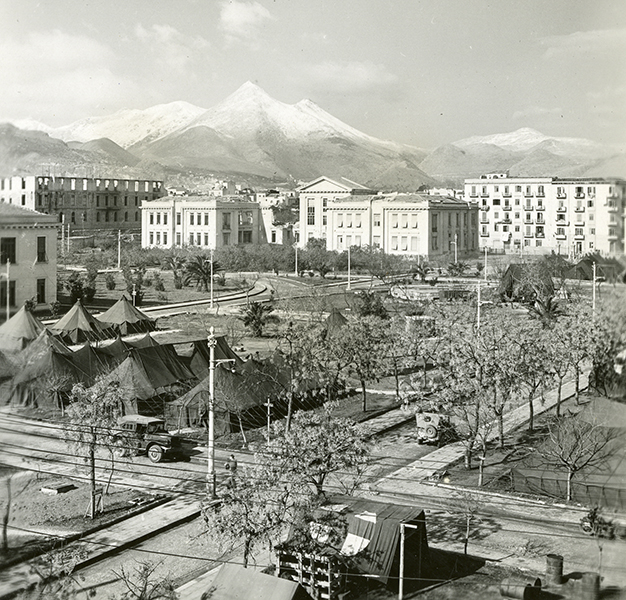 Hospital buildings in Palermo – with tents in the foreground and Mt. Pellegrino in the background

Between August 1 and August 15, René doesn't write any letters to his parents.


Fortunately, we can follow the activities of the 59th Evac. Hospital through the entries in the journal kept by Philip Westdahl and photographs from René's albums.
Below is Dr. Westdahl's journal entry for August 11, 1943

---
---



Palermo, Sicily


            I work on the surgical ward of the 91st Evac. Hosp in order to help out while our own hospital is being set up. They have done a lot of good work. By far the majority of their cases are malaria. The only primary surgical cases are those occurring in the vicinity from air raids, accidents, etc. Appendicies, fractures and other cases are only allowed to be kept 7 to 10 days. All patients are evacuated to Africa as soon as their condition permits. Most wounds from the front are being evacuated straight to Africa by train and ship from Palermo.

            We are now ready to function ourselves and during the past 2 days have received 350-400 patients, all but 50 of whom are malaria.

            Our actual set up is truly more than we could ever hope for. We are in beautiful new buildings, which are perfect except for portions that have been destroyed by bombs. The floors are all cement tile and the walls are beautifully tiled. The surgery has complete equipment, including sterilizers, overhead lamps and all the modern equipment of any new hospital at home. There must be some 10 buildings in the group comprising the medical center, and in every one the equipment is the last word in completeness. The offices are spacious and luxuriously furnished.

            It is sickening, however, to see the destruction caused by a few direct bomb hits. Beautiful x-ray units and laboratories ruined. An entire wing of beautiful wards lying in a mass of rubble. When this, which seems so much to us here and now, is multiplied by infinity, one shudders to think of the waste and needless destruction of property and life caused by war.

          Some of the buildings are still occupied by Italian civilian patients. We have had to move them out of a few of the building we are occupying, but they are able to find facilities in other buildings. I understand that many patients were killed by our Fortress raid. Imagine what propaganda we would pour forth back in the States if the Axis had bombed one of our civilian hospitals. We are not beyond reproach. There may be some reasonable explanation to justify such action, but as yet I have not found it.

            From what little contact I have had with the Sicilians of Palermo, they appear quite friendly, smiling and nodding as we pass them. I'm sure they must be a little bitter about our bombing and destruction of their homes and non-military targets, but I have the impression that they are somewhat happy to be relieved of the German occupation and that they hope to see the Nazis defeated.

            We have a large group of Italian prisoners of war working about the grounds and buildings, cleaning up the rubble. They hardly need guards, work fairly willingly and hard, and do not seem too unhappy. A good many of the civilians who had left their homes because of air raids are beginning to return. The great majority of buildings were untouched in town and others have shattered windows, but are livable.

            The people seem to be fairly well fed and clothed. Those who are not were in a similar state before the war.

.

Watch for René's next letter on
August 16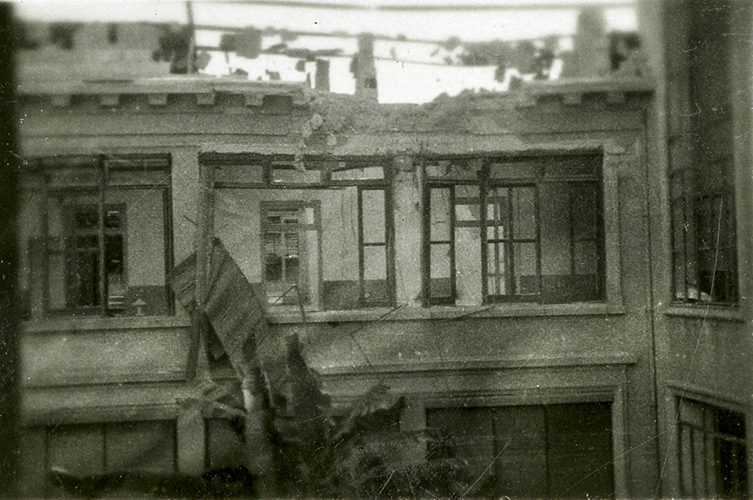 Bombed hospital building being used by the 59th Evac. Unit as medical and surgical wards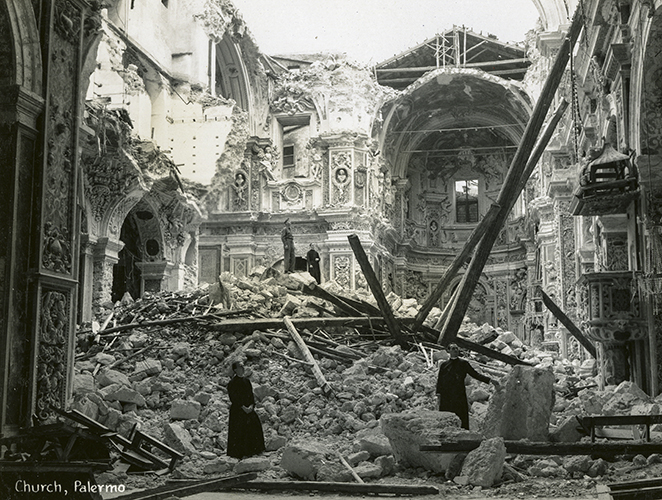 Ruins of a church in Palermo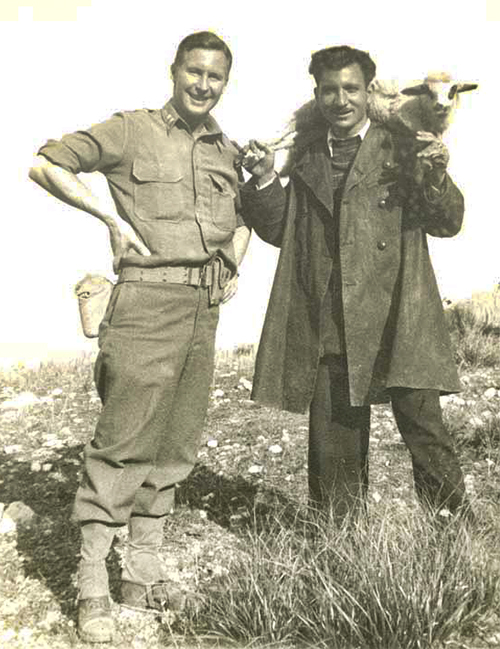 Dr. Chuck Schwartz with one of the local people that Dr. Westdahl describes as "fairly well fed and clothed."
(Photograph courtesy Stanford Medical History Center – Roy Barnett Cohn Papers)
August 16, 1943
No. 50
Palermo, Sicily
Dear Folksies,          
            Before I get started, thanks oodles for the birthday presents – received the soapy wash-rag or whatever you might call it, and it has been put to good use several times already. 'Tis really swell. Also got more photo paper and more films. Have several films undeveloped at the moment, but shall develop them in our own dark room with a few days, I hope.
            I managed to read Bill Collie's copy of Wilkie's book while enroute to Sicily – at the time I was reclining in a comfortable bunk on board ship, taking sulfaguanidine to get rid of the bloomin' bacillary dysentery that I managed to pick up. But, fortunately I only had it for a few days. Chappie and Bishop and Drew and I were all ill those few days. As a matter of fact, we were among the very last to get it – practically everyone in the unit having had it before they left Casa. Lois got it the same time as I did, apparently, but is only now over it. Some have had a couple of such episodes – original cause?? Many speculations but no proofs. Of course, we had many such patients while in Casa, and now, even, have plenty. And with flies numerous, despite as much screening as we are able to put up, they seem to delight in getting into places where they are not wanted.
            Yes, Dad, the mosquitos are plenty big and plenty vicious both in Africa and here, more so in Africa. They are very numerous here and effects are being seen. Prophylaxis is definitely being kept up, but difficult at times when units run out and then the bugs strike. So far, have had no such difficulty in our gang. Some, we found, cannot take Atebrine so they are on Quinine.
            Gee, Pop, you were sure swell to write so often. It's really a marvelous feeling to get mail over here, and thus keep up to date on things that concern those we love. So, up to your old tricks again, eh? I can just picture you and Bobsy traipsing around the dance floor creating quite a stir. But ye Gods, your wandering around in the make-up has me still howling – kind of got out of hand, it seems. I wish Lois knew you better and could visualize you thusly better. Can just see, too, how exasperated Mrs. B. must have been. Sounds as if you sort of had a following like the Pied Piper. Maybe they did think that you were at least "Pied", or maybe "Pie-eyed".
             At the moment, we are going full blast in a rather nice town in Sicily and are set up in what used to be quite a Medical Center. It fact, rumor has it that this was one of the medical establishments of Italy, if not of the world. The amount and quality of equipment that we find here is amazing — it's really a grand set-up. Due to the fact that some damage had been done here, we have had large groups of prisoners voluntarily cleaning up the place and aiding in the work around here. So, it's now beginning to look pretty good. The hospital is going full blast, but due to the Evac. system, we have primarily medical cases.
            We are living in buildings and so are the patients and men – rather comfortable quarters though the hospital is rather crowded. As yet, we have not had an opportunity to do any walking around, but I have pretty well covered the whole town in my jeep wanderings, and it seems to be quite a nice place considering everything. Some of the nearby small towns aren't anything to brag about – rather unclean, etc. – but certainly they have nothing to compare with our friends the Arabs whom we encountered all over the Northern and Western part of Africa.
             Right now I am using the typer in headquarters and Lois is on night duty in the hospital. Last night I was Medical O.D. so slept right in Receiving, but spent the time before midnight reading the Post up on Lois' ward. She just went back to work two nights ago – having finally recovered from her dysentery. The night shift is a 12 hr. shift and is kind of tough, as we get the majority of our new cases in after 4 P.M. However, she won't have to be on nights for more than a couple of weeks.
            One nice feature about our new set-up is that we have a combined officers' and nurses' mess hall, and consequently Lois and I are able to eat our meals together. In the past, the officers ate and then the nurses ate, as we didn't have enough sitting room. Our mess has been pretty good, particularly the last few days.
            The weather here has been plenty hot and one no sooner takes a shower than he is dripping wet again. According to the books, it can't be this hot but as usual, the books are wrong. At any rate, these buildings are sure much nicer and cooler than tents.
Loads of love,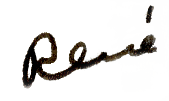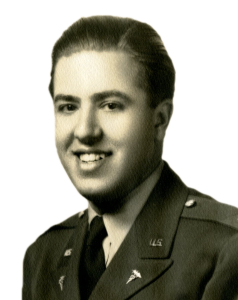 .
Watch for my next letter on
August 17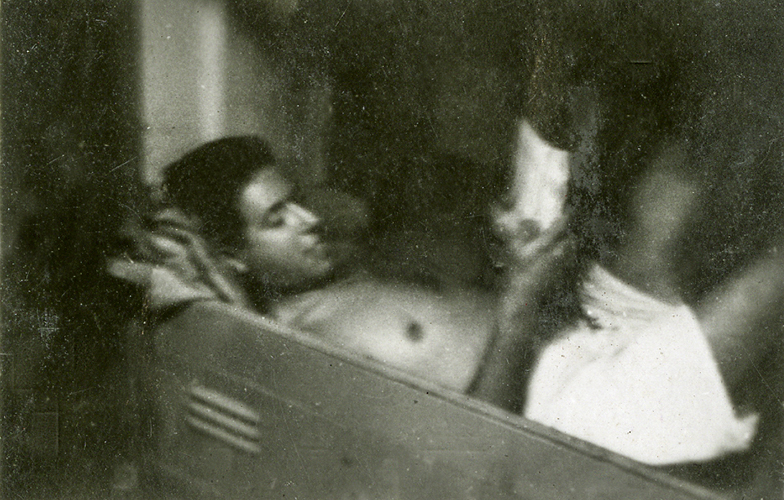 René reading – enroute from Bizerte to Palermo, Sicily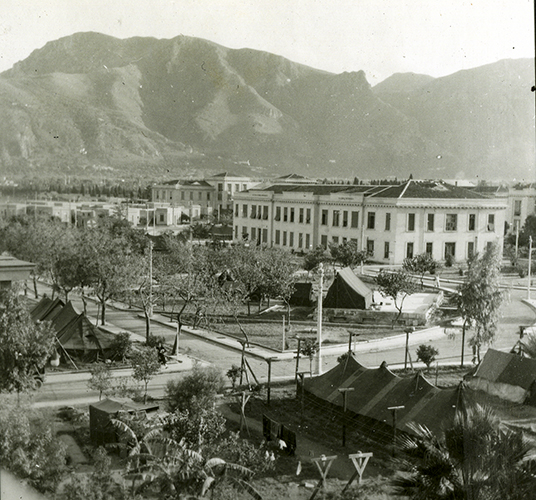 August 17, 1943
No. 51
Palermo, Sicily
Dear Folksies,          
            Yesterday I had a "first" — you know, doing something for the first time. The Colonel wanted some pictures taken of our area just as he had done in Casablanca, and as a consequence, someone was needed to make the arrangements and to take our x-ray technician photographer out to take the pictures. Therefore, I took Sgt. Robert Spring with me and we went out to the airport. We found the spot where the little Piper-Cub planes were located and asked the Lt. in charge if Spring could get a ride in one of the planes to photograph our area from the air.
            The Lieutenant was most obliging and Spring was taken up almost immediately. As Spring could only handle one camera at one time, and as we wanted to have some snaps from the camera that George just got (a small Argus), I asked the Lt. if I could have a ride to get some snaps with George's camera. So, I had my first plane ride.
             Gee, in those tiny, fragile things it feels just like one is on a small magic carpet. The pilot slowed down when we were over our area so that the camera speed didn't have to be so fast, and darned if it didn't feel as if we were standing absolutely still. It was really quite an experience, and I think I got some good snaps.
            The pilot told me, after I got in conversation with him, that the Piper Cub pilot who had gone over on the ship with me on the initial landing, and who took off from the ship from an improvised runway, in an amazingly short distance, had been given the Distinguished Service Cross for his work that morning. He was recognized for keeping one of the Divisions together, i.e. conducting the communications and locating the separate parts of the Division so they didn't get separated. He was quite a nice fellow and I had played cribbage with him for many hours while on the ship.
            Today Ed Cane showed up. He has been transferred from the Replacement Pool in which he was for a while, to a Medical Battalion. He had a funny experience when he got his orders, for his orders said that he was to proceed to this new outfit by motor transportation. He then found out that the outfit was in Sicily and he was still in Africa, so he wondered for a while whether he was supposed to go in an amphibious jeep or not.
Loads of love,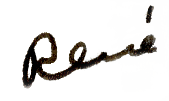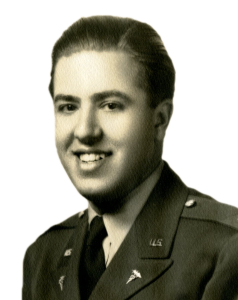 .
Watch for my next letter on
August 27

Images from René's first ride in an airplane…