November 5, 1943
No. 64
Palermo, Sicily
Dear Folksies,
            I have been kept busy for the last couple of weeks and never did manage to sit down at a typer long enough to do much good. When I have had some few minutes time then all our typers have been busy. Mine, at the moment, is somewhat on the fritz, but is in the process of getting fixed by one of the boys.
            Today is the kind of day that makes us all rather thankful that we are so nicely situated inside of buildings and that we have sidewalks between the various buildings so that slushing through mud is not a necessity. I am remembering our sojourn at Pickett a year ago, when we stepped out of our cabins into the reddish mud of Virginia. Nope, this place is definitely rather nice and though the buildings are rather cold because of the tile and the wind whistling through the large hallways, we have managed to close up most of the window frames with tar roofing paper and thus have warmed them up a bit. The heating situation is still a big question, because of the great quantity of fuel needed to heat these buildings and the question is, do we have it?
            George Davis left us yesterday. He is to be an Adjunct for the American Military Government of Occupied Territories (AMGOT). It ought to turn out to be quite a good break for him and certainly should be interesting work. His replacement has not yet arrived and no one is very anxious for him to arrive from all the stories we have heard. I don't know why the Col. doesn't just let Fadley handle the job instead of getting a new man in when our Table of Organization doesn't call for a QM officer anymore anyway. But so it goes.
            Understand that Miss Bell is returning to the U.S. She is the oldest of the nurses and under the ruling that 1% of the outfit can be returned to the U.S. she is being sent back. Speaking of trips, the Old Man had a nice 7-day one, which took him to the land of Cleopatra. Wish we could get a nice trip like that. Such is the life of a Colonel.
Loads of love,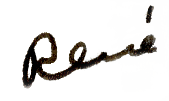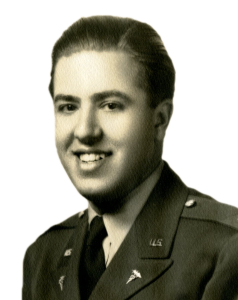 .
Watch for the rest of letter on
November 10, 1943

René's pal, George Davis left the 59th Evac. Unit – to serve as an Adjunct for the American Military Government of Occupied Territories.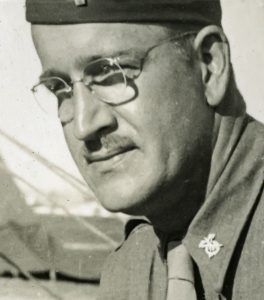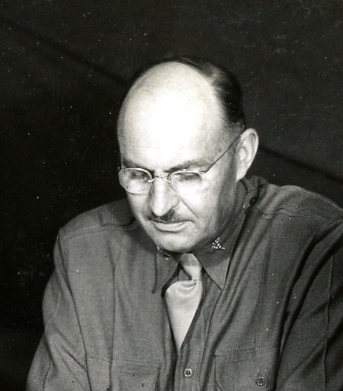 "The Old Man" – aka Colonel Bolibaugh – had a nice one-week trip to Egypt.

November 10, 1943
Continuation of No. 64
Palermo, Sicily
Dear Folksies,
            Numerous packages arrived the other day – packages that apparently were mailed after the glasses you got me. These, of course, were Xmas packages and I'm amazed that they arrived so quickly. Have not as yet opened them, but wonder if they will really keep till Xmas. We're getting awfully itchy fingers.
            Have kept plenty busy of late. In fact, I think that the two busiest departments have been ours and Lois's. There have been a lot of interesting intra-hospital problems cropping up all the time to give someone a headache and somehow a lot of them fall on us in the dispensary, such as the question of giving shots, etc.
            The latest problem was the question of Schick testing the whole gang, which I had to do. Obvious reasons. This, of course, included a great deal of culturing and when the scare became a full-blast one, then men poured in from all over with the same request. It soon got out of hand and became ridiculous to a great extent. The number of cultures as compared to the number of positives was a top heavy ratio and the number of cultures compared to the number of clinical cases was even more top-heavy. Of course, numerous positives were definitely only the oid type, but the poor lab was snowed under for some time. It had to get assistance, but now things are slowed down to a walk. We toxoided all the Schick positives in our gang. Had only one clinical case in our gang – Miss Vencko.
            You should have seen our "Charlie Chaplin Production Line" the day we were Schick testing. Fran was the left-arm specialist (control) and I was the right-arm specialist, while the boys kept us supplied with fresh needles. The remarks from the boys as they were attacked from both sides were really funny. But the most common one was, "Gee, with both shooting, I don't know which one to watch, so I can't tell if it hurts or not!"
            Of course, all this business would occur while the Col. was away. Mattie had his hands full, partly too, because Reilly was rather unreasonable on several things and they went round and round for a while.
            Jack Dunlap turned up with a positive throat, but wasn't ill – however he was stuck in the hospital and I had the problems of the Evacuation Office dumped on me.'Twas quite a job for a few days. For a while I thought I was going to have to buy a pair of skates, because I was running back and forth from the Receiving to the Evacuation office. These offices are at opposite ends of the building and one nice long hall between them. It would be quite a nice skate.
Loads of love,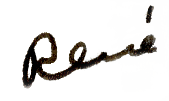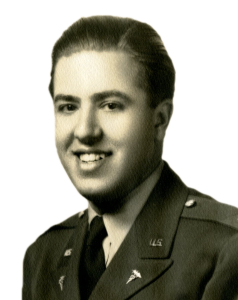 .
Watch for my next letter on
November 14, 1943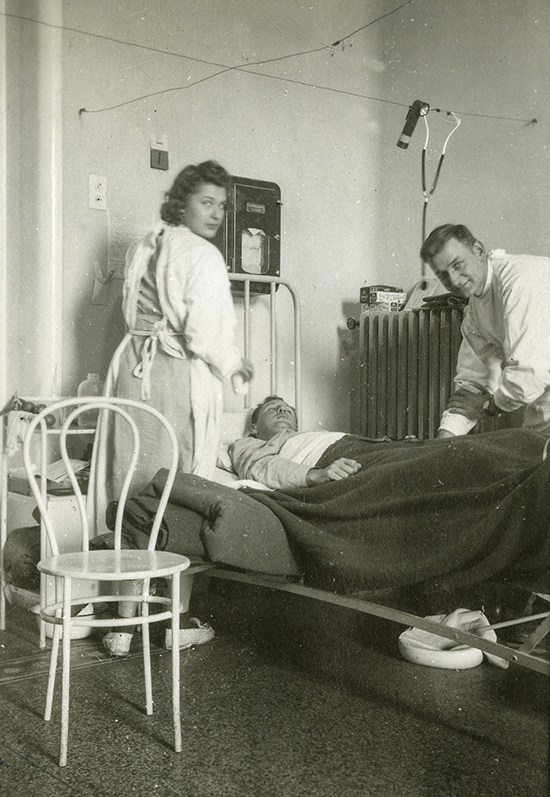 Lois working in the Isolation Ward with Tom Voicheski, who was in charge of the ward. René tells his parents that the two busiest departments have been his and Lois's.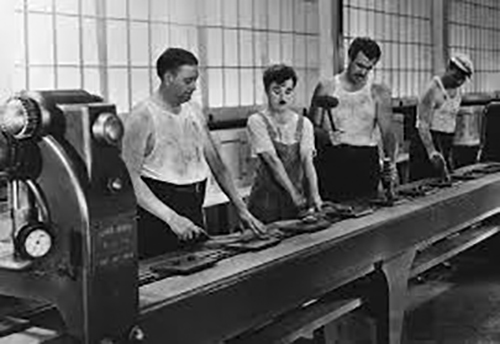 René says that the day they gave everyone in the unit Schick tests – to test for susceptibility to diptheria – they set up a "Charlie Chaplain Production Line" like the one depicted in the film "Modern Times."

November 14, 1943
No. 65
Palermo, Sicily
Dear Folksies,
            Here it is Sunday night and Lois and I are down in Supply again pounding away at the typers. Things have slowed down considerably as far as my business is concerned, but Lois is still going pretty much full blast. Somehow she manages to tear around her wards like mad continually and tho' she is constantly claiming that there has been nothing accomplished by her that day, she actually has done more than any other two nurses could or would have done in her position.
          Time out for the moment –- we are having a picnic down here. This room, which used to be George's and is now Wygoski's, is a meeting place for the Supply-Utilities gang often, and now Ehrbacher, the baker, is down here trying to get the 1st Sgt. on the phone to tell him, and have me tell him, that Ehrbacher can't work for a couple of days. Ehrbacher is somewhat on the polluted side at the moment, but funny as can be — with his lisping when sober you can imagine how he is when in this condition. Anyway, what happened to him last night was really a kick.
          Some Italian civilian came into the Nom-Com's Club to tell the men that some soldier had fallen through an old bomb-crater in the roof of the building and was lying hurt on the second floor. But poor Ehrbacher didn't like the Italian's looks or something and, being drunk, he took out after the poor Italian. The latter went out the swinging glass paneled doors with Ehrbacher after him, but the doors closed and swung back just as the "Baker" came up to them and they knocked the "Baker" back on his sit-down with glass flying in all directions, most over him. It apparently was quite a sight — and Ehrbacher hasn't quite recovered from the incident yet.
            More about the Italian. Some poor duck had fallen through the roof of the building. I happened to be over in the 1st Sgt's office at the time, Lois having gone to bed early, and when someone came in and told me about the fellow, I went and investigated and then had him brought over to Receiving on a litter. The fellow had fallen about 15 feet, but how he had gotten on the roof in the first place, no one knew. He was under the influence, obviously, but it wasn't until one of our Receiving boys got real smart that some investigating was done. It was found out that the guy had escaped from the psycho ward of another hospital, had gone out and had himself a good time, and then got lost in our buildings trying to find his way back to the other place. What things won't happen here???
Loads of love,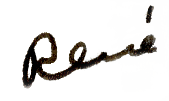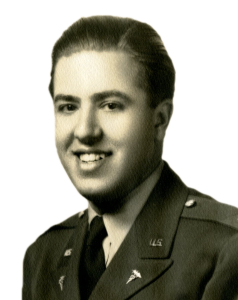 .
Watch for the rest of my letter on
November 21, 1943

René and Lois are having a picnic in Wy Wygoski's room in the Supply Department. Wy is on the left in the photo above, with fellow supply men Charles Weistenberg, aka Weisty" and Harold Dinsmore, aka "Dinny".

Herbie Ehrbacher, the unit's baker, is quite a character.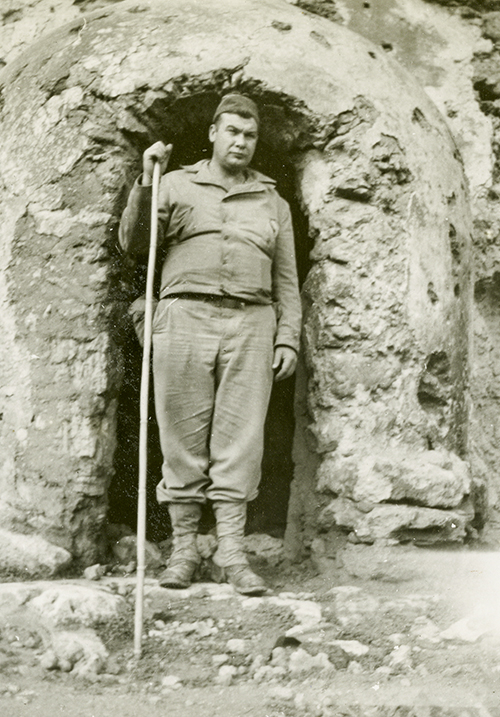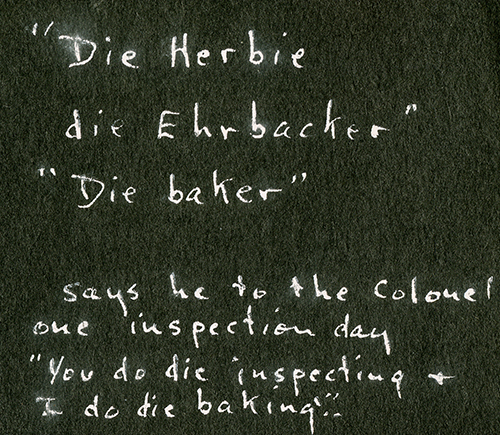 November 21, 1943
Continuation of No. 65
Palermo, Sicily
Dear Folksies,
             I must thank you, Dad, ever ever so much for the wonderful pair of glasses you sent me. They are really marvelous, but I feel guilty when I think of how much you must have paid for them. And then again, I shudder when I think how much my heart went to my mouth this morning when I started to open the package and realized that the glasses were in that miserably squashed looking cardboard box. But, when I saw that the glasses were still intact, I merely marveled at the luck. Golly, but you certainly are a trusting soul, Pop. To have put those glasses in nothing more than their case and that cardboard box and to have trusted them to the handling they get coming over here, well – 'tis just unbelievable.
             And, yes, the swell watch that Lois had Mom McFarland get and send for my birthday, also arrived in perfect shape. Unfortunately, Lois' watch is now on the fritz too, so the new one is shared – daytime by Lois and night-time by me. Guess we shall have to take a chance and try to get one of our watches fixed downtown, if AMGOT can recommend a good and reliable watchmaker for us.
             Dad, I feel sort of guilty that I had my extra salary put into bonds instead of just cash for you, but you can change them to cash if you need to or wish to do so –  'tis O.K.
            Dad, you will be interested to know that the 59th is doing some good research work at the moment – Kuzell and an outsider from some commission are doing most of it, for Kuzell found a million little spirochetes in the only case of fatal jaundice we had. He has also found the wigglers in some of the other cases that have not been fatal. Have plenty of material here for a study of that sort.
             So far, only a couple of our boys have been thusly ill – none of the officers or nurses.
            The Officers Club is having a big shin-dig this coming Saturday night. It promises to be quite an affair. Some of the gals have gone in for getting formal dresses made, and this is going to be a good opportunity for them to show them off. Lois is one who did not become so inclined.
            'Tis bed time now – we have been both going to bed pretty early lately, what with colds going around, etc. and trying to keep up resistance as much as possible.
Loads of love,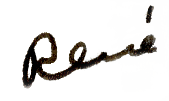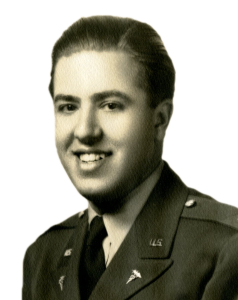 .
Watch for my next letter on
November 27, 1943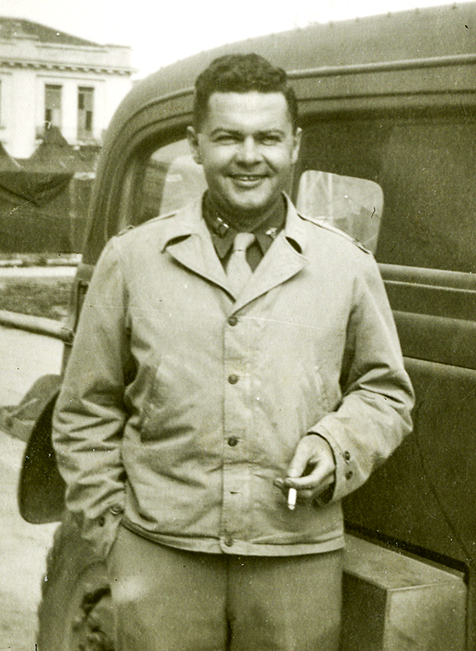 René tells his father that doctors in the 59th are doing some good research work – particularly Bill Kuzell, pictured above.