November 30, 1943
End of No. 66
Palermo, Sicily
Dear Folksies,
          Some leaves are being dished out now, for the first time since we've been overseas, and, as a matter of fact, we are one of the last hospitals to receive leaves over here. Collie went first and had a nice trip, going to Cairo, Alexandria and other places in that vicinity. Mattie's orders were delayed so he did not leave at the same time as Collie and then poor Mattie ran into some hard luck. He got to Africa and suddenly had an acute backache and was unable to go on. He, therefore, spent his whole leave in bed by an airport in Africa. What a time!!
          None of the officers are on leave at the moment, tho' some of the nurses are – a couple at a time. If our census gets down sufficiently, however more and more will be able to take off for a week. But until Jack Dunlap gets well, however, I know there is no chance for me, and at the moment Lois' department is going still full blast and none of the gals that are on leave are from her building, so our chance won't be for a few weeks anyway. Where we'll go if and when we do get leave, I know not. Only wish that 7 days were enough to get back to S.F.!
          We seem to have had sort of a repeat of the occurrences of last year at about this time – i.e. at Pickett. Yes, we have had another series of appendices – none so far in the officers or nurses (except for Dottie Collins, but that was 2-1/2 months ago), but 4 in the enlisted men within 2 weeks. Sompin' they et no doubt! I assisted George Wood on two of these.
          Got myself another pair of dark green trousers at the PX the other day. Hope you are able to get a shirt or two at Roos' for me – i.e. the dark green. They look so much nicer and make one feel all dressed up. And, now, with Lois having her O.D. uniforms, I gotta dress up to go out with her, eh!
Loads of love,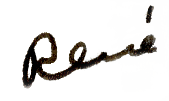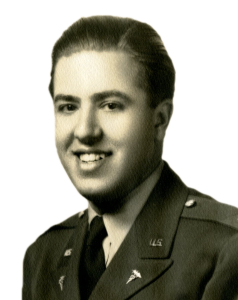 .