September 1, 1945
Near Fritzlar, Germany
No. 49 (continued)

Dear Folksies,

         The nite of August 30th, I went to the Sternberg's for supper. I was greeted at the door by Nicole and Jean-Jacques. Jean-Jacques is 11 years old, has closely cropped red-hair, is smart as a whip and apparently quite a little devil. He is somewhat, tho' not badly, spoiled. He's really a kick. It seems that at Rodez he was all over the place, outdoors playing almost all the time, and when he arrived in Paris he still wished to continue doing the same sort of thing. So, he goes all over the place now by himself and manages nicely. He likes to ride the Metro, of course. He apparently had a whole speech in English cooked up for my arrival, but then got embarrassed and didn't spill it. He does speak some English and understands fairly well, but won't use what English he does know.
        Anthony, whom I saw a couple of minutes later, looks well. He has grayed around the edges, but does not look any older than he actually is. He looks younger than Paulette. Of course, my only mental picture was of him in 1923 when he was, as I remember, dark-haired and sort of round-faced. He has, now, somewhat sharp features and wears glasses. Considering that he spent 5 years in prison, he certainly looks fine.
       Of course, his life in prison was really not too bad.  He showed me pictures of the prison at Lubeck that had been taken by the Germans at one time or another, and which he picked up when they cleared out.  Being a camp exclusively for officers, they naturally had privileges which were not accorded other prisoners — and the treatment was nowhere near what that of the political prisoners was.  Anthony was the Chief of his barracks, apparently because of age.  They were able to exercise, had their own theater, complete with stage, and they put on plays and skits for their own benefit from time-to-time.  He showed me one picture where some of the cast were dressed as women, and a good time seemed to be having had by all. Another picture showed them playing volleyball in the courtyard of the prison (which, incidentally, was an old castle on a hill on the edge of a town). The view from the prison was mighty nice, looking out over a fertile valley.
       At the camp, all sorts of un-imaginable things went on, but Anthony did not attempt to participate, because of his position as the Chief.  He felt that the less he knew of the activities, the better it would be, for then, when questioned by the Nazis, he could truthfully say that he knew nothing under-handed was going on, and his manner of telling it would be far more convincing, he felt, if he actually knew of nothing specific, than if he did know of some of the things the others were doing.
       It seems that they had a few radio transmitters right within the prison, and were able to transmit a good deal of information to the British from there.  Some of the men had codes worked out with their wives, and though the letters they wrote were seemingly harmless, they actually packed a lot of dynamite in them.  A few were even able to work out and establish a code while they were in the prison, having had no pre-arranged deal before they got there.  Some of this was done by means of writing that the package that a wife had sent did not arrive.  That would call for a Red Cross man to come to the prison to investigate, and when that investigator would arrive, a message would be sent back with him, perhaps without him even knowing it.  There were other things on that order, too, which are almost unbelievable — surprising to think the Germans were so dumb and unsuspecting at times.
       Apparently a lot of packages and letters never did arrive at their proper destination, tho' the prisoners did, from time to time get Red Cross packages OK. Anthony never did get anything you sent, Dad. Didn't you say you sent something with the wife of Anthony's fellow prisoner? Apparently, too, we are not the only ones who tho't of using certain associations. Paulette said that when she wrote to Anthony they frequently spoke of the possibility of my arriving to visit, and when the first landings were made in France that was the way Paulette was able to tell Anthony.
                           Loads of love,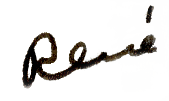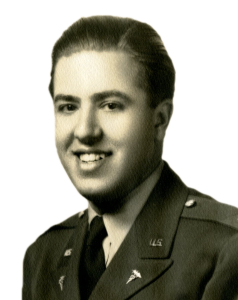 .
Watch for more of this letter
September 2, 1945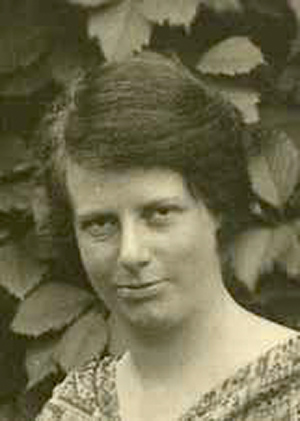 René had dinner at the home of Paulette Sternberg (above) and her husband Anthony, who was a prisoner of war for five years, including at Lubeck POW Camp in Germany.

September 2, 1945
Near Fritzlar, Germany
No. 49 (continued)

Dear Folksies,

            Anthony Sternberg said that the British arrived at his camp [Lubeck POW Camp] on May 2, and he was flown in a C-47 to Brussels. He was supposed to get to Paris from there by train, but the pilot wanted to get to Paris anyway, so flew his plane and load down directly to Paris, so that Anthony arrived home on May 16. Paulette had come back to Paris to await him after she heard that his prison had been liberated. She at first was going to wait at the station but then, wisely, decided to stay at the apartment. Sure enough, Anthony came direct to the apartment, not knowing if anyone would be there, but feeling sure the concierge would know where the family was.
        Anthony now works in a bank in Paris. He used to be on the stock exchange, I understand.
        Incidentally, that nite I had to talk French the whole time, for only Paulette, Anthony and Nicole understood all the English. After supper, which was excellent, I told Jean-Jacques to open up my musette bag and to take everything out that was in it, that it was all for him. He took out a few cans and then the plasma-box that I had in it also. He replaced the box, thinking I didn't mean for him to take that too, and was surprised when I insisted that he open it also. His face was a study when he saw the gum and candy. Immediately he thanked me (in English this time) and proceeded to chew the gum like mad. Later on when he went to bed he was careful what he did with the gum to save it (tho' there was beaucoup in the box.)
        We talked so long and so late that when we realized what time it was they tho't I just about had time to catch the last metro from their district. However, the timing was wrong and I just missed that last metro. Sooo, I walked home. 'Twas quite a walk.
        The next day I went to Lilice's again for lunch. While there, a package arrived from you, Mom. It had 4 pair of shoes for Dominique plus deviled ham and olive spread. 'Twas greatly appreciated, but would have liked to have seen Dominique open it herself. One of the cutest stories concerns Dominique and one of the pair of shoes Marie-Louise sent from Puerto Rico. When she goes down the street with Claudine people stop them and ask Claudine where she got the fine shoes. Dominique pipes up with, "They come from Porto Rico." The questioner is generally astounded and asks again what store she meant, to which Dominique answers again, "They come from Porto Rico. They are my American shoes!" The questioner goes away dumb-founded.
        Giles [Claudine's husband], as you know, is still in the Army, but when he gets out they plan possibly moving to Normandy to take over the running of a home for children that Yvette is setting up. Giles is a radio man, but because of the paucity of such items, they feel that business along that line would not be good for some time.
                           Loads of love,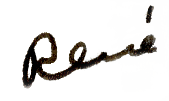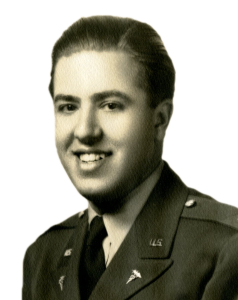 .
Watch for more of this letter
September 3, 1945

Marie-Louise – René's sister – sent some shoes to Dominique. René tells his parents a story about one pair that the little girl especially loves. Perhaps she is wearing them in the photo below.
September 3, 1945
Near Fritzlar, Germany
No. 49 (continued)

Dear Folksies,

        After lunch, walked with Lilice to the Trocadero, which is a beautiful and elaborate place close to the Eiffel Tower, and then finally walked over to Marie Weill's place. She and her family live on the fifth floor of a rather old, but nice apartment house near the Avenue de la Grande Armee, just a block from the Arc de Triomphe. They have a wonderful view from their balcony. We were there for "tea and gouté" and both were very good. The two sons, Francis and Claude, were home. The third son, Serge, had not as yet returned from the Army. In fact, Claude was only home on a two-week furlough, having arrived just that noon.
        Francis is about 27 and an exceedingly intelligent fellow. He was most interesting, spoke excellent English and I enjoyed talking to him very much. He is a painter, having done numerous paintings and also murals. Before the war he had his own studio, but of course quit during the war. Now he is teaching art at a high-school and is just getting started again on his own besides. When he gets in full swing he will probably drop all his teaching duties. During the German Occupation he was active in the Resistance, being a member of the FFI. He operated mostly on the eastern border thru Alsace and Lorraine. He got data on German troop movements, equipment, etc. and relayed it to headquarters in Paris to be wired to England. Very likely, unknown to him, he was one of those under Yvette.
        He changed his name and address almost every week or two, always changing whenever some compatriot who knew his address was captured, for, no matter how good a friend one might be, under torture they never knew what might be divulged. He said he usually carried messages by writing on a tiny piece of paper and inserting that paper between the pages of a new book, one with un-cut pages. He could then read on to his heart's content and no one would suspect that there was anything wrong about his book. On two different occasions he had the Gestapo at his front door and escaped thru the back door just in time.
        Claude Weill is 25 (I believe) and had escaped into Spain in the Fall of '43. He was in prison there for a month but then got out to Casablanca where he joined the Free French Army, almost immediately (in Dec. '43) going to Italy to join the American 5th Army. He fought thru that hard winter, in the Cassino area etc., going up as far as Florence and then pulling back to go in to Southern France, landing on the 18th of August at St. Raphael. From then on he was actually never far from us, being at Besancon, Belfort, the Colmar pocket, Stuttgart and then down in Southern Germany. At the moment he is stationed near Frieberg. He, too, seems like a nice fellow, tho' is quieter than Francis. I would have liked to have spent more time with the latter.
        In fact, enjoyed meeting the whole family very much.
                           Loads of love,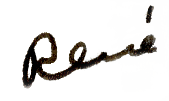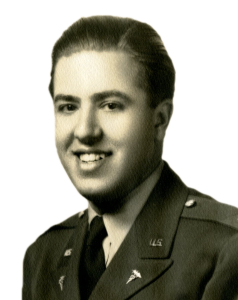 .
Watch the conclusion of this letter
September 4, 1945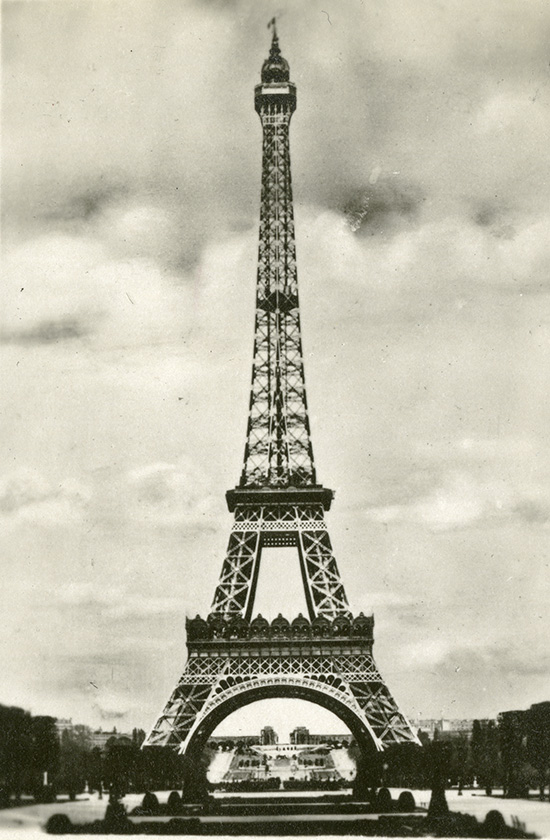 After lunch, René walked with Lilice by the Eiffel Tower and the Trocadero.

Their destination was the apartment of Marie Weill, just a block from the Arc de Triomphe.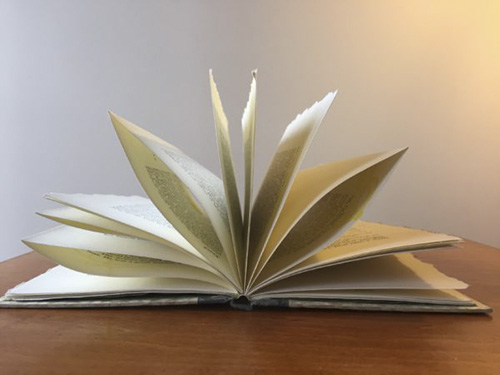 Francis Weill tells René that during his time in the French Resistance, he often would transmit messages written on a tiny pieces of paper that he hid between the pages of a new un-cut book – like the one above.

September 4, 1945
Near Fritzlar, Germany
No. 49 (conclusion)

Dear Folksies,

        After a couple of hours at Weill's, Lilice and I left, Lilice going home and I going first to the hotel and then to pick up Yvette. Went with Yvette then, to her club, which is called the "18th of June."  Reason for that name is that on that day De Gaulle spoke last year from England, telling all those in the Resistance that they were no longer fighting alone, and that there were French troops once again fighting on French soil.  The Club is exclusively for those who were active in the Resistance, and, of course, Yvette is about on top of that list.  It is in quite a nice place, a former hotel. The food was good, and I got Yvette to talk on, and on, and on.  I was glad that the Club was not on a charge basis for, at least, tho' Yvette had ended up by taking me to supper, I was able to pay for the meal.
        I'm not going to attempt, tonight, to tell you any more about Yvette – that is going to take a least a whole night in itself anyway. Suffice to say that after supper we walked down to meet David, George, Lilice and Jeanne, sat at an out-door café for a while and finally all walked to the Arc (Etoile) and bid adieu – each group taking different Metros. I hated to leave them and only hope that I shall be able to get up there once again before too long.
        The next A.M., Saturday, I had to get up real early to get out to the airport. Left Place Vendome at 7 A.M. and was once again lucky enough to get by on those screwy orders, talked the mail-pilot into taking me on as a passenger, and landed at noon at Fritzlar. The ride home was better than the one going to Paris, for I just stretched out on the mail sacks – I was the only passenger – and fell promptly asleep. Phoned here for a vehicle to pick me up and no sooner was home than was plunged into some work for the motor-pool.
        Yesterday A.M. I got up at 4:30 A.M. to drive 5 of the nurses to Frankfurt so that they could catch a plane to Marseille on the first leg of their journey home. As the command car was on the fritz and the only jeep in decent shape was the chaplain's, and the sedan is still being fixed, the only vehicles that could take the gals were a 2-1/2 ton truck or the bus. They finally smiled sweetly at me and I took them in the bus.
        'Twas quite a ride and I am surprised I was able to write as much as I did last night when I returned. Got them down there at 8:30 A.M. only to find that the last plane for Nice (they apparently have to go there first) left only a few minutes before. Had they been ready to leave at 5 A.M., as planned, instead of 5:20 A.M. and had I not had a bit of trouble with the bus on the way, they might have gotten off yesterday, but as it was they were to get off this A.M. at 8. The group that went this time was: Liz Liss, Chris Colletti, Miss Diffley, Clarkie and Lee Summers. I really hated to see Liz, Chris and Clarkie go. All three are really swell gals.
        As they had to wait over for the day, they got rooms at the Hotel Excelsior in Frankfurt and were able to eat across the street at the Carleton Hotel. They insisted that I remain for lunch with them before returning, so I did it. What a swell lunch: excellent soup, chicken, fruit salad, and, to top it off, a scoop of chocolate and a scoop of vanilla ice-cream. We made ice-cream floats out of the vanilla – i.e. coca-cola floats, as they also served coca-colas with the meals.
        Finally set out for here all alone, and managed to make it o.k. tho' something, I know not just what, went ka-flooey with the engine of the bus.
                           Loads of love,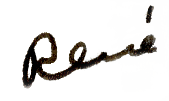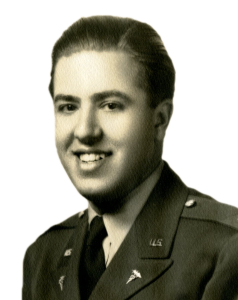 .
Watch for my next letter
September 6, 1945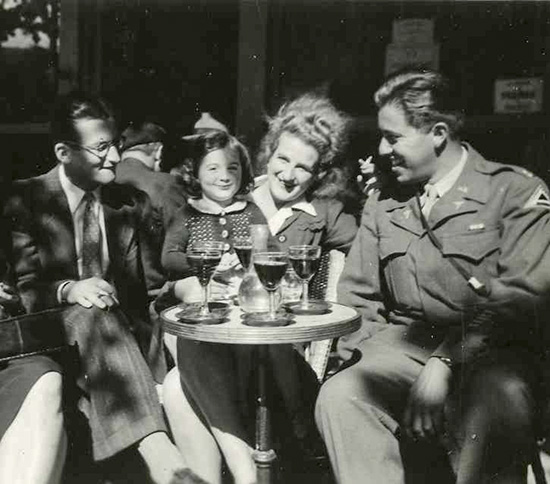 Right to left: René, Yvette, Dominique (Yvette's neice) and Giles Aaronson (Dominique's father)

When he returned from Paris, René drove five nurses to Frankfurt (in the bus) so they could catch a plane to Marseille – the first leg on their journey home. He tells his parents that he "really hated to see Liz Liss, Chris Coletti and Doris Clarke go. All three are really swell gals." Pictured below are Liz, Chris and Doris.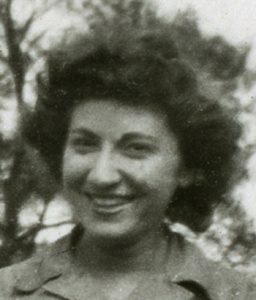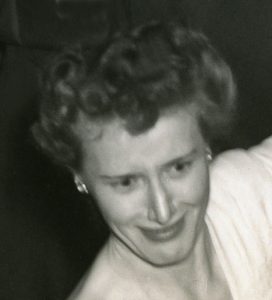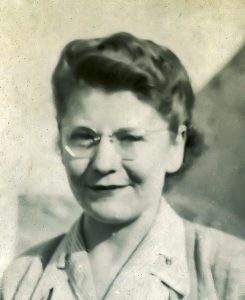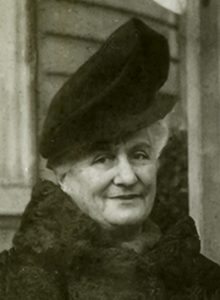 Today we have a letter that Lilice Baumann wrote to René's parents after his visit to Paris. Lilice is René Sr.'s first cousin. It is transcribed here exactly as she wrote it in English.

---
---



Dear Ones,

      First of all I must tell you how happy we have all been when we knew that peace was declared. A terrible dream is finished. I hope for you that René Jr. will soon be able to leave Germany.

      Second, can you imagine how thrilled I was – coming home from marketing, to find sitting in an arm chair, Junior – looking fine. What a darling boy you have. He always have a good face of baby and does not seem to be 30 years. Georges was so happy coming home for lunch to see him. First day he had lunch and dinner with us. Second day we went in the afternoon to see Paulette. She is trying to arrange her apartment with some furniture which was not stolen to poor Sadie – but how difficult it is.

      The day after I went at Jane's, where René had lunch. Dinner here with Yvette. Yvette thinks René was very pleased with her. He took her out for dinner the day after. Yvette also thinks he is a fine boy. Day after he came here for lunch – looked as Santa Claus with a fool bag of presents.

      I simply devoured mint chocolate before lunch time and had a terrible mal au coeur [heart burn]. I make also a big consummation of Milky Way Chocolate (Mars Chicago). All things we hardly remember the taste.

       I phoned to Claudine still out of Paris in Auvers until now. She felt terribly sorry not to be able to see René. I hope he will have another permission before leaving the continent. We also went to see Marie Weill. René met two of her sons – nice boys – with whom he could have gone out instead of staying with us.

        Yvette received yesterday le grade de Lieutenant dans l'armee [rank of Lieutenant in the army]. Always nothing concerning her husband except bad news. It seems that wagon where he was from Drancy to Auschwitz was passed through the gaz. Jean-Guy, de qui on n'a plus jamais entendu parler [who we never heard from again]. C'est horrible! Yvette tries to forget. Is working very hard.

      While René was at home we received a colis [package] for Claudine. We opened it and I was so happy to find some more shoes for my baby dear [Dominique]. Claudine will thank you herself when she will be home again. It is terrible always to have to thank and not be able to be thanked in return. I would have liked to send something to Barbara – it's not possible. We still miss a lot of things. If you have a chance, Alma, to find some stockings. I have not a pair left to begin the winter.

       I have good news from J.P. , Doude and baby. They stay out of town till end of September. Jeanne and Dave at last are gone to England to see Jacqueline. They have not seen her for three years. You can imagine how nervous they both were.

       Now I am going to end my letter. It was hard work to write it all in English. You must not laugh to all my mistakes or else I will oblige Alma to answer in French. [The joke was that, unlike René Sr. and René Jr.,  Alma didn't speak French!]


      I kiss you all, so much and so much. Georges joins me in doing it.

                   Yours, 

                          Lilice

.

Watch for René's next letter on
September 6, 1945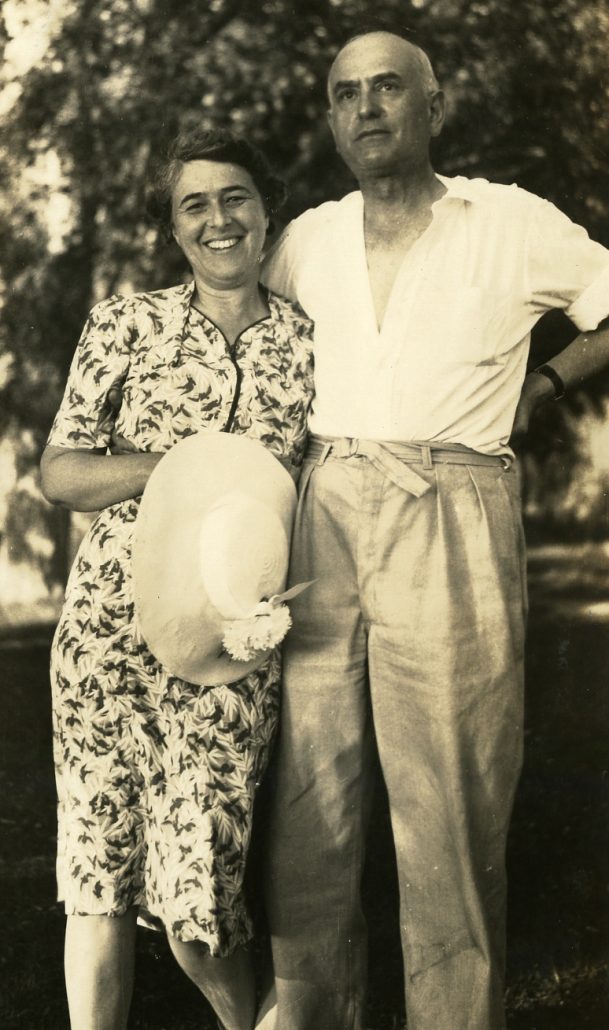 Lilice writes to Alma and René Bine, Sr. – René's parents.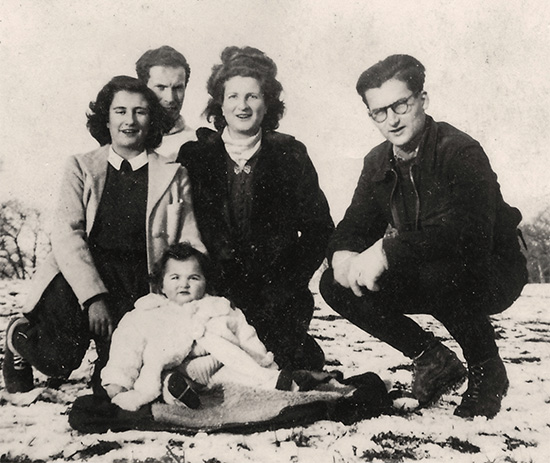 She writes about her daughters – Yvette and Claudine – their husbands, Jean-Guy Bernard (who died in Auschwitz) and Giles Aaron, as well as Claudine's baby, Dominique. All of them are in the photo above – taken in December 1943 – a month before Yvette and Jean-Guy were captured by the Gestapo and taken to Drancy Prison. (Adults, left to right: Claudine, Jean-Guy, Yvette and Giles)

September 6, 1945
Near Fritzlar, Germany
No. 50

Dear Folksies,

            Tonight, I'm going to attempt to jot down a few of the things told to me by Yvette and I am not going to try to make this chronological at all.
          Let me preface my remarks about Yvette by saying that she is truly one of France's great women, and, too, one of its unhappiest.  I see in tonight's "Stars & Stripes" that some French Woman Captain was given some fancy Resistance Award when she recently made a trip to the U.S.  Her feat had been to kill some 50 Nazis during some operation involving the blowing up of a bridge during the Occupation.  That woman was a Captain!  There are only three Women Majors in the French Army, and that is the highest rank that can be given a woman.  So that you will see where Yvette really stands, let me tell you that she turned down that rank — the rank of Major!
            Yes, when she returned to Paris she was summoned to the Ministry of War and told that they wanted to make her a Major in the Army because of the great work she had done prior to her capture. Yvette, however, had had enough of uniforms, had seen too many SS and Wehrmacht women in uniforms, and didn't want to have to dress up in any uniform whether it be a Major's or any other.  The Ministry was most insistent, but Yvette was even more so; but finally told them that they could make her a Captain in the Reserves, if they wanted to, but she didn't want to be active at present.  So that is what she is – i.e. holds the rank of Captain in the Reserves of the French Army.
            Yvette, prior to the war, was trained in social service work, having obtained what I believe is comparable to a Master's Degree in that specialty.  When the war first came along, she went with the rest of the family to Lyon, but very soon became active in the underground movements for the Resistance.  She returned to Paris in the end of '42 and became increasingly active, and was soon near the top in the whole movement.  While doing this work, she met Jean-Guy Bernard and, in October '43, was married in a little town outside of Paris, with only a few Maquis friends as witnesses.  As soon as they were married they had to leave the place, and all the friends had to scatter in different directions.
            Jean Guy's father was Colonel Bernard, a well-known French Army man who had, I believe, some Indo-China experience. Jean Guy himself, was a graduate engineer and was also an airplane pilot.  His sister, Jacqueline, was, throughout, one of the assistant editors of the newspaper "Combat," the Paris underground paper — one of the three in the whole of France that continued to publish regularly. It is now one of the most widely read French papers, and Jacqueline is once again on its staff.
            Jean Guy and Yvette had to continually change their address, moving at least every ten days so as to avoid detection.  If any of their friends were taken by the Gestapo, then they moved immediately for fear that their address or names might be divulged by these friends when under torture.  At that, only two people ever knew their address at any one time.
            The type of work they did was varied. They collected all sorts of information concerning the movement and strength of the German troops; they directed sabotage against the German Army; had trains blown up; and relayed all information they obtained by short-wave to England or later to Algiers.
            There are now certain streets in Paris down which Yvette cannot walk.  Why?  Because, when she returned to Paris she attempted to thank the numerous people who had, unknowingly, been working for her during the Resistance.  They knew her at that time either as "Claude" or one of the other numerous names that she had used, or they may not even have known any name of their superiors, nevertheless, they did the work assigned to them at all times. These men of whom I speak, in particular, were the doormen at apartments and hotels, grocery-men and little shop-keepers who, for the most part just passed on information, written or verbal, to the proper channels — the channels that led to Yvette or Jean Guy.  Yes, Yvette went around and thanked these people, but now if she goes down these same streets she is mobbed — they throw their arms about her, try to give her things, etc., etc.
                           Loads of love,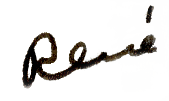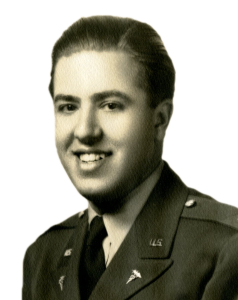 .
Watch for more of  this letter
September 7, 1945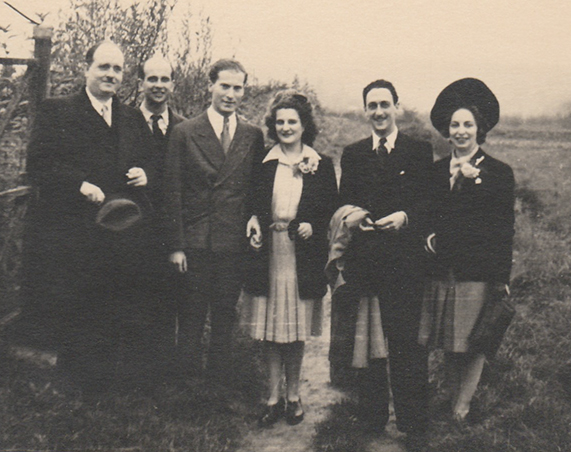 Yvette and Jean-Guy on their wedding day. Jean-Guy is third from the left, Yvette is next to him and Jean-Guy's sister, Jacqueline is at the far right of the photo.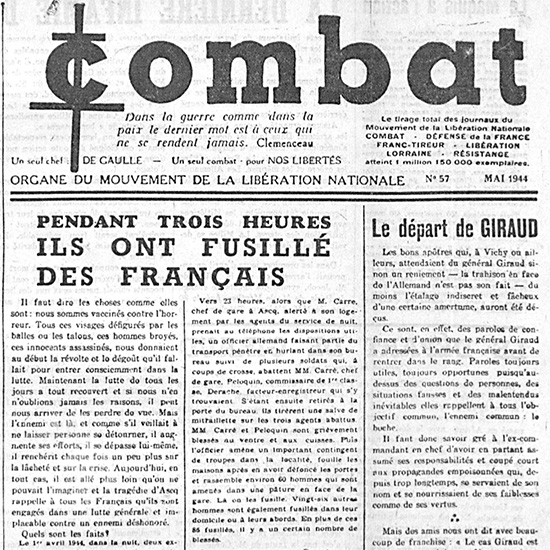 Jacqueline, as René tells his parents, had been a journalist with "Combat," the underground newspaper of the French Resistance. Jacqueline, who had joined the Resistance in 1941 in Lyon, was deported to Ravensbruck Concentration Camp in Germany in July 1944. After her return to Paris, she again became a member of the editorial staff of "Combat," which had become a daily newspaper with Albert Camus as editor.

September 7, 1945
Near Fritzlar, Germany
No. 50 (continued)

Dear Folksies,

           When finally the Gestapo did catch up with Yvette and Jean Guy, they really had all the dope on them, including most of their aliases. When they were confronted with all that information, they knew the jig was up. They were both taken to prison, and that was the last they saw of each other.  Yvette asked them why they didn't just kill them right away, but she was told, just as she was being driven past the Arc de Triomphe (for the last time she thought) that they didn't want to make it so easy for her, but were going to send her away to a camp where she would live an existence worse than death, finally dying in a much more horrible manner.
            I did not question her, nor did she happen to mention some of details that George Baumann [Yvette's father] had told me about months ago, including her being taken a prisoner when she was 8-months pregnant, being questioned, denying everything except her Jewish heritage, and then being raped by the German. [After three weeks at Drancy, alone in her cell, Yvette delivered a still-born baby girl.] Nor did she mention the episode concerning her rescue and re-capture.

            While in prison, before being sent to Germany, fearing that she was going to divulge things of importance while under torture, and also wishing to die right then, Yvette slashed her wrist terribly with a small razor she had managed to hide.  She slashed her left wrist, bled considerably and passed out.  However, she had failed to hit the radial artery, and someone found her soon anyway, but she did do herself a great deal of permanent damage.  She has several slash marks across her left wrist, all healed with jagged scars. The tendon to her middle finger is entwined in the scar at the wrist, so that while her middle finger is moved, it pulls on the scar at the wrist in an unnatural way.  She has anesthesia on the palmer aspect of her thumb, index and middle fingers with some slight feeling on the dorsum of these fingers.  She is unable to flex her index and middle fingers, but can adduct her thumb, though not forcibly. As a consequence, whenever she grasps things with her left hand she is apt to drop them, if she does not concentrate, for, without feeling, she does not realize that she has anything in that hand.  She also gets terrific pain in her wrist that runs up to her elbow, this pain being produced mainly on pressure, just proximal to one of the scars.  Apparently what she has there is a neuroma, which, of course, is extremely sensitive.  She is planning to have an operation on the wrist in October, but the only thing I can see that they will be able to do to give her relief is to remove that neuroma.  They are not going to be able to improve her nerve supply, nor are they going to be able to do much towards improving the function of her hand.
            Another thing that bothers her terribly is that, when the weather is cold, her hand aches, and feels much colder than the other one. Of course, that is due to the poor circulation which resulted when she cut the vessels in her wrist, for, though she didn't get the radial or the ulnar, she must have cut several small branches. How Yvette could do the work that she was forced to do during all the time she was a prisoner, how she could do it with that hand, I know not.  But she did it! Wielded a pick, a shovel, broke up rocks, etc.
                           Loads of love,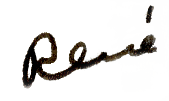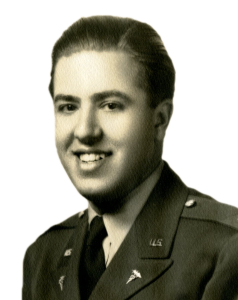 .
Watch for more of  this letter
September 8, 1945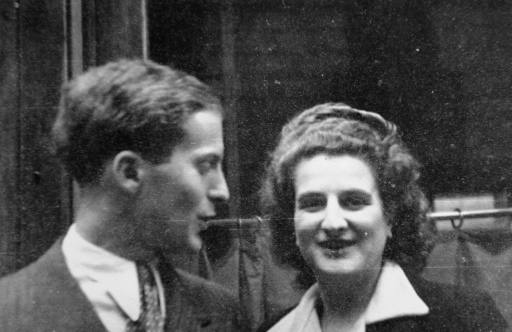 Yvette and Jean-Guy last saw each other on January 28, 1944 – the night they were arrested by the Gestapo in their Paris apartment.

As Yvette was driven past the Arc de Triomphe, on the night of her arrest, she thought she would never see this iconic Parisian monument again.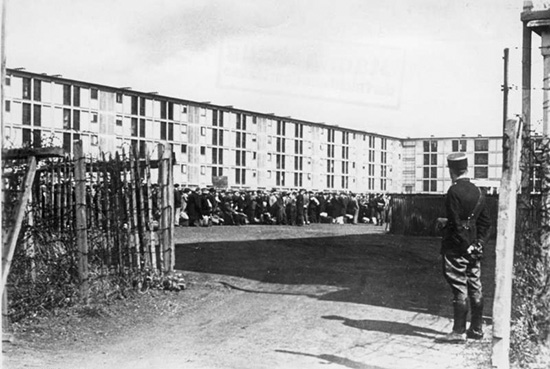 Her destination that night was Drancy Prison, where she would stay (except for a brief period after a daring escape) until April 29, 1944, when she was loaded on a transport train headed to Auschwitz, Poland.