August 12, 1944
Somewhere on the Mediterranean Sea
No. 39 (conclusion)

Dear Folksies,

          It's hotterin 'ell and "bloody" sticky.  As I write, the sweat is pouring off me and the paper is rapidly beginning to curl.  Don't let anybody ever tell you that a Mediterranean cruise is a pleasant thing, at least at this time of the year.  How people could cruise around at this time of year in peace time is beyond me — particularly in mixed company, for it is still damn far from comfortable, even au naturel.
          We've been roasting like this on the water for a couple of days, having sat, sweat and swat for a couple of days before that in a sunny, grape-vined area, which was covered with a foot of dust.  Even the salt-water showers aboard ship were a godsend.
          Our accommodations are really pretty good – far better than on our trip from the U.S., though I must admit that the food on that trip more than made up for the uncomfortable quarters that we lived in. Here there are only four of us in a room — a small room with two double-deckers.  And if the weather were not so bloomin' hot, it would really be okay.
          The food that we have is good, but what the enlisted men get is definitely not good.  The British are very different from the Americans in that respect.  Their officers get excellent food and their men very poor stuff, poorly prepared; while in our Army and Navy the only difference is in the preparation and a few little extra niceties that the officers get. We've had some excellent roast-beef, lamb chops and pork. Another thing we get, naturally, is afternoon tea. The heck of it is that it merely serves to heat you up all the more and gives you more liquid to have pouring down your brow and back.
          Leave it to Roy – à la R.B. Sr. — the first night aboard he gets the Captain of the ship down into our stateroom for cocktails before supper.  He had also gotten acquainted with the radio officer, who was a very nice and mighty interesting fellow. So, with them, a British officer and a French Captain, we have had quite the little gathering in our cabin.
          This afternoon I had a good bridge game – seemed to hold all the cards for once, with some of the strangest distributions I've ever had.
          We had sort of a funny deal — we were told to turn in all of our money (all of it) and then we find that we can buy lemonade and carbonated-ade on the ship. But with no money, we've been in sort of a pickle.  'Tis well, however, that we we did make the acquaintance of some of the Britishers, as their money is good on ship, and we've managed to do fairly well.
          'Tis the end of the page, just about the end of what I had to say. 'Tis still hot, though 10 P.M., so shall disrobe and climb into my bunk.
                                                                                        Loads of love,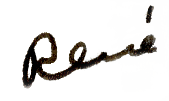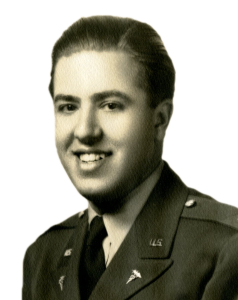 .
Watch for my next letter
August 13, 1944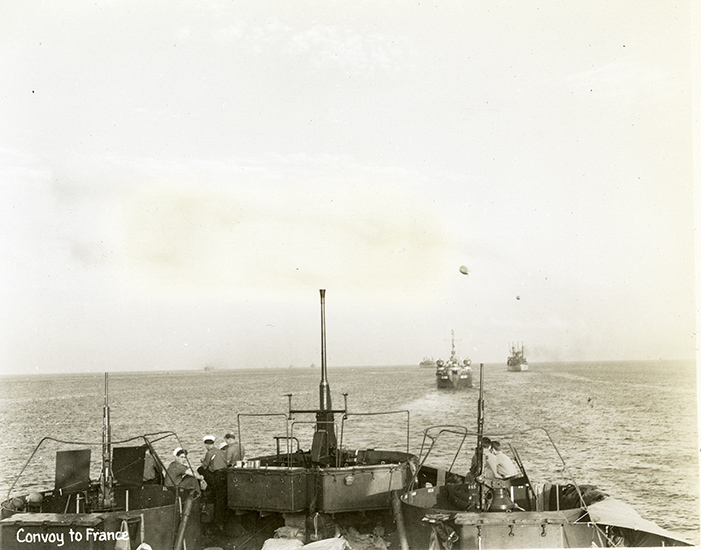 René is one of four doctors from the 59th Evac Hospital who are on a ship heading for the south coast of France. Along with the doctors are three enlisted men: Clint Green, Chuck Davis and Kioski.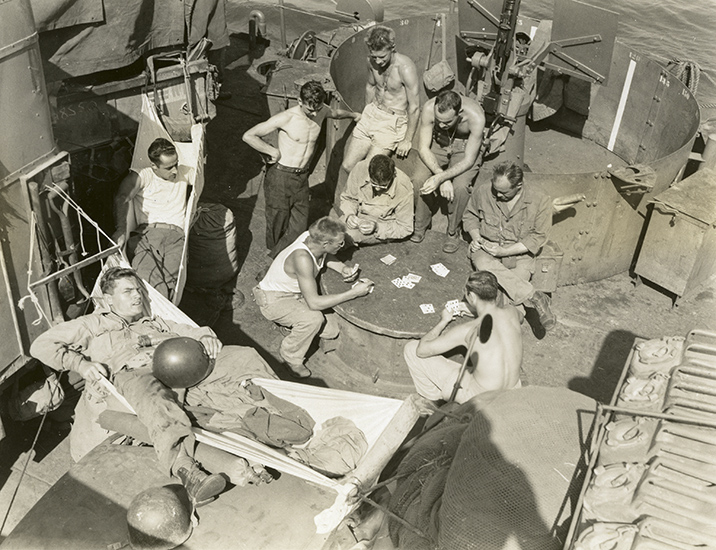 Click here to add your own text
August 13, 1944
"Somewhere"
No. 40

Dear Folksies,
            I head this letter as "somewhere" because that is actually just about what describes our situation — we know not where we are, though we have been officially told tonight that we can write saying that we are "Somewhere In Southern France."  Of course, by the time this letter makes the return trip, we will have been in Southern France for a while and will have been well established there, we hope, by the time you get this letter.
            As I've told you, its just Roy, Chuck, Paul and myself representing our gang. Where and when they will join us, we know not. We all certainly hope this will be the last big show on this part of the globe. We, the officers, have continued to eat well, plenty of meat (roast-beef, lamb and pork), a good deal of the so-called "compote" beaucoup soup and tea. We've gotten pretty used to having the sweat pour off of us and by pouring salt on any and everything we eat, besides taking an occasional salt tablet, we think we have been able to maintain our chloride balance.
            It's been rather hard sleeping at night, and some have slept on deck, while we were at a standstill at harbor. But being underway, well, everyone will have to do their sweating at night below decks.
            Thanks, Gram, again, for the field glasses, as in the Sicilian business, they have been in great demand these days. We've been able to pick out friends at considerable distance.
            Had an interesting talk last night with a French Captain George Blanchard, who is acting as liaison officer. He tells me that Jean-Pierre Aumont (our Hollywood representative of the family) is acting in a similar capacity on this deal on one of the American outfits. Perhaps I'll get to meet him! The captain is originally from Bordeaux, but studied some in Paris, and while there, he had heard Jacqueline play in concert several times.
          It will certainly be wonderful if I can locate cousin Jeanne and David after a while. But I imagine that will be a terrific job for some time to come. But I shall certainly hope and will investigate when the opportunity arises.
          The British aboard the ship have certainly been swell to us. We've made particular friends (that is, our group) with the radio officer and a young naval lieutenant from South Africa. The latter, in particular, has been most generous, has loaned us his personal books to read, has joined in and also supplied the makings for evening snacks, and, in general, been quite a guy. He's only about 24 and loves to tell us of how much more like the U.S. South Africa is than it is like England.
          We've all had quite a laugh over the little booklets the Army puts out before any of these invasions – booklets describing the country we are approaching – for, according to every one we have had to date, the country can be compared very closely to California, with only slight variations on the theme. For instance, this time, they say that Southern France is like California in land and climate, except they don't have good irrigation.
                                                                                        Loads of love,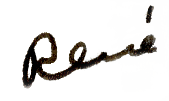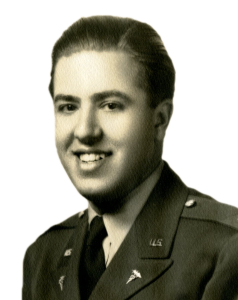 .
Watch for my next letter
August 15, 1944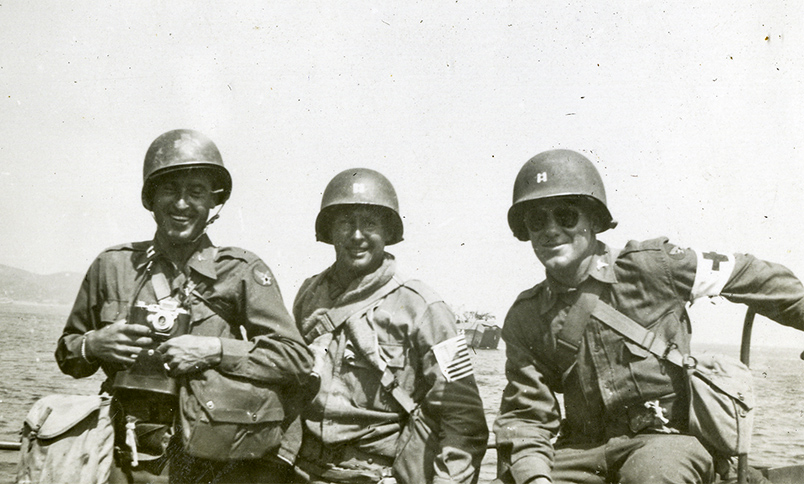 Bill Simpson, Chuck Schwartz and Bill Bradley on the LST with René, who undoubtedly took this photograph.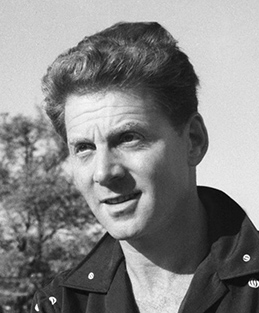 René hears news of Jean-Pierre Aumont, who he describes as "our Hollywood representative of the family." His real name is Jean-Pierre Philippe Salomons.

Click here to add your own text
August 15, 1944
Near St. Tropez, France
No. 41

Dear Folksies,
          Our landing here turned out to be, instead of a grim and determined ordeal, a tiring but swell experience.  In fact, on looking back it was really lots of fun.  (Perhaps that's a bad viewpoint to take for, one could, and probably will, use such experiences for dramatic and hair-raising cocktail material when one finally gets home.)
            We awoke a couple of hours before dawn on the big day and what we could see in the fog was an amazing sight — all kinds of ships — every description from tremendous to tiny.  It wasn't long before the big boys let loose — what a racket!!
            The whole operation was a masterpiece of organization. Things went off in much better fashion than any previous invasion.
            We were on land ourselves in no time — just a few hours after the first men.  How close seems appalling when one thinks back about it. We got off our big ship and onto a smaller one, musette bag, gas mask, medical kit, and sleeping bag (with 2 extra clothes) on our backs!!  We were landed about 50 feet off shore and waded up to our necks from the boat to the sandy shores.
             Roy and I then went back for the two bloomin' anesthesia machines (50 lbs each) — luckily they were in crates and we were able to float them in.  Roy and I think we deserve some sort of extra medal for packing those darn things all the way like that. The gang we're attached to should have arranged for bringing them.
            After we were on solid ground (having plunked into holes in the sand in the water on the way in) we were a funny looking bunch, pants sagging below the knees where they had beaucoup water ballooning them out as they went into our boots. Our boots are waterproof alright, but that doesn't do any good when water goes above the belt and then down that way into the boots.        
           We hiked a ways in our salty, soggy stuff and then stopped while someone tried to locate where we were supposed to go to meet the main body of the hospital gang (only the "attached group" was with us). 
          While waiting we disrobed and tried to dry our stuff out in some Frenchman's backyard. While so doing, standing in our undies (along with a very nice Hdq. Lt. Colonel we had met on the ship) along came a couple of generals and it made quite a picture — our saluting them while almost au-naturel along the side of the road.  'Twas was really funny!
          After we were finally given a faint idea as to where to go, we started off with our big loads to go about a mile and a half. Roy and I and our 3 boys got there first, despite the fact that we went two extra miles forward in our search.
            We continued tramping up and down the road, as the M.P.s didn't seem to know exactly where the area was, and actually we had gone by it before a sign was put on the road to show the turn off to the area. We finally back-tracked and found the rest of our "attached gang" just coming up the road. They had gotten a direct ride, whereas we walked a good bit of the way — getting an occasional short ride.
              So, for a day we camped on the side of a hill very recently vacated by the Germans.  We got some nice wicker furniture from one of their command posts, found some Frenchmen with some good "vin rouge," and made ourselves fairly comfortable. In fact, imagine playing bridge on a French hillside, while drinking wine, on the evening of D-Day!  That's what we did all right.
                                                                                        Loads of love,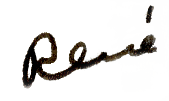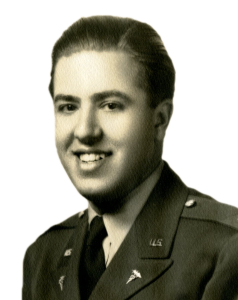 .
Watch for the conclusion of this letter
August 18, 1944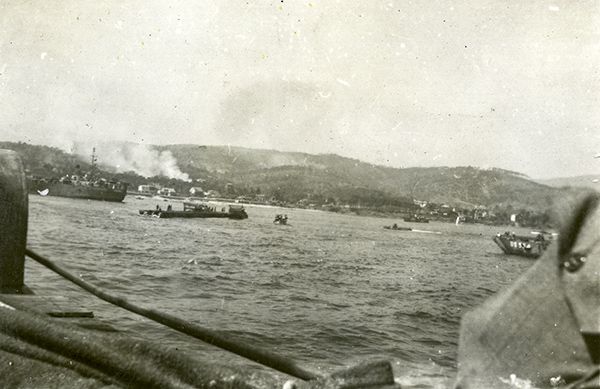 Operation Dragoon — D-Day August 15, 1944: St. Maxime from the LCI on which René is sailing.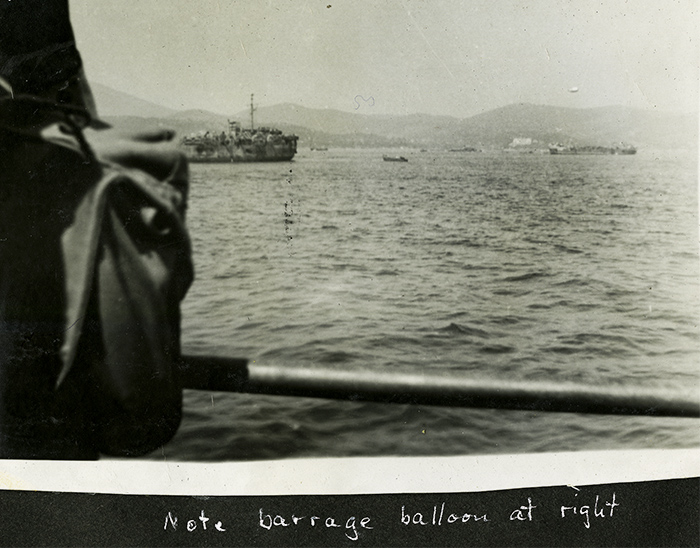 René notes the barrage balloon in the upper right of the frame. A barrage balloon is a large  "kite" balloon used to defend the ships below by raising cables that pose a collision risk to attacking aircraft, thus making their approach more difficult and reducing the likelihood that they will hit their target.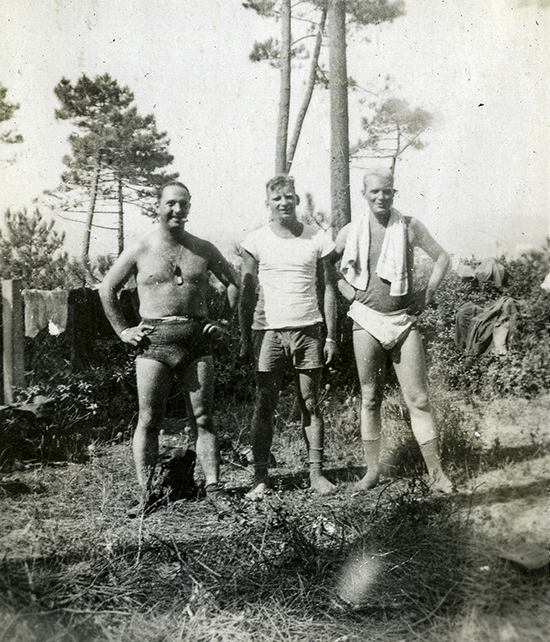 (Left to right) Enlisted men Clint Green, Bill Kioski and Chuck Davis drying off after their wet landing. As René described it: "We were landed about 50 feet off shore and waded up to our necks from the boat to the sandy shores."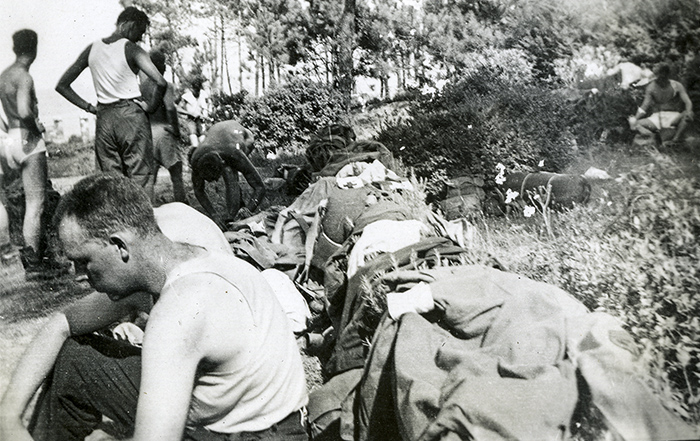 Click here to add your own text
August 18, 1944
Southern France
No. 41 (conclusion)

Dear Folksies,
          I'm sitting in our tent in a dustless field, between two small vineyards containing rather luscious red and green grapes. The owner of our present area, and very happy to have us here, is a French physician who has been enjoying himself making rounds in our wards and in surgery most of the day.
          Have just finished a rather strenuous 24 hours working steadily from 10 P.M. to 2:30 A.M. last night and from 8:00 A.M. to 7:30 P.M. today. Last night I was giving anesthetics for most everyone and today only for Roy or Chuck. In fact, gave an intra-tracheal for Roy on a lung case today – the first I have given and 'twas most successful.
          I am anesthetist for our surgical team attached to this other Evac.  And 'tho I'm not at all keen on anesthesia, it has been more than worth it to come on this deal. We got some pretty good cases today and we actually did one-quarter of the cases done today.
         We have realized the glaring differences between us and this outfit, which incidentally was the first Evac. Hospital set up and taking patients in Southern France — beating the others by 24 hours. They have a great deal less equipment than we do, and have a Colonel who is not regular Army, and who considers himself and staff primarily as doctors rather than Army puppets.
         Another difference is that each department works together and there are not a whole bunch of potential bosses, all wanting their stuff done first or changing the ideas or orders of others as has happened in our unit. This place was set up and functioning in a matter of a few hours and they are a little more than half as large as we are. The big difference in surgery, the reason they handle so many patients in such a short time – is the fact that, except for belly cases, brain cases or a big chest case, they drape with nothing but a few hand towels and their cleaning of the patient before draping is considerably less than we are used to. But, of course, we've never had to rush like they do. It certainly isn't that they're better or faster surgeons, for they are not, but the time saved in lack of extensive drapes and super-cleaning of the areas not close to the wound, accounts for the rapid turnover they have in their surgery.
         The men in this outfit are very nice, particularly their Chief of Surgery, Lt. Col. Frank Patterson. The average age is coincidentally older than in our gang, but despite that, we have 11 men who are members of the American Board of Surgery, while they have but 3 – that's the way with most all these outfits. Ours is younger and better trained as a group.
         Today's another day, 7:15 A.M. – have already worked 2-1/2 hours this morning and just finished eating. We're waiting for this operating room to be cleaned up, following the accumulation from the night's work. This gang really gets the work to do! We're enjoying it and Roy's even champing at the bit because we have to wait this half an hour more.
                                                                                        Loads of love,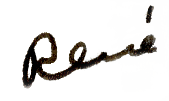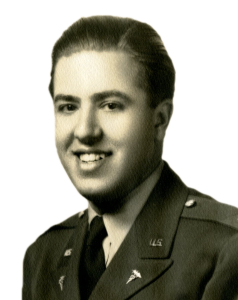 .
Watch for my next letter
August 20, 1944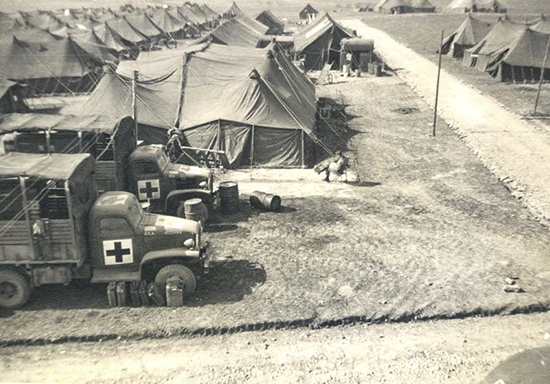 René, Roy Cohn, Paul Stratte and Chuck Schwartz are working in surgery with the first Evac. Hospital that to be set up and taking care of patients in Southern France.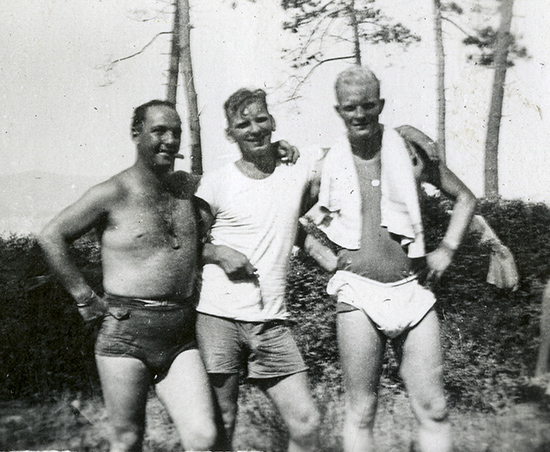 Above: Clint Green, Bill Kioski and Chuck Davis on D-Day
Below: Clint Green, Chuck Davis and Bill Kioski — once they have had a chance to dry off and get dressed.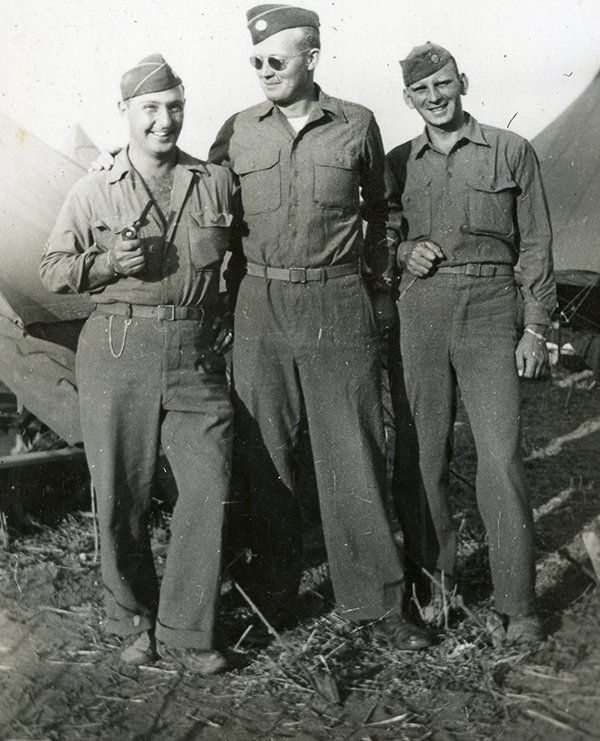 Click here to add your own text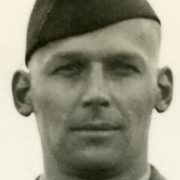 No letter from René on August 19, 1944 – the day the Liberation of Paris begins – but here's a heart-breaking excerpt from the journal of Dr. Philip Westdahl.

---
---



         On August 18, I had one of the greatest shocks of my life. Arriving back in the staging area, I saw a letter lying on my bed-roll. The handwriting on the envelope looked strangely familiar, even from a distance. On closer observation it was my own, and observing my brother Dick's name and address to whom I had addressed this letter I also saw the Army stamp indicating return to the sender. My first reaction was one of impatience with the Army postal system for not having forwarded the letter to Dick even though he may not be with his unit. What I then saw made me sick and weak and puzzled. To the left of the stamp, written in long-hand and signed by an infantry captain was the single, unmistakable word "DECEASED" [followed by] "7-17-44".

       All I could say was "NO! IT CAN'T BE!" I sat down on my bed roll and stared at the letter, I don't know how long, trying to piece things together before I could believe what I saw. At the end of that time, I was still bewildered and even at this writing, [two] days later, I am still trying to believe that there must be some error.

       [Since I received the letter,] I have been living in another world. I have recalled all the memories of my dear brother Dick as I remember him in the past, from the times we used to indulge in brotherly childhood fights to the last time I saw him in Carmel, when he had dinner with Georgia and me. I shall always treasure the picture we took that day. Dick and I had grown very fond of each other, as could plainly be felt from our letters to each other during these past two years. How we did look forward to the happy times we would have together after this war!

      Susan and Georgia shared our plans and in my last letter from Susan, she mentioned plans for a reunion on the ranch. How I feel for dear Susan and our dear Mother. They have both been so brave and cheerful through all of this, knowing that Dick was wounded and perhaps at any time would be back in the midst of battle, where an infantry sergeant's life is in the hands of fate from one moment to the next.

      Words can never tell how proud I am and always will be of my dear brother. He had so much to live for and yet, like so many thousands of our boys, went into battle and gave his life willingly and with the pride of a man doing his duty for his country.

      Oh Lord, grant that those boys may not have given their lives in vain. Grant that those human beings who live on in this world may see the selfishness of their personal wants and make it their individual and collective responsibility to avoid another repetition of this horrible mess we are going through today. Grant that those who represent the world of nations at the peace table may be BIG enough to be guided by the unselfish principles of true Christianity.
 

.

Watch for René's next letter on
August 20, 1944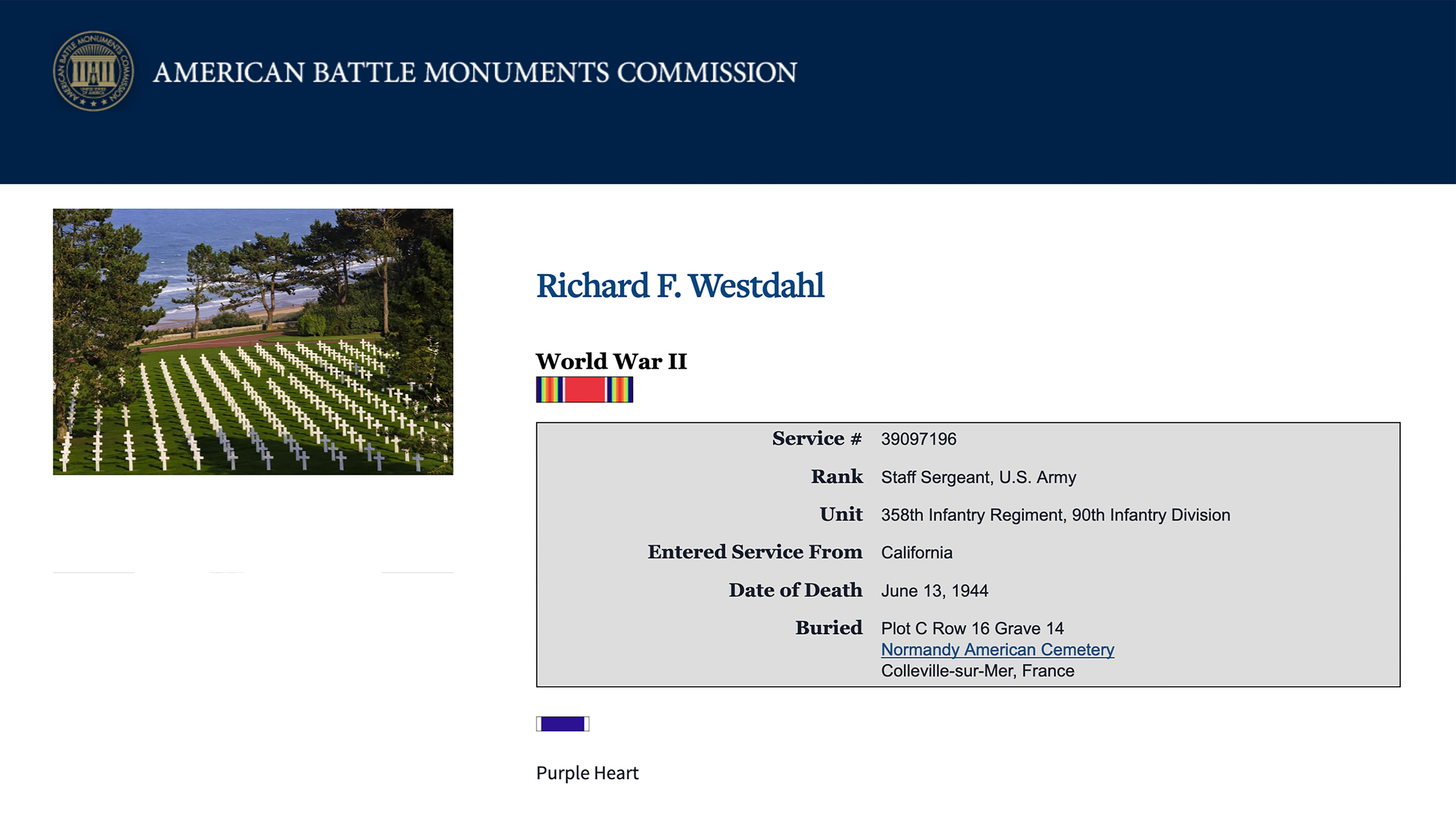 Click here to add your own text
August 20, 1944
Southern France
No. 42

Dear Folksies,
            'Tis Sunday and looks as if it is going to be a day of rest alright for us – which means that in a very short while we will probably start out for a hike around the country-side or perhaps find George Davis, who we understand is only a matter of a few miles from us.
           We've done a lot of work in the last 48 hours – mostly on Germans, thank goodness, and actually we've done 1/8 of the total amount of surgery done in this hospital. And, note they started working 12 hours before they asked us to start. We've done 27 cases, have been working 33 out of the 48 hours. And, in that bunch, we've had 3 chest wounds, 3 bellys (one with lacerated liver, perforated duodenum, 7 perforations of small bowel and 3 larger perforations of transverse colon) 2 femurs and one amputation.
           Roy really cracks the whip – has a case all ready for the table while Chuck is serving up the last one. The longest case we had was 2 hours – most are 15 to 30 minutes in the actual doing. It's been lots of fun.
           The 59th could do the work just as rapidly and more rapidly if they could ever forget their idea of drapes and everything to perfection – and if they had Roy driving them – but I doubt if they'll do it with Mattie, as he isn't the speed demon Roy is. Probably that is more the reason for the 59th being behind so far all this time – possibly more the reason than the Old Man. It's sort of a vicious circle. In the time we've acted more as a station hospital, so maybe the higher-ups feel they should keep us back, as we'd never be able to handle the cases in a forward area. But maybe we shall soon see what they can do if they have to.
           Last night Helen Nelson, who had transferred to this unit from ours, arrived with the rest of the gals of the unit. The Col. of this outfit is giving her a free hand, as apparently he has been dissatisfied with his mess officer and requested a dietician primarily to give variety in the Officers' and Nurses' mess. Helen is thrilled so far, and seems to like the gals of this outfit.
           Helen came with news of more transfers from the 59th, including Chaplain Daib to an engineering outfit. After the Old Man and Daib locked horns a few times, the Old Man had turned against him and both got bitter against each other. So, they mutually agreed on only one thing – Daib's leaving.
           The four of us (Roy, Chuck, Paul and I) are in a pyramidical tent together. And with the paucity of baggage we brought with us, we have oodles of room – however we have to do frequent washing, as we brought so little stuff to change into while washing one set of clothing.
             What a difference between Italy & France! This is civilization again!! People are spotless, towns and buildings are clean. The first nite we had beds of pine needles – and the whole atmosphere just cannot compare with Italy.
            Have talked to a couple of young Frenchmen – both in the area and the patients we've gotten – civilian patriots, fighters, etc. They've had very very little food – everything rationed and though certain things are listed on the ration tickets, they were unavailable anyway. Apparently, the bigger places were cleared out by the Germans some time ago, so goodness knows where Jeanne or David might be found when their town is taken. Incidentally, my French has at least been understandable, I've found, though my vocabulary is limited.
           Quite a storm the other night, but luckily we were under tents shortly before and our things (our few things) did not get wet.
                                                                                        Loads of love,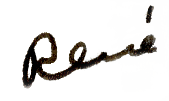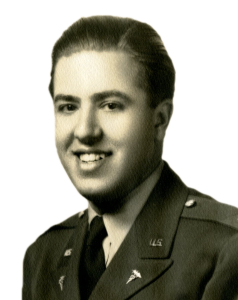 .
Watch for my next letter
August 21, 1944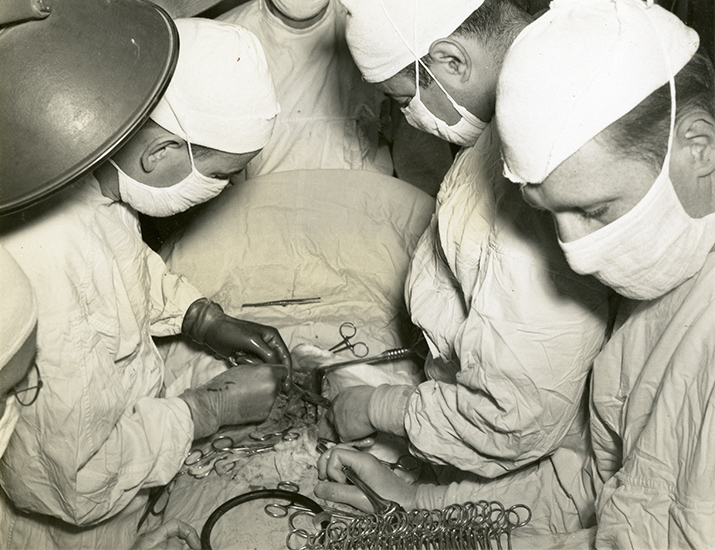 René tells his parents that they have done a lot of surgery in the last 48 hours — "mostly on Germans, thank goodness."

Click here to add your own text
August 21, 1944
Southern France
No. 43

Dear Folksies,
        We continued very un-busy yesterday – Roy and Chuck went foraging in the nearby country-side, while Paul and I hitched a ride and went to a town some miles away to see if we could find George Davis and maybe bum a vehicle off of him. But we found he had not yet arrived, so after wandering around a little we got a ride back with our friend Bert Borem, a 2nd Lt. who runs the laundry outfit, which did some of our laundry (i.e. hospital laundry) in Sicily and is now doing it for this outfit.
         When we got back from our jaunt, we relaxed again and soon found ourselves fast asleep – no we didn't sleep through meals!
          Last night the American Red Cross gals in this outfit dished out coca-colas, 2 apiece, but we managed to get 3 apiece. They had gotten them on the ship they came over on – a hospital ship. Boy, the cokes really tasted good!
          We had an interesting experience last night — never a dull moment in this outfit.  We saw a Piper-Cub pilot circle high above the hospital just at dark — apparently unable to land at a field some distance from here because of other activity nearby — fireworks.  So Chuck Schwartz and I got the idea that the poor guy could land in the rather narrow, but 100-yard-long area between the officers' and nurses' area.  We got everybody out with flashlights to mark the borders of this "field," pulled up some posts that were in the way, and guided the plane in.  He over-shot a bit and clipped a wire we had over-looked, put on his brakes, spun around, and stepped out un-scathed.  He had a crack in his propeller and a dent in the plane, but otherwise O.K., and very happy to be on the ground. Never a dull moment!!
                                                                                        Loads of love,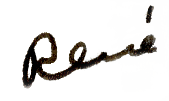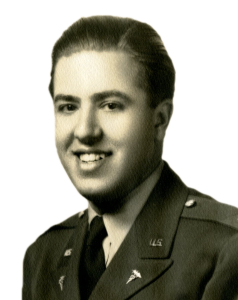 .
Watch for my next letter
August 23, 1944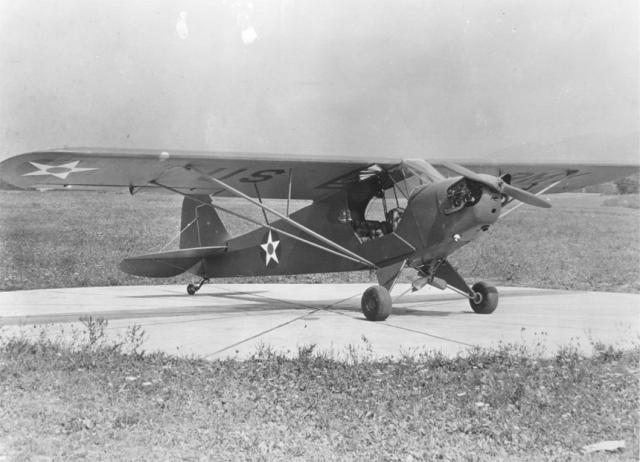 René tells his parents about "an interesting experience last night" – involving a Piper Cub — maybe like the one pictured above.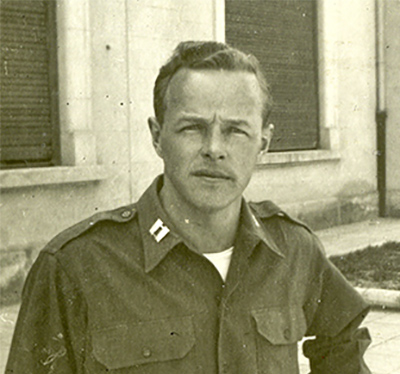 René and Paul Stratte (pictured above) hitch a ride to town to see if they could find George Davis (pictured below) and "maybe bum a vehicle off of him."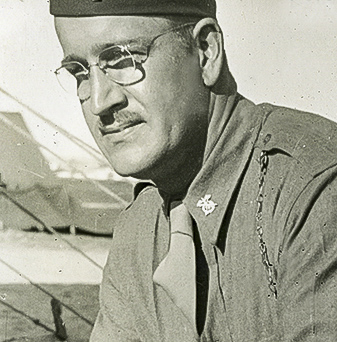 Click here to add your own text