March 20, 1944
No. 11

Dear Folksies,          
            On St. Patrick's Day night I was roped into a bridge game by Collie. Usually those games are rather dull – Collie is good, but the Col. not so hot at bridge, particularly the bidding. Well, the other night turned out to be a very interesting one. The bridge was pretty good, but the person who was the fourth at the table made the whole evening really entertaining and interesting. She was one of the Red Cross workers in town and is in charge of distributing clothing to refugees and civilians, among other things.
            Her name is Mrs. Margaret Kumler. She's a woman in her early fifties and gray haired. Every few minutes she was mentioning some other town or different part of the U.S. in which she had been, so that it didn't seem as if she hit the same town twice in conversation the whole evening. I don't know just where she is from, but she studied at Bryn Mawr and her husband had a big department store in Dayton Ohio. She has six kids, all married. She lived in Seattle quite a while, also in San Francisco and has a house down at Del Monte. Her husband is apparently dead. She has travelled extensively, particularly around this part of the world – having spent the last 18 years around here on and off – spending most of the time on board ships.
                                                                                          Loads of love,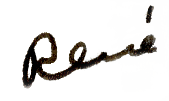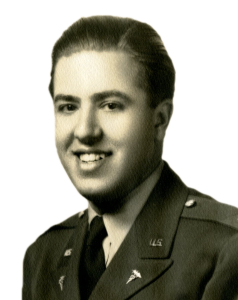 .
Watch for my next letter
March 27, 1944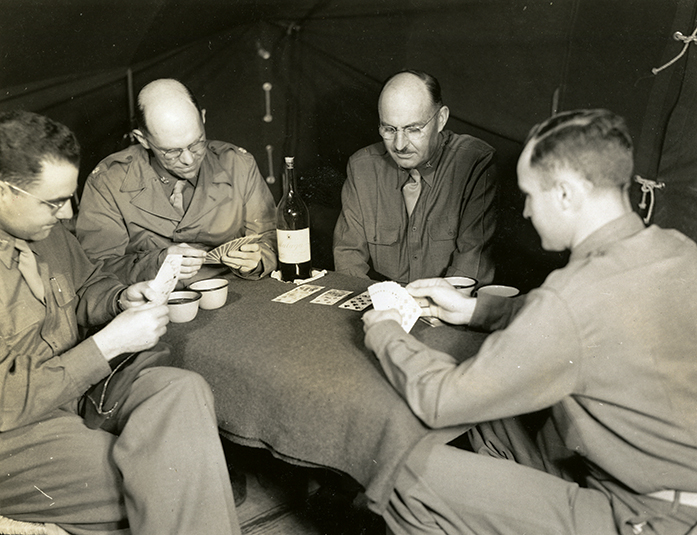 René tells his parents that he was roped into a bridge game by William Collie (shown second from the left in the photo above of a previous card game). The game also included the Colonel (shown above second from the right) and a Red Cross worker named Mrs. Margaret Kumler.