No letter from René between September 2 & 9.

Fortunately, we can get some important news – and local reactions to it – from Philip Westdahl's journal entry on September 8, 1943

---
---



ITALY SURRENDERS!!


            What news! It came while I was on my ward and even my sickest patients shouted for joy – all but one poor chap still unconscious on his 5th day following a cerebral contusion. The Italian prisoners working in the hospital waved their brooms and mops in the air and wanted to hug and kiss us.

              Beyond the hospital grounds in the adjoining streets the Sicilians are singing and dancing and caressing each other. The Italian prisoners in their tents in the hospital courtyard have assembled in a great circle and are singing beautiful and gay Italian folks songs at the top of their voices. The old organ grinder in yon village street is grinding at double-time. The air is filled with music and laughter and there is happiness in hearts that have long forgotten the true meaning of happiness.  

            As for ourselves, we have long ago learned not to be too optimistic about interpreting good news, but this has been a great boost to our spirits and a cause for such speculation as to its consequences. We cannot help but join in the laughter and happiness.

.

Watch for René's next letter on
September 9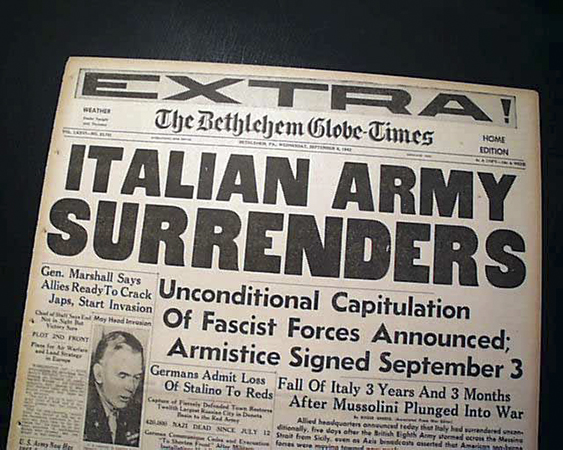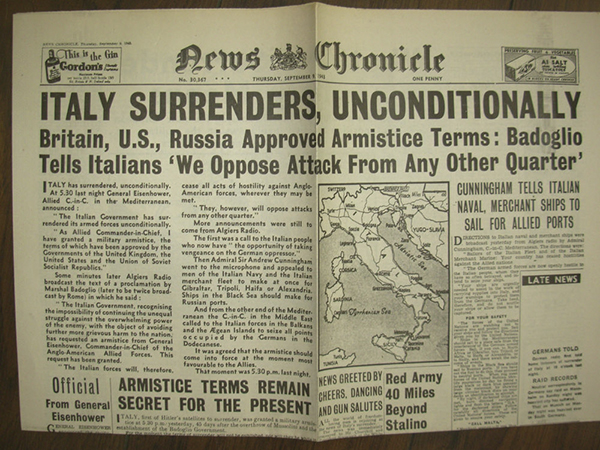 Newspaper headlines shout the news that Italy has surrendered!




 

            We have been quite busy during these past few weeks. Our highest peak was about 1200 patients, about 3/4 of which were medical cases. We are still seeing a goodly amount of malaria and also sand fly or pappataci fever. This latter disease is characterized by abrupt onset of fever, which climbs to about 103 and occasionally to 104-105 and usually remains for 3 days. During this time the patient complains of headache, backache, pain on moving eyes and pains in arms and legs. Patients are uncomfortable for 2-3 days and then feel quite well. Treatment is purely symptomatic.


            The surgical side is for the most part doing the same elective surgery we had at Casablanca, acting in the capacity of a station hospital. Occasionally a bomb explosion or other accident in the vicinity brings a rush of traumatic work.

            As for extra-curricular activities – the town of Palermo is really coming to life these days. The streets are crowded with returning civilians and soldiers and sailors, British and U.S. on pass. Hundreds of little shops are opening and as usual the gullible souvenir-hunting Americans are paying tremendous prices for worthless junk. On practically every street we see families digging the brick and plaster debris out of their homes, if they may be called that. We had a terrific cloud burst the other night and I shudder to think what those poor people went through. Hardly a house in town has any semblance of a roof.

            Took a walk into more remote parts of town at the foot of the surrounding mountains and saw families living in the worst poverty I have known to date. Actually as bad as the filthy overcrowded Arab villages in Africa. Many families are living in natural caves on the sides of river banks. I met one character who had been living thusly for 5 years who greeted us in fairly good American. We learned he had lived in New York 10 years ago. Came to Italy at that time and because of antifascist ideas was imprisoned in Italy for 5 years. Then came to Palermo to his cave where he has spent the past 5 years.

.

Watch for René's next letter on
September 21

Patients in the 59th Evac Hospital receive care. Note Nurse Gert Brazil in the right hand corner of the frame, lighting a patient's cigarette.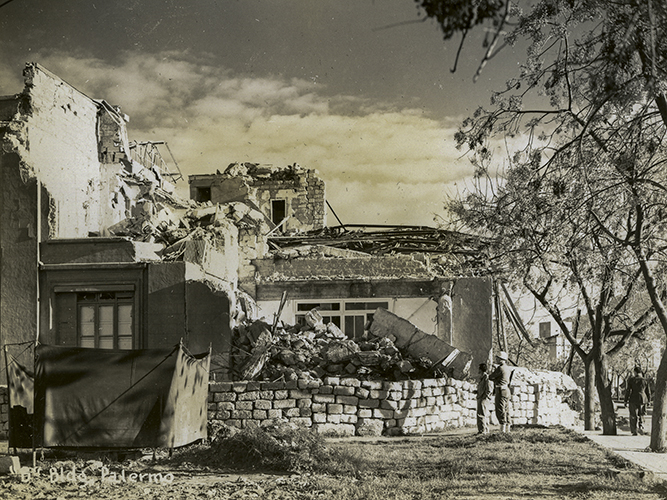 Bombed buildings in Palermo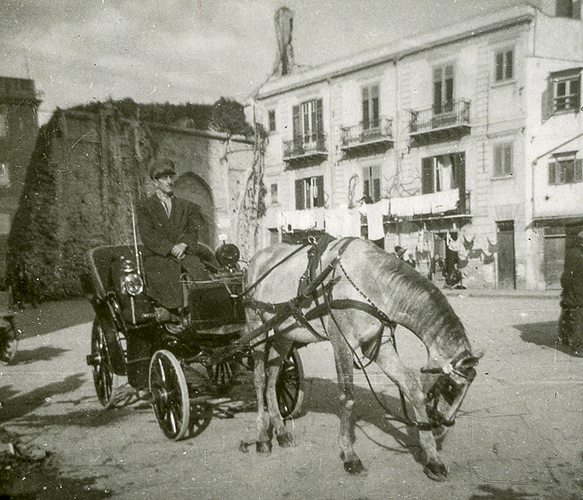 The mountains around Palermo are really beautiful. Behind us is one long ridge, about 2500 feet at its highest point. Behind the airport is a single peak about 1000 ft. high. Chuck Schwartz and I have at one time or another covered almost every notable nook and cranny in these mountains. It is unbelievable to see the efforts the people have made to cultivate every little acre of land, even on the steepest, rockiest slopes. Most of the slopes are terraced and on many, small individual terraces have been made for individual trees, usually olive or lemon.

            The country people are extremely pleasant and friendly and industrious as compared with those in the city. This is on the whole true of other parts of the world. In the city we are continually besieged by people asking for money, candy or cigarettes. In the country the people offer us what little fruit they have growing, even before we have given them anything, and they don't expect anything. They are extremely grateful for a single cigarette or piece of candy.

            There is one small community nestled on the other side of the ridge whose only route to Palermo is up, over and down a very steep trail, many miles long and climbing to a height of about 2000 feet. All members of the family, young and old, make this trip in and back again as a routine matter. Chuck and I really thought we were hearty mountain climbers and we were puffing and sweating profusely on our way up and we stopped for a rest. While resting there a little old lady carrying a shopping bag of tangerines came wandering up the trail and passed us merrily by with a "Buon journo" without a drop of perspiration on her brow. That was really quite a blow to our ego. What's more, she insisted that we have a few tangerines which she had taken all the trouble to carry up the mountain. We tried to refuse, but she wouldn't listen.


.

Watch for René's next letter on
November 5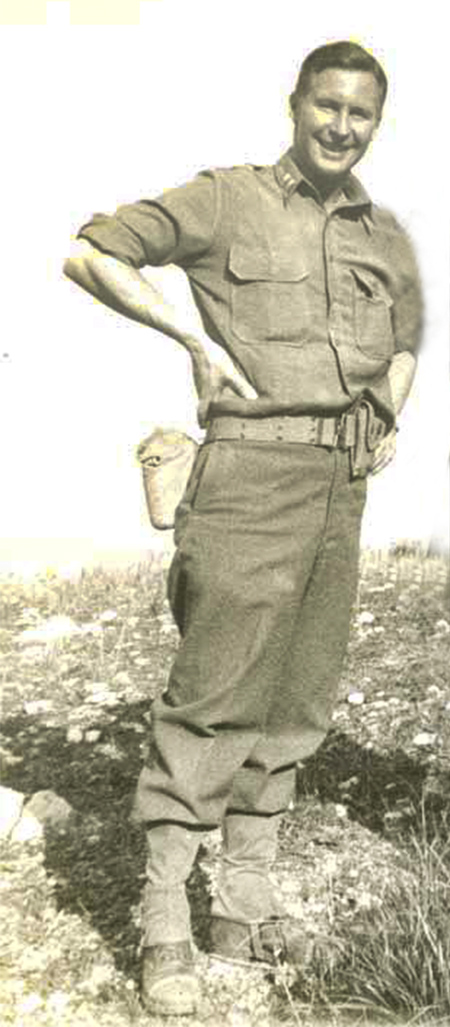 Phil Westdahl often went hiking with Chuck Schwartz, pictured here, in the mountains above Palermo.

No letter from René, but on January 1, 1944, Dr. Philip Westdahl takes stock of what the 59th has accomplished since they set up

their unit in Casablanca in January 1943. He notes that the largest group of medical cases treated were: (1) malaria, (2) hepatitis and (3) diarrhea. He also reflects on the patients they cared for in November and December 1943 in Sicily, and what they told him about the fighting in Italy.


 
---
---



        During the very cold months, November and December, we had hundreds of boys coming back from Italy with severe cases of trench foot. Their tales of the hardships on the line were terrific and I had the greatest respect for them. Most of them had been exposed to a continuous cold rain for several days at a time unable to even remove their shoes. If they did take their shoes off their feet swelled immediately and became numb, blue and often developed blisters. By the time we saw them, usually after 3-4 days, most of the swelling had subsided, but a few had obvious gangrene of 1 or more toes and all could not bear any weight because of pain. Most of them felt better when their feet were left uncovered, but this symptom varied. In some instances as many as 10% of a company were thus disabled.

        These boys described the fighting in Italy as extremely difficult. Apparently the Germans had plenty of time to dig in and even their fox holes were covered by concrete. Their guns were concealed in caves on the hillside and the front concreted in and made to resemble the surrounding rock. The gun was fired through openings in the concrete, which were covered over after firing, thereby making their discovery almost impossible.

        The fighting was all on mountainsides and when our boys would eventually rout the Germans out of one mountain they would retire to fixed positions on another to the rear. As they retreated they mined almost every inch of the terrain, making it terrifically difficult for our boys to advance.

        The German artillery had their guns fixed to fire on all important zones and roads so that they could fire without having to see where their shells landed. The casualties on both sides were high. Our boys had to rely on transporting their equipment, food and ammunition up the mountain at night by mule-back and usually the last 1/3 of the way by foot. Mechanized equipment was out of the question.

.

Watch for René's next letter on
January 8

From "Up Front" by Bill Maudlin




            We were greatly shocked by the sudden death of one of our nurses — a most popular and previously healthy girl. She complained of a headache somewhat suggestive of migraine, which became so severe that she was sent into the ward to rest and be quiet. During the following week she noticed a transient numbness of her left arm, which disappeared the following day. For the next few days she felt quite well. Suddenly one night she had a sudden loss of consciousness with respiratory failure and all efforts to revive her proved futile and she expired. She was later found to have a brain tumor with secondary hemorrhage, so it was truly a blessing that she passed away so suddenly.

            She was greatly loved by all who knew her and as a consequence her military funeral was very touching. All officers, nurses and men attended in dress uniform. Flowers were heaped upon the flag-draped coffin as well as the altar. After the service the men lined the halls and staircase standing at attention while the honorary pallbearers, guard of honor and all officers and nurses followed behind.

            I'm sure that many eyes besides my own were filled with emotional tears.

.

Watch for René's next letter on
January 21

Funeral service for nurse Violet Bennicks
February 19, 1944
No. 5

Dear Folksies,
            When it rains it pours – and it has been doing just that of late, (i.e. on and off with occasional startling snow) – I wrote that we had finally gotten an ENT man – yes, but that isn't all. We got another new Capt. yesterday and the Col, greeted him, hoping that he was a psychiatrist, only to find that he is an Eye man. He was originally supposed to come to us way back in early December, but because he was ill at the time, his orders were cancelled, and then, for some reason, he found himself finally traveling here anyway. Name: Capt. Waugh, from Brooklyn. I do not know his first name at the moment.
            So, now, we have dignified things by the fact that we have attached to us, or rather, as part of us, an "Otorhinolaryngologist" and an "Opthalmologist". The boys have been slinging those words around for the last couple of days and have managed to baffle each other. They have set up their clinics and are now in full swing.
            Dad, I'm glad you finally had your B.P. checked – don't let it get higher! And I'm interested in the penicillin success you mention – let me know more when you know more. So far, except for one other case, only our V.D.'s have gotten it.
                                                                                            Loads of love,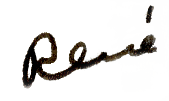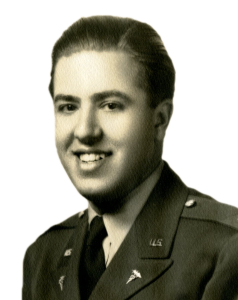 .
Watch for my next letter
February 26, 1944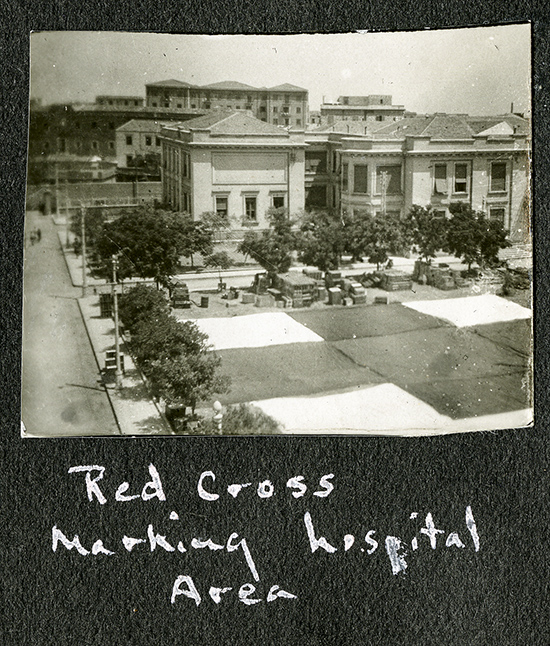 The Red Cross on the ground marks the buildings as a hospital.

Dr. Philip Westdahl writes in his journal, "During February I have been managing the venereal disease wards. The problem had become quite acute both in the Army and civilian circles as is true of all war occupied zones. Most of our cases are resistant to sulfa drugs and we have been fortunate in being able to obtain penicillin for treatment. We have treated about 100 patients with this drug, giving about 100,000 units intra-muscularly. Our results have been about 35-40% cures, another 40% definitely improved and about 15-20% unimproved. However, we have not solved the problem of preventing exposure." Then, he added a note, "Later, experience with penicillin has increased the improved and presumably cured rate up to about 85-90%. Apparently the individual drug lot varies considerably, some producing far more satisfactory response than others."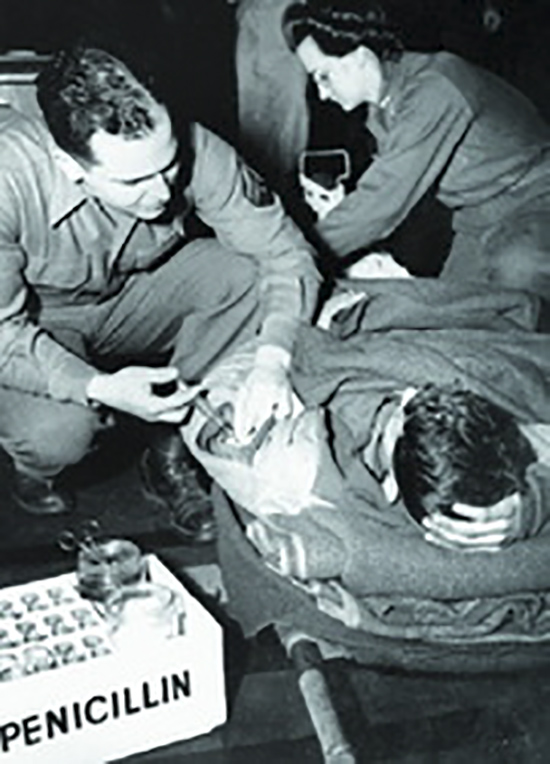 April 1, 1944

             During March several groups of officers took recreational trips around the island of Sicily. Chuck Schwartz and I took the trip together, which included five days. We started east along the northern coast passing through many of the former scenes of the Sicilian campaign.

            Hardly a railroad or vehicle bridge was left intact by the retreating Germans. Here and there along the coast a beached landing craft gave evidence of "end-run" invasion tactics. Strafed and burned railroad cars littered the stations and disabled tanks lined the streets, both our own and those of the enemy. It made me feel just a little weak in the stomach to realize that some of our boys who manned those tanks will never return to their native land. An American military cemetery near San Stefano also brought forth the same feeling, multiplied many fold.

            Most of the northern coast is quite beautiful. The shoreline in all but a few areas is rock and steep and the mountains rise abruptly a short distance back from the water's edge. It was quite a thrill to sight the toe of Italy across the Strait of Messina, most similar in appearance to looking over at Sausalito from San Francisco.

            We took a short side-trip over to Reggio in Italy, an act that precipitated a familiar question on the part of the British Captain in charge of the over-burdened transportation facilities, "Say, don't you American chaps know there's a war on?" I must confess I felt somewhat ashamed. Reggio was little different from Sicilian towns – a little cleaner perhaps, in the sections we saw. Oxen seem to have replaced the familiar little burro of Sicily.

            Messina is quite a beautiful town in the modern section, with wide spacious streets and fine looking buildings. However, the older sections are typically filthy and crowded. The waterfront area and railroad yards are practically leveled by bombs. As usual, the Fascist state buildings and the churches are by far the most pretentious.

         From Messina (the highlight of which was White Horse Scotch at 7 lire a drink at the British Officers Quarters) we drove south along the east coast to Taormina, a beautiful little resort town set high on the rocky sea shore with a beautiful view of Mt. Etna.

            Farther south we passed through Catania, now under British control, as is the entire east coast. It is interesting that our Italian "co-belligerants" in this area wear British uniforms. It was truly good for the soul to see that Uncle Sam is not the only Santa Claus in this crazy world, and quite surprising I might add.

            Just south of Catania in the low level fields there are innumerable relics of the now well-known battle for Catania – tanks, German "88" guns, abandoned enemy equipment of various types. From Catania we drove on to Syracuse. The country in this part of the island is much more favorable to agriculture than in the north. Orange, lemon, olive and almond orchards stretch for miles over low rolling foothills. Along the coast we could see numerous large convoys making their way to Italy.

            Syracuse was notable for its historic Greek Theater, Roman Coliseum and awe-inspiring ancient quarries known as Latomias. We were more impressed than our GI driver, who summed them up as "Just another pile of rocks."

            After leaving Syracuse we headed southwest through Ragusa, Comiso, and Gela and there again saw evidence of battle, and here again fertile fields and extensive vineyards. Asphalt and sulfur mines are also located in this vicinity, although not very active at this time.

            From Gela we started inland, passing through Enna, a cold, damp, crowded city perched on a hilltop above the fog.This inland section is the "breadbasket" of the island. It was a beautiful sight to behold the rolling fields of wheat and realize that the island will again become self-subsistant. In spite of the roominess of the country, the gregarious inhabitants live in their typically crowded, narrow, damp, unpaved filthy streets, usually on the hillside.

            From Enna we drove back to our starting point, Palermo.

.

Watch for René's next letter on
April 6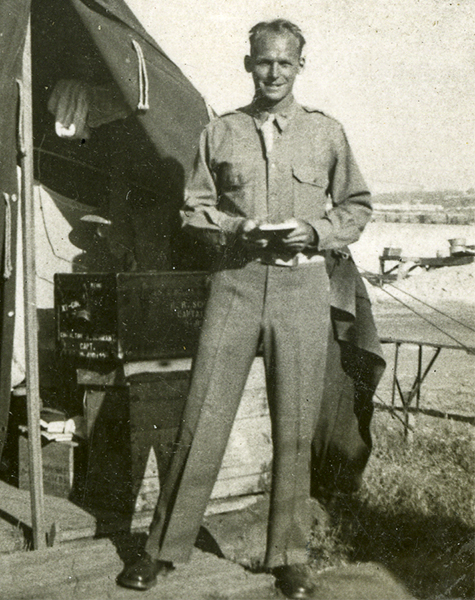 Philip Westdahl (above) went on a 5-day road-trip with Chuck Schwartz (below).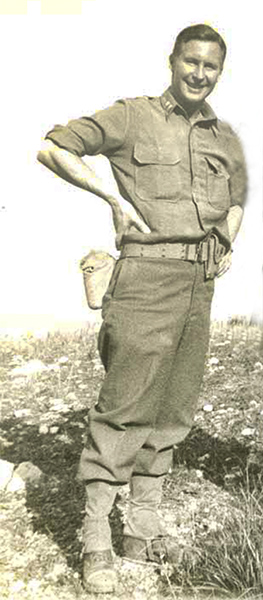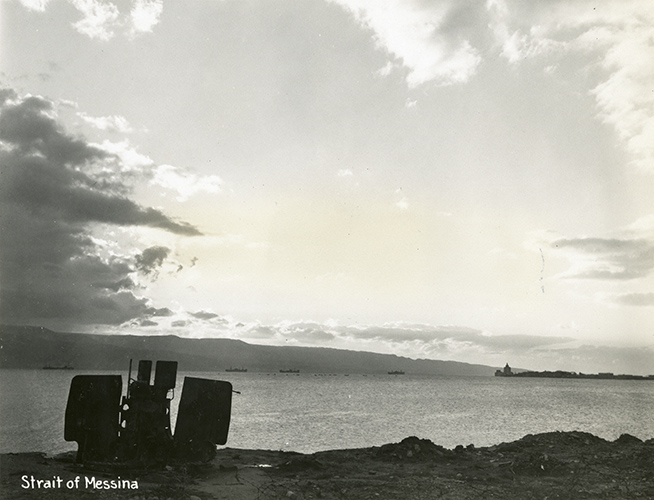 Phil particularly enjoyed looking across the Strait of Messina to the toe of Italy.