Bizerte, Algeria  

            We start our Mediterranean cruise, although not under the circumstances that most Mediterranean cruises are advertised. We are aboard an LST leaving the inner harbor of Bizerte about 1:15 pm. Along the channel we see numerous partly submerged ships and some barely visible beneath the surface lying on their side.

            From this view we can see to much better vantage the destruction of the docks, warehouses and buildings of Bizerte, many of which are completely flattened and others remain as walls enclosing a hollow, rubble-containing shell where once a house stood.

            Progress in cleaning the city has been slow and is still proceeding. As we pass out through the breakwater and look back on the waterfront lined with palm trees, the white sandy beach and the deep blue water it is easy to believe the Bizerte was at one time a veritable paradise.

            We lay at anchor just outside the breakwater and wait for the remainder of the convoy; finally we are away – 12 LSTs, 2 LSIs (landing craft infantry) and 4 small escort ships resembling corvettes.

            We sail almost due east and by nightfall we pass the island of Zembra and the tip of the Cape Bon peninsula. Along the shore just after leaving Bizerte we could see many scuttled ships left by the Germans after their unsuccessful attempt to evacuate from Africa.

            I'm sure I speak for everyone when I say that we are happy to be leaving Africa after 7 months of living in that fly-ridden dusty country.

.

Watch for René's next letter on
August 16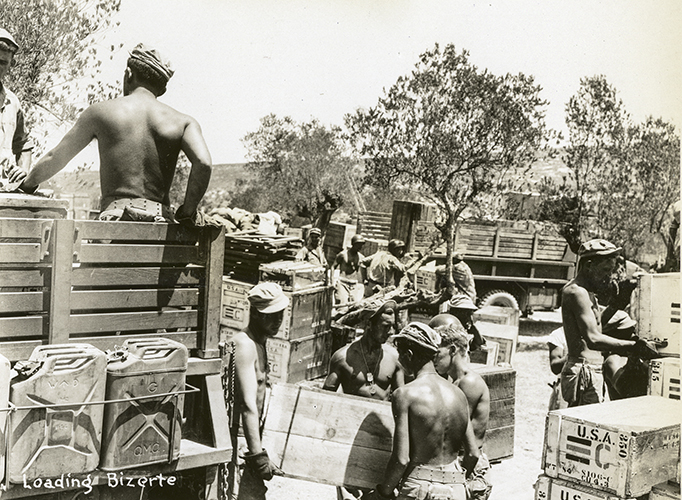 Preparing to leave Bizerte.




Palermo, Sicily  


           During the night of August 5 we turned north from Cape Bon and sailed to the northwest of Sicily. We then headed east again sighting the Island of Sicily about 1:30 PM. It is quite an impressive sight to sight land while at sea where nothing has been visible on the horizon. At first glance a vague cloud-like area looms upon the horizon and it is often difficult to be sure whether it is a distant gray cloud or actually land.

            We sailed along the northern coast all afternoon and at about 4 PM, after complete peace and unawareness of war, we were suddenly called to stations, donned our helmets and put on our life belts in order. We then suddenly changed course, the entire convoy circling north. A destroyer up ahead in our former path let go with depth charges. For almost an hour we zig-zagged and all aboard combed the smooth blue water for signs of a periscope or tell-tale wake of a torpedo. However, none were seen and we pointed our bow south to the beautiful harbor of Palermo, which had by this time come into view. I must confess I felt a little feeling of disappointment at the uneventfulness of what promised to be an exciting occasion.

            We entered the harbor about dusk, and a new moon shone brightly behind the ascending barrage balloons, which look like numerous floating whales.

            Due to the oncoming darkness it was difficult to get a complete view of the city itself. The coast at this point is indented to form an evenly curved crescent with a circumference of about 5 miles. The city is built along the shore of the crescent and the mountains rise abruptly in the background.

            By the time we reached the inner harbor it was pitch black and our ship was obliged to creep into the dock at a snail's pace. Here and there we were able to make out the masts and rigging of sunken ships standing out against the water-line in the reflection of the moonlight.

            The town itself remained pitch black and appeared for all the world like a deserted village. Before it had become so completely dark, we had been able to make out the typical four-walled, hollow structures so characteristic of bombed buildings. These skeletons lined the entire waterfront and it was not difficult to see that they had once been beautiful buildings.

            At times such as this, one cannot but help be grateful that our homes have thus far escaped such a fate and that our loved ones are safe from the terror, destruction and disappointment which these poor people have suffered.

            At about 1:30 A.M. we leave the ship and travel through town in total darkness. We can barely discern piles of rubble and bomb craters in the street. Most of the buildings in the first 4 to 5 blocks adjacent to the waterfront have suffered heavy destruction. We spend the night in a lemon orchard amidst swarms of ants, making sleep almost impossible.

            In the morning we find ourselves besieged by men and boys selling grapes, figs, watermelon, wine and haircuts.

.

Watch for René's next letter on
August 16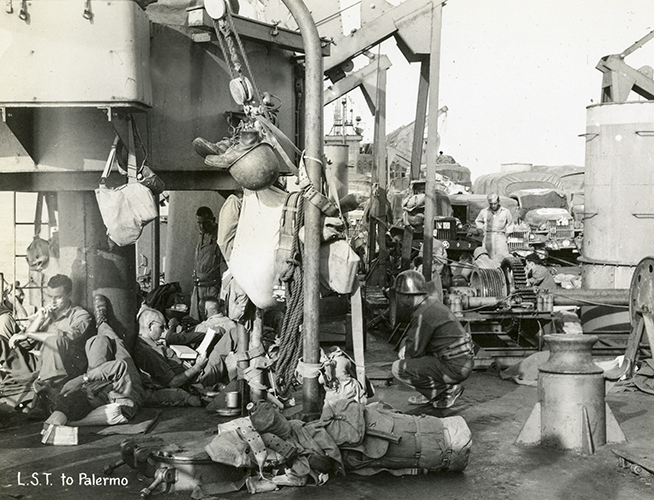 On the deck of an LST from Bizerte to Sicily




Palermo, Sicily


           We move into the partially destroyed buildings of the University of Palermo medical school. This is truly a beautiful set-up and as we wander through the various laboratories (anatomy, pathology, embryology), the amphitheaters for lectures and even the old professors' offices, it is as though we had returned to our medical school days. It is truly good to be back in this atmosphere, sleeping amongst the old pathological specimens. We almost feel as though we were men of science again rather than military robots.

            We learn that the Univ. of Palermo medical school is over a century old, and is the largest in Sicily. Many of the wonderful pathological specimens date back only 70 years, however, the present school is a beautifully equipped new building only three years old. The clinic and hospital buildings are also new and well equipped and all form a group near the medical school resembling a beautiful campus. Many of the buildings were bombed by our Fortresses in March 1943, but other than one or two direct hits, most of the damage amounted to shattered windows.

            We were naturally very curious and looked through all of the old professors' desk drawers. It seemed quite sacrilegious and we had a feeling of sorrow and regret as we looked over collections of apparently treasured notes, slides and specimens. This war has changed and destroyed many lives and it comes a little closer to home when we see how completely the dreams of this old medical professor must have been shattered.

            We really must admire the type of work that must have gone on in this medical center. Beautiful collections of slides and photographs of rare and interesting cases, beautiful hand painted anatomy charts, all these things are as fine if not finer than anything we have seen in our own schools at home. And the buildings are absolutely the last word in beautifully arranged and equipped modern laboratories; truly the envy of all of us who spent 4 years of our lives in the humble surroundings of Stanford medical school.

            The two largest buildings of the regular hospital have been taken over by the 91st Evac. Hosp. The clinic buildings, however, are still available and also modern and well arranged. We hope to be able to establish ourselves in these, using the school buildings for living quarters. We estimate the capacity of about 1000 beds. The orthopedic clinic has about 4 beautiful, tiled operating rooms and all in all we certainly have a potentially ideal spot. The final word, however, lies with Col. Bolibaugh, who has not as yet arrived in Palermo with our equipment and the remainder of our officers and men.

            One of the most amusing incidents upon our arrival here was to see some of the enlisted men giving each other baths on the marble dissecting tables in the anatomy room before we told them what they had been used for.

.

Watch for René's next letter on
August 16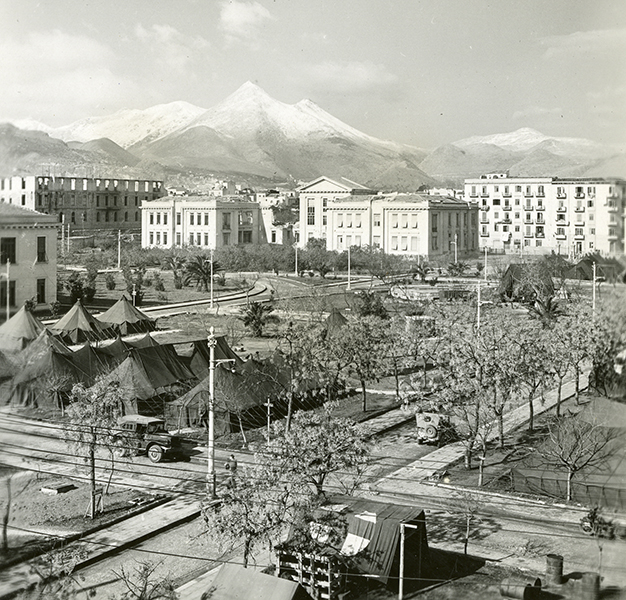 Hospital buildings in Palermo – with tents in the foreground and Mt. Pellegrino in the background

Between August 1 and August 15, René doesn't write any letters to his parents.

Fortunately, we can follow the activities of the 59th Evac. Hospital through the entries in the journal kept by Philip Westdahl and photographs from René's albums.
Below is Dr. Westdahl's journal entry for August 11, 1943

---
---



Palermo, Sicily


            I work on the surgical ward of the 91st Evac. Hosp in order to help out while our own hospital is being set up. They have done a lot of good work. By far the majority of their cases are malaria. The only primary surgical cases are those occurring in the vicinity from air raids, accidents, etc. Appendicies, fractures and other cases are only allowed to be kept 7 to 10 days. All patients are evacuated to Africa as soon as their condition permits. Most wounds from the front are being evacuated straight to Africa by train and ship from Palermo.

            We are now ready to function ourselves and during the past 2 days have received 350-400 patients, all but 50 of whom are malaria.

            Our actual set up is truly more than we could ever hope for. We are in beautiful new buildings, which are perfect except for portions that have been destroyed by bombs. The floors are all cement tile and the walls are beautifully tiled. The surgery has complete equipment, including sterilizers, overhead lamps and all the modern equipment of any new hospital at home. There must be some 10 buildings in the group comprising the medical center, and in every one the equipment is the last word in completeness. The offices are spacious and luxuriously furnished.

            It is sickening, however, to see the destruction caused by a few direct bomb hits. Beautiful x-ray units and laboratories ruined. An entire wing of beautiful wards lying in a mass of rubble. When this, which seems so much to us here and now, is multiplied by infinity, one shudders to think of the waste and needless destruction of property and life caused by war.

          Some of the buildings are still occupied by Italian civilian patients. We have had to move them out of a few of the building we are occupying, but they are able to find facilities in other buildings. I understand that many patients were killed by our Fortress raid. Imagine what propaganda we would pour forth back in the States if the Axis had bombed one of our civilian hospitals. We are not beyond reproach. There may be some reasonable explanation to justify such action, but as yet I have not found it.

            From what little contact I have had with the Sicilians of Palermo, they appear quite friendly, smiling and nodding as we pass them. I'm sure they must be a little bitter about our bombing and destruction of their homes and non-military targets, but I have the impression that they are somewhat happy to be relieved of the German occupation and that they hope to see the Nazis defeated.

            We have a large group of Italian prisoners of war working about the grounds and buildings, cleaning up the rubble. They hardly need guards, work fairly willingly and hard, and do not seem too unhappy. A good many of the civilians who had left their homes because of air raids are beginning to return. The great majority of buildings were untouched in town and others have shattered windows, but are livable.

            The people seem to be fairly well fed and clothed. Those who are not were in a similar state before the war.

.

Watch for René's next letter on
August 16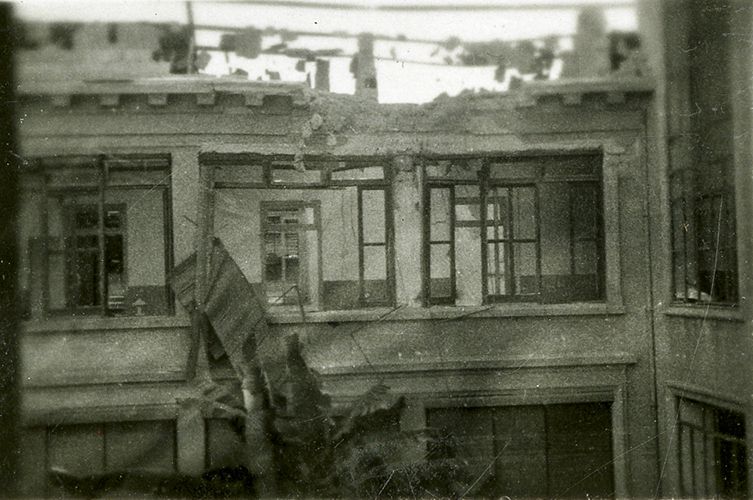 Bombed hospital building being used by the 59th Evac. Unit as medical and surgical wards

Ruins of a church in Palermo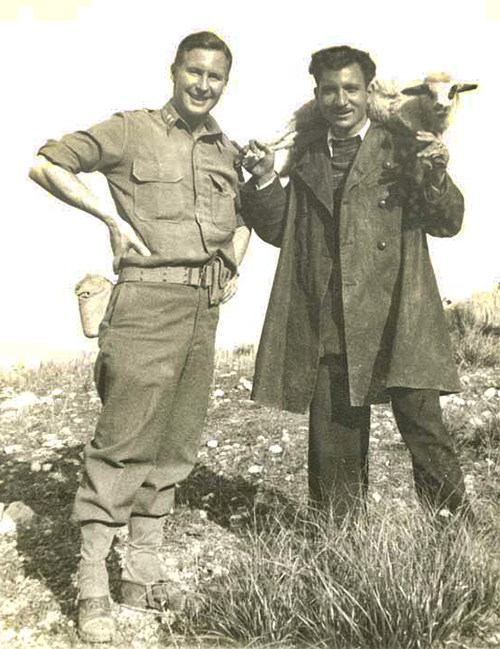 Dr. Chuck Schwartz with one of the local people that Dr. Westdahl describes as "fairly well fed and clothed."
(Photograph courtesy Stanford Medical History Center – Roy Barnett Cohn Papers)
August 27, 1943
No. 52
Palermo, Sicily
Dear Folksies,          
            Since my last letter, I've been kept plenty busy. After the first several days of running around at various headquarters, arranging for medical corps prisoners to work in the hospital, etc., things slackened up, and as the hospital was awfully busy, I was put in the Dispensary and Ambulatory Dressing rooms, and also helped Eddie Welles in Receiving.
            A couple of days ago, however, Eddie became sick and so I had to take over Receiving completely. It's interesting – far more so than previously, but it is also about ten times the headache that it used to be. We have a fast turn-over and with Reilly continually boluxing up things by giving us mis-information as to the number of beds available, putting up and taking down beds all in the same day, etc., it has had us going round and round. This morning it took one of the Sgts. and myself exactly 4 hours to straighten out the census of the hospital. Yesterday, we had gotten one figure from the nurses on the wards, another from Reilly, another from the head nurses in the various buildings, and still another from the Registrar. If that ain't a headache, let me know what is.
            Several days ago we lost poor Cy Johnson. He had to be evacuated to Africa as he developed severe asthma. I imagine he will be sent back to the U.S. on the basis of both that and his ulcer. We may also lose three of our nurses: Irene Gallagher, Fran Powers and Bessie Lawrence. They were in an auto accident and came out with busted pelves, and Fran had a big laceration on her leg. I say "may" as there is still a little argument, but they undoubtedly will go in the next few days.
            Did I tell you that Sterba is here, running the quartermaster depot from which we have to draw supplies. He tried to be tough on us, but actually he is darned lenient.
            A couple of days ago Bob Hope was here and he gave several shows, one of which was at the hospital that is right next door to us, but unfortunately when I got un-busy it was too late to go there. All the boys say that he was swell, as was his whole show.
            I had some of my pictures developed and some I shall be able to send home in a while, but the best ones, some of the invasion, I know not if I can send as yet – despite the fact that the very same pictures were published back home in the papers by Herb White, the A.P. photographer that we had aboard the ship. Incidentally, he took my picture along with the other fellows, and he thought it would appear in one of the S.F. papers, but I guess it didn't – might get it from A.P.
Loads of love,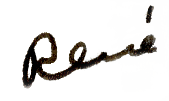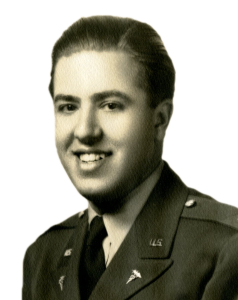 .
Watch for the rest of this letter on
August 31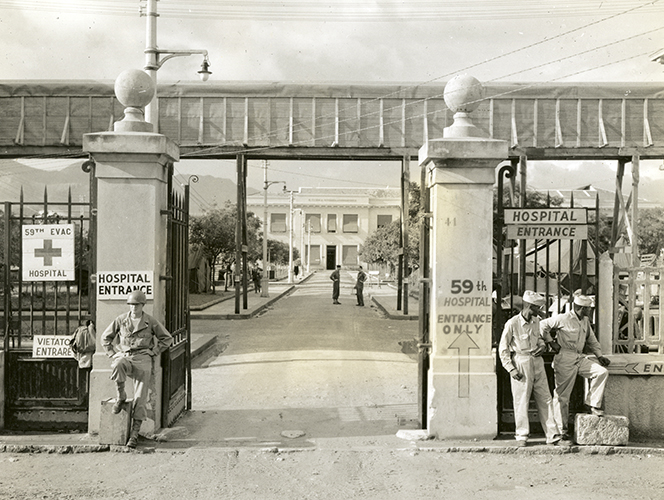 On August 30, Phil Westdahl, MD, wrote in his journal: We have taken care of many casualties occurring in the vicinity. A P-38 pilot who made a crash landing and miraculously lived and is now doing fine; 32 boys from a truck which went over a bank, 6 died, the others treated for shock, fractures, head injuries, etc. Six boys from a shell explosion, 2 died, the others badly shot up. A belly-gunner in a Fortress shot through his face over Italy at noon and landed here as an emergency by his fellow crew members at 1:45PM. He died 5 hours later, a blessing. Seeing this poor fellow and so many more that have been so badly wounded and died in our hospital really brings the futility and stupidity and bitterness of war really close to home. Not bitterness for the actual enemy boys who are doing this to our boys. I can't help but feel that they are fighting for what they have been taught is right even though it is not in our eyes, but bitterness for those responsible for involving the world in such a war.
August 31, 1943
Continuation of No. 52
Palermo, Sicily
Dear Folksies,          
             I have been rather on the punk side the past few days. Friday the 27th, I felt only fair, but not bad. The next day, however, I developed a constant mid-epigastric dull pain, which lasted all day. My temp. began to climb in the afternoon and by 8 P.M. I had 101.4 and Lois and others convinced me that I should go in the hospital then, instead of waiting until the morning, as I wanted to do. I had a mild headache with the temp. and so acquiesced. However, the next day I awoke feeling fine and couldn't get a temp over 98. Yesterday, with temp. still normal and feeling good, Sewell let me out. And then, darn it, a few hours later I got the same bellyache back again. I've had it on and off during the day, but today 'tis O.K. and I think I'll live.
           A lot of the gang have been ill on and off. None have had real malaria, but apparently have had sand-fly fever. Others have had re-occurrences of their dysentery, etc.
           I told you in my last letter that the three gals who were in the car accident were going back to Africa. Well, only Irene and Bessie went back. Fran Powers seems to be doing O.K. and they decided to keep her and see if she won't be well before we pull up stakes, if we ever do.
           Oscar Carlson wandered in here day before yesterday. He is located very close by. Bam's friend Westmoreland is also close by, as are the boy friends of many of the gals.
Loads of love,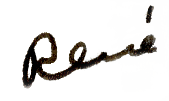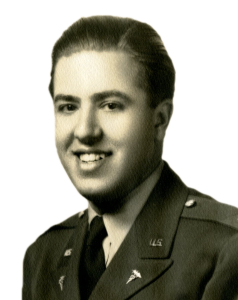 .
Watch for my next letter on
September 2

René in front of the hospital in Palermo. In today's letter, he tells his parents that he was inside the hospital overnight – not as a doctor, but as a patient.

On August 29, Phil Westdahl, MD, wrote in his journal: "WHAT A DAY! Our first rain and it really comes down in torrents. Every roof in every building leaking like a veritable sieve. Most of the rooms, with tile flooring, are converted into shallow swimming pools with cots, tables and chairs practically ready to float. The whole gang is in a turmoil moving stuff into a few remaining dry spots in the halls. We scramble up to the roof and have a great time replacing broken and displaced tiles. Now we wait for more rain to test our repair job."

September 2, 1943
No 53
Palermo, Sicily
Dear Folksies,          
            Yesterday I was kept plenty busy all day long, doing spinals for the most part, but also some pentothals. Nothing big, but just kept doing something all day and the early evening. Did get a chance, however, to get off a couple of short letters, and also sent you a whole pile of postcards. The latter were mostly showing the cathedral we had the opportunity to visit the other day. It was quite an historic place, built by Normans, Moors and Byzantines. The gold that had been used in the mosaics alone was valued at some tremendous price. The thing that got me, however, was when our guide told us that the heart and guts of Louis IX were entombed there, the rest of the poor guy being spread around in Paris, Tunis, etc.
            I am feeling really pretty good now, no more diarrhea or cramps. Really about 99.44% and should be able to gain back the .56% in another day or two. Martha Morris has been pretty ill the last couple of days, but is lots better today. She apparently had the prevalent "sand-fly fever". Some of them get plenty sick with it, running temps all the way up the scale and having pretty severe headache, backaches, etc. Really the only difference between that and Malaria is the presence of the malaria bugs on the slides, and the fact that the temp in malaria goes up and down, while in the other it seems to stay high longer and then drop gradually. Both get bad headaches and pain behind the eyes.
            I bought an Italian grammar and dictionary the other day, when Lois and I were downtown with the Col., but as yet haven't had any time to look at it. Thank goodness a great number of Sicilians have spent a lot of time in the U.S. Tho' we've only been to a couple of shops, we have been lucky in finding ex-American residents present there.
Loads of love,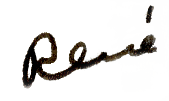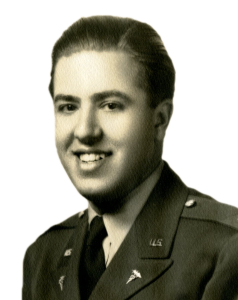 .
Watch for my next letter on
September 9

Photographs of the Cathedral in Monreale, which René visited, but wasn't able to mention by name.





On September 1, Phil Westdahl, MD, wrote in his journal: "During the 3 weeks we have been functioning here, we have handled about 3500 patients, almost 2/3 of our total in 7 months at Casablanca. It is amazing and discouraging to note the number of accidental injuries from firearms and shell explosions due to pure carelessness. 'I didn't know it was loaded' has become more than a time-worn explanation. One fellow even asked his friend to shoot him with an Italian pistol to demonstrate to an Italian prisoner that the Italian ammunition was no good. (He thought he had taken the bullet out of the casing, but he hadn't.) Fortunately it went through his left arm, about 6 inches from his heart.
We see innumerable very mutilating injuries to large groups of men at one time  because of carelessness in handling high explosive shells. Just yesterday we had several  boys brought in with multiple extensive shell fragment wounds because one of them had picked up a shell-fuse and after examining it carelessly threw it on the ground.
In this connection, I recall that before leaving Casablanca, we noted that of the 200 odd American boys' graves, about half of them had been killed on the original invasion, the remainder being accidental deaths."