February 1, 1943

Continuation of No. 7

Dear Folksies,
       Last week I had as strange an experience as I ever want to have. Bill Reilly, Bill Drew and I went to visit the Communicable Disease Hospital for Arabs. The hospital is run by the French, their being one male and one female French attendant there all the time, and French doctors come out occasionally. What a hell-hole that is!! The hospital consists of a one-story building made out of rock (sort of adobe fashion), with small crowded rooms around a patio. Walls and everything are dirty and fly infested. We saw several cases of Typhus fever, a couple of Bubonic Plague cases, some Smallpox, the likes of which I had read about but never expected to see, one Rabies case, and many lues and tuberculosis cases. Other Arabs with less severe diseases are quartered there also, and they walk in and out of the other patients' rooms. The attendants handle the patients and seem to take no precautions whatsoever, except an occasional hand washing. Yes, 'tis truly amazing.
       Needless to say, as soon as we returned, though we wore gowns in going through the place, we thoroughly aired our clothing and took extensive scrub baths. I guess that actually, with the materials they have and what they have to work with, they have done pretty well. The French Hospital, of course, I understand is better, tho' still nothing much to brag about.
       Dad, one of those smallpox cases really surprised us — it was a hemorrhagic type of smallpox, the kind that is considered 100% fatal in the U.S., and by golly, the bloomin' Arab was getting well. He had hemorrhagic pock marks all over him, each mark being as big as a 50 cent piece, but he was all over the worst part of his disease and seemed to be feeling O.K. Yes, this is an astounding country. Give me California any day!
       Two days ago the nurses finally moved out to this area and now they are all well situated in their little "quadrangle of tents." They have 5 tents containing 5 nurses facing 5 other tents with the same number. Then at one end they have two small tents, one for the head nurse and the other for her two assistants. Then at the other end there is a "Recreation Tent" – a tent the size of the ward tents – about 50 ft. long by 15 ft. This is supposed to be both an Officers' and Nurses' Recreation Tent and once we get a few odds and ends in there it ought to be O.K. We probably will be getting a few pieces of Arab furniture in there, for at the moment there is nothing but the sand floor – sand that we hauled from the beaches around here. It's like playing in the old sandbox when we were kids.
       Now that the gals are way out here, the colonel has changed his ruling about nurses riding in government vehicles and now it is O.K. for them to go into town in one, as he considers that official business. He has also given them permission to rent and ride bikes.
       Last night, Ed Cane, Liz Liss, Lois, and I went out to a place a few miles from town, to eat. It is a place that many of the boys have been to, and 'tis the place the gals were at that Xmas night when George and I were looking for them. We've never been there because of that transportation deal, but since the new order, and the fact that we have our little jeep, we were able to get out there last night.
       The place was pretty nice, reminded us greatly of S.F.'s Cliff House, being right on the water. We had a good meal, by golly, including some good fish and some pretty good roast beef, or what passed for roast beef. If it wasn't beef and was camel meat, then it was awful good camel meat. Anyway, by golly, it was something to bite into and chew, instead of having the usual pre-digested stew and hash that we get around here most of the time, or should I say, "all the time." Not that our food isn't good – don't misunderstand me, for 'tis good, but it gets a bit monotonous at times, and to be able to sit down in chairs to eat, with table-cloths and service – well, it's nice at times.
       Speaking of food, the boys who have been up front have told us how awful the food is that the English troops get, and which they themselves got and are still getting up there. They also say that in England things are really tough. They're really in this war, whereas, when hardships and poor food, and the lack of it, are concerned, we just aren't in it with the British. America hasn't seen anything yet.
       Day before yesterday, we got word that some of our stuff was about 60 miles up from here, so we took a truck along, and George Davis, the Col. and I went in the jeep and went on up. We found a few things of ours and then when I inquired, I found that Tom Monroe was in the neighborhood. The Col. was agreeable to trying to find Tom, so we did with comparative ease. He was awfully glad to see us, but sorry we hadn't brought Lois along. We had dinner there with him and his officers, had a nice visit, and then headed home to camp. Tom is fine and told us that his gang put on quite a review for F.D.R. when he was here. In fact, F.D.R. remembered him from the time he spent in D.C. and they had quite a nice meeting.
 Loads of love,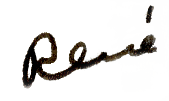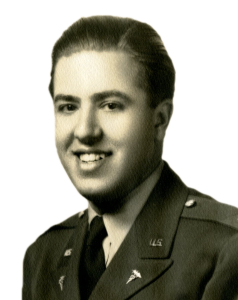 .
Watch for my next letter
February 10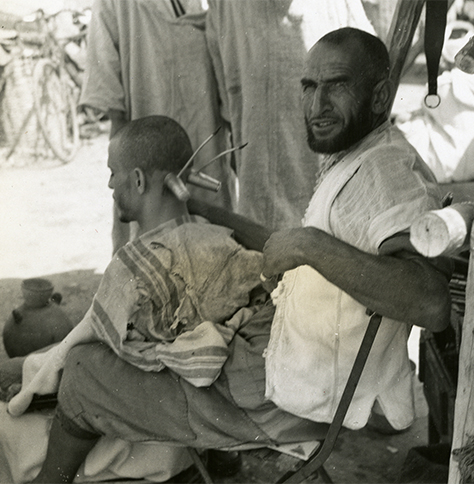 Given René's impression of the Communicable Disease Hospital for Arabs, run by the French, we can only wonder what he thought of the "blood letting" performed on the streets of Casablanca.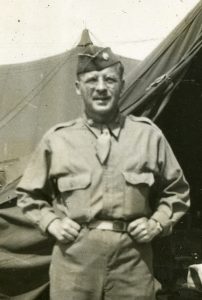 Bill Reilly went with Bill Drew and René to visit the Communicable Disease Hospital run by the French.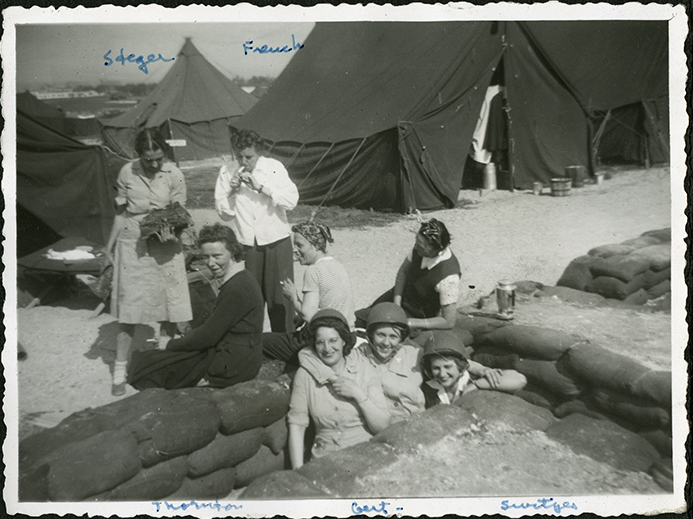 Nurses in and around the trench outside their new tents. Vivienne Steger (standing at left), Helen French (standing in the white shirt), Margaret Thornton (sitting on the left edge of the trench), Norma Picci (sitting with bandana on her head), Gert Brazil (on the left in the trench) and Marion Switzer (on the right in the trench). Click on the photo to enlarge.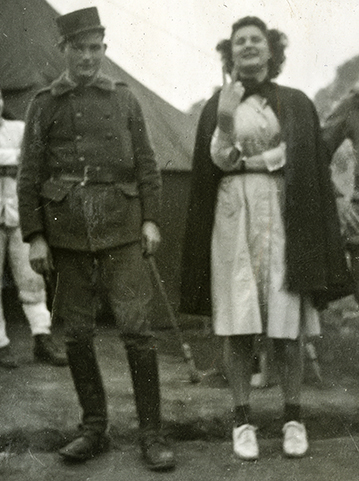 Lois and a French soldier from a nearby garrison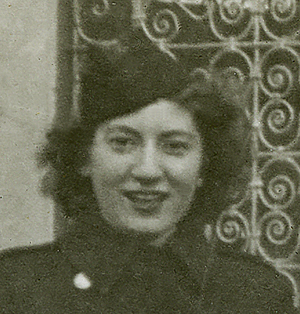 Liz Liss went out to dinner in Casablanca with Ed Cane, René and Lois.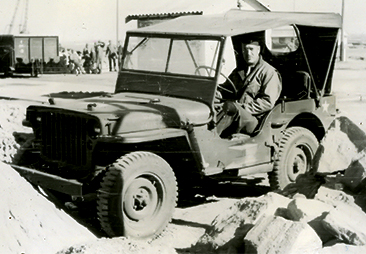 February 10, 1943

No. 8

Dear Folksies,
           Somehow, despite all my good intentions, the time between letters seems to slip by fast and furiously. Have kept pretty busy again the last week in much the same way as we were the first week. We've been throwing boxes around, getting on the ships, down into the holds, etc., and in general having a busy but good time.
            We've had to go about 15 miles away from here for the bulk of our stuff and consequently we've had some nice trips back and forth a couple of times a day sometime. In fact, on Sunday George and I had to go up there in the jeeps. We took Lois and Fran along with us for the Sunday afternoon ride. George and I had been up there a few days before with the Col. and Collie and it was quite stormy. When we walked along the breakwater the waves came up about twenty feet over the wall. I was nonchalantly taking a picture and didn't notice the waves coming, and proceeded to get drenched, tho' I somehow managed to keep the camera dry.
            We've been doing some bicycle riding the last few days. Ken Fadley somehow managed to buy a bike and he lets Marv Kahn and I ride it any time we want. As the three of us are in different groups it works out fine. I rented another bike for Lois and Gert and so we are able to ride around here and into town whenever we are off. Today we rode into town and had tea at a tea room that is pretty good. They have good pastry and fair tea, but they improve their tea on certain days by giving you a small amount of rum to add to it. Almost any afternoon, I understand, one can find a good bunch from the 59th in that place. Today, was the first time I was there, though Lois was there once before with Fran and Bam.
            As you may notice, I am again typing with my own typer and it kind of feels good – despite the fact that it doesn't run quite as smoothly as do some of the big ones I have been using. After not having seen the baby since about November 15, it's like coming home to an old toy.
            Everyone is in good health despite the occasional drizzlies that crop up. We are pretty nicely set up and the operating room has witnessed a few amputations of warts and the like, but nothing more major as yet. Last night our pyramidal tents arrived so the enlisted men are going to be taken off the ground and out of their pup-tents and put in the big tents on cots – something they have been waiting for for quite a while.
            I've learned something new in the last week or two — I can now drive anything from a jeep up to and including a 2-1/2 ton truck. It's been lots of fun.
 Loads of love,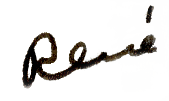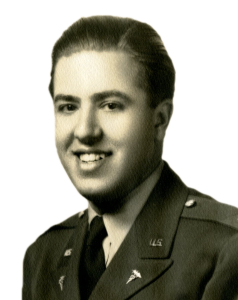 .
Watch for my next letter
February 15

Lois McFarland and Fran Trembley at Fedala Port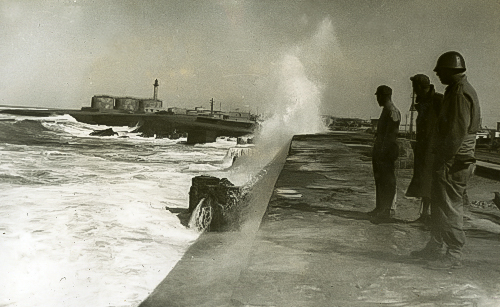 Waves crashing at Fedala Port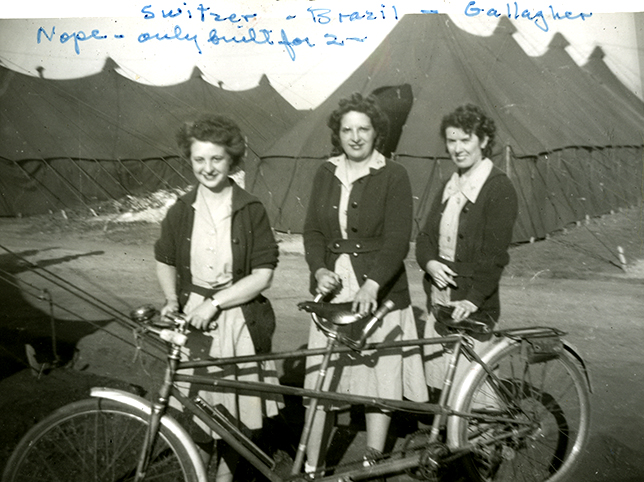 Nurses Marion Switzer, Gert Brazil and Irene Gallagher with bicycle built for two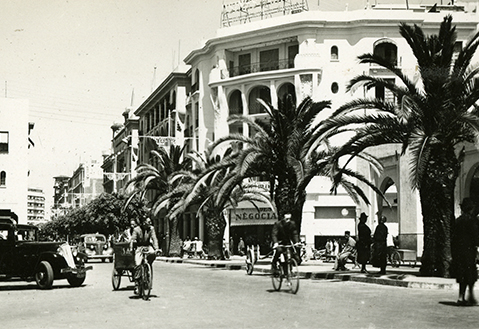 Bicycles are a common form of transportation in Casablanca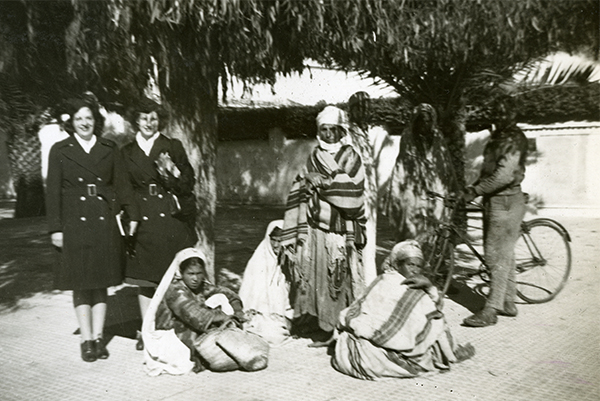 February 15, 1943

No. 9

Dear Folksies,
              We are still in the same place and enlarging our hospital again, not because of any particular increase in patients, but to lighten the load on another hospital that is a bit crowded. As a consequence, I am going to be an M.D. again instead of just a supply man. I am going to have a surgical ward with Carroll Russell. Our surgery now has been doing more work, hernias, open reduction of tibiae, hemorrhoids, etc., and things are working out pretty well.
               For the last four or five days Serge has been pretty sick. Just what he has had, no one seems to know. He has been at the other hospital – why he was sent there, I can't figure out, but that's the way things are done. He is much better today, so apparently he didn't have any typhus or malaria, as they first thought he might have. Incidentally, we got our 5th shot of typhus today. It had been found out that the original 3 shots did not bring the titre up nearly enough, and that 8 shots are required to give adequate protection.
                Last night after dinner, Lois and I went with Ed Cane and Liz Liss to the home of a native of this place – a French lawyer of about 28, who lives with his aunt and uncle. It was most interesting as they talked both French and Spanish to us (Ed speaks and understands Spanish some), and those two languages plus Arabian among themselves. It was like a 3-ring verbal circus. I did alright as long as they stayed in French, but when they started mixing them up, I was lost and didn't know even the French in their sentences. They were very nice people and had some very good French pastry – donut-type, almond pastry, etc. We are to have dinner there on Friday.
                                                                                                           Loads of love,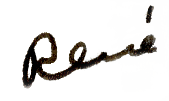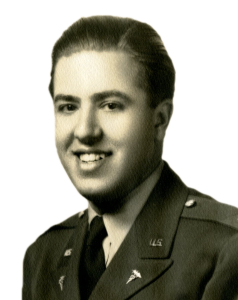 .
Watch for my next letter
February 23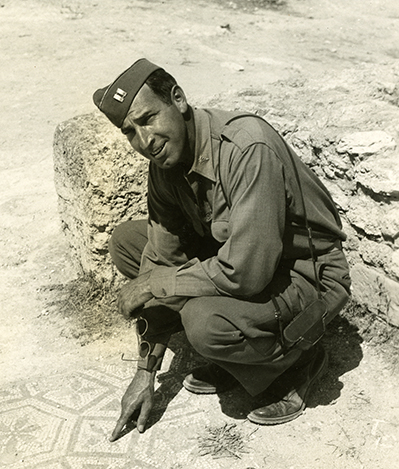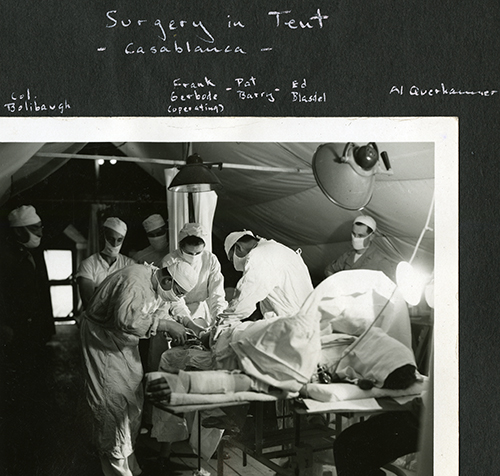 Surgery in Tent, Casablanca – Colonel Bolibaugh, Dr. Frank Gerbode, Nurse Pat Barry, Dr. Ed Blasdel, Al Querhammer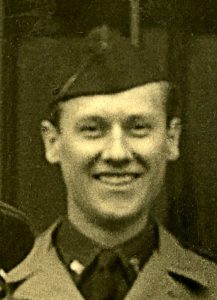 Serge Bryner, MD "has been pretty sick."