February 1, 1943

Continuation of No. 7

Dear Folksies,
       Last week I had as strange an experience as I ever want to have. Bill Reilly, Bill Drew and I went to visit the Communicable Disease Hospital for Arabs. The hospital is run by the French, their being one male and one female French attendant there all the time, and French doctors come out occasionally. What a hell-hole that is!! The hospital consists of a one-story building made out of rock (sort of adobe fashion), with small crowded rooms around a patio. Walls and everything are dirty and fly infested. We saw several cases of Typhus fever, a couple of Bubonic Plague cases, some Smallpox, the likes of which I had read about but never expected to see, one Rabies case, and many lues and tuberculosis cases. Other Arabs with less severe diseases are quartered there also, and they walk in and out of the other patients' rooms. The attendants handle the patients and seem to take no precautions whatsoever, except an occasional hand washing. Yes, 'tis truly amazing.
       Needless to say, as soon as we returned, though we wore gowns in going through the place, we thoroughly aired our clothing and took extensive scrub baths. I guess that actually, with the materials they have and what they have to work with, they have done pretty well. The French Hospital, of course, I understand is better, tho' still nothing much to brag about.
       Dad, one of those smallpox cases really surprised us — it was a hemorrhagic type of smallpox, the kind that is considered 100% fatal in the U.S., and by golly, the bloomin' Arab was getting well. He had hemorrhagic pock marks all over him, each mark being as big as a 50 cent piece, but he was all over the worst part of his disease and seemed to be feeling O.K. Yes, this is an astounding country. Give me California any day!
       Two days ago the nurses finally moved out to this area and now they are all well situated in their little "quadrangle of tents." They have 5 tents containing 5 nurses facing 5 other tents with the same number. Then at one end they have two small tents, one for the head nurse and the other for her two assistants. Then at the other end there is a "Recreation Tent" – a tent the size of the ward tents – about 50 ft. long by 15 ft. This is supposed to be both an Officers' and Nurses' Recreation Tent and once we get a few odds and ends in there it ought to be O.K. We probably will be getting a few pieces of Arab furniture in there, for at the moment there is nothing but the sand floor – sand that we hauled from the beaches around here. It's like playing in the old sandbox when we were kids.
       Now that the gals are way out here, the colonel has changed his ruling about nurses riding in government vehicles and now it is O.K. for them to go into town in one, as he considers that official business. He has also given them permission to rent and ride bikes.
       Last night, Ed Cane, Liz Liss, Lois, and I went out to a place a few miles from town, to eat. It is a place that many of the boys have been to, and 'tis the place the gals were at that Xmas night when George and I were looking for them. We've never been there because of that transportation deal, but since the new order, and the fact that we have our little jeep, we were able to get out there last night.
       The place was pretty nice, reminded us greatly of S.F.'s Cliff House, being right on the water. We had a good meal, by golly, including some good fish and some pretty good roast beef, or what passed for roast beef. If it wasn't beef and was camel meat, then it was awful good camel meat. Anyway, by golly, it was something to bite into and chew, instead of having the usual pre-digested stew and hash that we get around here most of the time, or should I say, "all the time." Not that our food isn't good – don't misunderstand me, for 'tis good, but it gets a bit monotonous at times, and to be able to sit down in chairs to eat, with table-cloths and service – well, it's nice at times.
       Speaking of food, the boys who have been up front have told us how awful the food is that the English troops get, and which they themselves got and are still getting up there. They also say that in England things are really tough. They're really in this war, whereas, when hardships and poor food, and the lack of it, are concerned, we just aren't in it with the British. America hasn't seen anything yet.
       Day before yesterday, we got word that some of our stuff was about 60 miles up from here, so we took a truck along, and George Davis, the Col. and I went in the jeep and went on up. We found a few things of ours and then when I inquired, I found that Tom Monroe was in the neighborhood. The Col. was agreeable to trying to find Tom, so we did with comparative ease. He was awfully glad to see us, but sorry we hadn't brought Lois along. We had dinner there with him and his officers, had a nice visit, and then headed home to camp. Tom is fine and told us that his gang put on quite a review for F.D.R. when he was here. In fact, F.D.R. remembered him from the time he spent in D.C. and they had quite a nice meeting.
 Loads of love,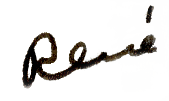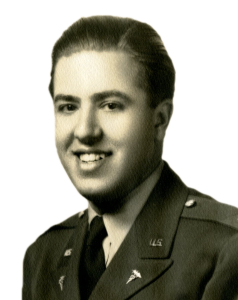 .