August 16, 1943
No. 50
Palermo, Sicily
Dear Folksies,          
            Before I get started, thanks oodles for the birthday presents – received the soapy wash-rag or whatever you might call it, and it has been put to good use several times already. 'Tis really swell. Also got more photo paper and more films. Have several films undeveloped at the moment, but shall develop them in our own dark room with a few days, I hope.
            I managed to read Bill Collie's copy of Wilkie's book while enroute to Sicily – at the time I was reclining in a comfortable bunk on board ship, taking sulfaguanidine to get rid of the bloomin' bacillary dysentery that I managed to pick up. But, fortunately I only had it for a few days. Chappie and Bishop and Drew and I were all ill those few days. As a matter of fact, we were among the very last to get it – practically everyone in the unit having had it before they left Casa. Lois got it the same time as I did, apparently, but is only now over it. Some have had a couple of such episodes – original cause?? Many speculations but no proofs. Of course, we had many such patients while in Casa, and now, even, have plenty. And with flies numerous, despite as much screening as we are able to put up, they seem to delight in getting into places where they are not wanted.
            Yes, Dad, the mosquitos are plenty big and plenty vicious both in Africa and here, more so in Africa. They are very numerous here and effects are being seen. Prophylaxis is definitely being kept up, but difficult at times when units run out and then the bugs strike. So far, have had no such difficulty in our gang. Some, we found, cannot take Atebrine so they are on Quinine.
            Gee, Pop, you were sure swell to write so often. It's really a marvelous feeling to get mail over here, and thus keep up to date on things that concern those we love. So, up to your old tricks again, eh? I can just picture you and Bobsy traipsing around the dance floor creating quite a stir. But ye Gods, your wandering around in the make-up has me still howling – kind of got out of hand, it seems. I wish Lois knew you better and could visualize you thusly better. Can just see, too, how exasperated Mrs. B. must have been. Sounds as if you sort of had a following like the Pied Piper. Maybe they did think that you were at least "Pied", or maybe "Pie-eyed".
             At the moment, we are going full blast in a rather nice town in Sicily and are set up in what used to be quite a Medical Center. It fact, rumor has it that this was one of the medical establishments of Italy, if not of the world. The amount and quality of equipment that we find here is amazing — it's really a grand set-up. Due to the fact that some damage had been done here, we have had large groups of prisoners voluntarily cleaning up the place and aiding in the work around here. So, it's now beginning to look pretty good. The hospital is going full blast, but due to the Evac. system, we have primarily medical cases.
            We are living in buildings and so are the patients and men – rather comfortable quarters though the hospital is rather crowded. As yet, we have not had an opportunity to do any walking around, but I have pretty well covered the whole town in my jeep wanderings, and it seems to be quite a nice place considering everything. Some of the nearby small towns aren't anything to brag about – rather unclean, etc. – but certainly they have nothing to compare with our friends the Arabs whom we encountered all over the Northern and Western part of Africa.
             Right now I am using the typer in headquarters and Lois is on night duty in the hospital. Last night I was Medical O.D. so slept right in Receiving, but spent the time before midnight reading the Post up on Lois' ward. She just went back to work two nights ago – having finally recovered from her dysentery. The night shift is a 12 hr. shift and is kind of tough, as we get the majority of our new cases in after 4 P.M. However, she won't have to be on nights for more than a couple of weeks.
            One nice feature about our new set-up is that we have a combined officers' and nurses' mess hall, and consequently Lois and I are able to eat our meals together. In the past, the officers ate and then the nurses ate, as we didn't have enough sitting room. Our mess has been pretty good, particularly the last few days.
            The weather here has been plenty hot and one no sooner takes a shower than he is dripping wet again. According to the books, it can't be this hot but as usual, the books are wrong. At any rate, these buildings are sure much nicer and cooler than tents.
Loads of love,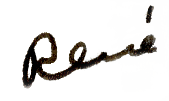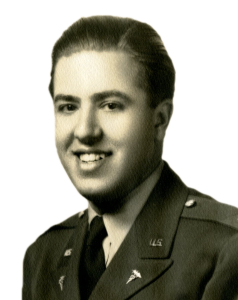 .
Watch for my next letter on
August 17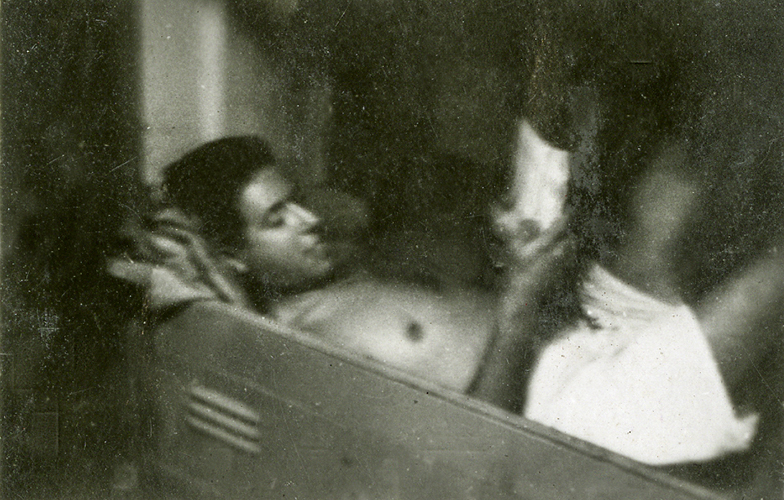 René reading – enroute from Bizerte to Palermo, Sicily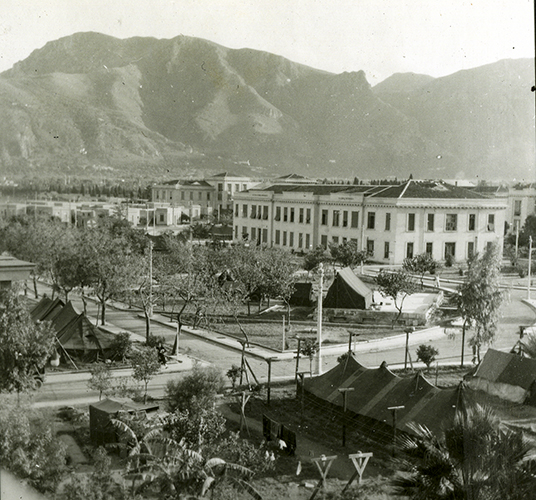 August 17, 1943
No. 51
Palermo, Sicily
Dear Folksies,          
            Yesterday I had a "first" — you know, doing something for the first time. The Colonel wanted some pictures taken of our area just as he had done in Casablanca, and as a consequence, someone was needed to make the arrangements and to take our x-ray technician photographer out to take the pictures. Therefore, I took Sgt. Robert Spring with me and we went out to the airport. We found the spot where the little Piper-Cub planes were located and asked the Lt. in charge if Spring could get a ride in one of the planes to photograph our area from the air.
            The Lieutenant was most obliging and Spring was taken up almost immediately. As Spring could only handle one camera at one time, and as we wanted to have some snaps from the camera that George just got (a small Argus), I asked the Lt. if I could have a ride to get some snaps with George's camera. So, I had my first plane ride.
             Gee, in those tiny, fragile things it feels just like one is on a small magic carpet. The pilot slowed down when we were over our area so that the camera speed didn't have to be so fast, and darned if it didn't feel as if we were standing absolutely still. It was really quite an experience, and I think I got some good snaps.
            The pilot told me, after I got in conversation with him, that the Piper Cub pilot who had gone over on the ship with me on the initial landing, and who took off from the ship from an improvised runway, in an amazingly short distance, had been given the Distinguished Service Cross for his work that morning. He was recognized for keeping one of the Divisions together, i.e. conducting the communications and locating the separate parts of the Division so they didn't get separated. He was quite a nice fellow and I had played cribbage with him for many hours while on the ship.
            Today Ed Cane showed up. He has been transferred from the Replacement Pool in which he was for a while, to a Medical Battalion. He had a funny experience when he got his orders, for his orders said that he was to proceed to this new outfit by motor transportation. He then found out that the outfit was in Sicily and he was still in Africa, so he wondered for a while whether he was supposed to go in an amphibious jeep or not.
Loads of love,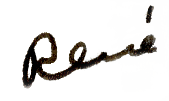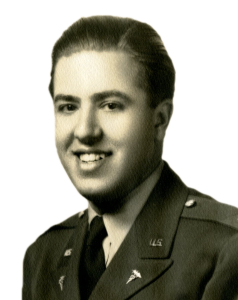 .
Watch for my next letter on
August 27

Images from René's first ride in an airplane…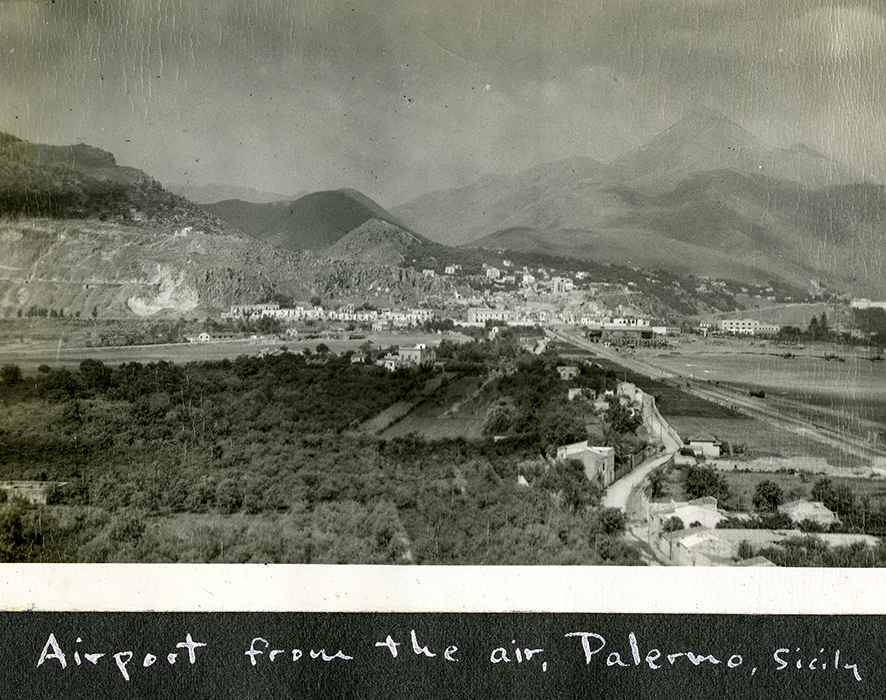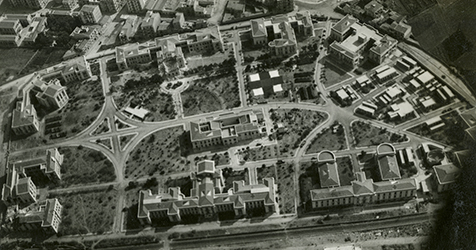 Here are excerpts from a letter that Lois McFarland wrote to family back in California.



August 25, 1943
Palermo, Sicily
Dear Gang,
           I've been trying to write to you for ages, but, golly, we've been so, so busy. I never do anything but work, eat and sleep. And the whole night – from 7 to 7, I'm constantly on the go.  I'm still on nites, though I have hopes of coming off before long. At present, we have over 1,100 patients and the majority are malaria. I'm lucky to be on the surgical ward – for I like this work far better than medical – though we have some pretty gruesome cases. Ren is working in Receiving now and likes it better than having wards – though the hours are longer and the work harder. At the moment he's not feeling too well – has that famous G.I. upset (polite name) again. I've luckily escaped another bout with it since my first experience.
            Bob Hope was here the other day; but working nites, I missed his shows. Everyone who went enjoyed them greatly.
          I haven't had much sleep lately. Day before yesterday, I had 3 hours (10 to 1 off and on). Must've been the heat; but I simply couldn't stay in bed longer. And yesterday, Trudy, Buddy and myself, went to town after breakfast and didn't get back till 2:30, so I had about 2-1/2 hours sleep,
          'Twas the first time any of us had been out of the hospital area since our first day here, and we had a grand time. We started into town about 8:30, only a few blocks and peeked into every little shop we passed. There weren't many, but most of them were pure junk. Scads of religious pictures and wall hangings and statues; lots of confectionery shops with very little to offer; lemonade stands as frequent on the corners as in N.Y.C.; fruit, candy and pastry, and almond vendors parked on the sidewalks. The fruit is mostly grapes and prickly pears, then tiny plums (that look like apricots) and melons, and some green pears and peaches, and lots of figs and lemons. The candy is mostly a kind of almond brittle, only the caramel part always is dark and a little scorched, and always sticky because it's so hot. The pastry sold on the street is something that is deep-fat fried and looks like do-nuts and croquettes. Have been afraid to try any; and it's been so hot, it doesn't appeal to me.
They have quite a bit of ice-cream, but it's more like sherbet; and of non-descript flavor. You can only eat it on the Q.T. as it's against the rules now, and the M.P.s will pick you up.
           We stopped first at a little confectionery shop and bought a piece of candy apiece, the size of a cookie, for 7 lire. 'Twas very good, very sweet, a maple and chocolate flavor and full of chopped almonds. We stopped at another such shop and bought a piece of luscious-looking chocolate candy – only it was lousy. Tasted like a stale cookie. Then we saw several people eating ice cream cones, so we sherlocked around the corner into a little alley, 'till we found the source. The people were thick around the stand, and were buying them for 3 lire; and when we came up, the young fellow served us first – over the heads of the others and gave us each a double portion for 5 lire. The cones were nearly like at home.
            There are an amazing number of people who speak English here – having lived in the States several years. Or others that come up and try to tell you they have a brother in Brooklyn! Almost every other guy has a brother there, it seems!
           The people aren't a bit shy about staring at us – as we walked down the street, they'd stop in their tracks and stare. Or a group would stop chatting and all of them turn around and grin at us. One gal, with a child clutching her hand, came alongside us and walked there, her eyes glued to our faces and grinning from ear to ear.
            I can parles to the people just a little – by putting an Italian accent to my French. And I can understand them quite well, if they speak slowly enough – for so many of the words are very similar to French.
           Some of the girls are very attractive and well-dressed. Most wear shoes or sandals with about a 2" or more platform. The whole populace are short in stature, and I feel like a giant along side them.
            Oh, but the best looking thing here are the civil police. They're a handsome and romantic lot and taller than the average and very striking in their snappy uniforms. They derive their authority directly from the King and are non-political. The allies recognize their status and so they continue to hold their positions – and actually have been a tremendous aid to us in maintaining law and order in the City.
                                              My love to all,
                                                               Lois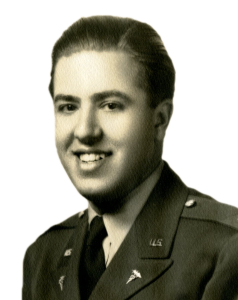 .
Watch for René's next letter
August 27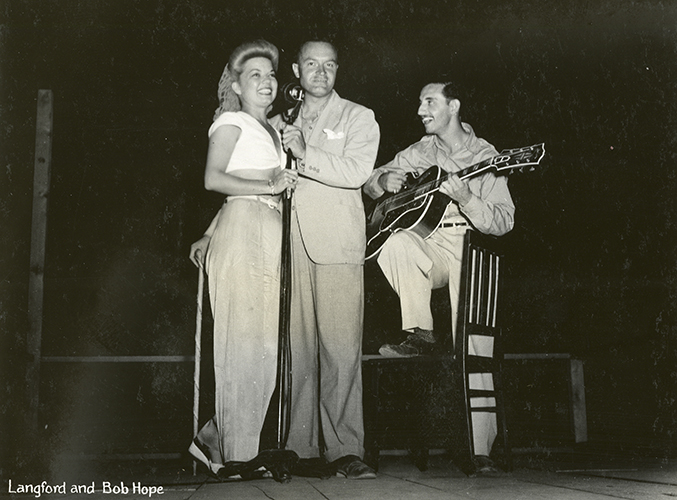 Because Lois has been working nights, she wasn't able to go see Bob Hope's show.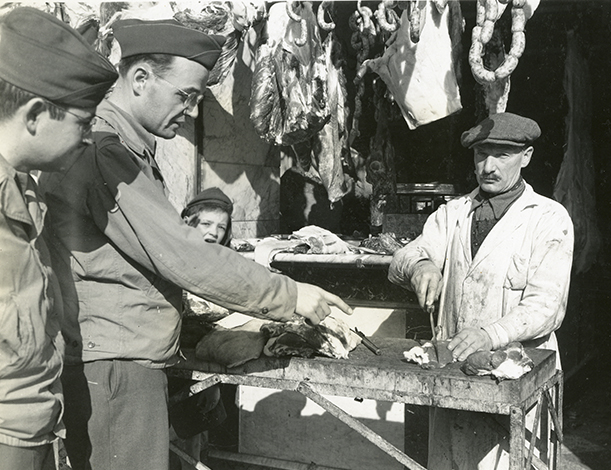 Lois tells her family about the various street vendors in Palermo.

August 27, 1943
No. 52
Palermo, Sicily
Dear Folksies,          
            Since my last letter, I've been kept plenty busy. After the first several days of running around at various headquarters, arranging for medical corps prisoners to work in the hospital, etc., things slackened up, and as the hospital was awfully busy, I was put in the Dispensary and Ambulatory Dressing rooms, and also helped Eddie Welles in Receiving.
            A couple of days ago, however, Eddie became sick and so I had to take over Receiving completely. It's interesting – far more so than previously, but it is also about ten times the headache that it used to be. We have a fast turn-over and with Reilly continually boluxing up things by giving us mis-information as to the number of beds available, putting up and taking down beds all in the same day, etc., it has had us going round and round. This morning it took one of the Sgts. and myself exactly 4 hours to straighten out the census of the hospital. Yesterday, we had gotten one figure from the nurses on the wards, another from Reilly, another from the head nurses in the various buildings, and still another from the Registrar. If that ain't a headache, let me know what is.
            Several days ago we lost poor Cy Johnson. He had to be evacuated to Africa as he developed severe asthma. I imagine he will be sent back to the U.S. on the basis of both that and his ulcer. We may also lose three of our nurses: Irene Gallagher, Fran Powers and Bessie Lawrence. They were in an auto accident and came out with busted pelves, and Fran had a big laceration on her leg. I say "may" as there is still a little argument, but they undoubtedly will go in the next few days.
            Did I tell you that Sterba is here, running the quartermaster depot from which we have to draw supplies. He tried to be tough on us, but actually he is darned lenient.
            A couple of days ago Bob Hope was here and he gave several shows, one of which was at the hospital that is right next door to us, but unfortunately when I got un-busy it was too late to go there. All the boys say that he was swell, as was his whole show.
            I had some of my pictures developed and some I shall be able to send home in a while, but the best ones, some of the invasion, I know not if I can send as yet – despite the fact that the very same pictures were published back home in the papers by Herb White, the A.P. photographer that we had aboard the ship. Incidentally, he took my picture along with the other fellows, and he thought it would appear in one of the S.F. papers, but I guess it didn't – might get it from A.P.
Loads of love,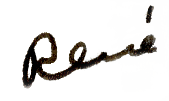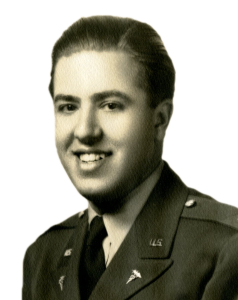 .
Watch for the rest of this letter on
August 31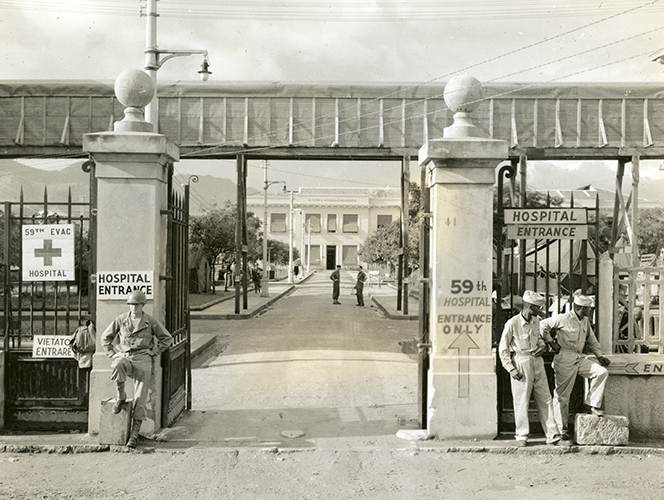 On August 30, Phil Westdahl, MD, wrote in his journal: We have taken care of many casualties occurring in the vicinity. A P-38 pilot who made a crash landing and miraculously lived and is now doing fine; 32 boys from a truck which went over a bank, 6 died, the others treated for shock, fractures, head injuries, etc. Six boys from a shell explosion, 2 died, the others badly shot up. A belly-gunner in a Fortress shot through his face over Italy at noon and landed here as an emergency by his fellow crew members at 1:45PM. He died 5 hours later, a blessing. Seeing this poor fellow and so many more that have been so badly wounded and died in our hospital really brings the futility and stupidity and bitterness of war really close to home. Not bitterness for the actual enemy boys who are doing this to our boys. I can't help but feel that they are fighting for what they have been taught is right even though it is not in our eyes, but bitterness for those responsible for involving the world in such a war.
August 31, 1943
Continuation of No. 52
Palermo, Sicily
Dear Folksies,          
             I have been rather on the punk side the past few days. Friday the 27th, I felt only fair, but not bad. The next day, however, I developed a constant mid-epigastric dull pain, which lasted all day. My temp. began to climb in the afternoon and by 8 P.M. I had 101.4 and Lois and others convinced me that I should go in the hospital then, instead of waiting until the morning, as I wanted to do. I had a mild headache with the temp. and so acquiesced. However, the next day I awoke feeling fine and couldn't get a temp over 98. Yesterday, with temp. still normal and feeling good, Sewell let me out. And then, darn it, a few hours later I got the same bellyache back again. I've had it on and off during the day, but today 'tis O.K. and I think I'll live.
           A lot of the gang have been ill on and off. None have had real malaria, but apparently have had sand-fly fever. Others have had re-occurrences of their dysentery, etc.
           I told you in my last letter that the three gals who were in the car accident were going back to Africa. Well, only Irene and Bessie went back. Fran Powers seems to be doing O.K. and they decided to keep her and see if she won't be well before we pull up stakes, if we ever do.
           Oscar Carlson wandered in here day before yesterday. He is located very close by. Bam's friend Westmoreland is also close by, as are the boy friends of many of the gals.
Loads of love,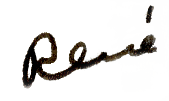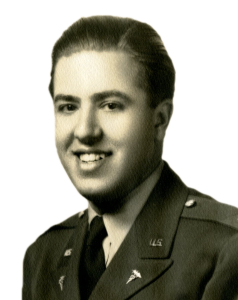 .
Watch for my next letter on
September 2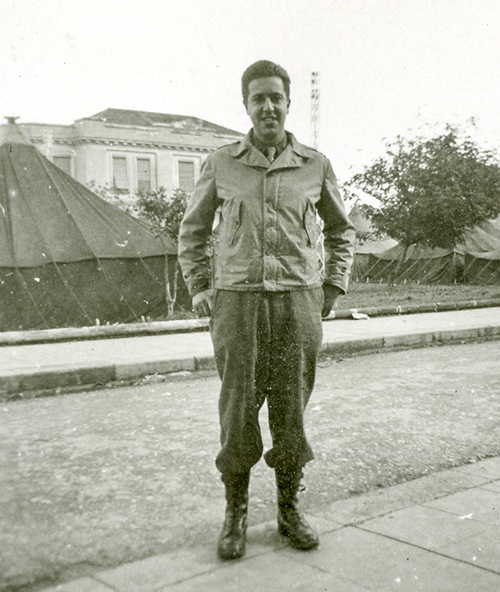 René in front of the hospital in Palermo. In today's letter, he tells his parents that he was inside the hospital overnight – not as a doctor, but as a patient.


On August 29, Phil Westdahl, MD, wrote in his journal: "WHAT A DAY! Our first rain and it really comes down in torrents. Every roof in every building leaking like a veritable sieve. Most of the rooms, with tile flooring, are converted into shallow swimming pools with cots, tables and chairs practically ready to float. The whole gang is in a turmoil moving stuff into a few remaining dry spots in the halls. We scramble up to the roof and have a great time replacing broken and displaced tiles. Now we wait for more rain to test our repair job."

September 2, 1943
No 53
Palermo, Sicily
Dear Folksies,          
            Yesterday I was kept plenty busy all day long, doing spinals for the most part, but also some pentothals. Nothing big, but just kept doing something all day and the early evening. Did get a chance, however, to get off a couple of short letters, and also sent you a whole pile of postcards. The latter were mostly showing the cathedral we had the opportunity to visit the other day. It was quite an historic place, built by Normans, Moors and Byzantines. The gold that had been used in the mosaics alone was valued at some tremendous price. The thing that got me, however, was when our guide told us that the heart and guts of Louis IX were entombed there, the rest of the poor guy being spread around in Paris, Tunis, etc.
            I am feeling really pretty good now, no more diarrhea or cramps. Really about 99.44% and should be able to gain back the .56% in another day or two. Martha Morris has been pretty ill the last couple of days, but is lots better today. She apparently had the prevalent "sand-fly fever". Some of them get plenty sick with it, running temps all the way up the scale and having pretty severe headache, backaches, etc. Really the only difference between that and Malaria is the presence of the malaria bugs on the slides, and the fact that the temp in malaria goes up and down, while in the other it seems to stay high longer and then drop gradually. Both get bad headaches and pain behind the eyes.
            I bought an Italian grammar and dictionary the other day, when Lois and I were downtown with the Col., but as yet haven't had any time to look at it. Thank goodness a great number of Sicilians have spent a lot of time in the U.S. Tho' we've only been to a couple of shops, we have been lucky in finding ex-American residents present there.
Loads of love,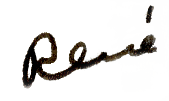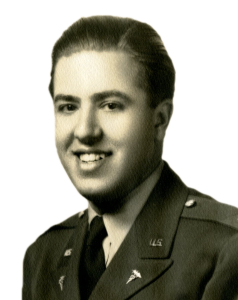 .
Watch for my next letter on
September 9

Photographs of the Cathedral in Monreale, which René visited, but wasn't able to mention by name.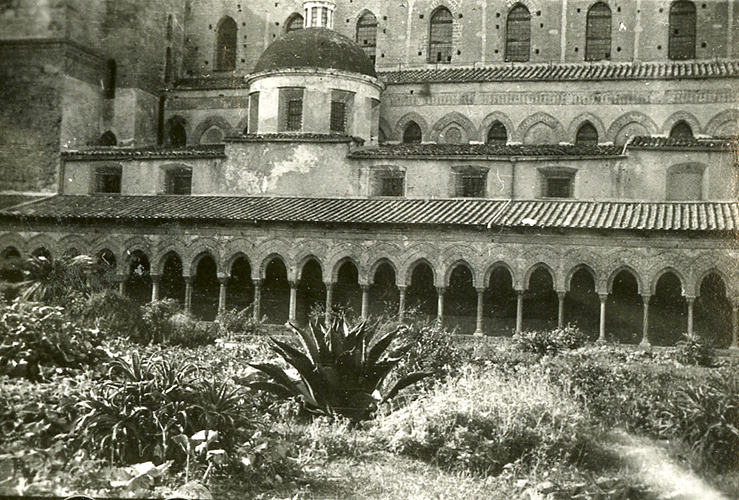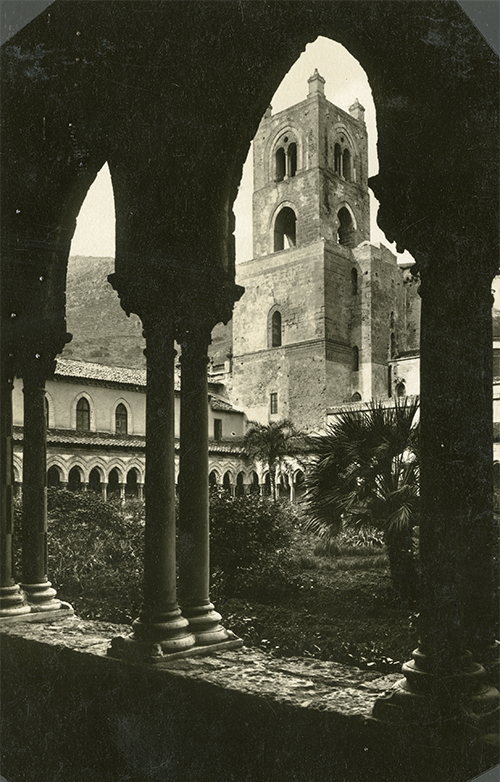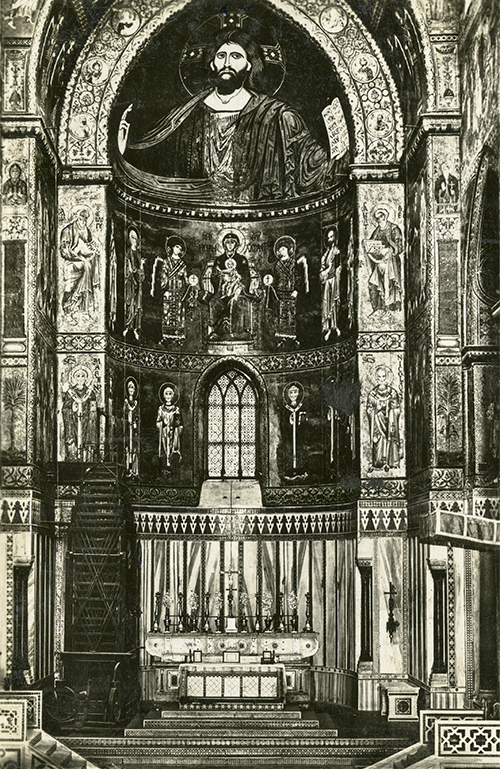 On September 1, Phil Westdahl, MD, wrote in his journal: "During the 3 weeks we have been functioning here, we have handled about 3500 patients, almost 2/3 of our total in 7 months at Casablanca. It is amazing and discouraging to note the number of accidental injuries from firearms and shell explosions due to pure carelessness. 'I didn't know it was loaded' has become more than a time-worn explanation. One fellow even asked his friend to shoot him with an Italian pistol to demonstrate to an Italian prisoner that the Italian ammunition was no good. (He thought he had taken the bullet out of the casing, but he hadn't.) Fortunately it went through his left arm, about 6 inches from his heart.
We see innumerable very mutilating injuries to large groups of men at one time  because of carelessness in handling high explosive shells. Just yesterday we had several  boys brought in with multiple extensive shell fragment wounds because one of them had picked up a shell-fuse and after examining it carelessly threw it on the ground.
In this connection, I recall that before leaving Casablanca, we noted that of the 200 odd American boys' graves, about half of them had been killed on the original invasion, the remainder being accidental deaths."

September 9, 1943
No 55
Palermo, Sicily
Dear Folksies,          
           On September 8, Lois had her first day off, so we left here shortly after lunch and took one of my dispensary boys with us for an interpreter. His name is Syracuse and he has some relatives nearby, but strangely enough, not in the town from which he got his name. He speaks the lingo fluently and is swell at haggling. He's an awful nice kid and we had lots of fun just wandering around with him.
            We then hopped into a native carriage, with the screwiest horse drawing it — he seemed to always be going sidewise instead of straight ahead, and the front wheels of the carriage seemed to be coming back and going under the back wheels every so often. Anyway, the three of us trotted out to the catacombs. 'Twas down under the ground, however 'twas somewhat ventilated in one spot as a result of what the Italian guide we had said was "American bomb." He explained, "Americans good, bomb no good!" The place had bones hanging from the wall, stored in boxes and niches, with their shrouds hanging loosely over the bones. There were hundreds of skeletons there, the place having been started in 1599 and the last person having been deposited there around 1870 or so. Most of the skeletons had their name plates still intact — everybody from rich to poor, princesses and babies, and even the great Garibaldi, so the guide said.
            After that little visit, we left Syracuse and we went our way and he went his way. Our way took us to George Sterba's place where one of his boys gave Lois a gift of a couple of cups and saucers with the Italian Navy crown embossed on them. We stayed for dinner and then came home – getting a ride in an Italian jeep that makes as much noise as an army opening fire on the enemy at close range.
            Later that same evening, Lois, Paul, George Davis and I went up to the home of one of our Italian civilian workers — a plumber. The latter actually lives in town but owns this place out a ways in the country, and he gave George the use of the place so it is a good party place. We went out that night to inspect it and make plans for the future. We got out there about 7 P.M., after a nice ride in the cool evening air, in our favorite jeep "Bonnie Blue Eyes." The place is on a hill with a lovely big balcony overlooking adjoining hills, which are covered with orchards. It also overlooks a nice cove — the blue Mediterranean. We were standing admiring the view and we thought we were about the only living souls for miles around.
            Then, all of a sudden out of the still country-side we heard wild whoops and hollers from all sides. The people started coming out of their houses and yelling at us, "Finito la guerre, finito la guerre." They were jumping up and down all over the place, and we couldn't believe that it was true. Finally some of them calmed down enough and we understood enough of their Italian to get that they had heard on the radio that Italy had signed an armistice. Well, we still didn't know whether or not to believe them, but when we heard sounds of hooraying from all the places around, and could even hear hollering for miles down the road, we got as excited as anyone and pranced around like mad.
            We'd planned to stay up there until around 10 P.M., but with that news we tore wildly down the hill, amid cheering and waving throngs of natives. Paul drove and waved his hand to all "just like F.D.R." as he said. George was riding his motorcycle and we followed right behind him and it really made quite a sight. The people all along were just wildly happy and were yelling at us all the way back into town. There was a lot more celebrating among the natives than there was by the Allies. And, our Italian prisoners were just wild — they were singing way into the night.
Loads of love,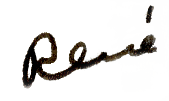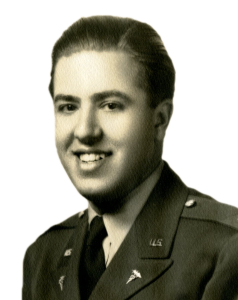 .
Watch for my more of this letter on
September 12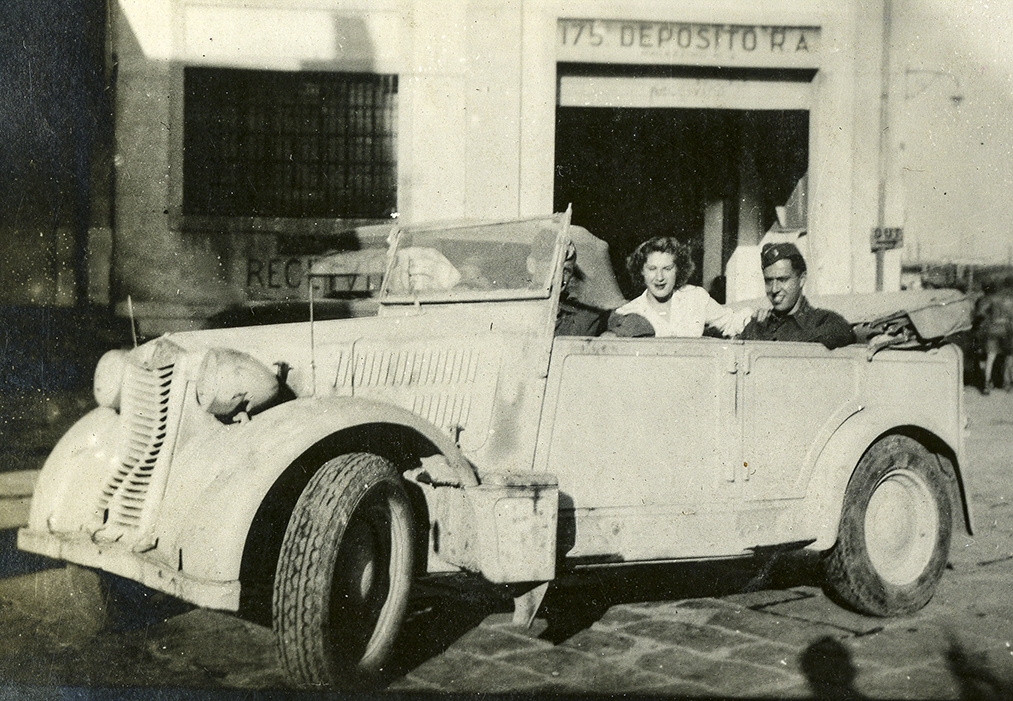 Lois and René out and about in Palermo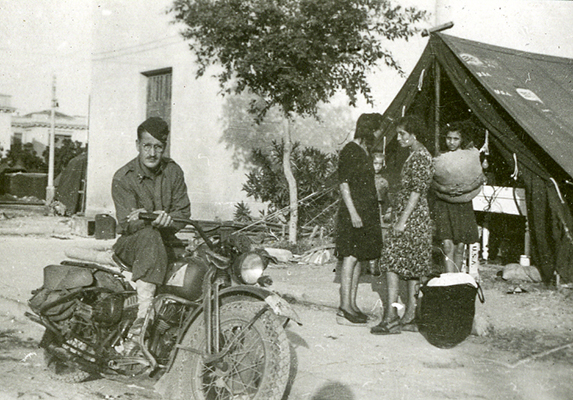 George Davis on his motorcycle.