September 12, 1943
No 55 (continued)
Palermo, Sicily
Dear Folksies,          
          Al Jolson was here a few nights ago and put on a one-man show. He was fairly good — sang a few of his old songs, made a few cracks of the Bohemian Low Jinx type. In general he was entertaining for the patients and men, but it wasn't the type of thing that anyone would pay money to see or hear. Don't mistake me — I think it's swell that men and women like Jolson, Hope, etc. are making the tours that they are. It is a pretty nerve wracking business for them, just as it is for the soldiers, for they get to places that are being bombed on and off very frequently. For a man who has been on the stage as long as Al Jolson, and at his age, to be giving two to four shows a day and making rapid-fire hops all over, it is really remarkable. Also, I was surprised at how short Jolson was — he's really tiny.
          Night before last, we had planned to have a party up at the "Villa" as we have called it. However, Lois had to work late and I felt kind of on the seedy side, having a bit of diarrhea again. So, until the last minute, tho' we had planned the party with George, the two of us were not going to go. Nevertheless, Lois got off a little earlier than expected and my guts quit rumbling, so we decided to at least put in an appearance at the party. So, one of the boys drove us up in "Bonnie", the others having gone up in a small truck. Bishop, Helen, Hal, Fran, Liz, Kuzell, Russell, Bennek, Paul and one of our new girls, Betty Klarr, and George were all there.
          One of the transportation boys helped out and fixed up some food for the gang of us and it was very nice. We stayed a very short time and then hi-tailed it back for some sleep. The night ride apparently did me some good, however, for I awoke the next morning feeling perfect. Still feel swell now.
          Last night we were invited to a big party given by Col. Westmoreland's outfit. It was a nice party, but the only difficulty was that we couldn't leave until shortly after 7:30 P.M. and the place where the party was was about 25 miles up the road, and consequently it took about an hour to go up and an hour to get back, and just a little more than that time to stay there. We went up in a command car with Westy and Bam and had a nice time. The moon was bright, the scenery nice (despite the fact that it was night), and the cool breeze felt swell.
Loads of love,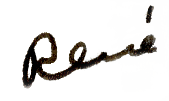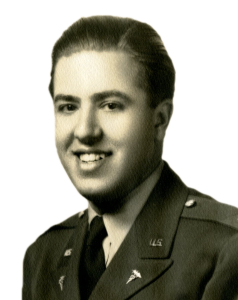 .
Watch for my the rest of this letter on
September 13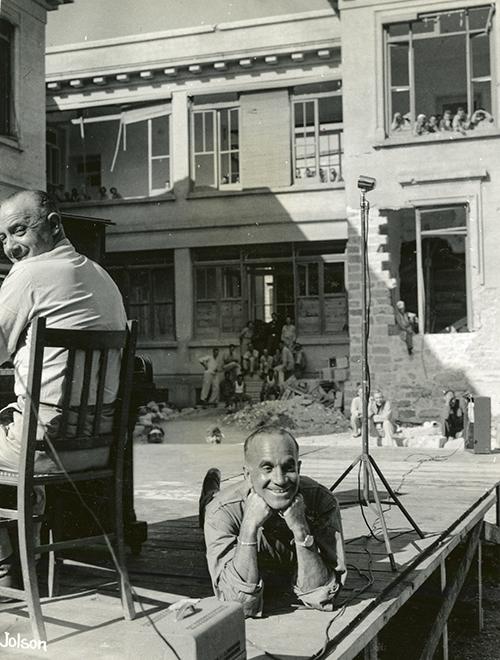 Al Jolson performing a one-man show for the patients and men.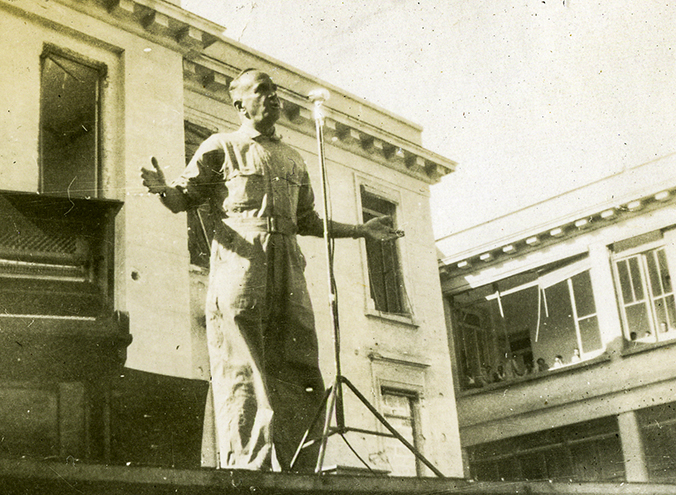 September 13, 1943
No 55 (final portion)
Palermo, Sicily
Dear Folksies,

            Yesterday turned out to be quite a gala day. Fran, Hal (Harold Williams), Lois and I left here about 2 P.M. going in a truck with several others, to the beach. Fran and I had arranged with some of the mess men to have sandwiches, peaches and tomato juice. So we stuck all the food, our swimming suits, towels, a blanket and the rest of our stuff in a barracks bag, and we were all set up for the afternoon and evening. The beach turned out to be a wonderful spot, the best we have hit to date. The sand was a trifle sea-weedy, but we found some spots where it was clear and the sand was clean. The beach sloped gradually into the Mediterranean and one could walk out quite a ways before finding oneself in deep water. However, it was most deceptive, for the water was so clear that when you were out quite a ways you looked down and thought that surely you could touch bottom, only to be surprised that the bottom was actually quite a bit further away than you had anticipated.
            At the beach there is a big clubhouse that has been taken over by the Red Cross and there are bath-houses, showers, and a two-floor recreation building. The lower floor is for the enlisted men and the top, with swell balconies overlooking the Sea, is for officers. They have a couple of pianos, a victrola and a library of a sorts.
            We baked on the beach for a while, swam for a while and then we hired a Sicilian boatman to take us for a ride for about an hour. After our boat ride we returned to the beach and ate our repast, which consisted of beef and cheese sandwiches and native peaches. The latter are a little bigger than our apricots and were not quite ripe enough, but one that I did manage to get was just right and tasted swell. It's funny how really good fresh fruit tastes after one hasn't had any for so long. After our dinner we loafed around the clubhouse until we got a ride back around 7:30 P.M.
            Then on our return home, we continued to have a good time. The 59th Officers have now opened a club of their own, and since we are in buildings it is perfect. We have a bar, and are going to have a reading and a card room and a dance hall. We have a piano and have purchased a good radio. And, of course, we still have the records we brought with us from the U.S. Wally Greene and Pete Joseph were the instigators of the club and with opening night last night it showed itself to be a howling success. Only the officers can belong but despite Roy Cohn's objections, it was voted that guests of members could be allowed into the club. So, the four of us (Fran, Hal Williams, Lois and I) joined in the festivities last night and all had a wonderful time.
            The opening of the club was sort of a farewell for Bert Halter, as he left us today. He has gone to a unit of the same type as we are, but a little more than half the size. He is going to be their orthopod.
            The party that night was really quite something, what with Wally Green and Pete Joseph acting as bartenders. We took some pictures of them behind the bar and hope that they come out for they ought to be perfect black-mail pictures. Now, Wally has trained one of our little Italianos in the fine art of bar-tending, and tonight he is doing the honors with great gusto. The latter is the one who is a first cousin of Rudolph Valentino, and he's a pretty good-looking kid, himself. He really is funny the way he has picked up English so rapidly. He only has to be told a word once before he had incorporated it into his vocabulary. He even answers the phone over at the nurses quarters nowadays and is not too hard to understand. Now, he has himself the permanent job of bartender and steward of the "Club" from 4 P.M. to 11 P.M. every night.
            Right now Lois and I are in George's supply section, each banging away at a separate typer, and we've been at it now for almost two hours. We had planned to have an educational evening with Lois doing the teaching. You see, she has quite a reputation as a fudge maker and as a consequence our baker petitioned us the other night to make a date for Lois to teach him how to make fudge. He had all the things essential for making it, but unfortunately tonight, we find that there is no chocolate in the hospital area, so it has to be put off for another day.
            Our baker, Ehrbacher, incidentally, is quite a character. He is a Swede and if that wasn't enough to make him difficult to understand, God was unkind enough to have given him a speech defect, so one has a devil's own time trying to understand him. When he's had a little vino – well, you can just imagine. But he is a swell baker.
Loads of love,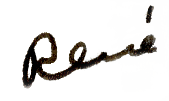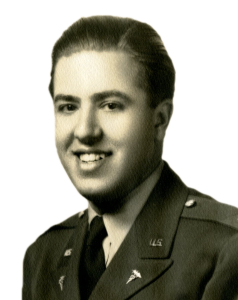 .
Watch for my next letter on
September 21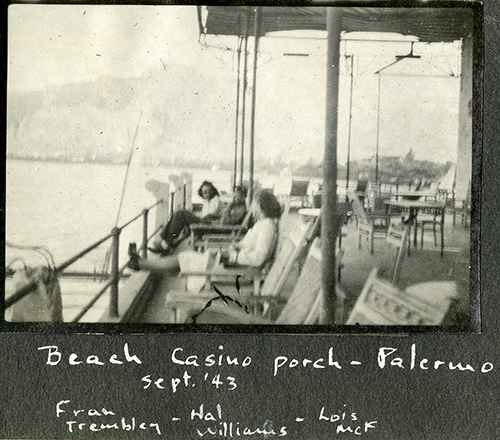 Fran Trembley, Hal Williams and Lois McFarland enjoying the Red Cross Clubhouse at the Beach in Palermo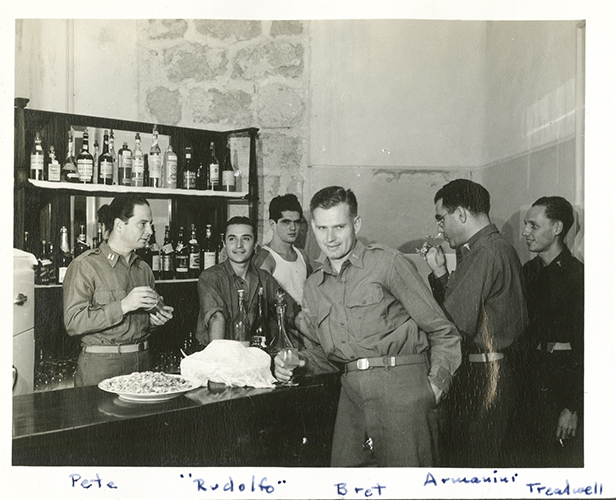 Pete Williams, Rudolfo (bartender), Bret Smart, George Arminini and Bob Treadwell at the bar at the 59th Evac's Officers' Club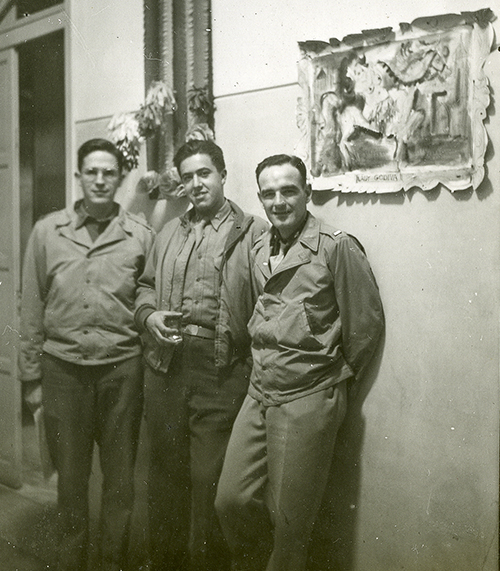 Marv Hodgson, René and Cy Kiernan at the Officers' Club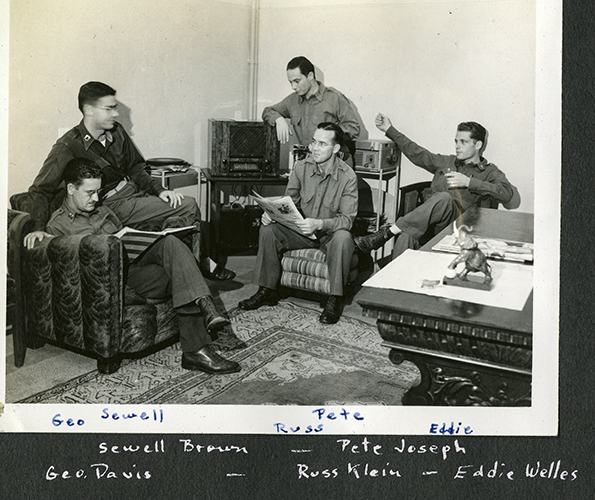 George Davis, Sewell Brown, Pete Joseph, Russell Klein and Eddie Welles enjoying the 59th Evac Unit's Officers' Club




 

            We have been quite busy during these past few weeks. Our highest peak was about 1200 patients, about 3/4 of which were medical cases. We are still seeing a goodly amount of malaria and also sand fly or pappataci fever. This latter disease is characterized by abrupt onset of fever, which climbs to about 103 and occasionally to 104-105 and usually remains for 3 days. During this time the patient complains of headache, backache, pain on moving eyes and pains in arms and legs. Patients are uncomfortable for 2-3 days and then feel quite well. Treatment is purely symptomatic.


            The surgical side is for the most part doing the same elective surgery we had at Casablanca, acting in the capacity of a station hospital. Occasionally a bomb explosion or other accident in the vicinity brings a rush of traumatic work.

            As for extra-curricular activities – the town of Palermo is really coming to life these days. The streets are crowded with returning civilians and soldiers and sailors, British and U.S. on pass. Hundreds of little shops are opening and as usual the gullible souvenir-hunting Americans are paying tremendous prices for worthless junk. On practically every street we see families digging the brick and plaster debris out of their homes, if they may be called that. We had a terrific cloud burst the other night and I shudder to think what those poor people went through. Hardly a house in town has any semblance of a roof.

            Took a walk into more remote parts of town at the foot of the surrounding mountains and saw families living in the worst poverty I have known to date. Actually as bad as the filthy overcrowded Arab villages in Africa. Many families are living in natural caves on the sides of river banks. I met one character who had been living thusly for 5 years who greeted us in fairly good American. We learned he had lived in New York 10 years ago. Came to Italy at that time and because of antifascist ideas was imprisoned in Italy for 5 years. Then came to Palermo to his cave where he has spent the past 5 years.

.

Watch for René's next letter on
September 21

Patients in the 59th Evac Hospital receive care. Note Nurse Gert Brazil in the right hand corner of the frame, lighting a patient's cigarette.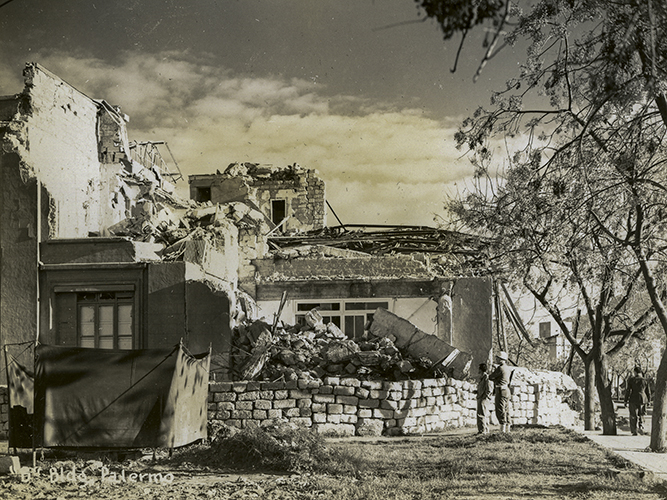 Bombed buildings in Palermo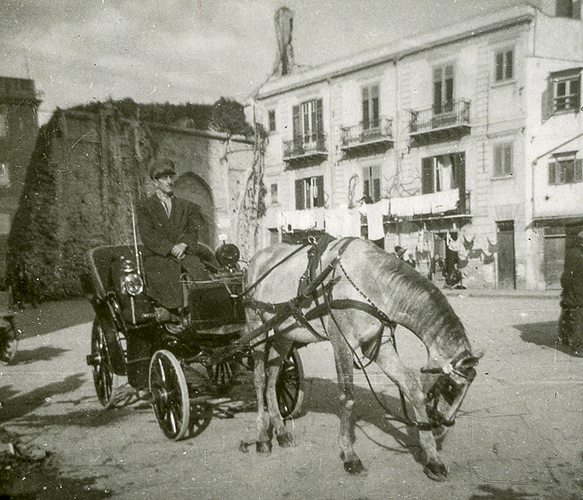 September 21, 1943
No 56
Palermo, Sicily
Dear Folksies,

            On Lois' day off we went up to George's place in the afternoon, and though we intended to do some letter writing, the cool air on the porch, the nice scenery and the quiet were more conducive to just relaxing. George and another driver came up at dinner time and we cooked up a pretty snazzy dinner from a couple of cans of meat, some onions and some fruits (peaches and apples) and also had some chocolate cake that our baker had cooked up.
            Oh yes, that reminds me, Lois spent one evening teaching Ehrbacher how to make fudge. She really cooked up quite a batch and the boys loved it.
            In the last week there hasn't been anything of great interest occurring around here. The biggest item of news, however, is that Jack Benny put on a show. Unfortunately, so far, Benny hasn't appeared in it himself here, for Sewell Brown has vetoed his appearance. He is only mildly ill, and is in need of a temporary rest more than anything else.
            The funny thing is that there is considerable jealousy between our hospital and another one nearby. We alternate with them in the taking of patients: we admit one day and they admit the next, etc., and we adhere to this awfully closely. Of course, when emergencies get dumped in our laps we naturally have to take them, but the rotation applies to all other cases. However, they tried to pull a fast one on us one day at a big meeting, trying to get a ruling that all headquarters officers would be put in their hospital only. This was blocked, but when someone brought Jack Benny in here the other day, Eddie decided to get back at the other gang. So, despite it being our non-admitting day, we admitted him. Later, when we had occasion to call the other hospital, their Receiving Officer cut in on the phone and asked if we had admitted Benny here that day. When told, "Yes," he was raving, "How come you admitted on your non-admitting day??" He went on quite a bit more, but naturally we got a big kick out of it.
Loads of love,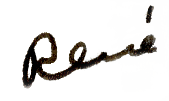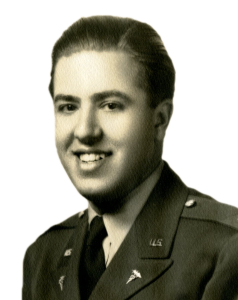 .
Watch for my next letter on
September 30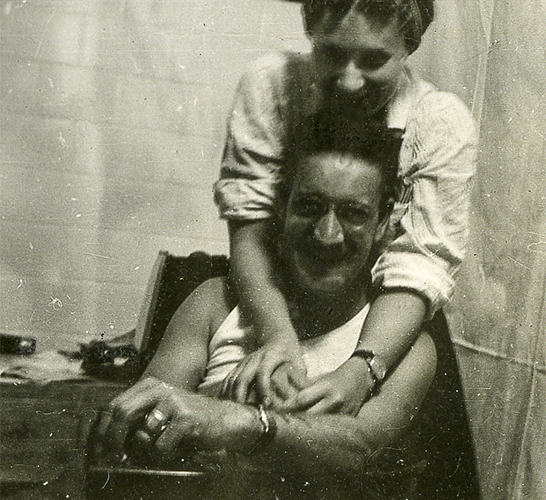 Lois and George Davis, clowning around.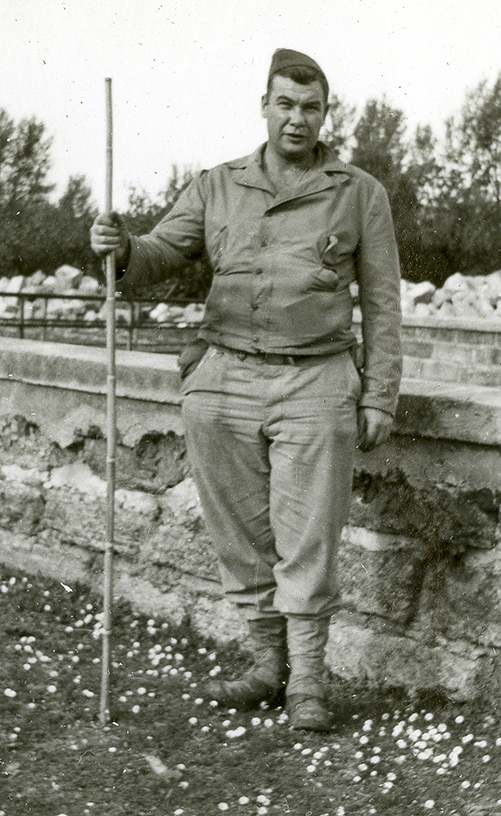 Lois spent an evening teaching Herbie Ehrbacher, the unit's Swedish baker, how to make American fudge, her specialty.

Jack Benny spent some time as a patient in 59th Evac Hospital.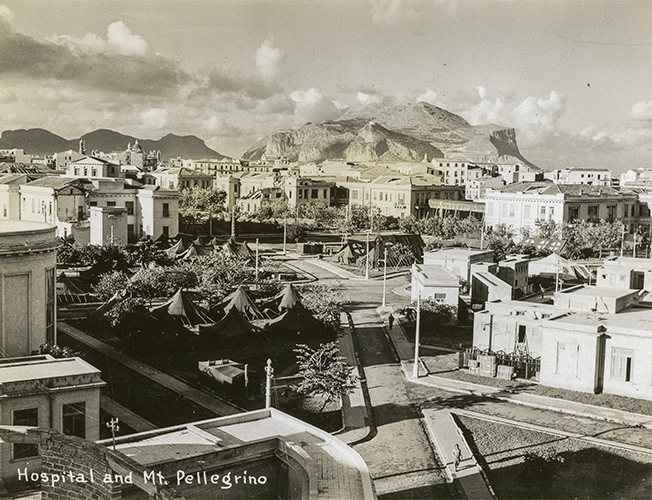 The hospital building in Palermo, with Mt. Pellegrino in the background

September 30, 1943
No 57
Palermo, Sicily
Dear Folksies,

          I've been pretty busy on an off as usual for the last couple of weeks, but things have been running pretty smoothly.
          I saw yesterday a clever article that one of the boys made up for those returning to the U.S. You know that on the way to Africa, and likewise to Sicily, the boys are given little booklets on, "So this is Africa", etc. In these booklets they give you a little history of the country, some of the customs, foods, products, some of the language, and cautions as to how to act, how to treat the "worthy Arabs", etc. Most of the stuff we found in Africa to be a lot of hooey and the booklets have become sort of a joke. Anyway, this fellow, yesterday, had a "Guide to the United States". In this he stated that one should be patronizing to the "natives"; give them an occasional cigarette "for they are worthy people"; "a drunkard causes consternation among the natives – they wonder where he could have gotten the stuff with which to get drunk"; "always preface your conversation by saying, "Now, when I was in the African invasion…"' "and always remember that you were in the 'first wave' for it's far too difficult to check to find out if that is true or not"; etc. etc. 'Tis really good and hope to get a copy.
          Anxiously awaiting the glasses you have sent, Dad. Mine really went on the ka-fritz, so have borrowed an extra one of Fadley's on and off when needed. Will be glad to receive the ones you got for me.
          About a week ago, Hal, Fran, Lois and I had a most interesting afternoon. The four of us had lunch at what used to be a swanky hotel, and then took a horse and buggy, went to visit the outfit with whom Fran and I had some dealings in our Dispensary. After that, another carriage took us to the office of the "Stars & Stripes", the local Army newspaper. We see one of the editors regularly twice a week – and he is a swell and most interesting fellow. We had a really nice visit there, getting in on lots of un-printable stuff, seeing some of the things that were to come out in later editions, etc. We saw the presses that they had taken over from the local newspaper, etc. – all most interesting.
          After the "Stars & Stripes", we visited the main cathedral here and found it rather interesting, though not nearly as pretty as the one we had visited a few weeks before. At last we got around to the dinner, and then came home and loafed around the Club. It's just what was needed.
Loads of love,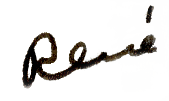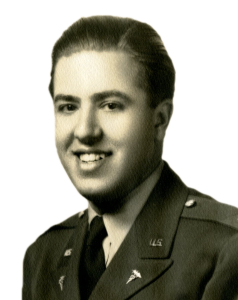 .
Watch for my next letter on
October 2, 1943

As described in a magazine article René saved, Bill Maudlin was "a 23-year-old Army sergeant with a gift of draftsmanship and a sense of humor that is both corrosive and compassionate [became] the outstanding cartoonist of World War II." His cartoons, often featuring GI's Joe and Willie, won their first popularity in the Mediterranean edition of the Stars and Stripes and went on to be featured in most of the newspaper's European editions.

Click image below to enlarge.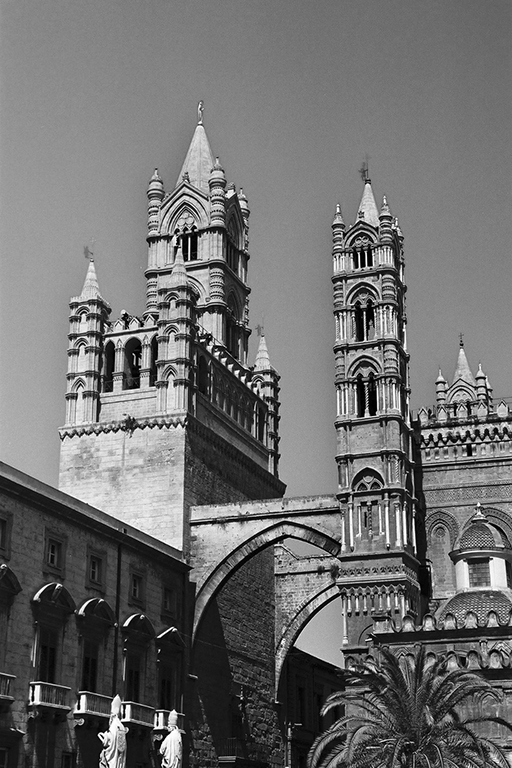 After visiting the office of Stars and Stripes, Hal, Fran, Lois and René visited the main cathedral in Palermo.
Photo credit: By Bjs [CC BY-SA 2.5 (https://creativecommons.org/licenses/by-sa/2.5)], from Wikimedia Commons

October 2, 1943
No 58 & 59
Palermo, Sicily
Dear Folksies,

            About 12 days ago, Gil Bishop came in to eight of us and said that the Colonel wanted us in his office at 6 P.M. for a meeting. We all wondered what it could be about. Gil told us what we already knew, that many officers and men were being pulled out of such outfits as ours to fill in vacancies in more forward positions. He told us that the Colonel had had a request to fill a couple of such vacancies from our gang and consequently we were all to get together and decide amongst ourselves, by drawing lots or any other means, who would go. Naturally, some of us got pretty much het up about it, and by the time we all met in the Colonel's office, there was considerable sweat pouring off of most, and it wasn't so terribly hot that day, either.
            After we were all seated the Colonel said, "Well you know that men are needed for Aid Stations, and I want to know who will volunteer to go." There wasn't a sound from any of us. Bill Newsom happened to be missing from the meeting as he was giving an anesthetic at the time, and when Eddie Welles finally came out with, "We're not all here, Colonel," everybody howled. Then the Colonel got a funny grin on his face and said, "Well that isn't really what I called you in here about. I wanted to congratulate you all on your promotions."
            We were all so dumbfounded at the trick that had been played on us that we couldn't utter a word for a full minute, while the Colonel and Collie and Bishop laughed at us. We all knew that the promotions were due to come through, but with the build-up for the meeting that Bishop gave us, all thought of the possibility that it might be the promotions was knocked out of our heads. The whole thing was Bish's idea and it certainly was the best practical joke that had been pulled in this outfit. We fixed him, however, for, as he is still a 1st Lt. we had him saluting us every time he saw us for days.
            The extra money I get amounts to a few cents short of the amount necessary to get a $50 bond every month, so that is what I have done. So, now I am getting a $50 bond monthly in my name with Mom as beneficiary – the bond to be held in Washington and the receipt to be sent to Mom – deducted from my pay.
Loads of love,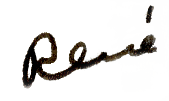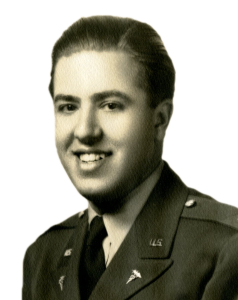 .
Watch for my next letter on
October 6, 1943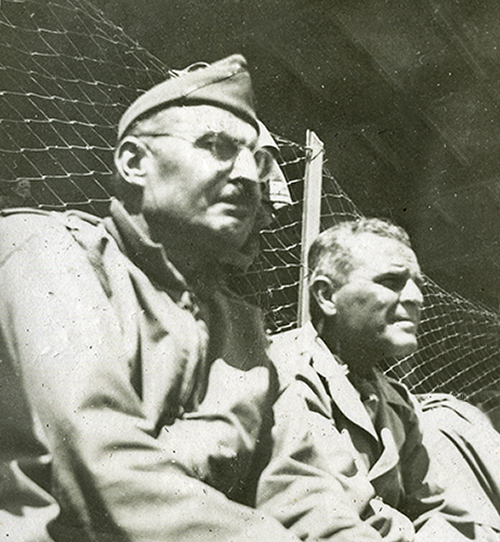 Colonel Oral B. Bolibaugh – shown here on the left, watching a baseball game in Palermo with Mattie (Carleton Mathewson).

October 6, 1943
No 60
Palermo, Sicily
Dear Folksies,

            Despite the fact that things are going on as usual, rather full blast, 'tis rather quiet at the moment so here are a few minutes to chat with you. Lois is again working nights and sleeping days. As a consequence, haven't done anything exciting in the last couple of weeks. The one day I had off and Lois was only going to sleep in the morning, ka-fooey, it had to go and pour. So, naturally all hope of going anywhere was given up. However, on Friday, if the weather permits, we will at least go around the town again. There has been a PX established there, but as yet neither one of us has had a chance to get done there.
            A funny thing happened the other day. Fran found some pictures of San Francisco in a magazine and decided she would post them up on the wall in the Dispensary. There was a picture of Market Street, one of Geary Street, one of the beach, and one of the Golden Gate Bridge taken from the Lands End Road. The latter made me homesick and I wondered if it was such a good thing for morale.
           However, that same day, we had two Flight Surgeons come in and when they saw the pictures they both said (and this at different times during that day), "Well, who's from San Francisco, here?" When we said that the negative of that question would be easier to answer, they were both very surprised. It turned out that they had both interned at Southern Pacific with Bill Newsom. It was funny enough when that happened with the first one in the morning, but when it again occurred later that afternoon when the second fellow showed up, we decided that we should put up a big sign outside our gates saying, "San Francisco Chamber of Commerce inside!" Think Mayor Rossi will authorize that?
            We really had quite a time the other day, for just as we were eating breakfast, it started to pour and to blow and as we looked out the windows what did we see but one small tent and three large ones go up and down with the wind. The poor patients who were in the tents, convalescent patients, got sort of drenched, but otherwise were none the worse for the falling of the tents. It was quite a sight and the whole storm was over in a relatively few minutes.
            We are beginning to wonder whether it is going to be so nice to be in these fine buildings when winter comes. There are radiators in the buildings, but whether or not they are going to be usable is another question. Time will tell.
            George Davis is trying to get transferred to the Military Government here and it looks as if he is going to be successful and someone will be assigned from some other outfit to take his job. Will be sorry to see him go after working with him for the last ten months. He's certainly been loads of fun and has done a lot for us – transportation, etc.
Loads of love,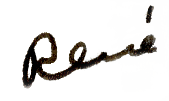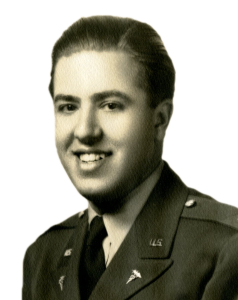 .
Watch for my next letter on
October 10, 1943

René tells his parents pictures that Fran Trembley posted up on the wall in the Dispensary – of the Golden Gate Bridge and San Francisco's Market Street  – made him homesick.