October 7, 1945
San Francisco (Hooray!)
Dear M.L. [Marie-Louise, René's sister, who is living in Puerto Rico with her husband and two children],

            Have been wanting to write to you ever since arriving home, but you can well imagine how little actual time I have had to sit down at a typewriter without interruptions, and I know that both Mom and Dad wrote of my return.
           Everything happened so rapidly at the end that it was difficult to predict from one moment to the next whether we were going to be going home quickly, or whether we would be home for Xmas, or whether we might not get back until next summer.  The rumors AND orders came so fast and were always so contradictory that we never knew if we were on our head or our feet.  When I wrote my last letter, I had a pretty good idea that we would be home sometime in November, if everything went O.K. with the unit, in the Assembly and Staging Areas, but I allowed a few weeks for unforeseen delays, so that is why I said that around the first of the year we should be arriving. Actually, the rest of the unit may not get home much more before that, what with recent delays caused by the typhoon in the Pacific, which meant a need to shift some ships that way, etc.
            Well, came the 15th of September and the orders for the unit to move.  The advance party was to leave on the 16th and the rest of the unit was to go on the 18th to be at the Assembly Area at Rheims, France on the 20th.  At last we were on our way!!  But, NO!!  Came the 16th and orders were for the unit to continue as planned to Rheims on the afore-mentioned dates, but that only two Medical Officers would go with the unit, those two being the Commanding Officer and a Dispensary Officer.  Yeeoww!!!  And so we were stuck!  We tho't it might be another month or so, despite the fact that rumor had it that doctors were being sent home via a special route, and supposedly a faster route.
            We were not the least bit happy for we figured that as long as the unit was on its way it was much better to go along with it and be on the way, than to be sitting around in Germany awaiting further orders that might not come for weeks and that would, in the long run, get us home after the unit!
          What a stew we were in when we finally bid adieu to the unit and were officially then a part of the 91st Evac. Hospital, which was remaining behind for an indefinite period of time. That afternoon, however, I spent three hours on the phone trying to get thru to Frankfurt to a friend of Jack's and mine to find out if he knew what the further dope was on we medical officers.  When at last I did get him, he told me to come down and get the orders — they were all ready and that we were flying from Frankfurt on September 20th.  I had a devil of a time convincing the bloomin' 91st that I should go down there and get the orders rather than await their arrival via usual channels (message-center).  Finally went down late that night and picked up the orders and the whole gang was waiting up for me when I returned shortly after midnight.  We read them through several times before we were really ready to believe that it meant we would be on our way in no time.
            On the morning of the 20th, then, we went by truck to Frankfurt.  We arrived at Frankfurt at noon and found that plans for our flight had already been made and all we had to do was await the special plane. We were all surprised and happy when Roy Cohn walked up to us, having gotten last minute orders relieving him of his job as C.O. of the 59th, so that he could join us on our flight home.  We had all tho't that he would be stuck over there for quite a while, as he was the C.O. of what we had left behind as the 59th.
            Left Frankfurt at 1 P.M. and arrived in Paris at 3 P.M.  We took a bus into Paris. At the Headquarters in Paris we found that some 1,500 doctors were being flown home before the last day in September, and at the moment there were about 900 doctors in that one building awaiting flights home.  The building was the "Dufayel" — a former big department store in the Montmartre section.  The place was like a bloomin' medical convention!  Right off the bat we met some of the boys in the Cal unit, the former 30th General Hospital, and we had quite a gab-fest.
                          Loads of love,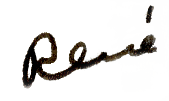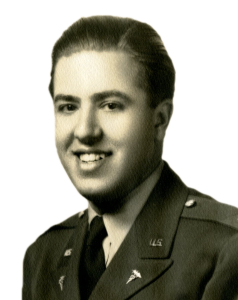 .
 Watch for more of this letter
October 8, 1945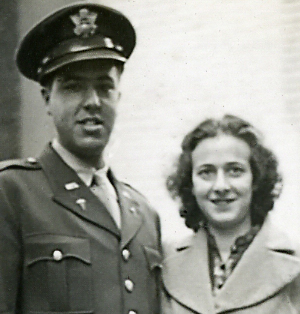 This photograph was taken in October 1942. That occasion, three long years ago, was the last time René and his sister, Marie-Louise, were together. She was on her way back to Puerto Rico to join her husband, after the birth of their daughter in San Francisco.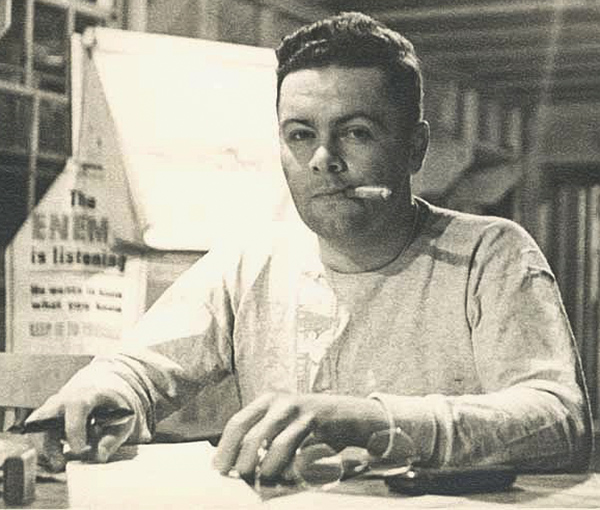 René tells Marie-Louise that he was surprised and happy that Roy Cohn showed up in Frankfurt and was able to join him and some of the other members of the 59th on their way back home.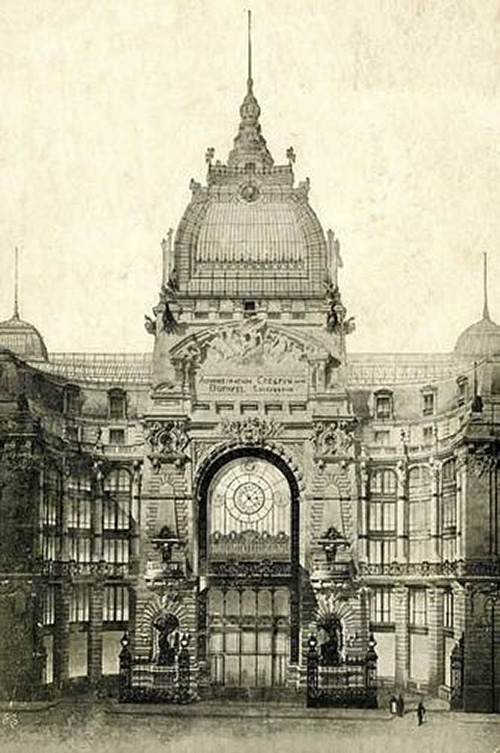 René tells his sister that when he arrived in Paris on September 20, he stayed at the "Dufayel – a former big department store in the Montmartre section," along with about 900 other doctors awaiting flights home to the U.S.

October 8, 1945
San Francisco (Hooray!)
Letter to Marie-Louise continued…

            In Paris, we were given some dope on how we were going home, about Customs declarations and also a movie on how to conduct oneself in case the plane has to land in the water and be deserted for rubber lift-rafts. It was all most interesting.  Every morn we go in the building to hear the announcements made, and to find out when we were going to be weighed-in and when we would get on the actual plane list for leaving. That procedure went on for six days, finally we were weighed in and then, at last, on the 26th, we found our names on the bulletin board as being on flight #607.
            During those six days in Paris I spent all my time with the folks, sleeping in fact, all but the last night, at Jeanne's, as she had a day-bed in her tiny apartment, and the dormitory at the "Dufayel" was not only cold, but noisy from night 'til morn, what with flights going out all the time, and guys coming back to bed at all hours, etc.
            Spent a good deal of time at Lilice's, and also a lot of time with Yvette, even going out with Yvette to visit one of the homes that she has for the children of the Resistance and which is being run by Giles, Claudine's husband.  Soon after Claudine has her second child in November, they plan to move to Deauville where Yvette has been given a rather large house or castle where she is going to have most of the children.  Giles and Claudine will run it.
            Finally we were supposed to be ready to leave at midnight of September 26th. We actually did leave the "Dufayel" shortly after midnight, but at the airport they told us that our plane would not leave until about 4 A.M.  So they took us to an Officer's Mess off the field where we had a mighty early breakfast at 2 A.M. At 4:45 A.M. we took off and said good-bye to Paris as we circled it.
            We were in a C-54, 24 of us, and we were lucky in having the most comfortable type of C-54. They have 3 types: one with just metal bucket-type seats, which are most uncomfortable; one with plush seats that can be tilted back and forth, but which has very little aisle room and consequently one is restricted to staying in his seat for the whole long trip; and the kind we had, which consists of canvas benches along the sides, which are soft and give easily, almost springingly. The advantage that this type has over the plush job is that there is a lot of room in the middle, which can be utilized for lying down. We spread comforters (which are provided on the plane) on the floor and lay down and slept a good part of the trip.
            Just 8 hours after leaving Paris, we landed in the Azores. It was noon-time there and we were able to get lunch, stretch our legs and wash up a bit before taking off.
            The next hop was the longest, to Newfoundland, 10-1/2 hours. Except when we approached the Azores and when we approached Newfoundland, we never saw the ocean, for we were flying at a level of 8,000 feet and were always above the clouds.
            At the Azores they had given us box lunches to take along and they were most welcome after we were in the air about 6 hours from there. In Newfoundland, we were again fed and then whisked away in a hurry – had only 45 minutes there. The last leg of our journey was to Wilmington, Delaware, about 5 hours. We were constantly confused as to the time, of course, as we were changing time zones so rapidly. We almost had to land at Washington, DC, as the visibility was poor at Wilmington. But after circling it once, we managed a nice landing and there we were — back in the good old U.S. after 34 months!!
                        Loads of love,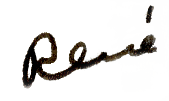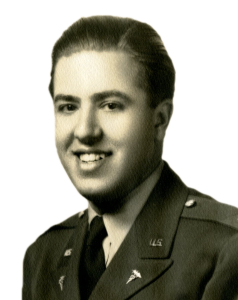 .
 Watch for the conclusion of this letter
October 9, 1945

During his time in Paris, René spends many nights sleeping on the daybed in the apartment of Jeanne Salomons.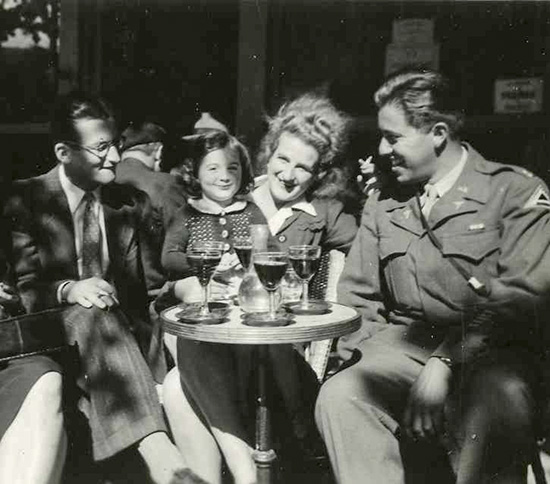 René tells his sister, Marie-Louise, about their cousins Yvette (above) and Claudine (below), as well as Claudine's husband, Giles (above and below). Also pictured above is Claudine and Giles' daughter, Dominique and René.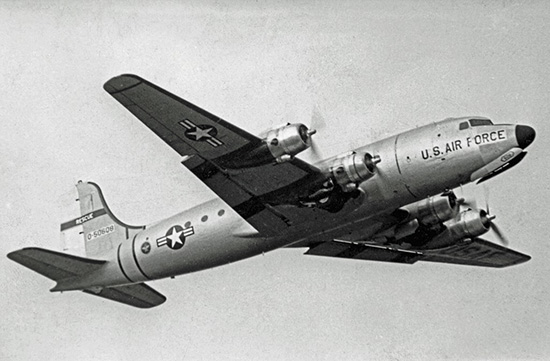 René and his 23 buddies spent nearly 24 hours in a C-54 airplane like this one – making three hops: Paris to the Azores (8 hours), Azores to Newfoundland (10.5 hours) and Newfoundland to Wilmington, Delaware (5 hours).

October 9, 1945
San Francisco (Hooray!)
Letter to Marie-Louise (conclusion…)

         From Wilmington, we were told that we would be going the rest of the way by train and that we would probably get out that afternoon or evening. We had arrived at Wilmington at 3:30 A.M. (EST). After getting bunks and unpacking a bit and taking showers, we all had breakfast. There wasn't a one of us who did not drink at least a quart of nice fresh milk right off the bat. Boy that tasted good!
         Finally at about 4 P.M., we were told that there were train tickets for only two of our group of seven, and that the rest of us would not be able to leave until the following morning.  The two, Roy and Cy Johnson, took off to catch the 5:38 P.M. at Wilmington (8 miles from the field where we were bunked), and the rest of us figured on going into Philadelphia for the evening (only 45 minutes away).
         However, at 5 P.M. the sergeant ran in and said that he had tickets for all of us, but we had to rush, as they were also on the 5:38. We were given a ride, supposedly to the station in an Army Station Wagon, but on the way the darn thing stalled and the driver could not start it. We were five blocks from the station and 8 minutes till train time. We flagged a couple of civilian vehicles – the first wouldn't take us to the station but the other two would and did.
          On the way Eddie Welles said to the driver, "We were looking for a taxi, aren't there any around here?" The driver replied with, "Taxis, my gosh no! You don't know how we have suffered back here!" This was said in all seriousness and poor Eddie was floored and in convulsions when he finally got out of the car and ran up the steps of the station.
            From Wilmington to Chicago we each had uppers, but from there on, we were 4 in a drawing room. Somewhat on the crowded side, but it was getting us home and that was the main thing.
            In Chicago we had a 4-hour lay-over and so we hunted up a hotel where we could get some good food. Imagine what we ate? Between three of us, we had 4 orders of the large blue-point oysters, and we each had broiled baby lobsters after that. What a meal!  'Twas really good.
            Arrived in Sacramento at 5:30 A.M., but couldn't make connections to get to Camp Beale, which is near Marysville, until a few hours later, finally arriving at 11 A.M.
            I phoned Bobsy on the evening of the October 2 and said I was at Beal and did she know who it was that was calling her. She didn't, guessed several names and even when I told her that I hoped I was her best boy-friend, she still didn't tumble, so I had to say, "Well, at least I hope your brother is your best boy-friend." Then she let out a yelp!
            Well, they have all told you what happened after that. How Marie and Bobsy came up and drove me down to surprise the folks. Dad turned white as a sheet and actually I thought he looked like the devil, but after about 2 hours he was pretty much his old self again. And in the last week he has been fine. Part of the reason he looked bad that first day was due to the fact that he was in bad need of a hair cut. And, of course, his schnozola wasn't very good due to the fires in Marin County. [René is referring to the Mill Fire, which started on September 27 and eventually burned more than 15,000 acres in West Marin.]
            As yet, I don't know just what I am going to do. Thinking of going to the County Hospital again, in Surgery, but may not…shall let you know when things are more definite. All of us who have returned are still up in the air as far as future plans are concerned, whether it is worth spending a couple more years in training, or whether it would be better to just spend a short time and then go into practice, me with Dad, or just what to do.
                               Lotsa love to all of you,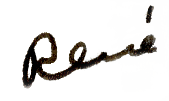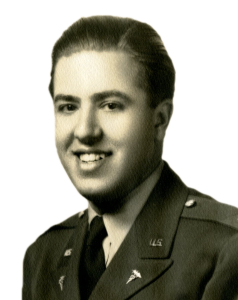 .
 Watch for my next letter
October 14, 1945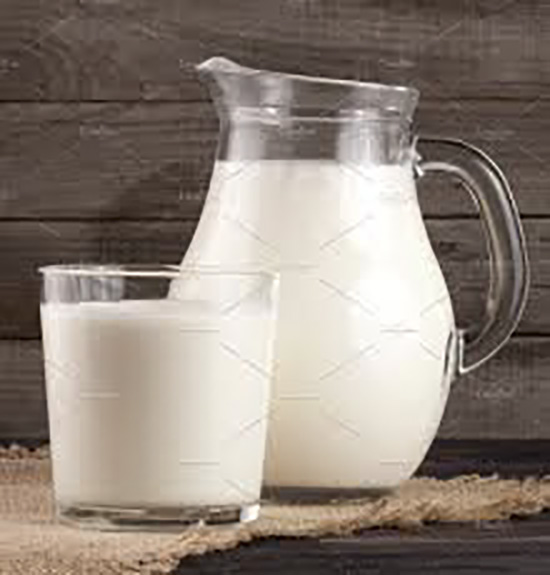 René tells his sister, Marie-Louise, that at their first breakfast on U.S. soil, "There wasn't a one of us who did not drink at least a quart of nice fresh milk right off the bat. Boy that tasted good!"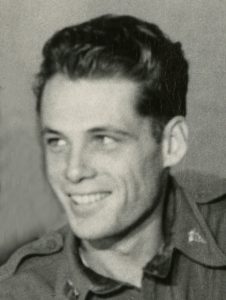 He also tells Marie-Louise about a funny encounter Eddie Welles had with a taxi driver in Wilmington, Delaware, on the way to the train station.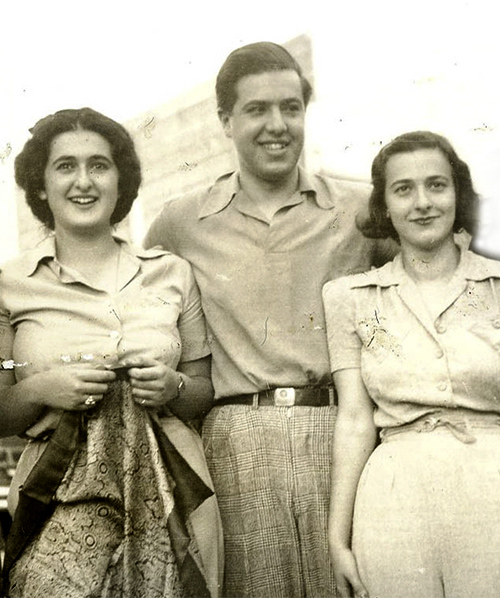 René (before the war) with sisters Barbara (Bobsy) and Marie-Louise.

October 14, 1945
San Francisco (Hooray!)
My dear Yvette,
            At last I have a little free time and am able to sit down and do what I have been wanting to do for the past week, and that is to tell you about the trip home and how perfectly the surprise worked.  It couldn't have been planned any better!
            That night after I spoke to you (September 26th), we all sat around the Dufayel most anxious to know when we were going to be leaving. The hours dragged by and we still were there!  We thought that they were never going to tell us that it was our turn to leave for the airport, but finally at about 11 P.M. a notice went up on the bulletin board that we should be ready to leave at midnight.  We actually left soon after midnight and were taken by bus out to Orly Airport, but there again there was a delay. We were told that our plane would not leave until about 4 A.M., and so they took us to a nearby restaurant and we had a mighty early breakfast at 2 A.M.  Then came the business of changing our money into the strange-feeling American currency. It was certainly an odd feeling to have American bills and silver dollars in our hands.
            Finally we were taken out to the plane that was to take us across the Atlantic — 24 of us. At a quarter to five we took off and said our last good-byes to Paris as we circled the city. I was thinking of all of you down there and wishing that you could have been stowed away in that plane with me.
            It took just eight hours to the Azores where we arrived at noon-time, had lunch, were given a box lunch to take along, and had a chance to stretch our legs a bit.  The next 10-1/2 hours to Newfoundland were somewhat tiresome, but I slept most of the way. At Newfoundland we had another meal and then they whisked us back to the plane in a hurry, and we were on the last leg of our journey to the U.S.
            We landed in Wilmington, Delaware instead of in New York, somewhat to our sorrow, as we all would have liked to have had a few hours in New York before setting off across the continent for home.
            When I found we were not going to have the opportunity to get to N.Y. I immediately started to phone there. I awakened Alain [Yvette's first cousin] at 7:00 A.M. and he was naturally just as disappointed as I was that I would not be getting to see him or Ilsa. I told him all about you and also told him what you thought of him for not writing, etc. His explanation for not having written to you (and I'm not just trying to be a peace maker) was that somehow he had heard, or misunderstood some letter and consequently believed that Jean Guy had also returned home. He said something to that effect in a letter to Monique and also had a letter almost completed, written to you, when he received an answer from Monique telling him that his belief was all wrong, unfortunately. That apparently unnerved him somewhat and he was then at a loss as to what to say to you. Personally, I didn't think it was too good of an excuse and I told him so, but to a certain extent I can see how he would feel. Anyway, if he writes to you now, I sort of think you should forgive his long delay.
            We left by train that evening, and the trip across the continent was, of course, four days, and time dragged terribly, but we spent most of our time reading or playing bridge. I hate traveling on a train anyway.
                                               Lots of love,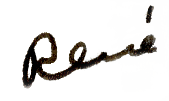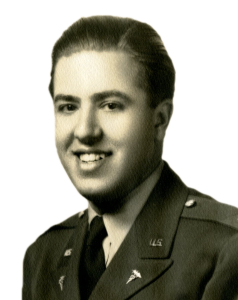 .
 Watch for more of my letter
October 15, 1945

René and his cousin Yvette in Paris in September 1945.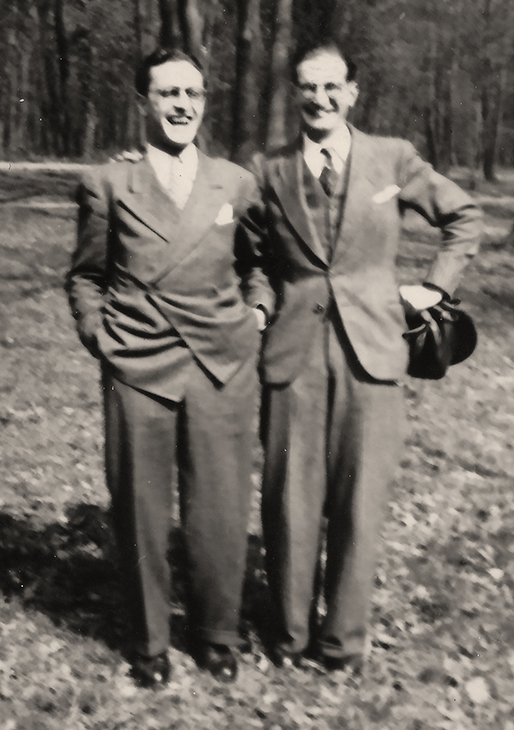 Alain Dreyfus and Jean-Pierre Baumann (Yvette's brother)

October 15, 1945
San Francisco (Hooray!) continued…

My dear Yvette,
           On Tuesday morning (October 2) we arrived at Camp Beale, which is near Sacramento, about 120 miles north of San Francisco.  We soon found out that not only would we be allowed to leave the camp within 48 hours, but that we would actually be out of the Army within that time. As soon as I found all that out, I decided that I would phone Bobsy and see if she would come up and get me, and then walk in on Mom and Dad as a surprise on Thursday, the 4th, their 31st wedding anniversary.
            Consequently, Bobsy and her room-mate drove up on Wednesday night and stayed with some of Mom's cousins in Sacramento overnight, and then came out to the camp on Thursday morning.  It was certainly grand to see Bobsy again, and strangely enough, she looked just the same as ever.
           Two other officers drove down to San Francisco with us.  We were all surprised that, with the exception of a number of new buildings in out-lying districts, the city looked pretty much the same as when we left it.  What a welcome sight!
            We drove in our back alley wondering if both Mom and Dad would be home. Just as we rounded the curve, however, we noticed Tante Marie getting into her car, so Bobsy jumped out of the car we were in and I got down on the floor so I could not be seen, as we didn't want Tante Marie to see me before Mom and Dad did.
            Bobsy flew into the house and grabbed Mom and Dad.  Of course, the fact that she was home in the middle of the week instead of staying down in Salinas teaching, was enough of a surprise for them. But apparently Mom thought, "Well, that's just like Bobsy!"  She told them that she had something for them, but the package was too heavy for her to carry, and they would have to come out to the car to help her carry it in.  They thought something was funny, but didn't have much time to do any more thinking.  Mom said afterwards that the gleam in Bobsy's eye made her think that it was something extra-super-special, but she didn't have time to ponder on what it might be.  Anyway, when they walked out and were near the car, I suddenly got up from the floor of the car — and you should have seen their faces.  Dad turned as white as a sheet, got to me first, and then Mom staggered forward and hung on to me.
            In the long run, surprising them was much better than phoning them from the East or letting them know in any other way.  This way the surprise was over within a few minutes, they were back to normal in about an hour and everything was fine, whereas had I let them know by phone, they would have been waiting every minute for days.
          The funny thing was that Mom had written a letter to me — which, of course, I never got — just a few days before, warning me that she didn't want any "surprises."  But after I got there she decided that "pleasant surprises" were O.K. and easy to take.
            Strangely enough, after having been home just a few days, those three-and-a-half years do not seem nearly as long as they had for the past year, over there.  It feels as if I haven't been away long at all.  The folks are all the same, the city is pretty much the same (just much more crowded).  The biggest changes noted are in the young kids, in the kids who were tiny when I left and who are now tall and almost grown-up. 
                                   Lots of love,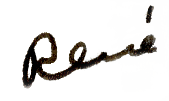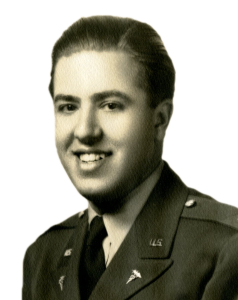 .
 Watch for the conclusion of my letter
October 16, 1945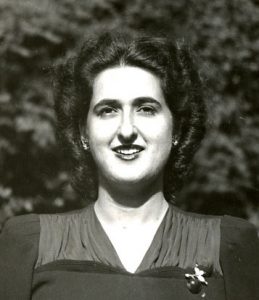 René and his sister, Barbara (Bobsy), cooked up a big surprise for their parents on their 31st wedding anniversary.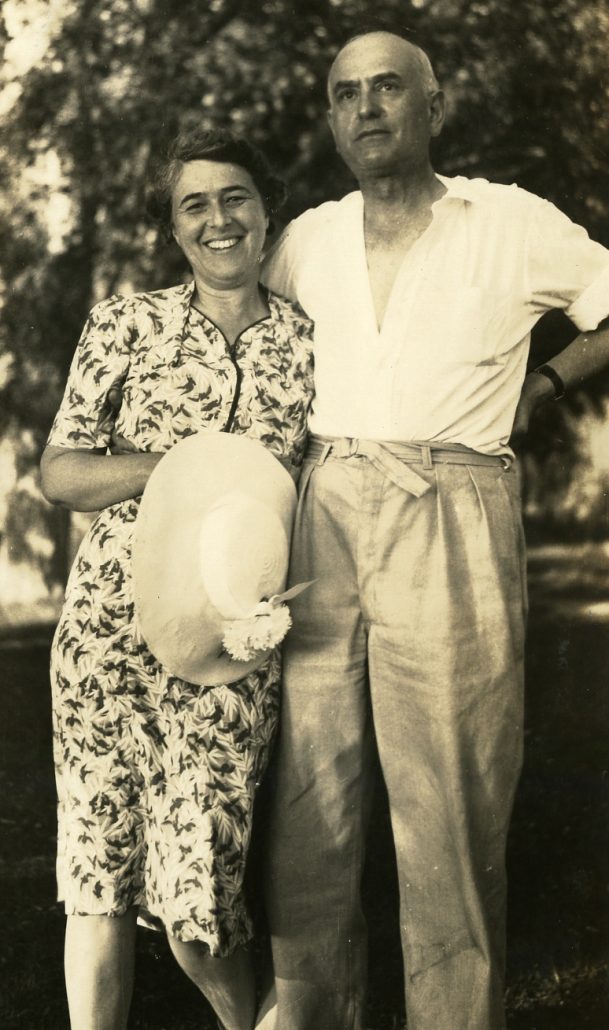 October 16, 1945
San Francisco (Hooray!)…conclusion
My dear Yvette,
         Since being home I have spent most of my time visiting friends and have spent some time out at the County Hospital and at Stanford Hospital trying to find out what opportunities are being offered for further study and hospital work.  As yet I do not know just what I am going to do or how soon I am going to do it.
           I called, one evening, on Collette Meyer-Levy whose mother I saw for about an hour one afternoon in Paris (your mother knew her), and while I was talking to her, her sister-in-law phoned and was told I was there. They invited me to go with them the following evening to a lecture given under the auspices of "France Forever." I accepted and had supper with them at their home before the lectures. Her name is Antoinette Lippmann, her husband having returned just a few weeks ago from France, where he had been a liaison officer with the American Army. They had as a guest at supper a young French Air-Cadet who had been in a navigation school in Texas for the last month or two. He had, prior to that, escaped from France thru Spain in 1943 and was in the French Army in Casablanca until recently. He was a very nice fellow and apparently is going to go back soon to Paris and hopes to join the Consular Service.
          The professor who gave the lecture was named Balachowsky. Do you know or have you heard of him? He spoke in French, and spoke very vividly and well, telling the things that went on at the camps. Nothing I didn't know, of course, but much that was unbelievable for many. The audience was mostly a group that understood French, but unfortunately there were also a number who did not. For the latter, he summarized his speech in English in about five minutes at the end of his French speech.
          Just before the lecture I was introduced to Professor Balachowsky. Antoinette (who is the niece of Michel Weill of the "White House Department Store" here in San Francisco) mentioned that I had just returned and had also been at Dachau. So, rather to my surprise, the Professor asked me if I would say something at the end of his speech. I figured he might just call me and have me say something from my seat in the audience, but at the end of his speech, I found myself dragged onto the stage and facing the audience of 500.
          I mostly spent my time corroborating the things the Professor had said, trying to make people realize that what he had said was far from an exaggeration and that he had under-stated rather than over-stated the things that went on over there.
          After the lecture, several people came up to me and among them was Paul Verdier, the owner of the "City of Paris" department store and the President of "France Forever". He wants me to come in and see him one day, so I shall do so – perhaps this week – and see if I can interest him in "Revivre" and also see what he thinks about your coming out here in the interests of "Revivre". Afterwards, the Lippmanns took me to the home of the French Consul General, M. Jacques Baeyen, where a small group was gathered, but there I only got a few words in edge-wise.
          I am wondering how well your project is going and also wondering when you are going to move the kids out to Deauville.  In going over the list of things that Mom has sent to you and the rest of the family, I think she has fairly well covered the immediate needs and the things you specifically asked for, including the coat you were wondering about.  Be sure and let us know when you get the various things so that we can be sure nothing is lost enroute.
          I am also wondering when you are going to have your hand attended to??? How about it???
          How was the big party that Friday night after I left? I really would have liked to have been there with you. My best regards to Herve, and to all the others.
                             With love to all the family,
                             And loads of love to you,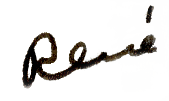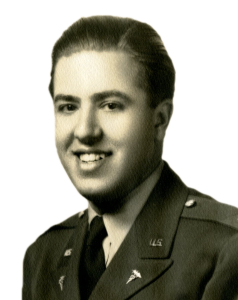 .
 Find out what René did after the war
on October  17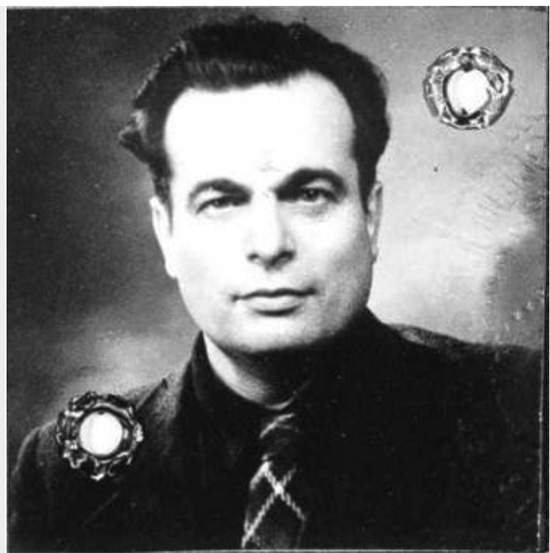 René went to a lecture by Professor Alfred Balachowsky, a French entomologist, born in Russia. He was part of the Prosper Network in Paris during World War II – a spy network run by the British SOE (Special Operations Executive). When the network was betrayed, he was arrested and sent to the Buchenwald Concentration Camp. In the camp he worked on developing a vaccine for typhus and also helped various underground groups inside the camp.

After the lecture, René spoke with Paul Verdier, the owner of the City of Paris department store and the President of "France Forever." René says he will talk with him soon about "Revivre" – Yvette's organization that is helping orphaned children of members of the Resistance and those who died in the camps.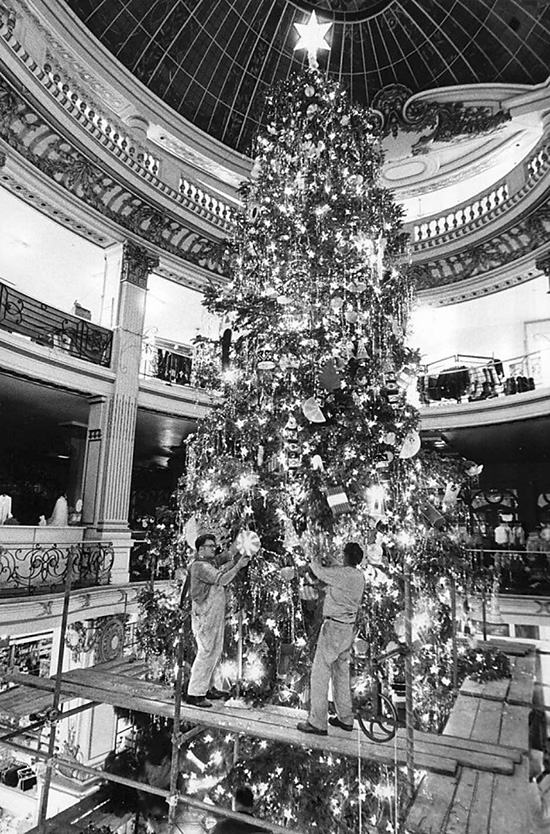 The City of Paris, which graced the corner of Stockton and Geary for 73 years (until its demise in 1980), was beloved by San Franciscans for its elaborate Christmas tree that soared four stories up to the stained glass rotunda.

A message from Linda Bine to all Dear Folksies subscribers, Facebook followers and friends,


Please accept my sincere appreciation and gratitude for your support since I launched this "blog," on April 11, 2017, to honor my father and all the members of the 59th Evacuation Hospital. The project has been a labor of love – sometimes more labor, sometimes more love. It was your continued interest and feedback that kept me going for the past 3-1/2 years – publishing 530 posts featuring my Dad's letters and photographs, as well as excerpts from the journal of Dr. Philip Westdahl and the occasional item I thought you would find of interest.

In this last post, I will answer the question, "What did René do after the War?"

P.S. Starting in early November, when you visit the Dear Folksies website you will find it transformed – from a blog site to a resource. All of René's letters and photographs will be here, but in a format that is easier to browse and search.




      Contrary to what he told his sister Marie-Louise, René did not become a surgeon or go into practice with his father. Instead, in 1947, after a stint doing research, he established a private practice in Internal Medicine and Cardiology in San Francisco. Throughout his career, he was on staff at Mt. Zion Hospital, where he trained countless residents in the art of medicine.
       It was at Mt. Zion in 1946 that he met a nurse named Eleanor Gamboni. Actually, it was his father, also on staff at Mt. Zion, who introduced the two. Elle and René were married in November 1946. Their son René III was born in 1949, and their daughter Linda in 1953.

       In addition to being beloved by his patients in San Francisco, René shared his knowledge of nutrition and its relation to heart disease with people around the country, as a volunteer with the American Heart Association (AHA). He wrote numerous articles and pamphlets on cardiovascular topics, including "A Guide to Sodium; Why You Should Eat Less," which was distributed nationwide to more than 30,000 people through the AHA.
       Actively involved in the American Heart Association for 30 years, he served as San Francisco chapter president in 1962, California president from 1968-1970 and national vice president in 1978. The organization presented him with a number of awards, including the AHA Award of Merit, which they say "is reserved for those who have made significant contributions to the national Heart program and to cardiovascular medicine."
       In 1980, René was featured in an article in the Wall Street Journal that began, "In this city of conviviality, René Bine, Jr. has evidence of his winning bedside manner. He carries keys to four women's apartments. Dr. Bine, however, is no roué. He is a respectable physician and the four women average 87 years of age. His possession of their keys shows that even in this age of proliferating medical technology, the house call isn't extinct." Both Linda and René III have fond childhood memories of accompanying their Dad on weekend morning housecalls and rounds in the hospital.

       Also in 1980, René organized the 10th reunion of the 59th Evacuation Hospital Unit – with doctors, nurses, enlisted men and non-medical officers coming from all over the country — to reconnect and reminisce. Click here for the text of one of the thank you notes he received for his efforts.

       Throughout his life, René remained close to his French relatives, especially Yvette Baumann Bernard Farnoux. In 1982, he returned to France for the first time since the War, accompanied by his wife Elle. She recounted that when René visited the beach near St. Tropez where he had landed in August 1944, he stood for at least 30 minutes, lost in thought, staring out to sea. In Paris, he introduced Elle to some of his favorite places, and was able to reunite in-person with his dear cousins Yvette and Claudine.
       In 1985, even though René was ill with a rare autoimmune disease and in a wheelchair, he insisted on going to the reunion of the 59th Evac. Hospital to see his dear friends.
        He passed away in 1988 at the age of 73.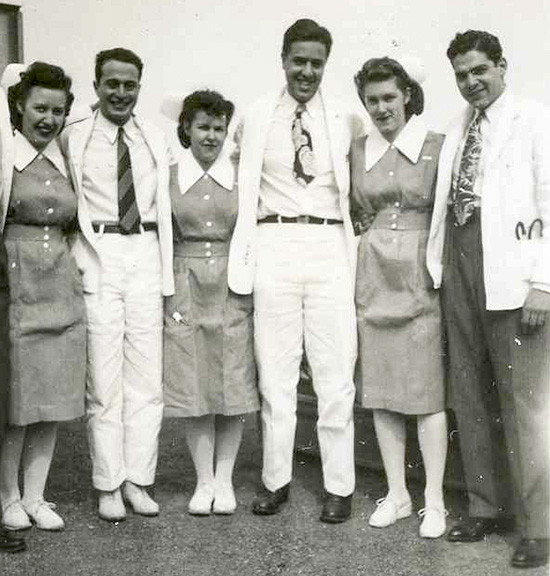 René with hospital colleagues.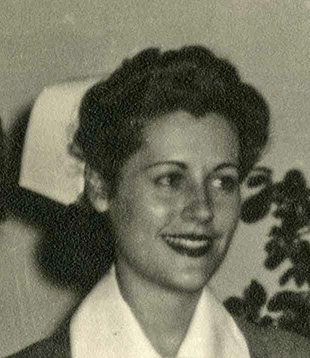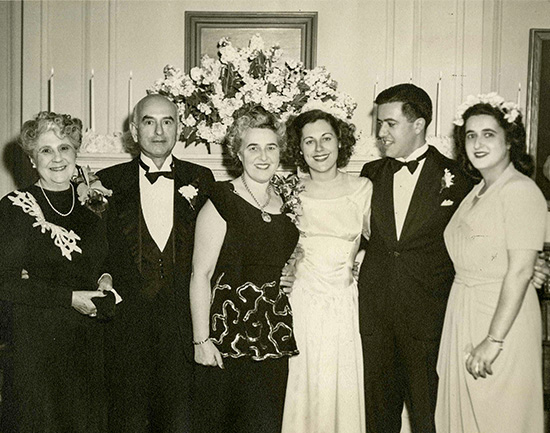 René and Elle's wedding, November 14, 1946. Left to right: Lillian Sinsheimer (René's maternal grandmother, Gram), René Sr., Alma, Elle, René and Barbara (Bobsy, René's youngest sister).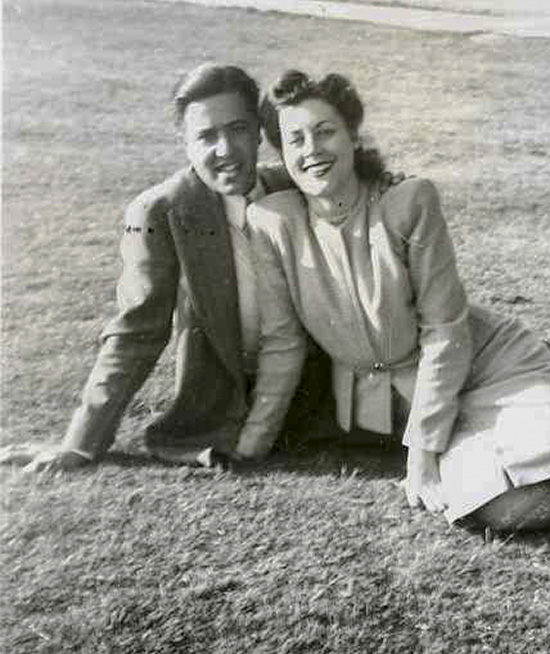 René and Elle on their honeymoon.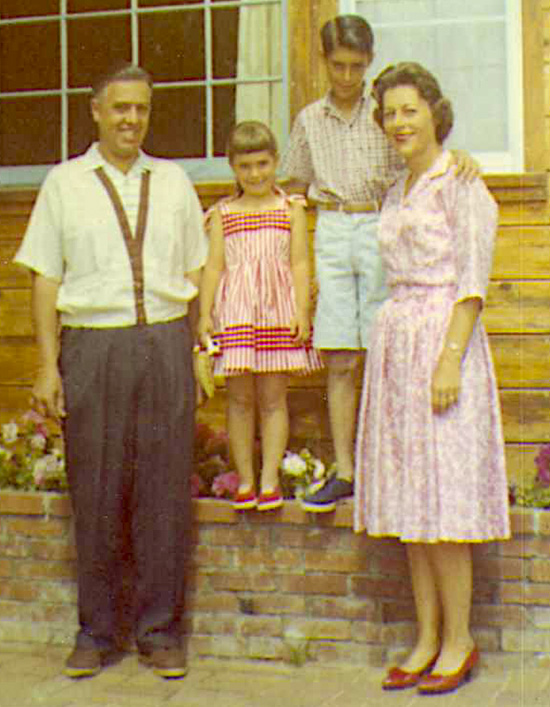 René, Linda, René III and Elle in 1960 at Lake Tahoe – René's favorite vacation spot.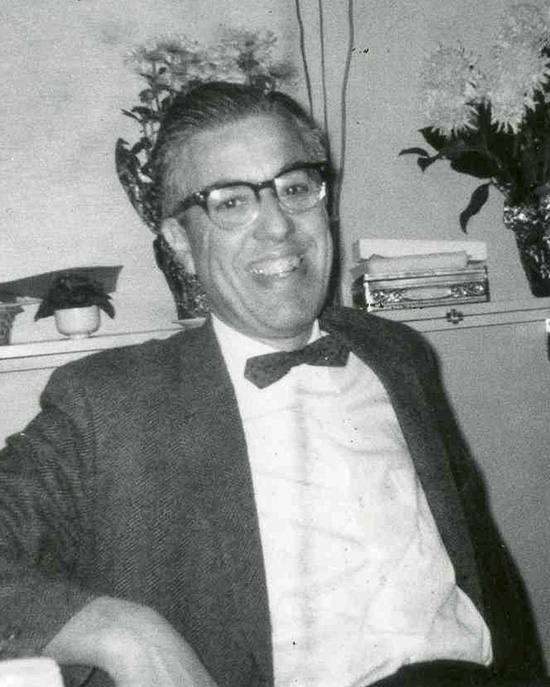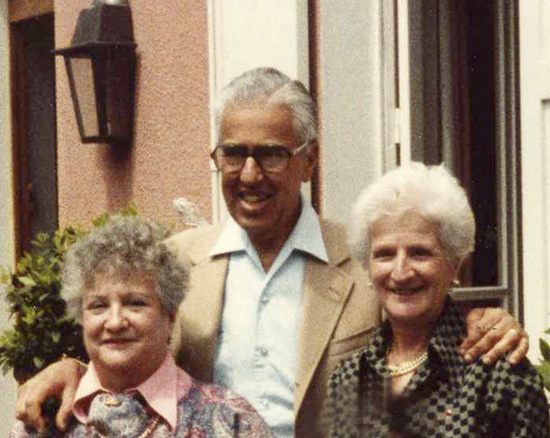 René in Paris in 1982 with his French cousins, sisters Claudine Aaronson and Yvette Farnoux.