San Francisco (Hooray!)
Letter to Marie-Louise continued…

            In Paris, we were given some dope on how we were going home, about Customs declarations and also a movie on how to conduct oneself in case the plane has to land in the water and be deserted for rubber lift-rafts. It was all most interesting.  Every morn we go in the building to hear the announcements made, and to find out when we were going to be weighed-in and when we would get on the actual plane list for leaving. That procedure went on for six days, finally we were weighed in and then, at last, on the 26th, we found our names on the bulletin board as being on flight #607.
            During those six days in Paris I spent all my time with the folks, sleeping in fact, all but the last night, at Jeanne's, as she had a day-bed in her tiny apartment, and the dormitory at the "Dufayel" was not only cold, but noisy from night 'til morn, what with flights going out all the time, and guys coming back to bed at all hours, etc.
            Spent a good deal of time at Lilice's, and also a lot of time with Yvette, even going out with Yvette to visit one of the homes that she has for the children of the Resistance and which is being run by Giles, Claudine's husband.  Soon after Claudine has her second child in November, they plan to move to Deauville where Yvette has been given a rather large house or castle where she is going to have most of the children.  Giles and Claudine will run it.
            Finally we were supposed to be ready to leave at midnight of September 26th. We actually did leave the "Dufayel" shortly after midnight, but at the airport they told us that our plane would not leave until about 4 A.M.  So they took us to an Officer's Mess off the field where we had a mighty early breakfast at 2 A.M. At 4:45 A.M. we took off and said good-bye to Paris as we circled it.
            We were in a C-54, 24 of us, and we were lucky in having the most comfortable type of C-54. They have 3 types: one with just metal bucket-type seats, which are most uncomfortable; one with plush seats that can be tilted back and forth, but which has very little aisle room and consequently one is restricted to staying in his seat for the whole long trip; and the kind we had, which consists of canvas benches along the sides, which are soft and give easily, almost springingly. The advantage that this type has over the plush job is that there is a lot of room in the middle, which can be utilized for lying down. We spread comforters (which are provided on the plane) on the floor and lay down and slept a good part of the trip.
            Just 8 hours after leaving Paris, we landed in the Azores. It was noon-time there and we were able to get lunch, stretch our legs and wash up a bit before taking off.
            The next hop was the longest, to Newfoundland, 10-1/2 hours. Except when we approached the Azores and when we approached Newfoundland, we never saw the ocean, for we were flying at a level of 8,000 feet and were always above the clouds.
            At the Azores they had given us box lunches to take along and they were most welcome after we were in the air about 6 hours from there. In Newfoundland, we were again fed and then whisked away in a hurry – had only 45 minutes there. The last leg of our journey was to Wilmington, Delaware, about 5 hours. We were constantly confused as to the time, of course, as we were changing time zones so rapidly. We almost had to land at Washington, DC, as the visibility was poor at Wilmington. But after circling it once, we managed a nice landing and there we were — back in the good old U.S. after 34 months!!
                        Loads of love,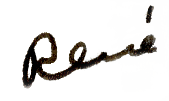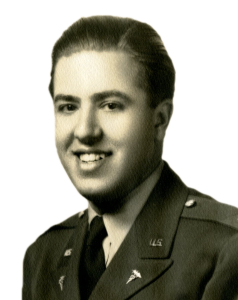 .