February 1, 1943

Continuation of No. 7

Dear Folksies,
       Last week I had as strange an experience as I ever want to have. Bill Reilly, Bill Drew and I went to visit the Communicable Disease Hospital for Arabs. The hospital is run by the French, their being one male and one female French attendant there all the time, and French doctors come out occasionally. What a hell-hole that is!! The hospital consists of a one-story building made out of rock (sort of adobe fashion), with small crowded rooms around a patio. Walls and everything are dirty and fly infested. We saw several cases of Typhus fever, a couple of Bubonic Plague cases, some Smallpox, the likes of which I had read about but never expected to see, one Rabies case, and many lues and tuberculosis cases. Other Arabs with less severe diseases are quartered there also, and they walk in and out of the other patients' rooms. The attendants handle the patients and seem to take no precautions whatsoever, except an occasional hand washing. Yes, 'tis truly amazing.
       Needless to say, as soon as we returned, though we wore gowns in going through the place, we thoroughly aired our clothing and took extensive scrub baths. I guess that actually, with the materials they have and what they have to work with, they have done pretty well. The French Hospital, of course, I understand is better, tho' still nothing much to brag about.
       Dad, one of those smallpox cases really surprised us — it was a hemorrhagic type of smallpox, the kind that is considered 100% fatal in the U.S., and by golly, the bloomin' Arab was getting well. He had hemorrhagic pock marks all over him, each mark being as big as a 50 cent piece, but he was all over the worst part of his disease and seemed to be feeling O.K. Yes, this is an astounding country. Give me California any day!
       Two days ago the nurses finally moved out to this area and now they are all well situated in their little "quadrangle of tents." They have 5 tents containing 5 nurses facing 5 other tents with the same number. Then at one end they have two small tents, one for the head nurse and the other for her two assistants. Then at the other end there is a "Recreation Tent" – a tent the size of the ward tents – about 50 ft. long by 15 ft. This is supposed to be both an Officers' and Nurses' Recreation Tent and once we get a few odds and ends in there it ought to be O.K. We probably will be getting a few pieces of Arab furniture in there, for at the moment there is nothing but the sand floor – sand that we hauled from the beaches around here. It's like playing in the old sandbox when we were kids.
       Now that the gals are way out here, the colonel has changed his ruling about nurses riding in government vehicles and now it is O.K. for them to go into town in one, as he considers that official business. He has also given them permission to rent and ride bikes.
       Last night, Ed Cane, Liz Liss, Lois, and I went out to a place a few miles from town, to eat. It is a place that many of the boys have been to, and 'tis the place the gals were at that Xmas night when George and I were looking for them. We've never been there because of that transportation deal, but since the new order, and the fact that we have our little jeep, we were able to get out there last night.
       The place was pretty nice, reminded us greatly of S.F.'s Cliff House, being right on the water. We had a good meal, by golly, including some good fish and some pretty good roast beef, or what passed for roast beef. If it wasn't beef and was camel meat, then it was awful good camel meat. Anyway, by golly, it was something to bite into and chew, instead of having the usual pre-digested stew and hash that we get around here most of the time, or should I say, "all the time." Not that our food isn't good – don't misunderstand me, for 'tis good, but it gets a bit monotonous at times, and to be able to sit down in chairs to eat, with table-cloths and service – well, it's nice at times.
       Speaking of food, the boys who have been up front have told us how awful the food is that the English troops get, and which they themselves got and are still getting up there. They also say that in England things are really tough. They're really in this war, whereas, when hardships and poor food, and the lack of it, are concerned, we just aren't in it with the British. America hasn't seen anything yet.
       Day before yesterday, we got word that some of our stuff was about 60 miles up from here, so we took a truck along, and George Davis, the Col. and I went in the jeep and went on up. We found a few things of ours and then when I inquired, I found that Tom Monroe was in the neighborhood. The Col. was agreeable to trying to find Tom, so we did with comparative ease. He was awfully glad to see us, but sorry we hadn't brought Lois along. We had dinner there with him and his officers, had a nice visit, and then headed home to camp. Tom is fine and told us that his gang put on quite a review for F.D.R. when he was here. In fact, F.D.R. remembered him from the time he spent in D.C. and they had quite a nice meeting.
 Loads of love,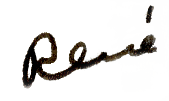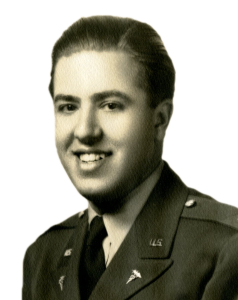 .
Watch for my next letter
February 10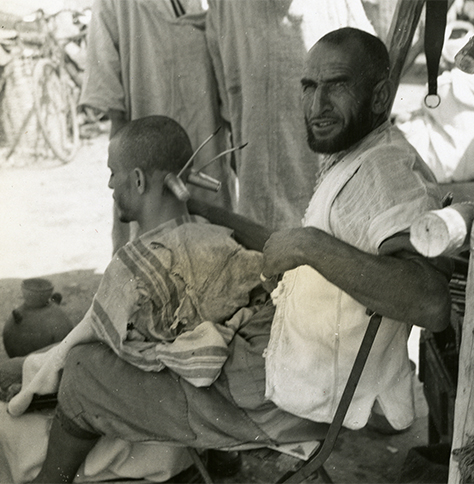 Given René's impression of the Communicable Disease Hospital for Arabs, run by the French, we can only wonder what he thought of the "blood letting" performed on the streets of Casablanca.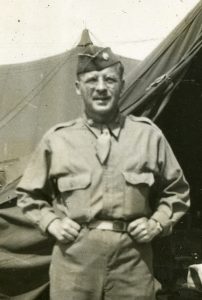 Bill Reilly went with Bill Drew and René to visit the Communicable Disease Hospital run by the French.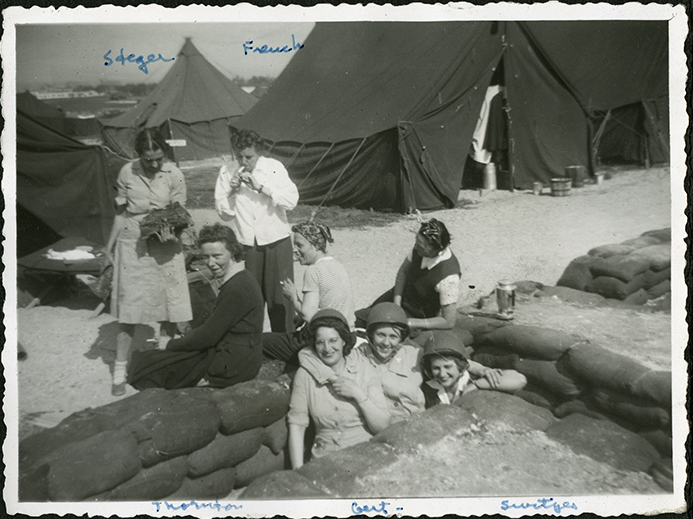 Nurses in and around the trench outside their new tents. Vivienne Steger (standing at left), Helen French (standing in the white shirt), Margaret Thornton (sitting on the left edge of the trench), Norma Picci (sitting with bandana on her head), Gert Brazil (on the left in the trench) and Marion Switzer (on the right in the trench). Click on the photo to enlarge.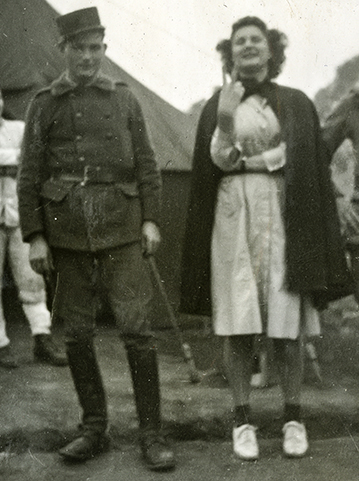 Lois and a French soldier from a nearby garrison

Liz Liss went out to dinner in Casablanca with Ed Cane, René and Lois.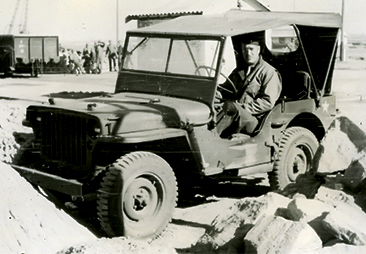 February 10, 1943

No. 8

Dear Folksies,
           Somehow, despite all my good intentions, the time between letters seems to slip by fast and furiously. Have kept pretty busy again the last week in much the same way as we were the first week. We've been throwing boxes around, getting on the ships, down into the holds, etc., and in general having a busy but good time.
            We've had to go about 15 miles away from here for the bulk of our stuff and consequently we've had some nice trips back and forth a couple of times a day sometime. In fact, on Sunday George and I had to go up there in the jeeps. We took Lois and Fran along with us for the Sunday afternoon ride. George and I had been up there a few days before with the Col. and Collie and it was quite stormy. When we walked along the breakwater the waves came up about twenty feet over the wall. I was nonchalantly taking a picture and didn't notice the waves coming, and proceeded to get drenched, tho' I somehow managed to keep the camera dry.
            We've been doing some bicycle riding the last few days. Ken Fadley somehow managed to buy a bike and he lets Marv Kahn and I ride it any time we want. As the three of us are in different groups it works out fine. I rented another bike for Lois and Gert and so we are able to ride around here and into town whenever we are off. Today we rode into town and had tea at a tea room that is pretty good. They have good pastry and fair tea, but they improve their tea on certain days by giving you a small amount of rum to add to it. Almost any afternoon, I understand, one can find a good bunch from the 59th in that place. Today, was the first time I was there, though Lois was there once before with Fran and Bam.
            As you may notice, I am again typing with my own typer and it kind of feels good – despite the fact that it doesn't run quite as smoothly as do some of the big ones I have been using. After not having seen the baby since about November 15, it's like coming home to an old toy.
            Everyone is in good health despite the occasional drizzlies that crop up. We are pretty nicely set up and the operating room has witnessed a few amputations of warts and the like, but nothing more major as yet. Last night our pyramidal tents arrived so the enlisted men are going to be taken off the ground and out of their pup-tents and put in the big tents on cots – something they have been waiting for for quite a while.
            I've learned something new in the last week or two — I can now drive anything from a jeep up to and including a 2-1/2 ton truck. It's been lots of fun.
 Loads of love,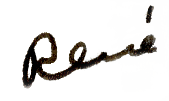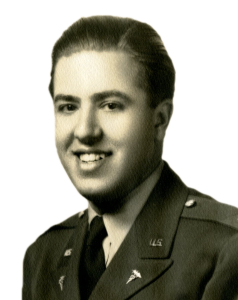 .
Watch for my next letter
February 15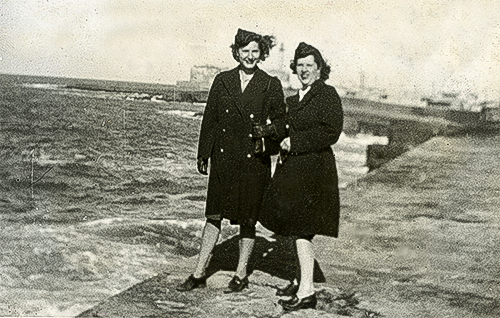 Lois McFarland and Fran Trembley at Fedala Port

Waves crashing at Fedala Port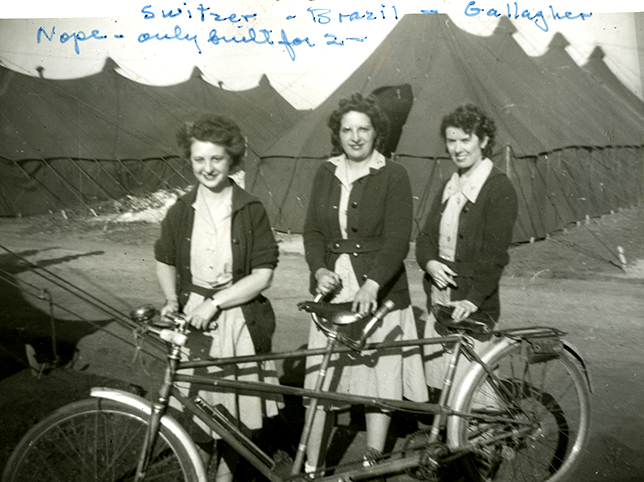 Nurses Marion Switzer, Gert Brazil and Irene Gallagher with bicycle built for two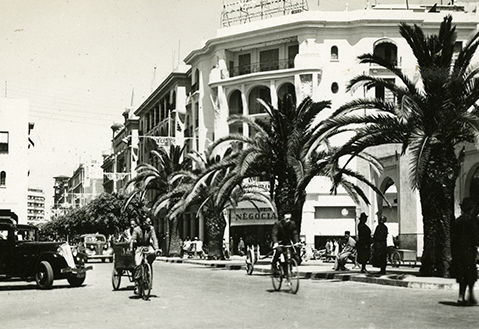 Bicycles are a common form of transportation in Casablanca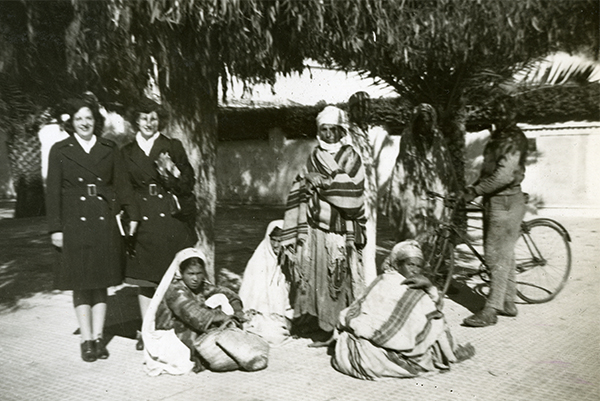 February 15, 1943

No. 9

Dear Folksies,
              We are still in the same place and enlarging our hospital again, not because of any particular increase in patients, but to lighten the load on another hospital that is a bit crowded. As a consequence, I am going to be an M.D. again instead of just a supply man. I am going to have a surgical ward with Carroll Russell. Our surgery now has been doing more work, hernias, open reduction of tibiae, hemorrhoids, etc., and things are working out pretty well.
               For the last four or five days Serge has been pretty sick. Just what he has had, no one seems to know. He has been at the other hospital – why he was sent there, I can't figure out, but that's the way things are done. He is much better today, so apparently he didn't have any typhus or malaria, as they first thought he might have. Incidentally, we got our 5th shot of typhus today. It had been found out that the original 3 shots did not bring the titre up nearly enough, and that 8 shots are required to give adequate protection.
                Last night after dinner, Lois and I went with Ed Cane and Liz Liss to the home of a native of this place – a French lawyer of about 28, who lives with his aunt and uncle. It was most interesting as they talked both French and Spanish to us (Ed speaks and understands Spanish some), and those two languages plus Arabian among themselves. It was like a 3-ring verbal circus. I did alright as long as they stayed in French, but when they started mixing them up, I was lost and didn't know even the French in their sentences. They were very nice people and had some very good French pastry – donut-type, almond pastry, etc. We are to have dinner there on Friday.
                                                                                                           Loads of love,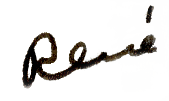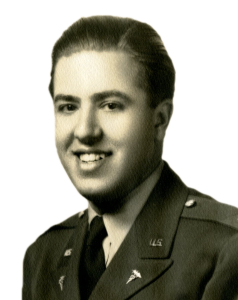 .
Watch for my next letter
February 23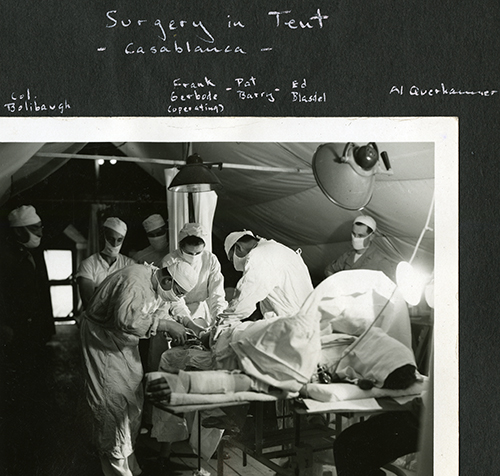 Surgery in Tent, Casablanca – Colonel Bolibaugh, Dr. Frank Gerbode, Nurse Pat Barry, Dr. Ed Blasdel, Al Querhammer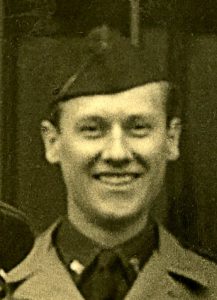 Serge Bryner, MD "has been pretty sick."

February 23, 1943
No. 10

Dear Folksies,
     In the last couple of days I received several most welcome letters, and I feel more and more ashamed that I have not been nearly as faithful in writing as you have been.
     There are plenty of olfactory impressions to be had around here, and one is constantly tempted to go around with a spare clothes-pin hanging around one's neck for immediate application to one's proboscis in times of dire emergency. Fortunately, however, my nose has been blocked on its own frequently enough to prevent some of the extract of skunk from reaching my olfactory nerves.
     Yes, I am getting a chance to make use of my childhood French. Though my French ain't so good, it is passable. I make out O.K. if people don't try to talk too darn fast to me, and if they open their mouths enough so that all the words don't run together. I can usually make myself understood by using similar things to describe something that I am talking about but the name for which I do not know. Lois studied some French and can understand pretty well, but she is afraid to talk. She took a few lessons here along with some of the other gals, but quit because it was rather inconvenient once she got working in the ward regularly.
     Incidentally, you might tell the Godchaux that though I would like to write to them, or attempt to write to them, in French for the practice, it is impossible now, as it is not permissible to write letters in a foreign language, i.e. without super-special permission.
     The food situation here is a funny one. There are several restaurants around town that have good food and their establishments are approved by the U.S. Medical Corps. Some are able to have very good food, such as duck, chicken, beef, etc., whereas others seem able only to get fish, eggs, etc. Apparently it depends on the connections that the proprietors have had in the past – there probably being a black-market in that short of stuff.
     Some of the places serve very good wild boar meat. However, for the most part there are only one or two days in the week when the population can get meat. For instance, we visited the home of these French people that Cane had introduced us to, and we were specifically asked to go there on Friday night, as that was the day they could buy meat.
     Incidentally, what a meal we had there!! Actually, by the time we got to the meat (chicken), I was so full that I didn't particularly care whether there was meat or not. We had had several courses consisting of various vegetables, romaine lettuce (for the first time since here), and several fancy pastries and meat patties. All very good, but, despite the fact that I was awfully hungry when we got there, I was not enthused about the last two courses, as there just wasn't room for them.
     As far as flies, fleas, etc., we, so far, haven't been particularly bothered. There are a number of flies around from time to time, but with some wire-screening and netting that we have over the mess tent's entrances, we have managed to keep things fairly free of such animules. Of course, we also have a fairly adequate supply of Flit around.
     I imagine, however, that as the climate gets hotter we will more and more be bothered by such insects, flies, etc.
     Concerning light — at first we had nothing but kerosene lamps. However, as we had a couple of little generators that came along as equipment for our hospital, we soon had lights strung up in some of the most important spots. Then, after George and I got in good with some of the engineers (by giving nurses names to a couple of them, etc.) we were able to get them to lend us a larger generator and the "Lights came on at the 59th." Finally, our own 3 large generators arrived and we now have quite a power plant, with lights going at present 24 hours a day, coming from a 30KV generator.
     I laugh when you ask about ice-cream cones and sodas! With milk so scarce here (though there are numerous cows, they are apparently not well enough to give milk, even if they were sure to be tubercular free), the closest thing we have had to ice-cream has been some sort of water-ice-gelatin mixture that is served at the restaurant associated with one of the hotels downtown. It's not bad, but it ain't very good either. We did get some real ice cream twice – once when a ship came in with a whole lot of ice-cream cubes on board, and once when they had some chocolate-coated ice-cream sticks on another ship.
                                                                                                  Loads of love,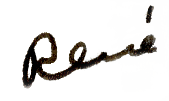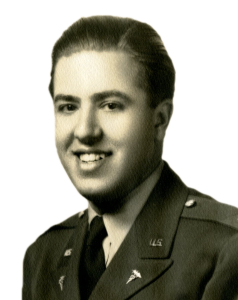 .
My letter continues tomorrow…
February 24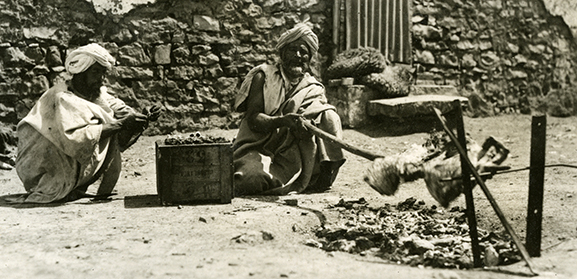 Cooking meat on a spit – one of René's olfactory impressions?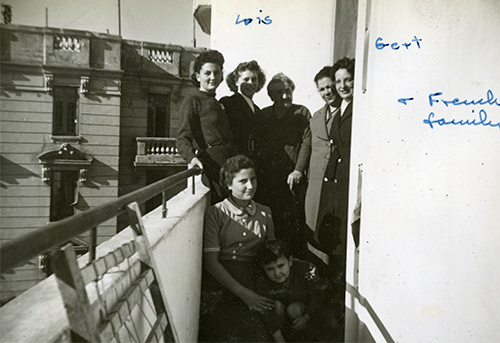 Lunch with a French family in Casablanca gives René an opportunity to use his language skills.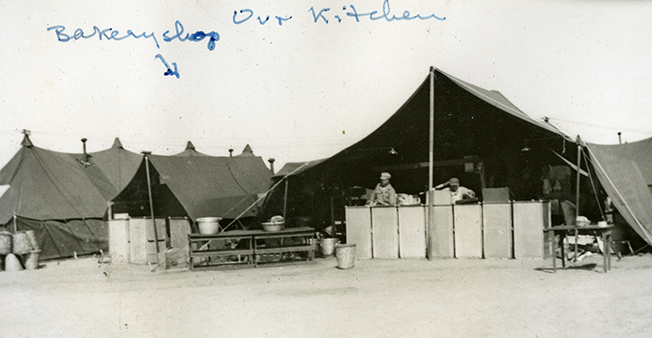 Kitchen and bakery shop for the 59th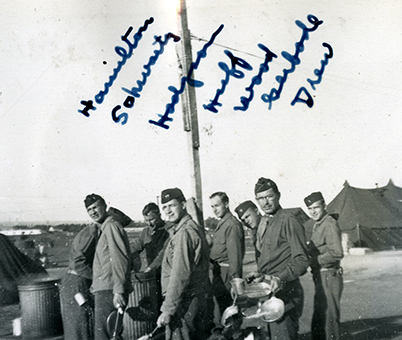 After meals, everyone, including the doctors, have to wash their own mess kits. Shown are Jim Hamilton, Chuck Schwartz, Marv Hodgson, Lou Huff, George Wood, Frank Gerbode and Bill Drew.

February 24, 1943
Continuation of No. 10

Dear Folksies,
       The hospital gets larger day by day, with medical patients being in the majority. For a week I worked on a surgical ward and was on call for anesthesia, but the medical service got swamped and consequently Paul Stratte and I were shifted over temporarily to help the medical boys out. At the moment, both Paul and I have two medical wards – each ward consisting of 18 patients. Most of the patients have bronchopneumonias, pharyngitises, sinusitises, bronchitis, etc. We have had a few jaundice patients, a couple of malarias, a couple of rheumatic fevers, along with the usual gastro-enteritis cases, possible ulcers, etc.
       The surgical service had a few interesting cases, such as subdiaphragmatic abscesses, fractures, appendices, etc. They likewise had a few hernias, hemorrhoids, papillomas, etc. We likewise get an occasional accidental gunshot wound, but so far have had nothing in the way of battle casualties.
       Our surgery is pretty well set-up and things are straightening themselves out pretty well. Had a compound fracture of tibia the other night and I was supposed to give the spinal, but the patient was drunk and was thrashing about a bit and Gerbode couldn't hold him well enough. So, when I didn't get in right away, Mattie decided to do it. He also had trouble getting in and then finally succeeded. A half hour after the spinal was given (ephed being given also), when they had just finished debriding the wound, the patient ceased breathing and despite all efforts for the next hour he failed to come to again. One of those 1 in 100 spinal deaths! Mattie and I were both very thankful that he had given the spinal, for it was just one of those things that do happen every so often, no matter what is done.
       Serge is now back at work and feels fine. He apparently had dengue, or at least he thinks that is what it was. No one else seems to know much about it.
     The other day the Padre had Martha Raye out here to entertain the patients and all. She and Andre Baroush have been around entertaining considerably in this neck of the woods. She has done a good job here in giving the soldiers something to see and to talk about after. She undoubtedly will have plenty to talk about herself when she gets back to the U.S. We are now setting up a small stage here for future entertainment. One of the soldiers in this neighborhood is quite a ventriloquist and pulls a Charley McCarthy stunt. The Padre is arranging for a minstrel show of some kind for Monday, and he intends to get some other shows in the following days or weeks.
       About three weeks ago they opened up a PX in town for officers and nurses. We got ration books and were able to buy candy, cigars, and cigarettes, pillow cases, sheets, and towels on the ration basis — 3 cartons of cigarettes, 6 cigars, one pillow case, sheet and towel per person, and 10 candy bars per person per month. Of the ten candy bars, four have to be Life-Savers or Necco Wafers. As you can well imagine, I took the latter.
       They had some nice things at the PX and I ended up buying myself a darn nice trench coat for only $15, a swell pair of high boots of English grain leather ($8) and a pair of regular high shoes of English grain leather ($5). The trench coat is really a nice deal and probably would have cost around $30 at home and I never felt up to spending that much for one back there.
       Even Lois bought a pair of the boots, as they are not only a good buy but are very useful around here or anywhere where it is muddy or rainy on and off. They are really most comfortable also.
       It was really funny down at that PX when it first opened. There was a mob waiting to get in at all times, and as the store wasn't big enough to let in more than a few at a time there was a line ¼ to ½ block long at most times during the day for the first two weeks. Stratte, Bishop, Fadley and I happened to just hit it right the first day the place opened and arrived there 10 minutes before it opened and were inside within 15 minutes. Others waited in line for anywhere from 40 minutes to 2 hours.
     Today the recreation tent is being fixed up – we finally got some panel lumber and are able to put a flooring in the tent. We also got some tables and benches and some chairs from a gang that left nearby, and the tent ought to be fixed up pretty well in another day.
       Last night Paul, Bam, Lois and I went out for dinner and had a fairly good dinner, though it turned out that the restaurant only had fish last night, instead of the usual meat. Today, in our own mess we had regular "chawin'" meat that was O.K.
       Yesterday we had a regular medical conference with some other medicos in on it. These others, some of them, were friends of Roy's when he was in medical school.
                                                                                                  Loads of love,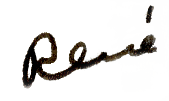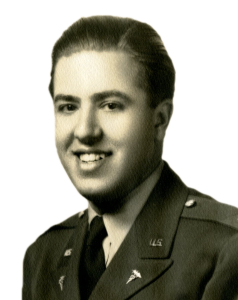 .
Watch for my next letter
February 27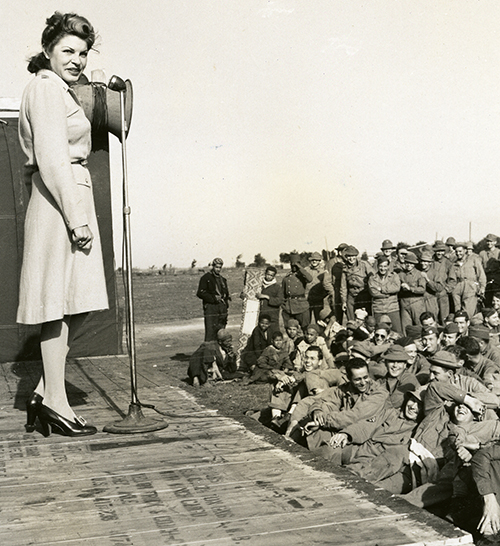 Martha Raye entertaining the troops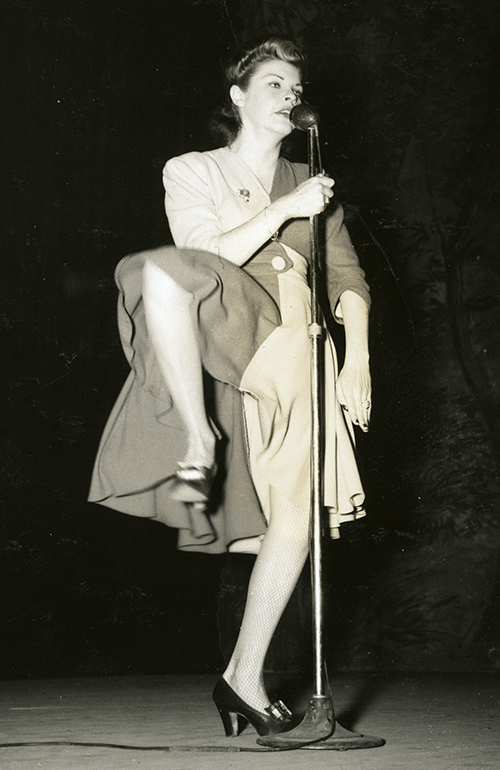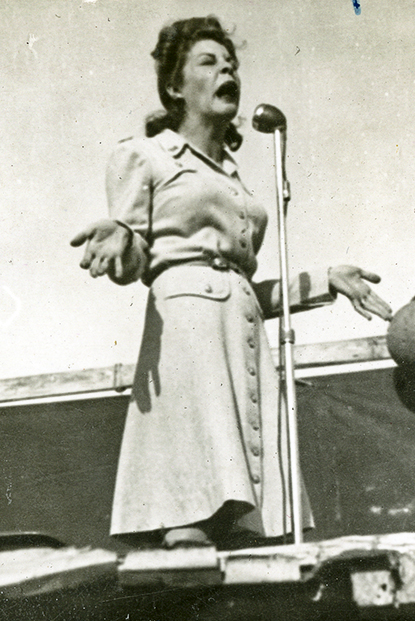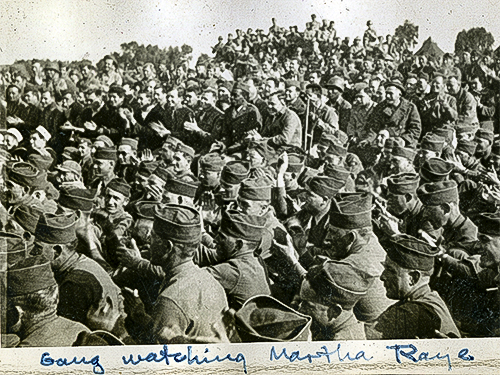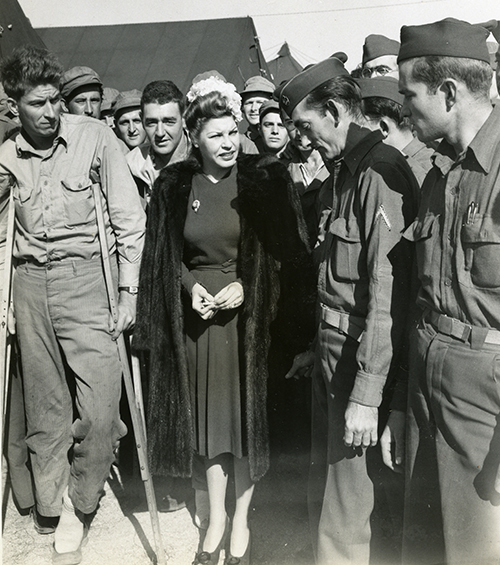 Martha Raye visiting some of the patients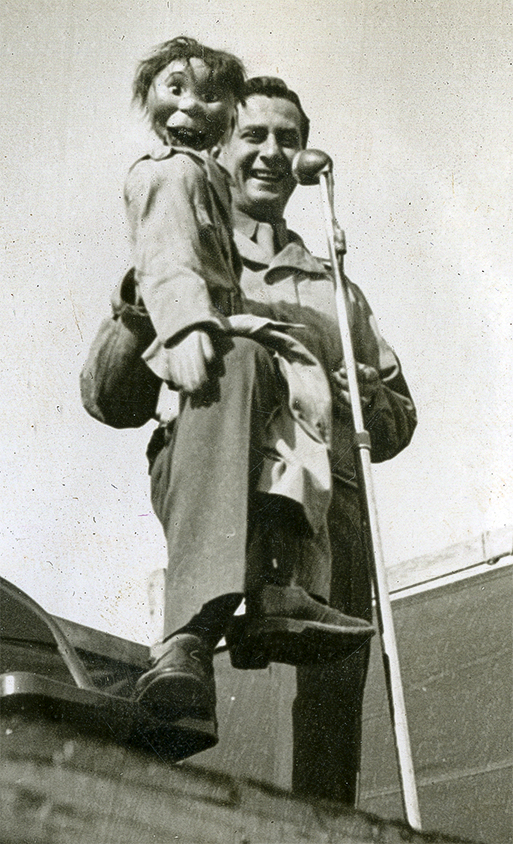 "One of the soldiers in this neighborhood is quite a ventriloquist and pulls a Charley McCarthy stunt."

February 27, 1943

No. 11

Dear Folksies,
            There is nothing particularly new today except that Lois got all the mail in the family for today, receiving three from her mother and one from you, Mom. The latter was the one in which you tell all about meeting the nurse whom we knew at Pickett. Got quite a laugh out of it because, though that nurse was nice, she was sort of a flighty, talkative person who seemed to flit here and there and never quite knew what she was doing.
            Really the only purpose of this letter is to enclose some pictures for you. And this reminds me – film is hard to get here, consequently if you can beg, borrow or steal some 127 film 'twill be greatly appreciated.
---
February 27, 1942
No. 12
             This letter isn't a letter but is only for the purpose of sending you a money order for $100. I am sending another $100 but that will be in #13 for the purpose of safety, rather than having the two together. Of course, another motive I have in doing that is so that when you see #13, you will not be so sore at me for having written too infrequently – i.e. it will seem as if I have actually written more than I have. Eh! You don't like it, eh!!!
                                                                                                                                   Loads of love,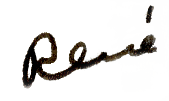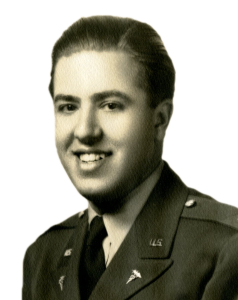 .
Watch for my next letter
March 2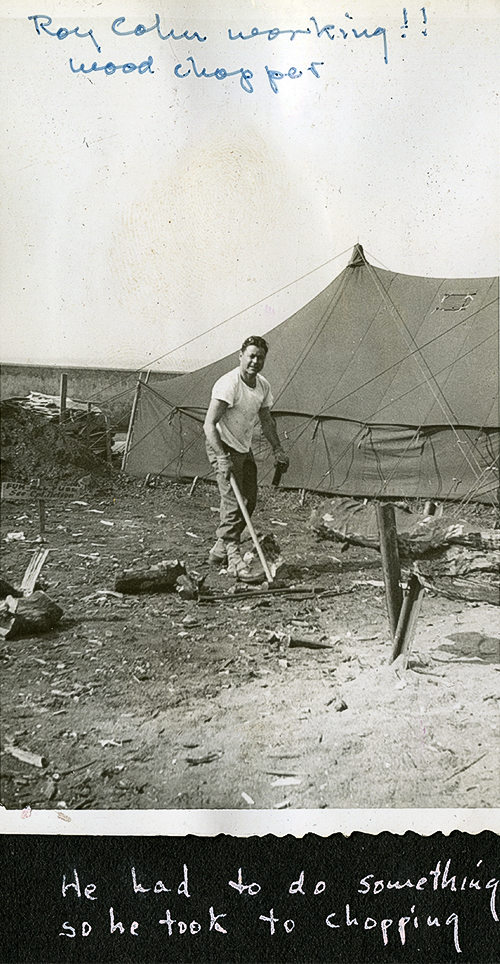 Roy Cohn, MD chopping wood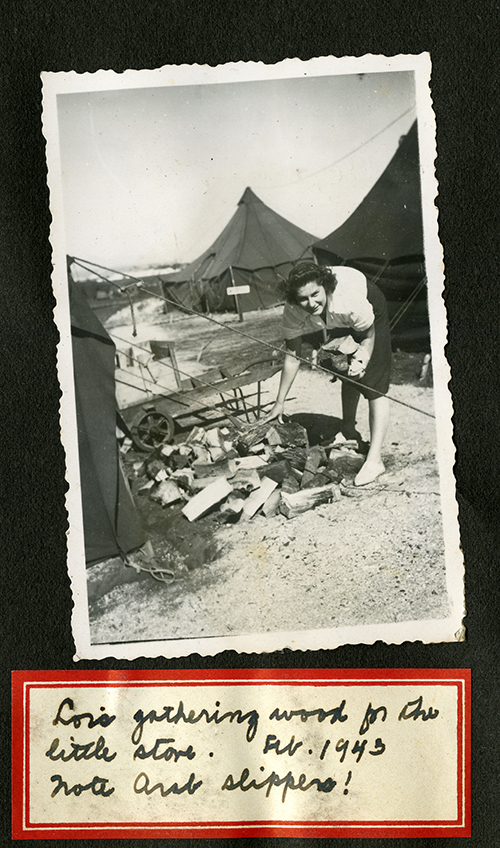 Lois — perhaps with some of the wood Roy chopped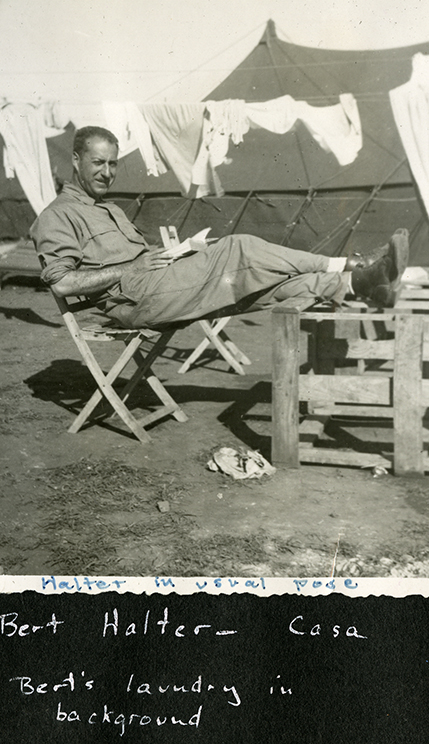 Bert Halter and his laundry.



In his journal on February 27, Philip Westdahl, MD, writes: "GREAT DAY!! I AM THE FATHER OF A BABY GIRL! The news came via 5 letters from other officers' wives to their husbands; it reached my ears in the middle of excising a pilondial sinus — that is, I think that's what it was — I don't remember anything about the operation from that point on!"