Heidenheim, Germany
April 26 – June 5, 1945
April 28, 1945
Heidenheim, Germany
No. 32 (continued)

Dear Folksies,        
         When we got into the town I found that it was darned near impossible to get over to where the main section was — the town was a wreck, and, in fact, was still smoking.  Parked the vehicles in a small field by a grainary and had them break out things for supper while I notified M.P.s and the headquarters where we were, in case Frank could not find us. As it happened, while I was out doing that, Frank arrived and, by coming across a flimsy detour that I had been unable to find, had come to where we were parked.
         We found that the Army had moved so bloomin' rapidly that there was no point in dumping our stuff at that spot, but 'twas tho't that we could, the next day, go considerably further.  So, we all agreed to keep the things on the trucks and see what the morrow would bring.  That night we moved in on the grainary and had a comfortable nite's rest.
         It was a difficult area in which to find a suitable spot to set up, so after a little while, we decided that I better go back and let the Old Man know what we were doing and why the vehicles would be back later than all had anticipated.  Jobe was going to bring all the trucks back after they were unloaded.
         Sooo, back I went.  We had tho't that perhaps I might have been able to go back by Piper cub, but the weather was bad, and so Jones and I continued on to get more points towards the "Order of the Purple Seat."  It was the strangest day — we went through absolutely every possible kind of weather except fog.  It hailed, it snowed, it rained, the sun shone brightly, there were rainbows, etc.  What a day!  Jobe got in late that evening and we both took off again the next morning early, as soon as the trucks were loaded.  Still no news of the outside vehicles arriving to move us!
         That day we had good weather and the scenery through which we went, tho' of course it was the same as on the previous trip, looked much more beautiful.  Strangely enough, tho' we had had no trouble with vehicles getting lost on the first trip, everyone really got confused on that second one. We got down ¾ of the way in good time and everyone together, but at a Y turn, the second section of my group missed the marker we had up and turned right instead of left and the two following trucks, tho' they knew that that was wrong, went along with him to make sure the he got back on the right road at the next intersection.
         Then we got to a place where we had to ford a small stream, there was a Lincoln Zephyr (a captured vehicle taken over by our Army) stuck in the water, so everyone was tied up there for a while. But, I really howled when the driver of the Zephyr got out and turned around toward our side of the stream. It was none other than Bill Dunn. He and his assistant, Lt. Kelly, were actually on their way down to our new area, thinking that Hattie would be down there already. When Bill was finally hauled out of the stream, he stopped and I told him Hattie was still back at the old area. He decided he had better figure out a detour to get away from that stream, as he wasn't going to go back thru it. I tried to get him to tell the Col. for us that we would be back later than figured, because Bill had held us up for so long, but he didn't want to have to admit that he had gotten stuck that way, particularly since he had a nice sedan and the Col. was unable to get one for himself. Most of the boys knew Bill from his frequent visits to our place, and they all got a big kick out of the fact that the big-shot had gotten thusly stuck.
         The next A.M. a group of officers and nurses and men were going down in ambulances and the weapons-carriers, so off I went again, leading them down.  We got to the new area to find that Frank had already gone off to pick out still another area, as he and Roy had gotten impatient and had, that morning, early, gone to see Petefield themselves and gotten the O.K. to move on down.  Frank soon got back and told us the dope on the new area and I was all set to take off to go back and tell the Col. when the Col. arrived himself with the news that the outside vehicles had at last arrived, late that morning and were on their way.
         In the meantime, the boys had had so many flat tires that they had taken all the flats back to an Ordnance spot to fix them. In those three trips we had between 35 and 40 flat tires, all on the big trucks (and we only had 12 of them!)  So, when Frank and Roy were all set to take off for this area (the one we are now in) there weren't enough drivers left around to take the trucks down.  So, Roy grabbed me, we picked out a couple of other men whom I knew could drive, and, in one of the 2-1/2s I took the group of trucks on down while Roy and Frank went ahead to get the area staked out (i.e. where each tent should go, etc.)  We almost went on by the area because some of the town signs are confusing near here, and Frank hadn't realized that there are a couple of spots with the same name — actually, however, they have an additional word on the end.  It's sort of a county or department business — sort of like all taking the family name and the given names being the only ones different — yet there are a couple of Juniors also…
         We dumped all the stuff right away (it consisted of the things the trucks had brought down that A.M. from the old area – as we had not unloaded at all that day at the 1st area) and turned around. On the way back, I took our signs and took one of the boys with me to put them up at various cross-roads between this and that first area. When we got back, we just set up a cot and unrolled our bedrolls in the back of one of the trucks and went right off to sleep. It was plenty cold, however, as have been all the rest of the mornings here so far. The sun comes out in the daytime, but the nights are frosty and much too cold for this time of year.
                         Loads of love,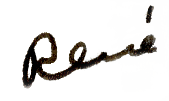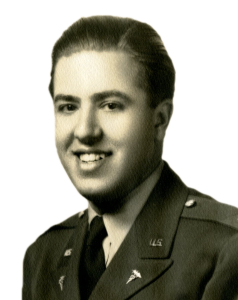 .