Bad Wildungen, Germany
September 13 – September 27, 1945
September 13, 1945
Bad Wildungen, Germany
No. 51

Dear Folksies,

        Well, today we finally moved!  We are now in the buildings we should have been in two months ago.  We are in the town of Bad Wildungen, which is 14 kilometers from our last spot, and is the town in which the 3rd Division Headquarters has been all the time, and in which the 23rd Corps Headquarters is also.  In other words, it's sort of a crowded town.
        We are in with the 91st Evac. Hosp. on sort of a screwy deal. We are running our own headquarters and our own mess for the detachment, but the officers and nurses are eating in the 91st mess and living in the same bldg. as the 91st officers and nurses. They haven't as yet opened up the hospital, but we will apparently be on D.S. (Detached Service) to them when they start taking patients.
          The officers' and nurses' quarters are in the "Kaiserhof Hotel" and most of the rooms are singles or doubles. Jack and I each have a single with intercommunicating door, so that we have beaucoup room. The mess is in a regular dining room, but if the two meals we had there are any example of coming events, we are certainly going to wish that we had kept our own mess and used the cooks that have been doing a noble job the last two and a half weeks. I don't believe that I have told you how much improved our mess has been since our regular cooks went home. We have had Al Rush (who used to cook for the patients) and Bill Kioski (who used to be a ward man, and a damn good one at that, who was one of the three boys with us on the So. France Invasion). These two boys have used a great deal of imagination and tho' the rations have been the same as usual or even poorer, they have done wonders and put out the most tasty meals that we have had in ages.
        The area we are now in over here was, up until about a week ago, a hospital for German soldiers, most of them with one or more limbs missing. They have since moved these patients to various other hospitals in the country.
        People have been going places, some permanently leaving, of late and 'tis hard to keep up with things from day to day. Pat Barry and Chrystal went to Ireland where Pat hopes to see family she visited 10 years ago. Picchi and Dottie Merrell left this A.M. for a tour of Switzerland (sponsored and run by the Red Cross).
        Delpech is leaving us in a couple of days. She is going to get married on the 15th of this month to a 1st Div. Officer. She is transferring to another hospital outfit so that she can stay over here for some time, as her husband-to-be will be in the Army of Occupation probably.
        Molly Warner left to go to a unit in Marseille where her husband is stationed.
        One of our boys, the cook mentioned above (Rush) is going to leave pretty soon also, as he is going to Epinal to get married to a French gal and then is going to stay in another unit, probably for Army of Occupation for a while.
        The bus is finally on the sick list! A cylinder cracked that day I took the gals to Frankfurt and the mechanic at the M.G. in Fritzlar is going to try to get parts to fix it. For a few days my friend Maj. Gish loaned me another car, a "Wanderer" sedan. It was O.K. once you got it going. However, the starter was on the fritz and, as a result, the car had to be shoved every time one wanted to start it. Fortunately, it was a light car and one person could actually shove it easily and it only took a few feet of shoving before one was able to start it.
         Can you imagine it? I had an exceptional night the other night.  Yes, I not only went to the services on the Eve of Rosh Hashanah, but also went to the morning services.  They were held in Kassel in the auditorium belonging to the Railway outfit that is working there.  The Rabbi was from the 3rd division.  The Cantor was excellent — he had a good voice and certainly knew his Hebrew.  There was quite a crowd at both services — I should judge that there were in the neighborhood of 300 men there. I went up with two of the officers we acquired from the 2nd Convalescent Hosp. about a month ago.
         Sent some things to the folks in Paris — some of my sun-tan pants and shirts that they can dye and use, heavy underwear, etc.
        Also, you have seen the last of my pounding on Ye Olde Faithful typer. Perhaps you will receive letters written on it, however. I sent it to Yvette, who needed one badly in her office.
        Lou Huff and George Armanini are going up to Paris tomorrow and I shall send a few more items with them.
        Very sweet letter from Monique today written while she and family were vacationing – unfortunately just at the time that I was in Paris. I would certainly have like do have seen her, Bernard and Robert. She has apparently been thrilled with the packages you folks have sent her.
                          Loads of love,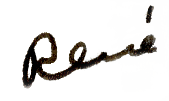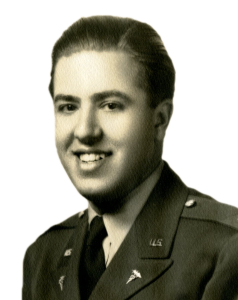 .